'A Castle Built For Two' by The Asteroid No.4 | New Album, 'Tones of the Sparrow'
Exclusive video premiere of 'A Castle Built For Two' by The Asteroid No.4, taken from their upcoming album, 'Tones of the Sparrow', out March 25th via Club AC30.
---
The Asteroid No.4 have never shied away from wearing their influences squarely on their sleeves but with 'Tones of the Sparrow', the band edge towards the more psychedelic side of the genre. "It's all guitar rock and more specifically, it's all psychedelic rock, and we have a tendency to move around within that. At the end of the day, we just write a batch of songs and depending on where we are in our heads, lives, etc., sometimes they vary greatly and other times there is a much stronger cohesiveness among them."
"I feel having to try and explain what a song is about lyrically or what inspired it really removes any openness to interpretation it might have or allow a listener to personalize it. However, I will say that 'Castle' is a love song and about the work that comes when building it to last. The rest is up to anyone wanting to give it a listen". The Asteroid No.4
Originating from Philadelphia in the latter half of the 1990s, the band relocated to the San Francisco Bay Area in 2011, and have recently undergone a line-up change giving the band a fresh dose of creativity, enthusiasm, and excitement for the next phase of the band. "It's a feeling we haven't really felt for many years. It's not that we haven't had a solid group over recent years, but this is the first time where the like-mindedness and excitement to work on something together has been so uninhibited and enjoyable. So as a result has come a spark in songwriting from across the entire group. Everyone is bringing ideas, whether they're just a seed for a song, a melody, or something far more developed."
From the cosmic riffage of album opener 'Emma', to the chugging, psychedelic noise rumblings of album title track 'Tones of the Sparrow' and shimmering new single 'Set You Sights', The Asteroid No.4 tap into a sound that sound-tracked their youth. "The last two years have not been easy for any of us, so to go back to the specific sound that connects us to a better, easier moment in life seems like a pretty normal thing to do at times like this. For us, a band that started in the 90s and who were teenagers at the height of the shoegaze scene, that's what our roots are".
Elsewhere, there's a dark, intense aesthetic to the melancholic 'Chameleon' while 'I'm Not The Enemy' and 'A Castle Built For Two' meld '60s psychedelia and catchy dreampop before the deeply melodic 'Somewhere in the Middle' and ethereal 'Transmission' close an impressive collection of songs from one of the psych scenes' best loved bands.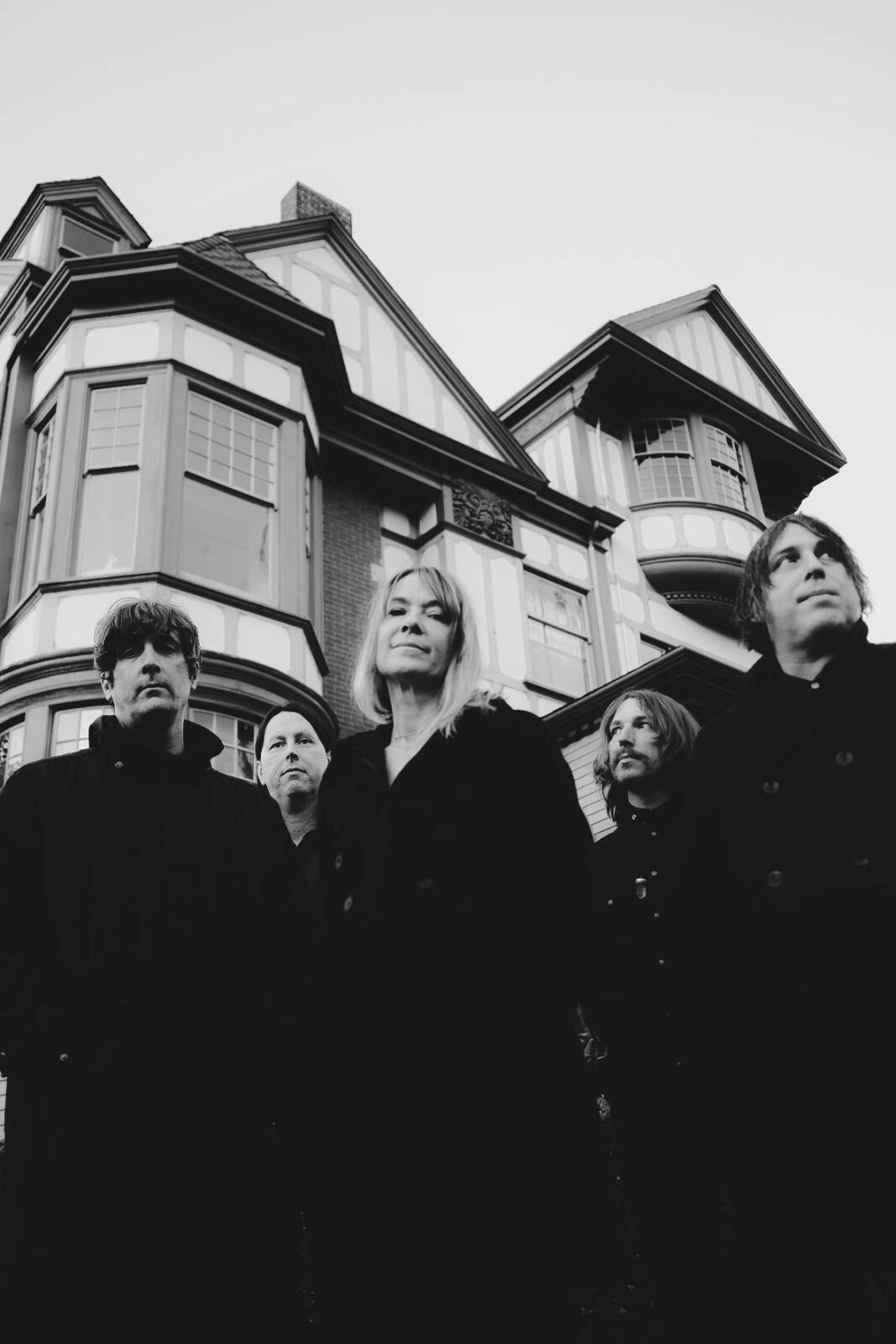 The Asteroid No.4 are Eric Harms; guitar, Scott Vitt; guitar, vocals, Matty Rhodes; bass guitar, vocals, Camilla Saufley; keys, guitar, vocals and Mark Tarlton; drums, percussion.
---
The Asteroid No.4 Official Website / Facebook / Instagram / Twitter / Bandcamp / YouTube
Club AC30 Official Website / Facebook / Instagram / Twitter / Bandcamp / YouTube
The Asteroid No.4 – 'Under My Umbrella' b/w 'The House of the Seventh Moon' (2020)