Methadone Skies interview
Methadone Skies are an independent, psychedelic rock quartet from Timisoara, Romania. Active since 2009, the group has released 3 full length records and one EP so far. Each affair shares its own musical direction, often leaning into post rock, stoner, doom metal and/or progressive territories. There were never any boundaries set, so each album is the sum of various influences and constant jamming. 2019 also marks the 10th anniversary of the band and the best way to celebrate it is by playing gigs and unveil new music.
---
Methadone Skies are:
Wehry – guitar
Mihai – bass
Retea – drums, percussion
Casi – guitar, E-bow
Would you like to talk a bit about your background? Where and when did you grow up? When did you begin playing music? What was your first instrument? Who were your major influences?
We are all children of the 90s, raised in the Romanian town of Timisoara. Mihai, Casian and myself (Retea) were all colleagues in the same high school since we were 14. I think the influences came before even starting to play, like in most cases, talking all day about bands like: Queens of the Stone Age, Kyuss, Nine Inch Nails, Rammstein, Audioslave, etc. We were all big music nerds and starting to mess with an instrument was just the next natural thing. The other cool thing was that we kinda felt from the beginning who is going to play what instrument. Around 17, when I bought a drum set, the idea of a band really took shape.
When and how did you all originally meet?
As mentioned before, myself (Retea), Mihai and Casian were in the same high school, after finishing high school we met Alex at our first gig ever as Methadone Skies. We opened for the local heroes The :Egocentrics, and he was really good friends with them. We clicked immediately and confronted with the departure of Casian, we asked Alex to step in. Luckily, Casian returned, so we became a quartet.
Can you elaborate on the formation of 'Methadone Skies'? Who's in Methadone Skies and what do you all play? Have you all made any changes to the lineup since you started or is this the original lineup?
Methadone Skies is: Alex (guitar), Casian (guitar), Mihai (bass) and Retea (drums). The only change in the line-up was the arrival of Alex in 2010, one year after the band's inception. I think we are at a point where we could not replace any of us with a different member. The 4 of us are Methadone Skies. Any alteration to this line-up would probably result in a different project or something like that.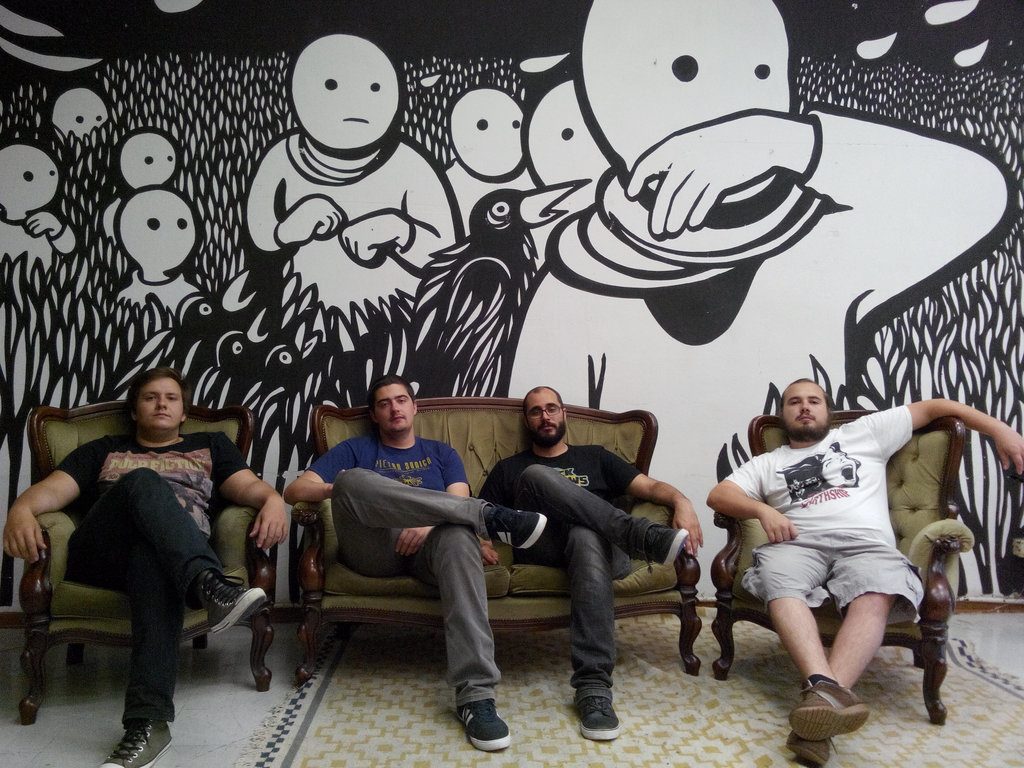 Are there any other bands from your city or even from your country that we should check out?
Oh yes, of course. There are some awesome bands. Locally I would recommend: dordeduh, Sunset In The 12th House, The :Egocentrics, Transceatla, Exit Oz, Nu & Apa Neagră, The Different Class, and from around Romania, I would say: Valerinne, Fluturi Pe Asfalt, Cardinal, Pinholes, Alternative Quartet, Luna Amară, Nava Mamă, and maybe I am missing some.
Can we talk about some old bands from your country? I know very well Phoenix, Semnal M, Dan Mândrilă, Mondial, Super GrupElectrecord, Sfinx, F.F.N. and Progresiv TM. There are others, but here are some that I'm pretty familiar with. Would you like to comment these bands from the past? Do you feel you have any connection with them?
Of course there is a connection between any new band and the bands that create the artistic environment in a country. We did not burst out of nothingness, especially considering the fact that most of the bands that you named are from our home town. Phoenix for example reshaped the music scene in Romania with albums like: Mugur de Fluier or Cantafabule. Maybe I don't personally listen to these bands so much nowadays, but I have a ton of respect for the music they made and what they stood for in those horrible times of communism.
What does the name "Methadone Skies" refer to in the context of the band name? Who came up with and how did you go about choosing it?
As with the case of most of the album names or song names, Methadone Skies has both a very personal and random factor at the same time. We always discuss names amongst ourselves, most of the time for comic relief, and slowly they morph into other words that seem to fit with whatever we are looking for. I think it was the same situation with the band name, but then again we were 17 and for us back then it sounded cool. Now we are stuck with it, aren't we?
Is anyone part of any other musical project?
Mihai and Casian had a heavy doom project called Bongladesh currently on hiatus, but which I personally hope to come back as soon as possible. Alex used to play guitar for the metal goth band, My Shadow. I also play drums for the rock trio The Different Class and percussions as a guest member for the prog/black-metal band dordeduh.
How do you usually approach music making?
With the upmost honesty. Sometimes jamming, sometimes maybe planning things, but mostly relying on our instinct. We are all very involved in the music composition, and everything is discussed amongst ourselves, only going forward with things when everyone is happy with the result.
Can you share some further details how your latest album Different Layers of Fear was recorded?
Different Layers of Fear was recorded at Consonance Studio in Timisoara in October – November 2018 by Edmond Karban, Cristian Popescu& Andrei Jumuga (all members of dordeduh, Sunset In The 12th House), then mixed and mastered by James Plotkin in December 2018 – January 2019. Additional keyboards and synthesizers were added by Marius Muntean (The Thirteenth Sun, Black Water) and on "A Glitch in the Sun", the band collaborated for a second time with Davide Straccione (Zippo (interview here), Shores of Null), who recorded vocals for the song (his first featuring was on "Tatabong" from Eclectic Electric, released in 2014). We were pretty well prepared for this recording before entering the studio and had all the ideas sorted out, so the recording itself went pretty smooth. We do not have a producer, but we rely a lot on the advice coming from Edmond, Jimmy and Andrei.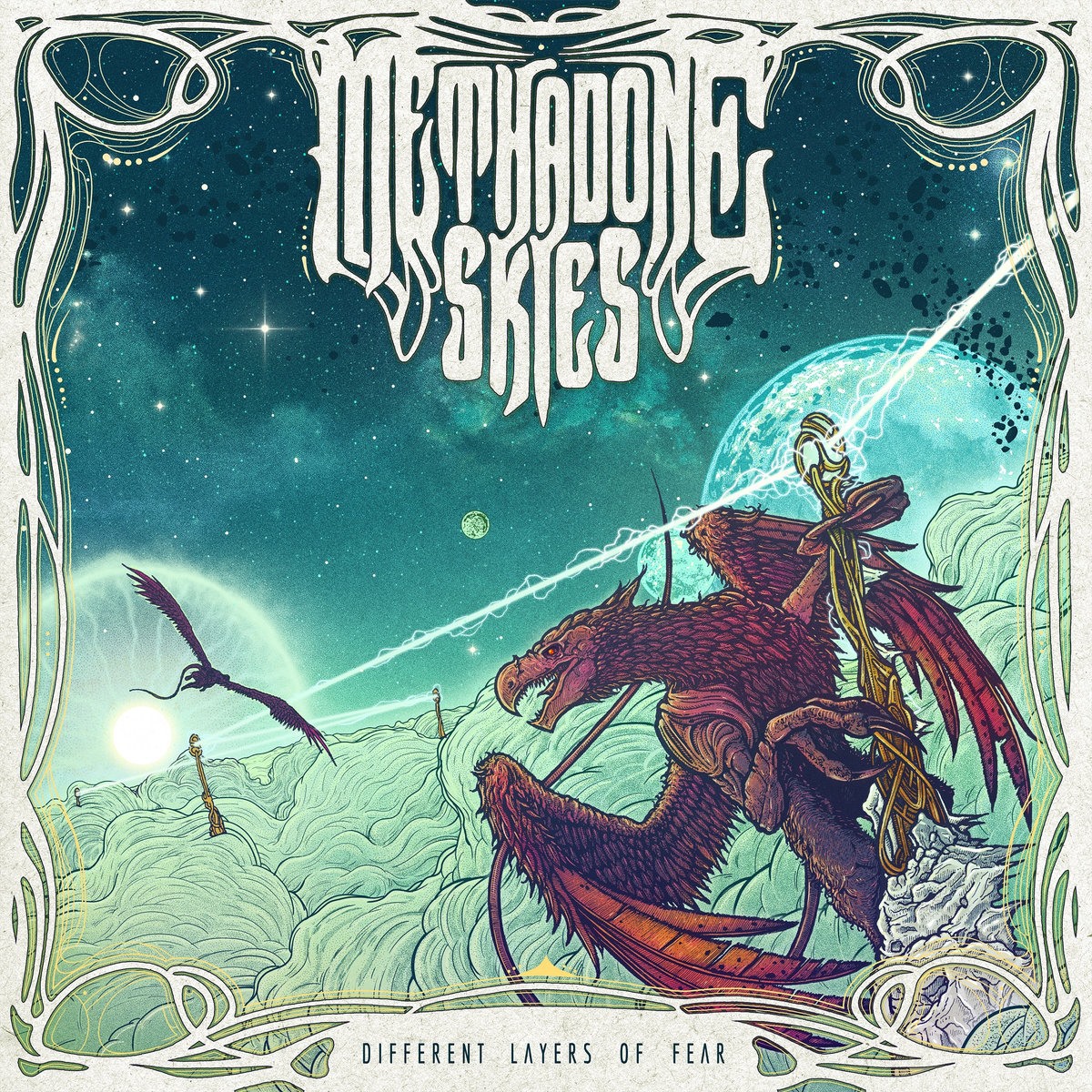 You guys are currently with Haywire Records – how did you get discovered by them?
Well it is kinda funny because Haywire Records is our own imprint, so I guess we discovered them, haha. After some years of searching for labels, mainly to release our music on vinyl, we were a bit disappointed either with the fact that the labels we were interested in were not interested in us and with some of the less fortunate deals we were learning about from other bands. So, we decided to do it ourselves. We already had the 'Haywire' entity in the form of Haywire Booking and Haywire Festival, doing shows in our hometown, so Haywire Records was just the next natural step.
How would you compare it to Colosseus?
Well, Different Layers of Fear is almost twice as long, and just considering that aspect is a totally different listening experience. I think it also covers a lot more ground genre-wise and in some aspects is both more aggressive yet loving. It is really hard to think about an album we did without taking in consideration what happened in our lives around the respective time. We were pretty angry on Colosseus, but I love it. For me is a thing to be proud of, that all of our albums have a pretty unique identity and Different Layers of Fear sums up well the 10 years together as a band.
But you already released two records before. Enter The Void was released on CDR back in 2012 and Eclectic Electric followed in 2014. Any plans to release it on vinyl too?
It would be cool of course, but at the moment I don't think we have the budget for that. If there are any labels interested in releasing them, I would not say no. What is certain is that we will remaster Enter The Void pretty soon.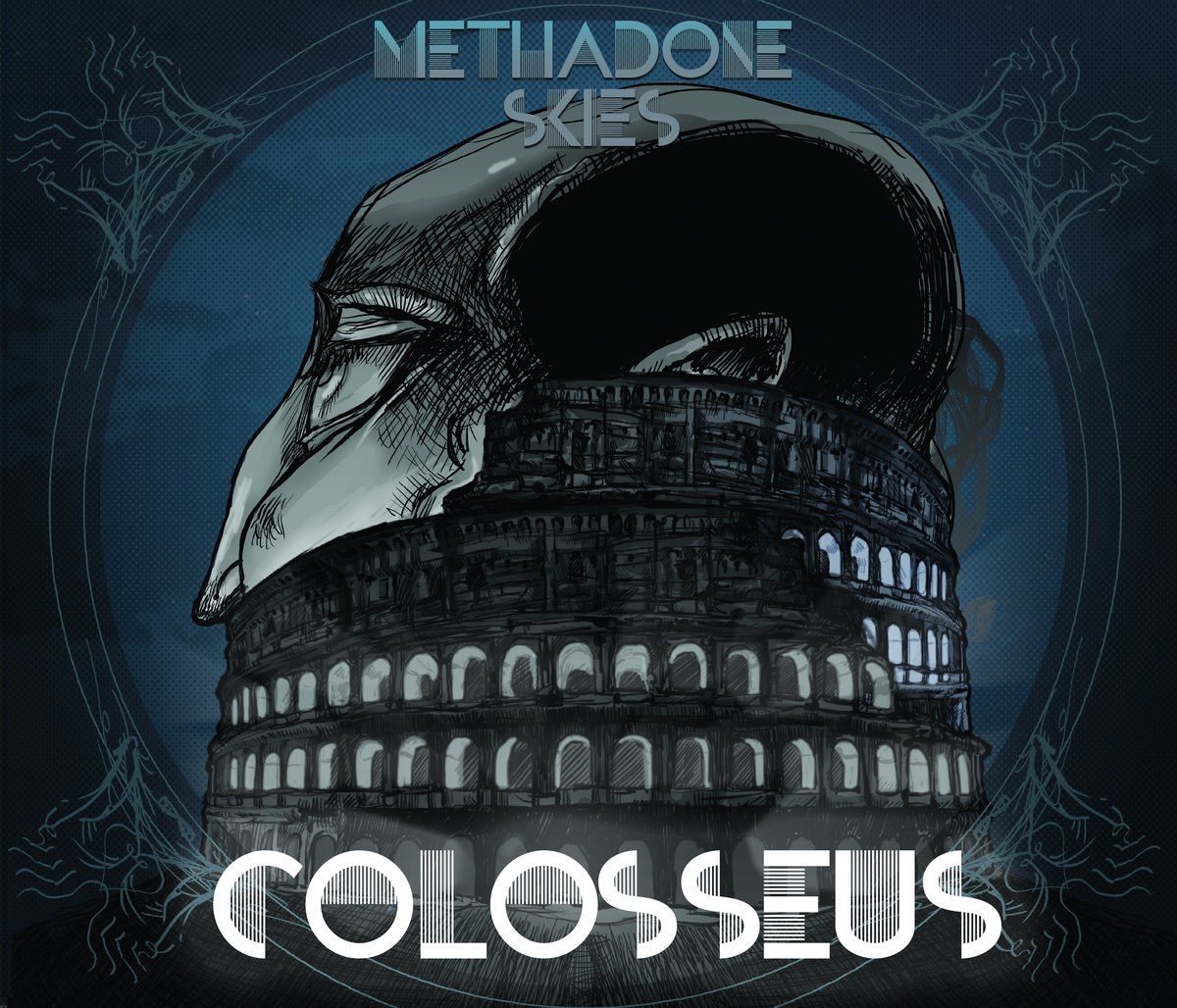 What kind of process do you have at mastering material for the release?
Even if we worked with several people in different studio over the years, we had had the same approach. We talk about the overall sound, how each person wants his instrument to sound. Then, we usually send the person who takes care of the mastering some albums we have in mind sound-wise. After this discussion, we go through a few different mastering choices the person sends us. This 'ping pong' process is the most important, since each of us (as well as the one who's mastering) has his own idea in mind.
Who is usually behind the artwork?
Lately for Methadone Skies, including the Different Layers of Fear album and Haywire events, we worked with Mihai Manescu aka Obsidian Nibs. We really love his style and passion for the art, and we became close friends. In the past, for Colosseus and Eclectic Electric the artwork was created by Italian artist, Tonino Bosco (ex-Zippo).
"We are still the same music geeks as in high school and honestly never ever in the history of music has ever been so much great music."
Have influences changed during the years?
A lot. Both on a personal level and band related, but this is normal. We are still the same music geeks as in high school and honestly never ever in the history of music has ever been so much great music. We always had even amongst ourselves pretty distinct music tasted with some common ground, but being so spread out on the music pallet has helped our band a lot.
How about concerts and touring?
Well unfortunately our jobs stay in the way of touring as much as we would like. We are fortunate that our music approach can comfortably put us on a heavy doom/metal festival line-up and on a pop '70s psychedelic festival too. We played both, enjoyed both. This last tour was awesome. People showed up, the shows were great, the event organizers were mostly friends that we made during the years, so everything went perfect.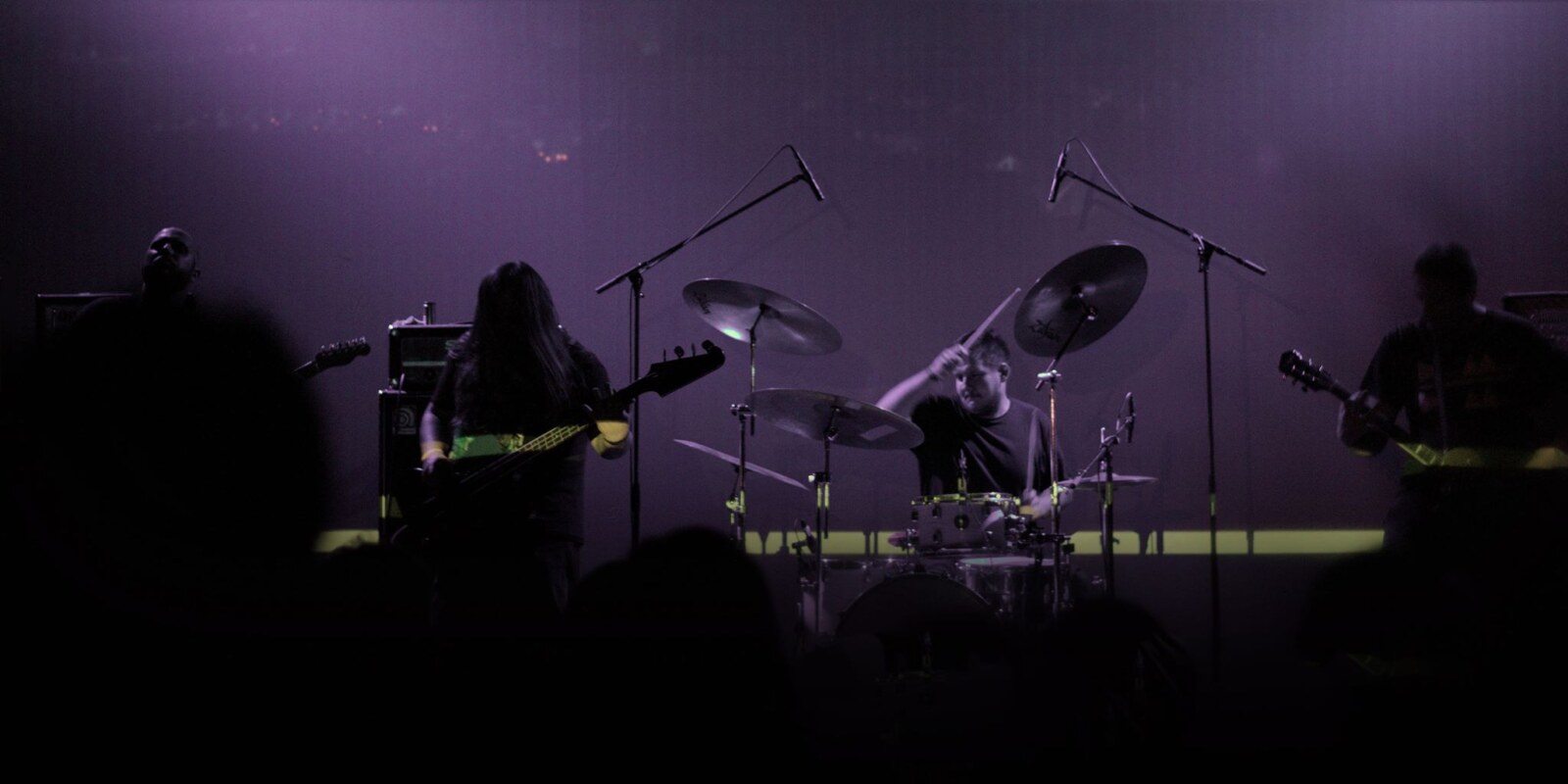 Who are some of your personal favorite bands that you've had a chance to play with over the past few years?
We were so fortunate to have played with some amazing bands, that never in our lives had we ever dreamed to. Opening for Yawning Man was a really big one for us. At our first gig as Methadone Skies ten years ago, we had a Yawning Man cover ("Rock Formations") in our setlist. They say don't meet your idols, well that could not be more wrong. It was an amazing experience. An obvious one for me is playing with Motorpsycho, that was pretty surreal, but there are so many. Opening for the Darkness, playing alongside some amazing bands like Toner Low, Samsara Blues Experiment (interview here), Mother Engine, and I am sure I am missing many.
What are some future plans?
Writing new music, remastering Enter The Void, playing some shows next year and hopefully be on the bill on some cool festivals.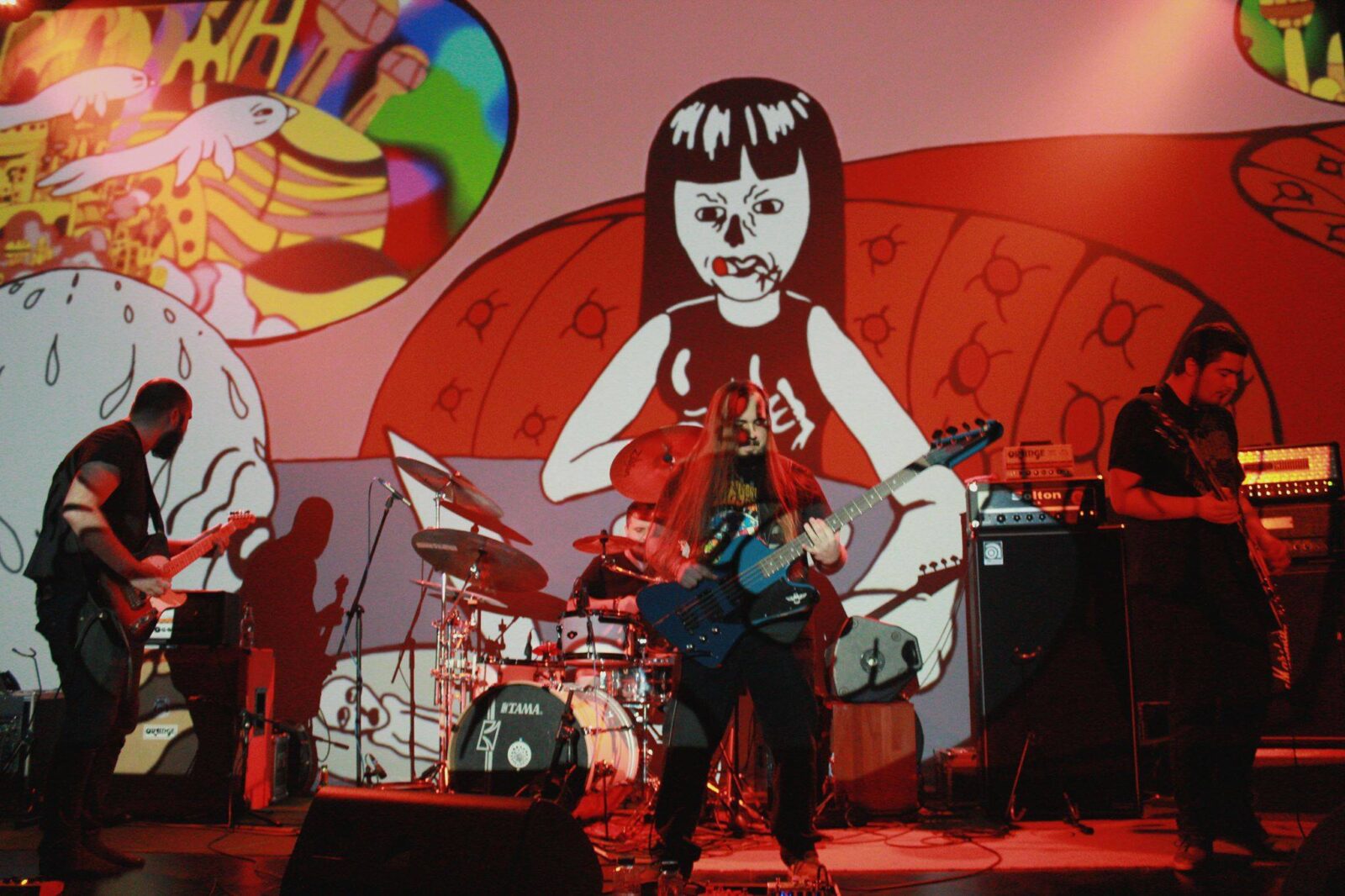 In your dreams, who are you on tour with?
Wow I don't know. I guess Nine Inch Nails would be an awesome one, just to be in the midst of that level of production. I would love to tour with Motorpsycho, just to have the opportunity to see them live everyday. Ulver would be another amazing one, same goes for bands such as Intronaut, Torche, The Ocean, Toner Low, Mark Lanegan, Queens of the Stone Age, Elder (interview here), Electric Wizard (interviews from 2013, 2014, 2016, 2017) and so on. Each of us has its own list, haha.
Let's end this interview with some of your favourite albums. Have you found something new lately you would like to recommend to our readers?
Flavius: All Time (Motorpsycho – Heavy Metal Fruit // Kayo Dot – Plastic House On Base of Sky // Ulver – The Assassination of Julius Caesar) | Lately (Drab Majesty – Modern Mirror // Lingua
Ignota: Caligula // King Gizzard and The Lizard Wizard – Infect the Rats' Nest)
Mihai: All Time (Pink Floyd – Wish You Were Here // Elder – Dead Roots Stirring // Electric Wizard – Dopethrone) | Lately (King Gizzard and The Lizard Wizard – Infect the Rats' Nest // Carpenter Brut – Leather Teeth // Cloudkicker – Unending)
Alex: All Time (Kraftwerk – The Man Machine // T. Rex – Electric Warrior // Can – Ege Bamyasi) | Lately (Brant Bjork – Punk Rock Guilt // Samsara Blues Experiment – Long Distance Trip // Motorpsycho – Little Lucid Moments)
Raul: All Time (Nine Inch Nails – Year Zero // David Bowie – Station to Station // Bad Religion – The Gray Race) | Lately (Torche – Restarter // Clazziquai Project – Blink // Jambinai – ONDA)
Thank you. Last word is yours.
Just thank you. And thanks to anyone that has ever listened to our music or helped us in any way. We are super thankful and wherever you are, hope to see you soon.
– Klemen Breznikar
Methadone Skies Bandcamp
Methadone Skies Soundcloud
Methadone Skies Facebook