Early Iron Maiden Guitarist Bob 'Angelo' Sawyer Remembers His Power Trio 'Big Ladder Woman'
Bob 'Angelo' Sawyer was a member of Iron Maiden in the very early days. This was in the period before their first record deal. He was also part of a power trio called Big Ladder Woman.
---
Sadly no audio recordings exist apart from Melody Maker ads for gigs and some other archive photos of this wild trio. Sawyer later joined successful heavy metal groups Praying Mantis and Weapon.
"Our sound was like a cross between the Pink Fairies, Stooges and Grand Funk Railroad"
Where and when did you grow up? 
Bob 'Angelo' Sawyer: I grew up in Enfield, north London. My family was not at all musical. I was influenced originally by bands like The Shadows, The Beatles, and guitarist Duane Eddy. In my teens, there were local youth clubs that all had bands. I got into bands that way.
When did you begin playing music?
I got my first guitar aged 10 (in 1962) and tried to copy pop records.
What bands were you a member of prior to the formation of Big Ladder Woman?
Before Big Ladder Woman, my first band (in 1965-67) was The Younger Set. We played chart hits at youth clubs and Bar mitzvah (guitarist Alan Ross was Jewish. He later played with John Entwistle from The Who) after that in late 1967, I joined Under Negotiation a big local band. "Instant Stardom!". After that, I joined a "hippie-freeform" band called Johnny and the Gumboils (gotta be the worst band name ever, haha). This was summer 1970. By late 1970, the band was down to a trio of me, "Pierre" Sturgeon and Chris Gunnell. It was then we became Big Ladder Woman. Pierre came up with the name and it stuck.
What was the first song you ever composed?
The first song I composed was an instrumental called 'Uncle Mum' (Frank Zappa influenced…).
Can you elaborate the formation of Big Ladder Woman?
I formed the band in late 1970, with me on guitar and vocals. "Pierre" Sturgeon on drums, and Chris Gunnell on bass. We were a "power trio" (or so we thought…). Soon after we formed, we supported Stray at the Sirius rock club, in north London, and a month later, we supported Hawkwind at the same venue. During our set that night, Hawkwind had a strobe light (as big as a WWII searchlight) that they "unleashed" on us…which TOTALLY f**ked us up…we had to stop, as we were wiped out…and they used to play with it in their faces every night!
In early 1971, Chris Gunnell left, and we got "Spider Clarke" in on bass. A real thug dressed as a hippy! He carried a cut throat razor with him…a nasty guy, but he could be very funny…and a good bass player. He went to prison in early 1972, and we got Peter Barnes in on bass. This was in May 1972. Both he and Pierre left the band, and I had gigs to fulfill, so I got in Mick "The Wick" Sherman on bass, and drummer Terry Mac.
We did quite a few local gigs, usually hippie benefit bashes, one in particular supporting Skin Alley, Warm Dust (with Paul Carrack on keys) and Little Free Rock.
We kept on gigging throughout 1972, and about September, got a residency at the Prince of Wales pub in Tottenham, alongside Consortium, who also played there. Our biggest gig to date came in December, 1972, at the Sundown rock theater, in Edmonton, north London, we got to use a big PA for the first time. It was 1000 watts (massive at the time…). And we actually had monitors. It made the band sound great….and we actually got paid.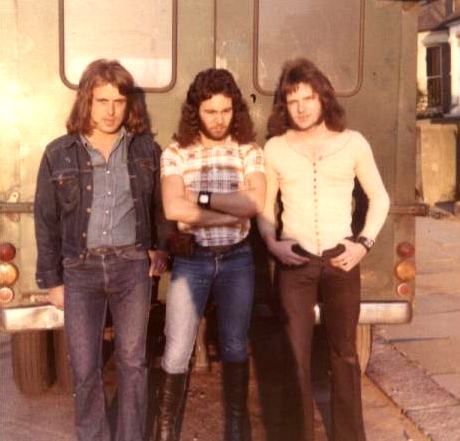 When and where did Big Ladder Woman play their first gig?
The very first Big Ladder Woman gig was at the Sirius club, Southgate, supporting Stray, in October, 1970. The first song we played was 'Train Kept A-Rollin' by The Yardbirds. We were pretty shoddy musically a the time, and looked amateur compered to Stray…a month later, we supported Hawkwind at the same venue.

"We liked more obscure side of things"
What influenced the band's sound?
The bands that influenced Big Ladder Woman were; Pink Fairies, New York Dolls, Stooges, MC5, Grand Funk Railroad and The Deviants. Nothing "mainstream". We liked more obscure side of things.

You played for quite awhile but you never received a proper recording deal.
The reason we didn't get a record deal, was because we had very little original songs and VERY amateur "management"!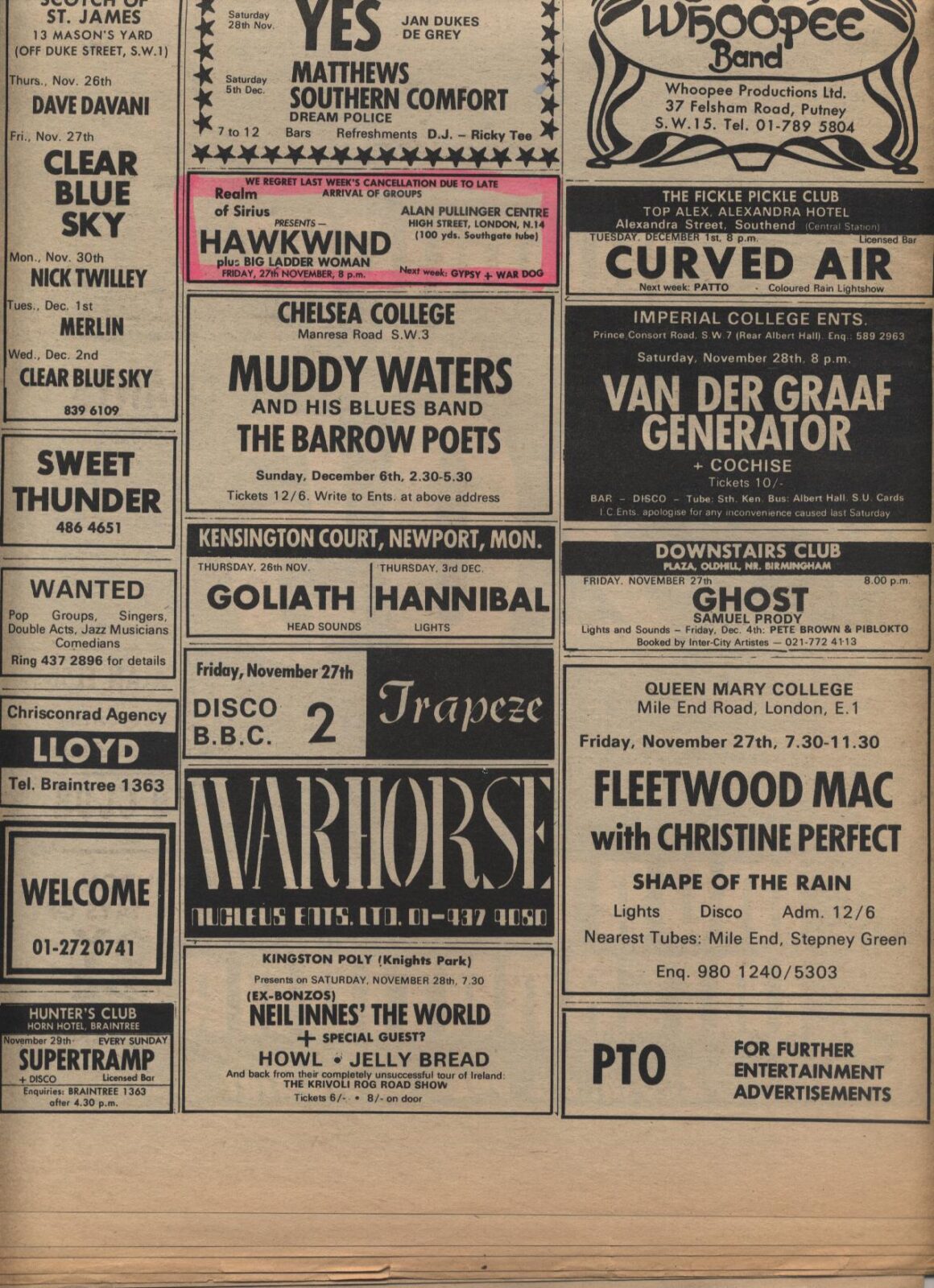 How would you describe your sound?
Our sound was like a cross between the Pink Fairies, Stooges and Grand Funk Railroad.
Big Ladder Woman setlist; (approximately). We played our versions of a lot of covers.
1. 'Down on the Street' (The Stooges)
2. 'Train Kept A-Rollin" (The Yardbirds)
3. 'Black Cloud' (Trapeze)
4. 'Cold Turkey' (John Lennon…a 'Grand Funk' style version)
5. 'Feathers from Your Tree' (Blue Cheer)
6. 'On the Road Again' (Canned Heat)
7. 'Ramblin' Rose' (MC5)
8. 'Roll Over Beethoven' (in the style of Mountain)
9. 'Uncle Mum' (actually one of our own. An instrumental that had a Frank Zappa influence…)
What happened after the band stopped?
Around Xmas, 1973, there was a big petrol shortage in the UK, and power cuts, and we had run out of gigs and enthusiasm, and the band ground to a halt.
After Big Ladder Woman folded around Xmas 1973, I joined Moby Dick in February, 1974 and later went on to Stone Kerb (November 1974-summer '75) then Nitro (with guitarist Alan Warner, ex Foundations, and singer Dennis Willcock, who I was later with in Iron Maiden (from summer 1975- Xmas '75). After Nitro, I joined Snatch with Danny Hynes (January-April 1976).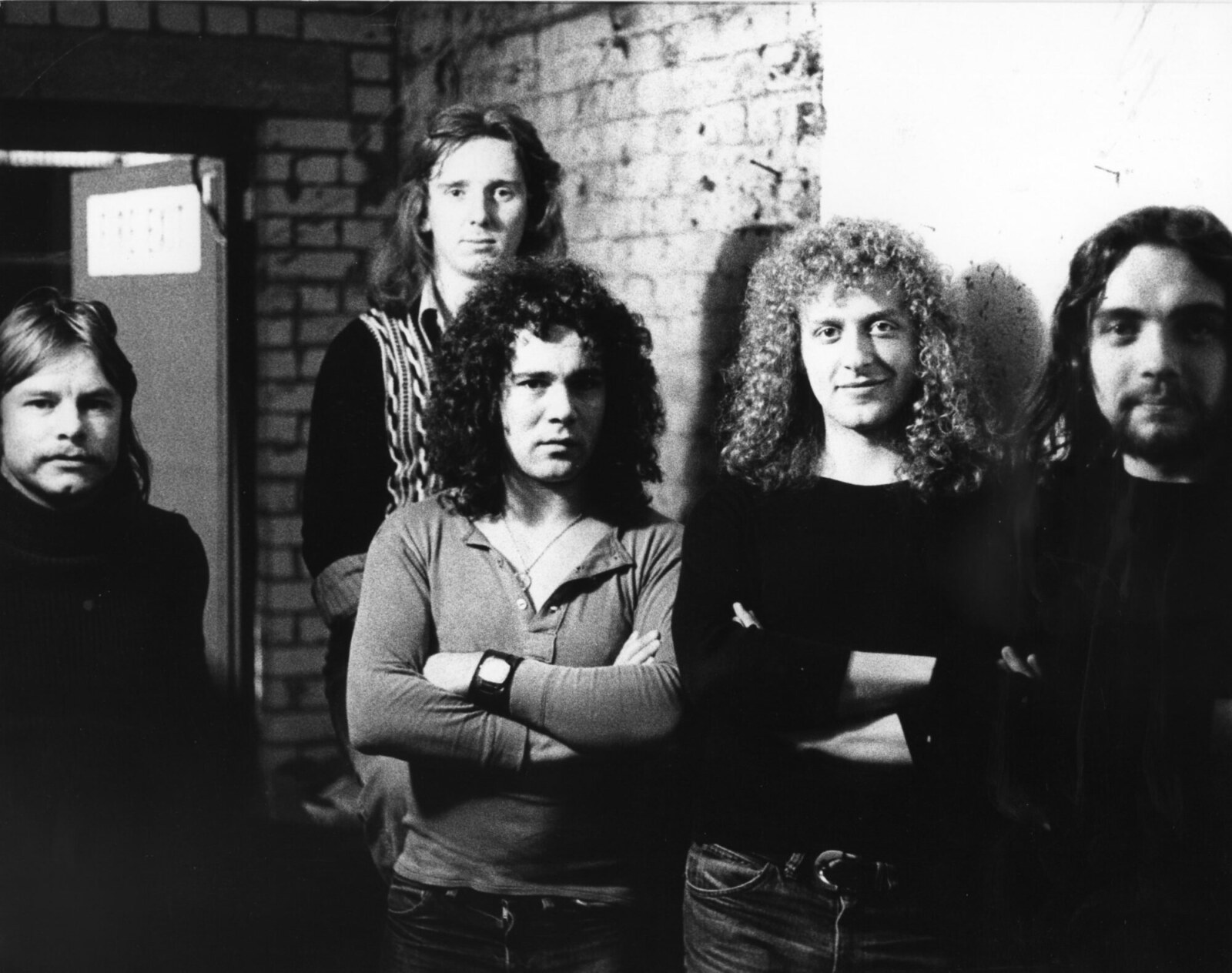 I was later in Weapon with Danny in 1981. I was also in Shady Lady in 1976, replacing guitarist Dave "Bucket" Colwell (who later played with Samson, Bad Company, and Humble Pie. The drummer in that band went to play with Suzi Quatro and Wishbone Ash as a guitarist!). My "big break" came when I joined Iron Maiden, in December, 1976. The "Iron Maiden story" is far too intense to go into, but it's all covered in my book.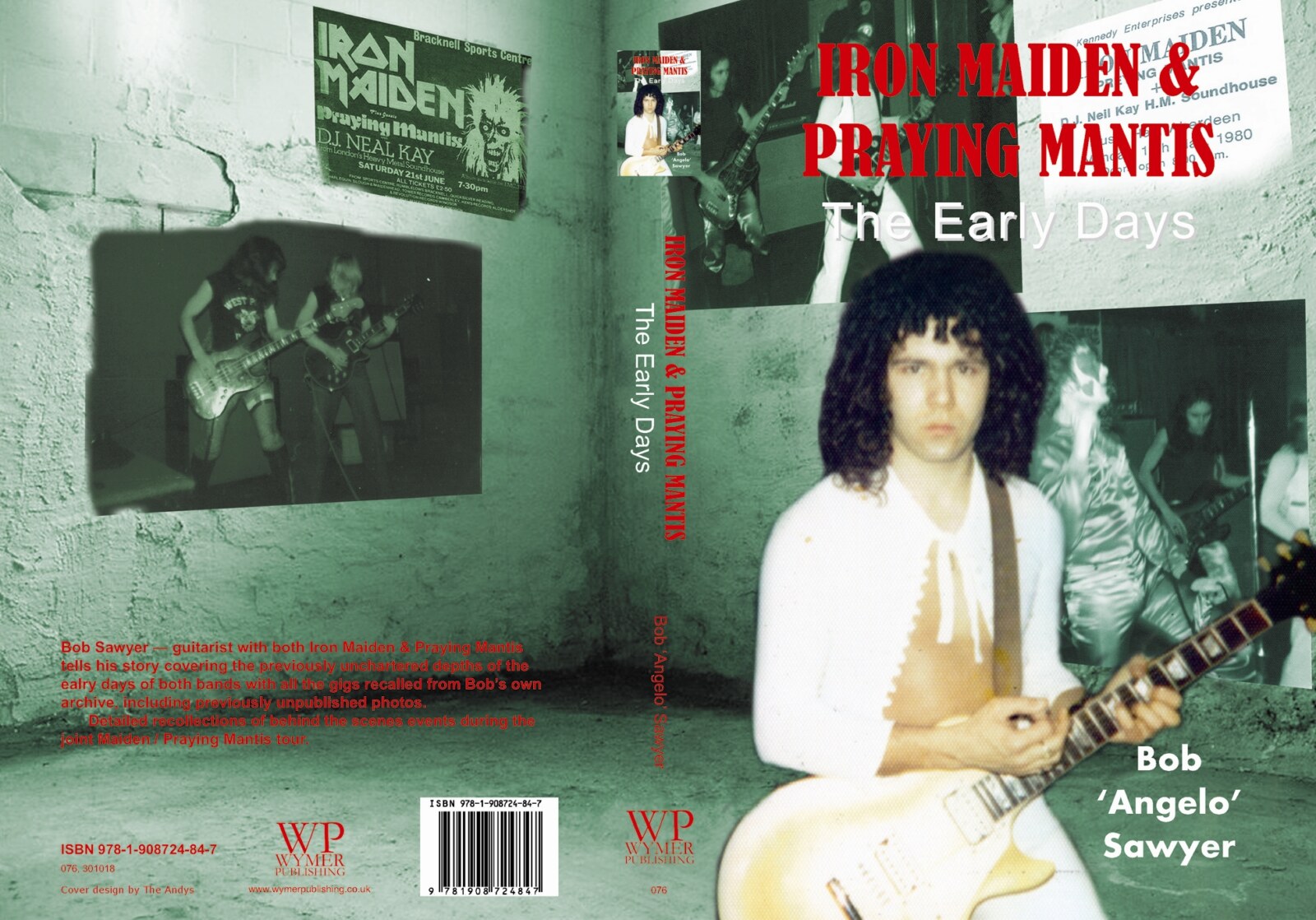 You've been active with Praying Mantis and Weapon later on. Would you like to tell us about those two bands?
I joined Praying Mantis in early 1980, and almost instantly went on the "Metal for Muthas" tour as support to Iron Maiden. Part of the reason I got the gig with Praying Mantis, was because Maiden's Steve Harris "put the word in for me" with Tino Troy. Praying Mantis were also on Maiden's first British headline tour, in summer 1980, and after that, I was "let go" from Praying Mantis, for "not being a team player", which, unfortunately, was true. I joined Weapon in Summer 1981. Singer Danny Hynes was an old mate from the Snatch days. We did a few gigs, but in November, '81, it ground to a halt…we just couldn't get a record deal, so we called it a day. Weapon later reformed in 1983, and Iron Maiden drummer Ron Rebel played in the band briefly.
Looking back, what was the highlight of your time in the band? Which songs are you most proud of? Where and when was your most memorable gig?
The "highlight" of Big Ladder Woman's career was supporting Longdancer at the Sundown, Edmonton, in February, '73. They were signed to Elton John's Rocket label, and Elton John was at this gig…and Big Ladder Woman blew them off the stage!!! We had a killer gig that night, and Longdancer were almost ignored, haha. We opened with a Mountain style 'Roll Over Beethoven', and blew the shit outa the place! The guitarist in Longdancer was David A. Stewart, later of "Eurythmics" fame! We later in the year, played support to '60s bands The Searchers and the Swinging Blue Jeans, which was fun… It was at the Cross Keys pub, in Edmonton. This place was really dodgy…there were always fights and drug busts, et cetera.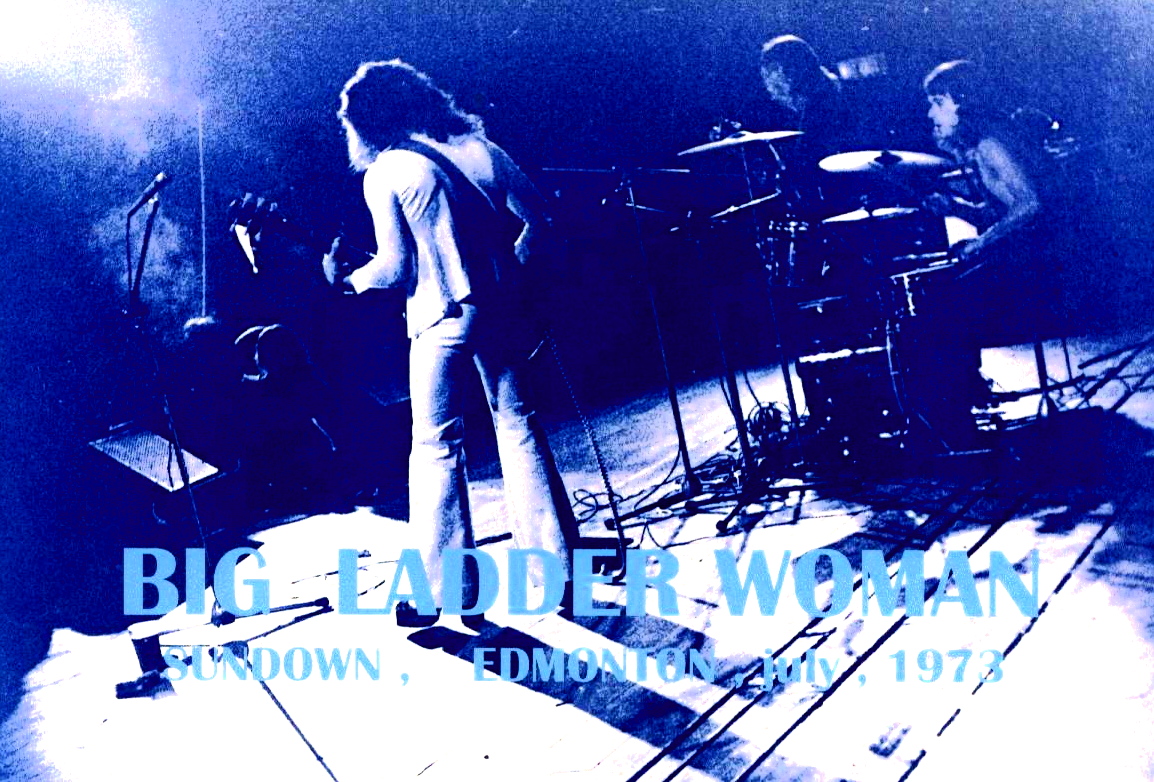 What are some of your favorite memories from the 60s/70s in general?
My best memories from the '60s and '70s… In November, 1963, I saw the Duane Eddy/Little Richard package tour at the Regal Edmonton (which later became the Sundown, as mentioned…) and Little Richard took off his shirt, and threw it into the audience…who went crazy! This was a BIG reason why I wanted to be a "rock star"! Really, there are far too many great gigs that I have seen between 1968 and 1977 to go into, but I got to see these great bands in small venues; Jethro Tull, Ten Years After, Taste, Spooky Tooth, Free, Led Zeppelin, Deep Purple, Black Sabbath, Aerosmith, Alice Cooper, Santana, Bad Company… and this is just the "tip of the iceberg", as they say…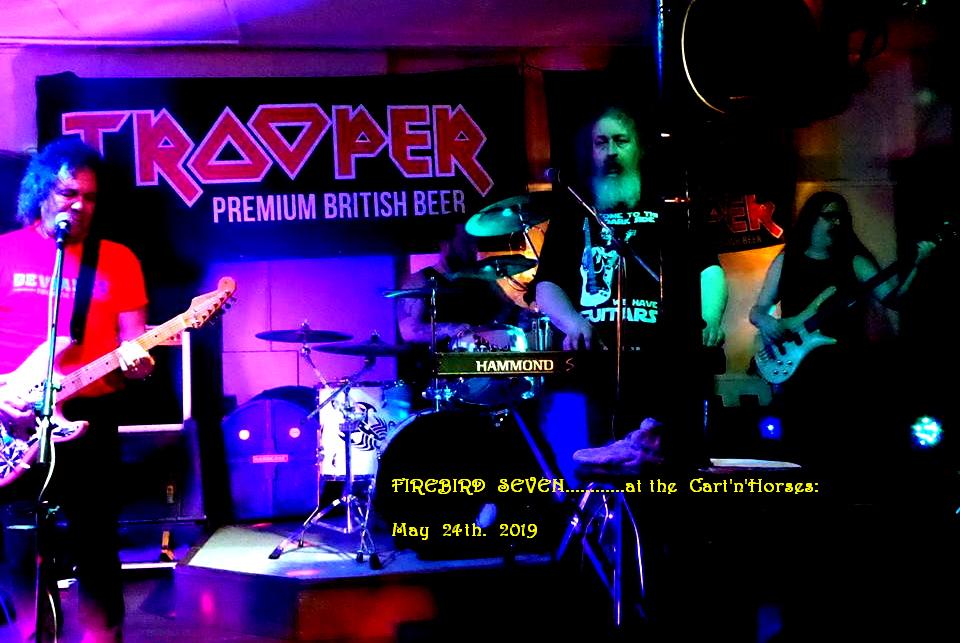 What currently occupies your life?
What am I doing now? I have band called Firebird Seven, which features a Hammond Organ, and is bluesy/psychedelic, and also another band called Psydewinder, which is more "experimental". I also make albums at home in the "Ambient/Sci-Fi" style. Far different from what I do band wise…but I am always looking for a label to distribute them…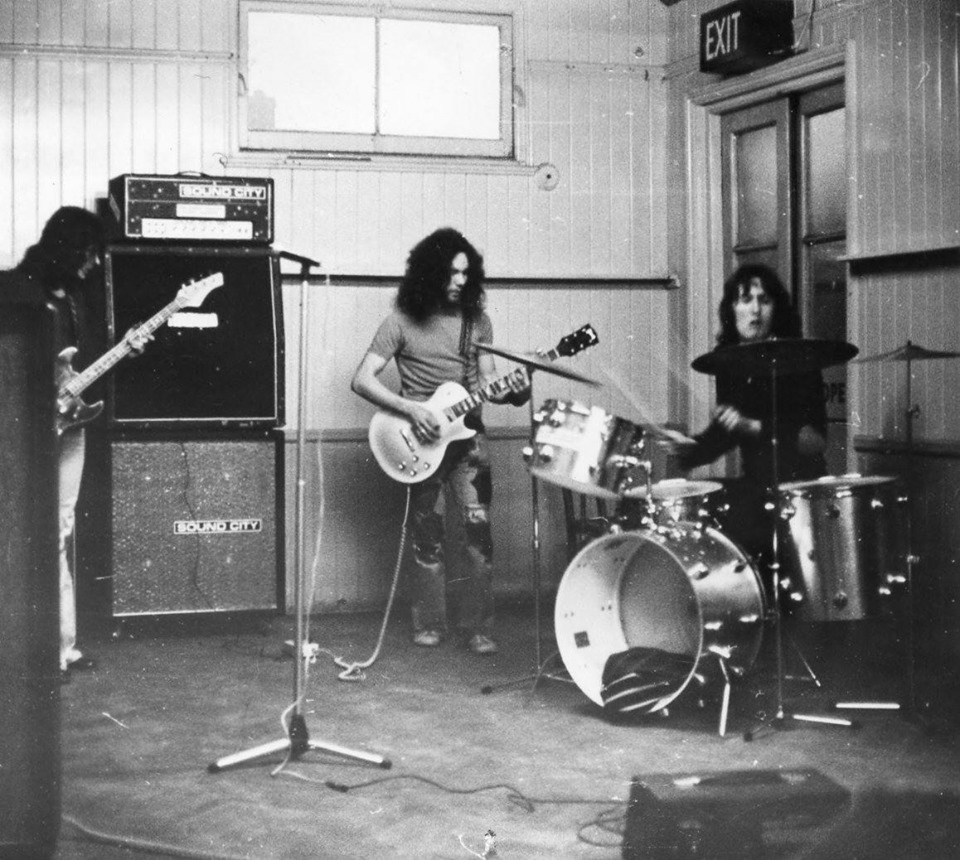 Thank you for taking your time. Last word is yours.
The Big Ladder Woman guys are still around, but the only ones I keep in touch with are; Terry Mac, who plays in a few local bands, and Mick The Wick, who has since given up playing live. After Big Ladder Woman, he joined Omaha, in 1974. They played all the London pub circuit at the time.
Klemen Breznikar
---
Bob 'Angelo' Sawyer Facebook / YouTube
All photo materials are copyrighted by their respective copyright owners, and are subject to use for INFORMATIONAL PURPOSES ONLY!