Stray Singles
The albums of hard-gigging English groups (Stray, Medicine Head, Edgar Broughton, Groundhogs, Strife etc.) were consistently good value. A well-kept secret back then was that their (often non-LP) singles were worth collecting too. Many strong songs weren't singles of course, but those that were—even abridged from well-reviewed LPs though some here extend to five or even six minutes—hold sharper focus. If you ever needed proof that the BBC shouldn't be allowed anywhere near the charts (or children), here's your solid gold proof. A fuse had been lit and still fizzes today.
---
BGO Records has just issued a crisply remastered double CD of Stray's earliest singles, surprising the founding frontman Del Bromham ('Stray: A's & B's 1970-76' BGO Records BGOCD1464). It might surprise fans too because several weren't even issued in the UK, including their first ones! Any success therefore was in Japan and Europe, especially Germany and Italy (as did Van Der Graaf Generator, whom they even sound a bit like on one version and a later 1975 title track).
From trippy helter-skelter chords and harmonies for psych on skates to panzer bass/pneumatic-drum rock behind acid solos (organ, harmonica, violin, brass and strings add colour as does wah-wah, fuzz and sound effects), interest never wavers. Recalling their gigging everywhere, it's astounding that they not only had so many singles but were off radio and television's radar. When I interviewed Del Bromham (guitars, keys, main songwriter and later vocalist), Steve Gadd (vocals, harmonica, acoustic guitar), Gary Giles (bass) and Ritchie Cole (drums) last year (Shindig #73), their modesty was clear.
The culprit of this tale was clearly Transatlantic Records, who started as an importer of Russian classical music then hit gold with sex education albums. A leading folk music label in the sixties, they added underground progressive then hard rock but without either savvy or budget to break into those new markets. Mirroring one-take folk in cramped studios or back rooms they set a maximum of only two studio tape reels, thus nobbling their roster from the start. Ironically-named Transatlantic only released one of Stray's first eight singles in the UK!
Stray later learned that Island Records showed interest with management; as a big label (Free, Traffic, Jethro Tull et al) they'd have been able to launch them to the next level where they should've been, based on their music and following. That company was then in the heart of London's counter-culture—Notting Hill—though in the earliest days the band weren't hippy or even rocker but closer to mod when banding together as working class West London schoolboys. Never wide-boys, even when setting out as The Stray, non-stop graft has been their gang motto and it has stood the test of time.
Their image and music had by then morphed into the jangly psych of their first singles with debut album classics such as Time Machine (Germany), Around The World In 80 Days (France), All In Your Mind (Italy, differing from the LP) followed by Son Of The Father (Japan) from the next LP then Leave It Out (Spain). Even the classic After The Storm, gritty as a nitty sandwich and popular live still, only came out in Italy in a jukebox edition shared with another artiste as did the debut Only What You Make It the same year (a double A-side with Simon Luca). Of seventeen issues only half a dozen went out in the UK. This slip-cased thirty-tracker, duplicate-free, speaks much for BGO's diligence through a minefield.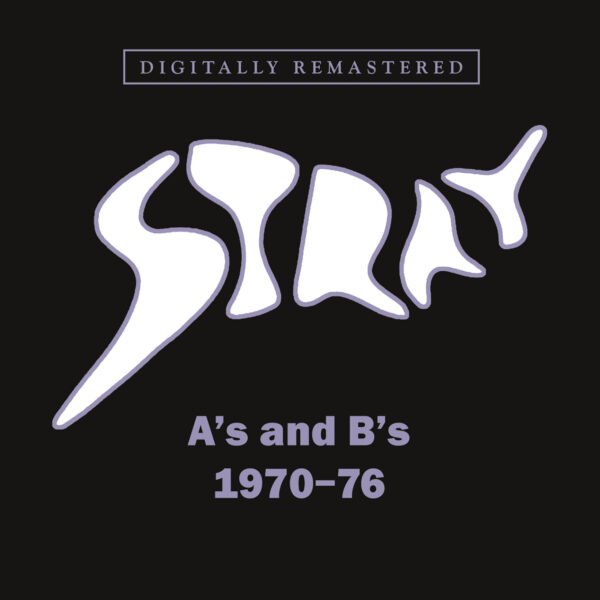 From mods in the influential demo studio R.G. Jones (Morden)—while your reviewer was at school across the road—a change of manager saw higher profile gigs at the Roundhouse supporting Deep Purple and Spooky Tooth (the Byrds failed to appear), with Hawkwind Zoo at Eel Pie Island and Yes at the Greyhound, plus all-nighters that were part of the circuit then. A demo of Del Bromham's songs resulted in the ill-fated Transatlantic deal and first album in mid-1970 at Sound Techniques in Chelsea with Hugh Murphy (1946-1998), the young producer of Gerry Rafferty's hits for decades after working with Shel Talmy.
First UK release was their fifth single, Our Song / Mama's Coming Home (1972), with different producers; the Spanish edition here changed the B-side that year. Endless gigging soon saw them among the best of the decade-changing scene as their psychedelia broadened into heavier rocking, unique for multiple chords and time-changes when one of the first to use lights and pyrotechnics, though rudimentary (a dustbin?!) they were dangerous and amusing by degrees.
Second LP 'Suicide' (same producer, different studio in '71) led to them miming on BBC television's Disco 2, precursor to The Old Grey Whistle Test (a name allegedly coined by the drummer of Island band Quintessence). Oddly, the LP featured in some charts (New Musical Express; Disc & Music Echo) but not the one that mattered. A new studio and producer for 'Saturday Morning Pictures' (1972), with a well-publicized and attended Saturday morning show at a major venue like children's popular cinema-going at the time, resulted in five world-wide singles but only one in the UK (Our Song backed by a non-LP cut). BBC radio too—with four Peel sessions 1972-74 alone—but still no breakthrough.
New management financed a fourth album, the bigger budget adding strings and brass to the aptly-titled 'Mudanzas' (Changes in Spanish) in mid-'73. Its Hallelujah backed with the non-LP Brand New Day, from these Wilf Pine sessions, ends the first CD. Both sides (with strings and brass but still rocking) of a Japanese single, two years after the LP, open CD2. Suspiciously again, a gold disc was awarded but the album didn't appear in charts. The next year in America they recorded the grooving Move It without a shadow of Cliff Richard; this title track as a 45 with the non-LP Crazy People was written by vocalist Steve Gadd, who by then wanted more writing access as well as second guitar, causing tensions.
In 1974 new rhythm guitarist and song-writer Pete Dwyer joined from the Traders, Del's brother's band where he'd also cut his chops before Stray. Steve Gadd left taking his songs with him, so Del used his solo project and took on vocals to plug the gap. One of their last co-writes, Like A Dream (Bromham/ Gadd) with Somebody Called You was issued by Transatlantic in Japan, a promo edition having a picture sleeve and inserted lyrics.
A debut US tour with Canned Heat and Spirit resulted in a return to basic rock, what they called their barroom style. Its unfettered, swaggering rawness defines the band today. A short-lived association with Charlie Kray, of the infamous criminal family, resulted in publicity but negativity from venues and other bands 'til order was restored by his leaving. Without success for their graft, coinciding with Transatlantic's demise after 15 years (issuing two compilations 'Tracks' and 'Reflecting A Generation' in 1977—both in Germany!), Stray changed to Pye Records' new imprint Dawn, which combined successful Mungo Jerry with banal pop and obscure prog. This was of course the cusp of Punk with its own rebellion.
They at least released the material in its country of origin: Precious Love, Stand Up & Be Counted—a mid-'75 album title track—and Take It Easy (backed with the fiery co-write with Dyer, Fire & Glass) but failed to light the charts, nor did one more single on Dawnless Pye produced by Neil Slaven when Wilf Pine exited. Slaven had worked with Savoy Brown, Chicken Shack, and Keef Hartley, producing Stray's 8th LP 'Hearts Of Fire' in late '76. After Pye, Mystic Records issued a superb live album at a Marquee concert (with one of the first merch tables I recall) and Stray's tenth album in 1984. At the turn of the century they Euro-toured with Iron Maiden, who'd covered their songs.
The first 8 albums were reissued by Castle Music in 2007, and 'Valhalla' (2010) with a high-profile producer was acclaimed. Esoteric Records issued a four CD Transatlantic box in 2017 too with a full CD of rarities. Influential albums and high-octane live shows, always entertaining no matter where, long-term admirers such as Steve Harris (Iron Maiden), Neil Peart (Rush), Captain Sensible (Damned) and Colin Moulding (XTC), should have brought international fame as to Sabbath or Purple's kindred prog leanings behind a heavy-duty approach, with the riffage and ballads of Budgie, the blues power of Groundhogs and unforgettable dreamscapes of Wishbone Ash. Stray certainly knocked spots off such as Steppenwolf, Blue Cheer or Blue Öyster Cult.
Have you ever had a nagging doubt that those who wear Iron Maiden or Stones T-shirts know nothing about rock, Ramones about Punk, Van Gogh or Impressionists anything about art? This is an age of bought brands not style or knowledge. In the '70s no one would even consider paying a brand to advertise them for free: it was the other way around, brands tried (unsuccessfully) to give products away. Stray like the non-brand names mentioned weren't a brand—they couldn't be bought or manipulated—they shared their original sound in distinctive style. We live in an age when mere recycling is championed, it is something but shouldn't be deified as if a be all. Some musicians only recycle and get rich from it while overrated. I agree with the late Genesis P. Orridge: some haven't moved music forward one iota, though may have a facility for 'protest' or 'controversial' lyrics, rehashed riffs, bombastic egos and the like.
Stray's underrated career parallels some who also continue to this day. Before (obsessional) technology there was a game comparing family, friends or lovers to animals; bands that aren't artificially created by manager or label evolve over the years. Let's say Status Quo morphed from a dinosaur at the end of psych to an alligator (then a croc(k)?), U.F.O from a huge stand-alone mammoth to a head-charging bull. Some such as Medicine Head rose from depths fully formed to glide majestic as a stingray, Stray soared falcon-like from the nest which it rocked along with the cliff itself. Whatever a beast's nature, no genealogy interferes with this fiery ride. Seatbelt (and helmet) advised; built-in ejector seat optional. As they said to a studio engineer on Fire & Glass, "turn it up louder"!
The extensive booklet has a great discography of the remastered world singles, though you'll need a separate discography for album sources. And run-on CD1 because there's a hidden bonus of the variant nine-minute All In Your Mind that opens the first album. More riffs and time-changes per song than you can shake a rattle to before it breaks, even in the runouts! If inventive driving rock without la-la lyrics is your bag, this is a faultless collection of historical significance from a fertile era that still pleases today. One of the best retros so far this year.
Brian R. Banks
---
Stray | Del Bromham | Interview
BRB – 'Razorback – First Bite' (1987)
Stray – 'All In Your Mind: The Transatlantic Years 1970-1974' (2017)
Stray – 'Fire & Glass: The Pye Recordings 1975-1976' (2017)