Stray – 'All In Your Mind: The Transatlantic Years 1970-1974' (2017)
Formed in London in the late 1960s, Stray recorded a total of eight albums between 1970 and 1976, the first five for the Transatlantic label, and those albums and associated releases are the focus of a new four CD box set on Cherry Red Records' Esoteric Recordings imprint.
---
Stray comprised vocalist Steve Gadd, guitarist/keyboardist/vocalist Del Bromham, bassist Gary Giles and drummer Ritchie Cole. This set contains the five albums, four demos recorded for Pye Records in 1968, an outtake from the 1971 LP "Suicide," two songs released on Transatlantic's 1975 sampler "Tracks," three non-LP b-sides and two single edits of album tracks, thus compiling everything Stray released on the label.
"All In Your Mind" kicks off with the eight tracks from Stray's self-titled 1970 debut LP, including the album's opening track, the incredible nine minute, twenty four second, hard rocking guitar driven magnum opus which serves as the title track of the box set. On this tune Bromham displays his mastery of the wah wah pedal as well as delivering some most impressive solos. The song, as with most of "Stray" was penned by Bromham, with Gadd contributing one track, and two being credited to the entire band. As evidence of his versatility Bromham makes good use of his tremolo bar on the album's second track, "Taking All The Good Thing," a five and a half minute masterpiece. A most impressive debut, there is nary a weak link among the album's tunes, and Bromham's guitar shines throughout, his wah wah work on "Move On" and his soaring solo on "Time Machine" being but two further examples. The rhythm section of Giles and Cole is tight throughout consistently holding down the bottom end for the band, and Gadd who was selected as vocalist for his looks, before anyone had actually heard him sing, gives the band a voice perfectly suited for its sound. While the quality of music contained on "Stray" was unquestionable, sales unfortunately did not reflect that quality. Although never released in the UK as a single, a four minute, three second edit of "All In Your Mind" released in Italy, is included among the rarities on the final disc of this box set, thanks to compiler Mark Powell.
Disc one is completed by the inclusion of seven tracks from the band's sophomore effort, 1971's "Suicide." As with its predecessor "Suicide" is another hard rocking, guitar driven effort. From the album's near six minute opener "Son Of The Father" another Bromham composition, it is clear that Stray had another dose of high octane rock and roll to offer. This track's gentle intro belies the high energy sound that quickly follows. While "Suicide" includes plenty of hard rocking tracks such as "Nature's Way" and "Jericho" it also includes mellow and restrained acoustic numbers like "Where Do Our Children Belong." Included in the LP's track listing is "Run Mister Run" a track containing tasteful tempo changes and serving as an indication of the band's influences, in this case mod champions The Who. In addition, the album introduced keyboards to Stray's sound, with a mellotron making an appearance on "Son Of The Father" and harpsichord and mellotron both integral to "Dearest Eloise." Like their debut, "Suicide" was not a big seller, but the band was sent into the studio to record a third album.
Disc two opens with the title track of "Suicide" before moving into the eight tracks which comprised their third LP "Saturday Morning Pictures" which was also released in 1971. Another hard rocking effort, there were further indications of the band's move toward mellower, less high energy material, hinted at on "Suicide," that would be included in future releases by Stray on the Transatlantic label. This is apparent on the album's opening track "Our Song" with its acoustic intro, before the song turns up the heat with wonderfully distorted guitars. Furthermore, the tune featured Hammond organ, furthering the keyboard usage hinted at on "Suicide." An edited version of "Our Song" issued as a single in 1971 is included on disc four, as is its non-LP b-side "Mama's Coming Home" the former credited to all four of Stray's members, the latter solely to Bromham. Among other highlights of "Saturday Morning Pictures" is the heavy shuffle, guitar laden, hard rock "After The Storm," yet another Bromham composition. Despite the consistency of the material on Stray's third album, it was decided that a change in the band's sound might solve the problem of lagging sales. Thus, the group's fourth album, "Mundazas" released in 1973 sounds drastically different from the earlier releases.
From its opening track, Steve Gadd's "Changes", "Mundazas" stands in stark contrast to prior releases by Stray. "Changes" opens with an acoustic guitar intro, before being joined by orchestration. The album is filled with horns and strings, sometimes carrying the tunes, other times entwined with Bromham's guitar, with differing levels of success. The album wasn't a complete divorce from the band's earlier sound, "Alright Ma" retaining The Who influence in its heavy lead guitar line accompanied by a mellower Dylanesque element. The track with its gorgeously echoed guitar solo stands out among the LP's eleven tunes. Many of the album's songs come off a bit out of kilter, with tasty lead guitar lines and gorgeous vocal harmonies overpowered by horns and strings, one track even including a saxophone solo that seems a bit out of place. "Mundaza" fills the final six tracks of disc two and the first five of disc three. In the wake of "Mundaza" the band recorded a fifth, and final, LP for Transatlantic, "Move It" released in 1974, and its contents being a real mixed bag, from its opening one minute, six second percussion laden "Tape" penned by drummer Ritchie Cole. The album's title track is a rocker, complete with driving beat, tasteful solo and gorgeous vocal harmonies. The tune, in edited form, was released as a single and the 45 edit is included on disc four with its non-LP b-side "Crazy People," written by vocalist Steven Gadd. Other tunes, like "Hey Domino" a nice mid-tempo rocker complete with soaring guitar, has horns overdubbed and somehow doesn't seem to be all that it could be. At any rate, "Move It" would be the last album Stray recorded for Transatlantic.
Disc four, as previously mentioned, is reserved for demos and rarities. The first four tracks were recorded as demos for Pye Records in 1968 and show the band in fine, heavy rocking form. Among them is "The Man Who Paints The Pictures" which found release by Michael Knust and Fever Tree. The Italian single version of "All In Your Mind" is certainly a highlight of the set. "Encore" an outtake from the "Suicide" sessions is followed by the single version of "Our Song" and its non-LP b-side "Mama's Coming Home." Next up are "Georgia" and "Get Out Right Away" taken from Transatlantic's 1975 sampler album "Tracks." "Brand New Day" a non-LP b-side, is followed by the single edit of "Move It" and its non-LP b-side "Crazy People" which round out the four disc set's fifty eight tracks.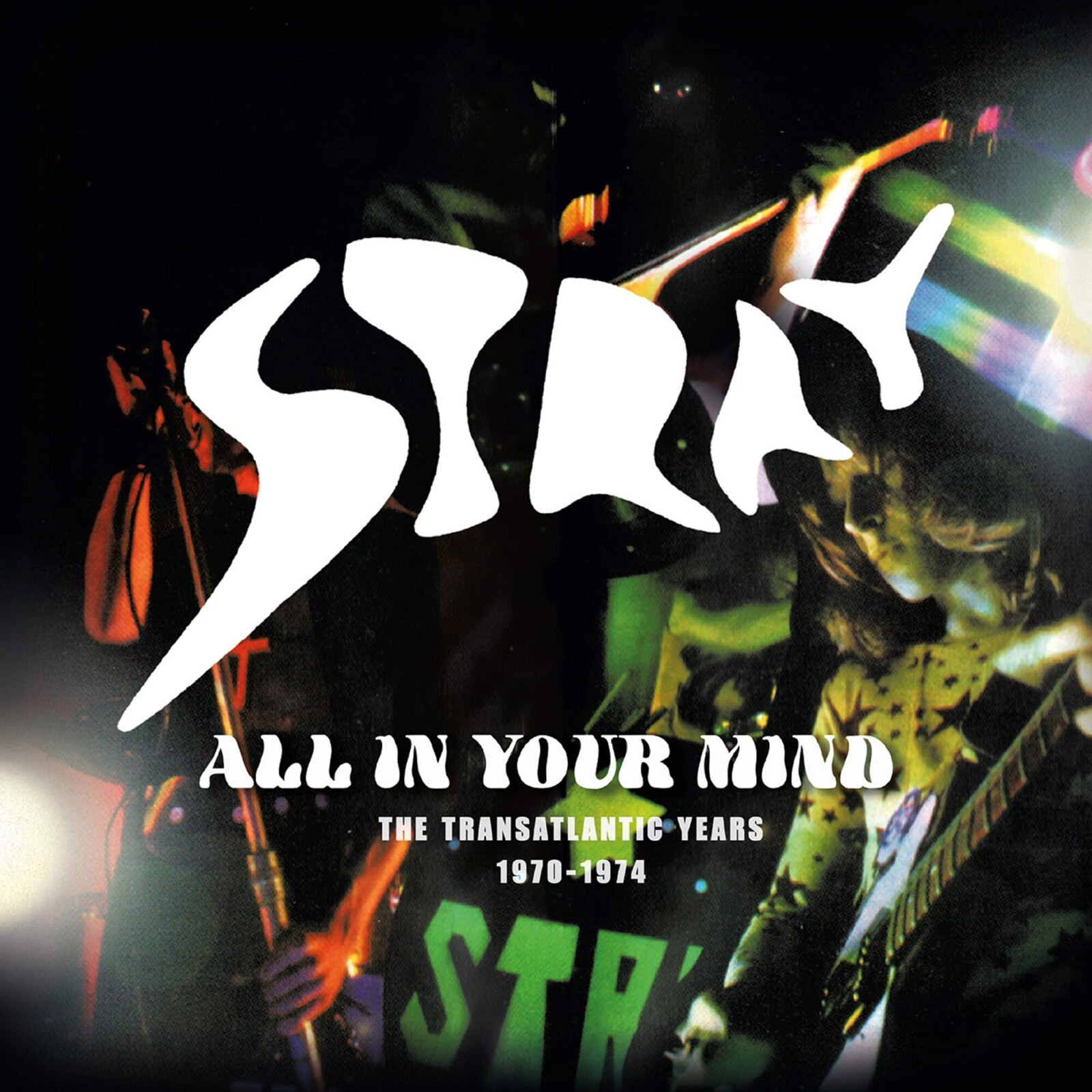 "All In Your Mind" comes in a clam shell box, its 20 page full color booklet includes full track annotations, an essay by Malcolm Dome and tons of gorgeous photos. Thanks to compilers Mark and Vicky Powell for yet another incredible job. This box set certainly has a place in the collection of any fan of British rock of the 1970s, especially those fond of the mod genre. The set is most highly recommended and will be joined soon by "Fire And Glass" a two disc set on Esoteric compiling Stray's recordings for Pye Records and completing the band's story.
Kevin Rathert
---
Stray – 'All In Your Mind: The Transatlantic Years 1970-1974' (Esoteric Recordings, 2017)