'Pushermen' by Iguana Death Cult | New Album, 'Echo Palace'
Exclusive video premiere of 'Sensory Overload' by Iguana Death Cult, taken from the upcoming album, 'Echo Palace,' out May 12th via Innovative Leisure.
---
This new track is the second single off their forthcoming LP, 'Echo Palace,' which was introduced last month with a track entitled, 'Sensory Overload'.
Speaking on their newest release, the band wrote:
"This is one of those songs that just sort of happened while fooling around. Talking about it now already feels kind of surreal but we were literally trapped inside my home because of the curfew that was installed due to covid. Guitar in hand, we were reviewing the state of the world and the growing division and distrust we saw not only in the media, but amongst the people we know. Someone joked that we should quit the band and go into the vaccine business and so, we had our chorus. A chorus that ends on a more serious note that we don't want to be victims of our time. I tried to make the lyrics ambiguous enough that you don't really know which side the narrator is on. In the end we're just all people living different lives."
On the track's upcoming video, they continued:
"'Pushermen,' it kind of sounds like an action movie doesn't it? Sadly we came a couple of million short, so Hache came with the idea to do a casting video for a fictional film called: 'Pushermen.' The scenes we did were loosely based on the movie 'Superfly.' If you know, you know."
When it came time to record the full set, the band headed to PAF Studio in Rotterdam, and then had the self-produced album subsequently mixed by Joo-Joo Ashworth (Sasami, Dummy) at Studio 22 in Los Angeles and mastered by Dave Cooley (Tame Impala, Yves Tumor). As the instruments swirl and trade solos on 'I Just a Want House,' a funky millennial nihilist anthem, you can practically hear the growth of a group that's been pushing itself further and further with every tour and every Belgian-stove fuelled jam session. The album is a big swing, stretching Iguana Death Cult beyond its garage rock origins and taking them to a new realm. It's the type of project that warranted having legendary Dutch saxophonist Benjamin Herman stop by to add to the squall on tracks like 'Oh No' and 'Sensory Overload,' heady thrashers that morph into calculated freakouts; that warranted Reek and Opschoor knowing when screaming their guts out on tracks like 'Pushermen,' and Boer and van Opstal knowing when to bring the rhythm section to a jazzy simmer on tracks like 'Paper Straws'.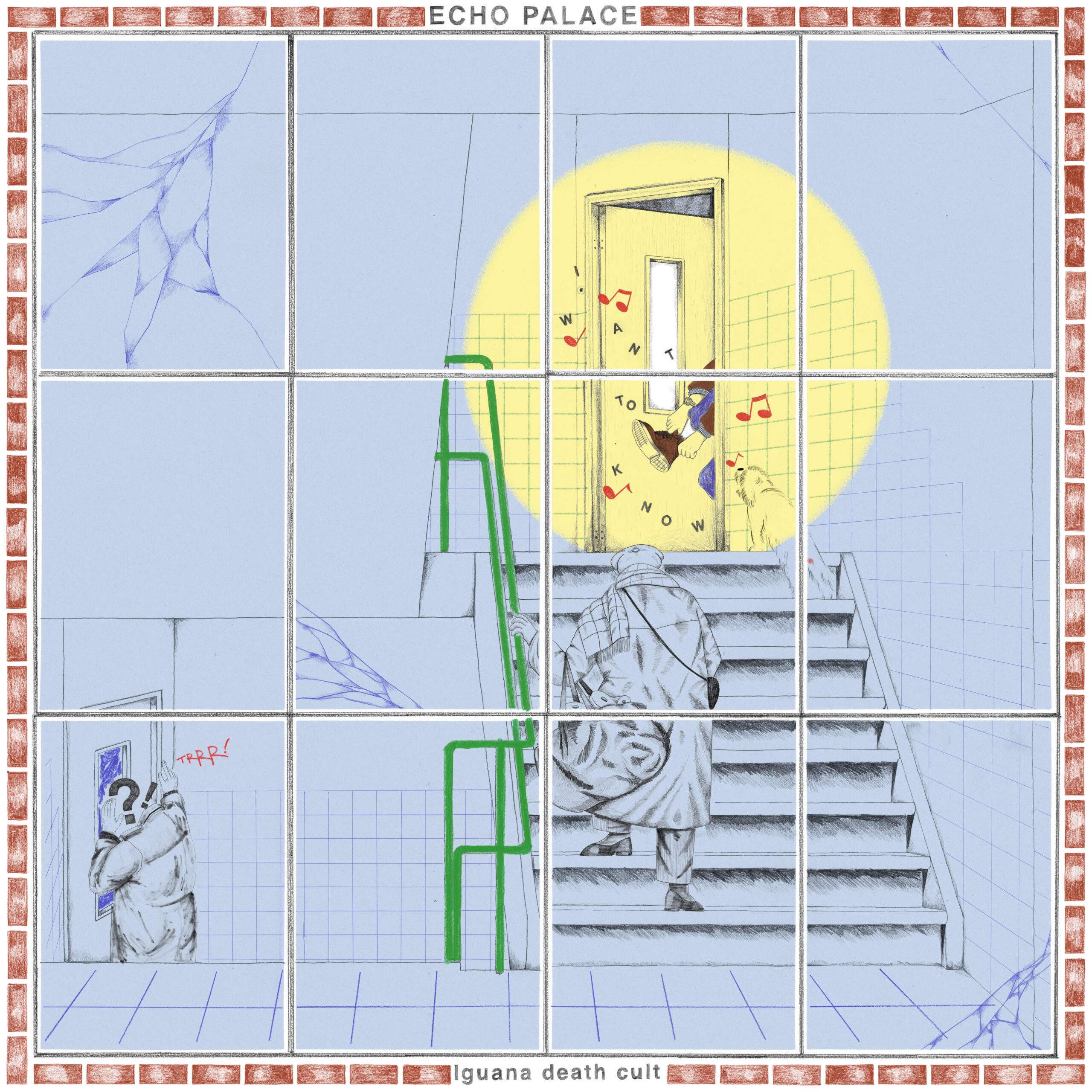 The end result of 'Echo Palace' is an appropriately worldly album from a group breaking past the confines of its home country. That's not to say that Iguana Death Cult aren't proudly Dutch; the group takes from the trademark hard work ethic of their Rotterdam base and applies it to their approach with music. But it's 2022, and we're less defined by our borders than ever before. "When we play in other countries, for me that gives the same amount of pleasure — or even more — than when we play in the Netherlands," says Opschoor.
---
Iguana Death Cult Facebook / Instagram / Bandcamp / YouTube
Innovative Leisure Official Website / Facebook / Instagram / Twitter / Bandcamp / YouTube