David Bixby | Interview | Performing in Copenhagen, Denmark
Just after New Year's Day, 2023 I had the privilege of interviewing David Bixby about his recent performances. It was a fitting time of year to hear his story of performing in Copenhagen, Denmark and experiencing the Nordic tradition of Hygge, a Danish word meaning "to give courage, comfort, joy."
---
Nordic people are renowned for their ability to withstand the harsh effects of the far northern hemisphere where winters are long, dark, and cold. Since ancient times they have come together to cope with this by lifting one another's spirits through music, candlelight, storytelling, puppet shows, good food, and the warmth of a bright orange fire. Sounds like Christmas? We see similarities across the world between cultures celebrating The Winter Solstice, Yule, Christmas, and in David's experience of Nordic culture, Hygge. In 2018 he was invited to perform in Copenhagen, at their annual Festival of Endless Gratitude. "It was an artist's dream come true to discover that your music has resurfaced after decades, in a different place all the way across the globe and has gained a fan base there", David said. After first releasing his famous album 'Ode to Quetzalcoatl' back in 1969 and 'Harbinger' in 1970 his music has now found its way around the world. In 2007, Guerssen Records, based in Spain, re-released both albums, sparking great interest from psych-folk fans throughout Europe. 11 years later his name had gained such notice that Denmark wanted to fly him out in person.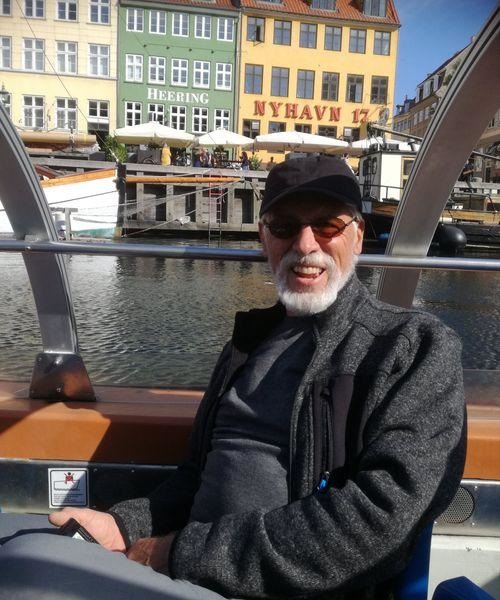 "I remember boarding my flight in Phoenix at sunset, connecting on my British Airlines flight in Washington, DC, and then chasing the sun to meet it at sunrise just as the plane was descending over Scotland," David said. "It was the real Old World, with the gentle dawn light illuminating smoke rising from the chimneys of simple cottages throughout the Scottish countryside. I arrived in Denmark with just my suitcase and guitar in hand and had been told that when customs asked for my reason for visiting that I should say "for cultural exchange." They took great interest in this and I was warmly welcomed there. The show at the festival went well, with far-out ambience like lava lamps, red lighting, and good video recordings of the performance, with about 200 people in attendance (see it on the Harbinger Magazine website). I met the guys from the psych-rock group The Sonic Dawn, Jonas Waaben, Emil Bureau, and Niels "Bird" Fuglede, and then in 2021 they went on to cover my song '666' (hear it on Bandcamp)."
"I had also been invited to perform in the city of Aaraus, a quaint place around the bay from Copenhagen. Along this bay I noticed that street people had come together to form a waterfront community consisting of sailboats anchored off-shore, with their masts down and people living on the boats. They had their own way of doing things and even had chosen a mayor for themselves. I had a hotel room reserved in Aaraus, but when I arrived it was late at night and the doors were locked. I thought that I would have to spend the night in a heated parking garage across the way, but then noticed 4 women outside of the hotel, seemingly having had a few drinks and talking merrily, and was able to just follow behind them into the hotel after they swiped their cards to enter. After my performance in Aaraus I was invited to stay at the home of some locals that had a home recording studio, which seemed to be common among the community of hip young musicians there."
While in Copenhagen David had his picture taken with the statue of Martin Luther, a real maverick, like David himself. David considers himself a renegade in terms of his relationship to religious authority and much of his song-writing is inspired by his personal experience with divinity, rather than the 1-way approach that David calls "the contemporary Christian spin on scripture." "Modern day Christianity is just following the trends of the world, which invalidates their power. They don't know who Christ is. They propose a 1-way approach to Christ, teaching that people must follow the church to experience Christ, when in fact the only way to fully experience Christ is through personal experience," he says.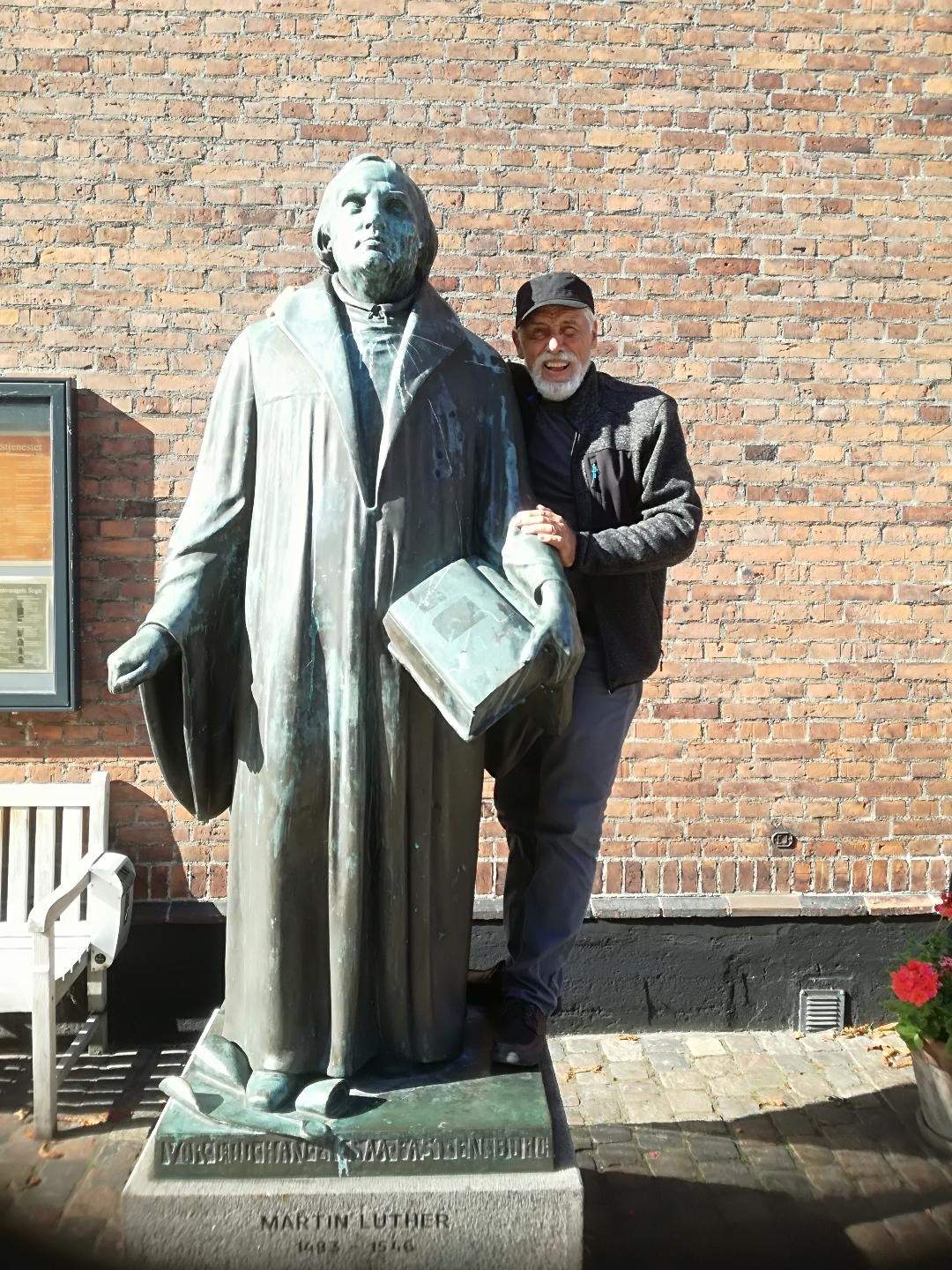 I asked David why it seems that European people have taken a special interest in his music and it was clear to us that it's because they have a great appreciation for dark poetic lyricism and deep meaning with purpose, traits exemplified in his style of folk music. The printing press originated in Europe. "Before the bible was published its stories were told by storytellers, minstrels, and troubadours. 'Ode To Quetzalcoatl' is for people who are soul searching. It ministers to the soul. My songs are psalms," David says. While in Denmark David was impressed by the fan base he also has within the metal genre there. "Metal music is also about facing the darkness. It's about the "impending doom." It faces "the void"", he says.
It's been a few years since David has returned from his trip to Denmark and he continues to have fond flashbacks of the whole experience. "They have a different culture there, one with more integrity. They don't have a philosophy of taking advantage of others before they take advantage of you. They value truly taking care of one another. Even their legal system has prisons based on reintegrating people back into society in a healthy way, rather than turning them back out with worse habits than they entered with. They wanted to pay me for my performance using international banking, and since I'm so used to seeing scams, I was naturally a little confused and upset. As soon as they realized that I was disappointed, they instantly did all they could to reassure me that I would be paid, since they place so much value in their reputation and integrity," he said. It's a real bummer that much of the world isn't following a more balanced way of living.
Now back home in Arizona, David is continuing his musical legacy. He is performing shows and bringing people together in collaboration with his music and Harbinger Magazine. He has a new vision of holding record trading bazaars at his shows, since much of his fan base are record collectors. In fact, recently an original copy of his 1970 album 'Harbinger' resurfaced in Tucson, Arizona, found by a record collector who then sold it for high dollar in Austin, Texas. Be on the lookout for more information about David's upcoming shows, record trading bazaars, and magazine articles.
Happy 2023 and, in the spirit of Hygge, may you all face the darkness by lifting one another's spirits in the mood of comfort in good music, warmth, light, and enjoyment! 
Dean Merrell
---
Dave Bixby Official Website / Facebook / Bandcamp
Harbinger Magazine Official Website / Instagram
Dave Bixby Announces Harbinger Orchestra Compilation Album | Exclusive Premiere of the First Single, The Sonic Dawn's Cover of '666'
Dave Bixby – 'Ode To Quetzalcoatl' (1969)
"Ode to Quetzalcoatl" by David Bixby
David Bixby | Interview