The Lords of Altamont | Interview | Heavy Psych Sounds Reissued Four Albums With New Covers
The Lords of Altamont bring forth raw rock and roll fury birthed from the ultimate end to the era of peace and love. Heavy Psych Sounds reissued four albums with new covers and on different coloured vinyl.
---
You will be able to enjoy 'To Hell With The Lords Of Altamont', 'Lords Have Mercy', 'The Altamont Sin', and 'Lords Take Altamont'. Take a ride through the mental landscape of these maniac releases. It's raw, aggressive and in your face. Here's a notorious story about the Lords.
"SoCal car culture, rock 'n' roll, 60's and 70's biker movies, B-horror, sci-fi…Altamont, the end of the Summer Of Love. The birth of revolution!"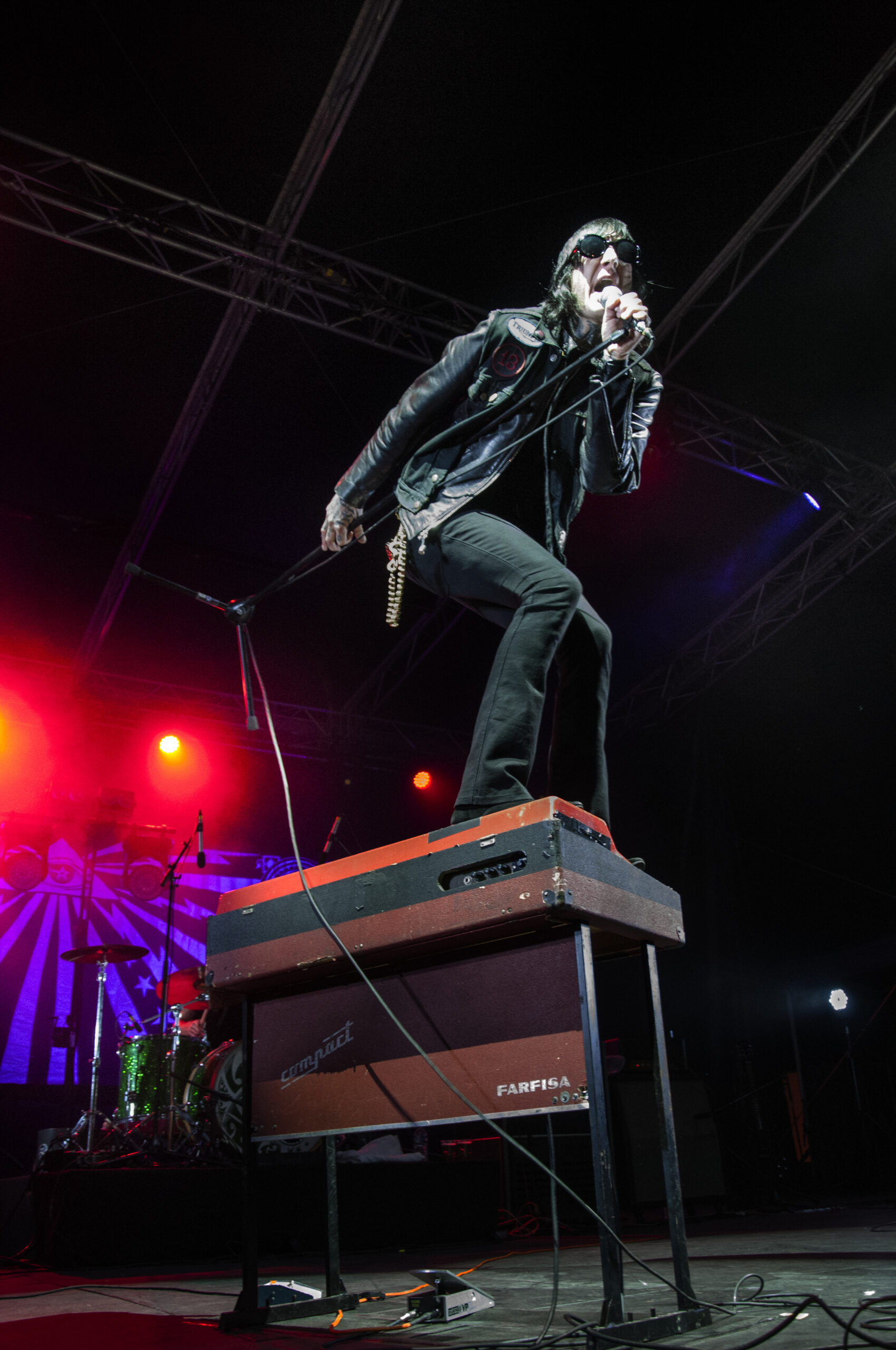 It's really nice to have you. There's no stopping for you guys. You've been active since 1999, what currently occupies your life within the band?
Jake Cavaliere: Haha, we try to stay current…in your face. Planning the next move for this band consistently occupies my life. I pretty much don't know what to do with myself without this type of work. All of us have projects between projects. We are musicians, we can't ever have just one!
Heavy Psych Sounds recently announced and have already pre-order going for four of The Lords of Altamont albums, 'To Hell With the Lords of Altamont', 'Lords Have Mercy', 'The Altamont Sin', and 'Lords Take Altamont'. Are you excited about the reissues and all the coloured versions that the label will release?
I can't wait to see these records as they should have been back in the day. I hope people are into it. I really appreciate the follow through no nonsense approach from Heavy Psych Sounds. We are stoked to be part of the gang.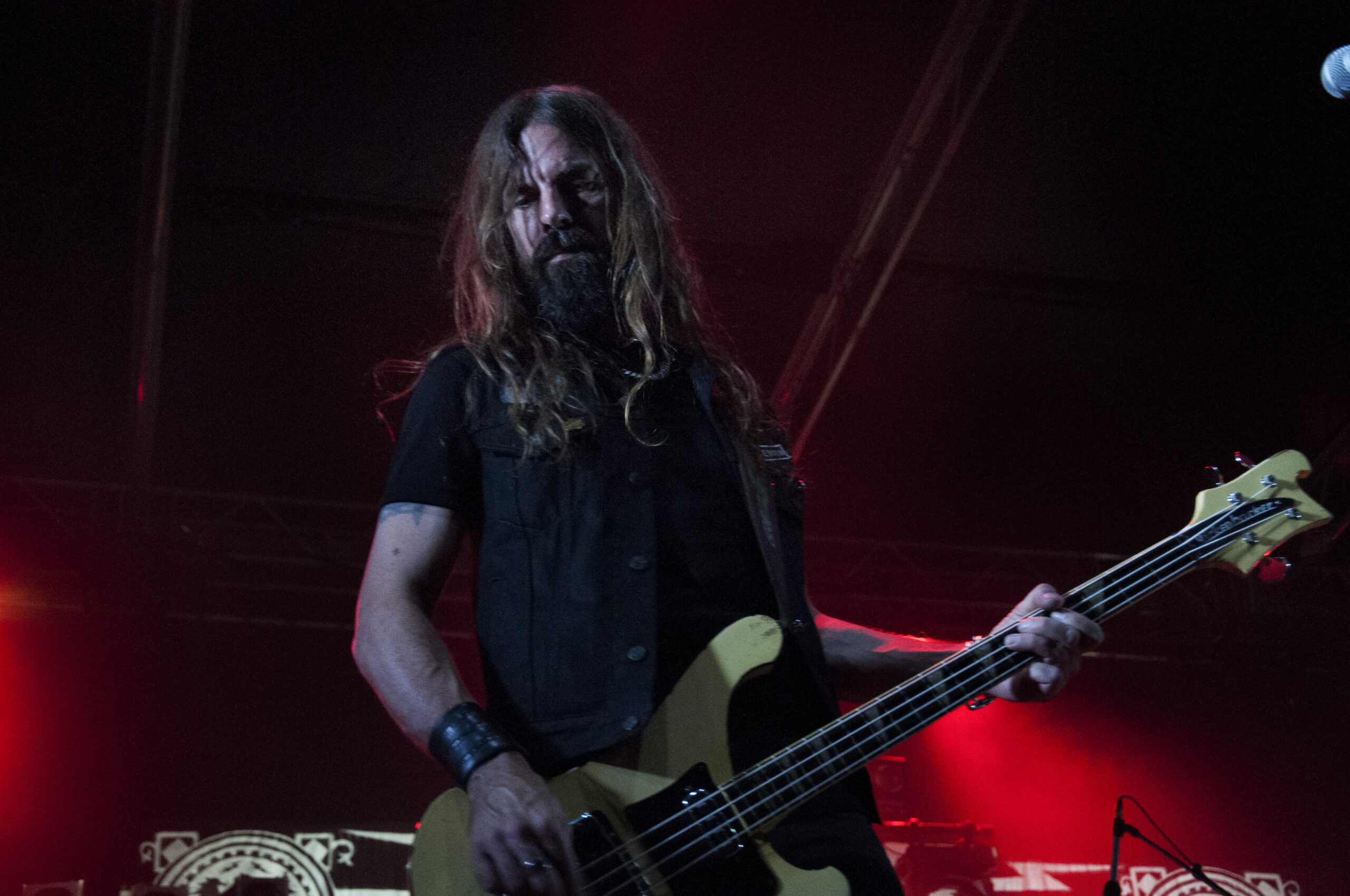 How involved were you with the label and its reissue process? Are any of these albums remastered?
'Midnight To 666' was remastered, which had been released earlier this year separately from these four currently. It was fun to go through all the old original art. A lot of it was hard copy or completely outdated formats. That was a little bit of a challenge. Lords Take Altamont had such a heavy hand on artwork presentation it was nothing like the original idea. I've never been essentially censored by a label! Chris Kro and I resorted back to a design Simon Bernt had mocked up and shelved. I'm happy that the past release will be seen as it should. 'To Hell With The Lords Of Altamont' had never officially been released on vinyl. Now a gatefold with outtake photos, and more pictures of my dad's chopper that appeared in Ed Roth's Chopper Mag back in 1970. No mastering or musical changes on this one. Dave Schultz mastered 'To Hell With The Lords Of Altamont', from 1/4" tape back in the day. Analog all the way. 'Lords Have Mercy' had the wrong musicians pictured on the album. A couple of guys performed as Lords live, but not on the record. We switched back the art to show who was actually on the album at the time. Max and Spencer weren't shown, they had left the band temporarily and management suggested the album showed the current lineup that was on tour. The album is the same, but changed slightly. The format was so outdated. 'The Altamont Sin' stayed the same.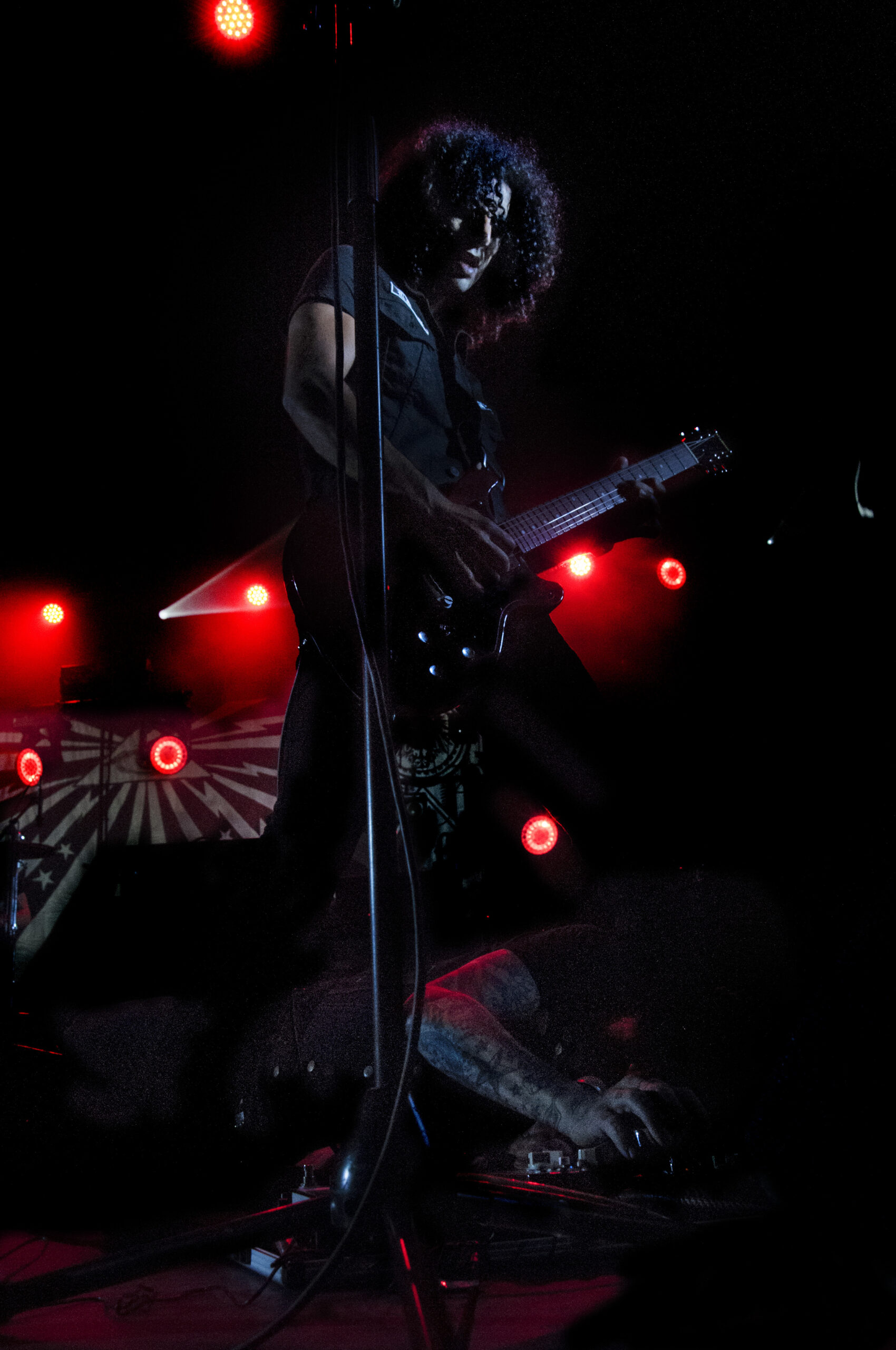 Let's take it to the beginning. You started in an instrumental band called The Bomboras in the early 90s. Would you like to talk about that band and how it got together? You released several albums with it and played millions of shows.
In the early 90's I played organ for a band called The Fuzztones. Bass player Chris Barfield and I decided we wanted to do a surf project band. We didn't have a lineup, I suggest the guys I had been playing with prior. Steve Hill, Gregg Hunt, and Dave Klein aka The Witch Doctors and Gallows. Gregg was the SoCal surf Master! Early talks about forming a band Chris wanted to go for more of a moody Deadbolt vibe. That quickly molded into a rocking SoCal style surf band with the above mentioned guys. We were called The Finks. We recorded immediately, performed very few shows and three of us left forming Lord Hunt And The Missing Finks. Soon after that we evolved into The Bomboras. Dave, Gregg, and myself had been playing together since we were 18. It clicked easily when "writing" and performing. The Bomboras had a few band member changes before we found the right formula. Von Franco, Action Andy, were part of The Bomboras, and later Shane Van Dyke, and Johnny DeVilla. The most active lineup was Gregg, Dave, Shane, Johnny and myself.
"I think I am the only person in rock n roll that loves the sound of a Farfisa"
Do you recall some of the early memories of being interested in music? What kind of records and fanzines would we find in your teenage room?
I think music has been a huge part of my life since my first memory. My parents would have people over when I was little. I remember laying down and falling asleep next to the giant 70's speakers connected to the hi-fi. I'll never forget the "number nine, number nine" repeated over and over from The Beatles' 'White Album', while the party is going off. Being exposed to The Rolling Stones and The Beatles must have set me on a path because music of my generation never really clicked with me. Except for maybe hardcore punk. But even that was a little before my time. Growing from a kid to a teenager I jumped around scenes a bit. Punk rock, mod, garage punk, but it all led to sixties based music with ORGAN! I think I am the only person in rock n roll that loves the sound of a Farfisa or B3 in a jam. My brother played guitar pretty well. I played bass just ok, just ok. I wasn't serious about anything at age 12. Around age 17 I met these guys in San Diego outside of the Soma club. John Agnew offered me to be an organ player in his garage punk band called Eastern Green. I never played anything with keys in my life. I immediately bought a Vox and a Farfisa. These things were $100 dollars back then.
What led to formation of The Lords of Altamont in 1999?
The Bomboras ran its course. We were so saturated with surf music (which we loved) but we were tired of the same show every night. 3 – 5 surf bands essentially playing the same songs, same tone, same look over and over. The Bomboras performed almost 300 shows a year in the later days. It was monotonous. We liked all kinds of music! Johnny, Gabe, Max, and myself decided to do something we were into for the long haul. Maybe something with that subculture mondo vibe that encompassed all of the music we loved around that era and lifestyle. Choppers, surfing. SoCal car culture, rock 'n' roll, 60's and 70's biker movies, B-horror, sci-fi…Altamont, the end of the Summer Of Love. The birth of revolution! It took a few shows to dial in our precise direction.
Your debut album is quite a step from your previous band. Wild rock 'n' roll, gasoline and choppers. What do you recall from recording it? It was done purely analog, wasn't it?
We recorded in LA 100% analog. We used this beautiful Neve console, only half of it broke down constantly. We ended up moving to another studio in the Valley to finish. I do remember one of our sessions being on 9/11 2001. We definitely had a strange morale in the room while tracking that day. We were closed off from the world in the studio with the question, "Is shit hitting the fan?". It was strange for sure.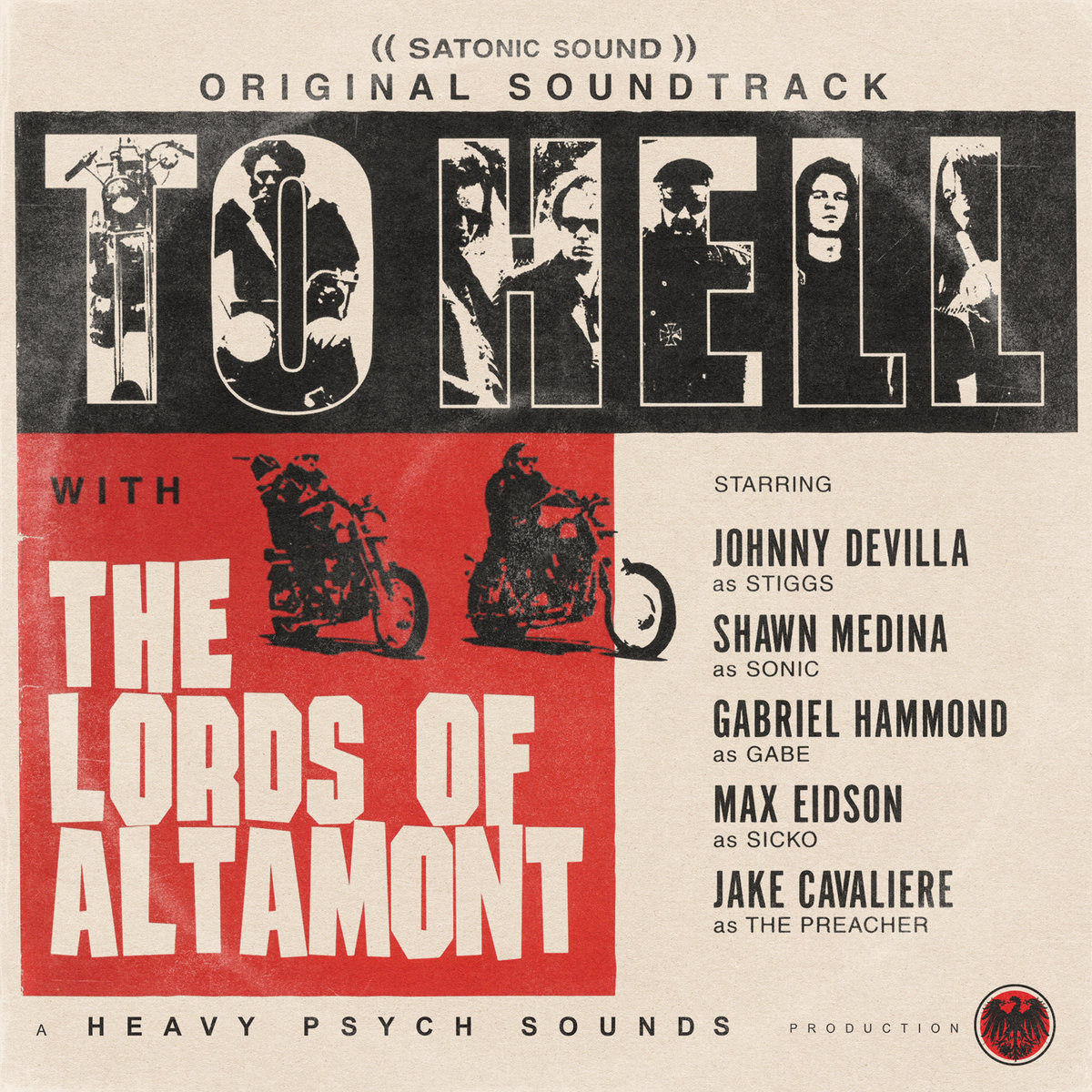 'Lords Have Mercy' was a bit different. You were trying to capture the sound of The Sonics. How did it go?
Yea, well yes, we loved that Bobby Bennett sound on 'Here Are The Sonics'. Everything on that recording was redlined! We did our best, I don't know if we achieved what we were going for. We were in the red the entire recording for sure. This album is also analog. One song was edited in Pro Tools because there was a big problem, the session was completed. We couldn't go back and re-track one song. Shoestring budget! I learned a lot about 'Here Are The Sonics' after getting to know Rob Lind. Very interesting how that session went down. I'm sure there is an article out there explaining the processes. I do know that sound was unintentional.
You also had plans for Poison Ivy to join, what happened?
We had written 'Action' with the intention of having Ivy perform the lead track on the album. I was working for The Cramps pretty regularly around that time. It just never surfaced. I think she was interested, but not that interested. I remember her saying she wasn't opposed to it. I respect her a lot, I didn't want to push it.
How did you first get in touch with Todd Youth (formerly of Agnostic Front / Warzone / Murphys Law / Danzig) who joined the band shortly after.
I was called to do a recording session with Todd's new band that had just been signed to capitol records. They were called the Disciples. This originally consisted of Howie Pyro, Christian Martucci, and a small rotation of drummers that led to Karl Roqvist. They wanted some B3, and piano was added to some tracks. After hanging out a bit they asked me to join the band. Long story short, the band became Chelsea Smiles. Todd joined the Lord's right after we (the lords) recorded Have Mercy. We felt the lines between The Lords and The Chelsea Smiles were too blurred. That came to an end after a year or so. Todd was a fun guy, lotsa of motivation and ambition. I wish things would have ended differently between myself and the band. RIP Todd, RIP Howie, we love you.
'The Altamont Sin' followed. Tell us about it?
'The Altamont Sin' was an experience. Michael Davis from MC5 had been in the band for a year and it was time to record. We went for a different engineer this time around. Woody Jackson took the controls on this album. He had a beautiful studio loaded with the best echoes and fuzz pedals! I believe the mixing console was used by The Rolling Stones at some point.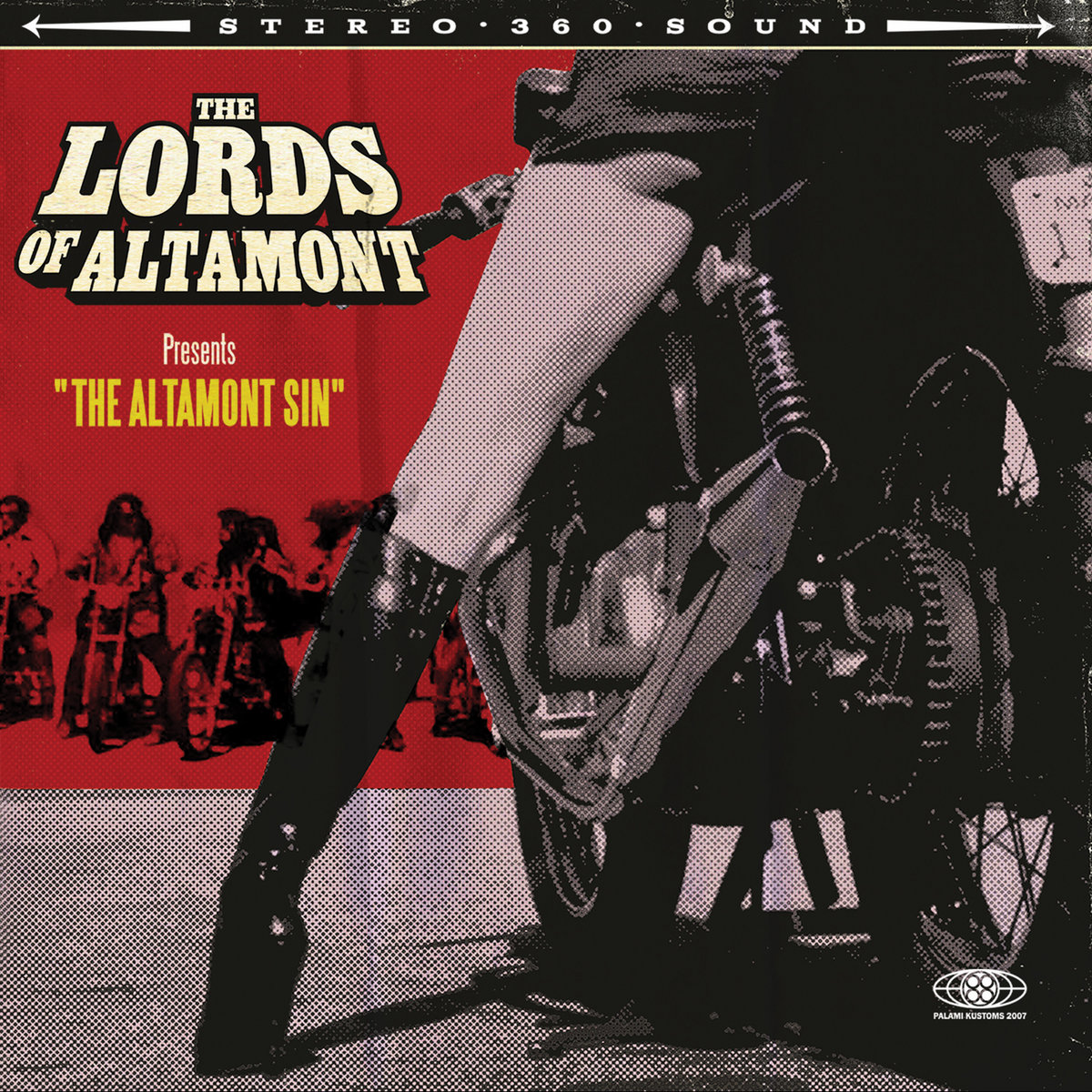 Where did you first see Corman movies like The Wild Angels, which obviously influenced you. On that note, what are some other weird flicks you would like to recommend?
Angels Hard As They Come, Werewolves On Wheels, Miniskirt Mob, Glory Stompers. Easy Rider of course. I could go on for days. Two Lane Blacktop is one of my favorites. I watch it a couple times a year! I like a lot of Sci-Fi too, mostly the basics…This Island Earth, Forbidden Planet, Them et cetera. Most of the beach movies are great! How to Stuff a Wild Bikini, Beach Party, Endless Summer I, Horror Beach Party. There is a fun skate movie that Davie Allen did the soundtrack to called Skater Dater. That one is fun. Munsters Go Home, Mad Monster Party, are fun. Childhood shit.
'Midnight to 666' so far won't get a reissue?
It was reissued last year with the original artwork. When designing 'Midnight to 666' with Chris Kro we decided to switch to the dark red cover at the last minute. Now it's in the original form before going to press. Plus a bonus track that didn't make the album prior.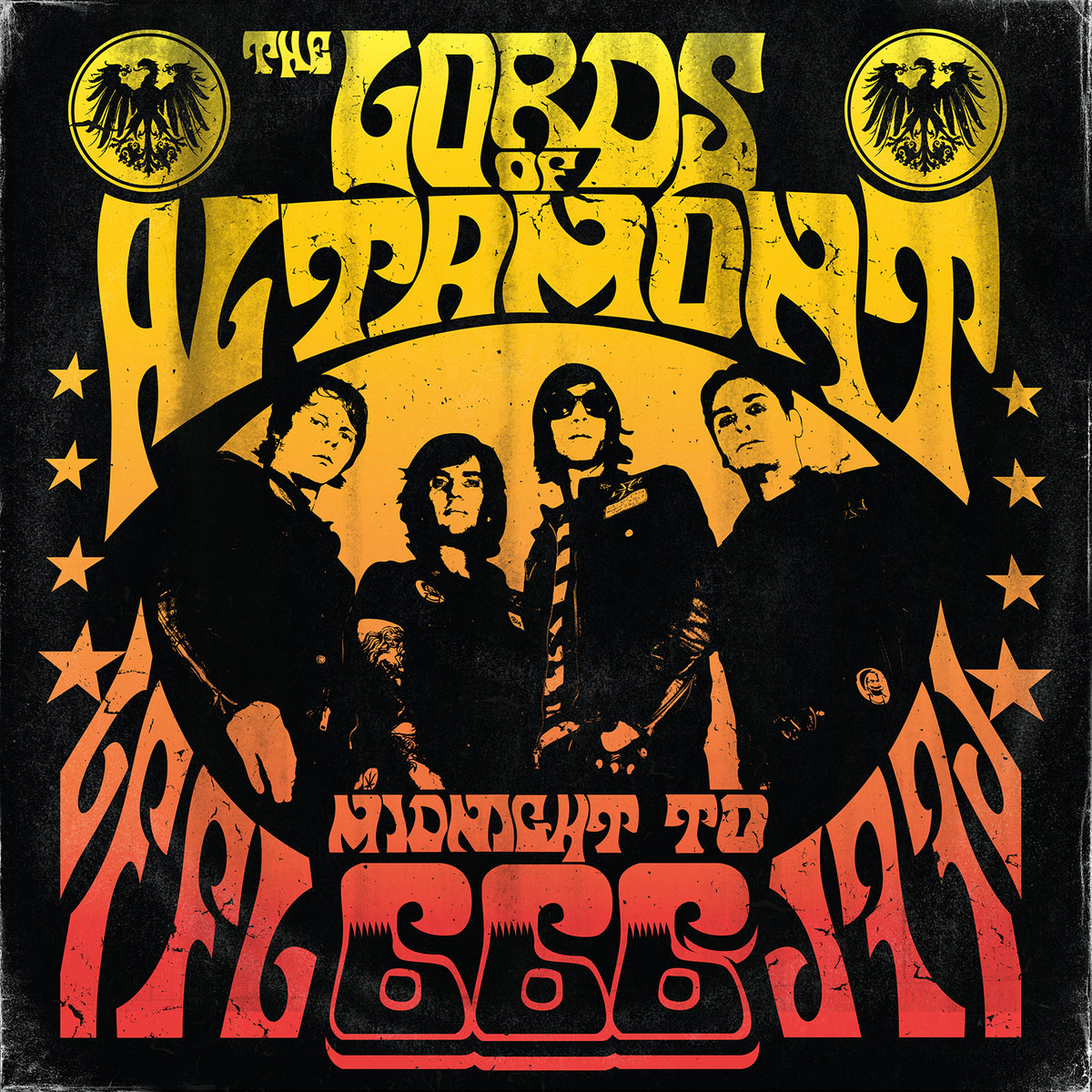 Then there's 'Lords Take Altamont', which is probably your most well known album. I heard it was one hell of a record to make. What's the story behind it?
Is it? Interesting, none of the songs we wrote, haha. At that time there was a band mutiny. Shawn and John left the band. I was Harry Drumdini and myself.
It was time to record if we wanted to continue as a working band. Nic Jodoin and I decided to start an album. Fargo records asked for a tribute album. We thought doing a tribute to the bands that performed at Altamont was a good idea. We wanted to cover at least one song from every band (minus Grateful Dead, the bailed) in Lords fashion. First it was Nic, Harry and myself, then I got the idea of having every member that had ever been in the band play together (in random line-ups) to compile the tribute album. This was a bit of a nightmare for Nic, there were at least 16 people recording over the course of the session. It was great to see everyone! And all of the former members that contributed seemed to have a great time. I have hours of video footage I assemble some day. When it came to artwork, Gearhead Records didn't agree with our original design. I wasn't happy about that. They also didn't agree with the liner notes. Suddenly. I felt like MC5 / 'Kick Out The Jams' and the John Sinclair liner notes that were pulled. The logic behind all this wasn't in Lord's fashion. We had to go along with it. Prior to Chris Kro quickly coming up with album art we had another guy. I can't remember his name. He did a killer looking cover, and disappeared. I still don't understand why to this day. I'm not sure why we went to anyone else. People have criticized this album calling it a Rolling Stones tribute. It's not, we like The Rolling Stones. We had a lot of fan requests for particular Stones songs to be on the album. So we aimed to please. We did songs from Santana, The Flying Burrito Brothers, Jefferson Airplane, Crosby Stills Nash & Young, The Rolling Stones. My favorite is probably the 'Come Back Baby' cover which the Jefferson Airplane did during that era. I also like 'Black Queen' by Crosby Stills Nash & Young. We tried to put a Lords twist on all of the songs. The Rolling Stones songs are so iconic, it was difficult to make changes on them. I remember trying for days to pull off the Nicky Hopkins gospel organ intro of 'Sympathy For The Devil', not many people have heard that one. It was not easy. We dropped it. Anyway, fun!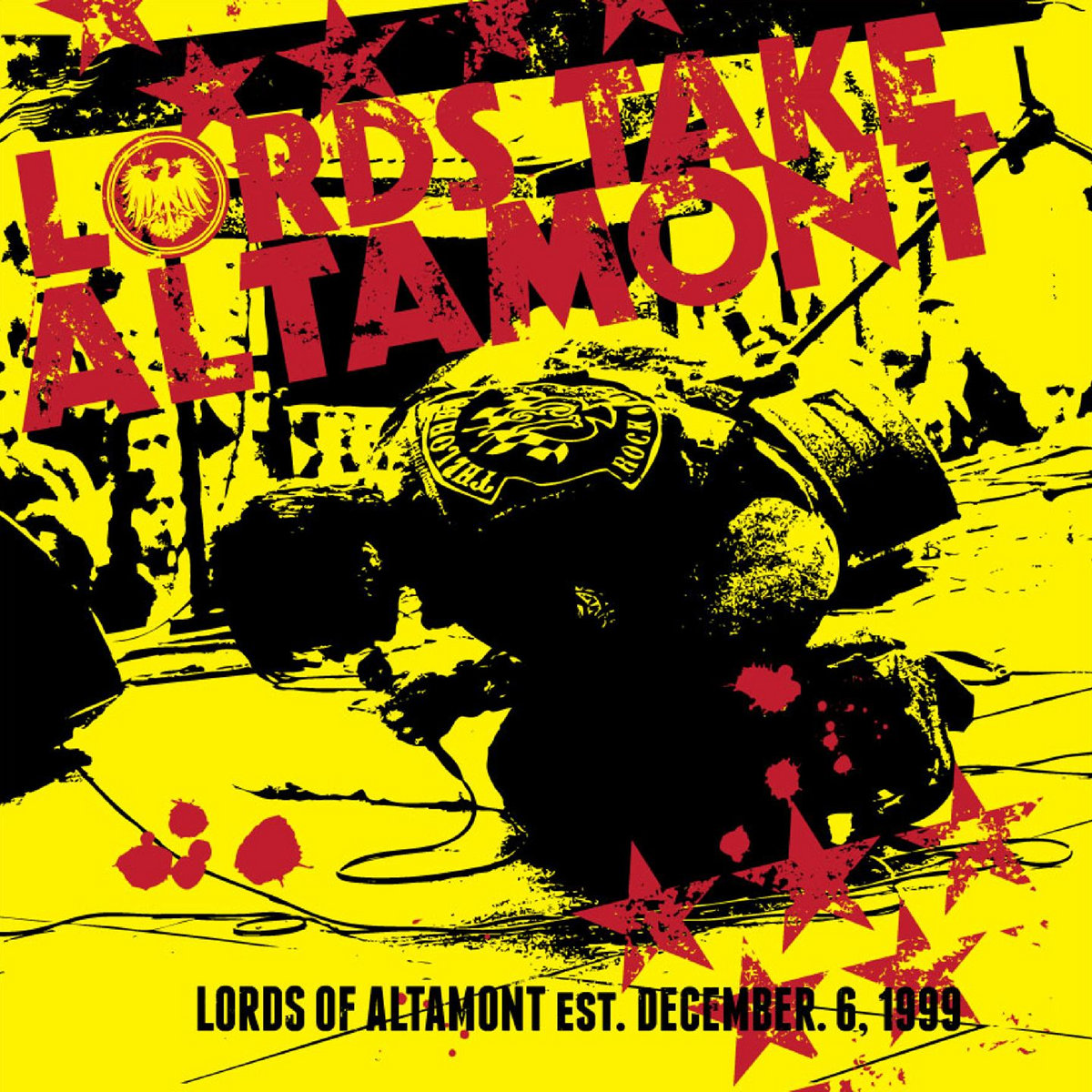 In 2017 you signed with Heavy Psych Sounds for 'The Wild Sounds of the Lords of Altamont'. That was another killer release.
That was a fun album. We recorded with Paul Roessler from LA native punk rock band The Screamers. We quickly became good friends. The band responded well to him. That was at Kitten Robot Studios in Los Angeles.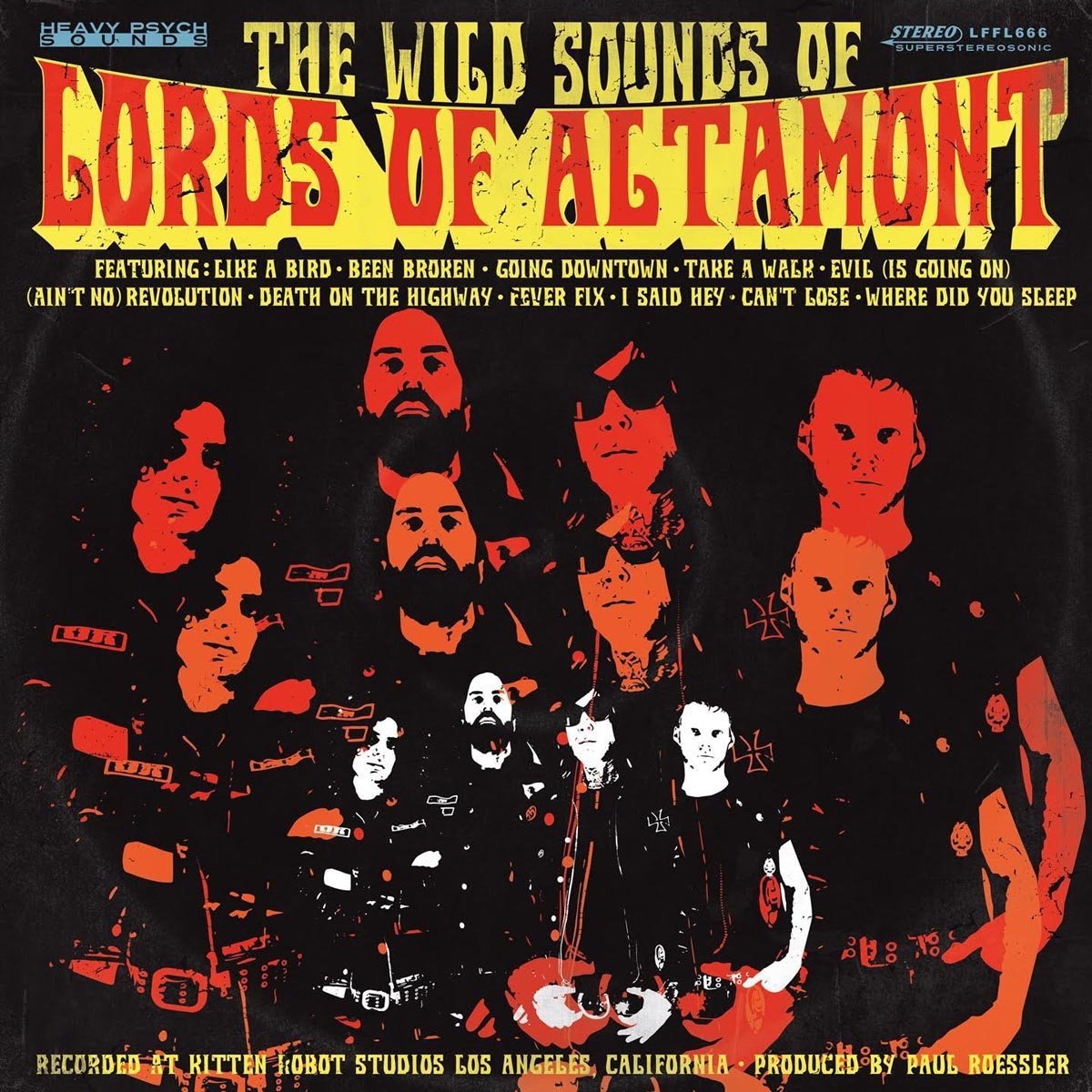 And there's no stopping you, as seen on your latest album, 'Tune In, Turn On, Electrify!'.
I think this was the hardest album we ever recorded. At least it was for me. With the pandemic at its peak, and everyone thinking the world was going to implode at any moment, and the worst president of all time, social unrest, hate, riots, protests, we had to write and produce music. I'm sure there are a lot of bands that wrote about the current situations of that time. I kinda feel that dates music. When you hear songs about Ronald Reagan now, people are like, "what, who?". Unless someone writes an epic timeless song like 'Time Has Come Today', or 'Ball Of Confusion', it's not good for psych/garage punk bands to write about that shit. Anyway, it was tough. I never rehearsed with the band, we never did pre-production, we never met up, we wrote and recorded via email, and WeTransfer. A few of those songs really stand out to me, and I am proud of what we accomplished. This is the most driven, dedicated, professional line-up of the Lords I have ever been a part of.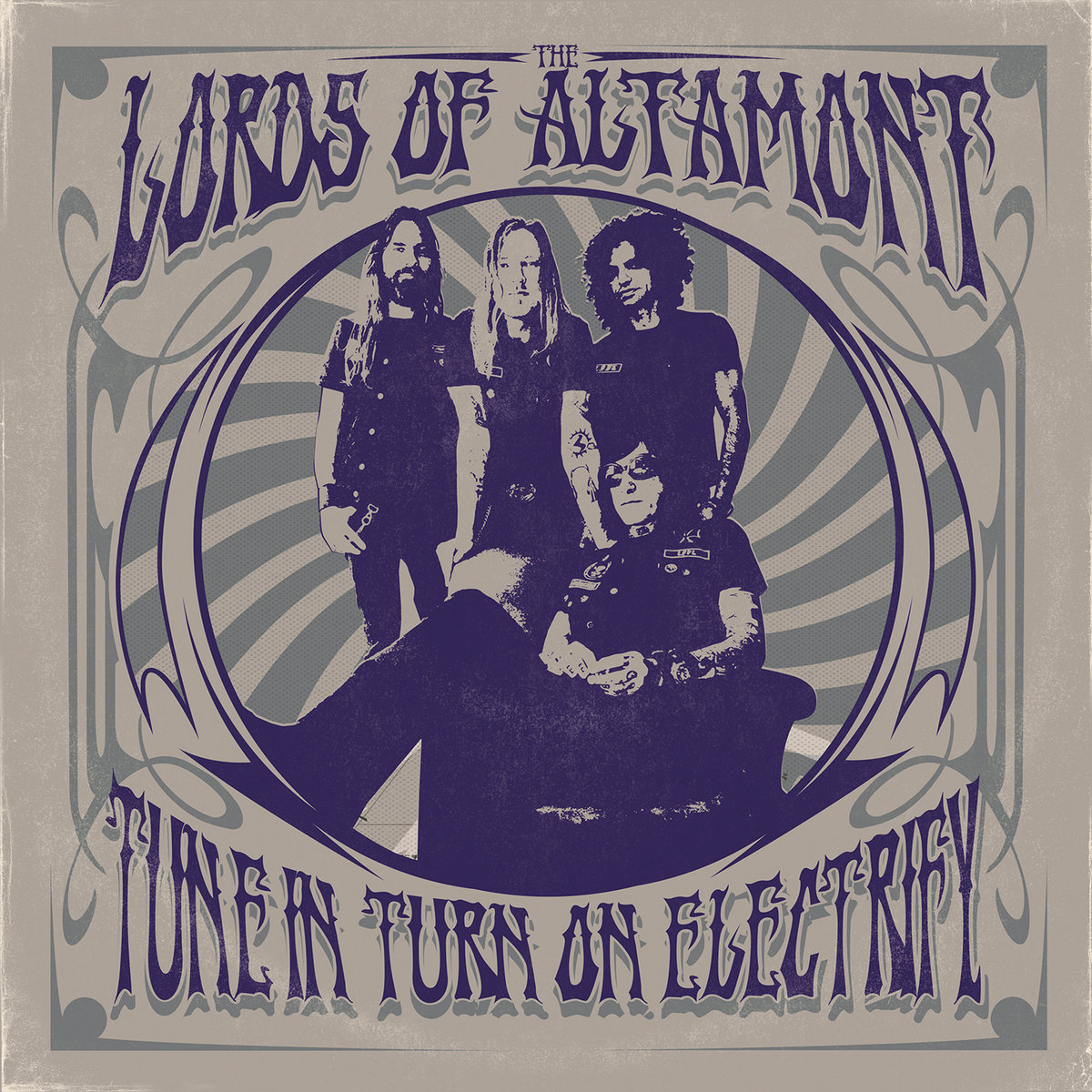 Would you like to talk about your gear, effects and pedals?
Most people aren't interested in what I use, haha. For organ I keep it pretty classic. I have an old Leslie 925 in a 147 shell modified by Bill Beer. Bill (RIP) made the sturdiest, loudest Leslies ever. He built for Sly and the Family Stone, Santana, Jon Lord. I prefer to use a Farfisa compact as an organ. I break everything I play, it can be a bummer using vintage gear. This stuff used to be cheap and by the dozen. It's becoming harder and harder to maintain a 57 year old organ. I think I have owned over forty since I started playing in 1988. Every time I try to play something else I resort back to Farfisa. I'm pretty much doomed to this sound, it's a part of me. As for pedals, I use an Ernie Ball VP-JR and nothing more for organ. The Leslie does the job. There is nothing better sounding than a real Leslie. If I am playing guitar (rarely) I like this Fuzz War that Oliver from A Place To Bury Strangers gave to me, along with a Belle Epoch echo, a classic wah, and a Hummingbird repeater. Jazzmaster, or Monster are my jam.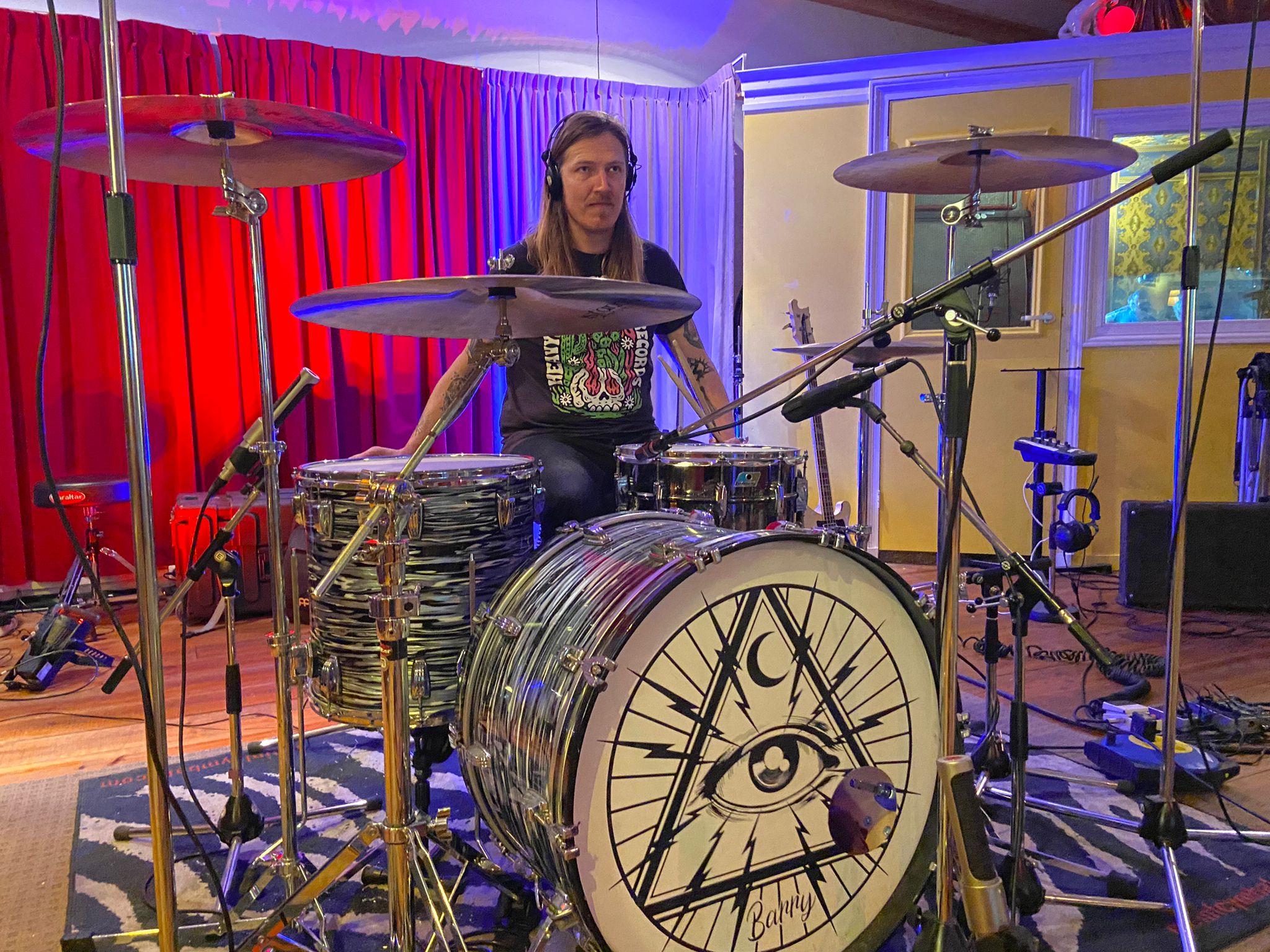 Are you excited to hit the road in October?
I am. I'm always stoked to see everyone that is still willing to come out and support the Lords. We've become family over the years. The Lords are lucky to have such killer supporters. I don't like to call people fans, they are part of our giant gang! I don't know how much more I have in me. I don't want to be scraped off the stage in shame. I'd like to end on a high note. Maybe it's time.
Are any of you involved in any other bands or do you have any active side-projects going on at this point?
The Bomboras are back together. We are releasing a full LP on MuSick Recordings early next year. Last album we recorded had to be around 24 years ago for Geffen DGC / Zombie A Go-Go Records. Dusty Watson played drums, we are stoked! I have been playing in The Sonics since 2016. We'll see what is going to happen with them this coming year.
Spencer Robinson and I are in the early stages of a project. We had a pretty cool thing going with another project called The Black Honey Cult. It more or less dissolved due to lack of time. I hope to make this project with Spencer some form of incarnation of The Black Honey Cult…extra moody, psychedelic.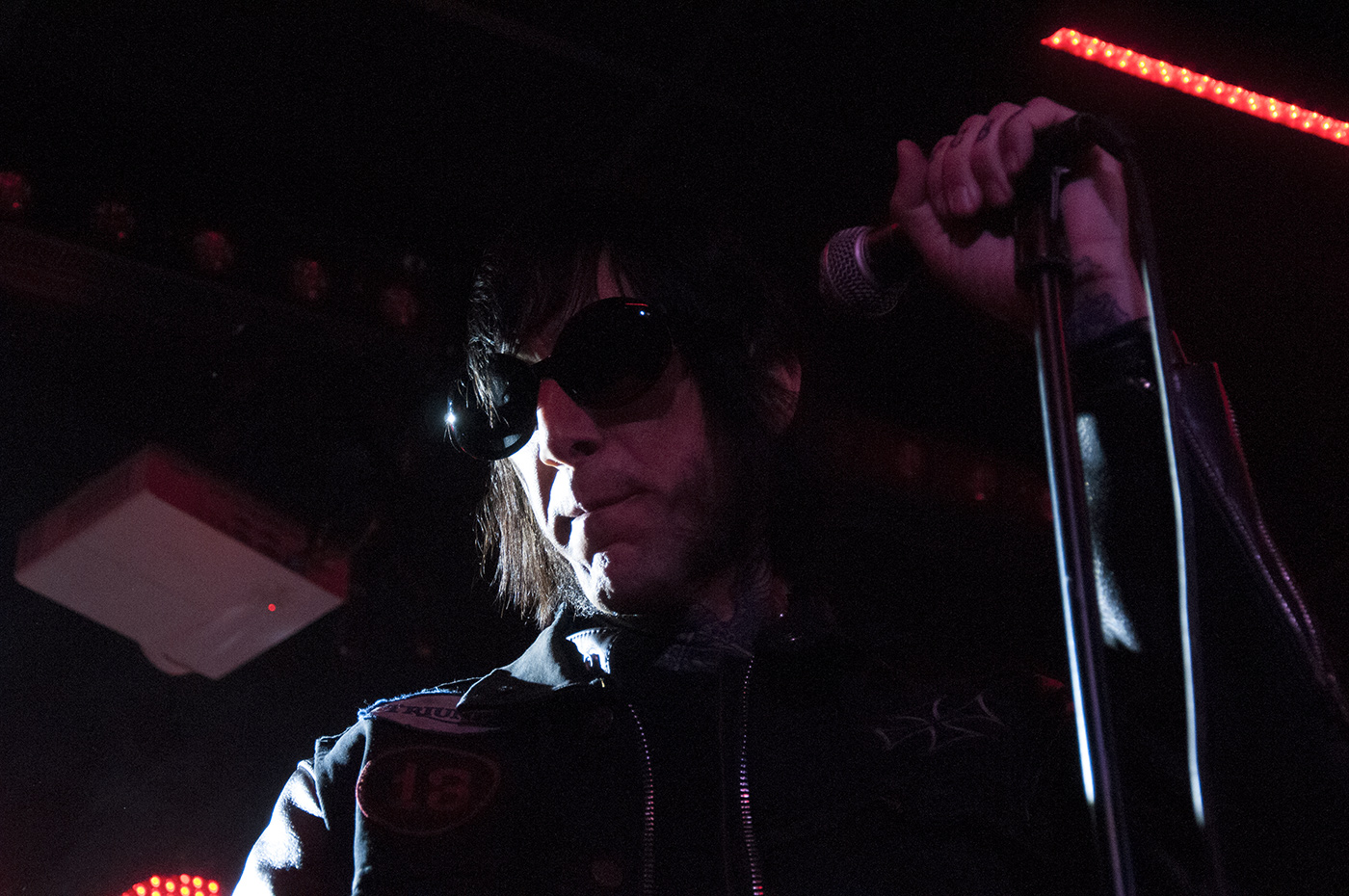 Let's end this interview with some of your favourite albums. Have you found something new lately you would like to recommend to our readers?
Haha, I'm sure your readers have some deep knowledge. I have a hard time gravitating to new stuff lately. I'd like to educate myself. Here's a list of favorites. The list grows continually! This is in NO particular order:
'Fun House' – Stooges
'Kick Out the Jams' – MC5
'Here Are The Sonics' – The Sonics
'Boom' – The Sonics
'Nancy & Lee' – Nancy Sinatra and Lee Hazlewood
'Surfin' Hootenanny' – Al Casey
'Back From The Grave Vol 1-10' – Various Artists
'Black Sabbath' – Black Sabbath
'Masters Of Reality' – Black Sabbath
'Let It Bleed' – The Rolling Stones
'Their Satanic Majesties Request' – The Rolling Stones
'Songs the Lord Taught Us' – The Cramps
'Psychedelic Jungle' – The Cramps
Thank you. Last word is yours.
Thanks for your time and support!
Klemen Breznikar
---
The Lords Of Altamont Official Website / Facebook / Instagram / Twitter / YouTube
Heavy Psych Sounds Official Website / Facebook / Instagram / Twitter / Bandcamp / YouTube
'Leeches' by Into The Valley Of Death | New EP, 'Space Age'