'Microwavelengths' by Carlton Melton | Album Premiere + Interview
Exclusive album premiere of 'Microwavelengths' by Carlton Melton.
---
The album was released on vinyl earlier this year, and is now coming to streaming on September 22th. All part of the Broken Clover Records initiative to release records first, and let physical media fans get the rewards 6 months before the streaming world gets ahold of it!
Labor Day Weekend 2017: A heatwave beat down on Point Arena, California gifting Mendocino County with one of the hottest weekends on record. Somewhere nestled in the wooded landscape of Redwoods that touch the clouds with ease sat a geodesic dome where psych rockers Carlton Melton created their hazy "dome rock". And on that oppressively hot Labor Day weekend Andy Duvall, Rich Millman, and Clint Golden said the hell with the heat and commenced to expand their minds and plug in, turn up, and freak-out.
Recorded after the band's mostly ambient 'Hidden Lights' EP and a year before the next proper full-length Mind Minerals, the fellas got together for a smoldering Northern California jam session and to celebrate Andy's 50th rotation on the third rock from the sun. Letting the dome guide them where it may, Carlton Melton did what they do best, get loud and expand their minds via buzzing guitars, slinky bass lines, tribal rhythms, and far out synths.
The results of that rock and roll heatwave can now be heard on 'Microwavelengths', a 5-track excursion into free form psych, hazy drones, and all out fuzz freakouts that sound as if Hendrix' Experience were hipped to "krautrock" in some kind time/space conundrum before Krautrock was a thing.
Eschewing the studio sheen of their last few album releases, 'Microwavelengths' is a gritty lo-fi record that locks into the band's early releases; set up a couple mics in the dome, make sure there's plenty of beer iced down, and hit record. Duvall, Millman, and Golden, along with help on the drums from Brian McDougall on a couple tracks, set controls for the heart of the sun. There's barn burners like 'Lion's Roar' and 'Alien Argument', while 'Hazel Heat' finds the band in a calm pocket of contemplation.
Of course this wouldn't be a proper Carlton Melton sound excursion without one epic jam, which is here in the form of the nearly 20-minute journey 'Microwavelength'. A groove of epic proportions, the CM crew drive this dream machine from Point Arena to the far reaches of the galaxy and back on a single tank of gas. It's a hell of a trip, man.
We're coming up on nearly 15 years since the Melton came to fruition. The band has expanded their sound both sonically and aesthetically; starting out with these fuzzy, gauzy psych/stoner jams, then taking their sound from Super 8 to Widescreen Technicolor. With 'Microwavelengths' we get a glimpse of the band from where they started, but with the advantage of time, age, and a few more rotations around the sun under their belts.
'Microwavelengths' is available on LP and download/streaming on September 22nd via Broken Clover Records here.
"Most of what you hear on any of our records is a first take"
The production on your new album has a very live in-the-studio feel. How was it recorded?
Rich Millman (guitar, synths): Everything was recorded live direct to a Tascam 4-track cassette recorder with a single omnidirectional microphone placed in the middle of Brian's geodesic dome. The songs were then mixed down to digital files for mastering and vinyl cut.
How much of your songs are improvised and how much is structured? What is your writing process like?
Andy Duvall (guitar and drums): Rich will occasionally introduce a pre-recorded riff/loop/beat of his, which we will play to "live", but it is never rehearsed. Most of what you hear on any of our records is a first take. We all bring a little something to add to the studio stew, and sometimes what is caught on tape truly comes out of nowhere. Pure improv that WORKS. That is the true magic.
Rich: It can seem like an instrumental theme of tones and sounds gets played subconsciously throughout a weekend… a vibe like Andy mentions.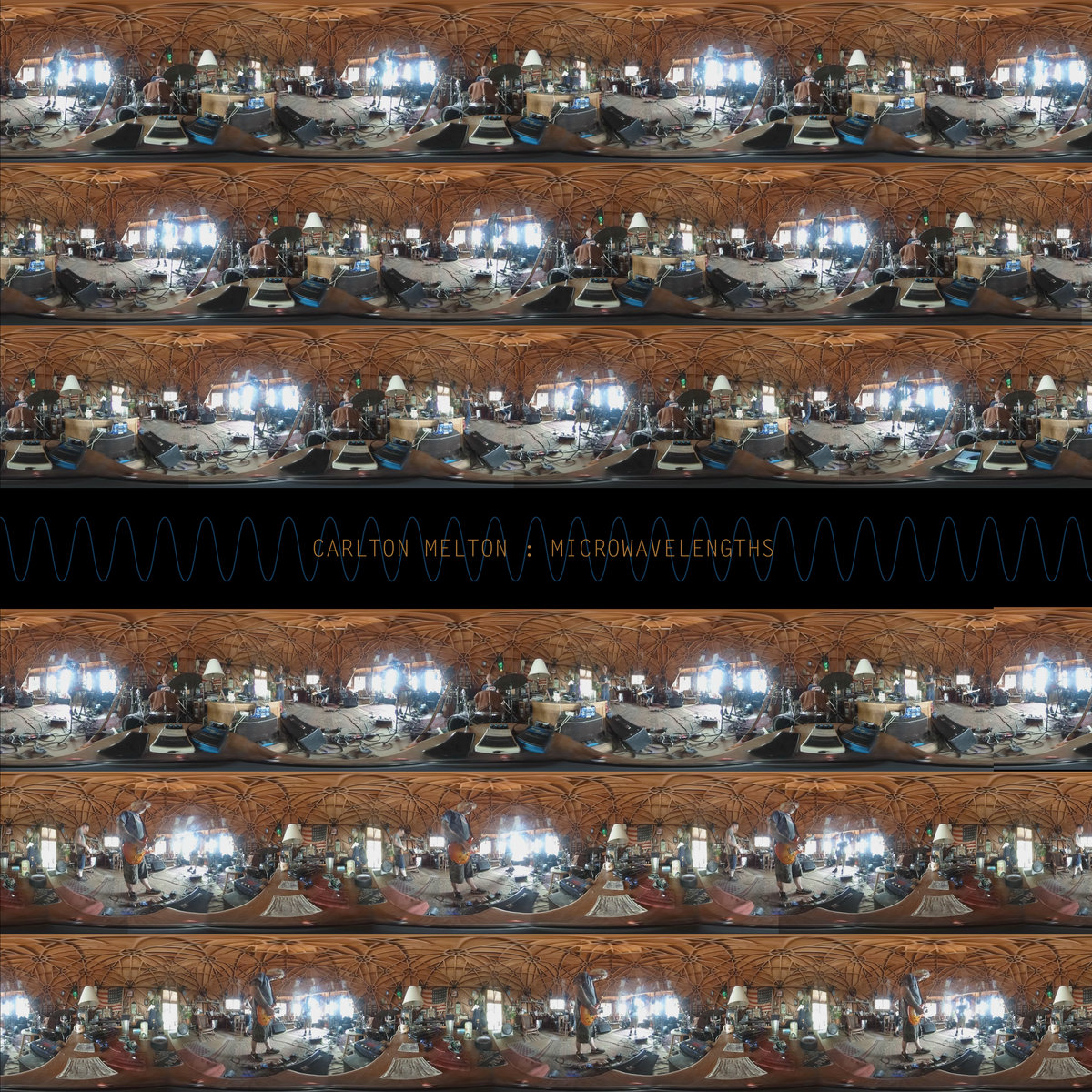 I hear elements of Bardo Pond and Skullflower's heavy psych mixed with touches of Eddie Hazel style freeform fusion and intense noise rock all bounced around in your music. What actual musical reference points were you aiming for with 'Microwavelengths'?
Andy: I don't think we have aimed for anything, ever, in regards to making a record. There will always be subconscious influences; whatever any of us happens to be listening to- at home, or driving to work- leading up to the studio session. It could be Van Halen, it could be the Butthole Surfers. Win-win.
If you had to sum up the album for people, what would you say?
Andy: (in Andy's head) This is what turning 50 sounds like!
Rich: A solid representation of where we were at mentally that weekend in the middle of a Northern California heat wave whilst celebrating Andy's 50th birthday.
What does the band have planned for the future?
Andy: Two Bay Area shows in mid-October; our first gig(s) in nearly three years!! Also, going back to SF's El Studio for a couple days/nights' recording session that week as well as a busy week in the CM world! Also, keeping fingers crossed for CM EU/UK Fall tour '23- we have unfinished business to take care of over there!
Rich: I like to think we'll always keep putting time aside for recording and playing music together. It's always a pleasure and an easy hang. And also play live and tour whenever possible… a life sentence of sorts with instrumental music being a timeless medium. 
---
Carlton Melton Official Website / Facebook / Bandcamp
Broken Clover Records Official Website / Facebook / Instagram / Twitter / Bandcamp / YouTube
'Crown Shyness' by Carlton Melton
Carlton Melton – 'Hidden Lights' (2017)