The Enchanted Life of Eden Ahbez | Interview with Filmmaker Brian Chidester | Documentary and New Reissue of 'Eden's Island'
Eden Ahbez was a man living a dropout hippie lifestyle way before the movement became what people remember it to be.
---
Ahbez was a beat poet and composer who wrote the hit tune 'Nature Boy' that gave Nat King Cole his first big success in 1948. Ahbe approached exotica from a very different angle which resulted in a concept album about an utopian society living on an island far away from the modern western world. 'Eden's Island (The Music Of An Enchanted Isle)' is a masterpiece of proto psychedelic music.
When a young record collector named Brian Chidester found a picture of "Ahbe" with Brian Wilson working on 'Smile', he felt the urge to research the life of Eden Ahbez. Chidester embarked on a journey of more than twenty years that culminated in a movie, "As the Wind: The Enchanted Life of Eden Ahbez", telling the story of one of pop culture's most enigmatic figures in full.
Brian Chidester and his filmmaking partner John Winer now have not only gone wild in bringing the life of the Eden Ahbez to a wider attention, but they have taken part in the ultimate re-release of Eden Ahbez first and only cult full length record. Everland Music and Ebalunga!!! recently announced a very special reissue of 'Eden's Island' that will include almost 20 unreleased songs. The vinyl version includes a 12" size, 24 page booklet, while the CD version comes as a double CD with 2 booklets. There's also a very limited Collection Deluxe Wooden Box Set and Limited Wooden Cover Slider Edition on Double Vinyl available.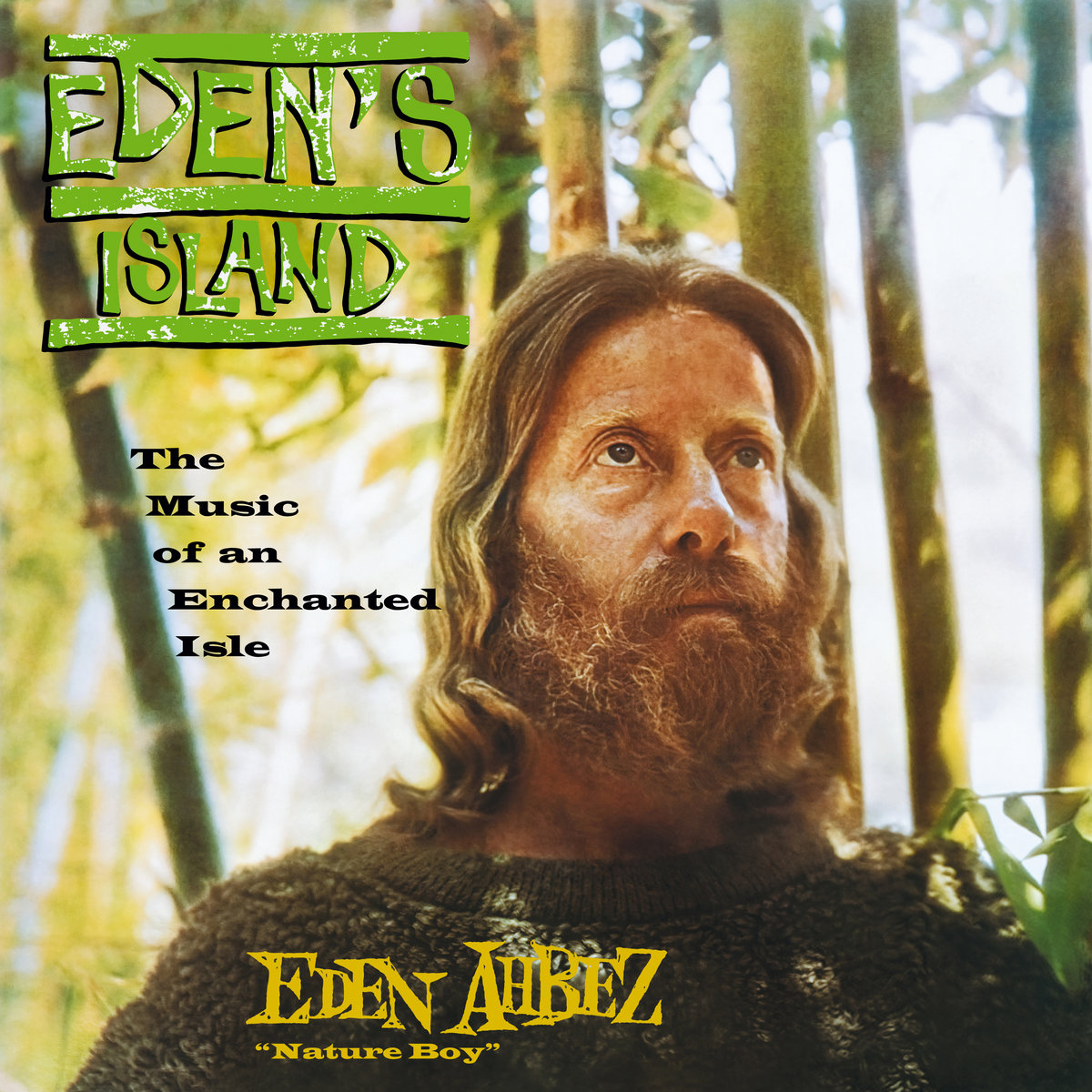 "It was an interconnected song cycle about an imaginary utopia where boys and girls fall in love, make fires on the shore, and where love is all they're living for"
I first heard about Eden Ahbez many years ago after reading an article Patrick Lundborg published on his website Lysergia. When did you first encounter Ahbez's music?
Brian Chidester: It was in 1995. I was a freshman in college and had already been heavy into sixties psychedelic music and surf and girl groups during my high school years when I worked at a record store, and at some point, I got introduced to the unreleased 'Smile' album by the Beach Boys from 1967. I was so head over heels for that project, in fact, and had collected so many bootlegs of it by the time I was 18, that I'd befriended a number of older collectors who had tapes and things related to 'Smile'. One of them was a gentleman named Bob Hanes who lived in Bend, Oregon, and he sent me some color xeroxes of Brian Wilson and various collaborators during the "Smile" sessions in exchange for a dub of some rare Byrds TV performances I had on VHS, and in one of those photos there was a bearded man holding a wooden flute sitting next to head Beach Boy Brian Wilson.
Eden?
Yes. But Bob told me he thought this guy was Brian Wilson's drug dealer. So then after that I met an L.A. historian named Domenic Priore through Bob and Domenic had the same picture and he actually got a copy of it to Brian Wilson himself and Brian was able to identify the guy sitting next to him as the composer of the song 'Nature Boy'. Then via a subculture book entitled "Incredibly Strange Music", Domenic found out that the composer of 'Nature Boy', whose name was Eden Ahbez, had also recorded some other stuff in the late 1940s and '50s, and also had this lone solo album, 1960's 'Eden's Island', which was both super-weird and super-rare. This was around 1995-96 that I learned all of this. I then heard both 'Nature Boy' and 'Eden's Island' shortly thereafter and fell deeply under the spell of Ahbez's music and what his songs had to say.
Since you spent years researching Ahbez for your exciting upcoming film (we'll get to that later), I would love it if you could share some further info about his life. He was apparently was born in Brooklyn, New York, and was adopted in 1917 by a family in Chanute, Kansas, and raised under the name George McGrew. During the 1930s, he lived in Kansas City, where he performed as a pianist and dance band leader. But how did his music career start?
He claimed in a few later interviews that he showed early signs of musical talent. He told one person I interviewed, for instance, that he'd learned Hebraic melodies while at an orphanage in Crown Heights in Brooklyn in 1916. He told an interviewer in 1978 that he had a piano teacher in Chanute who gave him some lessons in the basics of chords and syncopation. The only evidence I have of him being in Kansas City in the 1930s comes from a high school friend of his in Chanute being interviewed after 'Nature Boy' became a hit in 1948, and this guy told reporters that Ahbe… I hope you don't mind me calling him "Ahbe" as that's how his friends referred to him… that Ahbe was an itinerant musician after leaving Chanute in the early 1930s, and that he played piano in some bars and clubs in Kansas City. From there I have evidence that he lived briefly, and also wrote some of his earliest compositions, in nearby towns in the Midwest, including Chillicothe, Ohio, Burlington, Iowa, and Hampton, Iowa, the latter being where his first-ever song, titled 'Pastoral Prayer' (1938), was copyrighted. These places were all near the East-West freight train lines and were all still relatively close to his boyhood home in Chanute. It seems like it wasn't until some time between 1938 and 1940 that he ventured further out and wound up in Los Angeles around 1940.
Right, and after moving to Los Angeles, he began playing piano in a cafe owned by people interested in the Naturmensch philosophy, is that correct?
It's a little bit more complicated than that. You asked above about his name as a young man, George McGrew, and that was his adopted name. His given name at birth was George Alexander Aberle and he had a twin sister named Adatha or later spelled Editha. They were adopted in 1917 by a Chanute couple, William and Sadie McGrew, when they were both around nine years old. According to one news clipping from a Burlington newspaper, published just after 'Nature Boy' became a big hit, some locals remembered Ahbe when he still went by the name George McGrew. On the 1940 U.S. Census, however, he is listed under the name "Alexander Aberle". His occupation is listed as "baker" and his address is on Avenel Street in Los Angeles. That is where John and Vera Richter, the owners of two raw foods restaurants called the Eutropheons, lived. Ahbe lived in their backyard for many years and apparently worked at their restaurants. He changed his name to "Eden Ahbe", regular capitalization, no "z," in 1943 through the New York State court system, which again is where he was born.
In 1946, he self-published two sheet music booklets, for songs titled 'Nature Boy' and 'I Don't Know Myself from You', both on Goldenheart Press, both out of Miami, Florida. He apparently lived in Miami in the 1940s, along with living in L.A., and was a dishwasher and fruitpicker, and as one article stated, he used to wow people in the restaurants and hotels in the after-hours with his "heavenly" piano music, as one reporter described it.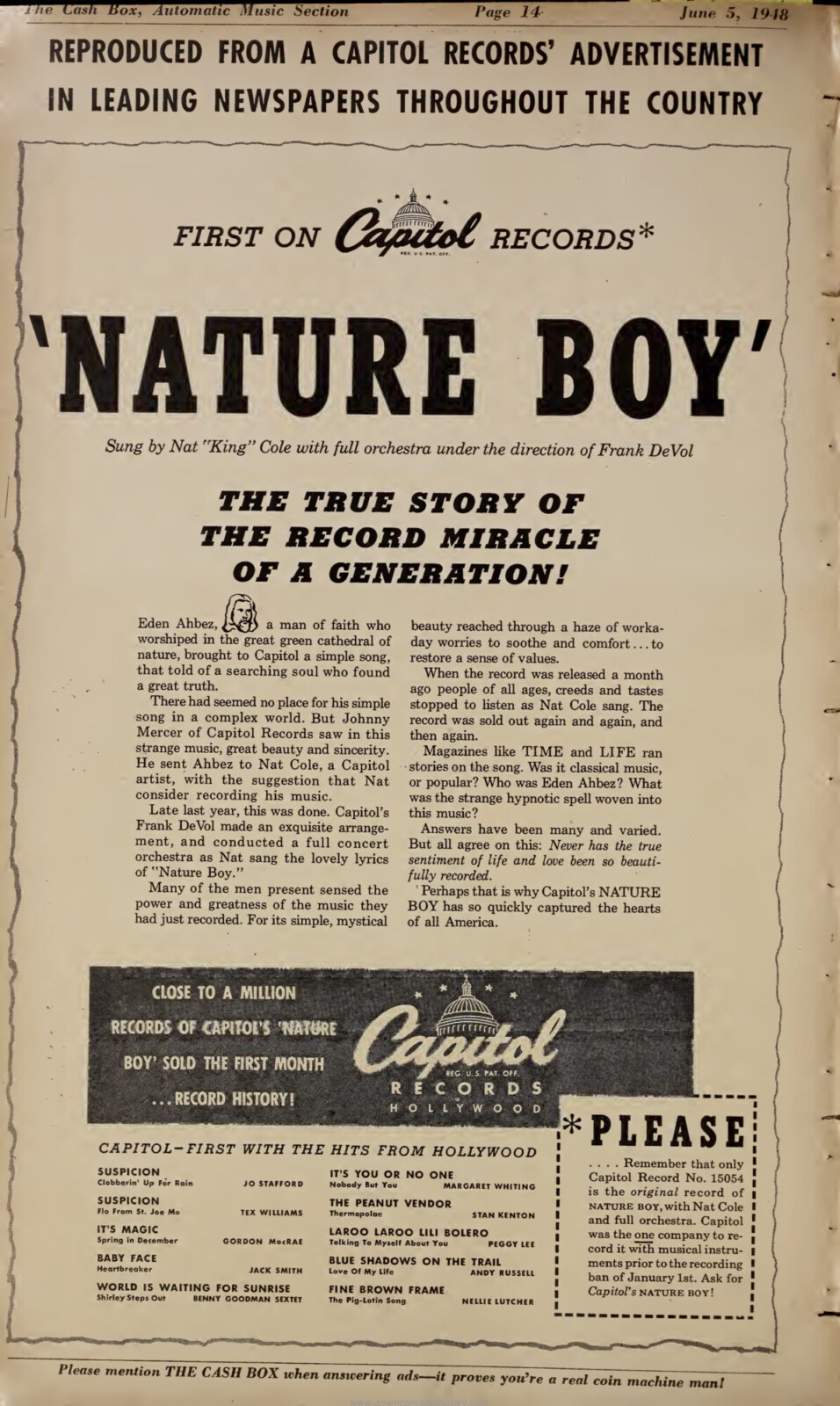 More recently I found that between roughly 1940 and 1945 Ahbe composed a sprawling conceptual piece of music titled 'The Suite of Life'. Eighty-some pages of sheet music. Inside the manuscript, he had written by hand two Miami addresses and one L.A. address, the latter being the address of the Richters. They were a couple from Fargo, North Dakota, and they wrote books about alternative diets in the 1920s. I don't know if they knew any of the early 20th century German expats—aka the Naturmensches—who brought alternative diets and nature-living to Southern California or not. I would assume they did; but there were already many bearded, alternative figures in the Southland prior to the Germans, or at least who were contemporaries of both the Germans and of the Richters. The Richters, by the way, were not German-born, as many websites and articles claim. They were American. But, of course, John's last name suggests he was of German descent. The author J. William Lloyd, an American anarchist and spiritual seeker in the early 20th century, was one of the non-German influencers in California in terms of alternative living at that time. Lloyd definitely influenced Ahbe. Not sure any of the Germans directly influenced him however. There's no evidence for that.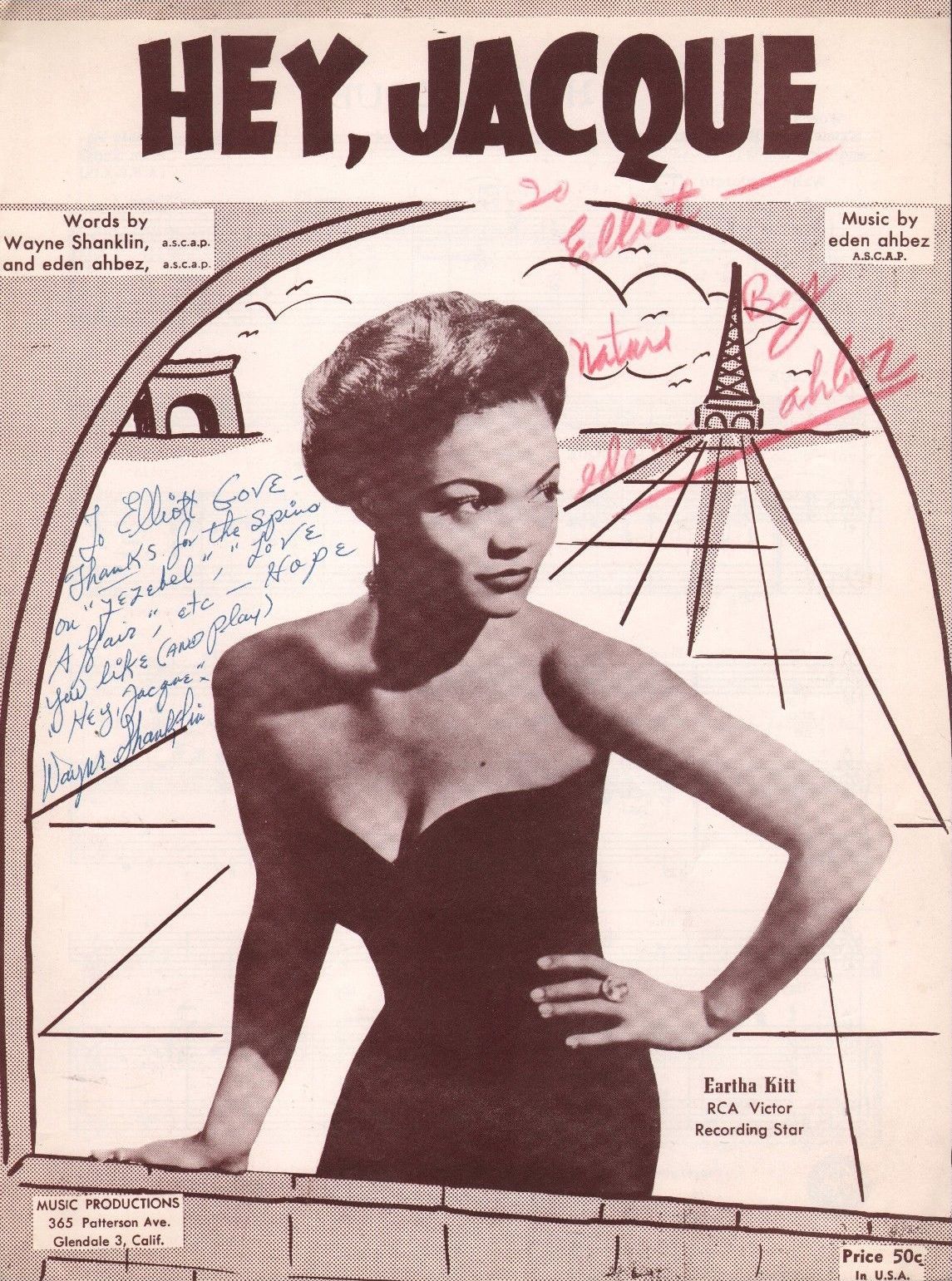 "The beatnik clubs, in fact, were where Ahbe debuted much of the music that would eventually become the 'Eden's Island' album"
Can you elaborate on the "Nature Boys," which was a very eccentric group of people that wore long hair and beards, and ate only raw fruits and vegetables?
Sure. The California Nature Boys, as they dubbed themselves in the 1940s, were a loose band of young men who were looking for a freer life than that which they saw in the mainstream of America in the aftermath of World War 2. They included Gypsy Boots, Buddy Rose, a guy named Bob Wallace, another named Gypsy Gene, Emil Zimmerman, and Maximilian Sikinger. There were others too, including several women, who came and went, and then of course Ahbe himself was a part of that Nature Boy/Nature Girl group. They lived outdoors together, foraged for food, made music in the open air, and inspired eachother's intellectual and spiritual path. During cool winters in L.A. they camped out in the caves above Palm Springs where it was still very warm for those months. During spring and summer they lived outdoors in Topanga Canyon, on the beach at Malibu, and sometimes in the hills above Hollywood, underneath the Hollywoodland sign, as it was still spelled until 1949. Ahbe himself apparently also lived in Miami at least some of those winters and also in Tujunga Canyon which is in the mountains above Los Angeles.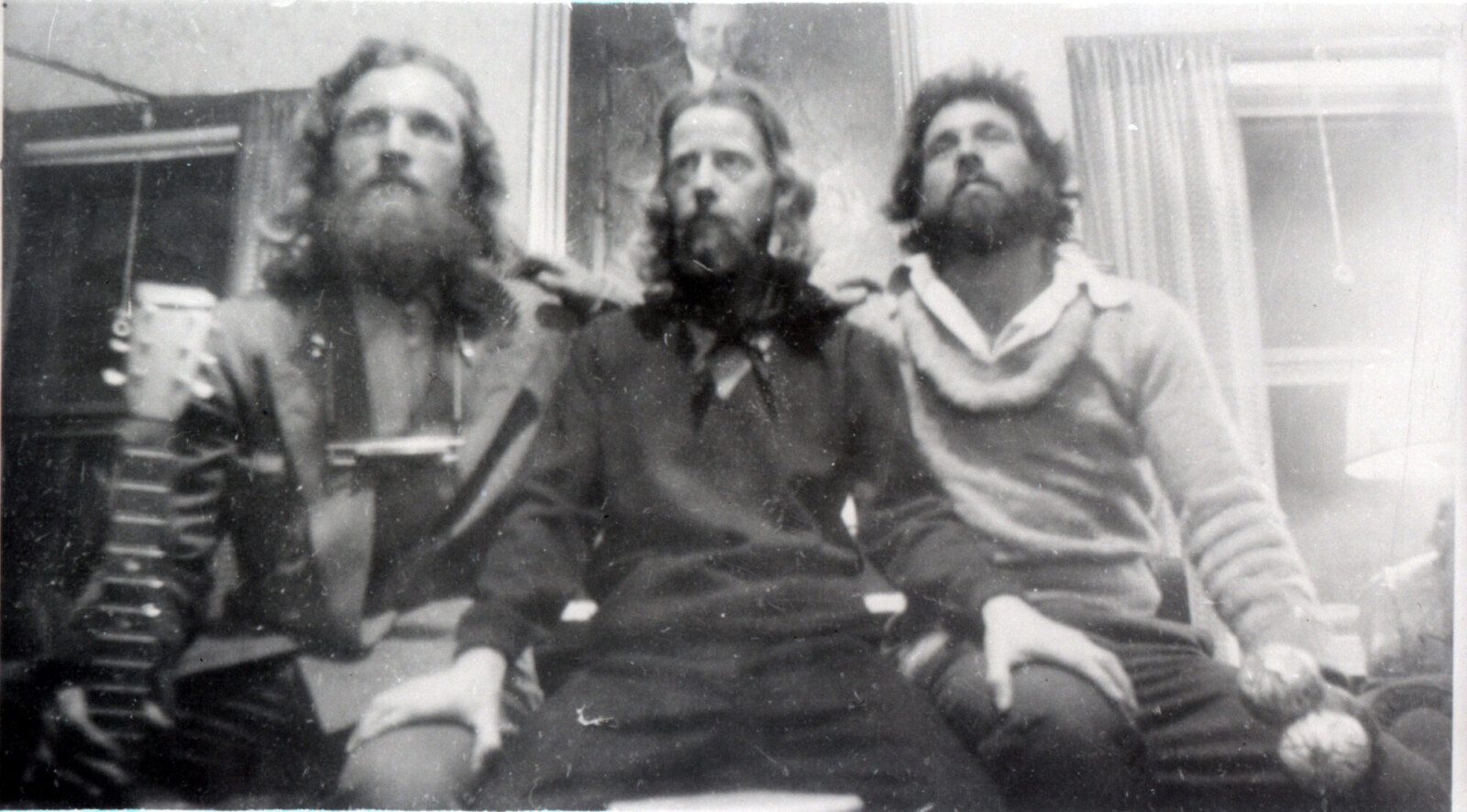 According to an interview with Buddy Rose, conducted by historian Gordon Kennedy in the 1980s, Ahbe was the leader of the California Nature Boys. According to Bob Wallace, whom I interviewed in 2010, when 'Nature Boy' became a big hit in 1948, Ahbe didn't spend as much time with the Nature Boys anymore. They did still have a live performance group, however, the Nature Boy Trio, and they played nightclubs in the Palm Springs area in the 1950s, and at restaurants on Laurel Canyon and La Cienega Boulevards in Hollywood, and in beatnik coffeehouses near the beaches in L.A. The beatnik clubs, in fact, were where Ahbe debuted much of the music that would eventually become the 'Eden's Island' album.
I found it very interesting how he decided to change his name to "eden ahbez," choosing to spell his name with lower-case letters.
That came later; most likely around the time that 'Nature Boy' became a hit. Before that he was "Eden Ahbe", normal capitalization, no "z", and after "Nature Boy", he spelled his name variously as "eden ahbez", "Eden Ahbez", "Eden Abez", "Eden Abba", and "Ahbe Casabe". I think the lowercase thing was an attempt on his part to attract attention with something that gave a spiritual feeling to his unusual name. But it didn't stick. On many of his handwritten lead-sheets, for instance, he spelled his name all-caps, with the "z". He spelled it lowercase too on occasion in later years; but it wasn't consistent.
In 1947, Ahbez approached Nat "King" Cole's manager backstage at the Lincoln Theater in Los Angeles and handed him the music for his song 'Nature Boy'. That must have been quite a scene back then, especially due to his unusual look for the times. How did that come about?
My understanding is that Ahbe sort of stalked Nat "King" Cole for a while in the spring of 1947. Cole's trio was in L.A. for about three months then and was playing the Bocage nightclub on the Sunset Strip, the Aragon Ballroom out in Ocean Park, near Venice Beach, and the Lincoln Theater in Downtown L.A. Ahbe had been advised to take the song to Cole, according to his friend and sometimes-manager Cowboy Jack Patton, at the behest of songwriter Johnny Mercer. Mercer told Patton who told Ahbe that Cole had an open-door policy for songwriters to pitch their material to him.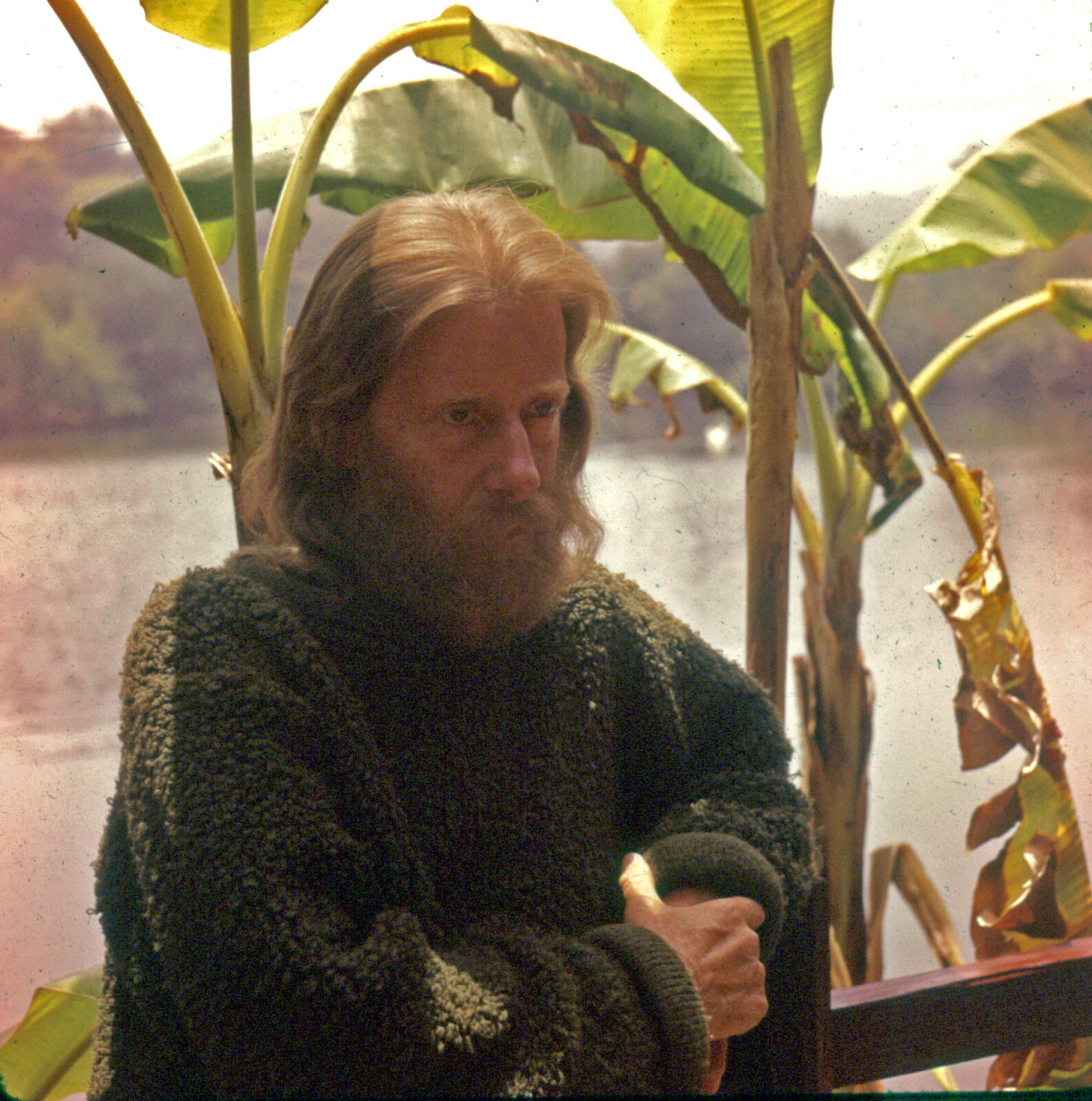 The legend has it that Ahbe gave his manuscript to either Cole's valet, Otis Pollard, or to his tour manager, Mort Ruby, who then passed it onto Cole. The latter played it live during gigs in the summer of 1947, and after one particular rendition at a show in Chicago, Irving Berlin, who was in the crowd that night, bought part of the copyright from Ahbe, and then published the tune, and then Cole eventually recorded it in August 1947. A few days after the session, however, the American Federation of Musicians went on strike, and that lasted until spring '48, when 'Nature Boy' actually became the record that broke the strike. It was released with session musicians playing on it against the union's wishes. Ahbe had nothing to do with that, of course, but it became the impetus for the record labels and the union to come to the table and establish a new contract for performances. After that the song was covered by dozens of major label artists: Frank Sinatra and Sarah Vaughan among them.
Ahbez was also married and had a family, but it all ended very tragically for them.
Correct. His wife's name was Anna, nee Annette Jacobson, and she was born 1919 in Michigan and died in L.A. of bone cancer in 1963. She and Ahbe had one child together in 1948, Tatha Om Ahbez, whom they nicknamed Zoma, and who died of a drug overdose in 1969. Their tragic deaths left a hole in Ahbe's life that is very much felt in his later music. He wrote several songs about Zoma, in fact, and nearly thirty about Anna. One friend told me that he talked about her every day of his life.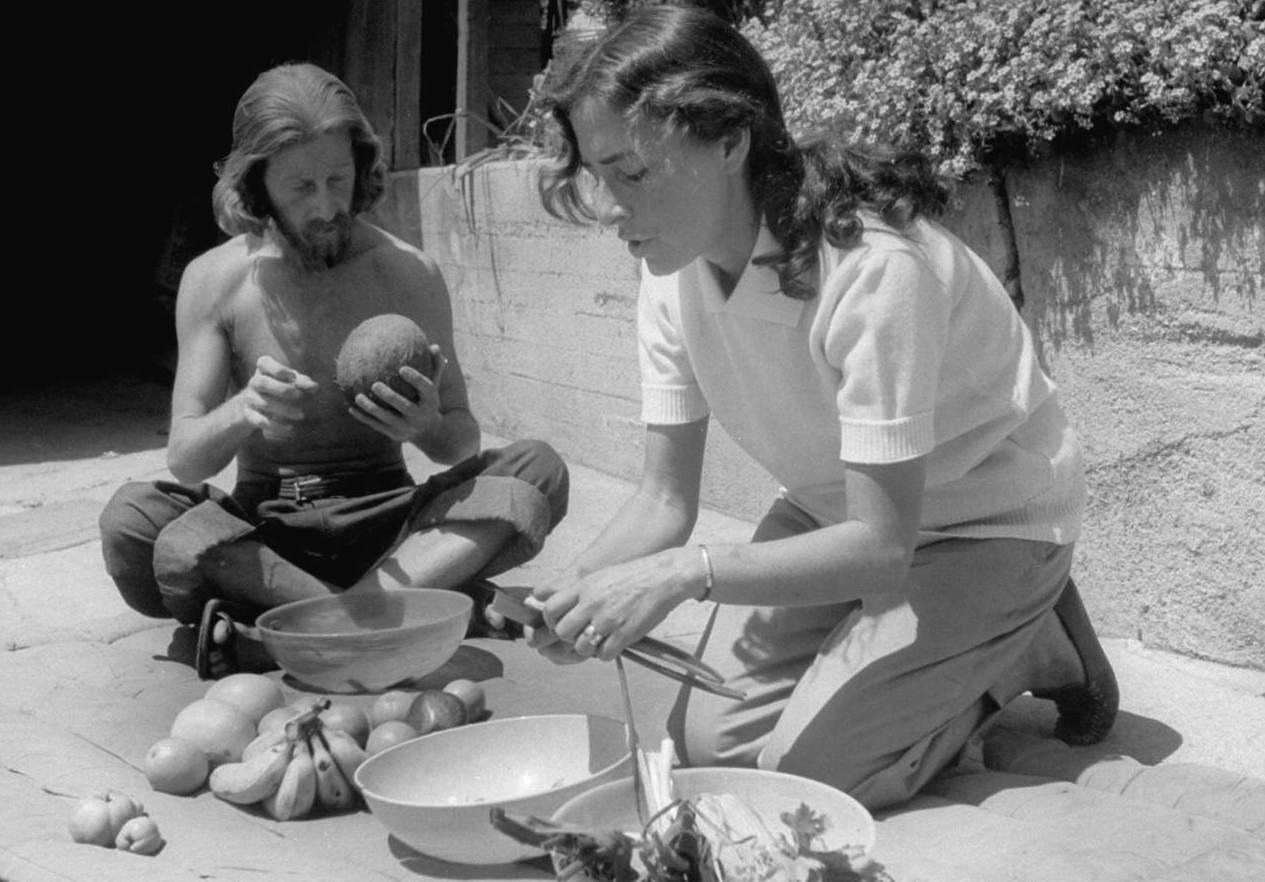 And his collaboration with Cole continued via 'Land of Love (Come My Love and Live with Me)'?
Yes, that came out in 1949, also on Capitol Records, which had released 'Nature Boy' in '48. Ahbe apparently gave Cole another song titled 'Nature Girl' as well, and originally had given Cole his six-part 'Nature Boy Suite' in 1947, but Cole just took the one part out to record, the part we all know and love so well. But there were five other movements to 'Nature Boy'.
And in 1960, he began recording 'Eden's Island (The Music of an Enchanted Isle)' for Del-Fi Records, a mix of proto-psychedelia, exotica, and beatnik poetry. A truly unique gem and might be the very first "hippie" album if I may say so.
Indeed. It was an interconnected song cycle about an imaginary utopia where boys and girls fall in love, make fires on the shore, and where love is all they're living for. Sounds like his own lifestyle in the mountains, caves, and beaches of Southern California with his old Nature Boy friends. But, of course, Ahbe took it to a metaphysical place with the poems he recited on the album, which are the clearest examples we have of his nature philosophy. Put simply: he did not think society, government, legislation, or education could solve the problems of the heart and of why humans suffer and fight each other and destroy the planet. He felt that could only come through solitude, patience, focus, awareness of nature and of the present moment, and through compassion. Things reveal themselves naturally he seems to say on songs like 'Full Moon', where he recites a poem over some very atmospheric exotica music, including the lines: "And in the evening/When the sky is on fire/Heaven and earth become my great open cathedral/Where all men are brothers/Where all things are bound by law/And crowned with love." He's talking about natural law and the love that abides in the hearts of all living beings.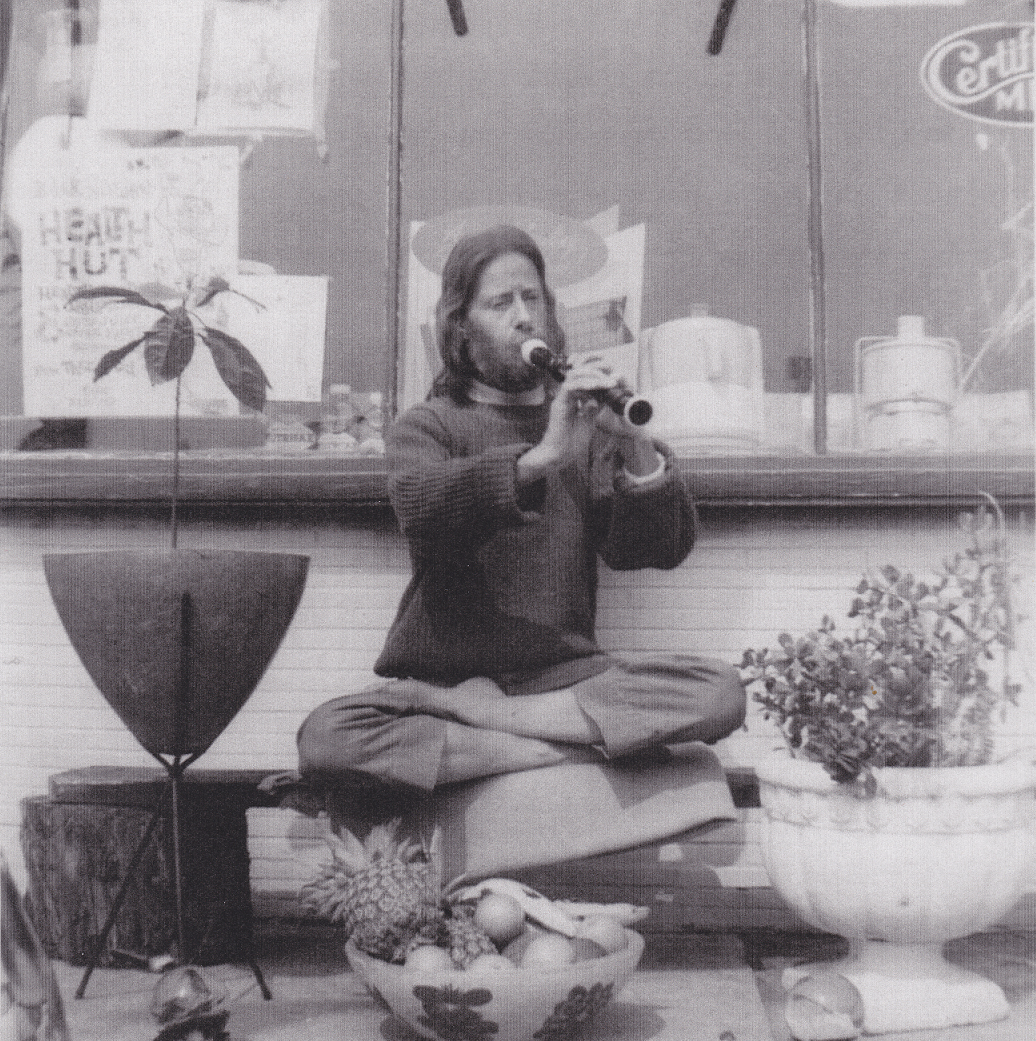 He continued recording several singles. Can you tell us more about them?
There had been singles written and/or performed by Ahbe from right after 'Nature Boy' in 1948 until about 1965 when his wife Anna had been gone for a year or so and his son Zoma started showing signs of being what you might call a juvenile delinquent. Most of the singles he penned were recorded by other artists, including Sam Cooke and Eartha Kitt and April Stevens, and they were often worthy additions to his best-known work.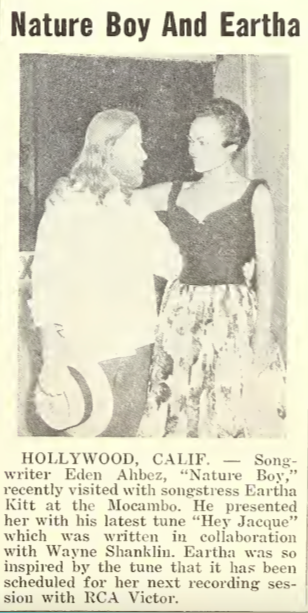 There's a lot of novelty material however on these singles too and that no doubt will give critics and some historians cause to turn their noses up at Ahbe. Not this historian. I still take seriously everything he ever put his name to. All of it serves as a window unto his mindset and his process. I'm also a rock 'n' roll guy at heart, so criticism and the various rock canons don't mean as much to me as novelty does, or anything excessive, sincere, or atmospheric. I actually recoil from this thing we call "taste". I prefer wild abandon.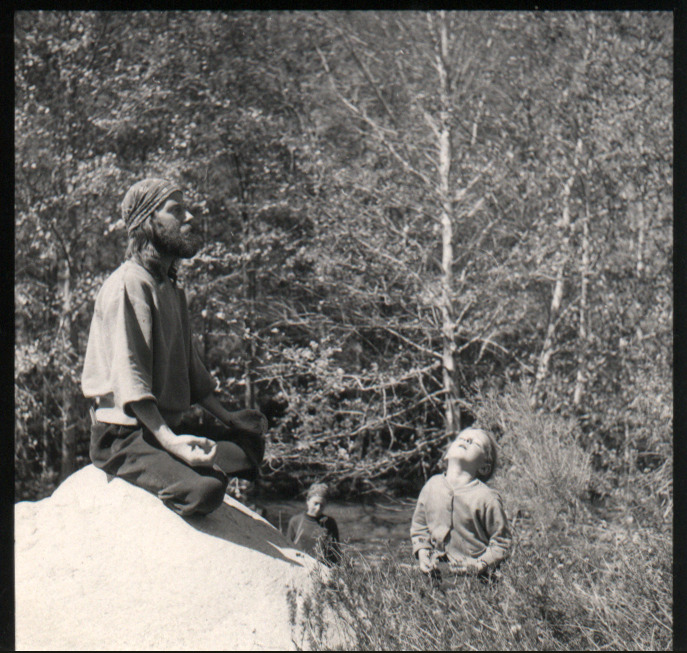 "I think 'Nature Boy' had an implicit and sometimes explicit effect on the hippie generation in general"
You talked about that photograph of Ahbez in the studio with Brian Wilson earlier. So do you think his philosophy impacted the making of 'Smile' in any way?
I think 'Nature Boy' had an implicit and sometimes explicit effect on the hippie generation in general. Paul McCartney said as much when he credited 'Nature Boy' with being the inspiration behind his song 'Mother Nature's Son' in an interview a few years ago. Similarly, according to Brian Wilson's 'Smile' collaborator, Van Dyke Parks, they both loved 'Nature Boy' and wanted to meet its composer when the opportunity arose in 1967. Michael Vosse, who was a friend of Parks and Wilson around that time as well, and who wrote a few articles for publications about the 'Smile' sessions, remembered that Ahbe was working on a recording down the hall in Gold Star Studios, where the photograph of Wilson and Ahbe was taken, and that it was arranged for the two of them to meet. Dave De La Vega, an engineer at Artist Recording Studio on Cherokee Avenue in Hollywood, worked with both Brian Wilson and with Ahbe in the early 1970s, and he remembered them being friends, and even claimed it was Wilson who introduced him, Dave, to Ahbe. So there may've been something more to it than just that photo.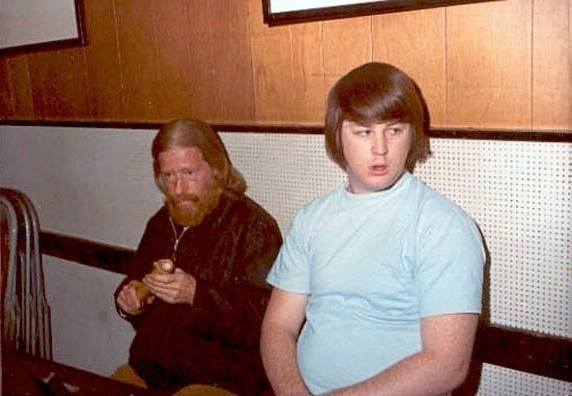 Brian himself doesn't have any further memories, by the way, and Ahbe is not alive to ask about it. I should also mention that there was a psychedelic version of 'Nature Boy' done in 1968 by the Capitol Records group Gandalf which is quite incredible in my opinion. The hippies were aware of 'Nature Boy' and in some cases aware of Ahbe. But Ahbe simply wasn't making himself available to them at that time—other than in a few rare instances. He was having problems at home and was barely recording anything then. Juxtapose that with Moondog, who was getting his first major recording contracts in the late sixties/early seventies, and perhaps Ahbe's fate would've been similar in the hippie era had circumstances been different. But he was almost completely withdrawn from the public. We do have some unreleased recorded material from that time, however, and a few unrecorded compositions on sheet music too.
And there were other famous people too, like Donovan for instance, who wanted to reach him, correct?
He and Donovan met in 1966 when Donovan was playing a nightclub on the Sunset Strip called the Trip. Donovan apparently wanted to meet Ahbe and to introduce himself as a fellow nature boy. Ahbe, in an interview in the late seventies, talked about delivering some new songs to his friend Donovan, so the two must've had some kind of relationship, or understanding, which continued beyond their initial meeting in the sixties. Donovan, however, did not record any of Ahbe's tunes as far as I know, and Ahbe, as I said, was getting pretty withdrawn and paranoid about sharing his stuff with anyone by 1971-72.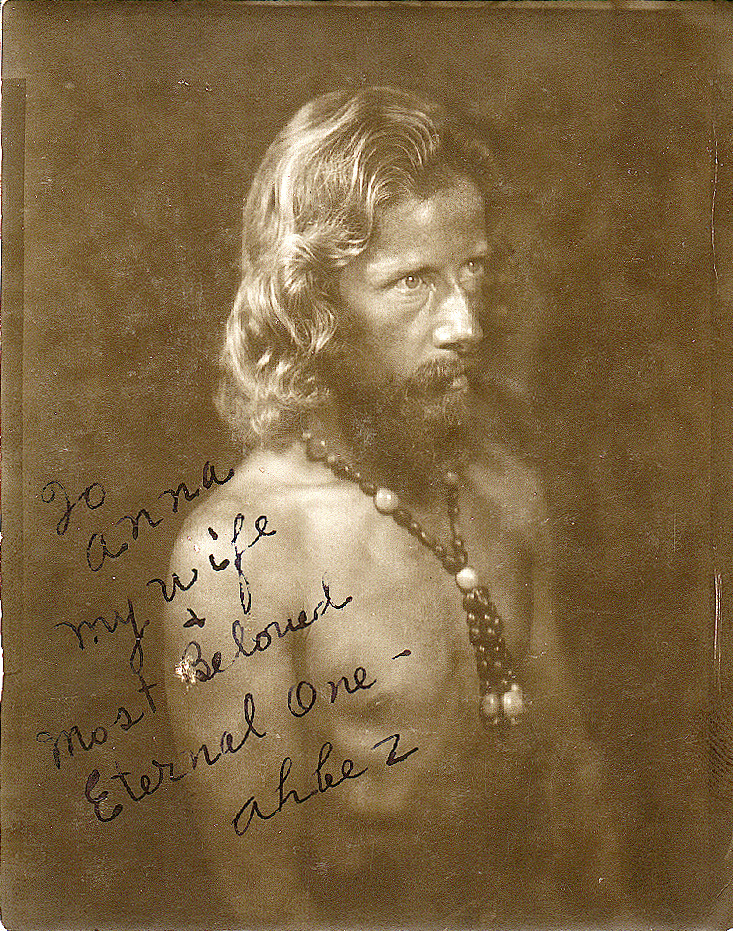 Let's return to the 'Eden's Island' album if we can. Everland Music and Ebalunga!!! recently announced a very special reissue of his album that will include almost 20 unreleased songs. What can you tell us about this massive project?
It's a two-LP special edition of 'Eden's Island'. I wrote the booklet and selected the tracklist for the second disc. It is basically all of the rare singles and unreleased songs that led to 'Eden's Island'. 1950s material for the most part. That disc is meant to give listeners some insight into Ahbe's writing and recording process and to help them better understand the 'Eden's Island' project by extension.
"I've basically been working on Ahbe's story for the last 26 years"
Where did you find those unreleased songs?
From my research and collecting, and also from various archives of Ahbe material, as well as from people that knew him and worked with him and had a few tapes which he left to them. Unfortunately, I keep finding more stuff, like a demo from 1958 of the album's title track, which features Ahbe himself on vocals, backed by just his handmade drums, which he plays as well. That emerged in my research after this new LP set was already sent off to be pressed and so I'll have to find another Ahbe album project to release that on.
That's one of the things I think is worth mentioning. I've basically been working on Ahbe's story for the last 26 years, and unlike a lot of biographers who have their research underwritten by a publisher and a deadline in which to finish the project, I've had to basically use these album releases or articles in various publications to further my research. What that means is, each time I get to do one of these things, I learn a lot more, and then the story expands, which is great; but it almost always means there are some errors in previous liner notes I wrote as well. The reason I have had to do it this way is because there was basically no market whatsoever for an Ahbe biography or documentary before I started researching him. I've had to build the market and at the same time try to put out compilations that both enlighten listeners to his story and that they also enjoy listening to.
The material is restored and remastered from original master tapes by Grammy-nominated sound engineer Jessica Thompson. We will be hearing the best possible sound!
He deserves it. The album is a masterpiece.
Can you tell us more about the different editions of the release?
Del-Fi released the original in Fall 1960 in both mono and stereo. It apparently sold less than a hundred copies. The first CD reissue came in 1995 or '96 and was produced by Domenic Priore, whom I mentioned before, and it was released by Del-Fi in that period because lounge, swing, and exotica music were all the rage then, and so Domenic pitched them to reissue Ahbe's forgotten exotica gem, 'Eden's Island', based on the information he found in the book "Incredibly Strange Music". The CD sold well enough to warrant a second pressing in 1997 by Del-Fi and then Sony bought the label's entire catalog in the early 2000s and so the next edition of 'Eden's Island' came out on the Sony subsidiary Collector's Choice Music in 2004 and had new liner notes by Bryan Thomas. There were a few errors in there, but Thomas did find a second session sheet for the album which Domenic hadn't found when he was writing the first liner notes in '95, and that second log allowed us to know that Emil Richards played marimba on most of the tracks on 'Eden's Island'. He was probably the top melodic percussionist in Hollywood from the 1950s through the seventies. There have been 13 or 14 reissues of the album since 2004, most of them on vinyl, and they're all pretty much bootlegs, with the recordings being dubbed from either the CD pressings or a copy of the original vinyl.
Another burning question: How did the new album 'Eden's Ahbez's Dharmaland', arranged and performed by Ixtahuele, come about?
The biggest question I have had over the last 26 years of researching Ahbe's music was whether he ever wrote or recorded anything significant after 'Eden's Island'. I knew he had a few indie singles in, like, 1964-65, and one or two unreleased recordings from that period, which I put on the 2016 compilation I produced for Bear Family Records, entitled 'Wild Boy: The Lost Songs of Eden Ahbez'. But there was nothing between Fall 1960 and Summer 1963 that I knew of.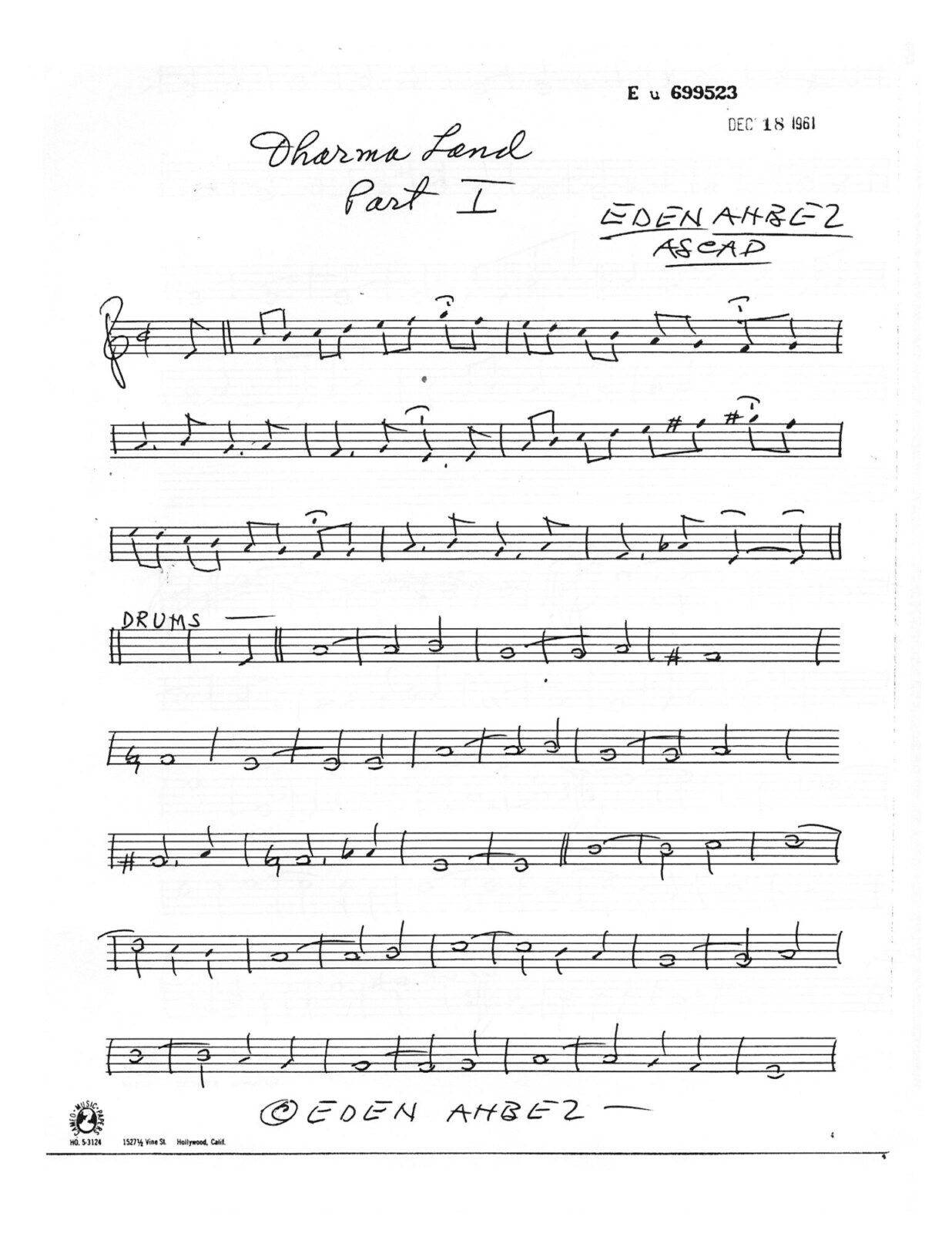 Then in 2009 I ended up doing research on Ahbe at the Library of Congress in Washington D.C. and came across a big file of copyrighted lead-sheets that he'd submitted to the library between 1955 and 1968. In there were 22 titles from 1960-63, none of which I recognized from my previous research, and which over time I realized had some shared themes, either musically or lyrically or both. I began playing these songs with my flute teacher starting around 2015, and I also worked with a few musician friends to make some demo recordings, and then in 2018 I was introduced to Ixtahuele by Domenic Priore, and to their label Subliminal Sounds, and we all made plans to record what was now being called the 'Dharmaland Suite' together for an album project.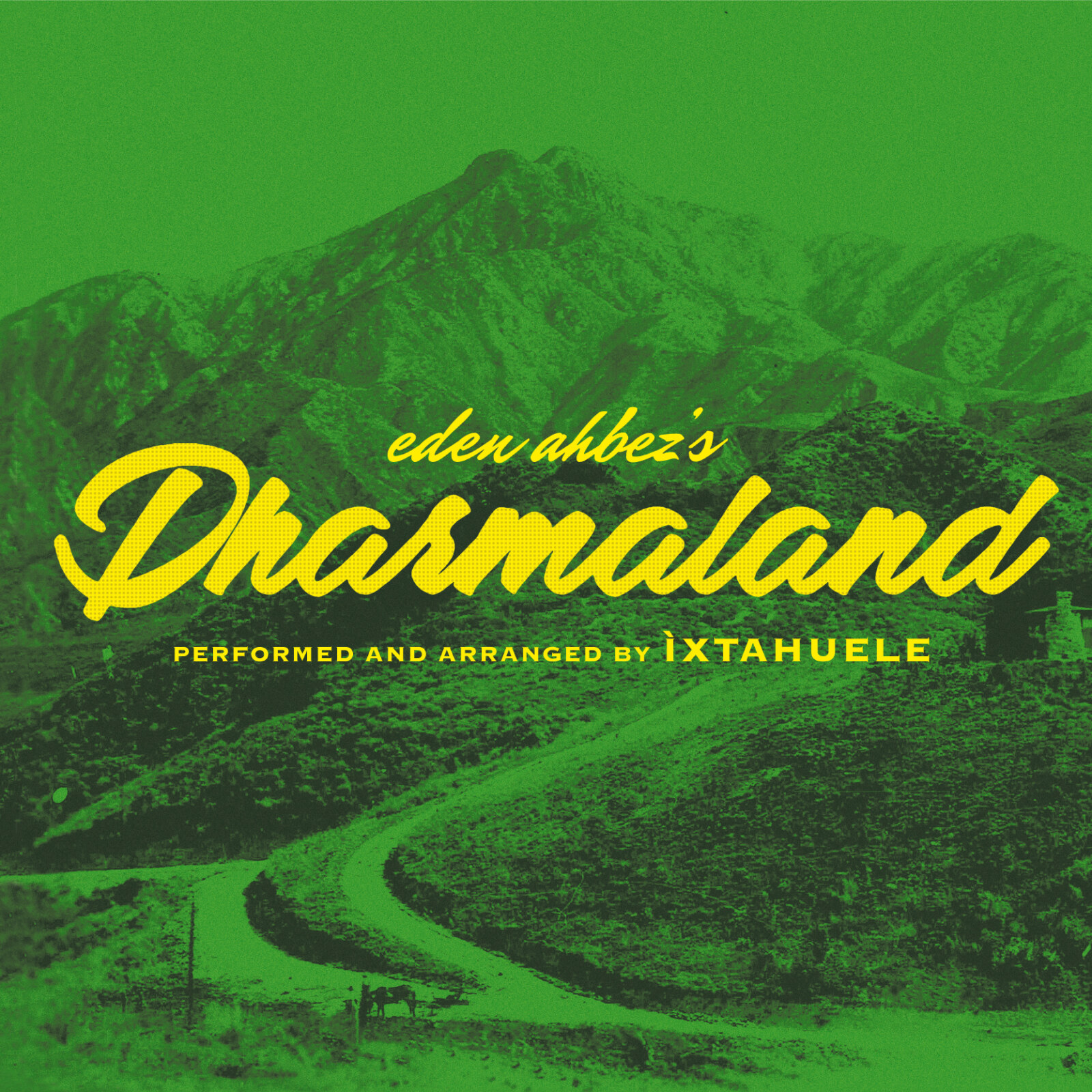 Between late 2018 and summer 2019, I whittled it down to twelve tracks from the original stash of 22 lead-sheets, based mainly on the way in which the tracks were interconnected, and how they told a loose story of this imaginary world called Dharmaland, and then the songs were arranged and recorded by Ixtahuele in L.A. and Sweden between 2019 and 2020, with myself and Johan Hjarmalsson producing. Guests included nine of Ahbe's former collaborators, including Emil Richards, and we also used Ahbe's handmade drums and one of his hand-carved bamboo flutes throughout the sessions. The album was released this past June and represents, to me, what would have been his follow-up to 'Eden's Island' had that album not failed to sell in 1960, and had his wife not contracted bone cancer.
So I guess we should let the readers know that the main reason why we are having this in-depth conversation is because you're the producer of the documentary movie "As the Wind: The Enchanted Life of Eden Ahbez." How did the journey to recover Ahbez's story begin?
Well, like I said, it began with learning about him first back in 1995. Then after the 'Eden's Island' CD was reissued, I had a lot more questions, and wanted to see if there was anything else he wrote or recorded, so I asked Domenic if he planned to do anything else with Ahbe's story and he said he did not, and then gave me his blessing to pursue it. I then went to the Local 47 musician's union in L.A. and got some session sheets for recording dates Ahbe worked on, and I also called ASCAP and got a list of songs by Ahbe which had been published. This was the late 1990s and there was no eBay or GEMM or Discogs at the time. Search engines took 15 to 20 minutes to load a result and there was very little about him on the internet then anyway. I mostly just reached out to record dealers in L.A. and gave them photocopies of my list from ASCAP and asked if they recognized any of the titles and if so did they have those songs on a 45 or whatever.
By about 1999 I had amassed maybe 35 Ahbe records that were not listed in the "Incredibly Strange Music" article about him or in Domenic's CD liner notes for 'Eden's Island'. These were mainly late 1940s and '50s singles. Then a website called Shadowbox Studio appeared online and it claimed to have all kinds of unreleased recordings and photos of Ahbe from the sixties through the nineties. I contacted the site's owner and his name was Joe Romersa and he invited me to his house in Woodland Hills, near Los Angeles, and we became fast friends. He pointed me in lots of new directions, and I just kept turning over rocks, as they say, and one thing kept leading to another, and by 2009, when I found those lost lead-sheets at the Library of Congress, I knew I had more information on Ahbe than anyone on the planet. I then started an Ahbe website where I could post some of my findings and I was interviewed by BBC and NPR for radio documentaries they did about him.
In 2014 and 2016 I did vinyl compilations of his rare exotica singles from the fifties and early sixties and was getting contacted all the time about making a film about him. It seemed like there was enough interest out there, and enough work had been done to create a market, that I should start thinking seriously about making a documentary.
And this feature-length documentary is co-directed with John Winer. How did you first meet and decide to give it a go?
We met on Facebook; on the site of the UK band the High Llamas. I'd posted a link to the 'Wild Boy' album that I'd recently produced and John wrote me a message saying he was a filmmaker and had recently heard about Ahbe's music and thought it would make a great doc. I'd had lots of offers by that time to collaborate on a film about Ahbe and was getting kind of sick of having to weed through all these small-minded proposals. But there was something about John I recognized right away. He had a very open mind to experimentation and he was patient with a lot of my artistic perfectionism. We worked on a five-minute promo together in 2017 and the results were so good that I decided, okay, this is the guy for me to collaborate with.
You spent a lot of time travelling around the country and interviewing many of his last remaining friends. Would you like to talk about how the journey continued and who all did you meet?
I've interviewed over two hundred people who either knew or worked with Ahbe over the last 26 years. Most of those interviews I did either by email or in person or on the phone in the nineties and 2000s. By the time John and I started working together, however, many of them were already deceased. Only a handful were left actually. So we decided to hit the road right away and get them on camera while we still could. We chose each person who is in the film, by the way, because they provided some kind of window into a certain era of Ahbe's life or a certain part of his art or philosophy that was unique. Each person who knew Ahbe sort of gets their own section in which they retrace his steps and retell their friendship with him.
In terms of who makes an appearance, or who we interviewed for it, Joe Romersa is in the film, and so is Emil Richards. The latter unfortunately died in late 2019 and didn't get to see the final film or hear 'Dharmaland' before it was released. I'm sad about that. Emil was a nice man and a great musician. If you or anyone wants to follow the progress of the film, go to edenahbez.com, where we have some behind-the-scenes videos and a blog and lots of other content on Ahbe and on the film.
How did you come across his unreleased music and footage?
I've pretty much followed every lead ever presented to me over the years. If a new one comes, I waste no time, just call the person right away, see what they know or what they have. I have boxes and boxes of research in my apartment. I have over a hundred 78s, 45s, and 33 records of his released material. I have acetates, sheet music booklets, lead-sheets, photographs, slides, et cetera. But even now, at this late stage in the process, I'm still finding new things weekly or monthly.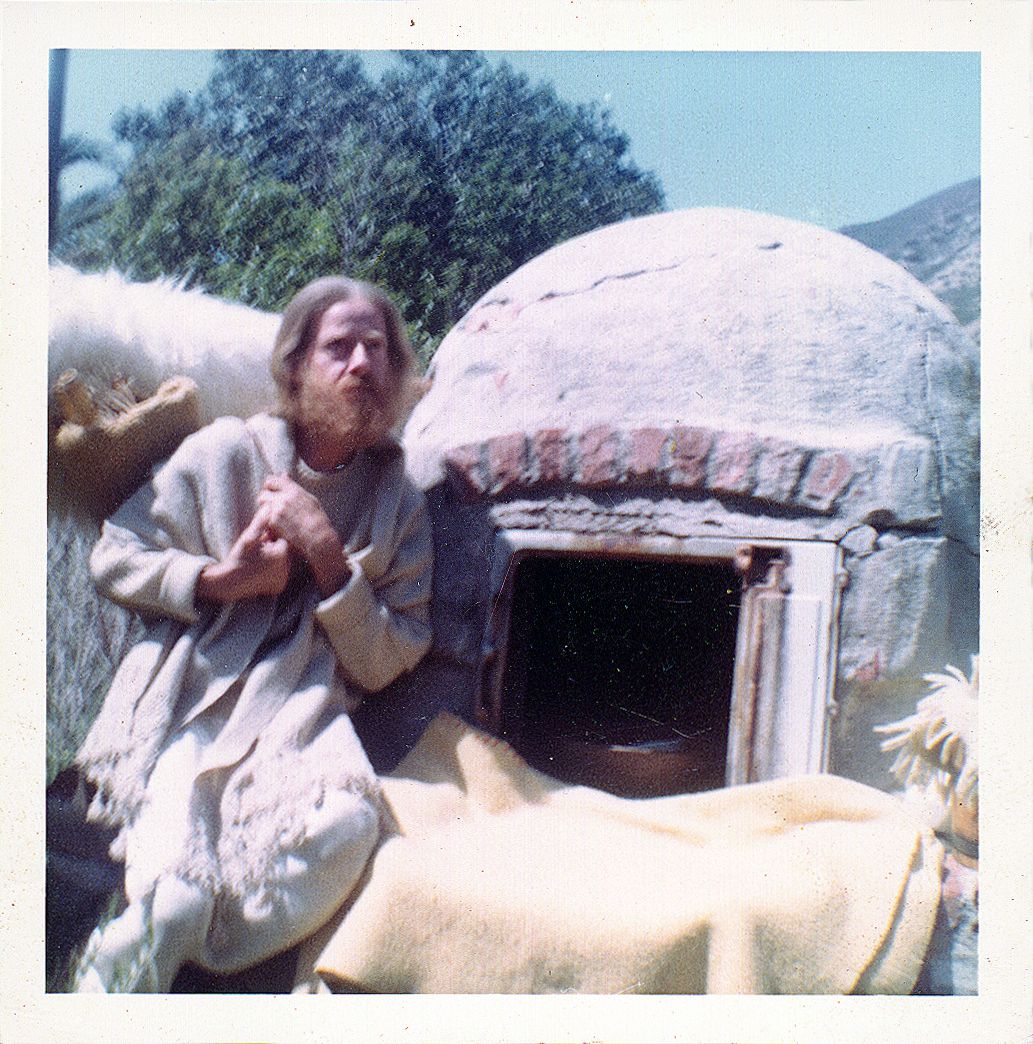 Can you discuss the technical aspect of filming this documentary?
It's filmed in the cinema verite style, which means we have no talking head interviews in the film, but rather we follow Ahbe's friends around and retrace his steps. It's an intimate retelling of his story in that respect. We're also animating the 'Eden's Island' section of the film so as to bring that imaginary landscape to cinematic life. There will be lots of surprises and I don't want to waste them all with inferior descriptions. Just follow the progress on our website. Hopefully the film will be finished in 2022. We're more than halfway done at this point.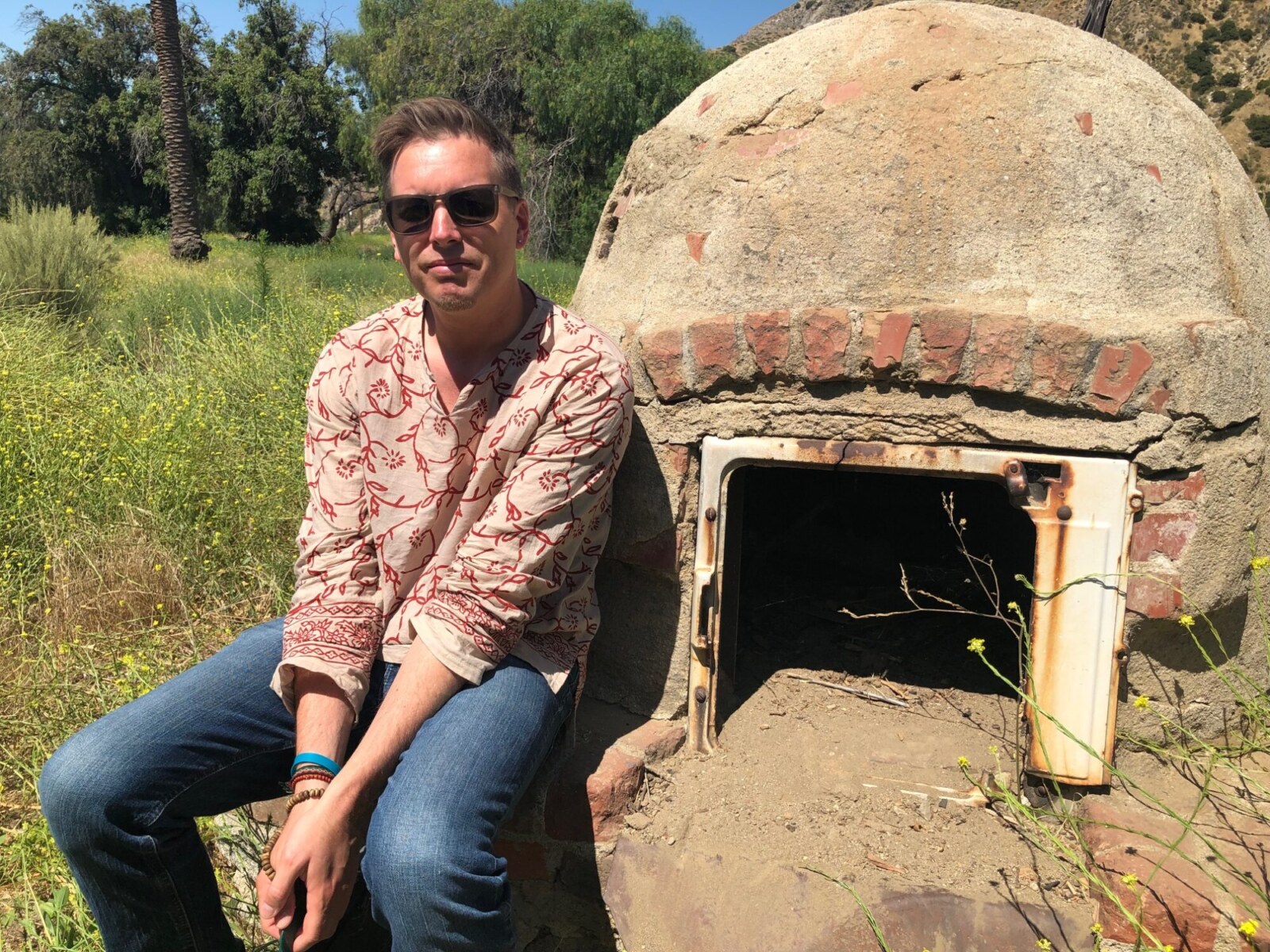 "A voice of love which overflows with the spirit of generosity"
The last word is yours.
Thanks again for the opportunity to speak about Ahbe. Your questions were great. I will leave it with something I read a long time ago from a great Buddhist master. That is my spiritual practice, and the thing I read was that if we are going about our lives and we come across a teacher who can guide us in the direction of wisdom, compassion, and enlightenment, we should not tell our father, not ask our mother, not seek the approval of friends or colleagues, but rush headlong into it with wild abandon. If you don't, and if that teacher or teaching fades from your world, or from memory, there is no way to get it back. Ahbe was that teacher for me and I went for it without knowing where his story would take me in my life. I was young; I wasn't born into a creative family and I knew hardly anything about religion or spirituality. If it came, it was gonna have to come through pop culture, through something like a comic book, a movie, or a record album. That it came in the form of 'Eden's Island' was perfect for me and set me on a path of great discovery for my adult life.
I had no idea back then that this would be a life-long pursuit for me, but as the masters say about karma, it is a complex lattice of which we can scarcely understand the field of interconnections. The best we can do, in fact, is to be open to those moments when the dharma, or the wisdom beyond time and space, manifests itself in this realm. That is what Ahbe's music and teachings are for me—a voice of love which overflows with the spirit of generosity. I hope all the work I have done with his catalog bears that out. He is special.
Klemen Breznikar
---
Eden Ahbez Official Website / Facebook / Instagram / Twitter / YouTube
Everland Music Official Website / Facebook
Ebalunga!!! Bandcamp
Ìxtahuele | Interview | Eden Ahbez's 'Dharmaland' arranged and performed by Ixtahuele