The Silverbeets | Interview
The Silverbeets hail from Hobart, Tasmania. The band craft an idiosyncratic sound that borrows from many luminary rock acts yet retain their own non formulaic distinct style.
---
The Silverbeets are a band that write songs that have universally recognised themes of love, hate, fear, addiction, as well as environmental and political based content.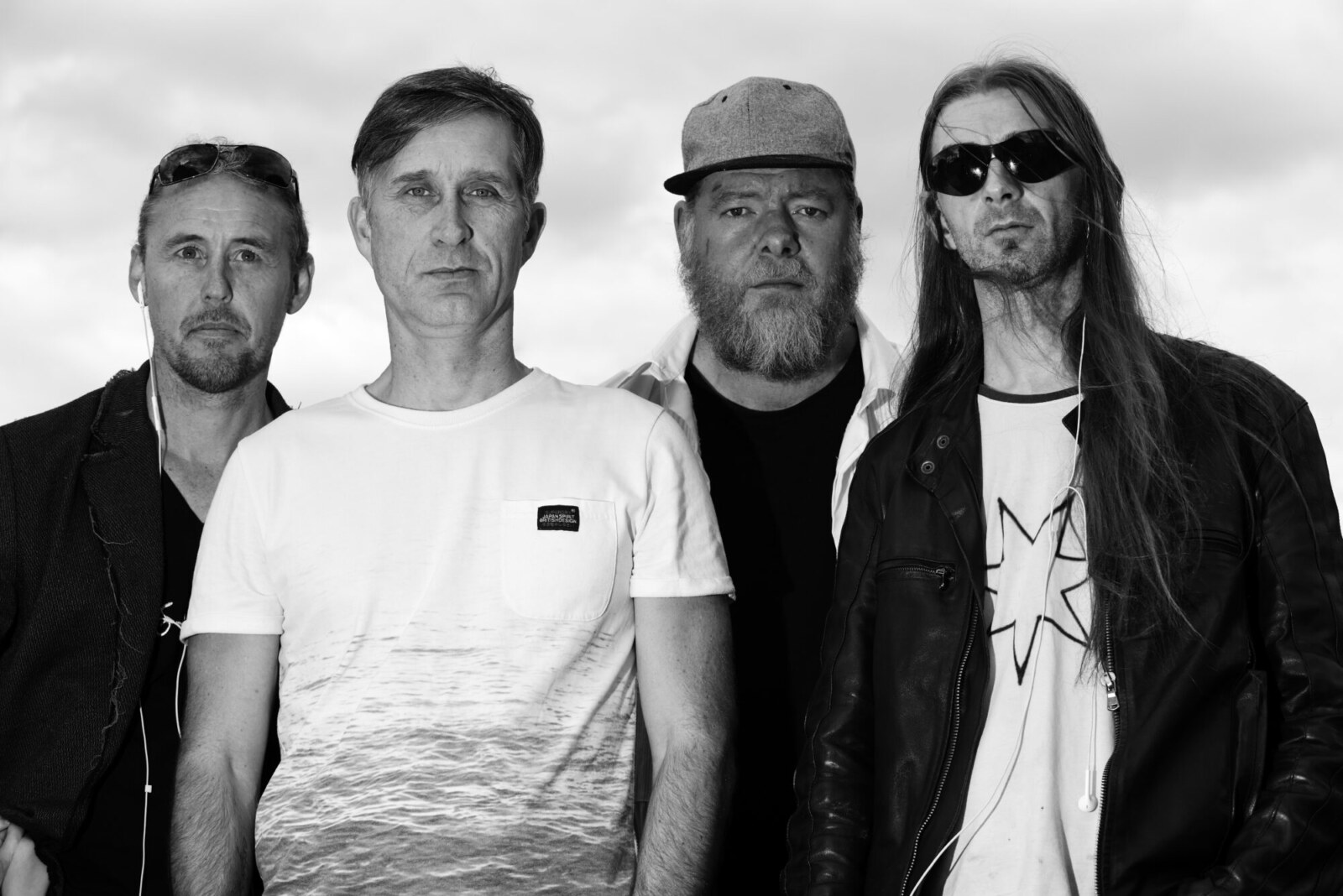 Would you like to talk a bit about your background?
I suppose the 4 band members and our producer all have very different backgrounds.
Ernie O – Producer (Multi-Instrumentalist)
Ernie was in youth orchestras as a pianist and then gravitated to bass in progressive rock bands. He has engineered and produced a lot of albums and is a big part of The Silverbeets overall sound
Bill O'Brien – Drums
Bill has been around music and musicians pretty much his entire life. His father was a drummer for a Tasmanian band in the 70s. Bill has a great ear for music and a real appreciation for top quality musicians being high on his list as favourite musicians.
Nigel Hope – Bass
Nigel has been playing bass since he was a small child and although I would describe him as virtuoso Nigel just continues to want to learn and get better, not just on bass but on many instruments and his thirst for knowledge is unquenchable. No doubt the work he is currently putting in on guitar will start to feature on future albums.
Jamie Scott – Vocals / Guitar
Jamie has a passion for vocals. A classically trained operatic singer, an amazing guitar and pianist, Jamie gives the band that extra je ne sais quoi. His harmonies come effortlessly and he never tires in just trying to get that extra 1%
Farnz Cordeaux – Rhythm Guitar / Vocals / Lyricist
Farnz has predominately been the writer for the band. However each of the members takes that original idea and then crafts it to make it their own.
The band formed in 2014 and has released an Ep ('Purple Stems') followed by a cover of Simon & Garfunkel's 'We've Got a Groovy Thing Goin', then a full length album ('Stay Tuned') followed by a polemic single titled 'I've got to get away (on an Hawaiian holiday) and then most recently another album, 'Halcyon Days'.
"It is interesting as for me music is a compulsion."
How would you describe the sound of The Silverbeets?
Farnz Cordeaux: I always find it hard to describe our sound as we try to cover a lot of different styles and genres of music. I think there is a good deal of 60's and 70's influences in the music mixed in with more modern day contemporaries. There has always been an element of psychedelia and classic rock but I have received so many different artist comparisons over the years with reference to whom we sound like. This is from the Yardbirds, through U2, The Pixies, Radiohead, Pink Floyd, Neil Young, XTC, Split Enz and so so many more. Yet I wouldn't say we sound like any one of those acts. It is interesting as when 'Stay Tuned' came out people would tell me what their favourite song was off the album. There is 11 songs on the album and all 11 of them were favourited by somebody. I'd like to think that is a sign of a good album. I know for me those are the kind of albums that have stood out. I think of things like Beastie Boys 'Ill Communication', or Tool's 'Ænima' or a few Beatles Albums. Not that I compare ourselves with that high echelon of musicians but it is certainly where I aspire to try and reach.
It is interesting as for me music is a compulsion. The worst times in my life coincide with where I wasn't playing or writing music. I have no doubt a lot of those times would still have been bad but were they made worse by not writing or playing? I will never know. Yet it has led me to explore the why's of playing music, at least for myself. Ultimately I do it because I enjoy it and there is a release and artistic expression that I don't get out of other things. Writing and drawing kind of do the same thing but not to the extent that music does this, for me. So I would be happy to just write a song and move on. However there is this other part in me that has been affected by music and artists and in part wants to give back to the world what music has given to me. For example, one of the worst times coincided with a bad break-up. For weeks I wouldn't even listen to music, couldn't. It hurt. I tried to but nothing took away the pain, mostly it made it worse. Then one day I put on 'Dry Your Eyes' by The Streets and the music and the lyrics spoke to me. I can't repay that debt but it would be nice to know that perhaps one day someone heard one of my songs and had a similar experience of sorts where a light gets switched on where once there was darkness.
When did you decide that you wanted to start writing and performing your own music? What brought that about for you?
I was 18 and I had just finished high school and had sort of fallen in with a whole new bunch of friends. Not even sure how it really happened, guess it was just fate or whatever, but with this new group of friends' music, particularly alternative, independent music was a big part of their lives. They were in bands and playing and writing. This was all new to me. I grew up with the radio on but it was all the top 40 stuff, I had never been exposed to guitar sounds like what I was hearing in Sonic Youth or the Dead Kennedy's, Big Black and the like. I'd been hearing things like Jane's Addiction and then Nirvana blew onto the world scene, Mudhoney and Dinosaur Jr and the like. It was all just new and fresh to my ears and there was so much to learn and now about what had come before. There was an entire underground of music that I had become exposed to and some of this underground had just been exposed to the top 40 too. So I bought a bass of a friend and started to learn. In some ways because all the others around me had such a head start I never really took it seriously. I did however always write lyrics and poetry and just crazy ramblings.
Then one day some friends and I who were all living together decided to be a band and we got a show at one of the inner city venues and just went from there. I recall it was the day after Crowded House had just played their last show on the steps of the Opera House and we sort of thought 'there's a gap in the industry'. Never quite panned out that way for that band, we were probably way more towards the quirkiness and experimental nature of Split Enz than the true polished brilliance of Crowded House.
All the other band members would have their own experiences, no doubt similar yet completely different but we could be here for a long time if we went through them all.
What does the name "The Silverbeets" refer to in the context of the band name?
I was writing the music with a friend that eventually became 'Stay Tuned' before the band had even been formed. I even had a working name and Title, I AM FM was the band name and the title was unimaginatively called Le Petite Mort. I still use working titles as you have to call things something when you create them and there might not be any lyrics or reason behind the song at the creation point. However, I really didn't overly like it and I think I even found someone else using something similar. So I had put together a whole couple of pages of band names, sometimes just random words stuck together, sometimes taking random words from other titles that were earlier listed and sticking them with other random words. There were ones that were okay, some definitely better than others but nothing that really stood out. My friend said "why don't you just find something that is just a familiar everyday item?" I'd just heard the band Blood Orange somewhere around then so I think that kind of set me on a fruits and vegetables thought pattern. We had plants growing in the back yard but none of them really felt right. I mean calling the band Potato or Tomato just didn't vibe with what I was hearing the songs sounding like. I can't recall whether we had silverbeet growing or whether I had bought it for a spanakopita but regardless it kind of got me thinking and I was reminded of all the different colour varieties of silverbeet or swiss chard. See in Australia the green leaves with the silver/white stems are referred to as silverbeet whereas the variety with the coloured stems are referred to as chard or swiss chard. However, they are the same family. That kind of reminded me of the music we were creating. Overall it was all one lovely rich darkish vibrant green but each song was as different from each other as the multi coloured stems of the Beta vulgaris (silverbeet/chard) family.
Then when I sent that name to a friend to ask if he could help create a logo and a typeface for the band name he sent back a couple of pages of different ideas and I immediately fell for the logos which we have used ever since.
Now I loved the title so I didn't go and check out whether anyone else was using it. Then I was reminded that the Beatles had at one very short point in time been called the Silver Beatles and that there was a cover band (I think from Japan) called the Silver Beats. At that point it didn't bother me and occasionally someone will mention it but I just tell the above story.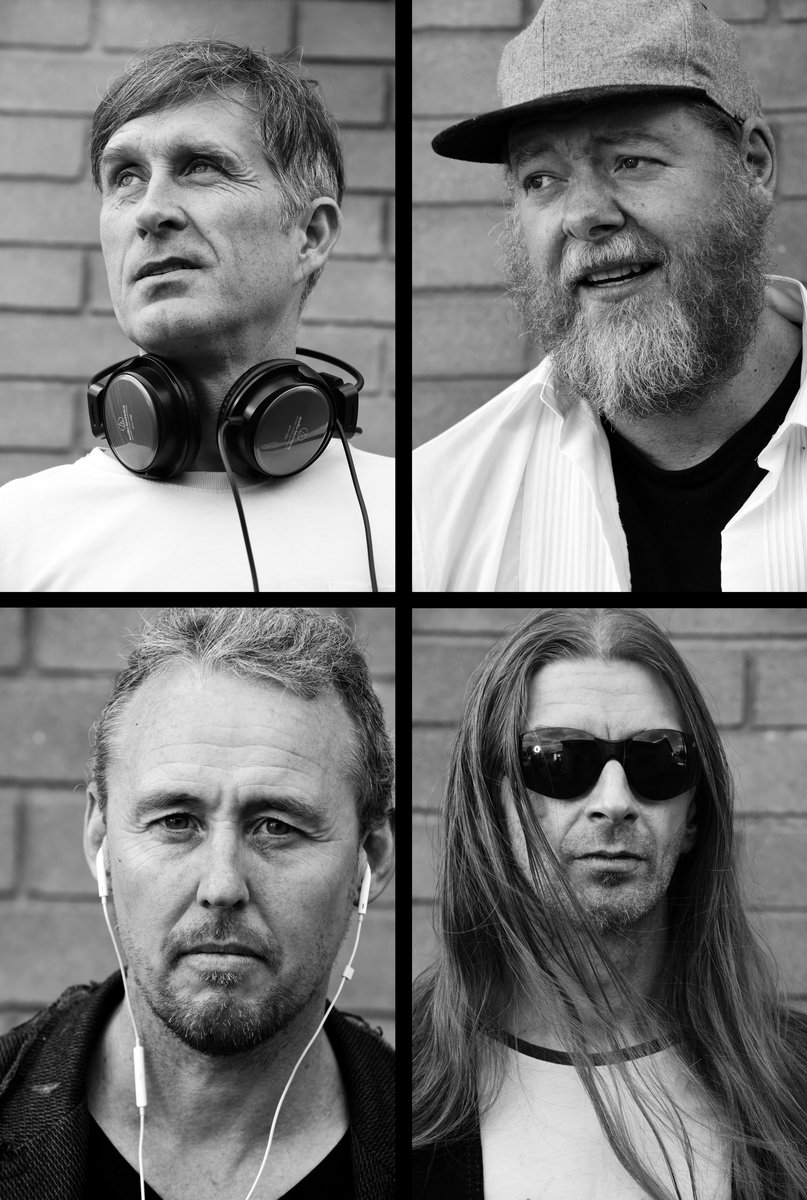 How do you usually approach music making?
In a mankini with the lights off, haha.
No, seriously I don't have an approach when I write music. Perhaps the mankini could work, won't knock it until I've tried it. I do use my phone these days to capture lyric ideas and if I've been mucking around on guitar or bass and find a riff I like I might video record it so that I can remember it later on. That is about as close as I get to an 'approach'. The thing I find is that I don't know where songs come from, nor how I ever learnt to write a song. Some songs seem to flow quite easily. If I recall with 'We Mattered (Once Upon a Time)' the main part of the song was written over two nights work. I wrote the keyboard parts and then found some verses and the chorus and then the next night the whole end verse just came to me from nowhere. Other songs a lyric has started the whole process and a song gets written around the words. Sometimes some songs don't reveal themselves for some time. I have this riff that I have had for years and never quite could work anything on to it. It will be coming out on the next album as one day I wrote another riff and added this old riff to the end of that. See previously I had always had the old riff as the start of the song. All of a sudden it had become a secondary section. The words soon followed because the first section had an idea and theme behind it. I do find themes are good to work with but again not in every instance.
I do try not to listen to anything 'current' at the time of writing new material. Whether or not it would influence me, I'm not sure, but I always want to just try and remain somewhat uninfluenced by what the 'now' is doing.
Can you share some further details how your latest album 'Halcyon Days' was recorded?
Well for the first time I have not had to use a professional studio to record drums. I had recently purchased a 16 track Allen And Heath Mixing desk and we were able to track the drums in my own studio which I call Bad Radio Studios (this was another one of the band names I had at one point considered but found it was a band that Eddie Vedder had sung in) so it became the studio name. I am now up to Bad Radio Studio location #3.
This took some of the pressure off the drummer to have to perform within a "determined timeframe that was costing me money" and he could pop around anytime and record. It was also partly recorded during Covid lockdown. This was primarily as it was my own studio so that I could use it whenever.
The songs however, all of the songs except 'We Mattered' were quite old. In fact all of the were created in Bad Radio Studios #1 with the exception of 'Unnatural Selection' which was written by our drummer Bill. I wrote all of the songs when I got a new computer and a whole bunch of new software. I had been working on the songs that became 'Stay Tuned' at the time but with the new software I wanted to learn more about it and explore the sounds and instrumentation. So I just started to write new material and experiment and have fun.
When it came time to actually put together a new album that became 'Halcyon Days' I went back to these recordings and found some cool fun stuff. One of the directions I wanted this new album to take was that I wanted the songs to mostly be fun, I wanted to try and steer clear of the long "epic" tunes that 'Stay Tuned' did so well and get in to some short sharp pop-esque material. I also tried to stay away from melancholy. See generally when I write the melancholy stuff just comes out naturally so I was trying hard to break my normal patterns. What I found with these old tunes was that I hadn't been playing anything to a click track and ideas were all over the place. In some cases this really worked, the whole drum beat for 'Girlfriend' was made up of a bunch of very different loops fairly similar to what ended up on the album. Where the beat differs from the original is in the little pick-ups and the change overs from one beat into the new beat. Also with these old songs I found the lyrics to not be all that good. Too silly in some cases or just not focused. 'Sexy Ted' for instance didn't seem to go anywhere. Also at the time the 'Sexy Ted' he's gonna get you into bed wasn't there. That was added by the bass player Nigel who had heard the song and suggested it needed something like that. He was right. It also needed his amazing jazz bass style that if it was the same riff over and over would be incredibly boring on this particular style of song. Yet here, he was allowed to let loose and boy did he let rip.
'Cool, Like David Suzuki' was another that got new lyrics but also after being sent to the producer got a whole new guitar riff added in. Just took the song in a new direction and that allowed the changes that are there now to take place. So even when you think songs are somewhat set the producer can come in and rearrange and change everything. This is the Silverbeets way though. It's not an approach more a philosophy or a way of being. Nothing is set and finished until it is on the cd. Although even that isn't complete set for when we made the vinyl's for 'Purple Stems' the producer when back to the drawing board and not only remixed and mastered for vinyl but also new masters that went up on social media including Nigel playing on bass for passenger side (Nigel wasn't in the band for 'Purple Stems').
Having your own studio sure helps with taking your time with recording but it is expensive to get the gear to records sounds well enough to make an album sound somewhat professional. However, there is something still to be said for utilising a paid for studio. Having a dedicated time to get everything done can push you. Sometimes this works.
How would you compare it to 'Purple Stems' or to 'Stay Tuned'?
I think they are very different albums. In fact when the producer heard this album he was shocked. He said it is like a completely different band. He was right, in some ways it certainly was, it was spawned by just having fun, it was created all through a computer at the beginning rather than me with an acoustic guitar. It was made just for fun and experimenting.
However, comparisons are hard. 'Purple Stems' was created as the band formed and the songs from 'Stay Tuned' and how they were playing them were going to benefit from having their input onto them. However, this was not going to happen overnight. So 'Purple Stems' was created with the older songs that I had which weren't on 'Stay Tuned' but I thought could be recorded. This allowed the band to focus playing and a recording came out the back end of that. Now when we recorded that and sent it to the producer he felt we could make it more studio produced and add in some elements that perhaps live we weren't doing so that took on a life of its own.
'Stay Tuned' however was a complete full concept album. I wanted to take the concept albums of the past and bring it as an album into the 21st century. Of course people had done it before but I just had a vision that I wanted to achieve and over the course of creation my vision didn't falter. With the songs on 'Stay Tuned' I wanted to make sure that if the song was telling me it needed bagpipes then I would find someone who played bagpipes and ask them to be on it. Now, with any musician I ask to play on a recording I always ask for them to play what they feel is write for the song. I will say that I hear a violin being all soft and crying and providing this emotional quality but I don't have what notes they should play or what style. They are masters of their instrument and allowing them the freedom gives them ownership and I think you get a better product. Otherwise the song would all sound like how I would write it and then you don't get the whole beauty of having a band.
So all three releases are quite different from each other but as a whole catalogue I hope it starts to make sense to people. For all the different colours they get there will also be that same rich dark vibrant green of The Silverbeets running through it all
How pleased were you with the sound of the album?
I personally am very pleased. I always love the process of creating and getting it through to the final product hearing the songs grow and change along the way. I can get a little impatient and want to share everything along the journey. I often try and listen at the end of the creation process as if it's the first time I've ever heard it (really hard to do) and see if it has that certain sound and flow. This album was actually ready quite a bit before the actual release date as the last bit of mixing and mastering our Producer Ernie wanted to wait for. So at one point we were waiting for some harmonies and then he had another mixing job on to finish and in between he bought a lovely old analogue desk. The name of which I can't recall. It was in one of the old AM stations in Australia and he said it was often referred to as the Canadian 'Neve' desk. This desk took him a while to set up and then he needed time to adjust and work out the strengths of the desks and how it would affect the sound.
Basically it always sounded phatter and fuller with more space every time a song got remixed through this desk and then the album was also mastered through this desk as well. I am always in awe of those who engineer and master albums I think perhaps those who aren't musicians or sound engineers perhaps underestimate the value these people provide to the overall sound and quality of an album. If we have 'a sound' it primarily would be because of Ernie and his sublime skills in this area.
I think album sounds different, in part because of this new desk but also in part because of how it was created and envisaged. It was always meant to be a little more pop than the classic rock stylings of 'Purple Stem' and 'Stay Tuned'.
"Can you imagine what music would sound like had there not been Wolfgang Amadeus Mozart?"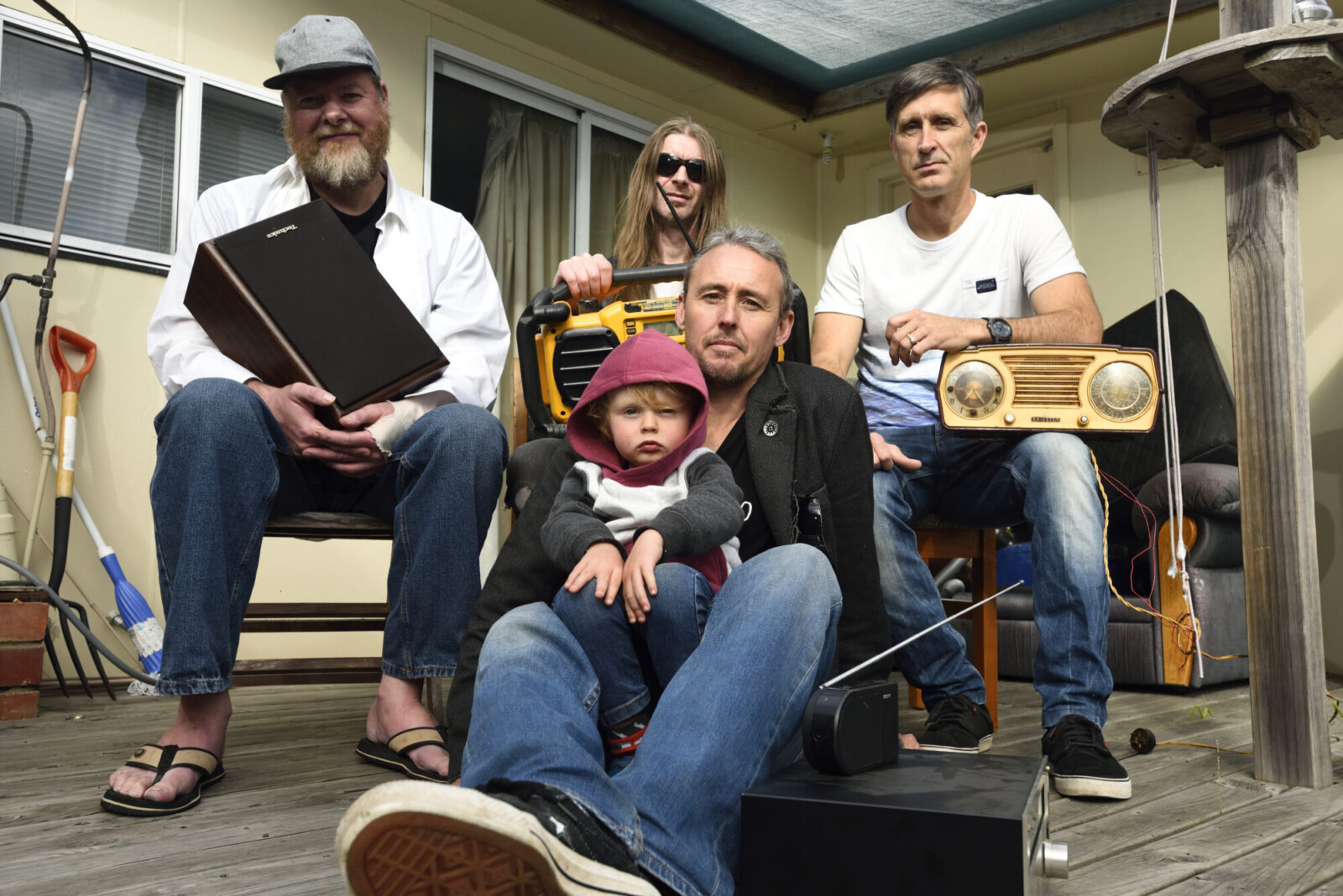 What are some bands/musicians that have a big influence on you?
There are so many great artists, bands, musicians so in a sense every single one of them. Without their musical history we would be in a different space. Can you imagine what music would sound like had there not been Wolfgang Amadeus Mozart? Would you get Bach, Beethoven or Tchaikovsky? And, even if these artists did still come to be musicians without Mozart's influence how different would their works sound? So I think all the history of music affects future musicians whether they are aware of it or not. Yet, how can one be affected by a piece of music they had never heard? I can imagine a youthful person of say 18 years of age today never having heard a Beatles song for instance. Yet surely modern music is indelibly intertwined with their influence? Do young rappers today go back and listen to Grandmaster Flash, Run DMC or even Public Enemy or has the sound moved on so much that they no longer see the connection?
However, in philosophising over all of this we do have some big influences. I think Queen would be considered an influence by most band members, I know one of Jamie's favourite acts is Stone Temple Pilots, Bill admires Fripp and King Crimson among many others, Nigel talks knowledgeably on a lot of the old Jazz masters and Ernie has an almost encyclopedic knowledge of music. As we go through different songs and styles I think those influences come out. I know I can hear some Split Enz in this most recent release and I certainly recall hearing a lot of them growing up. XTC and They Might be Giants are also bands I can hear in this latest release. I think doing the cover of Simon & Garfunkel was a telling sign of at least my enjoyment of their music. I would also list David Bowie as someone whose music influences me. I think mostly because he was able to write unique songs that were still very catchy and showed the world that avant-garde could be very, very popular.
I love when people mention to me different bands that they hear within our songs, especially obscure references and especially when they are bands either you love or you hadn't even thought about when recording the album.
What's the scene in Hobart, Tasmania? Any other bands you would suggest to our readers?
The scene here is a mix of everything. Very broad and very good. I think the isolation from the mainland in part creates a uniqueness as bands aren't necessarily influenced by the large swathe of musicians that bigger cities would have. I like when things are more unique rather than everyone starting to sound generic copies of what is popular at the moment. I think that is the danger for young musicians. It is a hard line to walk, trying to be popular and relevant and be able to make money. It is an industry and people need to eat. Instruments take a long time and dedication to learn, even three chord punk requires skills that aren't learnt overnight. Throw in band rehearsal time, the learning and creation of material… so I believe in fair recompense for those who work in the industry. Yet as I said the scene here is strong. Although a lot of young bands do need to move to the mainland. Hobart itself only has a population of 200,000 so with the variety of entertainment options available now bands aren't able to play every night of the week to punters here in Hobart. Even the popular bands can only play every so often for fear of boring their audience if they don't have new material constantly. It is an issue that a small island has to deal with, plus touring bands don't often come to Hobart for the extra costs involved in having to catch planes instead of being able to drive.
We did put together a listing showcasing both current Tassie bands and great Australian acts that we grew up hearing that perhaps other parts of the world aren't as familiar with which you can find and play here:
Are any of you involved in any other bands or do you have any active side-projects going on at this point?
Bill plays in an act called Pure which has members of other great metal bands from Tasmania such as Ruins. Jamie and his wife, who is also a classically trained opera singer, were delving in to music directing and were the musical directors for the We Will Rock You production here in Hobart recently. They used the choir that they have built and worked with over the past decade. Nigel has been involved in pretty much every jazz or theatre group in Hobart at some point in the past but recently has not been able to perform much live. I have enough what with the writing of songs, recording, management and promotion of The Silverbeets to keep me busy every other moment that work, family and life demands.
How are you coping with the pandemic?
The pandemic has affected everyone in some way, shape or form and I certainly wouldn't want to diminish the pain of all those who have suffered at its hands but outside of some lockdown periods and anxiety Tasmania has had very few cases and little to no community transmission. In some ways the slower pace that life brought during lockdown was nice as this world seems to be on a crazy hectic pace in the past 2 decades, it seems the faster that computing power gets the faster the changes that the world goes through with no thought to how that affects our humanity. So to slow down and be able to spend a little more time with family was nice again this is with no disrespect to those who have suffered horribly during this period and I can only wish those affected find comfort and solace that hopefully with a vaccine starting to be delivered that the pandemic slows and life can get back to some kind of normality. Although I hope that the world heeds some of the lessons and that perhaps health and people start to become the foremost issues of governments across the world and let business and the economy fend for itself. It is my belief that government should exist for the people and to regulate and tax business. This is compromised when business gives so much money to governments in order to decrease their taxes and regulate themselves. It is this belief as to what the meaning behind our tune 'Never Trust the Government' was written. How can we trust governments and politicians when it is clear that they are corrupted by the very thing they should be trying to regulate?
Let's end this interview with some of your favourite albums. Have you found something new lately you would like to recommend to our readers?
This could go on for a while and it could change from day to day and I could think of something one day that I had forgotten. However let's give it a crack
Operation Ivy – 'Energy'
Bob Marley – 'Kaya'
INXS – 'Listen Like Thieves'
Beastie Boys – 'Ill Communication'
Portishead – 'PNYC'
Mr Bungle – 'California'
Beck – 'Odelay'
Tool – 'Ænima'
Fudge Tunnel – 'Hate Songs in E Minor'
Pavement – 'Crooked Rain Crooked Rain'
The Beatles – 'Abbey Road', 'Rubber Soul', 'Sgt. Pepper's Lonely Hearts Club Band'
Beethoven – 'Für Elise'
Jack Johnson – 'In Between Dreams'
Postal Service – 'Give Up'
Front 242 – 'Angels versus Animals'
Ben Harper – 'Fight for Your Mind'
Elliot Smith – 'X0'
Nick Drake – 'Five Leaves Left'
Grizzly Bear – 'Veckatimest'
Ravel – 'Bolero'
Massive Attack – 'Mezzanine'
David Bowie – 'David Bowie'
Miles Davis – 'Kind of Blue'
Red Hot Chilli Peppers – 'Californication'
Morphine – 'Cure for Pain'
The Pixies – 'Doolittle'
Nick Cave – 'Henry's Dream'
Alice Donut – 'Mule'
The Prodigy – 'The Fat of the Land'
Fugazi – 'Repeater'
Mudhoney – 'Every Good Boy Deserves Fudge'
NIN – 'Fixed/Broken'
Tchaikovsky – '1812 Overture'
Radiohead – 'Kid A'
Hoodoo Gurus – 'Mars Needs Guitars'
Vivaldi – 'The Four Seasons'
And so many, many more. Yet you also asked for something recent. I came across this next album through a friend. They are from Melbourne Australia and the song 'Big Yellow Van' on this album just grabbed me. Loved it. Check them out; Pop Filter – 'Banksia'.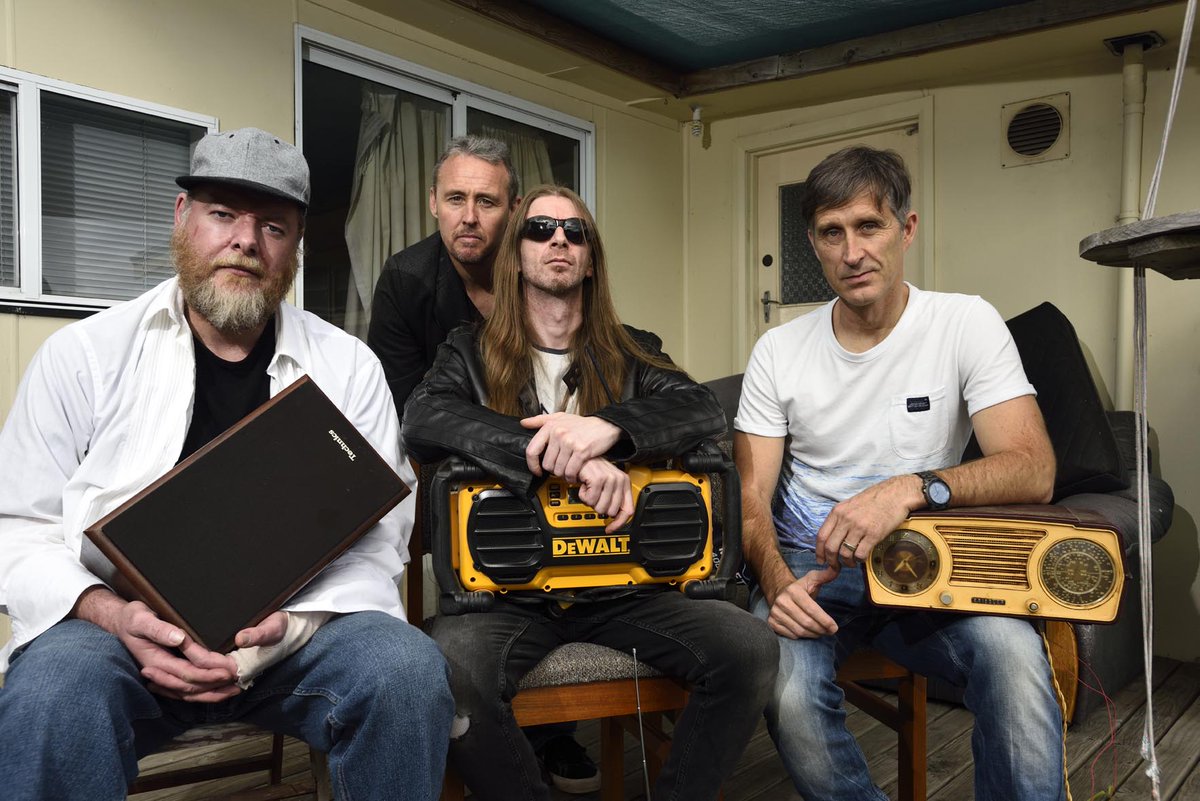 Thank you. Last word is yours.
Thank you Klemen and It's Psychedelic Baby Magazine for the opportunity to have a chat with you and discuss our latest release 'Halcyon Days'. It's a great privilege to get an interview. If anyone is interested in finding out more or subscribing to us we do use all the normal social media and music streaming sites. Farnz Cordeaux
Klemen Breznikar
---
The Silverbeets Official Website / Facebook / Instagram / Twitter / Bandcamp / SoundCloud / YouTube / Spotify