The Tremeloes – 'The Complete CBS Recordings 1966-1972' (2020)
Originally the backing band for vocalist Brian Poole with whom they were selected over The Beatles by Decca Records and recorded eight UK Top 40 hits between 1962 and 1965, The Tremeloes became an independent act in 1966.
---
The band released one further single on Decca before signing to CBS Records, where they consistently hit the UK singles charts and scored several hits on the US singles charts. The band's dream of attaining fame and fortune on the emerging album charts never materialized in either nation despite recording some of the finest music of the day as evidenced by the new six disc box set "The Complete CBS Recordings 1966-1972".
Disc one is centered on the band's debut LP "Here Come The Tremeloes" presented in both mono and stereo versions and opening with their cover of Cat Stevens' "Here Comes My Baby" a guitar driven tune showcasing the band's gorgeous vocals and topping at #13 on the UK and #4 on the US singles charts. The album, reaching the UK top 20, their only charting LP, is a mix of previously released single sides and album tracks, and a wonderful example of their musical versatility. Both sides of their debut CBS single featuring original bassist Alan Howard are included. The group's cover of The Beatles' "Good Day Sunshine" b/w "What A State I'm In" failed to hit, but the former, piano driven, served notice of the group's capabilities, while the band cut loose on the b-side with a fiery lead line and a fuzzed out solo which plays the tune out. Following the single's release the band's lineup was set with guitarists Alan Blakley and Rick Westwood, new bassist Len Hawkes and drummer Dave Munden, with all four members supplying vocals although Blakley and Munden handled the majority of lead vocals and Blakley and Westwood sharing lead guitar duties. The album is a great mixture of pop oriented, vocal based tunes and guitar centered rockers. "My Town", "Loving You", "When I'm With Her", "Round And Round" and "Even The Bad Times Are Good" feature the band's melodic side and their wonderful usage of vocal harmonies. The last tune reached #4 on the UK charts, but faltered at #36 in the US. "Run Baby Run (Into My Arms)" mixes 4 Seasons-like vocal harmonies with fuzz guitar and a driving beat while "You" features a fuzz intro and a lead line that pushes the tempo. "Let Your Hair Hang Down" is another uptempo rocker with Munden's drums and a tasty lead guitar line leading up to a fuzz filled solo that plays the song out. "Shake Hands And Come Out Crying" is another rocker and features falsetto vocals by Hawkes in addition to a gorgeous lead line. The album sold well in the UK although falling short in the US, but seemed to set the stage for the band to become a household name. Sadly that was not to be the case. The mono and stereo mixes of the LP are supplemented by both sides of a single coupling the mid-tempo, organ driven "Jenny's Alright" with its gorgeous vocals and its b-side "Gentleman Of Pleasures" featuring more vocal harmonies with an added stabbing lead guitar. The US version of "Even The Bad Times Are Good", the UK single version of "Here Comes My Baby" and a Spanish language take on "Be Mine" round out the disc.
Disc two features the mono and stereo mixes of The Tremeloes' sophomore effort, "Alan, Dave, Rick And Chip" a rather rushed release as CBS hoped to capitalize on the group's debut. It failed to hit despite some inspired performances and the inclusion of the group's lone #1 hit "Silence Is Golden". The album opener "Happy Song" features a harpsichord intro, gorgeous vocals and a tasteful piano and harpsichord outro. "Running Out" is a rocker, it's funky intro and restrained lead line building up to a blistering solo that runs a full minute to close the tune. "Negotiations In Soho Square" is a mellow number filled with gorgeous vocal harmonies. The Blakley/Hawkes penned "Suddenly Winter" is the highlight of the LP with roaring guitar intro, nicely echoed vocals and phasing added for good measure. The heavy, driving beat from Hawkes and Munden leads to a soaring solo. "Sunshine Games" is another vocal showcase. "Silence Is Golden" is true to the 4 Seasons take with its delicate vocals and beautiful melody. "Norman Stanley James St. Clair" is an exquisite tune featuring silky vocals and harpsichord. "Cool Jerk" is a cover of a hit of the day with Munden's drums on display. "I'm With You All The Way" and "Sing Sorta Swingle" feature acoustic guitar and vocal driven melodies, the latter adding a restrained guitar solo to the mix. "Too Many Fish In The Sea" was another hit of the day and like Mitch Ryder And The Detroit Wheels' version includes a fuzz filled guitar solo. The album closer is the Turtlesque "Come On Home", mixing delicate vocals and an organ interlude. The disc closes with two outtakes from the sessions, "On Home" a hot rocker with its heavy guitar intro, swirling lead line and raging solo, and "Every Little Bit Hurts", another hit of the day, it's gorgeous vocal and piano arrangement is supplemented by a blistering solo that runs a full minute. Why the two songs were not included on the LP is a mystery as they would have changed the mood considerably and been more in line with how the band was trying to evolve with the times. A fast version of "No, No, No" closes the disc in fine fashion.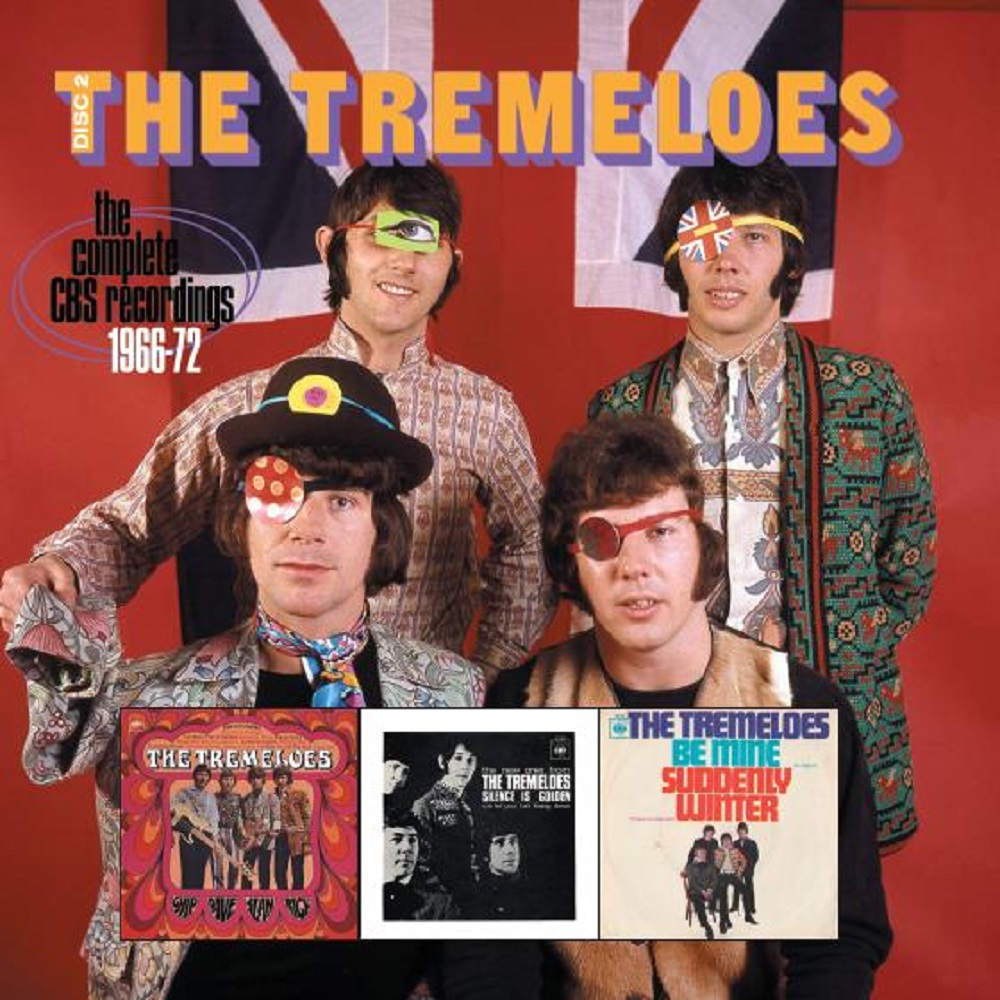 Disc three opens with the a- and b-sides of three singles released in 1968. "Suddenly You Love Me" b/w "As You Are" pairs mid-tempo melodic tunes reminiscent of the band's early singles, reaching #8 on the charts. "Helule Helule" b/w "Girl From Nowhere" (reaching #14) are more upbeat, guitar oriented tunes, the latter adding bagpipe to its Beatlesque arrangement, more than a bit reminiscent of "Nowhere Man" with its guitar and bagpipe outro a creative twist. "My Little Lady" b/w "All The World To Me" pairs keyboard driven melodies with gorgeous vocals on both tracks, the single reaching the UK top 10, peaking at #6. The US oriented "World Explosion" album, released in 1968 is an interesting release filled with covers of American hit tunes, ranging from Buddy Holly's "Peggy Sue" and "Everyday" to the 4 Seasons' "Rag Doll" and The Tokens' "The Lion Sleeps Tonight" with all four tunes showcasing the band's vocal harmonies. Johnny Otis' "Willie And The Hand Jive" is given a Bo Diddley treatment with its mixture of drums and maracas. A stunning mid-tune guitar solo is quite a contrast to the preceding tunes and a second solo plays the song out, making it the album's heaviest track. "Helule Helule" and "Girl From Nowhere" follow, in LP edits. "Alley Oop" seems a rather odd song choice, but the vocals are gorgeous. "Travelling Circus" has a "Sgt. Pepper's" feel with its guitar intro and and a tasteful guitar and piano interlude. The album closes with the upbeat "Ain't Nothing But A House Party" with studio chatter included. The song's heavy groove and gorgeous vocals make for a pleasant ending to a rather puzzling part of The Tremeloes' CBS catalog. The disc closes with mono and stereo versions of four tunes included on another 1968 US market album "Suddenly You Love Me". "You Don't Know Like I Know" is a mid-tempo rocker while "Show Me" is a more up-tempo track with a heavy guitar intro and tasty lead line. "Be Mine" is a balladish tune that crept to #39 on the charts. "I Take What I Want" is an up-tempo, organ driven tune, while the band's cover of The Four Tops' 'Reach Out I'll Be There" features organ work but is more vocally oriented.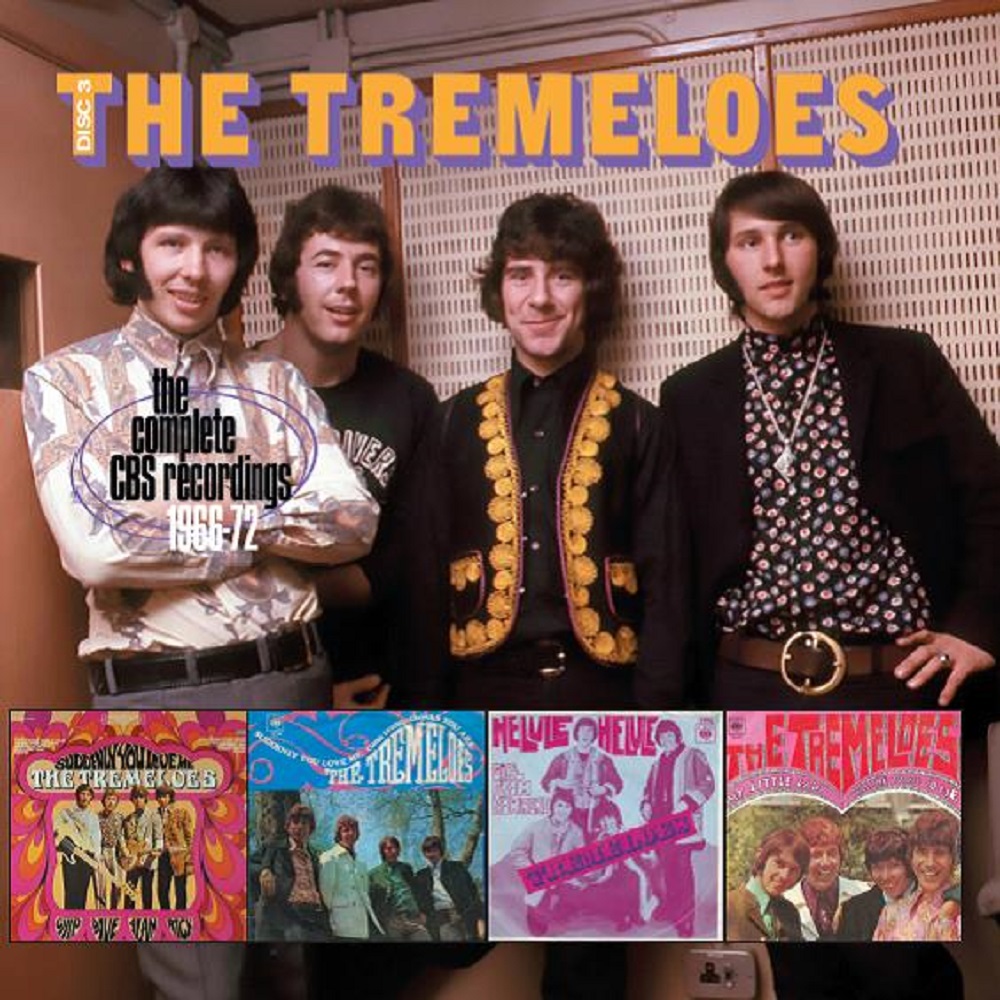 Disc four opens with twelve non-album tracks, eleven single sides and an unreleased track from 1969. A cover of Bob Dylan's "I Shall Be Released" starts things off. Released as a single the song reached only #29 on the UK charts despite its gorgeous vocals supplemented by strings. "I Miss My Baby" is the balladish b-side. "I'm Gonna Try" was a German single in the same vein. "I Will See You There" is an Israeli single, featuring gentle acoustic guitar and melodic vocals. "En Tu Mundo" is an Argentine single. "Hello World" is a sprite sounding mid-tempo tune with tasteful acoustic guitar and a pleasant keyboard interlude, helping the song reach #14. "Up, Down, All Around" the b-side is a straight out rocker with a hot solo 45 seconds in, a second solo at the 1:45 mark and a third playing out the 3:45 track, a harbinger of things to come in the group's next LP. "Once Upon A Sunday Morning" is a mid-tempo return to the band's earlier, more commercial sound, with horns added. "Fa La La, La La, La Le" is a pop tune with a shuffle beat. "Sadness Of Tomorrow" went unreleased 69, but is an uptempo pop tune with beautiful vocals. "(Call Me) Number One" an a-side from October 1969 features sitar and heavy electric guitar with deeply echoed vocals. The lead line rocks. The tune's sound is full with electric guitar and sitar overdubbed over acoustic guitar and gorgeous vocals. The sitar solo makes the song's vibe infectious. Setting the plate for the upcoming "Master" the sitar solo outro is absolutely perfect. The b-side "Instant Whip" features another heavy riff, the lead line roaring over the thundering bass, leading to a solo that runs from 1:30 to 2:40, followed by a drum solo from 2:40 to 3:20, before the lead guitar returns soaring over the top. The swirling guitar growls before switching to stun and playing the song's final minute and a half out. Without question, "(Call Me) Number One" b/w "Instant Whip" is the heaviest single the band ever released, and sold well, reaching #2 on the charts. The disc closes with the 1969 LP "Live In The Cabaret". The album's first three tracks are short snippets of vocal pop, "Run Baby Run", "Shake Hands" and "Hello World". With "My LIttle Lady" the pace quickens, leading into a cover of Chip Taylor's "Angel Of The Morning" with its tasty sitar intro and vocal harmonies. A quick run through Joe South's "Games People Play" offers tasty sitar, but lasts only 1:20 and segues into a cover of CCR's "Proud Mary" which features more sitar. A sitar intro is the highlight of the band's take on their first single, "Blessed" leading into a sing-a-long of "Here Comes My Baby" which the band hams up a bit. The country rocker "Mountain Dew" is a hoe down instrumental. "FBI" is a forty four second electric instrumental. "I Shall Be Released" features gospel harmony vocals. A short, restrained take on "Silence Is Golden" is faithful to their hit. A campy take on "Even The Bad Times Are Good" follows. The band finally hits stride with a more uptempo, guitar driven take on "Suddenly You Love Me" before the set closes with a quick run through "Good Times". It's not surprising that "Live In Cabaret" was intended for UK audiences and did not see a US release.
Disc five opens with the album The Tremeloes had long wanted to make, the hard rocking "Master". Unfortunately, guitarist Blakley had been quoted in the press saying the band was unhappy with their earlier work and looked forward to starting anew with the LP, which resulted in isolating the band from their long time following. A real tragedy. "Master" opens with "Wait For Me" with Munden's drums keeping perfect time leading to a fiery solo mid-tune, with a biting lead line roaring throughout. "Long Road" features more incendiary guitar and pounding drums with a massive solo and probing lead line. "Now's The Time" has an acoustic intro with vocal harmonies, the lead guitar tastefully restrained, with mellotron added for texture. "Try Me" is an up-tempo rocker with its Beatlesque swirling guitar and lead line. "But Then I" opens with acoustic guitar and gorgeous vocals before the tempo quickens although the lead guitar and solo remain restrained. "Before I Sleep" opens with a gentle piano intro, with drums and vocals coming to the fore before an electric guitar solo plays the tune out. "Boola Boola" is an all out rocker with wah wah intro, pounding drums and chants rather than vocals. The feedback drenched solo outro is red hot. "I Swear" is a return to the band's roots with piano, vocals and percussion supplying the stripped down sound. "Baby" is an Elvis country tune. "By The Way" features gorgeous Beatlesque vocals which give way to straight ahead rock, especially its lead line. The tune reached #35 when released as a single in 1970. "Willow Tree" features more Beatlesque vocals and a tasty lead line before the band cuts loose and lets go as the lead guitar soars over heavily echoed vocals. The tune's solo soars over the top before it roars, a most impressive bit of heavy rock and roll. The album's closer "Me And My Life" was the band's last big hit, reaching #4, thanks to its Beatlesque feel with vocal harmonies and restrained lead line. The song has commercial appeal while rocking as a second solo plays it and this wonderful album out, a fitting end to what should have been The Tremeloes break out album. An alternate take of "Wait For Me" is a bit longer, at nearly four minutes, filled with wonderful fuzz guitar and feedback. The overdubbed guitars are absolutely magical. "What Could I Do" is a Gilbert O'Sullivan song recorded in 1970, but unreleased, featuring horns and piano. Next up is a song that could have made The Tremeloes a household name. Offered "Yellow River" by Jeff Christie, the band recorded the classic anti-war anthem but decided against releasing it, thinking it too reminiscent of their earlier pop oriented music. The song fits the band perfectly, with the guitar restrained yet powerful, and the melody so gorgeous. In the end, Christie took the backing track, overdubbed vocals of his own and released the tune, resulting in a worldwide hit. The song would have fit "Master" perfectly. The guitar solo outro is timeless, as is the song itself. "Breakheart Motel" is an Elvis pastiche. "Right Wheel, Left Hammer, Sham" is another Beatlesque tune. The band is having fun and you can hear it. This should have been a hit when released as a single, with vocals that fit the song's mood perfectly, its lead line and restrained fuzz filled solo outro absolutely spot on. The b-side, "Take It Easy" belongs to Blakley and Westwood from the outset, the tune's solo joined by organ and incredible drum fills. Wah wah is added for just that special touch as the guitar probes all about. The wah wah and organ outro is amazing, making this a perfect choice for an a-side. "Hello Buddy" was the band's last hit, peaking at #32 when released in June 1971. The countresque guitar and vocals fit the introspective lyrics perfectly as does the country influenced guitar solo outro. The b-side is another country rocker, "My Woman" featuring pounding piano and drums, the band sounding relaxed. A 2000 stereo mix of "Right Wheel, Left Hammer, Sham" extends the tune by nearly a minute, the fuzz more to the fore and even more exquisite feedback than on the earlier version. An extended take of "Yellow River" runs more than thirty seconds longer than the version used by Christie. The solo is a bit longer as is the fade. At 3:26 this would have been a perfect single. What a tragedy that The Tremeloes passed on releasing it. "No Comprende" is the Spanish language version of "Yellow River" that The Tremeloes eventually released and it did quite well in Spain. The take is shorter, at 2:36 than the 2:47 edit used by Christie. "Jacqueline (Hello World)" is the Spanish language version used as a b-side to "No Comprende". "(Call Me) Number One" is presented in a 2000 stereo mix, which is exactly the same edit as earlier issued, just a different mix. The sound quality is better thanks to scientific advances. It's hard to improve on the original, but the sound is clearer and more crisp.
Disc six opens with the soundtrack The Tremeloes recorded for the Spanish movie "May Morning" with the recording taking place in February 1970. The soundtrack opens with the melodic rocking title track with sitar adding texture. "All Put Together" is Beatlesque with harmony vocals and acoustic guitar joined by organ and harmonica. "Till The Sun Goes Down" is a moody mellotron number. "Turn On With Thee" features a piano intro before electric guitar enters building a heavy groove. This heavy instrumental features tempo changes and mellotron added for moodiness. "I Can't Even Breathe Down Here" is an acoustic guitar and harmonica instrumental. "May Morning" (reprise 1) is sitar driven with acoustic guitar added. "Anything" begins as a gentle tune, then at 1:30 turns into a rocker with wah wah and driving drums. The band revs up with the wah wah and lead guitar pushing the tempo, thundering bass and drums supplying the heavy groove. "Think Of What You Said" is an acoustic tune. "Beer Duel" is an acoustic instrumental with strings. "Hard Times" is a driving rocker with wah wah and reverb, sitar joining the wah wah driven solo outro. "I'll Take You Home" is another melodic acoustic tune with a tasteful electric lead guitar added. "Bunch Of Rapes" is an acoustic and harmonica instrumental. "May Morning" (reprise 2) has a Canned Heat feel with sitar again at the helm, playing the outro accompanied by a flute a la "Going Up The Country". "I You Know" (version 1) is a melodic rocker with great lead guitar and lots of cowbell and Jew's Harp added for flavor. "Anything" (reprise) is a short take featuring acoustic guitar and harmonica. "I You Know" (version 2) is a melodic Beatlesque rocker with lead line and vocal harmonies reminiscent of the Fab Four. Wah wah and cowbell are added for accent making this a candidate for single release. "Remember Looking Back" is a melodic acoustic track with harmony vocals recorded for Mexican release. "No, No, No" is an unreleased track that has a Move feel with horns added. "Please No More Sad Songs" is an unreleased cover of a Jeff Lynne tune, moody, gentle, and with a tasty lead line. "Too Late To Be Saved" is an a-side released in October 1971, written by Blakley and Hawkes, melodic, with pleasant lead guitar and harmony vocals. "If You Ever" is the b-side, another Blakley/Hawkes tune piano driven with gentle guitar accompaniment. "How Can You Say Goodbye" is an unreleased tune from February 1972, a mid-tempo song with gorgeous harmony vocals. "Heaven Knows Why" is a previously unreleased acoustic tune that turns to a mid-tempo rocker from April 1972. "I Like It That Way" is a May 1972 a-side by Blakley and Hawkes that had commercial appeal like the band's early hits but failed to sell despite the beautiful vocal harmonies. "Wakamaker" is the Blakley/Hawkes b-side from May 1972. The tune rocks with its lead line soaring over the top of Beatlesque vocals and nice tempo changes. A great closer to The Tremeloes CBS days and to this incredible box set.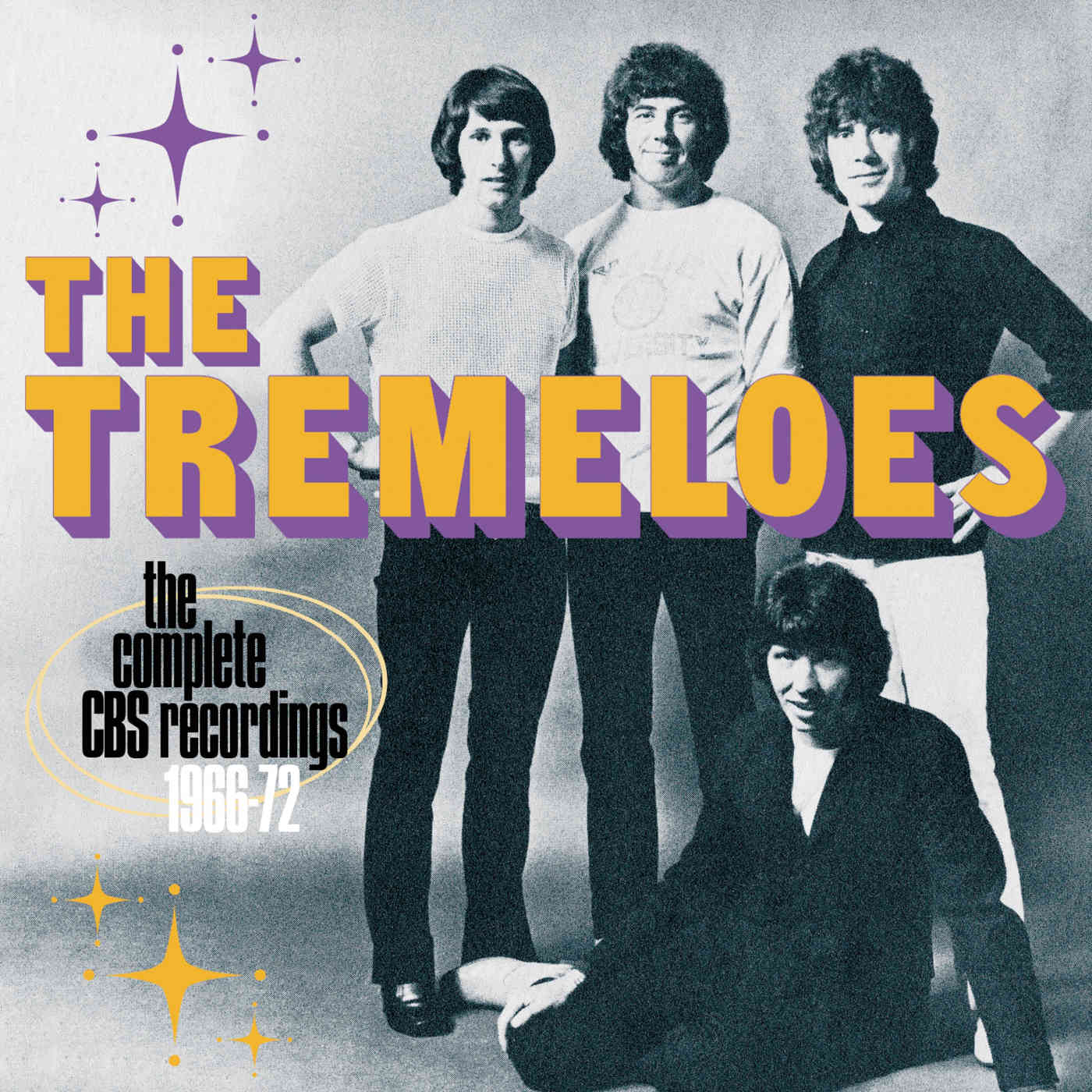 "The Complete CBS Recordings 1966-1972" comes in a clamshell box, with each of its six discs housed in its own mini-LP sleeve. The set comes with a full color 32 page booklet, filled with photos, album and single artwork and other memorabilia as well as an extensive essay by David Wells. 165 tracks in all, more than seven hours of music, this set contains every note The Tremeloes recorded during their stay at CBS Records. The band has never sounded so good thanks to the mastering job by Oli Hemingway at The Wax Works. This set will appeal to fans of 1960's and 1970's pop and rock music alike and comes most highly recommended.
Kevin Rathert
---
The Tremeloes – 'The Complete CBS Recordings 1966-1972' (Grapefruit Records, 2020)