Barnabus interview
Underground heavy monster is unleashed from the vaults!
---
Barnabus were a band from the West Midlands/Warwickshire region of the UK, who were active between the years 1970-1973. During that time they built up a local reputation and recorded an album of heavy-duty material in late 1971, which has never seen the light of day until now! Apart from a handful of acetates being made up and distributed to family & friends, Beginning to Unwind has remained an unreleased album for all this time. After several years of extensive research, Rise Above Relics managed to find the members and the original analogue tapes, which have been carefully baked for optimal reproduction. In their day, Barnabus were actually given the seal of approval by Ozzy Osbourne and Tony Iommi, when they judged them winners in the regional heat of a national competition for legendary British Music paper, Melody Maker, in 1972!
Members:
Tony Cox (drums)
Keith Hancock (bass)
John Storer (guitar)
Les Bates (lyrics)
"We never played in any social clubs, we were too heavy."
Are you excited about your material being issued by Rise Above Relics ?
Tony Cox: I'm very excited that the record has finally been released after all this time. I have always thought that the music was too good to remain hidden, but never expected that it would see the light of day.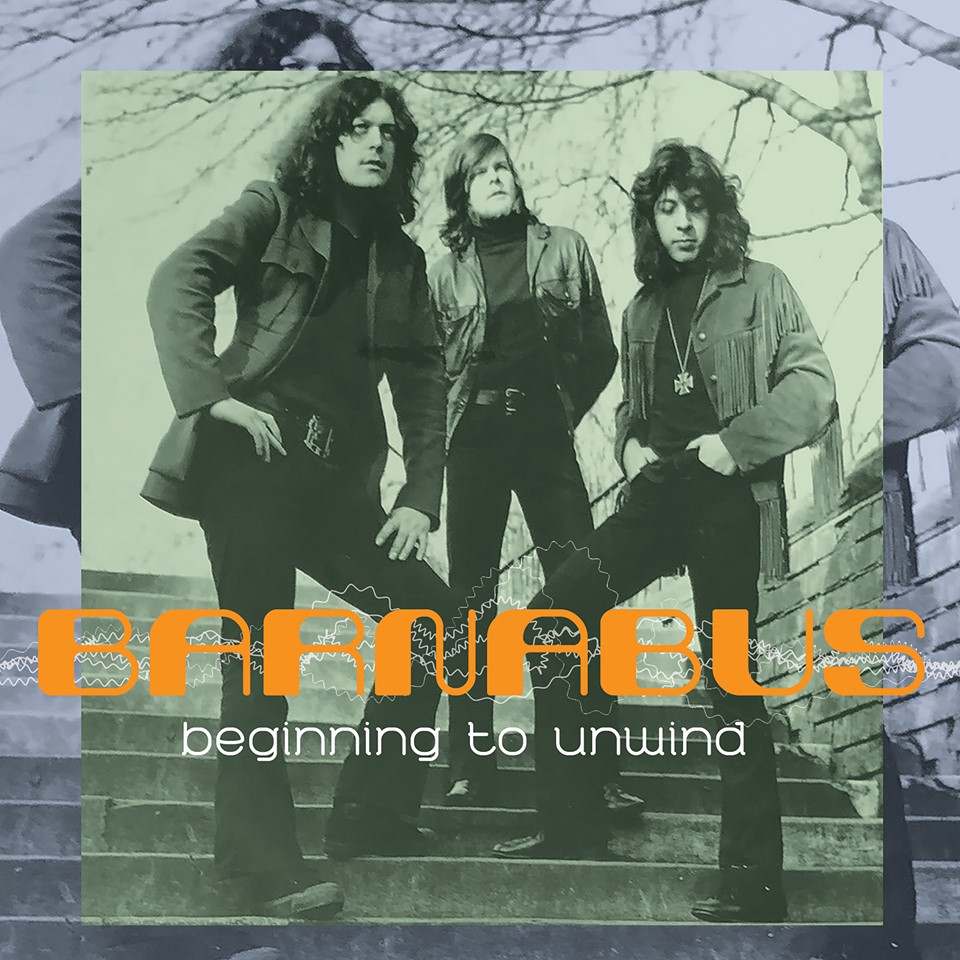 Keith Hancock: Yes, I'm amazed that there is so much interest in the album. The recordings were done on a 4 track machine in a "Dead"sound studio. Mostly done live with vocal overlaid and acoustic guitar parts later. Great to hear them polished up, especially "Perdita", a long lost recording. Amazed at the unrest shown by the music industry and record buying public… It's fab.
John Storer: Yes. very excited.
How did the label find you?
Tony Cox: I believe John's daughter originally put the song "Apocalypse" online as a YouTube video. This became popular, especially overseas, and that's what led to the label taking an interest.
Keith Hancock: Although I did hear a story about a friend of mine being at a party where "The War Drags On" was played and someone from Cherry Red Records heard it and actually put it (and "Apocalypse") out on the compilation album I'm A Freak Baby: A Journey Through The British Heavy Psych & Hard Rock Underground Scene 1968-72 and also somehow got onto an underground album Casting The Runes "The Recorded British Abyss 1969-1976".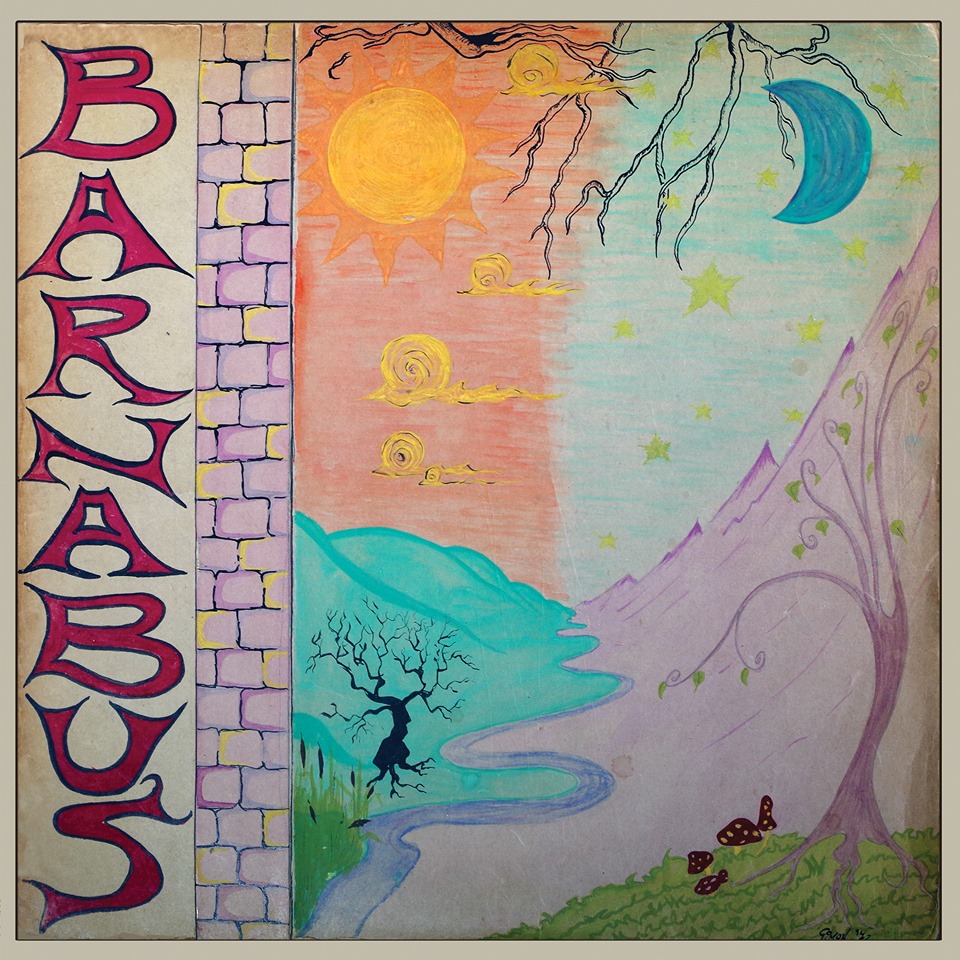 John Storer: My daughter made a YouTube page for us and put Barnabus on there. A friend of Lee's (Dorrian) heard it and came to our Leukemia charity gig in 2017 – and then Lee contacted me, came around to our house and the deal was made!
Originally you only pressed a few acetates in 1971. What happened?
Tony Cox: We only had a handful of double albums pressed, just for ourselves, friends, and family really.
Keith Hancock: We couldn't afford to do more than the 10 or 20 that were produced at the time.
John Storer: We sold them all – but as we had to fund it, we couldn't risk paying for more to be pressed, in case they didn't sell. The copies we did have sold out in a very short space of time.
Would you like to talk a bit about your background? Where and when did you grow up? Was music a big part of your family life?
Tony Cox: I grew up in a small village called Cubbington, which is near Leamington Spa, in the 50s/60s. I was always interested in the drums from a very early age for some reason, and from about the age of 13 or 14 I would pretend the arms of my parents settee were drums which I would play with my Mother's knitting needles! At that time The Beatles were just becoming popular and they inspired me to get playing.
Keith Hancock: I grew up in Leamington Spa. My dad was a sergeant major in the war so we didn't have a lot but grew up happily on a council estate. My mom was very theatrical. Always in operas and carnivals, pantomimes etc. I first started on the recorder at age of 7 at school but had an exceptionally loud singing voice and did my first solo at prize giving night before all the parents and Jimmy Hill (manager and chairman of Coventry city). At the end of my verse and chorus the whole audience rose to their feet to applaud, had to do an encore. That night I got headhunter into the local church choir and sang lead parts in choral concerts. My cousin Bob Chimes had learnt a few guitar chords from his father so from the age of 10/11 we would bash out some skiffle and rock and roll in the garden shed so as not to upset my granddad too much. "Apache" was our first proper success and we played it to our parents. Must have thought it was OK as they bought us a couple of electric guitars and a Grundig reel to reel that we used as an amplifier! I was also a good football, rugby, cricket and long distance runner although kept up my interest of music all through school leaving with a good level result and being able to read music.
John Storer: I was born in Birmingham and was there until the age of 14. We then moved to Leamington Spa. in 1967. My parents bought me a second hand acoustic guitar at age 11, for Xmas. I persevered learning to play it, with a mate of mine, we would walk around the streets playing our guitars – it seemed to impress the girls at the time. A year later, my parents bought me an amplifier (which I still have to his day) and an electric guitar. A friend of mine at Junior school had a brother in the Rocking Berries and they had a hit single out at the time, "He's In Town" – this spurred me on even more so to play the guitar. My Grandad on my Mum's side played piano and the other Grandad on my Fathers side, played violin in a dance band. My Mum loved music, especially heavy stuff like Jimi Hendrix and Led Zeppelin. Once we moved to Leamington, Sept 1967, my first day at school – the first person I spoke to was Keith Hancock who was a Prefect. This is where we formed our friendship and our likewise interest in music and playing. November 1967 we did our first gig as The Jay Bee Kay Peys – this was a 1960's cover band.
When did you begin playing music?
Tony Cox: My Father bought me my first drum kit, which was just a collection of odd drums and cymbals, shortly after I'd shown an interest in music, probably to save wear and tear on the settee!
Keith Hancock: As I described in last question, it was just around last year at school that I bumped into John Storer who was standing outside the headmaster office awaiting punishment. He had just moved to Leamington from Birmingham and we got talking about guitars. Amazingly he had met my cousin Rob and had had a couple of jams together! I was invited to a jam and asked if I would like to have a go on bass! My cousin Neil played in an establish rock and roll band and lent me a bass (formerly owned by The Searchers!) and away we went. I am left handed so began learning upside down. In those days you could not buy a leftie bass so I just stuck at upside down. Away we went with a pop group The Jay Bee Kay Peys. Sometimes we would play two gigs a night finishing at night clubs at 2 in the morning and getting up for school the next day! Great times and invaluable experience for latter.
When did you decide that you wanted to start writing and performing your own music? What brought that about for you?
Tony Cox: That was John and Keith really, together with a lyricist called Les Bates. I didn't write any lyrics or music, I just put my percussive stamp on their creations.
Keith Hancock: By the back end of 1969/70 having worn out a succession of drummers John and I were left with all the band equipment but no band so we asked Tony Cox to come for a knock as his band (The Rockin' Chair Blues Band) was folding at the same time. We did a few Cream numbers and the chemistry was bang on so we put together a set of heavier rock and went out as Barnabus.
John Storer: 1970 – saw the start of a new band after The Jay Bee Kay Peys finished in 1969. Keith and I remained together but used a different drummer and formed Barnabus – we decided, at this point, that we wanted to play heavier music, Black Sabbath, Deep Purple etc. With the help of our friend Les Bates (he wrote poetry), we put music to his work, as well as writing our own songs.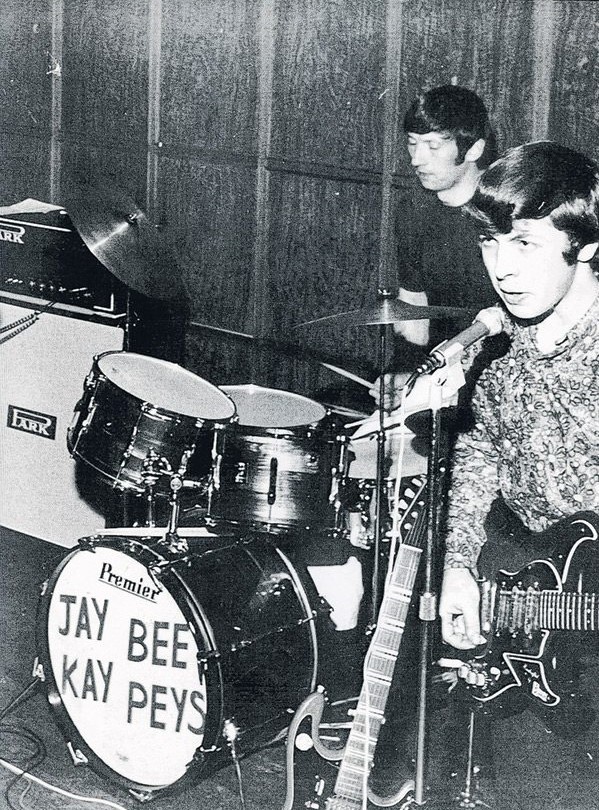 Were you in any bands before Barnabus? What kind of material did they play? Any recordings?
Tony Cox: I joined up with some musicians from my secondary school and we formed a band called The Reasons Why. When this band split up I was getting into blues music, firstly by the old American bluesmen and latterly by the British blues bands of the time. Some older boys at school were like minded and asked me to join them and form a band. This became The Rockin' Chair Blues Band. As we were starting to get some gigs locally I decided I needed some "proper" drums and so I bought a nice Premier kit. We didn't make any recordings.
Keith Hancock: The only band I'd been in was The Jay Bee Kay Peys and we played predominantly sixties pop songs. We wrote a couple of original tunes and recorded them on acetate (which can be purchased at record fairs and eBay). For example "Autumn In Switzerland" and "Look At The Colours" look written by John.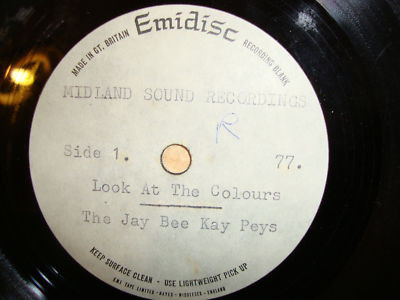 John Storer: As The Jay Bee Kay Peys, we did record a single called A side: "Look At The Colours". Lyrics written by my Mum and myself. B side: "Autumn In Switzerland". The latter was an instrumental (Shadows style) written by Bob Chimes and myself.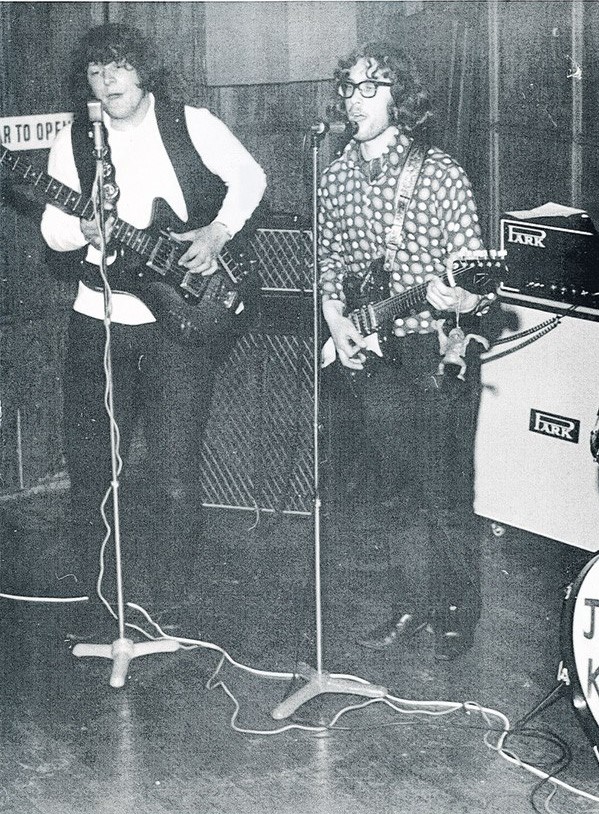 What was the first song you ever composed?
Keith Hancock: The first song I ever composed was for my gee o level oral exam and was called "The Hippie World Of Toby Jug".
John Storer: "Look At The Colours" and "Autumn In Switzerland".
Can you elaborate the formation of Barnabus?
Tony Cox: The Rockin' Chair Blues Band split up in late '69 and just around then John and Keith's band, The Jay Bee Kay Pees also split. We were aware of each other, being in the same locality, and so they asked me to join them in forming a rock band. We started out playing rock covers, and progressed to creating original material.
Keith Hancock: John's mum and dad had taken an interest in The Jay Bee Kay Peys and helped us tremendously with finance, transport, and organising gigs, so much so that we got fitted out with the state of the art equipment which really gave us the impitus to get stuck into our music. We used a Park bass head and two 2×15 park cabinets with a Hagstrum corsa ado bass with round wound strings giving a really unique dirty heavy sound. This is what started me writing metal riffs.
"I thought it was pretty gruesome after what he did so we adopted the name."
How did you decide to use the name 'Barnabus'?
Tony Cox: Keith discovered a character in local history by the name of Barnabus Legge. We initially adopted that name for the band, but our booking agents didn't like it and so we shortened it to Barnabus.
Keith Hancock: whilst a Coventry tech colledge we were doing a case study on a murderer in the 19 th century called Barnabus Legge. I thought it was pretty gruesome after what he did so we adopted the name. Shortly after we had a booking agent called Carol Knee, she suggested that we dropped the Legge (inevitably) so we became Barnabus. I even named my old dog after it.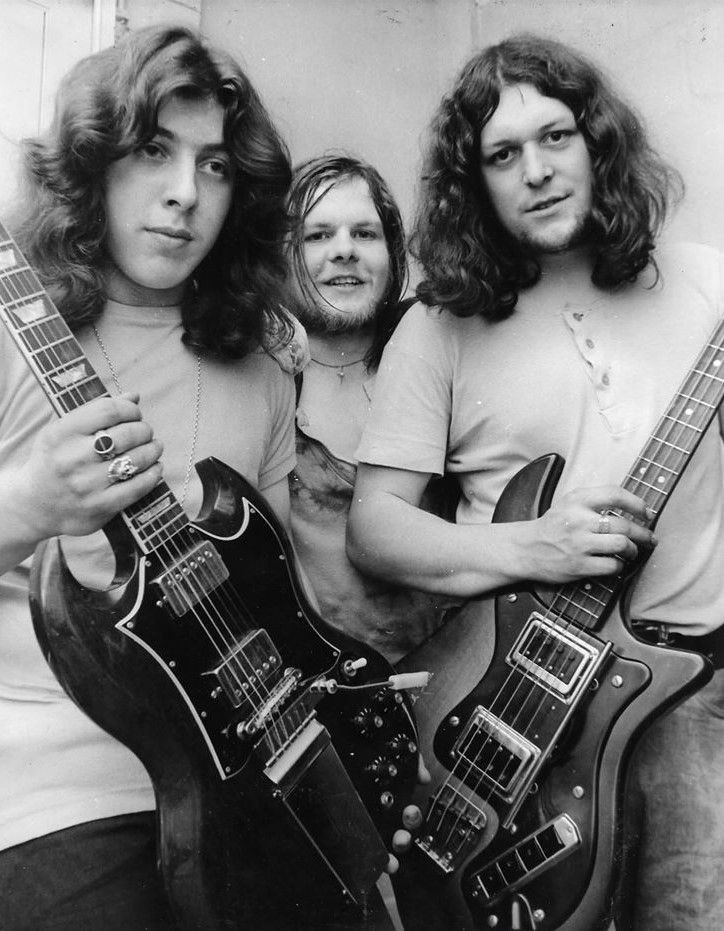 What sort of venues did Barnabus play early on?
Tony Cox: The first gig that Barnabus played was at Chipping Norton Town Hall, Oxfordshire, in June 1970.
John Storer: We never played in any social clubs, we were too heavy. Mostly pubs, village halls and nightclubs (Chesford Grange, Kenilworth, Locarno Ballroom, Coventry, The Swan Yardley, Henrys Blues House, Birmingham and Chetwins, Birmingham, Warwick University).
The band probably played the West Midlands/Warwickshire region throughout. Would you recall some of those concerts and bands you played with?
Tony Cox: We played mainly local venues such as The Walsgrave pub in Coventry, where we had a residency but we also played in cities such as Birmingham, Nottingham, Dudley and even London. We supported some "name" bands of the time such as The Edgar Broughton Band, Trapeze, Man, Amon Düül II and Van der Graaf Generator.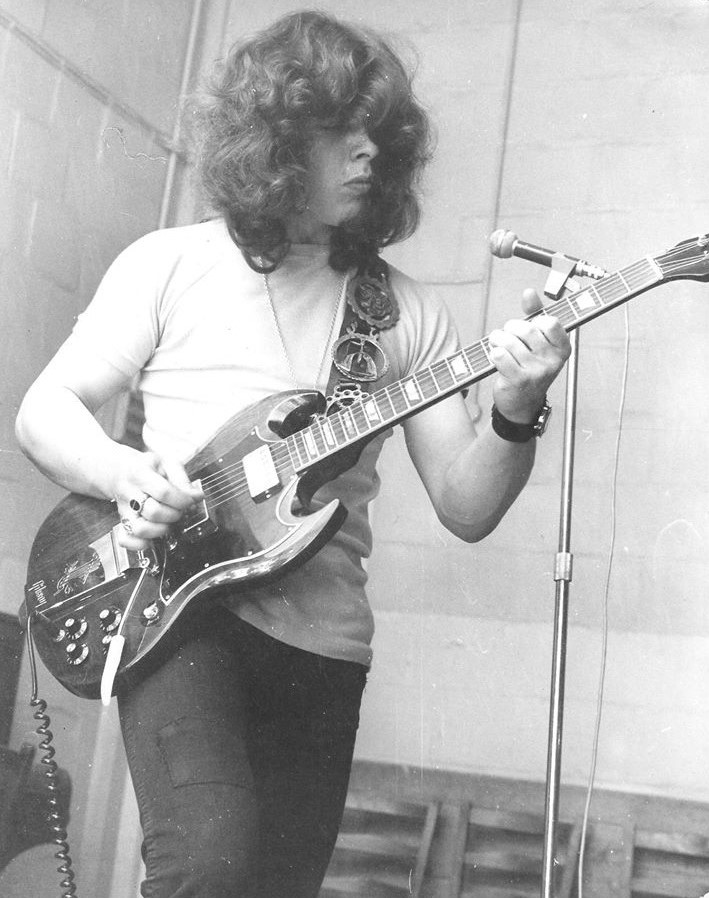 Keith Hancock: Yes, we played on the Birmingham pub scene with bands like The Idle Race, Spooky Tooth, May Blitz, Steve Gibbons Band, Black Sabbath, The Flying Burrito Brothers, Medicine Head, Hatfield and the North, The Move, Man, Indian Summer, Trapeze, … all playing the circuits we even had a young Judas Priest supporting us a the Swann at Hardly, the young guitarist asked me to show him how to tune it as he had only just bought it that very morning. We also played with our next door neighbours from Warwick (who we had met during their and our school days), the Edgar Broughton Band. One of our finest or maybe even last gigs of the era was supporting Hawkwind. We had 4 encourage that night, as fans in the audience kept requesting us to play our own original tunes
John Storer: We supported Man, Edger Broughton Band, Hawkwind, and Van der Graaf Generator.
"We always dressed in all black gear with metal/gothic jewelry/paraphernalia we had a super following from the many Hells Angels and biking chapters around"
How was the band accepted by the audience?
Tony Cox: We always went down well I think, especially in our home town of Leamington Spa.
Keith Hancock: We always had a great reception. We always dressed in all black gear with metal/ gothic jewelry / paraphernalia we had a super following from the many Hells Angels and biking chapters around the West Midlands and they seemed to always turn up to our concerts!
John Storer: With great enthusiasm, people got to know our songs at our regular gigs.
"I played upside down I developed a style where the emphasis is on the down stroke"
What influenced the band's sound?
Keith Hancock: From my perspective I was influenced by Jack Bruce's riffs and Captain Beefheart vocals with the help of my "friend" Edgar (Rob) Broughton. Although many bass players at the time wanted to know where I got the metal sound from. I think it was a combination of the 2 x15 bass cabs, the rare Park bass amp that could wallop out some bottom end and that Hagstrom bass making the difference (still have it). It was also that because I played upside down I developed a style where the emphasis is on the down stroke (which would be an upstroke for a right handed) making a much different sound, particularly on 6 string guitar where most of my riffs were composed in those days.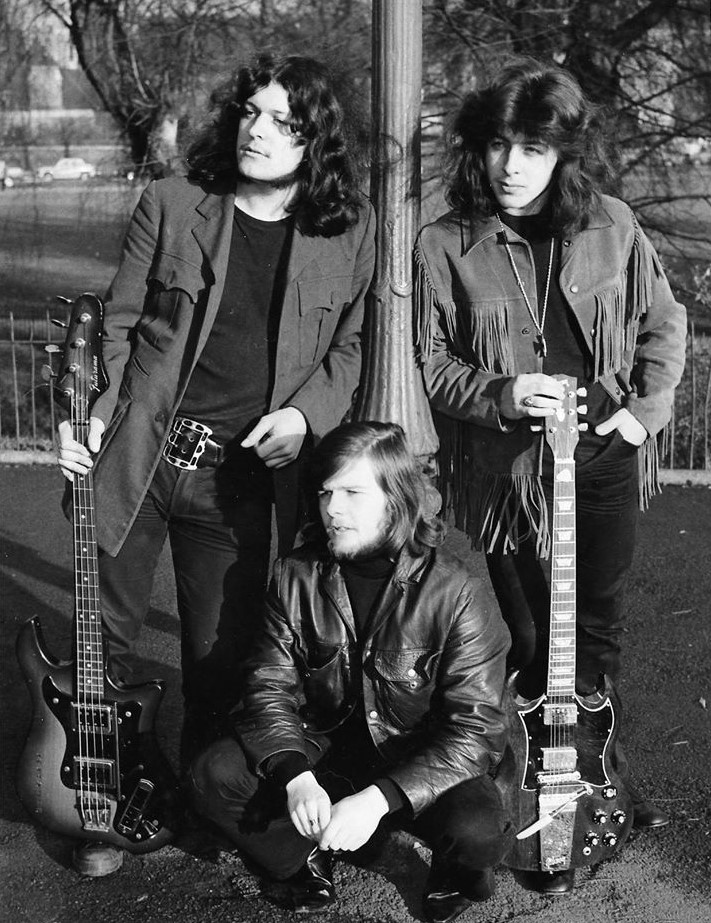 John Storer: Heavy bands of the time had a huge influence on our sound.
What was the local scene? Any other bands worth mentioning?
Tony Cox: Leamington has always had a very vibrant music scene with lots of venues, mainly pubs, to play at. Other local bands on our circuit I can remember were Pugma – Ho!, The Edgar Broughton Band who made it quite big, Stepmother, Tuxedo Junction, and Children to name but a few.
Keith Hancock: On the local scene in those days were, Edgar Broughton Band, Peppermint Circus, Trad B. Jefferson, Woody Allen and The Challengers, Jalopy Ride, Geno Washington & the Ram Jam Band and Jigsaw. Martin Cure was living locally and was lead singer with Still Life and latter took Cupid's Inspiration on the road.
John Storer: There weren't any heavy local bands like ours at the time, which is why we probably became popular.
What's the story behind your recorded material from 1971? What kind of equipment did you use?
Tony Cox: I can only tell you what my set up was. Premier 4-drum kit with Paiste Hi Hat, crash and ride cymbals. I also used bongos on the track "Gas Rise"
Keith Hancock: Equipment as described earlier, however PA technology was still in its infancy in those days. We had a 150 rms watt PA amp with 2 x 2x 12 cabs, and only 2 Breyer mikes. No monitors. I think that's where my loud voice came in handy! We used some very basic stage lights. John will tell you his equipment set up I'm sure but mostly it was the basic set up that gave us that raw sound. Always very tight.
The material came from life experiences, a friend of ours Les Bates had written some poetry which John put some acoustic backing to and songs like "Clasped Hands", "Gas Rise" (all about the factory pollution around in those days), "Winter Lady" and "Don't Cry For Me My Daddy" we're penned. I wrote the heavier stuff like "America" (influenced by my many friends from The 'Windrush' generation and stories of their families struggles from slavery to racism. It also includes the horrible in humanity that man has for regard to his fellow man, exploiting, conquering and dividing its people by their hair/skin colour, ethnic backgrounds to its brutality in its never ending conquest through war). "The War Drags On" was inspired by the never ceasing desire of man to rule and reign, the plundering of nations, ironically mention of China who (because of their "wall") has never been in conflict outside of their own boundaries…until now. And of course "Apocalypse", speaks of the end that will surely happen unless man quits these desires.
John wrote "Resolute", and I picked up some scapegoat words (a coup, le of lies) that Les had written and used them over a riff I'd come up with…hence "Perdita". "Drifters Lament" is where John's style meets Keith's riff along with lyrics from Les Bates and a folk flavour added by Tony's wife Cathy who just happened to be quietly reading a book in the control room at the time of the session. "Morning Dew" was an arrangement that John had come up with whilst messing around with his Watkins Copycat, we added drums and bass line more consistent with the sounds of that era and that was it.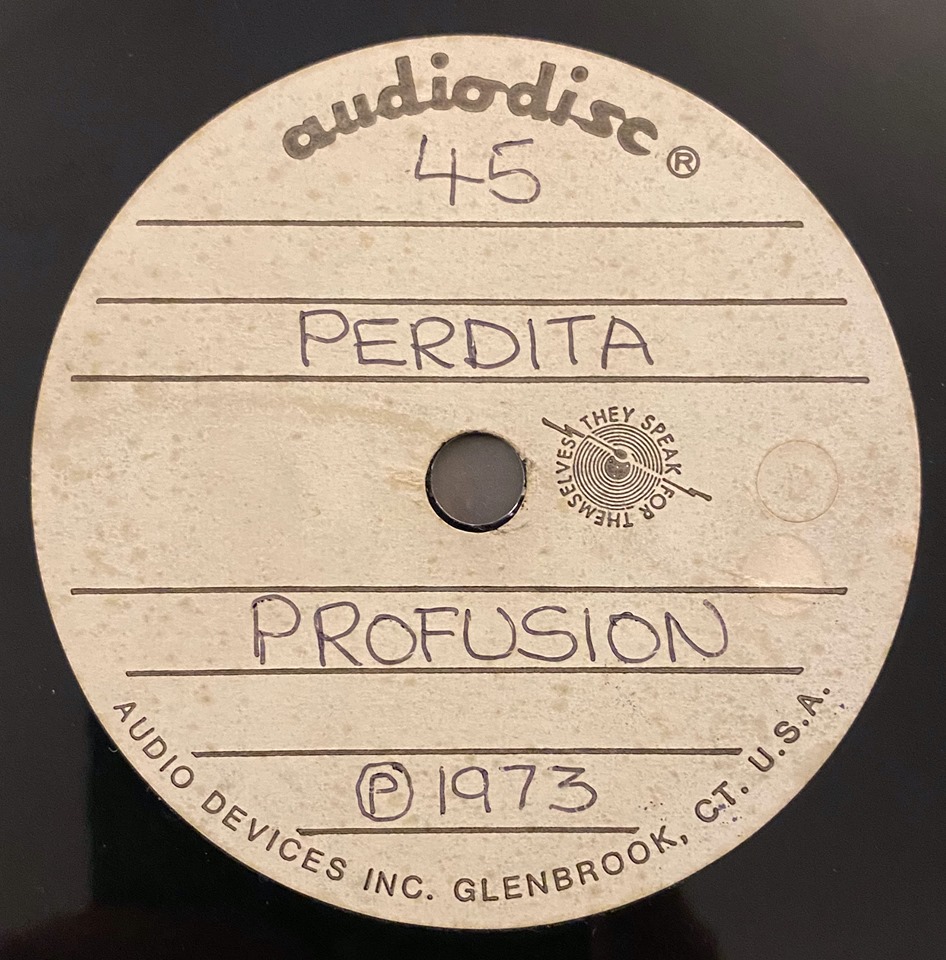 John Storer: We used to rehearse every week in something that looked like a scout hut, in the middle of nowhere in Snitterfield near Stratford on Avon. The interior walls were heavily insulated and lined with egg boxes and hessian sheets. So the sound was ideal for our songwriting. I played with a Park double stack 75 watt, 8 x 12inch speaker cabinets. I played a Gibson SG Standard and an Eko 12 string Ranger – I still use these guitars to this day. My pedals were a Schaller Wah Wah pedal, a WEM Copycat and a WEM Fuzzbox. The songs were written mostly about Pollution, Wars and love songs.
Would you share your insight on the albums' tracks?
Keith Hancock: As previous although "Sheppey Suite" on the single was done in the studio. It was a collection of riffs and ideas that we had put together near the end of the bands existence. We had done a weekend gig down in Isle of Sheepy and were experimenting with 2 drummers and 2 guitarists at that time.
John Storer: My favourite is "Winter Lady", this is actually two songs joined together. I like it because it has a lot of light and shade. This is the song we had written just prior to entering The Melody Maker Rock/Folk Competition. During our performance of this song (at The Crown and Cushion, Perry Barr) Ozzy Osbourne and Tony Iommi together with Denis Dethridge were judges, and they leapt up in the air and applauded our performance of "Winter Lady". Afterwards they came over and shook our hands and said how much they enjoyed it.
Were you inspired by psychoactive substances like LSD at the time of writing the album?
Tony Cox: Definitely not. Tobacco and alcohol only, haha.
Keith Hancock: No we were never a drug using band. Although the roadies used a few substances I recall. I never even used to smoke then either. Maybe the odd rum and pep.
John Storer: No…
Barnabus were given the seal of approval by Ozzy Osbourne and Tony Iommi. What's the story behind this?
Tony Cox: We entered a Battle of The Bands competition run by a national music paper called The Melody Maker. We won the West Midlands heat, held in Birmingham, and two of the judges were Tony and Ozzy, who seemed to like our music!
"Ozzy said it was 'Bostin'"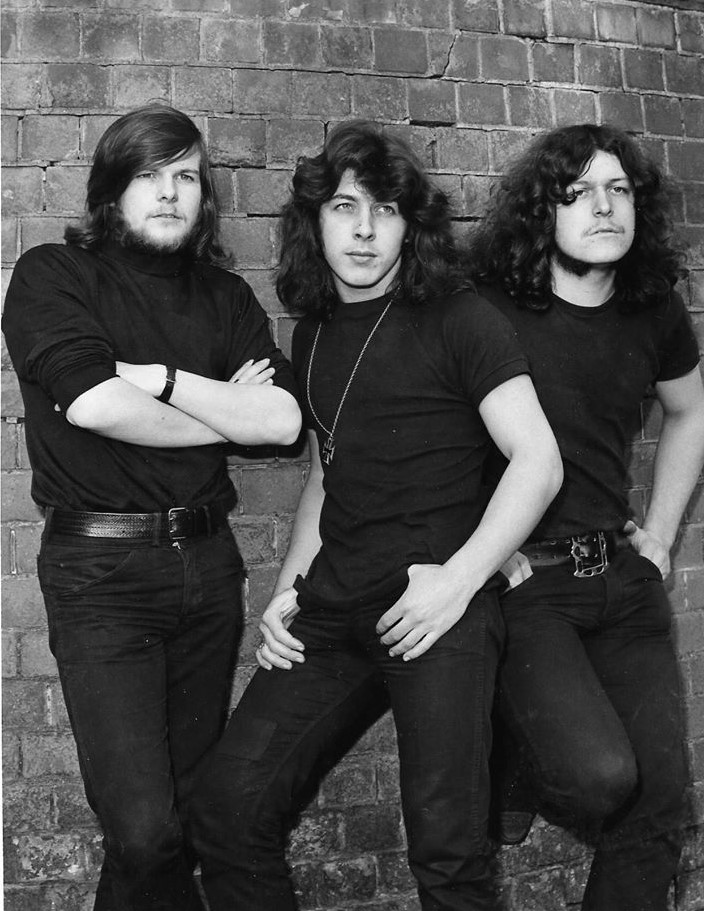 Keith Hancock: We entered The Melody Maker Rock/Folk Competition for a crack and had to perform four numbers. When we finished with "Winter Lady" they both left to their feet to applaud….even though there was 1 verse to go. They loved it. Ozzy said it was "Bostin"(which is Birmingham slang for really great).
The double album comes in gatefold sleeve featuring original 'homemade' artwork. 
John Storer: The artwork was created by one of our three roadies at the time – Simon Bullpit.
Tony Cox: One of our roadies, Simon Bulpitt, was a bit of an artist and we were very good friends, so when he learnt that the album wouldn't have a sleeve he did one for me. He also did one for John's mum Sylvia. I've still got the original that Simon did for me, and I've been offered some silly money for it!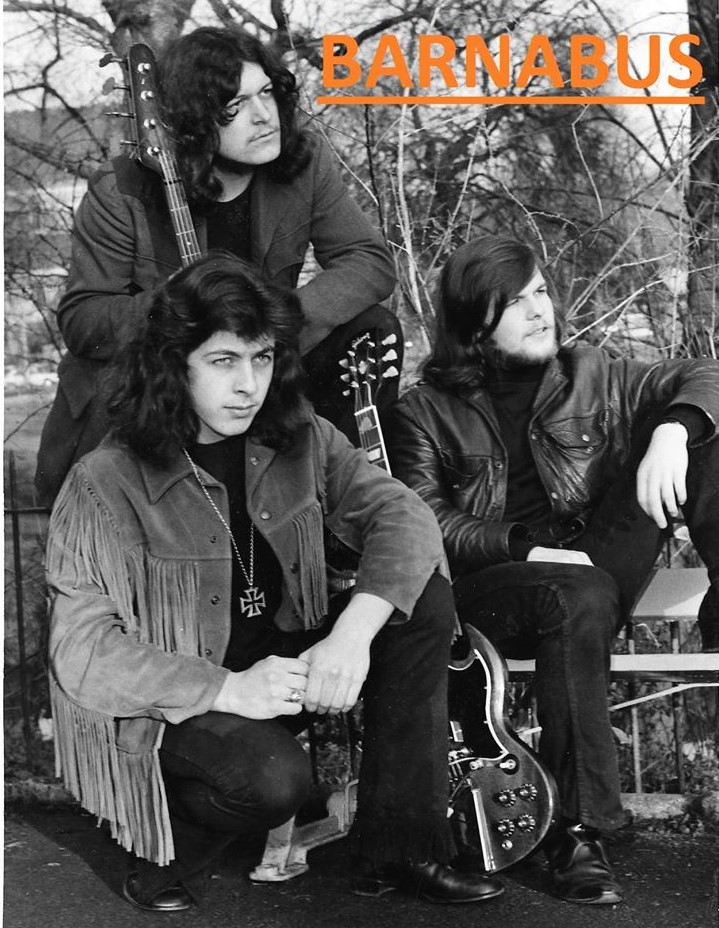 What happened after the band stopped? Were you still in touch with other members? Is any member still involved with the music?
Tony Cox: We've always remained friends even though I moved away from Leamington when the band split. I packed up playing and sold my kit. It wasn't until about 30 years later that I got back into drumming. We have since then got back together to play a few reunion concerts for charity, and we had a gig lined up to celebrate the album launch. This gig had to be cancelled due to the Covid 19 pandemic, but we are rescheduling it for 16th October.
Keith Hancock: Yes, when the band split, John and myself were left on our own again but we had been experimenting with other musicians. Don Atkins joined on drums with his enormous HH PA system and 4 roadies to set it up, and ex Jay Beekay Pets guitar player Rick Purcell. We called the band Profusion. We wrote a whole set of new songs none of which were recorded professionally (only on one live gig with Greenslade). This band rehearsed 6 nights a week for months and were exceptionally tight. John wanted to play more and was offered a position with brum band Quill. So we drafted in Phil McWalters a very talented young player and played what was to be the bands final gig at Windsor festival 1973 to 16,000 hippies. Our huge PA was supplied for the whole weekend and our army of roadies organised the sound mixing and security and transportation of the gear. As much a triumph as a sad defeat as Phil was off to uni and Don was concentrating on his taekwondo as a member of the British team. After that I played in many bands playing sessions and live gigs, Wild Silk, Van Der Hoogs Elderflower Remedy, The Mosquitos, Cupid's Inspiration, Riki Starr And The Planets, a Canadian tour with The Dots with my chum Steve Walwyn (Dr Feelgood) on guitar, had my own band for while, Keith Hancocks Fire Works, played with Lane Travis and Bob 'Philips' Dylan rhythm band and then John Storer and myself reformed the The Jay Bee Kay Peys which morphed into The Jaykays when me and John were left without a drummer again. I did some music on film track for Jerry Dammers (Specials) and a couple of tours with Jerry playing keyboards with Lane Travis!
John Storer: We formed another band (Keith and myself) called Profusion, again writing our own material. This time we had a second lead guitar and a different drummer. We only did about three gigs after months of rehearsals. I then left, and the band carried on with a replacement guitarist, for a short while. After leaving Profusion, I decided I wanted to make a living from music – so I joined a professional band from Birmingham called Quill. They are still going to this day, albeit with the original girl singer. I was with this band for two years, I left because the money wasn't that good, and I got a proper job!
"Robert Plant wanted to sing with us and I told him to 'fuck off!'"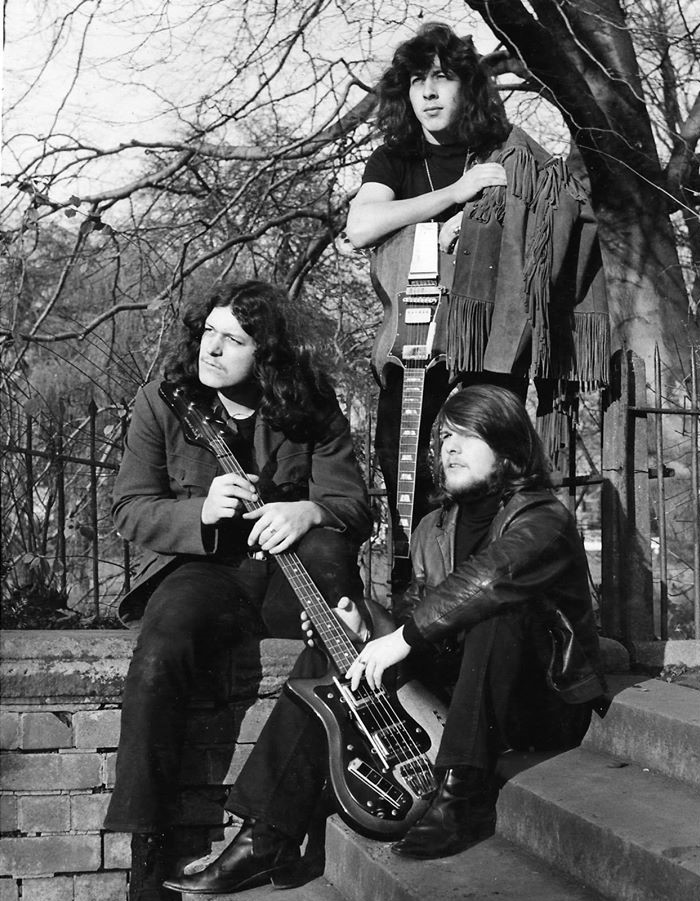 Looking back, what was the highlight of your time in the band? Which songs are you most proud of? Where and when was your most memorable gig?
Tony Cox: I don't think there's a dud song on the album but my favourite is probably "Drifter's Lament". This is purely because when we recorded it my then girlfriend, Cathy, (who later became my wife, and still is!) came to the studio with me. She was sitting quietly in the corner when Keith, knowing she was a folk singer, asked her to put some backing vocals on. She didn't know the words, hence the la la las. 🙂 My most memorable gig was supporting Hawkwind at The Locarno in Coventry, and that's not just because they had a naked woman called Stacia dancing on stage…honest.
Keith Hancock: Highlight of the time with Barnabus has to be playing in the temple Wardour street London with Amon Düül II when at 2 o'clock in the morning as we were due go on we needed a hammer to nail the drums down and someone in the packed audience produced one. Most memorable gig was with Hawkwind at the Locarno Coventry when there was a huge turnout of Longford rockers and local fans calling out our own compositions.
John Storer: For me comradery and then pure enjoyment of performing our own material – which to this day, I still prefer.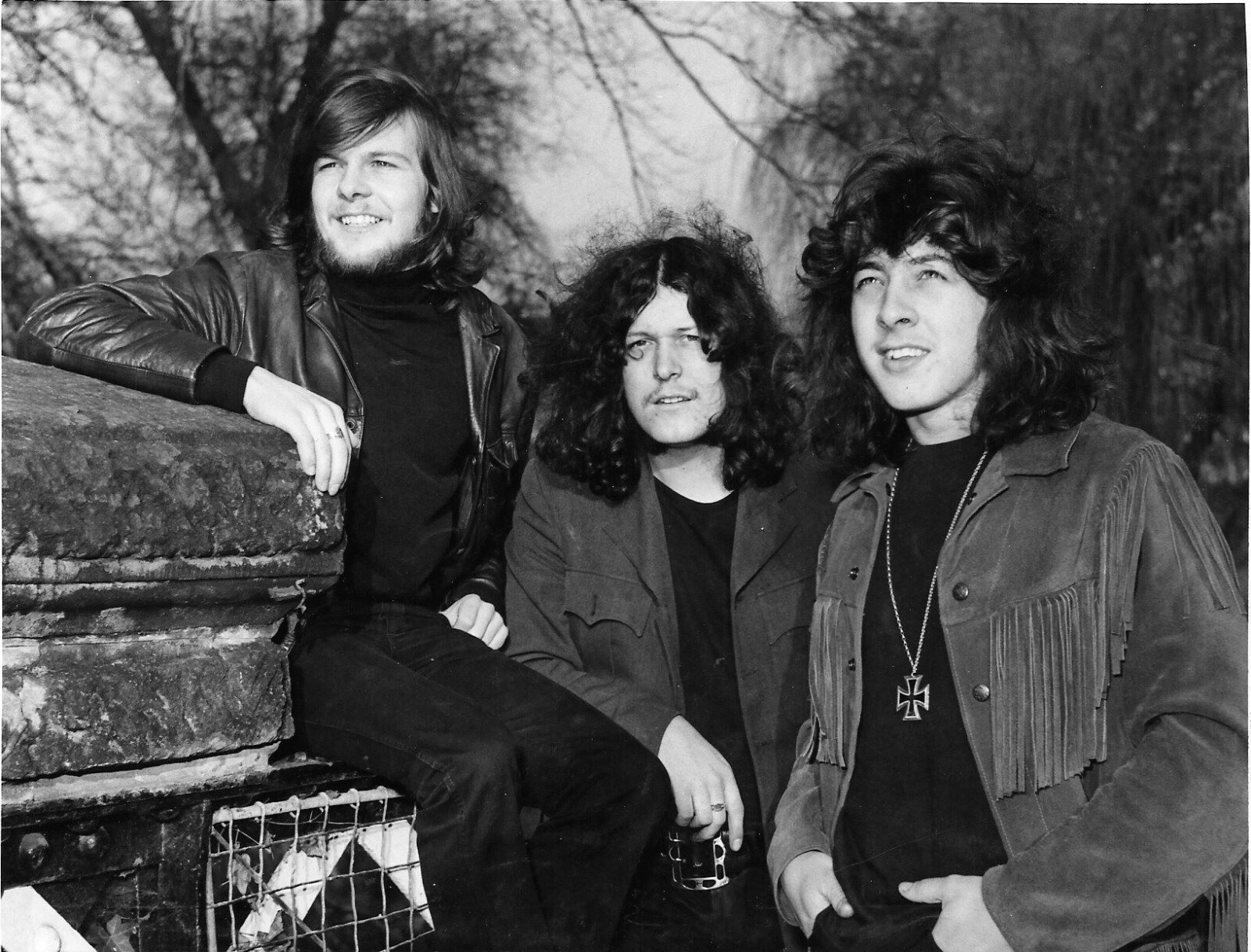 Is there still any unreleased material?
Tony Cox: I don't think so. We recorded two songs after the album, as demos, but they have been added to the album as extras.
Keith Hancock: there is a few but never recorded "Sea Of Time", "Soldiers Marching Off To War", "Snowmaster", "The Good Day", "The Hermit", may do them one day and a few Profusion songs.
John Storer: Yes.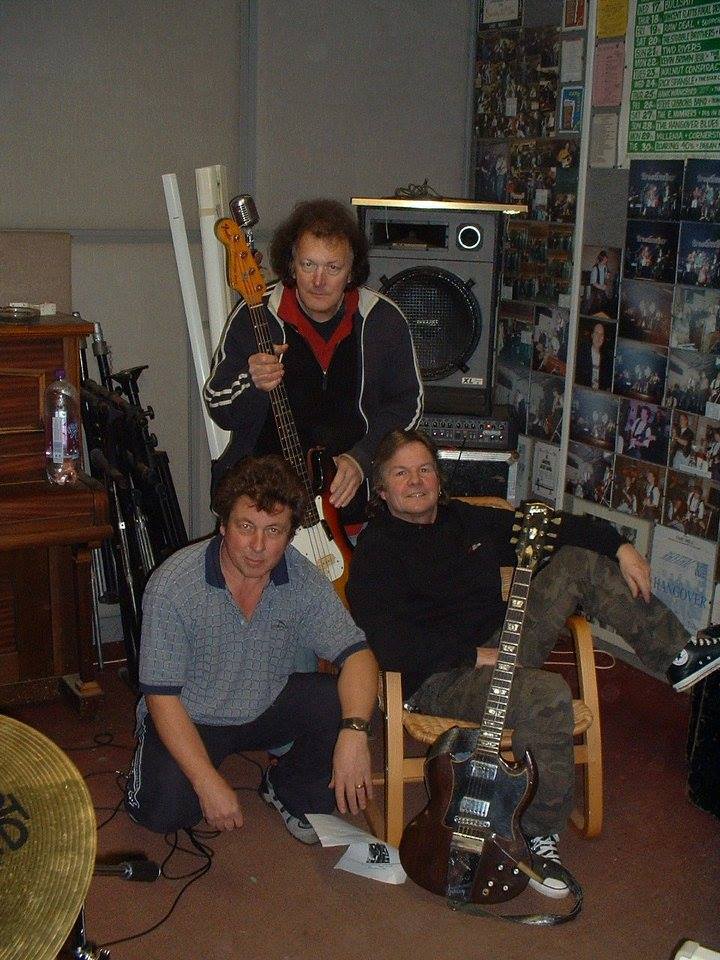 Thank you for taking your time. Last word is yours.
Tony Cox: Thanks for featuring us in your magazine Klemen.
Keith Hancock: Thanks for letting me rant on. Just remembered the time Robert Plant wanted to sing with us and I told him to "fuck off!". You'll catch that story on the album notes. Enjoy.
John Storer: Thank you for your interest.
– Klemen Breznikar
---
Barnabus Facebook
Rise Above Records Official Website