Twink – 'Think Pink IV: Return to Deep Space' (2019)
It's a beautiful thing when an important, yet obscure artist from decades past turns up and releases something fantastic, new, and relevant. John Charles Edward Alder, better-known by psychedelic rock fans by his stage name Twink, has done just that.
---
Twink is a little-known but seminal figure from the heady days of the late 60s British rock scene. He played drums for the band Tomorrow, whose sole 1968 album is probably best-known for launching the career of future Yes guitarist Steve Howe. Twink appeared on another classic psych record released the same year, The Pretty Things' SF Sorrow is Born, before focusing on his solo debut. Think Pink was released in 1970 and is generally considered to be a cult classic by psychedelic rock enthusiasts. That album features members of The Deviants, yet another superb, but unheralded 60's psych band. Twink joined with them to form The Pink Fairies, who released a fine psychedelic record in 1971 entitled Neverneverland before going on (without Twink) to forge a path for future punk-rockers with their 1973 release Kings of Oblivion. Twink went his own way after Kings of Oblivion and showed up in a short-lived band called Stars, which featured a post-Floyd Syd Barrett on guitar. Twink reunited with The Pink Fairies a number of times through the 80s and also played drums with Hawkwind. Twink released Think Pinks II and III in 2015 and 2018 respectively.
Think Pink IV: Return to Deep Space dropped in July 2019 to little fanfare. The album, produced by Rob the Viking, was recorded in the city of Nanaimo on Vancouver Island in British Columbia, Canada with space rock sextet Moths & Locusts, and members of Canadian power-pop heroes Sloan as well as Arlen Thompson from Canadian rockers Wolf Parade.
It's a dreamy, trippy affair, as one would expect, and seems to transport the listener on a journey to a faraway land with its hypnotic ambience. The opening track "Sara from the Sahara" lures the listener with soothing synths and strange sounds. Twink's vocals kick in about two minutes into the song as the track continues to gain momentum. The lyrics read like a poem about his desire for an intoxicating young woman somewhere in the Saharan Desert. It's awash in Eastern mysticism. He whispers the word "Aras" (Sara spelled backwards) over and over for the last several minutes of the song among traces of sitar and layers of delay.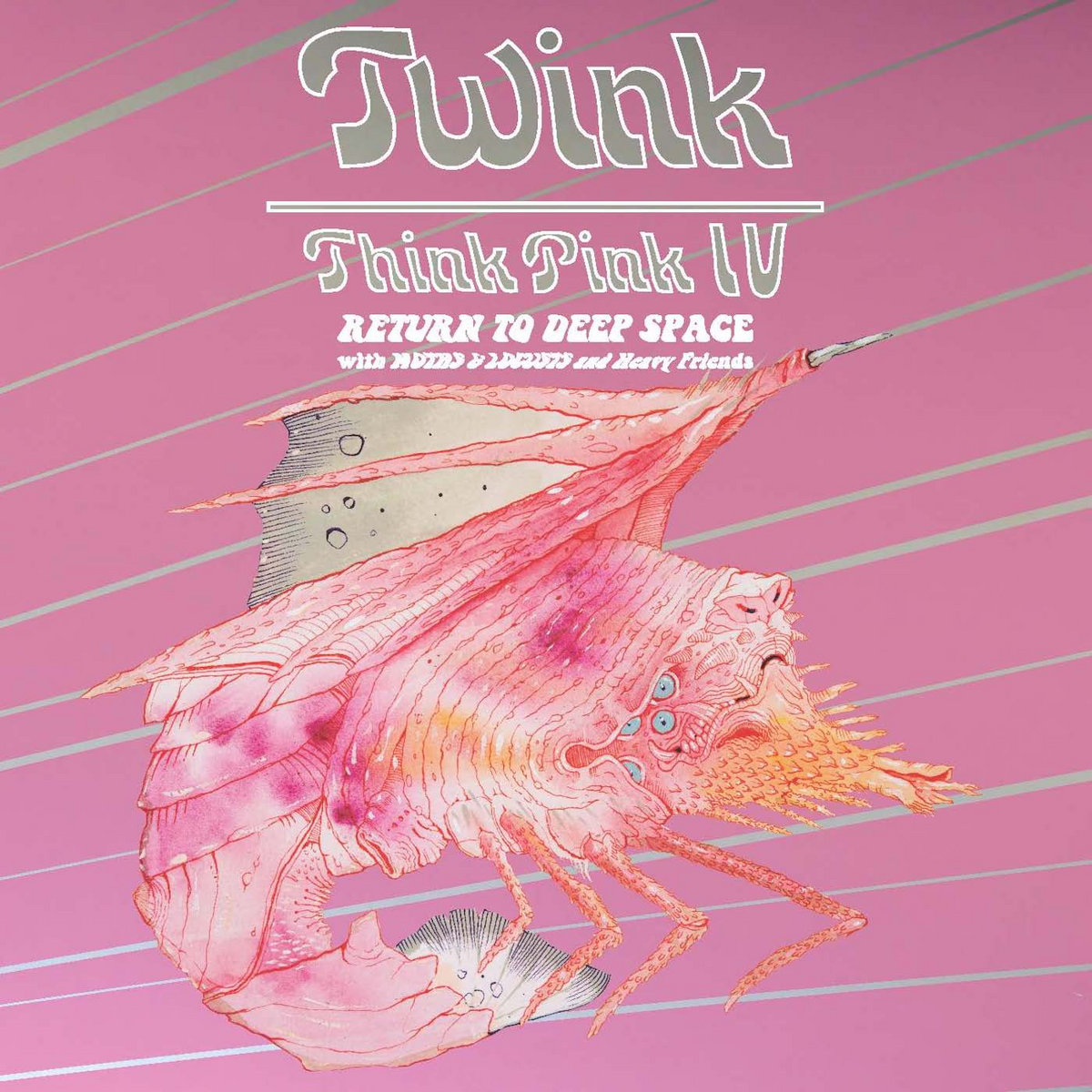 "Fear the Unknown" follows with plenty of space echoes and phaser effects. Sings Twink: "I just want to hide/Hide all alone/At least be safe/Fear the unknown/Who is the unknown?/It's only a dream/I won't resist/There's nothing I can do". Eerie stuff.
"Ain't Got a Clue" is perhaps the most upbeat track on the album, yet it is no less ethereal than the previous songs. With a driving beat, the song retains the spacey vibe of the record while incorporating sparse flute and distorted guitar.
Another highlight on the album is "High and Dry", which returns to the "clueless" theme of the aforementioned song. "Whatcha gonna do/ When you haven't got a clue?/Whatcha gonna buy/When you tell a lie?". The track features more flute, beautifully played by Samantha Letourneau, as well as swirling synths and spacey effects.
"Witches of Love", the final cut on the album, is the one track with allusions to the most prominent theme of the late 60s (when Twink recorded the first Think Pink): Love. Without a trace of irony, Twink sings, "Love will find a way/In the land of the living heart". The flute bristles and Twink continues, "We dance on the STYX/And we play magic tricks". This cut includes background vocals from the other musicians who repeat the phrase, "We are the witches of love", to great impact.
Overall, Think Pink IV: Return to Deep Space is a satisfying, fantastical effort by a quirky and mysterious artist, now in his mid-70s. It's a delight to hear a true psych-rock pioneer, so important to generations of psychedelic music fans, return to the fold and release a work of art that manages to capture the imagination and inspire listeners to continue to make art for the sake of making art. It's strange. It's beautiful. And it rocks.
– Jason LeValley
Twink – Think Pink IV: Return to Deep Space (Noiseagonymayhem Records, 2019)
---
Jason LeValley caught the rock n' roll bug around the age of 13 and developed into a rock musicologist. He has written about music for various periodicals in Arizona as well as California.
In September of 2015, LeValley founded a non-commercial rock radio station in Tucson called Downtown Radio (KTDT), where he served as the executive director from its inception through the end of 2019.
Tomorrow, The Pretty Things, The Pink Fairies interview with John Alder (Twink)
Twink & The Technicolour Dream – 'You Reached For The Stars' (2014)