Goatess interview
Goatess formed in Stockholm. They played on a lot of European stoner festivals. Christian Linderson a.k.a. Chritus who did take part in such bands like Count Raven back in the late 80s and Saint Vitus for a short period in early 90s left Goatess somewhere around 2017. There's no reason to cry – you can hear him in Lord Vicar. Goatess is more than alive! Their new album Blood And Wine was recently released with their new vocalist Karl Buhre and bass player Samuel Cornelson.
---
Interview with their originally drummer Kenta.
How are you? What's going on in Goatess camp?
Hi! I'm fine and very excited about the release of the new album. Well right now we are preparing for the release of Blood And Wine (27/9), just rehearsing and trying to get everything in place.
What happened with Chritus?
This isn't an easy question to answer but I'll try. Chritus actually quit the band himself without any drama. We played together for many years and sometimes people need to move on and try something else. Goatess will always miss him and we really wish him the best with everything he puts his mind into. I know it's a lot of rumors out there about this but it really is no drama to it. Chritus made his own choice of moving on. It's as simple as that.
And consider new vocalist Karl Buhre. His vocals ideally fit Goatess, how long did you search for him? Or did you already have him in mind working on Blood And Wine?
Karl Buhre is actually an old friend of mine and we have played together in several bands. He was the first one I called when Chritus left and he said "yes" straight away. Karl Buhre is one of the best musicians I know and he fits like a glove in Goatess if you ask me.
Karl also performs vocals in local death metal band Crucifyre. Did he sing with clean voice in any other band?
Karl has his own project where he sings with his beautiful clean voice, you should check it out, he has a song named "Stealing Horses" that's really beautiful. And I play drums with an old friend of mine in his old 80's band.
Purgatory Under New Management was recorded at Reflection Studios, what about Blood And Wine?
Well since we had a new singer and bass player for this record, we felt we needed a new studio and producer. I found Studio Barracuda and Leo Mengarelli who fits perfectly for the job. Leo was very easy to work with and understood what we were after.
Did you have any requirements for him?
No, we actually let him put his and our ideas together, and I think it turned out great. I hope we can work together on the next album.
I would say that Blood And Wine obtains all features of Purgatory Under New Management, but I think the sound is slightly improved.
I agree about the sound, we wanted it to be more natural and heavier. We spend a lot of time in the studio just to get the sound right. And of course we have new members on this album Karl Buhre and Samuel Cornelsen that makes it different, but Goatess is all about making the music/riffs we feel like at the moment. I've always felt that Niklas completed me with his incredible riffs, and I hope I can play with him till the day I die.
What's the most difficult song on the album?
I would say "Blood And Wine" was the most difficult one, but I don't think we had any obstacles, we had rehearsed a lot for the recording and I guess we all knew what to do. The hardest part is to find the right mood for each song,
As I understand Chritus wrote lyrics for previous albums. How about Blood And Wine?
All lyrics are written by Karl Buhre and we had no problem of letting him do it, a singer is always at his best if he can sing his own words. And about the concept Karl came up with it all by himself haha, and if you ask me he did a damn good job.
Goatess is usually tagged as doom / stoner metal band, and some psychedelic rock echoes through it since the second album.
Well first of all we don't make the songs to fit in some doom/stoner/psychedelic room. And of course the original roots are bands like Kyuss, Black Sabbath. But it's still not that we try to sound like someone else, we believe that we make something that people refer to as Goatess.
The band's image was connected with goat. Your first album maybe interpreted as if it has pagan message (birth of Pan) or satanic message (birth of Antichrist). The second album has anticlerical artwork in general, and the Blood And Wine cover could be interpreted again in both ways. Which is yours?
The first album cover was just something we found and got the rights to use from the artist herself. The second album cover was made with a lot of humor. Blood And Wine is an existing artwork that mirrors how we felt about the album.
Purgatory Under New Management artwork is really ingenious. Here in Russia we have deranged social active "religious activists" who are trying to ban everything that doesn't fit their narrow point of view.
I guess nobody noticed the humor in it, but we actually had people contacting us to say that its great with a Christian band in this genre,,, I don't think they have read the lyrics. And of course all people have the right to there own beliefs as long as they don't try to convince me what is right and wrong.
What's your plan consider the album's promotion?
The plan is of course to invade the World with our new album, and we really hope for a European tour this fall. We had a lot of questions from people on the other side of the Atlantic for a Goatess US Tour, so if somebody wants to hook us up please do.
Goatess has proper recognition amidst doom fans, but it seems that even so honorable bands like Goatess or Lord Vicar have their limit of, let's say, 'popularity'. You can play tours, but it's always financial risk, and as I understand there's just a limit, a border which doom bands can't cross just because these few vacant places on top are occupied with few acts like Pentagram, Candlemass and… I don't know… Electric Wizard. Do you agree with that? How do you see this situation?
I agree, there is a few main acts that seems to have all the attention in this genre. Even thou it's a small scene there are a lot of amazing bands out there that deserves to be heard. Take Barabbas from Paris for an example, one of the best bands both live and on record.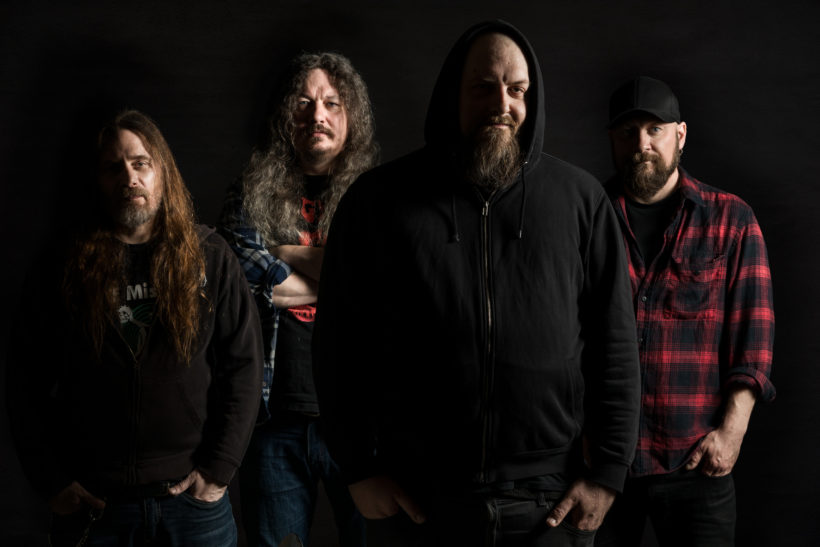 It's always good to hear a word about Barabbas! Totally agree. Can you name a few other bands?
There is a lot more bands out there Sigiriya, Echolot, Serpent Venom, Hooded Priest… who really earns the respect of a bigger crowd. And of course there is many many more that I hope can reach out to the world with their amazing music. They deserve it!
Thanks for your time Kenta! Wishing you all the best on the upcoming tour.
Thanks!
– Aleksey Evdokimov
Goatess on Bandcamp
Goatess on Facebook