YADER
"Brand unused stuff"
YADER is Viginia Genta, David Vanzan (of Jooklo Duo) and Ernest Gonzalez (Bear Bones, Lay Low). At the end of last year, they released the great
Paradigma
tape on
Beartown Records
: ping pong bleeping at an echo party.
You and David of course know each other from Jooklo Duo, but how did Ernesto Gonzalez got involved in YADER?
Virginia Genta: We three formed Yader together, so it's not that he got involved into something that already existed, the band raised from the evolution of our friendship. We've first met Ernesto back in 2008: we were on a European tour (Golden Jooklo Age & France) and towards the end of the tour we were playing at the legendary Carlo Levi in Liege. That day we were driving from Paris and we had some issues with our van so we arrived at the show pretty late while the party was already kicking… I have blurred memories of a young Ernesto playing a set on the floor on stage, and David does not remember him from that time, but the party was pretty crazy and smokey so we didn't really talk so much that time, who knows why, too busy too high too shy…?
We met again one or two years later in Brussels and that was the time we started getting along and see we could share something. Then we kept meeting each other and enjoying spending time together here and there around Europe. Then, in 2014 our friend Chris Allick in San Francisco invited Bear Bones Lay Low and Jooklo Duo for a pairing tour in the West Coast. During that tour we played a very weird gig in Eureka (a weird small surfer town in Northern California): when we got at the venue the blond pony-taled surfer bar tender didn't even know we were supposed to play. There was basically no backline, no drums or anything. So we decided to just jam all together using a very minimal electro-acoustic set-up. We all jammed a lot together everywhere after that gig on that tour… some funky night jams in Corvallis, Oregon, then a couple of incredible days of group recordings at the Pink House with Jackie and Rick from Smegma/Tenses in Portland, and more jams at some radio in Seattle. It's probably during that tour that got more tight and found out it was fun to play music and tour together. After that, a lot of mutual visits followed, we would go up to Belgium for one or two weeks and Ernesto would come down to our place in Italy for some time and every time we've met we've been jamming and recording a new chapter of YADER, finding out that what we like the most doing together is intimate recording sessions in the studio/home comfort…
What does the band name 'YADER' mean?
We were wandering at a flea market for brand unused stuff ("that's my deviation" Vanzan states) somewhere in Italy and we saw one guy that looked EXACTLY like Iasos, do you know Iasos…?
Yes, I saw him live at my hometown Aalst in 2011 or so.
Ernesto immediately yells: "Look, it's Iasos over there!" So we are there, staring at this guy, totally moved by this vision, when our friend Paolino says he knows the guy. We approached this weird kind of Greek-god-kinda-looking, and he introduced himself as 'YADER', weirdly very similar to the forenamed Iasos. We looked at each other and wanted to laugh but did not dare. We then turned this powerful moment into our newborn band we were looking a name for.
Great story. I really enjoyed the Paradigma tape you released at the end of last year. Could you tell me, in your own words: what am I listening to when I listen to Paradigma?
A tape probably, first (cfr. Vanzan). The more technical thing is: the session has been improvised and then manipulated digitally. Just two days of going crazy actually, thinking of how we could turn this hour of music into an album of some sort (cfr. Gonzalez). Paradigma happened to be our most aerial work so far. While Focuszoid was more of a metallic resonance of electronic wilderness, Paradigma is more of a blurred mark on the timelessness of memory, with a kind of romantic view at some oniric past of dust and obsolescence.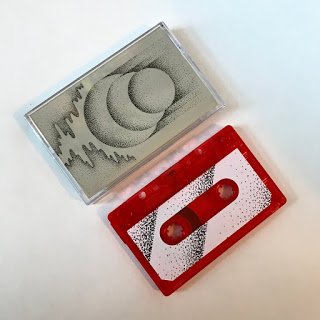 Who does what on the Paradigma tape?
What what? Ok. On the Paradigma session Ernesto was playing guitar, keyboard and effects, David had magnetic tapes, and I had a mic going through my tape echo with whom I took several acoustic sounds sources that I played: prepared piano, flutes, clarinet, harmonica, etc…
Where there certain goals you set out when you recorded Paradigma? A certain sound you want to get? Certain ideas you want to work out?
No way man. Paradigma was a full on set of genuine and soulful improvisation with a specific restricted set of instrumentation we chose while setting up.
What other music influenced Paradigma?
Classical concrete music, if you know what we mean.
Is all the music on Paradigma improvised? Are these cuts from a longer jam session?
The music on this tape is all improvised. We recorded just about one hour of music. Then a lot of mentalization followed, as we couldn't decide if we wanted to keep it as recorded or do overdubs and change it. But we decided to keep it pretty much as it was and just did some micro-editings.
Paradigma sounds very open, there's a lot of space in the music. On purpose?
Yes. Everything we do is on purpose. Although of course sometime you can loose the focus and the music sucks….
Because this is an interview for a magazine called It's Psychedelic Baby: would you consider the music of YADER psychedelic?
Well, David would consider YADER more like Baby than psychedelic. It's Baby, Psychedelic. Jokes apart, of course it is, man.
What would your definition of psychedelic be?
We have different ways to define psychedelic, you can guess who of us has which one. It's more a notion of what could be destruction and what construction, life. It's like a primitive force out of control. And visionary. You can picture in your head several things but you can never be certain of what's happening. And, we can define psychedelia saying what it's not: reality. It's beautiful to be impressed by nature's psychedelic: being surprised by a sunset, being happy to wake up alive in the morning, stuff like that. Society doesn't let people live just by appreciating every single aspect of it, even the most simple-looking ones… and that's why it feeds people with a great variety of substitutes that are only good to make the capitalismus' wheel spin faster and faster.
February 15: Rotterdam, Vrooom night at Pink Pank
February 16: Brussels, Kraak fest warm-u night at Brasserie Atlas
February 17 to 19: Rotterdam, studio residency at Worm
February 20: TBA?? Belgium/Holland?
February 21: Antwerp, Troglosound Closet Night at Het Bos
– Joeri Bruyninckx
© Copyright http://www.psychedelicbabymag.com/2019