Jokers Wild interview
Jokers Wild recorded three singles between 1967 and 1969 in Minnesota. Their complete album Liquid Giraffe was never released. Starting as a five man band, most of the material was recorded by the three main members: Lonnie Knight, Denny Johnson and Pete Huber. Later Lonnie Knight became guitarist of The Litter for a while, but he returned to Jokers Wild.
---
Huge amp stacks guaranteed a "wall of sound". Double bass drum, cool outfits, … Brother Clark of Damin Eih, A.L.K. and Brother Clark recalls:
In '67 I saw two local bands that again amped up the juice, The Litter and Jokers Wild. Both bands played original music and had excellent psychedelic-raved guitar players, Zippy Caplan (Litter) and Lonnie Knight (Jokers Wild). That brought everything to a new level – original music and lead guitarists. Once I saw them, it was Hendrix, Clapton, Jeff Beck, Jimmy Page, Roger McGuinn for me and those influences haven't stopped.
Interview with Denny Johnson and Lonnie Knight
There is not much known about your band. Thomas Hartlage at Shadoks prepared a wonderful release. 
Denny Johnson: It was very flattering to have someone contact us after all this time, who had an interest in music from the 1960's. It gave me a warm feeling and of course made me smile.
Lonnie Knight: I was definitely surprised by this. Denny and Pete and I have remained friends over the years, we occasionally get together for reunion gigs, but we had no idea that there was any interest in the band outside of Minnesota. A couple of years ago I was contacted by a company in Asia to re-release two albums of solo material I had done in the 1970's. As a result of that release, I was able to do a concert tour in Japan last March. It's all exciting stuff.
Where are you from?
Denny: Minneapolis, Minnesota is my hometown and I am still here in Rogers, a suburb of Minneapolis.
Lonnie: I'm originally from Camden, New Jersey, but I've lived in Minneapolis Minnesota since the age of 5.
"The feeling of playing in a band on stage was a real high, like a drug."
Denny, you started in 1965 with Dave Waggoner. You were The Aardvarsks' bass player. Waggoner formed the band together with Gene Balabon. Pete Huber was behind the drums (previously in The Gremmies).
Denny: Dave Waggoner, my old friend and neighbor called me and asked me if I wanted to be part of a new band that he was putting together. Gene Balabon had already agreed to join the new band. I accepted the offer and was extremely happy to be in a real band that was going to play actual jobs. We found Pete Huber (Drummer) at the Ritz Theatre where bands used to audition and perform. David Anthony, a booking agent and promoter used the theater as a place to audition musicians and to give bands the actual feeling of playing on a stage in front of an audience. He tried to make you feel important and that he did. There were always people there watching. So we started with Dave Waggoner on Farfisa organ and lead vocals, Gene Balabon on lead guitar and lead and backing vocals, myself on bass guitar and backing vocals, and Pete Huber on drums and backing vocals. We practiced for about a month in my basement in North Minneapolis and then one day Dave Waggoner decided he wanted to focus on lead vocals and being a front man, so we needed to find a new keyboard player. I knew Dave Middlemist from when I jammed with other band members and gave him a call to see if he was interested in trying out for the new band. At the time he was in a band called the Cavaliers, playing guitar and he also played some keyboards. He came over and everything clicked real well so he quit that band and joined our band which had no name at the time. We played our very first job as The New Gremmies because Pete had a job booked at Fararrah's in Southeast Minneapolis by the University of Minnesota. We played the job and I was so scared the first hour I stood behind my amp and then I got more comfortable being on stage in front of a crowd. The feeling of playing in a band on stage was a real high, like a drug, and I could not wait to play the next job.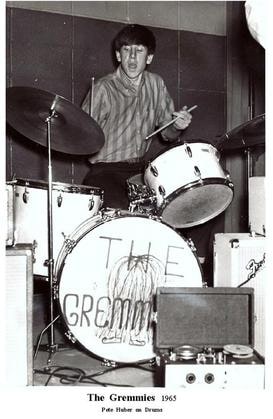 Lonnie: I was initially a founding member of the Castaways, and then in a band called The Rave-Ons in '64, '65 and '66.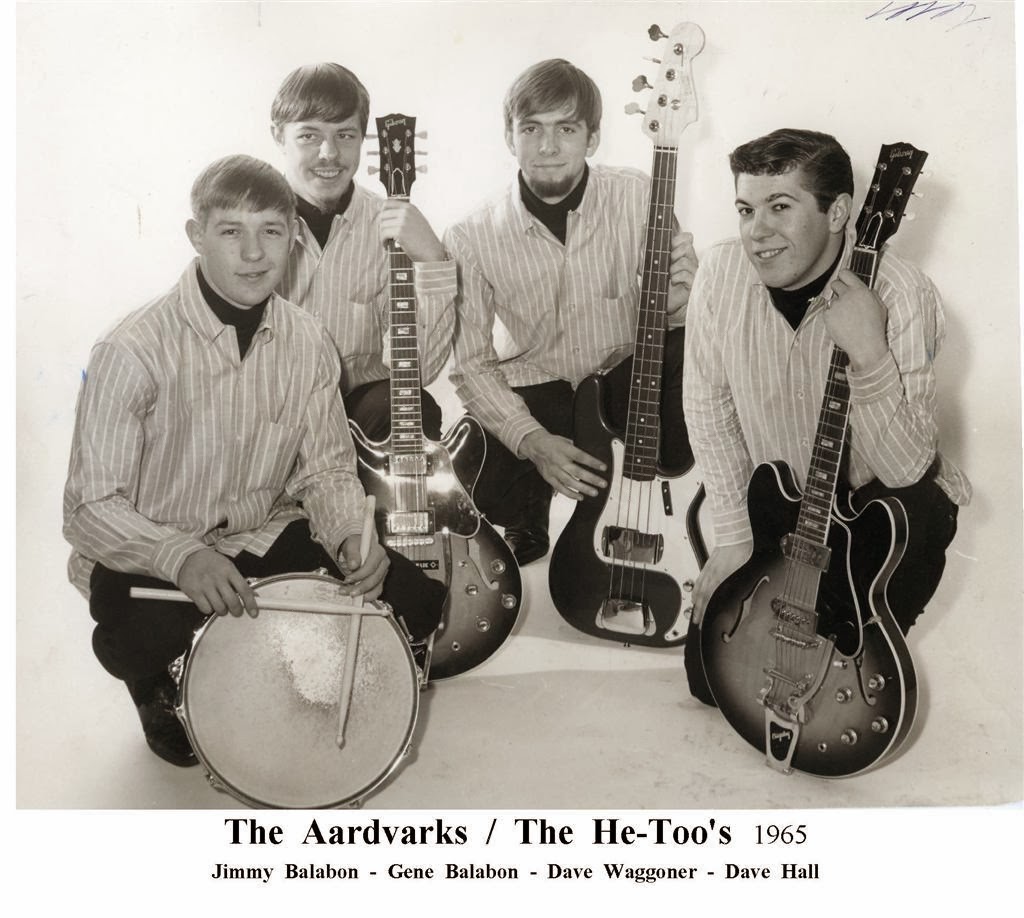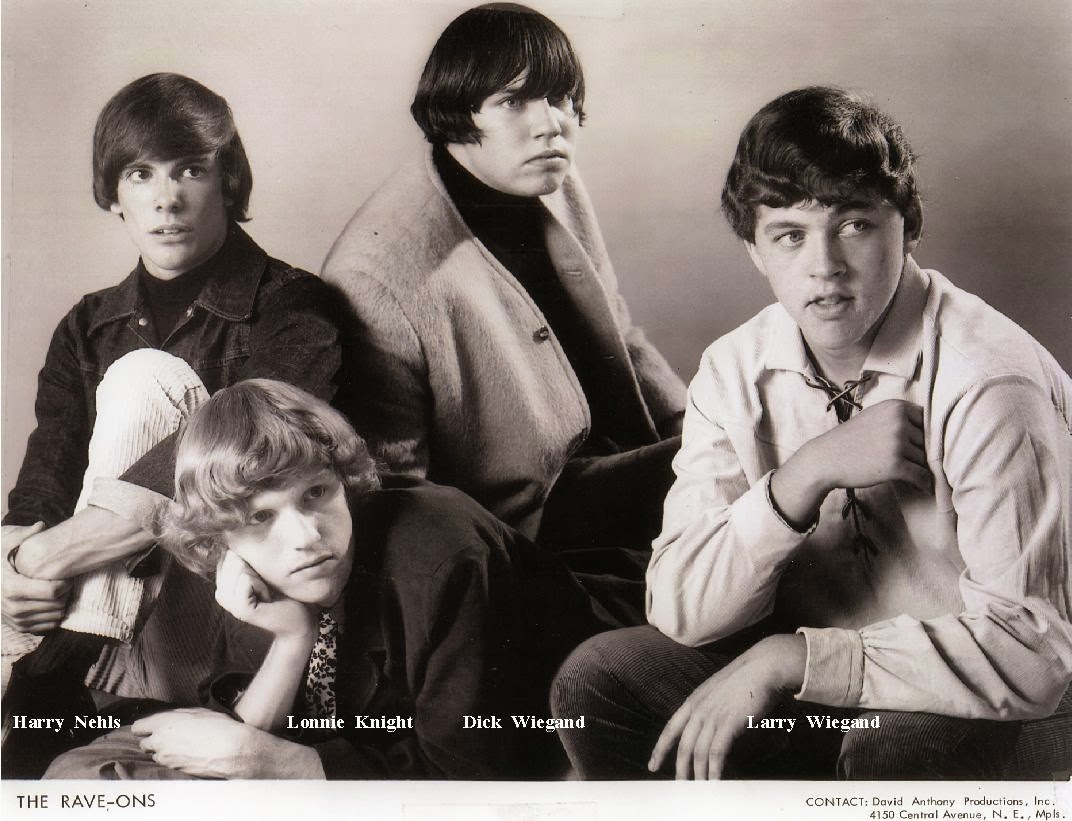 You played for awhile with The New Gremmies. Later you were called "The Chord On Blues" which was a result of being booked as some other band, that previously fell apart.
Denny: Yes that is what happened.
How did you decide to use the name "Jokers Wild"?
Denny: Doni Larson of the Underbeats was playing poker with Dave Waggoner one night and Doni suggested the name Jokers Wild to David. We all liked the name and decided to use it.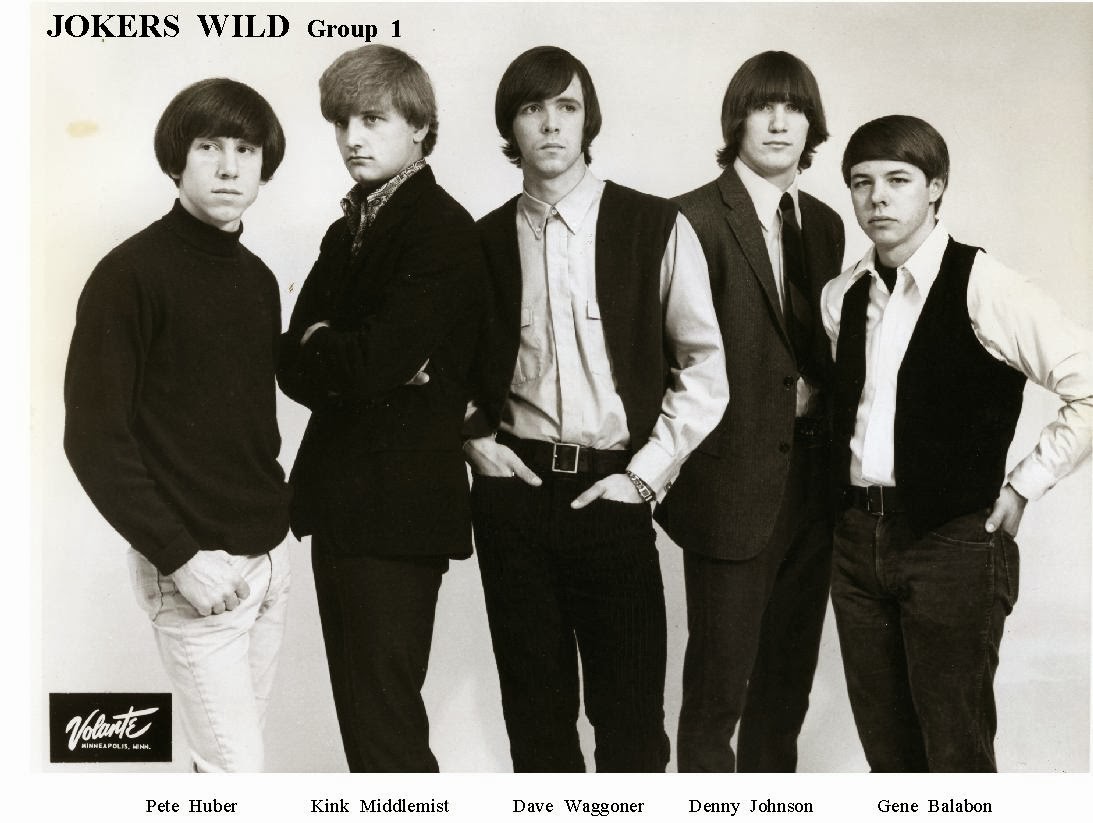 There was another lineup change in late '66, when Gene Balabon decided to leave. You replaced him with Bill Jordon.
Denny: Yes, in October 1966 Gene Balabon told the band he would be leaving. His schooling was done and he was going to get married, so we found Bill Jordan through a connection with Mike Waggoner from Mike Waggoner and the Bops. Mike Waggoner's father played in a band with Bill Jordan's father.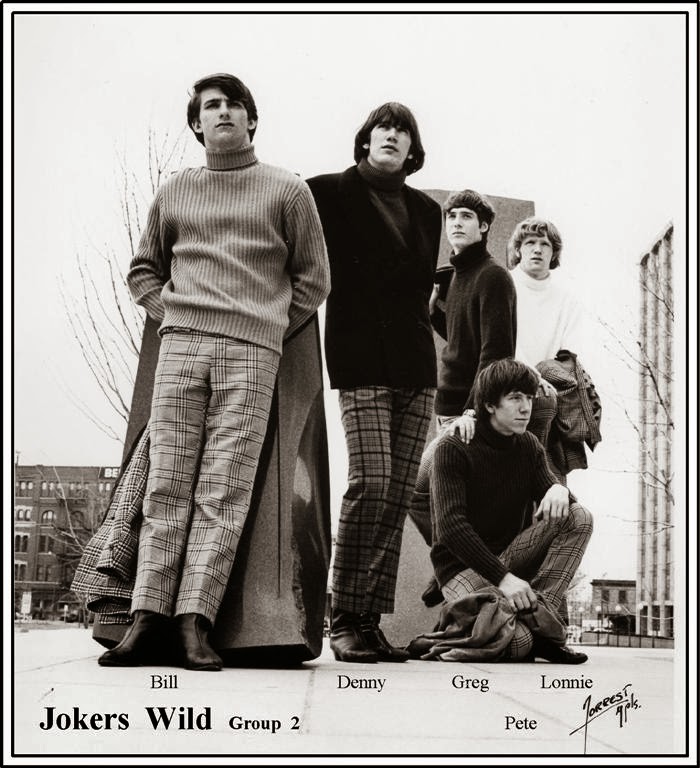 I'm a bit confused about Dave Waggoner. Is he "Dave Wagner" of Crow (interview here)?
Denny: Yes, but he changed the spelling of his last name to Wagner when he was in Crow.
In 1967 you played with the new lineup at High Prom. You played "Let's Spend The Night Together", which was considered scandalous. 
Denny: That was a night to remember. That version of the band had Lonnie Knight on lead vocals, Bill Jordan on lead guitar and vocals, Greg Springer on keyboards and vocals, myself on bass guitar and vocals, and Pete Huber on drums and vocals. We played one hour for the prom dance and a student requested to hear "Let's Spend the Night Together" by the Rolling Stones and we did it thinking nothing of it, as it was a very popular song on the radio at the time. Right after the song was over, the high school principal and some parents came directly to the stage and informed us to pack it up and leave because they told us it was a vulgar song to play at a high school prom dance. We left and we did not get paid for the night. Back then it was hard to understand but now looking back it seems rather funny.
"I do recall a number of times when our long hair and "dangerous" music got us into hot water."
Lonnie: I joined Jokers Wild around this time. I don't specifically remember the incident, but I do recall a number of times when our long hair and "dangerous" music got us into hot water. Pretty tame stuff these days, it's certainly a different world than it was back then.
In May 1967 you released your first single "All I See Is You", written by Lonnie Knight and on the B side was "I Just Can't Explain It", written by Bill Jordan. Tell us about your first time spent in the recording studio.
Denny: Our first time in a recording studio was really different, we didn't know you put the songs together in pieces for separation and for clean sound. It was a four track studio, so playing the tracks bit by bit was a little confusing as you laid down the rhythm tracks first, drums, bass, rhythm guitar and keyboards and then you mixed those tracks down to a single track and then you had to do the lead guitar solos on a track and do the lead vocals on a track and then do the backing vocals on a different track after that. We found that recording in a studio was a great deal different than playing songs live, with all of us playing our parts at the same time.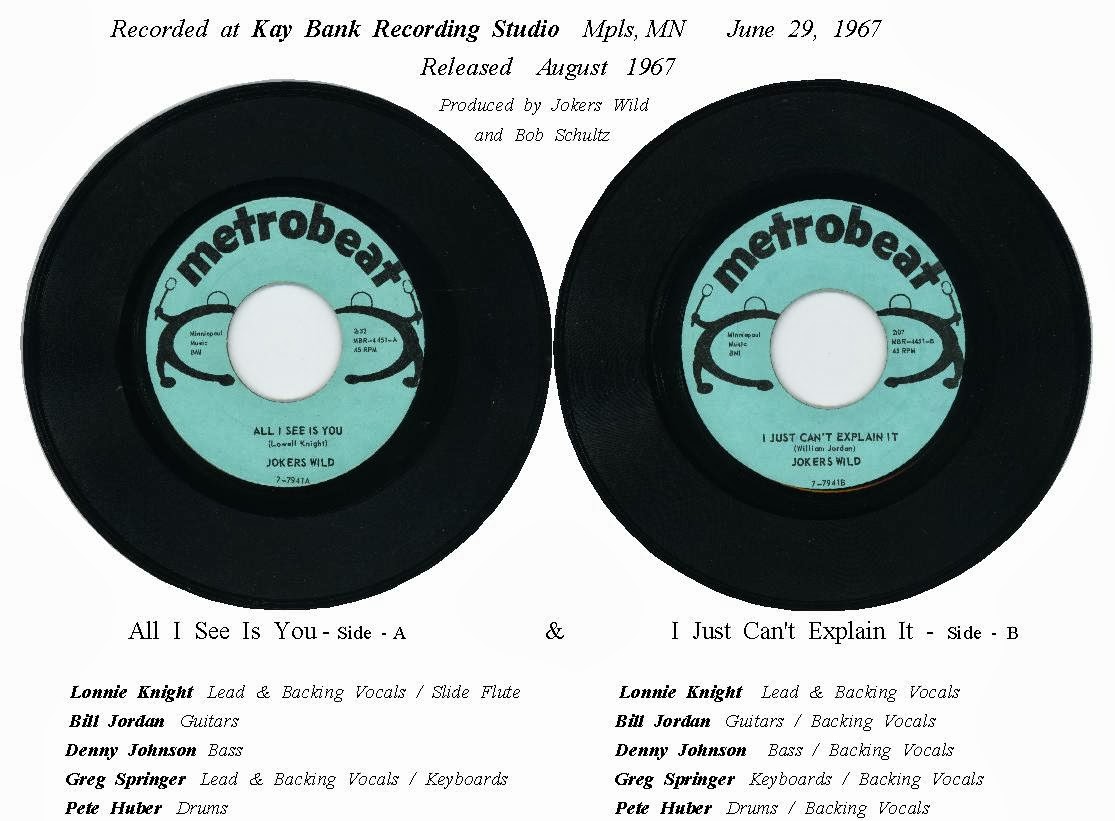 Lonnie: My very first time in the studio was with the Rave-Ons, but the feeling of going into a recording studio in the 1960s was the same every time. There was no Pro-Tools, there were really no home studios, there were only a couple of real recording studios in Minnesota. Going into a studio to record was an awe-inspiring experience. We'd rehearse for days to get everything right before going in, the producer could only afford a few hours of recording time and we'd have to be on top of our game. These days you can virtually carry a recording studio in your pocket and record anything you do. Back then, when they hit the playback button, it was the first time we'd ever really heard ourselves.
You opened for acts like The Association and The Five Americans and soon you began working on what became your second single "Echo"/"That Mans Not You", but due to financial issues, the single was dropped.
Denny: Back then if you didn't have a record out that was being played on the radio you didn't get the good jobs and the money for jobs was less… so we wanted to put out as many records as possible, but we had to pay for rent, gas for the van, food, and other bills and we did not have enough money to pay for the costs of putting that record out.
Lonnie: We recorded for a small, independent label, there wasn't much money available.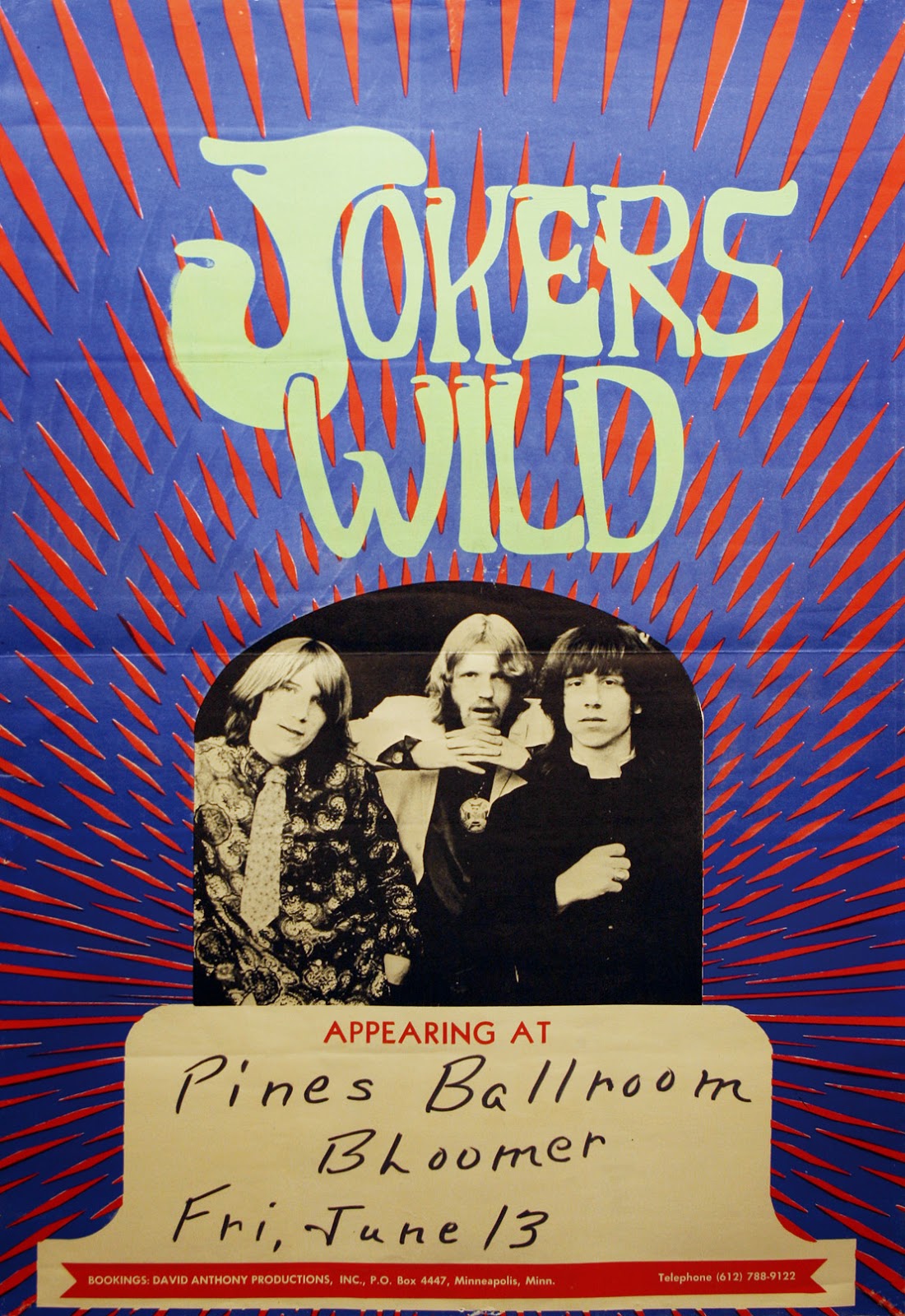 Bill Jordan left the band to join The Chill Hillman Band, so Lonnie Knight became the lead guitar player and with addition of Dale Strenght from The City Strangers on second lead guitar/vocals there was again five members in the band. Later Dave left. 
Denny: Dale left because he wanted to go to school to be a graphic artist. In fact, Dale designed the logo for Jokers Wild and produced buttons with the logo on them.
Lonnie: I think we were moving toward that three-piece Cream/Hendrix area… some things didn't mesh, and we ultimately decided to work as a power trio.
"A lot of people probably did not even know that we were Jokers Wild and not Blue Cheer."
What's that Blue Cheer story about?
Denny: The Blue Cheer show came about because we were a three piece power trio and Blue Cheer was also a three piece band with a hit record out on the radio, "Summertime Blues" and we wanted to see them. They were scheduled to play in Joliet, Illinois on a certain date and we were in the area on tour and had that night off, so we went to the show and sat in the audience waiting for Blue Cheer to perform after the opening band was done. We sat and waited a little while and our manager David Anthony went back stage to find out what was happening and discovered that Blue Cheer did not show up for the concert and the promoter was having a fit because he had a full house of fans waiting for Blue Cheer and getting restless. David Anthony suggested that Jokers Wild fill in for Blue Cheer, as we were a three piece band and the promoter really had no choice so Jokers Wild went on stage and did the show and we went over very well with the audience and we even did a version of "Summertime Blues" which members of the crowds were yelling for. A lot of people probably did not even know that we were Jokers Wild and not Blue Cheer. That is a really great memory for me.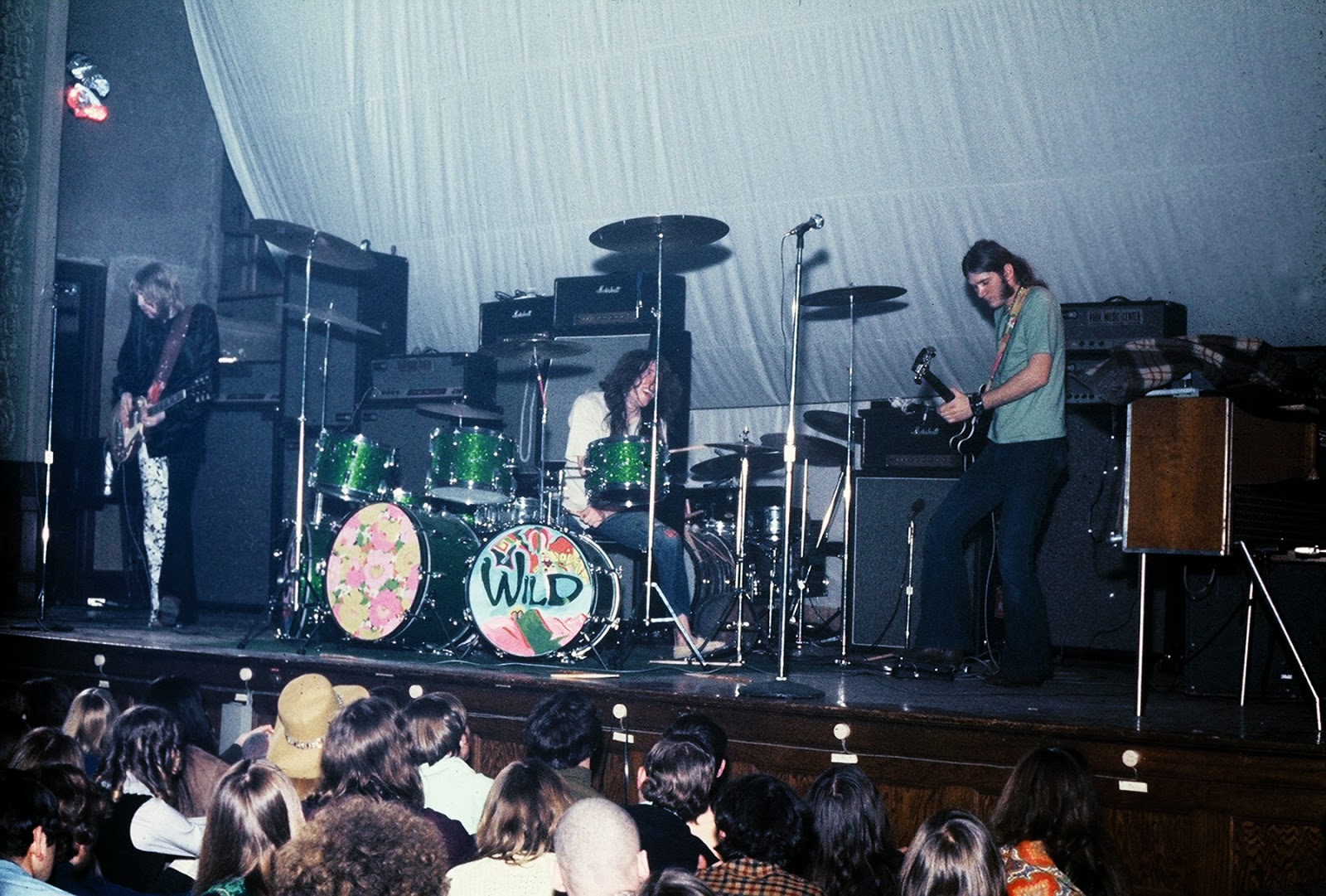 Lonnie: We were on tour in Illinois and decided to attend the Blue Cheer concert in Joliet. We arrived and found out that they were a no-show, so somehow our manager, David Anthony, was able to convince the promoter to let us go on in their place. We played our regular material, then we did our version of "Summertime Blues." We weren't trying to fool anybody, but I do believe that some folks in the crowd thought we were Blue Cheer.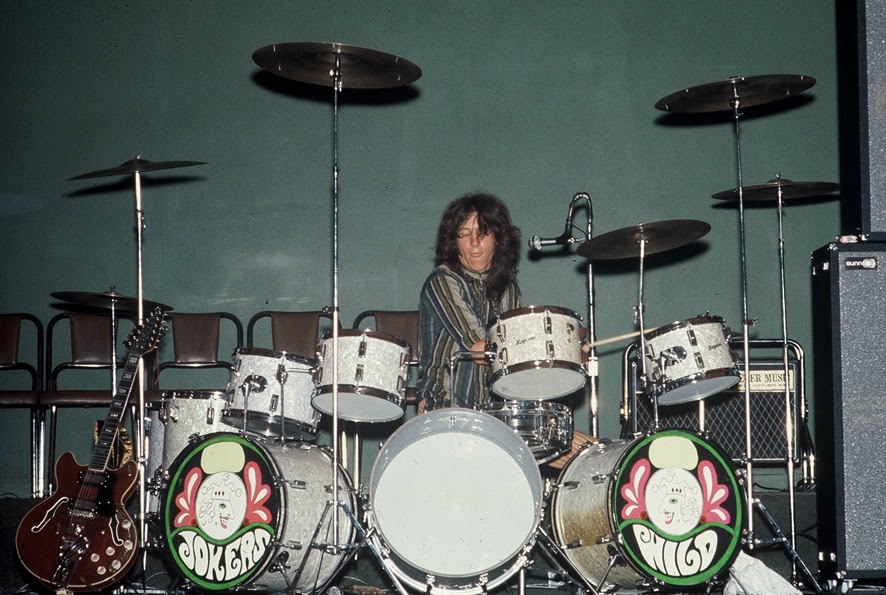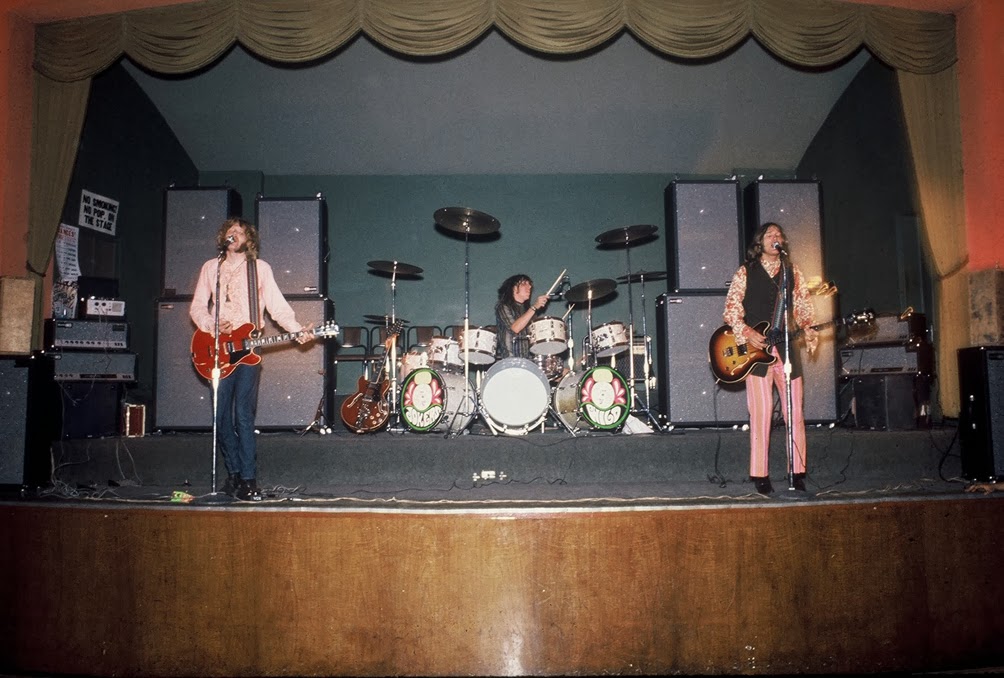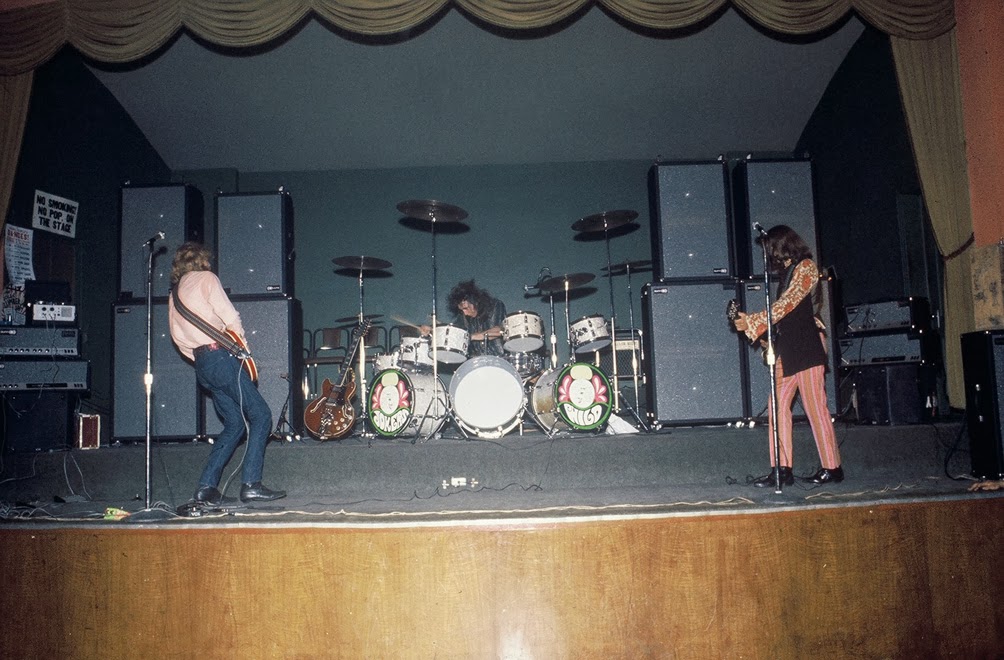 Two more singles were recorded, "Because I'm Free"/"Sunshine" and "Witch"/"Copper Penny". The latter was not released due to financial issues. 
Denny: "Because I'm Free" and "Sunshine" came out in the spring but didn't get the airplay we wanted so we planned to put out another single in the fall, well "Copper Penny" was a different kind of song in that jug band vein in the studio we were laughing and kept going with goofy ideas I said lets make the bass guitar sound like a Tuba in a German band. We had great fun but the song didn't fit any direction the band was going so it sat in the back ideas section until we had a Great song by Lonnie called "Witch" and we thought we would put out a record with "Witch" on side A and "Copper Penny" on B side to complete the single.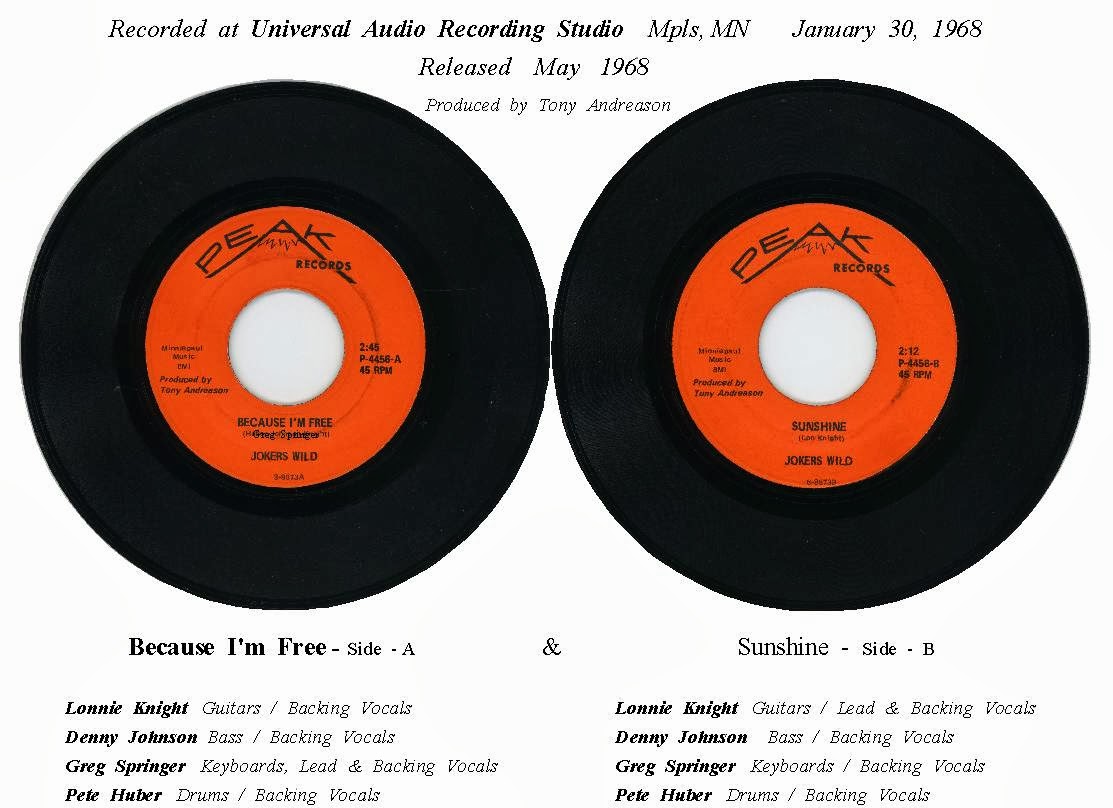 Lonnie: Lots of teenage turmoil. We did "Because I'm Free" and "Sunshine" while we were still a 4-piece band. Gregg Springer was on keys… he and I left the band for a short period of time to work with a group called The Litter (interview here), a Minneapolis band with a strong foothold in the Chicago music scene. It was a bad decision, so we came back to Jokers Wild… then Gregg left again. I honestly don't remember what happened with "Witch," whether it was released or not.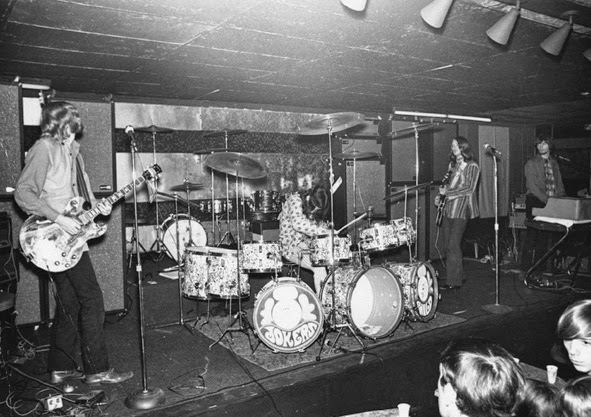 You started recording for your LP.
Denny: In the spring of 1969 we started recording our album and we recorded "Peace Man" and "Tomorrow" at Mic Side Studios in Minneapolis. At the same time we also recorded "The Grass is Greener", "Park Music", "Stranger" "I'm On My Way" and "I See You" but we did not get the chance to put down the vocal tracks for "I See You" because our bookings took off and we did not have the time to go back into the studio and finish the album that was going to be called "Liquid Giraffe" with twelve original songs.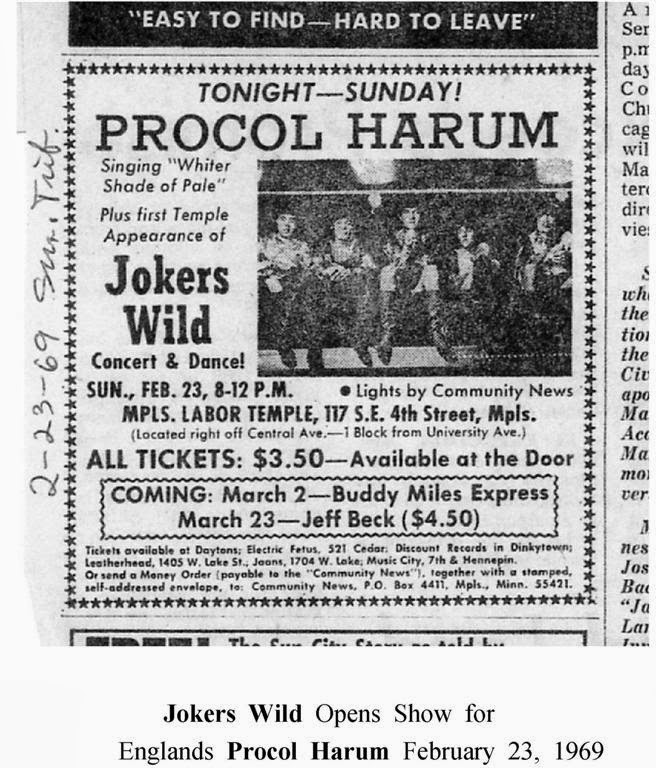 Lonnie: We simply ran out of money…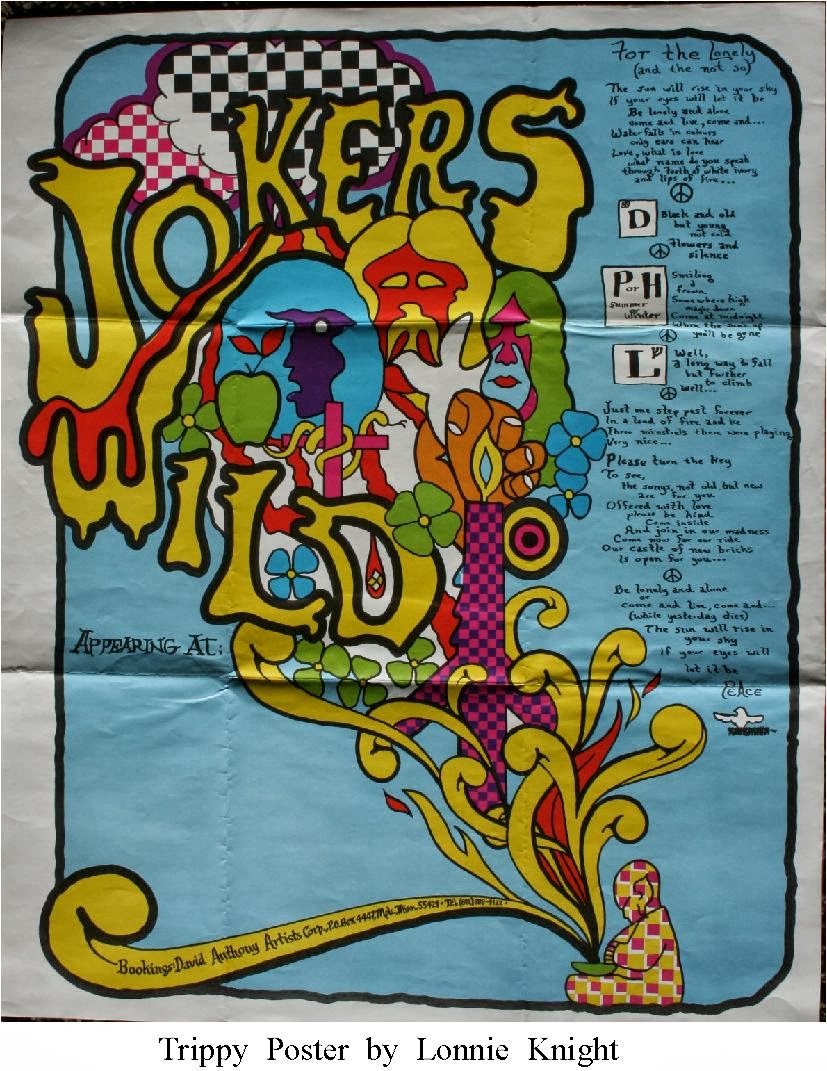 What's on the Shadoks release?
Denny: "Peace Man", 'Tomorrow", The Grass is Greener", "I'm On my Way", "Stranger', "Copper Penny", "I See You", "Witch", "American Dream", "Hard Road", "River", "Have You Ever Loved Somebody" (The Hollies), "Dissatisfied" and "Good Time" (The Easybeats).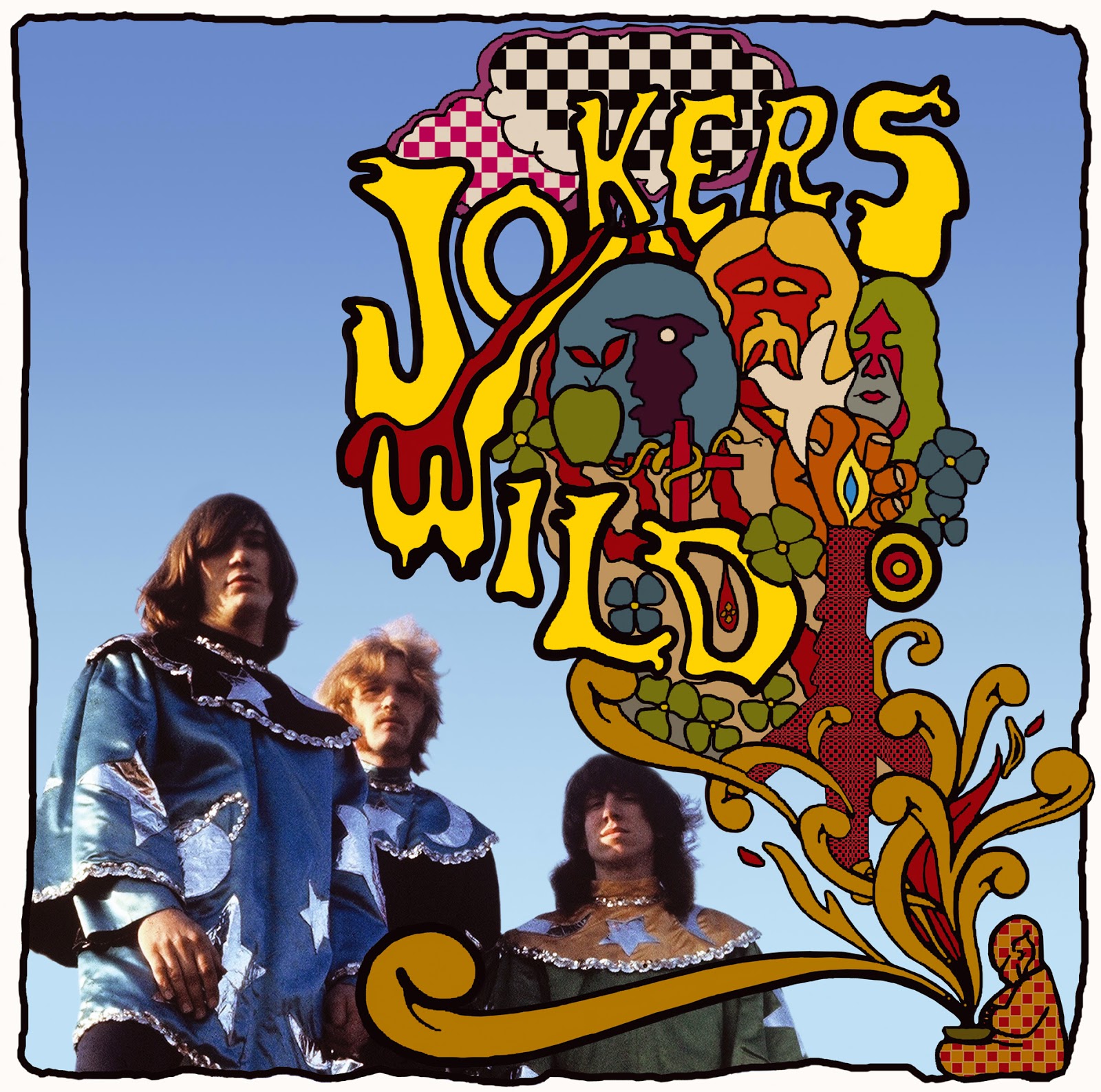 Looking back, what was the highlight of your time in the band? 
Denny: The whole time for me is one great memory… the jobs… the cities… the acts we played with… and most of all the friendship with Lonnie and Pete that goes on and on. We all stay in touch to this day. For equipment we played through Sunn Amps and Pete played on Rogers Drums. By 1968 we had enough equipment on stage for three bands. By 1969 Lonnie had switched to Marshall Amps and I switched to an Acoustic 360 Amp.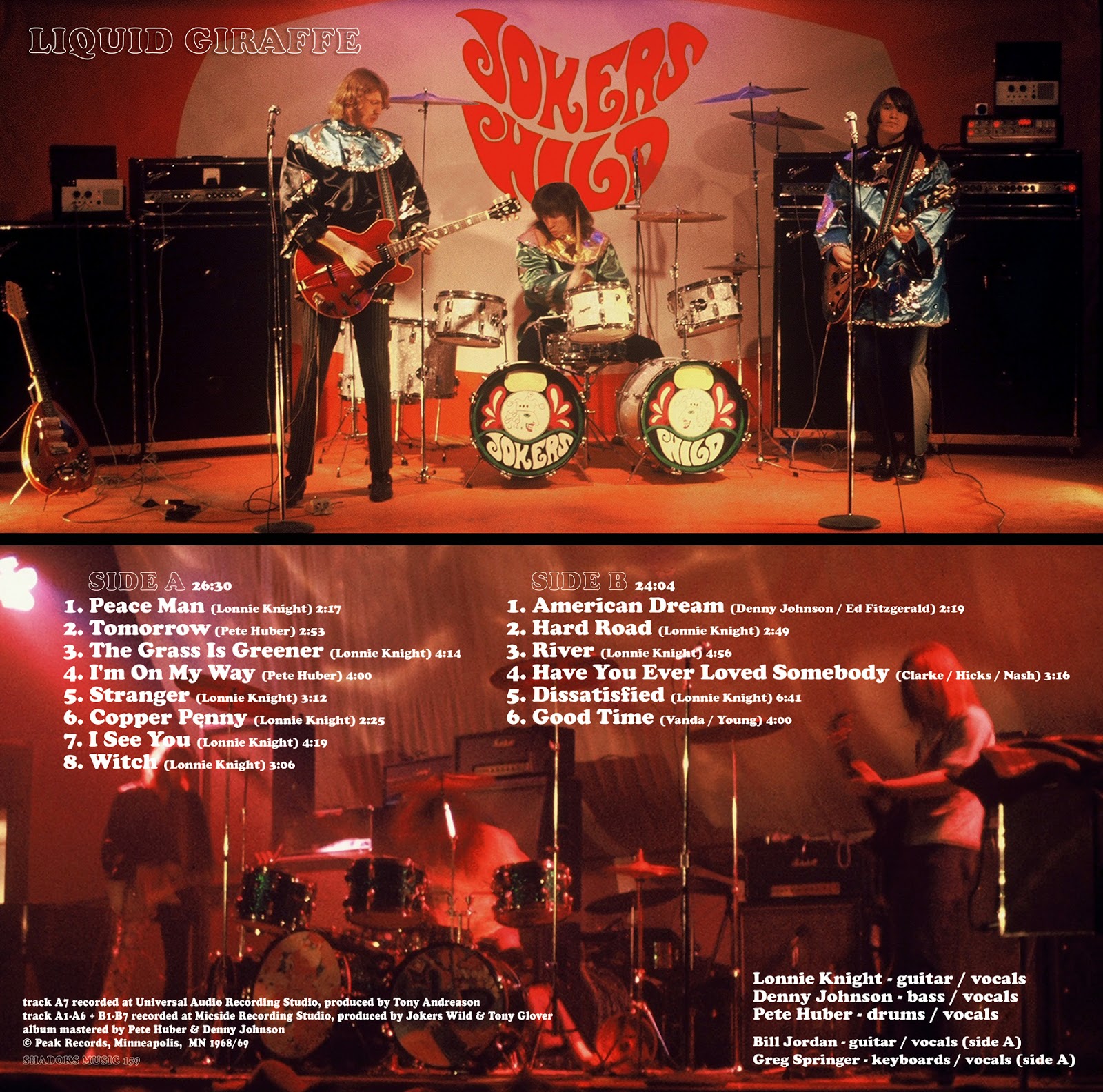 Lonnie: I started out with a Gibson 335 and a Fender Showman amp. Over the course of time I played a Gibson Les Paul, Vox teardrop 12-string, I had a Rickenbacker 6 and a Rick 12 for a while. We had an endorsement with Sunn amps at one point. There are photos of me playing through a Marshall stack toward the end, I can't remember if I owned it or borrowed it.
Your lineup changed and so did the name.
Denny: Yes, after Pete left the band in late August, 1969, we played a lot of jobs under the name Jokers Wild because we were booked well in advance, but we decided to change the name because we weren't really Jokers Wild anymore. With the addition of Bill Gent on drums, it was not the same band, so we planned a name change to Flash Tuesday that we would start using in January, 1970. I came up with the name Flash and Lonnie came up with the name Tuesday so we put the two names together. It was great band but that version of the band only played until April, 1970.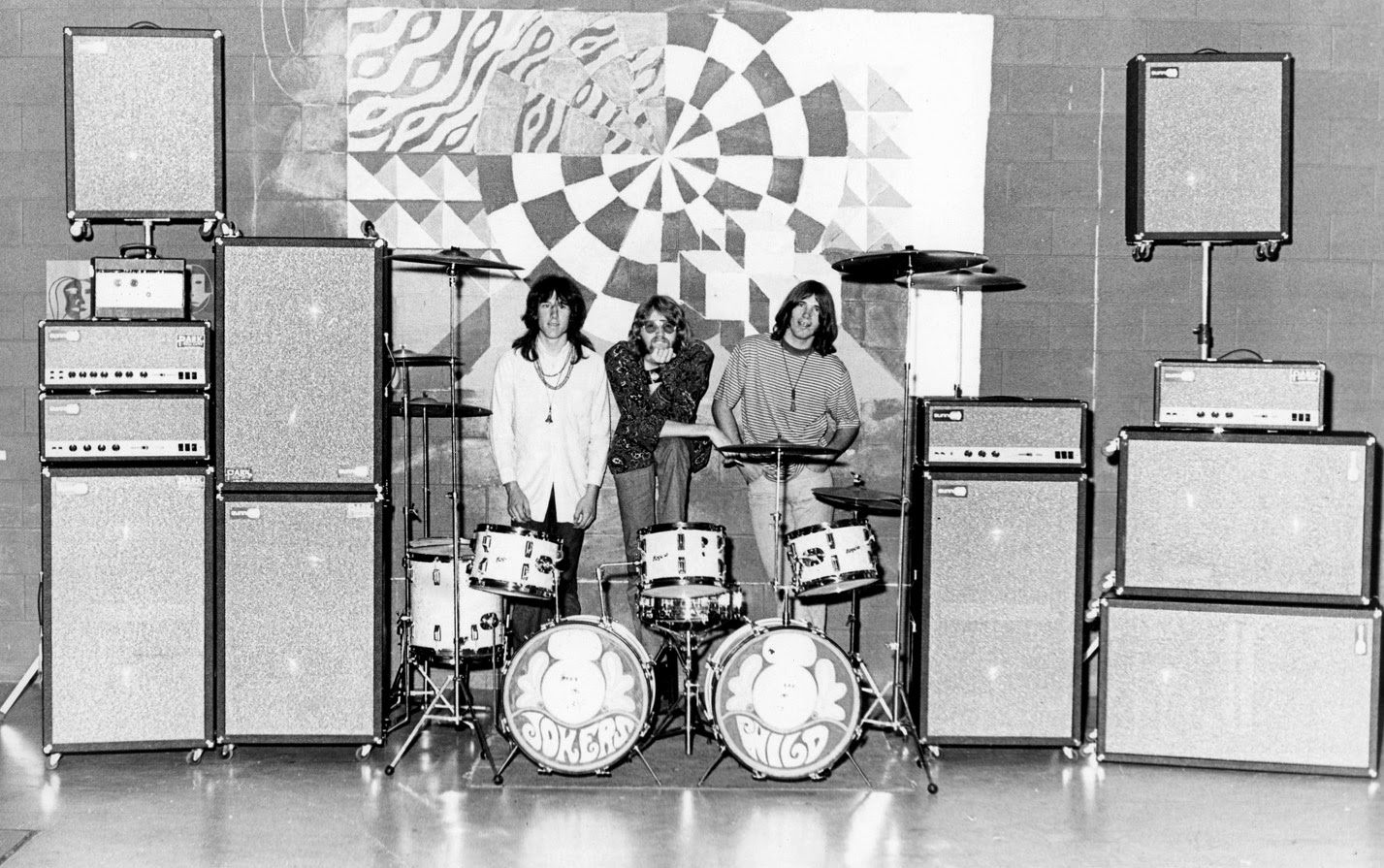 Lonnie: Pete developed some physical problems and had to stop playing drums, so Denny and I hired Bill Gent. It just didn't feel right to be Jokers Wild without Pete, our sound changed pretty drastically with a different drummer, so we changed the name of the band to Flash Tuesday.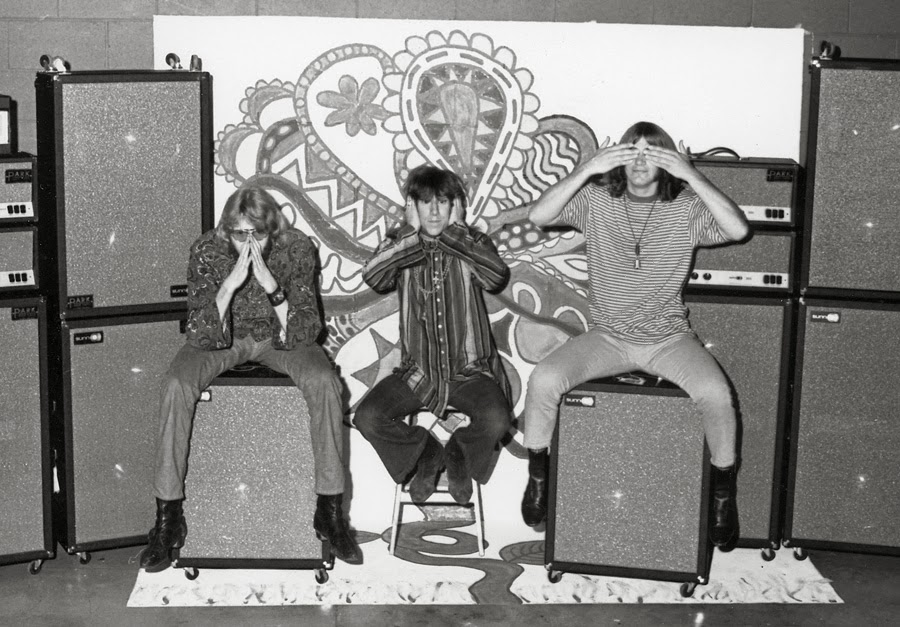 What was the local scene like? 
Denny: The 1960's was a great time to play in a band. At that time there were so many great bands in town and so many great clubs and ballrooms to play at. I would have to say that it was the perfect time to be that age and to play in a rock band. We were really good friends with The Stillroven, The Litter, The 19th Amendment, Danny's Reasons, Pepper Fog, Thundertree, and Canoise, just to name a few. The number of great bands and great musicians in the Twin Cities in that time period was truly amazing.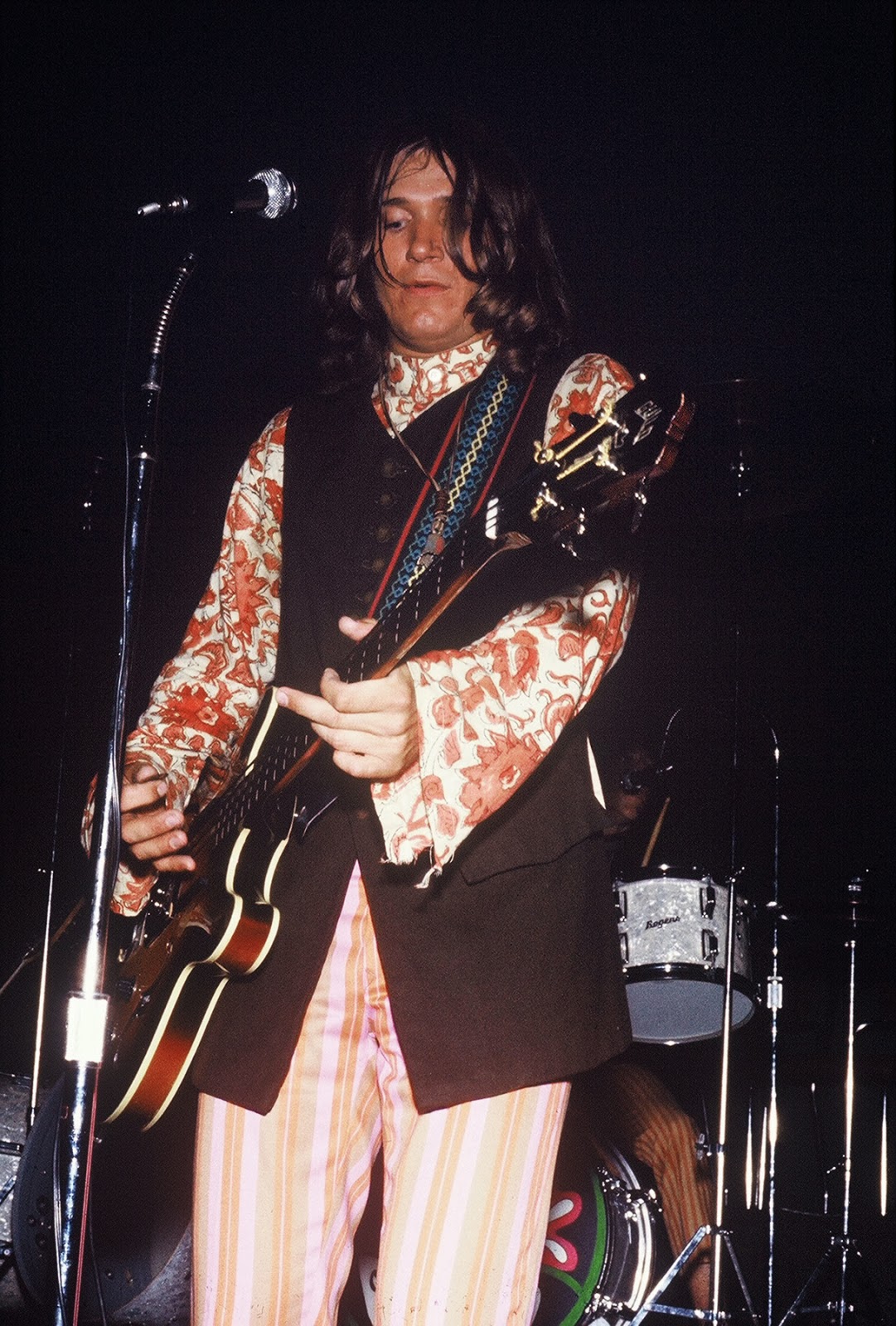 Lonnie: Minneapolis had (and still has) a great music scene. In the '60s, rock music was still new enough that there weren't any old bands. We were all kids, late teens, early to mid-twenties. It was a very unique time. I'm not going to take the time to list all the bands I liked back then, there were too many of them… the website has everything you might want to know.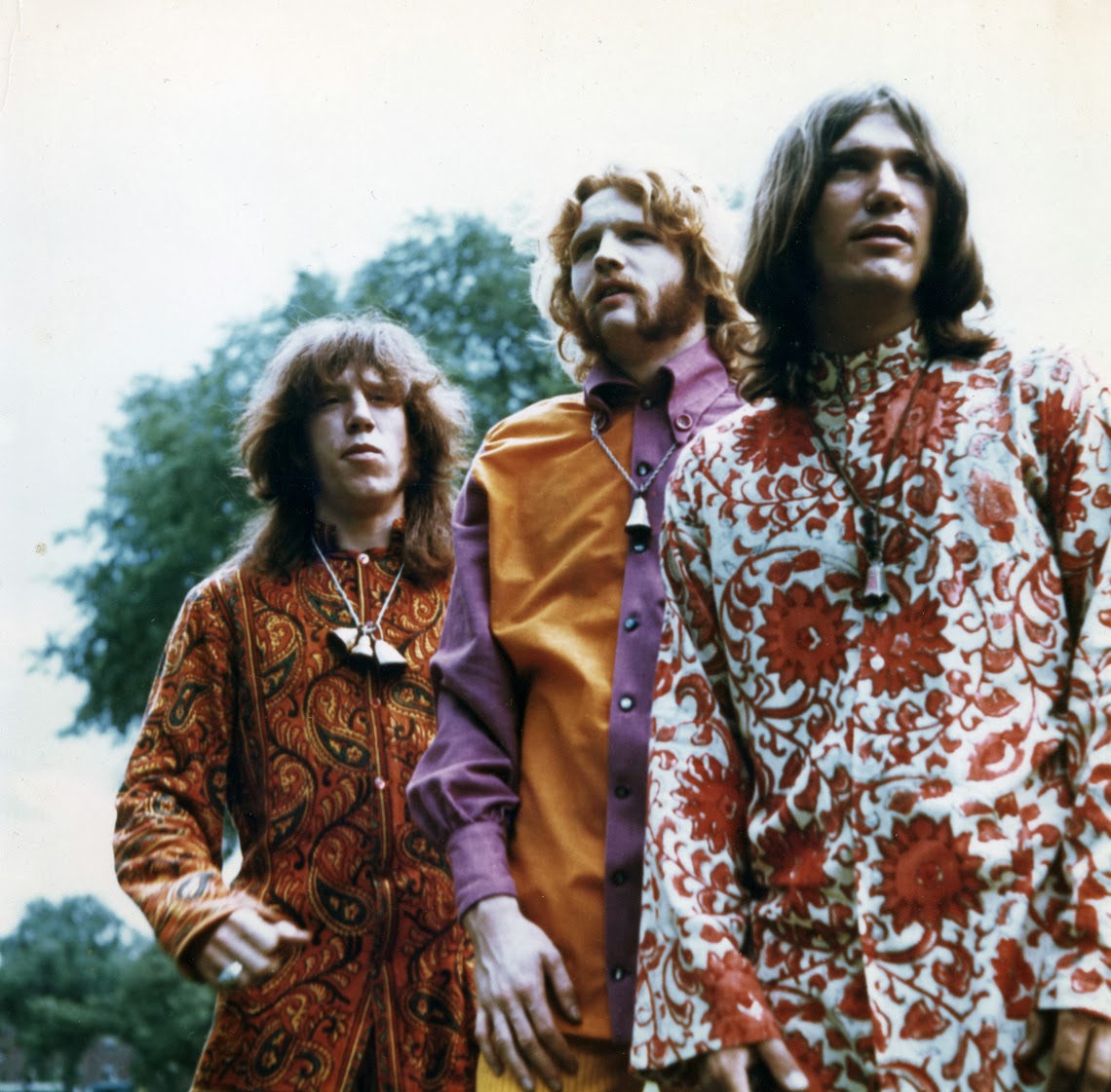 Were you still active?
Denny: Yes, I played in many different bands in the 1970's and into the 1980's and 1990's as well. I only quit playing for a few years, to raise a family, and I am still playing now and so is Lonnie Knight.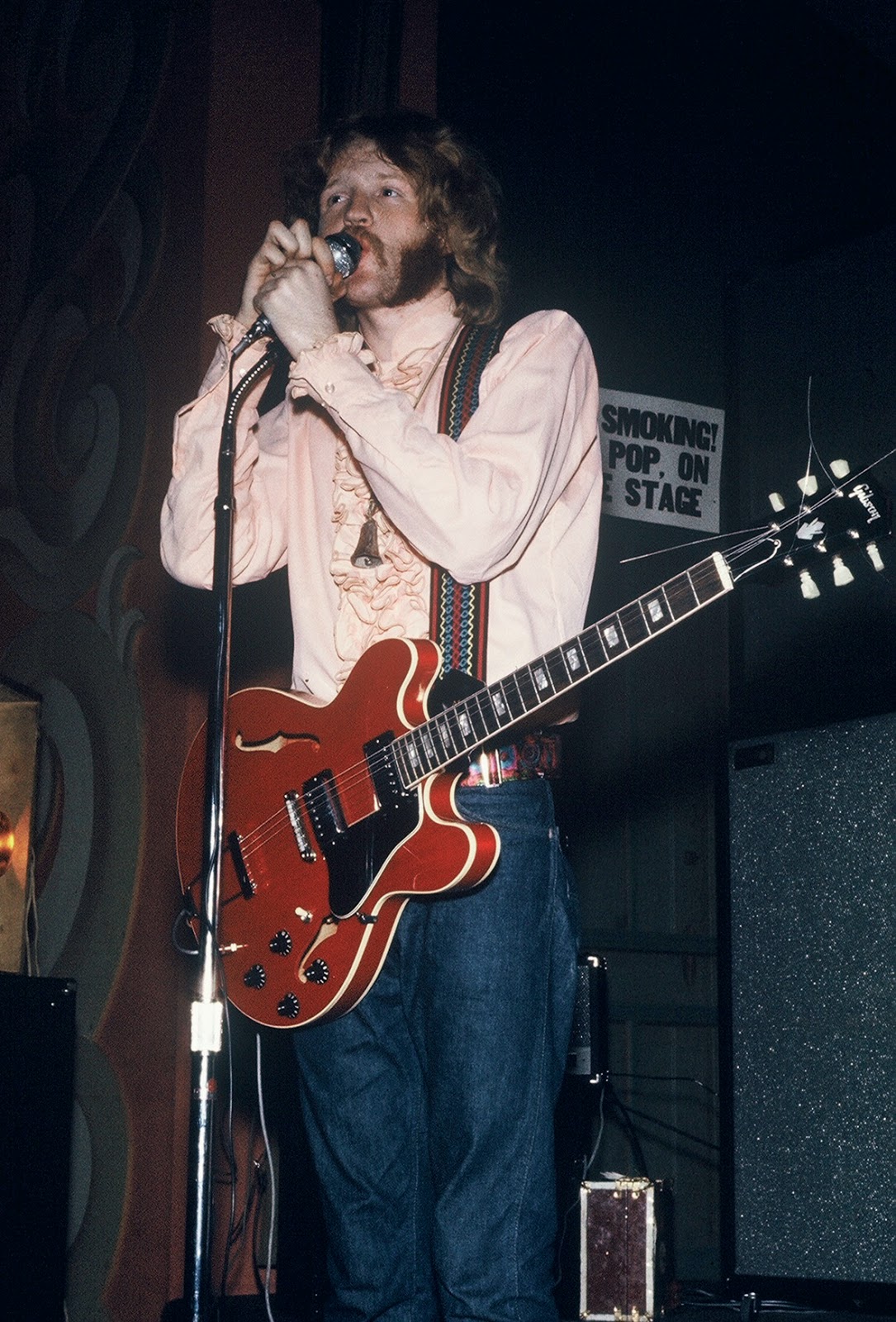 Lonnie: I have been active in the music business all my life. After Jokers Wild I worked for a number of years as a solo acoustic artist, releasing several albums, Family in the Wind in 1974 and Song For a City Mouse in 1975, both of which have been remastered and released on CD in Asia. I then worked with a number of different bands. I was staff guitarist at Sound 80 Recording Studio in Minneapolis. I worked as a songwriter and producer for Wrensong Publishing in Nashville, Tennessee.
I began recording my own material again in 2000, and have released several CDs:
Big Shoes (1999)
Cain's Blood (2001)
Better Days (2005)
I Wrote My Name on You (2007)
So We Jump (2010)
I am currently performing solo and with my new band Mosquito Shoals. We are in the early stages of recording a new CD. I recently returned from a concert tour in Japan with Don Nix.
More information is available here and here. Also see my and Mosquito Shoals' Facebook fanpages.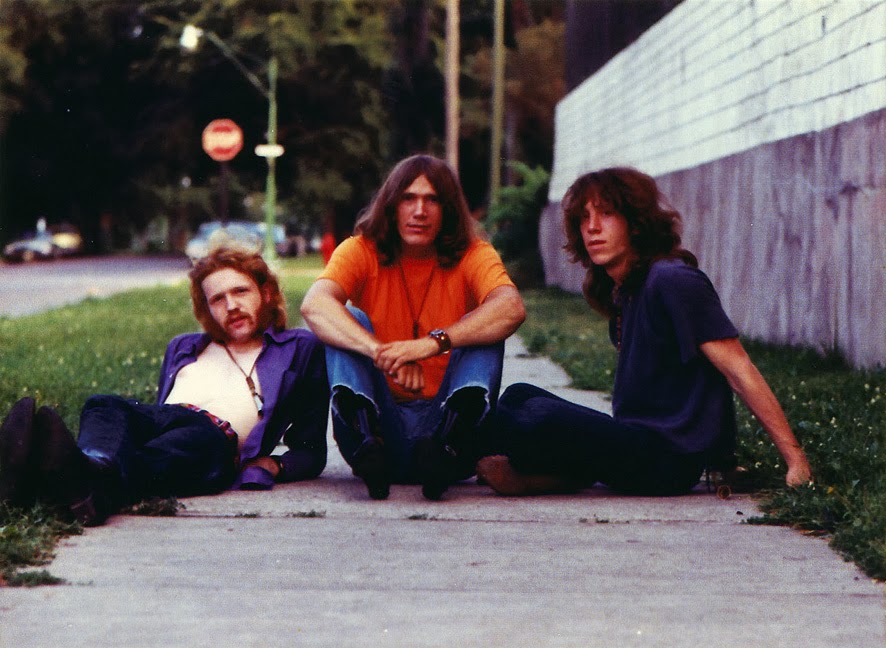 Thank you for taking your time. Last word is yours.
Denny: I am sure after this I will think of many things to say but for right now I want to say a million thanks for your interest in Jokers Wild and to our friends and fans. We are all very happy that Shadoks Music decided to put this new album out and use the name "Liquid Giraffe" which a fan of ours suggested as an album name way back in 1969 when we had a "name our album" contest. I would also like to say that I currently work on a website with local music historian Tom Campbell that documents the local Minnesota bands from 1955 to 1975. Her you can check the website. I am enjoying my new job as a music historian. God Bless to all. Denny Johnson.
Lonnie: Thanks!
– Klemen Breznikar