Vibravoid – 'The Politics of Ecstasy' (2012)
"The Politics Of Ecstasy" is a music masterpiece recorded by German psychedelic rock trio Vibravoid and released in 2008.
---
After five years, band releases re-mastered 2CD version of it. On the first CD, there is the full version of this album, enriched with some live and demo tracks, previously unreleased. Very rare album "Phasenvoid" found it's place on CD2. With these albums, band from Dusseldorf takes the listener to those places, where only good music can take to.
Journey starts with album-named title track "The Politics of Ecstasy" which slowly introduces the album atmosphere provided by modern sound inspired by classic, psychedelic rock music. "Doris Delay" gives a boost of energy and confidence, that represents band's innovativeness and modern approach to genre. However, retro sounding album and live versions of "Incense And Peppermints" brings the band back to the roots of psychedelic rock, making their music timeless. Dedicated to Joseph Beuys, famous German artist from their hometown Dusseldorf, song "Playing with Beuys" shows the band's contemporary views to their creativity. Demo and live versions are also available on this CD. Relaxing "Late As A Morning" which initially was released as the B-side of "Doris Delay" single, got its place as the bonus track on this re-issue. Album also contains of remarkable "Your Mind Is At Ease" that really acts as a remedy, encircling the atmosphere of ecstasy and proves that Vibravoid is one of the top European psychedelic rock bands of 21st century.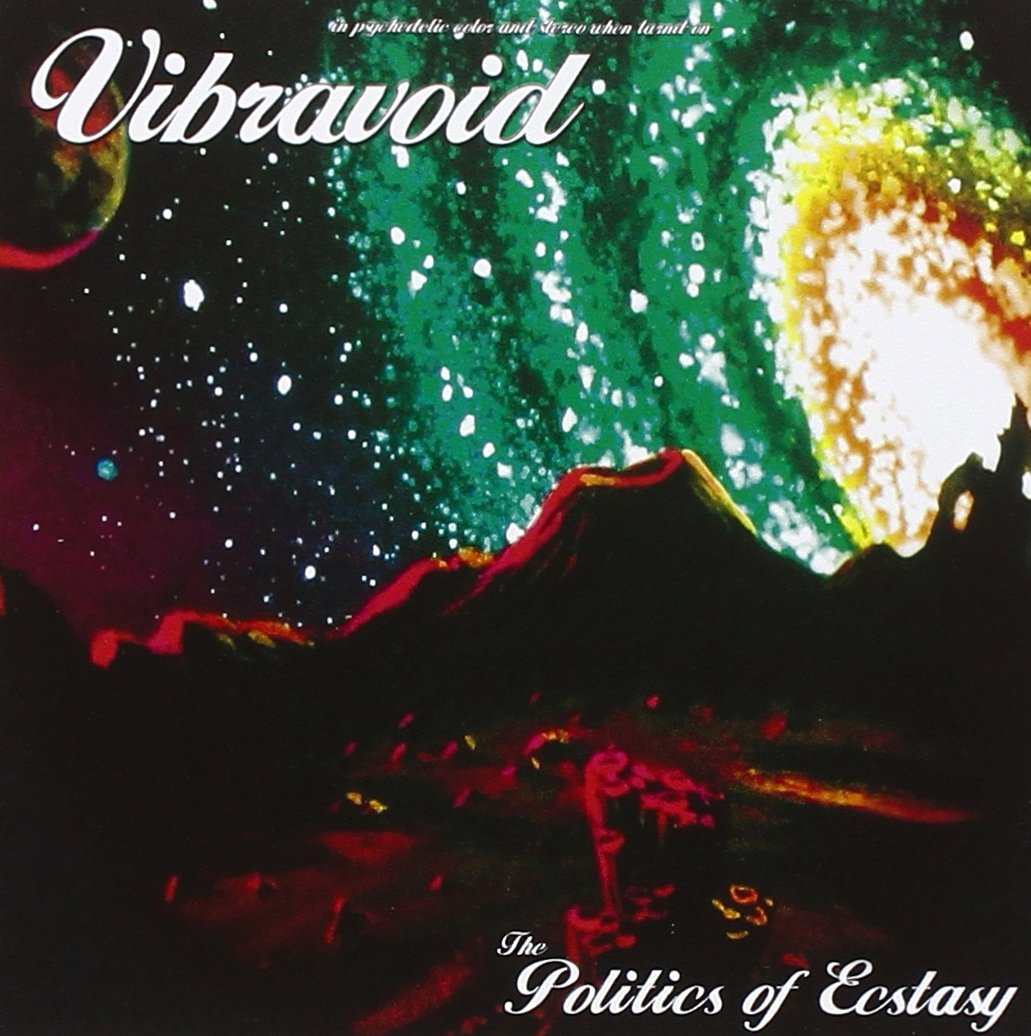 Second CD takes us back in time to 2003 when band released their ultra-rare album "Phasenvoid". Starting with "Void vibrato" and following with "Minddecision", "Bellflight" and "Microvoid", band rocks the minds off with these modern sounding, retro psychedelic tracks. Unique and phenomenal "Journey To the Center Of The Sun" – will definitely take you there! CD also contains two rare songs – "Meditation Endstation" and "Phasenvoid", as well as live versions of "Ballspeaker" and "Vivid Vision" from their first two albums – "2001" and "Void Vibration". Story ends with 30 minutes live version of previously unreleased, mind-blowing "Mother Sky" from Burg Herzberg Festival 2011.
This double CD release, reflects Vibravoid's musical creativity and brings back memories from good old days of sixties and seventies, when artists mixed their studio, demo and live tracks on the same edition in order to get the audience closer to the diversity of sound and manner of expression.
Two great albums with previously unreleased demo and live versions of their songs, all together mixed and mastered on analogue vintage equipment from the seventies, guarantee full pleasure to any psychedelic rock mind hungry for fantastic music journey.
– Andrija Babovic
---
Vibravoid's "The Politics of Ecstasy" re-mastered 2 CD edition (Stoned Karma Records)