Marvelous Kid | Interview | Incredible 70's Progressive Rock
Marvelous Kid was a Cornish band that played at the legendary Glastonbury festival in 1971. This incredible, but sadly unknown progressive rock band recorded quite a lot of material that will be finally released via the Seelie Court label.
---
Originally from St Austell, the band relocated to London where they experienced some lineup changes. 'After The Race,' recorded in 1973 with its complex structure, is for anyone into Caravan, Yes, Camel, and the likes. Marvelous Kid gigged extensively with bands like The Groundhogs, Barclay James Harvest, Fusion Orchestra and played Glastonbury, teetering on the edge of signing, In the end nothing was released. Seelie Court will be releasing  their studio session for a withdrawn 1973 LP. Pure seventies UK Prog with long tracks. The 'Immanuel's Manual,' also on Seelie Court was recorded in 1974 and is more in the style of 'Third' by Soft Machine. Members of the band were Steve Betts (lead vocals, keyboards), Tony Coxon (guitar), Paul Moon (drums), Nigel "Spike" Hooper (tenor sax and bass guitar). When they relocated from Cornwall to London members included, Steve Betts (lead vocals, keyboards), Tony Coxon (guitar), Paul Moon (drums), with addition of Frank Artés (bass and vocals), Ivor Carroll (tenor sax and alto sax, flute), Pete Davey (tenor and alto sax, flute).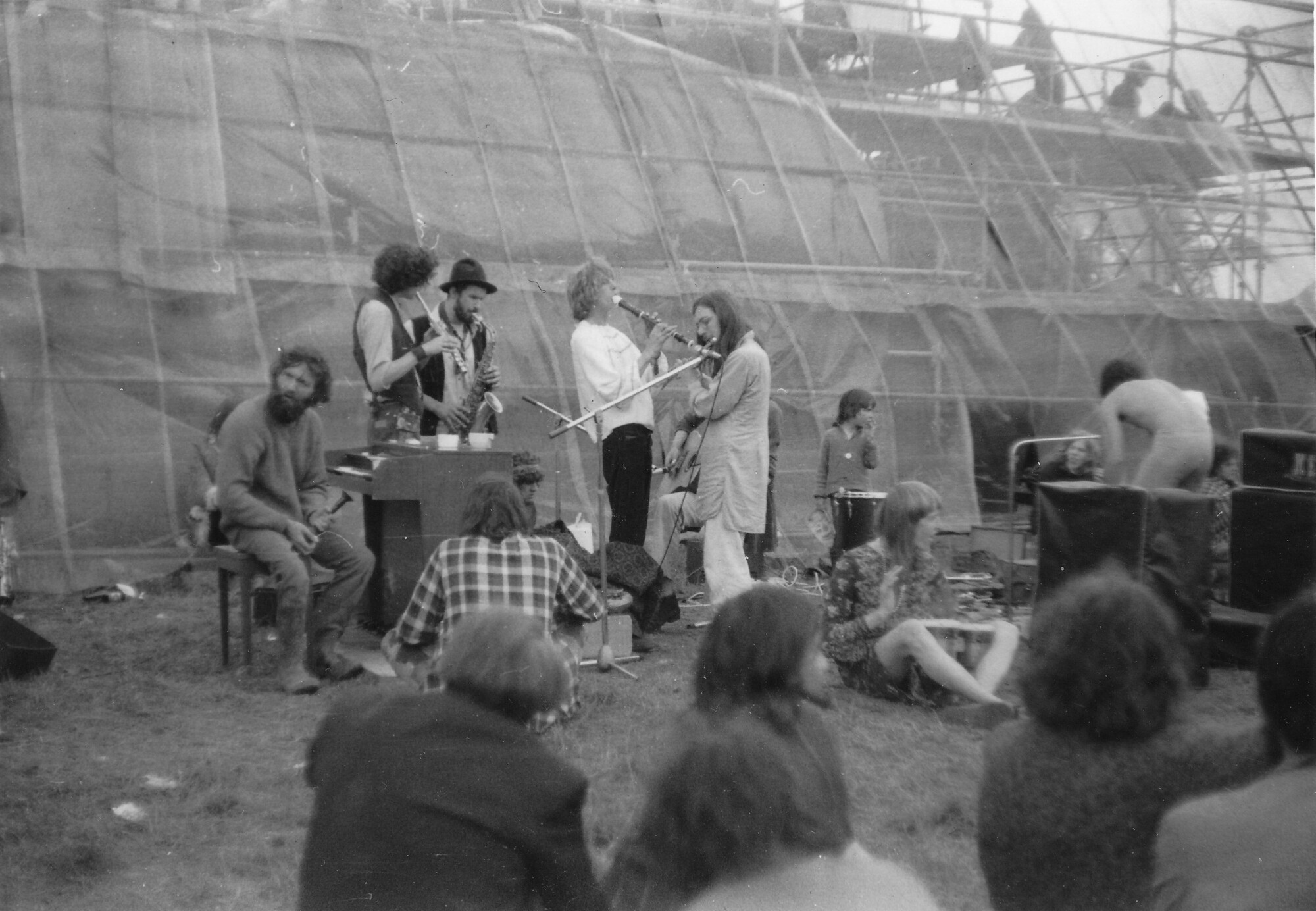 "Our combination and variety of instruments resulted in a sound of our own"
Where and when did you grow up? Was music a big part of your family life? Did the local music scene influence you or inspire you to play music?
Tony Coxon: The original band, Paul Moon and Steve Betts and I, grew up in St Austell and Par in Cornwall which is the most south-western county in England. Our childhood and teenage years in Cornwall with its beautiful and rugged landscapes, the sea never far away, moors, so much history. Over the years Cornwall has become better known and attracts worldwide visitors the whole year whereas in our day it was quiet and rather bleak throughout the winter and only busy during the summer school holidays. Marvelous Kid certainly has its roots in Cornwall and I've always thought of it as a Cornish band. Music was a part of family life though not in a big way. My older sister and brother were listening to Elvis Presley, Bill Haley, Cliff Richard et cetera and at one point they were given a red Dansette record player and I was fascinated by the few LPs and 45's they bought – ah the smell of vinyl… My dad even had some old 78s. Later I remember listening to Radio Luxembourg and the pirate radio stations (The Radio Caroline ) on a small transistor radio hiding beneath the bed covers at night, and occasionally buying a 45 or EP myself. In my last year at primary school I was charged with choosing records to play at the morning school assembly. The records were all classical and I discovered much I really liked. Fingal's Cave was a firm favourite and there was Mozart, Holst et cetera. This fostered a love of classical music. In the 60s there was a thriving rock music scene throughout Cornwall and that definitely drew me in to playing with friends in my first band whilst we were still at school. It was exciting to put together instrumentals/songs and then start performing and be part of that music scene. I would have been about 13 years old (early 60s) when that started and that part lasted until leaving school in 1967. Richard Prest has documented most of the Cornish bands of that era on his online site.
Steve Betts: I was born in St Austell, Cornwall. Yep, music was part of my family. My father played harmonica, piano and guitar, he also sang and wrote poems and songs. His brother played piano and Hammond organ. My grandfather and great aunt played the piano as well. They came from the East End originally and most of the family still lived in London. At Christmas they would all visit us in Cornwall and blow our brains out with massive sing songs. My mother could also play the piano, but I didn't and I was having lessons. I would be asked to play but I wouldn't do so until everyone was absolutely quiet. Attitude. Had it then, have it now. The local scene didn't influence me at first. Age 9 – 11 I was riveted by Johann Strauss waltzes. The sun rose and set in 3/4 time. I tried learning Georgie Fame's 'Getaway' once, but the music was a bitter disappointment compared to what I was hearing on the record, which was brass doing a variation on James Brown's 'Papa's Got a Brand New Bag' (high trumpet then vertiginous drop to low baritone sax. I still love that shock). However, when I was eleven, I went to a friend's house and met his older brother, the late Chris Davis, who was in a back room playing Memphis Slim style piano. Unbelievable. The piano was rocking backwards and forwards – and the volume… I went home and started trying to do the same thing, gave up lessons and broke four bass strings on the piano in the space of a week.
Paul Moon: The original line up of the band, Steve Betts, Tony Coxon and myself grew up in the St Austell area of Cornwall, the principal "town" for the China Clay mining industry which dominated at the time in the 50's and 60's. The area didn't really benefit from the success of the China Clay industry. It was not the most sophisticated of regions, in fact a bit of a cultural desert. And certainly not a mecca for contemporary music. How romantic people are about Cornwall now in the 21st century. Music was not a big part of my family life, however my maternal grandfather played clarinet and banjo by ear and my mother liked music. There was a piano in the house (probably not in tune). My mother played it a bit. Lessons were attempted, I recall my younger sister did fairly well but not me. There would be singing songs et cetera. I recall being taken with the banjo, to me it seemed like a drum with some strings on it. So when I had a chance I would knock out some rhythms on it, this would lead me towards drums. I had two sisters who were into the early pop stuff, so there was music around. It would have been my grandfather that encouraged me with playing the trumpet though. One memory was an uncle and aunt had a huge radiogram, which had big speakers and a tone control! Wow! It had bass! What records I did have sounded really good. It was the 60's and my parents were hiding to nothing! Not really, it was radio mainly, top 40 et cetera. I was inspired by the early 1960's pop and blues. I had this desire to find out how it all worked and how to play it with a few like minded friends. It was very exciting. The sheer electricity and energy of it all was quite intoxicating – not that I knew what that meant back then.
Frank Artés: I was born in Jersey, the largest of the Channel Islands. When I was about 8 years old my family moved to Exeter in Devon, in the southwest of England. We always had music playing at home, mostly popular music on the radio and my sister playing 45s on her red and cream-coloured Dansette portable record player. Sometimes on a Sunday afternoon my parents would play various albums and old 78 rpm discs. My father was Spanish and had a number of Spanish records. I remember some of the artists, Los Paraguayos, one of his favourite bands from Latin America and a Mexican band called Trio Los Panchos. I loved the percussion and the three-part harmonies on those recordings. The guitar playing was mostly chording with not a lot of soloing if I recall. As a consequence, I have always loved Latin-influenced music because of the various rhythms and I think that is what drew me to playing bass. My mother on the other hand was a big Jim Reeves fan. No one else in the family was, thankfully. Local scene? No, not really. By the time I was aware of the local music scene I was already playing the guitar.
When did you begin playing music? What was your first instrument? Who were your major influences?
Tony Coxon: I was 12 years old. The sound of a nylon string Spanish guitar originally captivated me and from a first encounter with that sound I knew that was what I wanted to play. I pestered my parents I suspect, and they bought me a 3/4 size Russian made Spanish guitar at Christmas and enrolled me on weekly 1-2-1 lessons with the local guitar teacher in St Austell. I only knew of two teachers in Cornwall so I was fortunate to find one locally. I believe he had led his own band and performed on the radio during the war years. He was very supportive and by the end of that year had persuaded my parents to invest in a more expensive Vicente Tatay instrument. In those days there wasn't a lot of choice but the Tatay was a good instrument. This was no casual affair, more an obsession. I played every spare moment, before going to school, at lunchtimes if I came home and devoured everything my teacher gave me. As far as electric guitar was concerned, that came only a little later and my first was something hand-made, looked a bit like a Fender but weighed a ton and was a nightmare for the left hand. I soon changed it for a Burns which I played until 1967. Looking back I realised how supportive my parents were in helping to finance this initially. Major influences? As far as Spanish guitar was concerned it was Laurindo Almeida, a Brazilian guitarist. I had been allowed to choose one guitar record (what a different world) and this was one suggestion from my teacher – 'Guitar Music of Spain'. His tone and phrasing seems so different to other players at that time that I managed to hear, and I still love that album today. In fact, I have three vinyl copies and one on CD! On electric guitar at first I just focused on learning the tunes of our schoolboy band and I played rhythm not lead guitar. Later, around 1969, I was playing lead and an initial influence would have been Eric Clapton, but I always listened to as much as possible and influences came and went. I loved Peter Green, Peter Banks – the first guitarist of Yes. I was also bowled over by Robert Fripp and King Crimson, also Terry Kath (Chicago), Frank Zappa, John McLaughlin – influences come and often go – I always have listened out for anyone that connects emotionally whatever type of music it might be – rock, jazz, blues, classical, flamenco, Brazilian – its all music.
Steve Betts: I pretended the table was a church organ when I was four. My first instrument was piano. At various times between 1969 and 1975: Memphis Slim, Keith Emerson of The Nice, Stevie Winwood, Al Kooper, Mike Ratledge, Terry Riley, Pete Townshend of The Who, Frank Zappa, Yes – 'Time and a Word,' 'The Yes Album,' Beethoven 3rd Symphony, Mozart Linz and Prague Symphonies, John McLaughlin, Cecil Taylor, Charles Ives, Spike Jones and His City Slickers, Greg Rolie, Stevie Wonder, Joni Mitchell's piano playing, John Cale ('Paris 1919') Kevin Ayers  with his 'The Confessions of Dr. Dream and Other Stories' and so on.
Paul Moon: I played some violin and trumpet at school, fooling myself that it was a way of avoiding maths and science. However it did enlighten me about music and made me explore. I acquired my first drum kit at about 15 years old, 1964.Well a bass drum and snare drum from a marching band, no hi hat, just one cymbal that was very dustbin lid-esque, and cobbled together some pedals and stands, anyway, I quite quickly was able to play some basic patterns, scrambled together a hi hat, and got down to it. The neighbours were thrilled! My initial influences would have been The Rolling Stones, The Kinks, The Yardbirds, The Animals et cetera and later The Who. This is what I wanted to do! Violin and trumpet! Are you kidding! A guy whose name I can't remember taught me triplets, that would be the only event that constituted tuition, I admit my triplets are my best rudiment. I was drawn to what seemed rebellious at the time. In the area in this period there were very few venues where you could hear live music of any kind. They were known as "Dances" but nobody danced, girls on one side of a bleak hall and boys on the other and then later a fight! But there were some bands playing rhythm and blues, rock 'n' roll, even some soul/Tamla et cetera, but you had to be on the case to know when and where. These bands always seemed like the real thing to me and I was in total awe (In reality they were ok). As I eventually ended up playing with these guys, Spike Hooper, Mike Grose, Will Coombe, Ian Davis, Tony Bond (?). No 1. criteria, "Did you have a kit? Yes.. you're on. Practice on Tuesday, 7pm Trethurgy village Hall. "And by the way Paul, don't be fucking late."
Frank Artés: My father had an acoustic guitar for many years, but he never learned to play it. He would often entertain us wandering around the garden singing in Spanish and pretending to play his guitar. I started playing it when I was about 12 years old. My brother was given an acoustic guitar at about the same time and together we took guitar lessons at school. We started writing our own songs in our early teenage years and with my brother on electric guitar and me on bass we formed a group which enabled us to play at the local youth clubs in our hometown, Exeter.
My first instrument was an acoustic guitar. Like most teenagers I was listening to all the popular British bands at that time. When I first started playing bass I loved Paul McCartney's tuneful playing in The Beatles. I tried using a pick like him, but I didn't like it and felt much more comfortable plucking with my fingers. Motown was a big influence too. I didn't know it at the time but it was session bassist James Jamerson who was the dude laying down those grooves. Of course The Rolling Stones, The Who, The Kinks…, et cetera, were favourites and we'd play their songs at those youth club dances. However, by my late teens and early twenties I was listening to a whole different bag. Wishbone Ash, Yes (with Chris Squire), Pink Floyd, Focus, King Crimson, Return to Forever (with Stanley Clarke), Weather Report (with Alphonso Johnson) and Frank Zappa were high on my list of influences.
What bands were you a member of prior to the formation of Marvelous Kid?
Tony Coxon: I started with two school friends with The Intruders at the age of 13. Although we were young we soon graduated from playing local youth clubs to playing gigs all over Cornwall and into Devon. Early on we changed our name and became The Dissatisfied. I was playing rhythm guitar and harmonica. We followed musical trends and played The Rolling Stones and R&B, then the "mod" music of The Kinks, The Small Faces et cetera, even a soul phase with an augmented band to include a brass section. When I finished A levels in 1967 it seemed like the end of an era, but I had a great grounding and experience in playing in a working band. At that time I assumed it was the end for me of playing in bands. However, being in London at college from 1967 to 1968 and beyond exposed me to some incredible music and musicians – from memory, Christine Perfect, Stan Webb's Chicken Shack, Ten Years After, Arthur Brown, John Mayall & the Bluesbreakers with Mick Taylor on guitar, Freddie King, Atomic Rooster, Pink Floyd…it was a pretty amazing time. Over Christmas 1968 I was in Cornwall and was asked to play some gigs with Jason's Mind – this was my first time I played with Paul Moon. The bass player was Mike Grose, the keyboard player was Dave Bassett (from The Intruders/ The Dissatisfied). Their guitarist, Ben Marshall, had had a car accident and was unable to play. Mike lent me some albums and I had to quickly learn a ton of songs, We played Blue Lagoon at Newquay, Falmouth Art School that I recall. It must have been ok, but I was back in London after the New Year. By Easter 1969 I was back in Cornwall. Jason's Mind had finished, something to do with being pelted with snowballs at a gig. Once again, Mike Grose came around to see me and so I took up lead guitar with a new band called Bent Cement. This is how I came to play for the second time with Paul. The singer was Phil Bassett, the elder brother of Dave Bassett, my close friend who had played drums, then organ in The Intruders / The Dissatisfied and Jason's Mind. At that time I had no electric guitar or amp. I bought a 1967 Fender Telecaster, Marshall 100w amp and 4 x 4 cabinet from Mike and set about learning songs and playing lead. We were loud and attracted the right sort of audience and got a reasonable amount of followers. Later in the year Mike and myself were "lured" into setting up a new band in London with ex-Dissatisfied drummer Steve Allen and a singer from Okehampton, Allan Curtis. The idea was to get to Hamburg – that never happened and we were back once again at Xmas – hungry and broke.
Steve Betts: Ardsley Waxwing, School Band – Tom Royle, Richard Hubbard, Geoff Wilton, Roger Langmaid, Mark Wright, Robert Bacon and Richard Larsen (Sound and PA system construction). (There you go chaps, now don't say I never mention you.)
Paul Moon: One of my first bands was Jason's Mind. Ben Marshall on guitar, Mike Grose on bass, Dave Bassett on keyboards and vocals and myself on drums. We were playing covers of what we thought was cool at the time, possibly leaning towards blues and psychedelic rock. We did play quite a few gigs, Tony, guitar player of Marvellous Kid played with this band for a short while. When eventually Jason's Mind had run its course, from the ashes of Jason's Mind came Bent Cement. Bent Cement featured Tony Coxon on guitar, Mike Grose, on bass, and myself, and a singer called Phil Bassett, Dave's brother playing predominantly Cream, Free, John Mayall and rocky blues music. We were quite popular and considered to be of the moment, and played regularly. My memory is a bit hazy here but I recall the bass player leaving to pursue opportunities in London, it may have even been with a band called Smile, later to become Queen. (another story). It was Bent Cement that Steve saw and we later discovered that he was impressed. Tony and I were not aware of this at the time. Tony also left Bent Cement to pursue a band in London. So, ended Bent Cement. I don't recall what I actually did then… But we were of the mindset that you had to be playing in a band! Dangerous Age? Not sure. Tony's venture to London didn't work out and he returned to Cornwall. We had of course stayed in touch and we decided to form another band. So, we needed a bass player/singer/keyboard player. Easy then… In the next section, Tony is going to relay the formation of the first incarnation of Marvelous Kid.
Frank Artés: There was a very active music scene in and around Exeter during the 1960s and early 70s. A lot of local bands were signed to a booking agency called Starline Entertainments, which would provide them with regular gigs on a Saturday night. Most of the gigs were dances held in local community halls in small towns and villages in Devon and the adjoining counties of Cornwall and Somerset. My first decent band was called The Inner Light with my brother on guitar, me on bass, a keyboard player, and a drummer. We signed with that agency and played on a regular basis. That band lasted about a year after which I joined a new band called Prudence. That band auditioned with an agency based in the north of England that supplied live music to the American military bases in Germany. For the successful bands it meant a three-month contract. From what I can remember the bands would spend two weeks at a base before moving onto the next one. It was a circuit. Unfortunately, we didn't pass the audition because by that time the music we were playing was "not commercial enough," they said. Plus, they really wanted a female vocalist fronting the band, which we did not have. The band Prudence did a recording session at one of the EMI studios located on the Edgware Road in London. This was during the summer of 1971. It was just a day in the studio to record a couple of songs to be used as promotional material. The songs were a cover of Neil Young's 'Ohio' and the song 'Towards the Sky' by a band called The Gods, who later became Uriah Heap. I still have a copy of that 45 rpm demo-disc. Just before I joined Marvelous Kid I was in a four-piece band called Opus. The drummer and guitarist had recently returned from Germany, playing the US military bases with another band. We played straight-up hard rock and did one gig at the Barnfield Theatre in Exeter before I decided to leave. I was looking for something more interesting and experimental.
Can you elaborate on the formation of Marvelous Kid?
Tony Coxon: When Mike Grose and I came back to Cornwall around Christmas 1969, Mike was contacted by Roger Taylor to audition for Smile (who soon became Queen). That's another story and has been documented by Rupert White in his book Queen in Cornwall for which I and several others of that era were interviewed. There are also photos of Marvelous Kid in this book taken at PJs, a club in Truro where Smile/Queen played and Freddy Mercury played a piano which is clearly seen in our photos.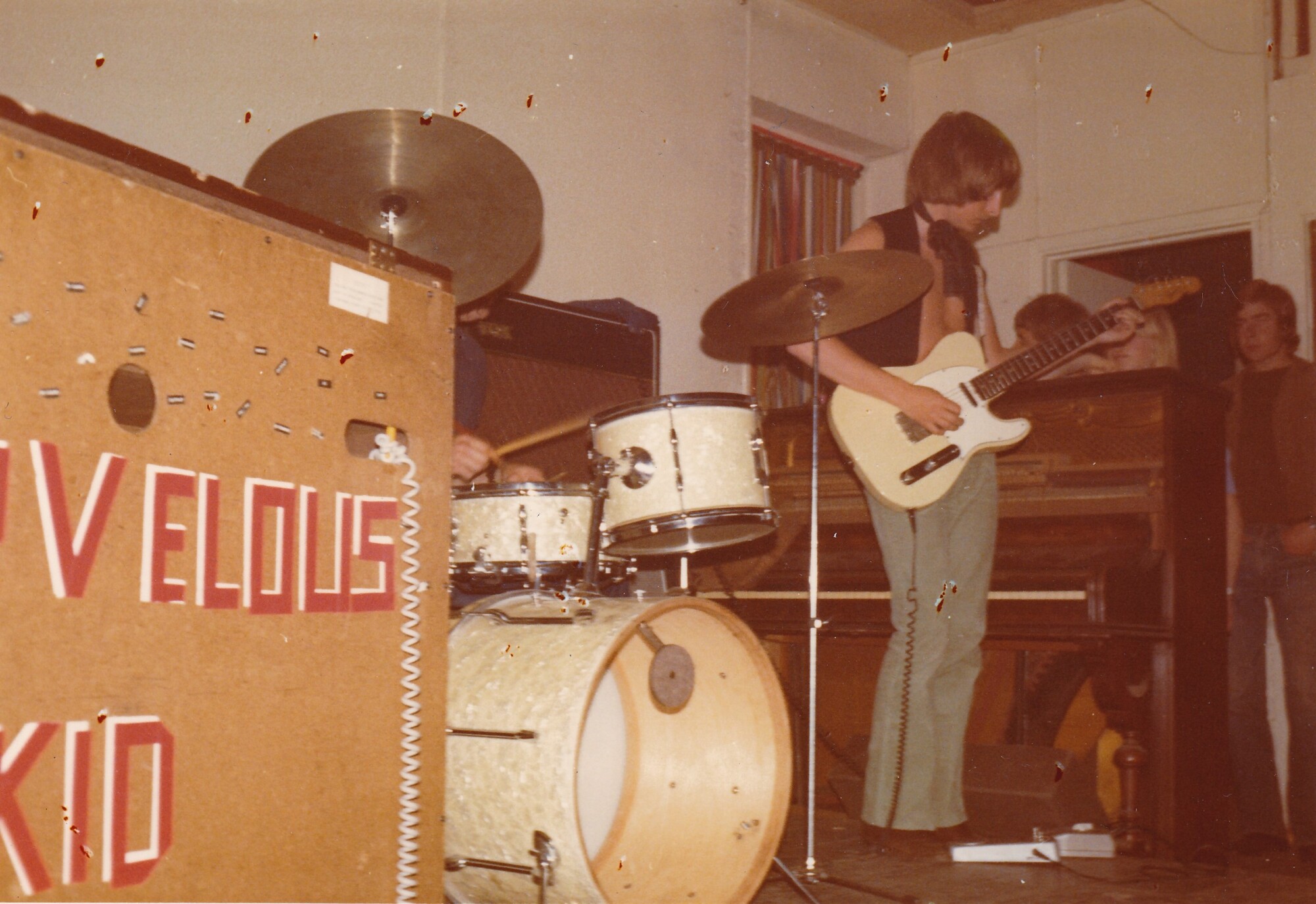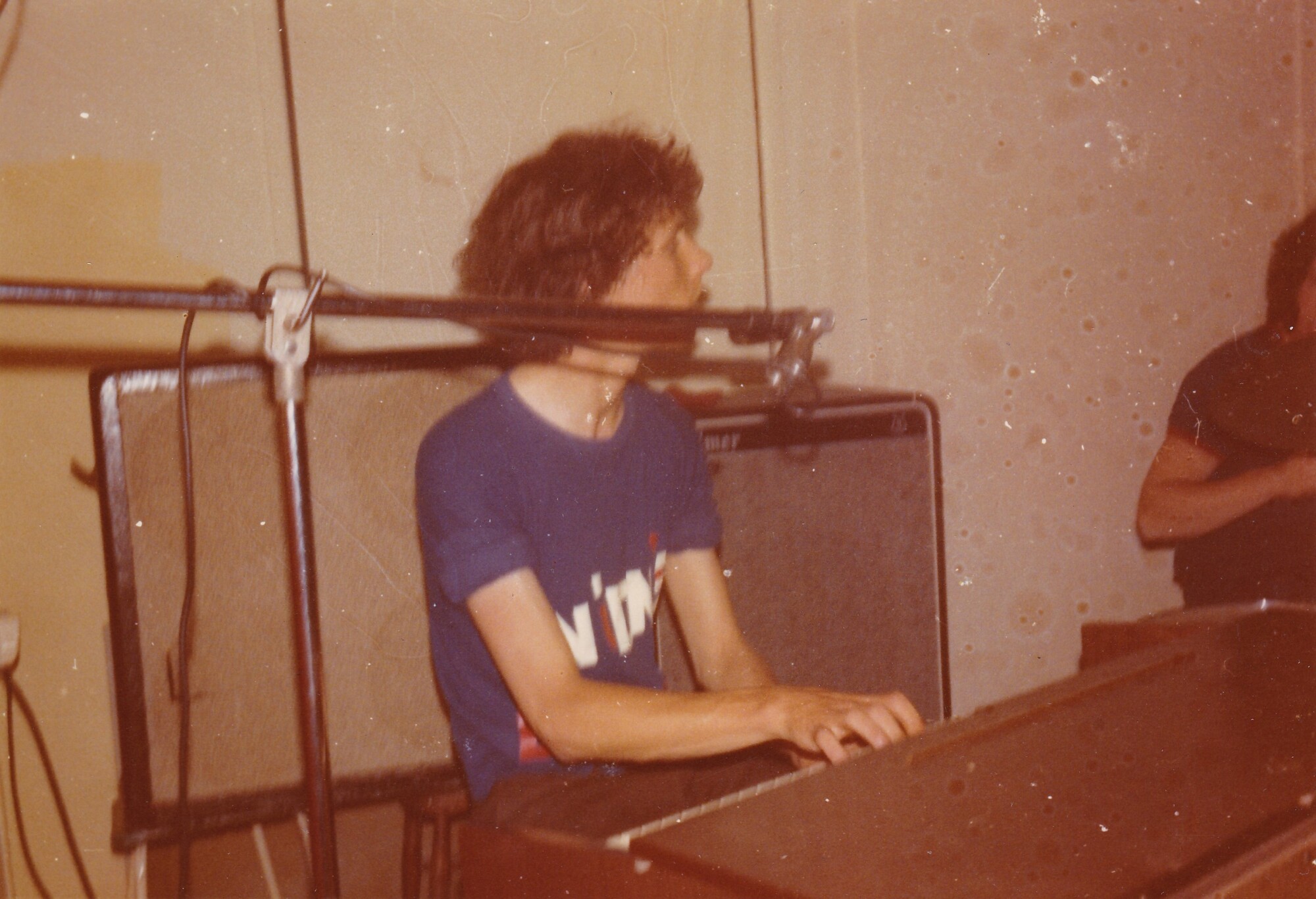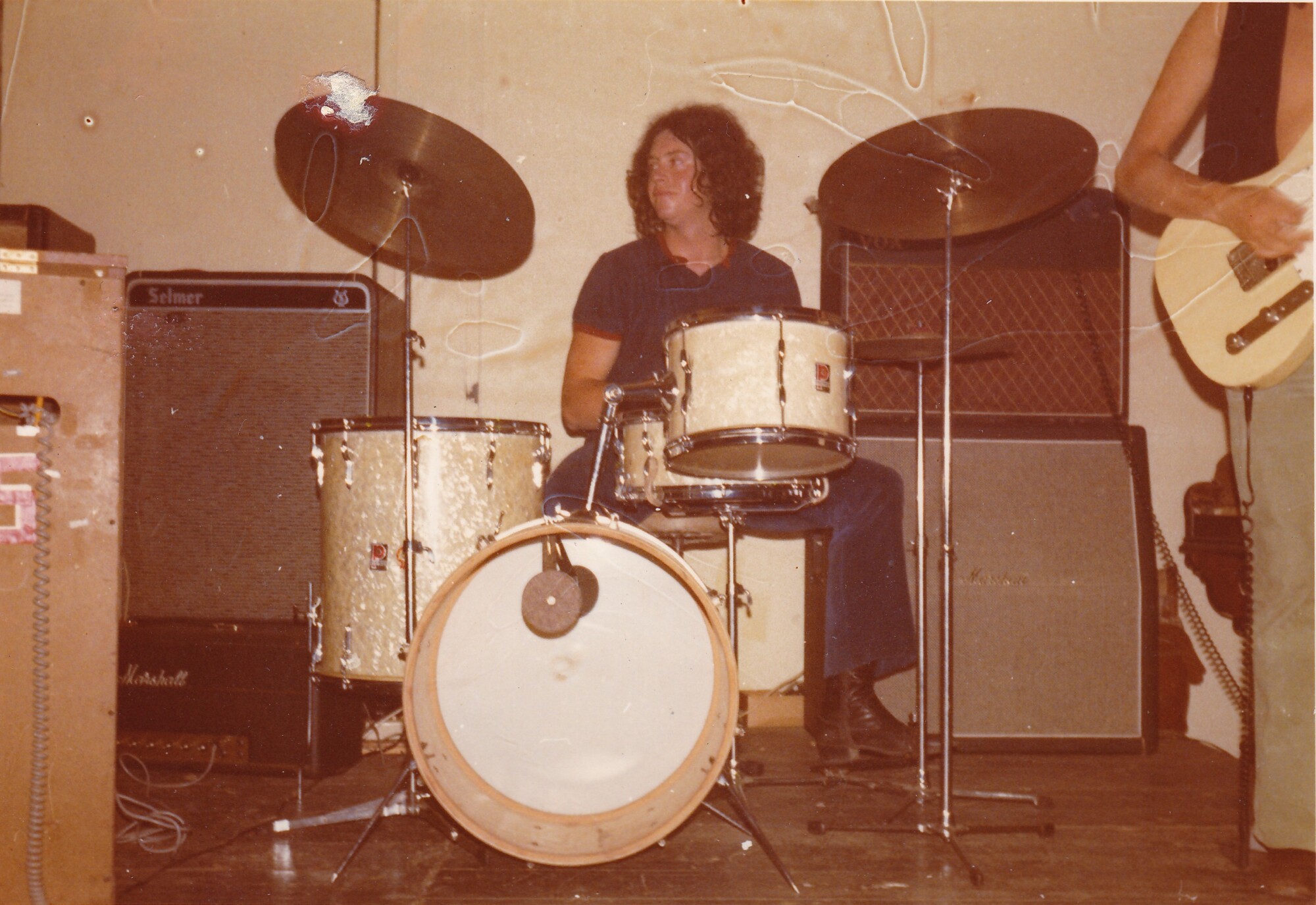 Paul came to see me and we discussed trying to put a new band together. Mike was unavailable now of course so we were looking for a bass player, plus singer plus keyboards and advertised locally for a while. We didn't find a bass player, but we did find Steve Betts who at that time was studying for A levels. He had seen Bent Cement the previous year and the three of us clicked. Steve had a Thomas organ, kept in his bedroom in his parent's bungalow not too far from me in St Austell. He sang and could use the bass pedals on the organ so we forgot about trying to find a bass player. We quickly worked up songs rehearsing in Steve's bedroom. So originally we were a trio though later Spike Hooper joined on tenor sax and bass, Spike was a little older and an amazing jazz musician, sax and guitar. The addition of sax changed the sound and possibilities. We stayed as a quartet until we took the band to London in 1973 when, as Spike was unable to leave, we added Frank on bass and Ivor Carroll from Dublin on sax and flute. After we were in London we parted company with Ivor and Pete Davey joined to replace him.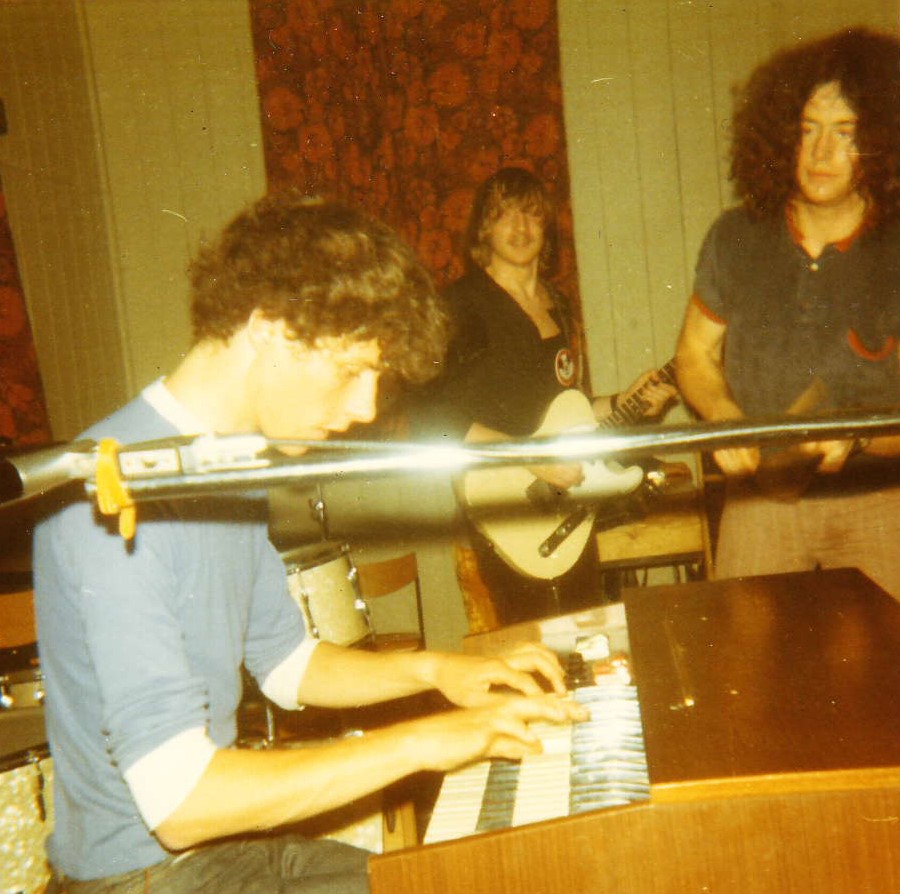 Steve Betts: I was 17. I'd not long been to my first proper gig, The Nice in Bristol, and had once again demolished the piano at home. I was in Mevagissey, a fishing village, for the Feast week and a band called Bent Cement were playing 'I'm So Glad' on the quay – singer, bass player, guitar and drums. They were really loud, especially the guitarist, who was also frighteningly good -I mean like, "Who is that guy?" good. Suddenly there was a power cut leaving the drummer playing on his own; a delicate shuffling beat, almost like funk, a sliding stick roll on the snare drum and a ride cymbal raining over the top. He looked around for a bit and then the power came back. They carried on playing from where they'd stopped. Really fucking loud. A few weeks later there was an ad for a keyboard player/vocalist in the local paper and I screwed up the courage to answer. It was Paul Moon, the drummer and Tony Coxon, the guitarist, of Bent Cement. I felt like I was joining Cream. Later Spike Hooper joined the band – I couldn't believe that either. He was a genius, perfect pitch, could spell out jazz chords, he had a Guild electric guitar and sounded like Wes Montgomery. He played sax and bass and could also make a noise like the klaxon on a submarine when it dived. He used to smoke roll ups, stand on one leg, tree position yoga, and exhale like a steam train. I was fascinated by a trombone solo on Chicago's first album at the time so I bought a trombone from a kid at my school and worked out a few of the notes. Spike wrote out all the brass parts by ear and we played the song at a gig with his other band, The Soul Society. Later he was in a band called The Shades. Absolute rock and roll. He moved around like Chuck Berry and I realised that rock rhythms nudge the body in different ways, depending on what era you're listening to. He had a wife and two daughters and when he couldn't move to London with us we had to find another sax player. It was a great loss. We decided to look for Dick Heckstall-Smith. It was quite studied in a way, almost as though we were fitting into a mould. We found Ivor Carroll, who was from a full on jazz background. It was a tough fit, compounded by me not understanding that just because Dick Heckstall-Smith was in Colosseum it didn't mean he was a rock musician, but he made what he could of my unbending sax lines and took flight as soon as he got anywhere near a flute solo. Pete Davey was closer to the model image wise – he played through a mouthpiece mic into a Watkins Copicat for a start- and he'd already released an album with a band of his own called Ben. I think he'd also gotten near Blodwyn Pig or Patto At some point. He wrote 'Ants' though, which was jazz – to be honest. We did play one gig without a sax player in between Ivor and Pete – there's a photo of the four of us outside Weybridge Technical College sitting on the gear.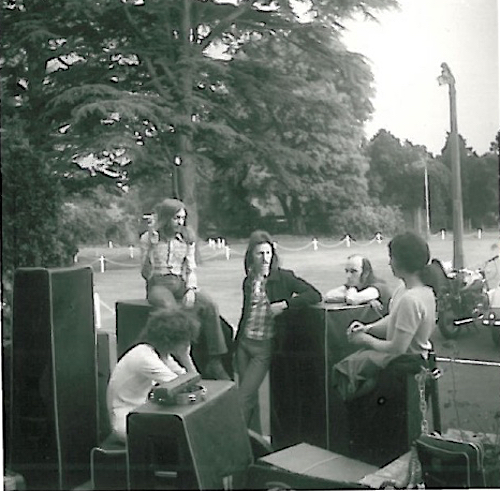 I did think that maybe we should have carried on like that, but the pull of Dick was too strong… The best was when Frank Artés joined for the third incarnation of Marvelous Kid. Paul Moon put an advert in a paper somewhere and we had two replies; one from a guy who was good but safe and the other from Frank. He was a real surprise. Very cool, had a Telecaster bass – never seen one of those before – and played with this real relaxed style. Totally open to ideas, inventive and happy to move to the cottage in the country to get it together. It was extraordinary. This was someone from outside our sphere, a complete stranger, and he was into what we were doing. It was at that point that I realised we were going to be a real band, live in London and have a crack at the bigtime. I suddenly felt all the trepidation and excitement of committing to the adventure that was going to be my life. And what I really love about it is that although it didn't pan out for Marvelous Kid, once we'd set off, the four of us never looked back.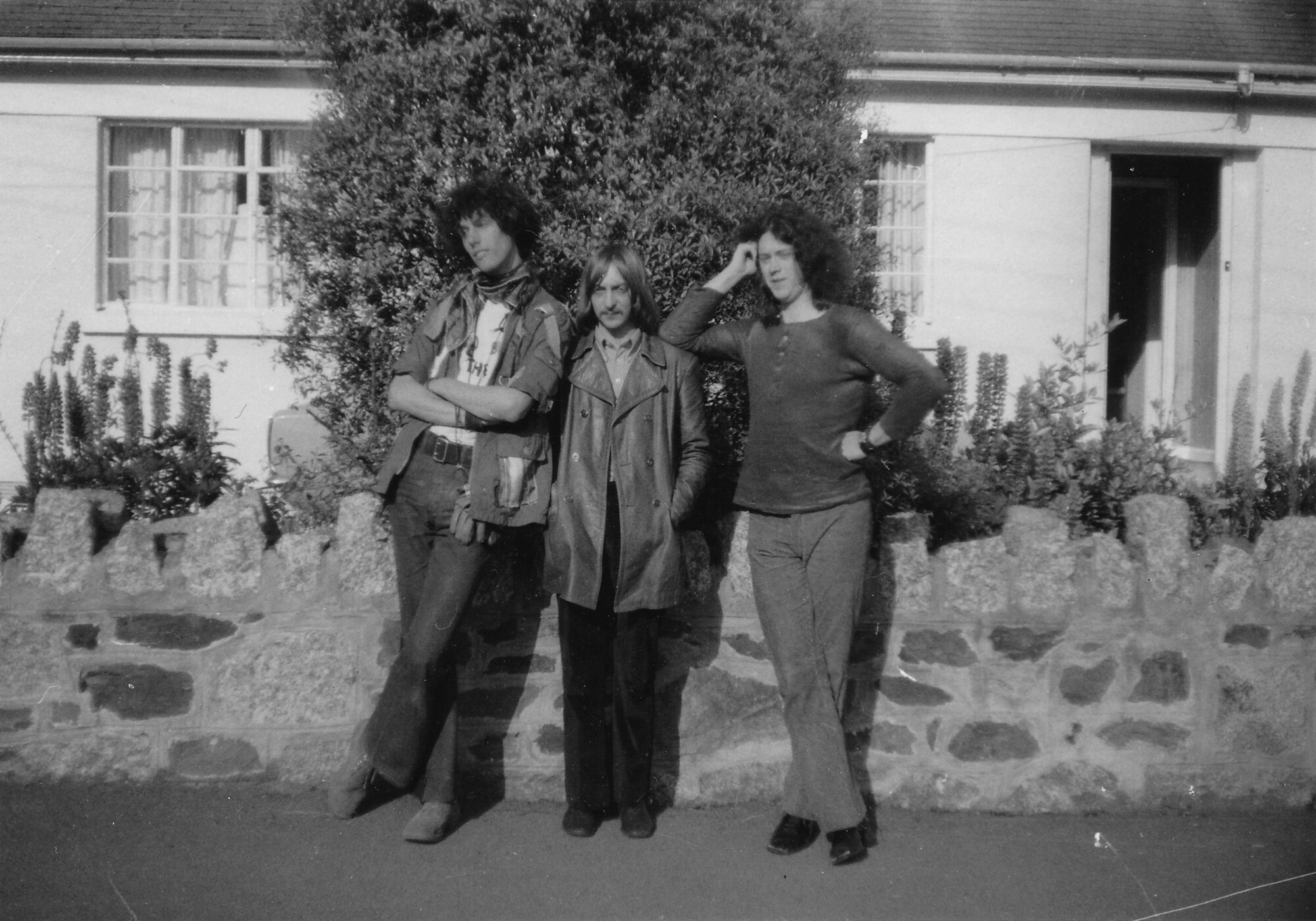 Frank Artés: I joined Marvelous Kid after responding to an ad for a saxophonist and a bass player that I had seen in Melody Maker, one of the national music papers. Carrying just my bass, I travelled down to Lostwithiel in Cornwall by train from Exeter and Paul Moon met me at the station. The audition took place in a cottage where Paul was living at the time and all the gear was set up in a room at the back of the cottage. I spent the whole weekend hanging out, it was great. I was really taken with the original compositions Tony and Steve had written. No three-chord heavy rock shite here, I thought. As a trio they were tight and confident in their playing and I said to myself, "man, this is the band for me." I can't remember if Ivor, the sax player who had also answered the ad, was at the audition at the same time but he may well have been. However, at the end of the weekend they said "Frankie, do you want to join the band?" Although not a big John Denver fan, I started singing "All my bags are packed, I'm ready to go", and two weeks later I moved into the cottage.
"I jumped off the stage and used an axe to smash up the wooden frame of a piano with a French Flag draped across it"
When and where did Marvelous Kid play their first gig? Do you remember the first song the band played? How was the band accepted by the audience?
Paul Moon: Steve and Tony please expand and decorate. Early songs et cetera. Sixth form social, St Austell Grammar school? 1970?… Gallants club Fowey? Fowey Holiday Village? Not sure. The audience was mainly friends of course, many of which were buzzing in the same way we were, because it was fun!
Tony Coxon: The very first gig was really a trial at a local holiday camp near Fowey where friends of Steve managed to organise an evening for us to play just to see how all the songs were working. We also needed to use the gear with some volume. I don't remember the first song. The audience was mainly people who knew us. It went well and this led to us starting taking bookings via the two agencies in Cornwall.
Steve Betts: By the time we were with Frank and Ivor, I think we could fill any venue in Cornwall. London, not so much, but there was always a lot of walk up in those days and we used to go down ok with the strangers who saw us. Early on, at the Gorran Festival, which was in a big tent in a field, we finished with something that descended into me sticking forks in the organ keys (it was a pun Keith, ok?) and turning it on its side, Paul drumming free form and Tony with screaming feedback. I jumped off the stage and used an axe to smash up the wooden frame of a piano with a French Flag draped across it (Sorry France, didn't have a Union Jack). A couple of days later a waitress I liked in the Clifden Grill, St Austell said "I saw you at Gorran Festival. Bit like The Who, smashing things up." I felt accepted.
What sort of venues did Marvelous Kid play early on? Where were they located?
Tony Coxon: We played at scores of places in Cornwall and Devon – there is a list on the Kernow Beat Marvelous Kid section. Venues that stick out for me would be Camborne School of Mines, Exeter Uni supporting Pink Fairies, Redruth Flamingo, PJs Truro, The Garden at Penzance where we headlined as well as supporting The Equals, The Edgar Broughton Band, Hawkwind, The Groundhogs and possibly Heads Hands & Feet, Van Dyke Club at Plymouth. The biggest was the Glastonbury Festival (Fair) in 1971 where we played a two hour set at the foot of the Pyramid Stage still being constructed.
Steve Betts: Working people's clubs. Everywhere, people were working.
Paul Moon: There was a kind of circuit for the local bands playing, this included village halls, church halls, so-called clubs/discotheques. I recall that we tried to be selective, however, if you wanted to get out there and play, you basically had to take what was offered. There were a couple of agencies that would get us gigs. The mobilisation of a gig was quite a logistical undertaking, the van, the gear and to end up in Mullion village hall playing to a handful of disinterested people seemed rather futile, however we stuck at it. There were some venues that were considered "the business" these would be Penzance Winter Gardens, Flamingo Ballroom (if you please) Redruth, Camborne School of Mines and PJ's in Truro, one of our agents Pete Bawden's venues. I think it was 1973 that I moved to my first house, moving out from living with my parents with my then partner, Lynn Dickinson. This was Riverside cottage in Milltown, a secluded cottage, by a stream and a Woodnear a town called Lostwithiel. This place was located just up stream from Sawmills Studios of some notoriety. Access to this studio was by boat only, and some famous names have recorded there, Oasis at one stage and either Liam or Noel got fined for walking on the railway tracks. I recall us recording there once but unsuccessfully for the reason I do not know! I remember not being impressed. Riverside cottage eventually became the hub for Marvellous Kid. We could rehearse whenever we wanted, and for as long as we wanted, it seemed like heaven at the time. My main desire was to be able to play music with who I wanted, and when I wanted. We would have gatherings and parties to suit ourselves and many of our friends would join us, they were great days. It was when I lived here that Frank, our bass player and Ivor, our saxophone player joined us and they both lived in the cottage. It was a cliche, but I didn't care. It was all about the music for me. This is where we rehearsed to prepare for going to Dublin to record and subsequently move to London with the Dublin tapes as our demos for seeking a deal. We were naive of course, but we just steamed as we wanted to take our music somewhere. This place holds many memories for us and was significant in many ways particularly for me. I thought I was living the dream. Little did I know what was to become.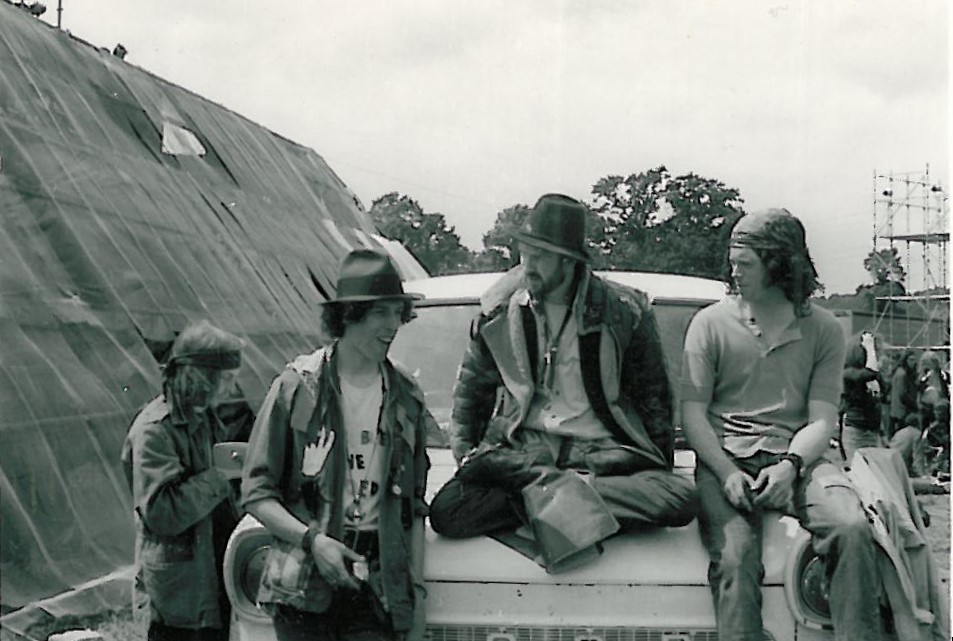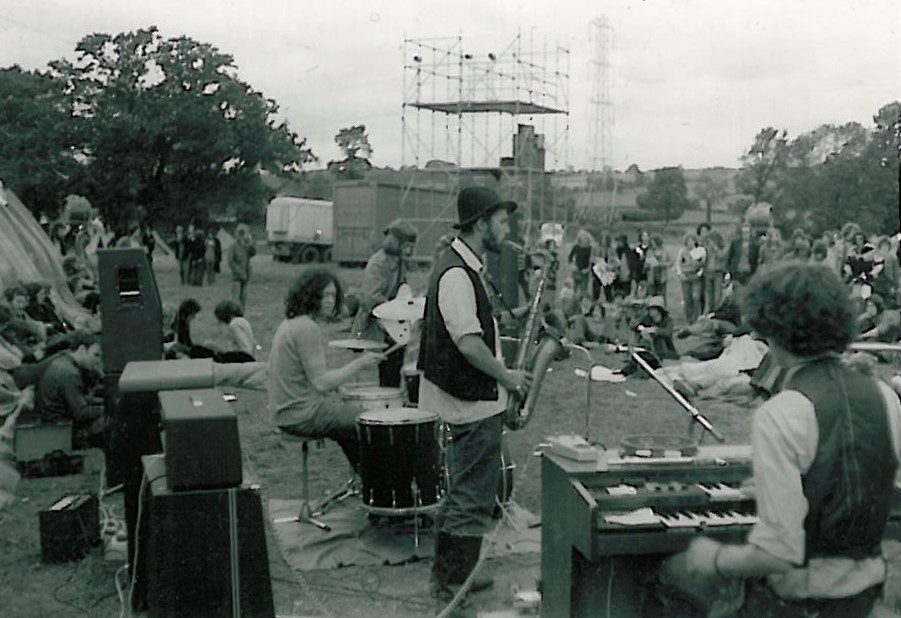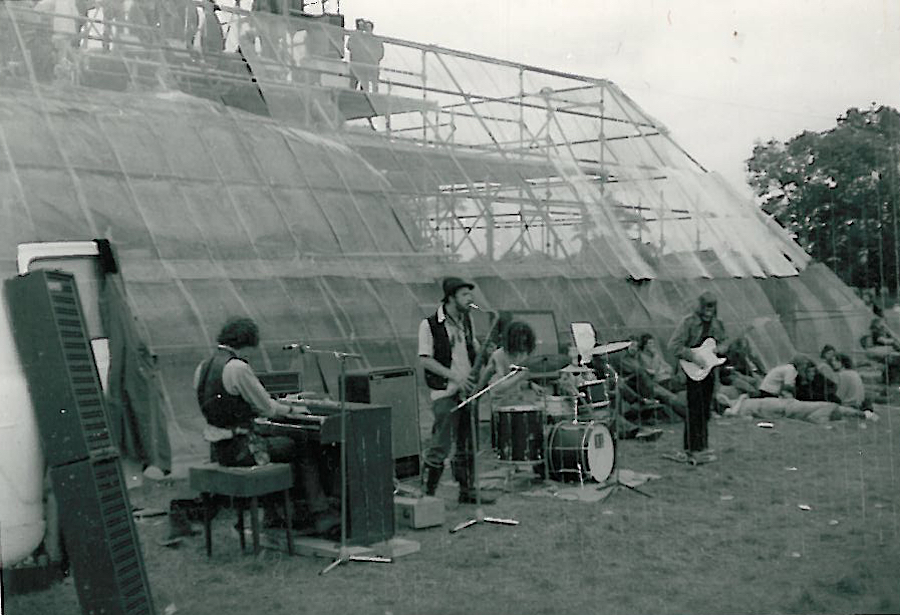 How did you decide to use the name "Marvelous Kid"?
Tony Coxon: Steve came up with the name. Always a debating point on whether it should be one "l" or 2!! The book that Steve had I think used only 1 "l". Seelie Court, like me, were in favour of keeping it with one "l" and it was discussed with the Kipling Society recently. They did some research and say that Kipling used 2 "l"s and probably the book version was misspelt, though they are happy for us to carry on as Marvelous Kid…
Steve Betts: Everything was Pink Floyd, King Crimson, The Moody Blues, Yes, Gnidrolog, Cheese Sandwich or whatever. Lots of Lord of the Rings stuff as well. I couldn't be bothered to read J. R. R. Tolkien for inspiration, and my dad said he was a fascist, but my mum had read me the Just So Stories when I was a kid so I looked in there. The Sing-Song of Old Man Kangaroo, last line of the poem at the end: you'll be a Marvellous Kid. Not sure Kipling was much better than Tolkien on the political front, but Orwell put in a word for him so, you know….
Frank Artés: I can only speak from the time I joined Marvelous Kid in 1973. I think my first gig with them was at the St Austell Film Theatre, although at that time we had decided to call the band "A Day at the Seaside". I don't think I was aware of how well known the original name Marvelous Kid was until we ditched the "Seaside" moniker. The audience loved this band.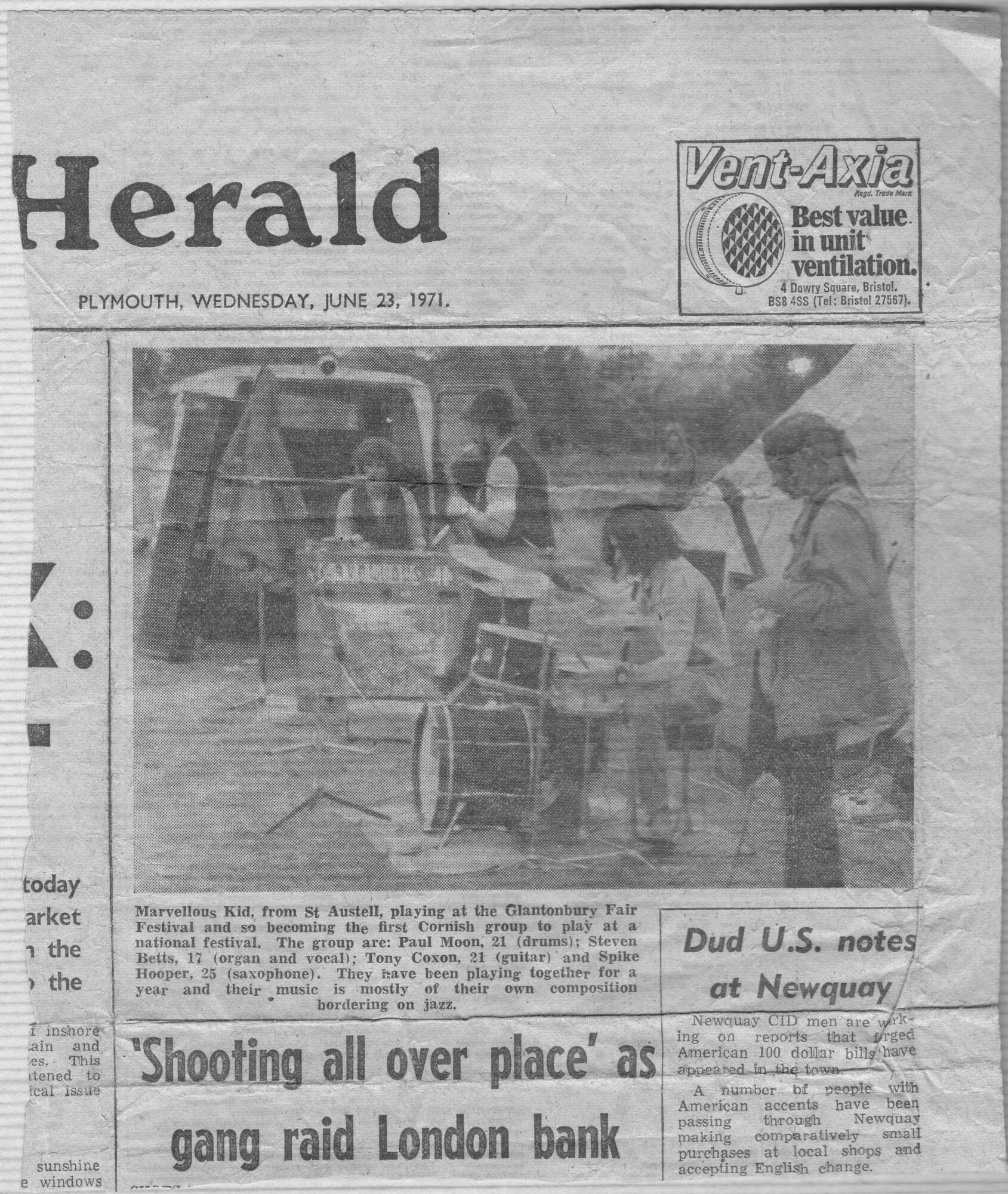 "It really kicked off when we started to write stuff"
What influenced the band's sound?
Tony Coxon: Perhaps it was just the way we played – from the very start as a trio – the combination of Thomas organ, Telecaster and drums meshed together and we had plenty of energy and were out there with a mission! Initially as a trio I would say that Terry Reid and The Nice influenced us. I was playing the Telecaster and that clean sound suited the Terry Reid material we covered. The addition of Spike's sax in late 1970 (?) gave us a wider sound and as you might expect gave us that jazz edge which continued with Ivor Carroll and then with Pete Davey (both playing sax and flute). Frank, our one and only bass player who joined in '73 had a big impact on our style and sound with his clean but powerful and melodic playing. My own view is that although we were no doubt influenced by other bands, our combination and variety of instruments with three soloists – guitar, keys, sax/flute – on top of a very creative and solid rhythm section, Paul and Frank – resulted in a sound of our own, and on top of that we had Steve's vocals which still amaze me to this day.
Steve Betts: Yes, King Crimson, The Nice, Frank Zappa, Traffic, 'Super Session' album by Al Kooper, Mike Bloomfield, and Stephen Stills, Mozart, Dick Heckstall-Smith, Walton – 'Belshazzar's Feast,' Spike Jones and His City Slickers for me.
Paul Moon: I had multiple influences, ranging from Cream, Traffic to King Crimson. Then also classical music, The Who, Frank Zappa of course. We were all into films, literature, arts et cetera and loved the Marx Brothers films and the Bonzo Dog Doo-Dah Band. Being silly and having fun was part of our attitude and an influence on us, for sure. The basis of a sound came from us and the instruments we played in the early days when it was just keyboards guitar and drums. We did covers of Terry Reid, The Nice, Traffic, I always felt that these were interpretations of the songs rather than simply trying to emulate the original. However it really kicked off when we started to write stuff and just purely explored the possibilities of what was achievable as this three-piece unit. Both Steve and Tony started writing pieces, and it was a very creative period. Steve and Tony were very proficient on their instruments and very rhythmically aware. I just fitted in rhythmically. And hey, there you go, a sound. We built on it from there. I was not a great technician, I played within my abilities and rather than get bogged down in pure technique. I just played what I felt suited the music, with guidance from the band. When you play with other musicians, who are "in the groove" and "in the pocket." what you're actually playing on the instrument is in fact you. When Spike Hooper joined us, this expanded our possibilities. even further using the saxophone as another melody instrument. Spike was a local legend of a musician, and we were all honoured and flattered that he wanted to join our band. So Spike influenced the band's sound, Steve and Tony started writing intricate three part arrangements for the melody instruments. During this period as a drummer I longed for a permanent bass player to lock in with. I often felt I was "the rhythm section" even though Steve did play the bass pedals of the organ really well, he had a lot more on his mind with the keys, doing all the singing. And being the "front man." When Frank eventually joined the band it was a treat for me and he's a very melodic player, so our sound changed a little again, wider and more room for the melodic instruments. In conclusion : everything, all in the right moment and each other. I always think of a trio as a fairly slender triangle, there's neither room for error and also constraints for the soloists, you've all got to hold the groove together. Wouldn't have missed it for the world.
Frank Artés: For me, probably most of the British rock bands we were familiar with had a similar instrument line-up, although I don't remember us trying to sound exactly like any of them at the time.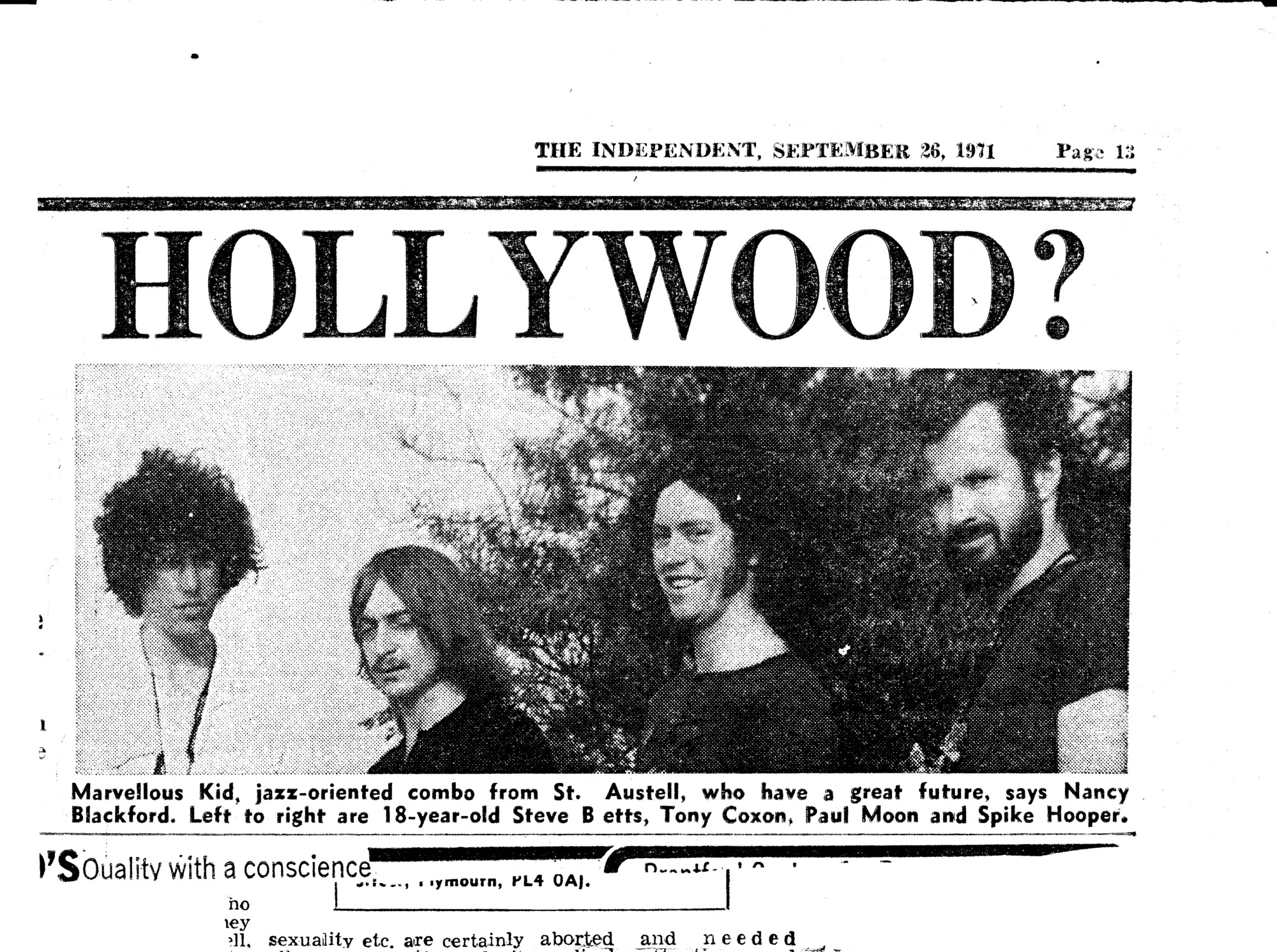 Tell us how Seelie Court found you and what material will be issued?
Tony Coxon: The story of how we are "found" really starts with Kernow Beat, the online website run by Richard Prest in Cornwall. This website documents Cornish bands of the 60s and 70s including the bands mentioned in this interview. Several years ago I added my memories and wrote up Marvelous Kid and Frank added to it. Later I gave all the cassettes and tapes I had to Richard who digitised them and added some tracks to the site. Later he started a YouTube channel and posted several songs there with videos showing photos of us from his website. Late last year I was contacted on my Facebook Page by Gianpaolo Banelli who then put Seelie Court in touch with me. On Christmas Eve we signed a contract. The first CD, 'After The Race,' will be issued soon and the tracks will be:
'The John and Valerie Music,' 'One For Sebastian,' 'After The Race,' 'Instructions For Travellers,' 'Katherine'
The second CD ('Immanuel's Manual') will have: 'Clench,' 'Immanuel's Manual,' 'Don't Speak With Your Mouth Full,' 'Ants,' 'Oedipus Wrecks'.
The first vinyl release should have: 'After The Race,' 'One For Sebastian,' 'Instructions For Travellers,' 'Clench'.
Steve Betts: Everything is now released.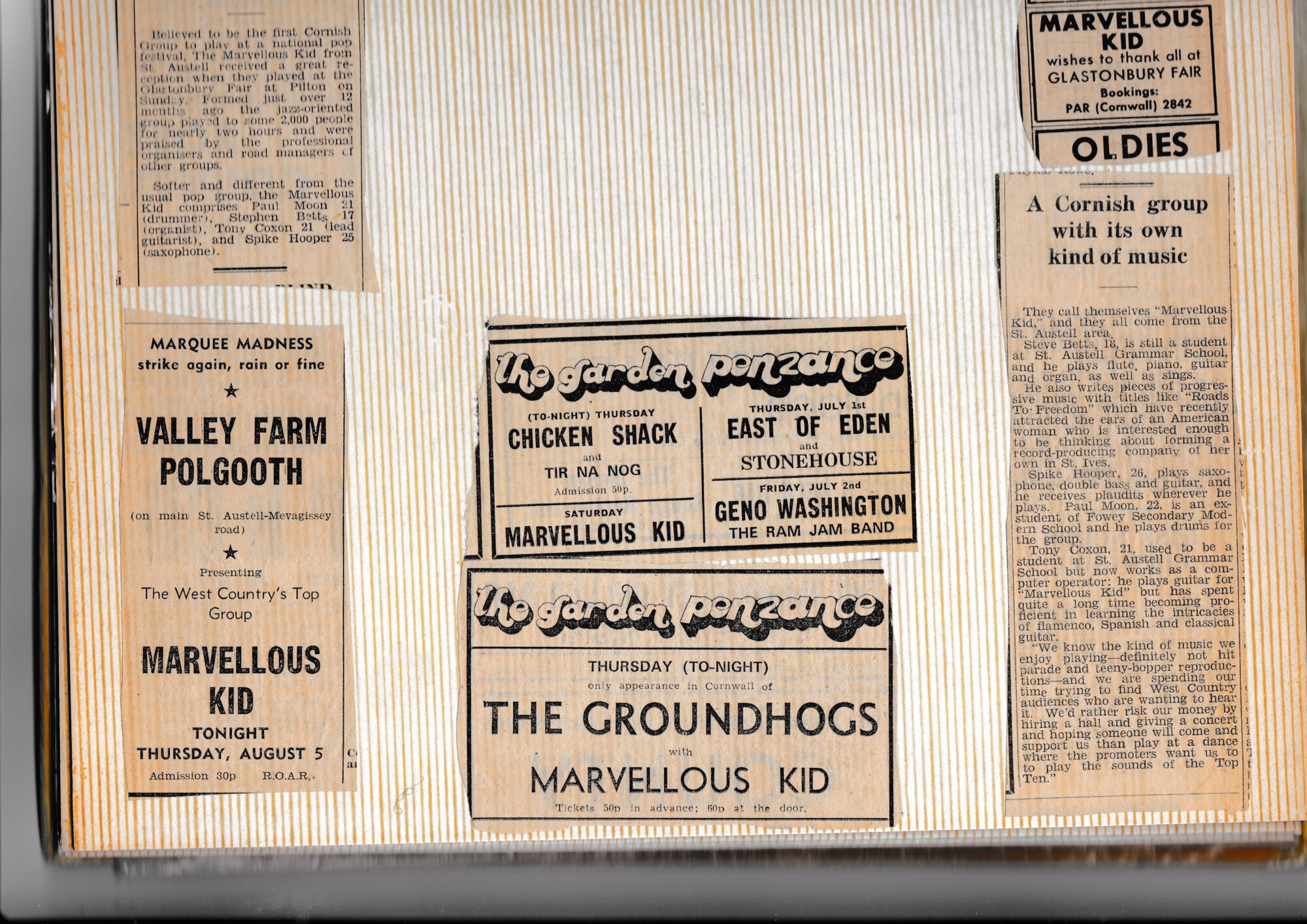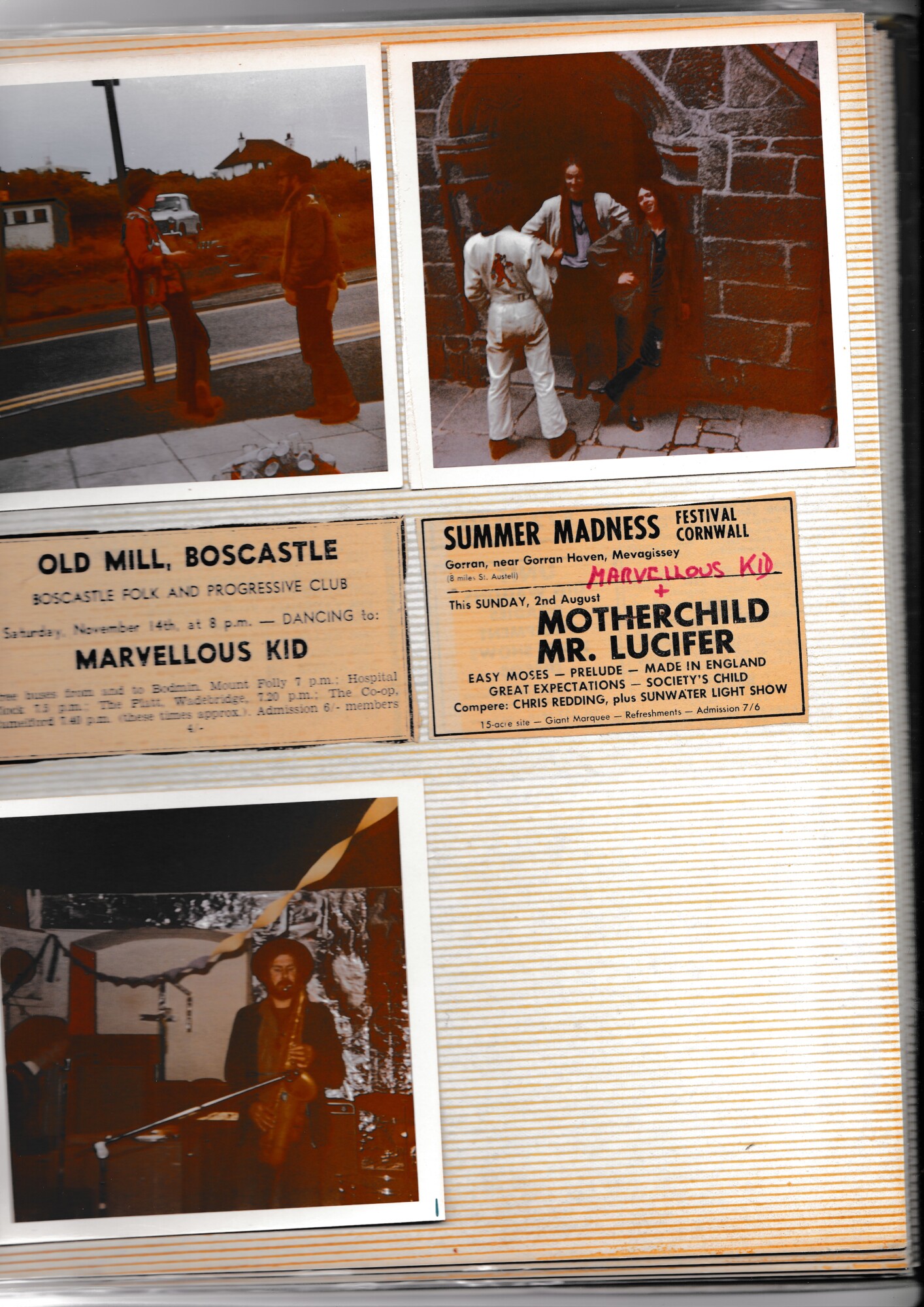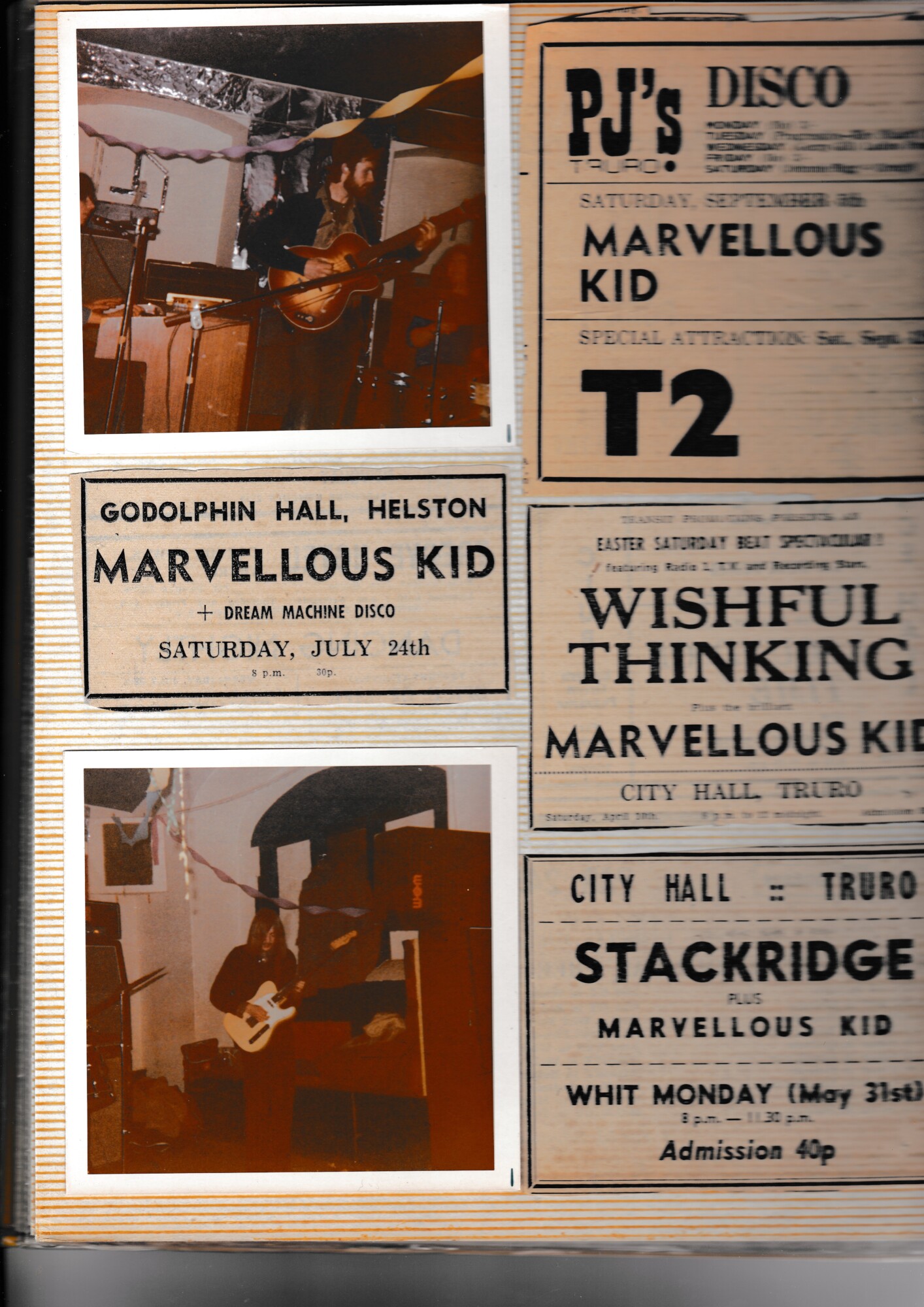 Where was the material recorded?
Paul Moon: We attempted to record in Steve's bedroom, from memory just setting up a couple of vocal mikes in the room, as you would for overheads for drums. Set a Revox open reel tape machine outside, press play/record, jump on our instruments and play the whole piece. A lot of takes were scrapped as there'd be too many mistakes or the cymbals drowned things out, or there would be a huge hum or buzz coming from somewhere. Later we were to do this again in our house in Beech Close, Walton. This time with slightly better results. We also attempted some live recordings, some of which we hope will be released. The Dublin sessions is another story and Tony will elaborate.
Tony Coxon: Home recordings were made in Cornwall in Steve's parents house with the original band using my inexpensive machine when we started writing. We also recorded live. After we had made the decision to relocate to London we were writing more pieces. As Spike was unable to relocate we had found Frank and Ivor who both moved down to Paul's cottage in Milltown near Fowey in Cornwall. Ivor's brother Derby was a sound engineer working at the Eamonn Andrews studios in Dublin. We spent a week or so in Dublin to record that current material in order to make demo tapes for London. Eventually we bought a Revox machine and recorded whilst writing at our rented house in Walton-on-Thames. We called these 'The Beech Close' tapes. We also took the Revox along to a couple of gigs and recorded live with a Cornish friend, Richard Hubbard, in charge of the Revox. The other session was at BBC studio in Maida Vale, North London, just one evening where we recorded two takes of 'Ants,' and another recording of 'The John and Valerie Music'. The only tape left is a sad looking cassette.
Steve Betts: Yes, EA studios, BBC Beech Close, my parents house, live.
Frank Artés: EA Studios in Dublin, BBC Studios in London, and at our house in Walton- on-Thames, Surrey.
"The intention was always to get a record deal but it didn't happen"
Did you send it back then to any labels or was there any opportunity that sadly slipped and it remained unreleased?
Tony Coxon: When we got to London our manager Pete Bowman would hawk the demo tapes around town to various labels. Whenever we had a gig there would be frantic phoning with any label we thought we might get to come along though this proved frustrating. The intention was always to get a record deal but it didn't happen. At that time the labels were cutting back on new signings, I think there was a vinyl shortage also. The labels I remember were Rocket Records who had Elton John, and Chrysalis.
Steve Betts: We had no clue how to do that. I mean we had a manager, but he had no music industry background, just a willingness to give it a go. I'm conscious now that we also didn't go out clubbing or networking, we just played gigs in the vain hope that someone would come and sign us. An A&R person from somewhere came to see us once and said "I feel like I really experienced something." That was that. I was quite fixed in my thinking at the time, married to a blueprint that had ceased to have value i.e. stay true to your music, get gigs and be signed. What I realised later was that being true to your music meant being open to change and moving on. Looking at The Who and The Rolling Stones, Yes and Genesis in the early 70s, it just seemed as though the bands always stayed the same so all you had to do was keep trying.
Frank Artés: With the recordings we had made in Dublin, the intention was to take a cassette copy to all the record labels in London and let them hear the band. At that time we had a manager who was a good friend of ours from Cornwall. He was as enthusiastic as we were about the music we had recorded and moved to London ahead of us to set up gigs and try to secure a record deal. He had cassette tapes of our recordings to give away plus business cards and an optimistic attitude to boot. He certainly made an impressive sight dressed in a white suit and a fedora, particularly when he went to the Charisma offices. Their label artwork featured the "Mad Hatter" from Alice in Wonderland and Pete thought his splendid attire would grab their attention, but it didn't happen. He went to the most likely record companies, Island for one which had signed Traffic, King Crimson and Roxy Music but it was a tough job. I remember him telling me the difficulties he had just trying to talk to someone at all the companies he visited. You could not get past the front desk and would have to leave cassettes and any other information there, along with every other Tom, Dick and Harry that wanted to hit the big time. It drove Pete crazy. One label rep did actually show up at one of our gigs. He sat by himself reading a newspaper so we weren't quite sure who he was. During our first set, a large dog suddenly appeared and started running across the stage barking. Steve got really upset and stopped whatever song we were playing and stomped off the stage shouting out "I didn't want to be a rock star anyway."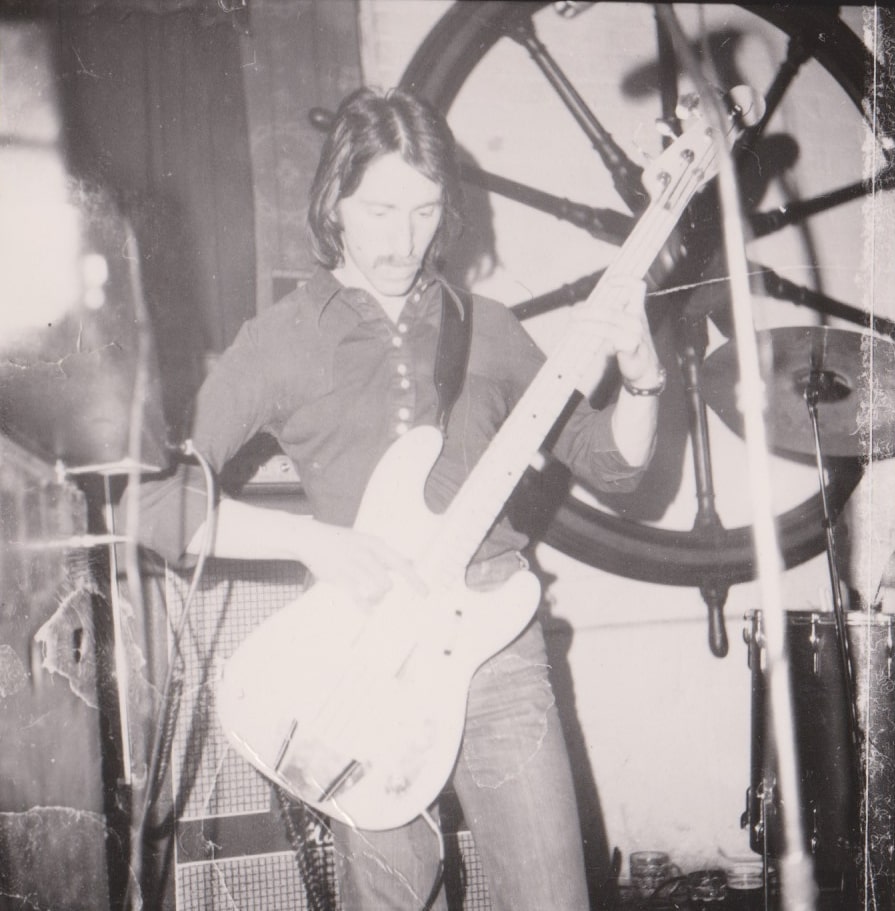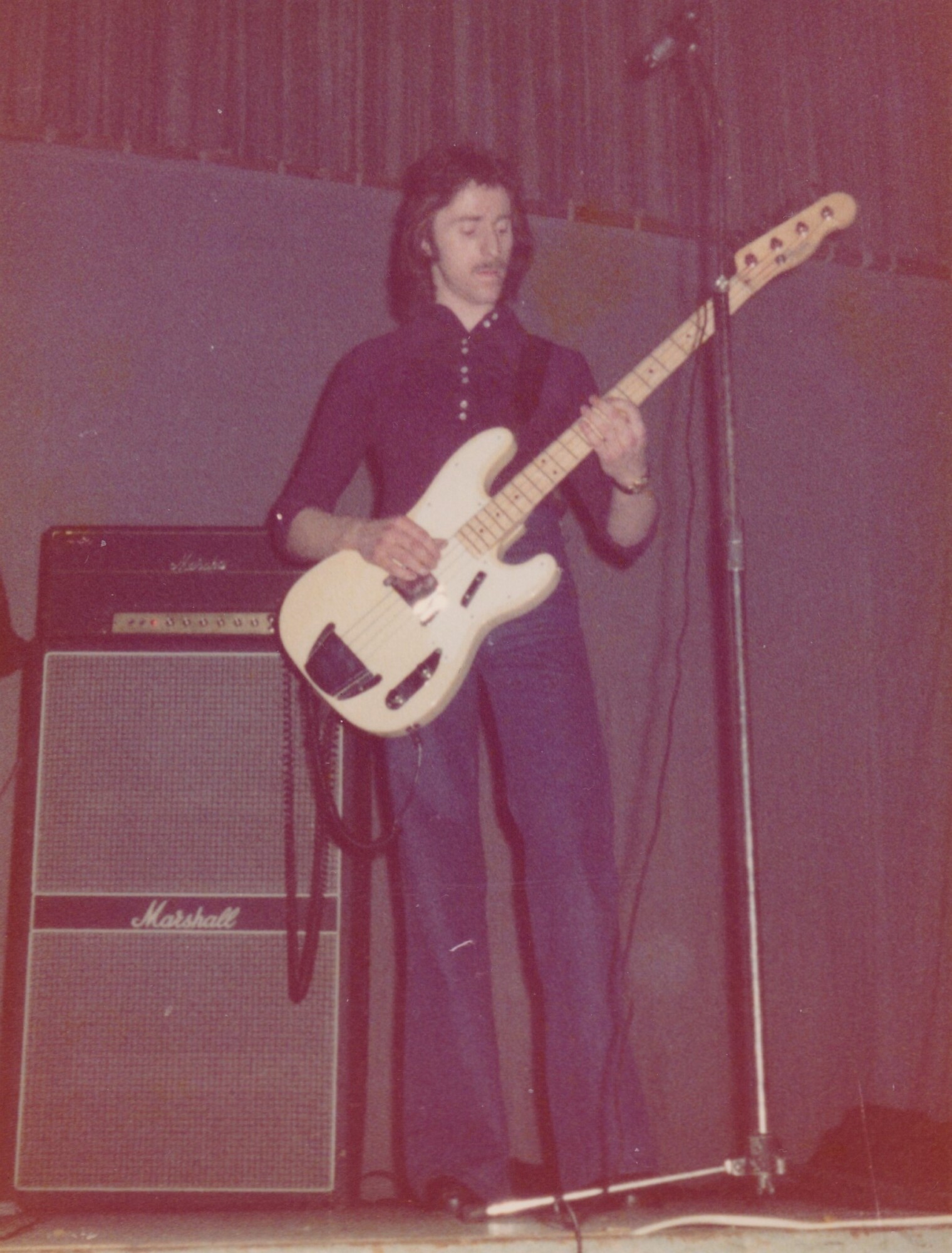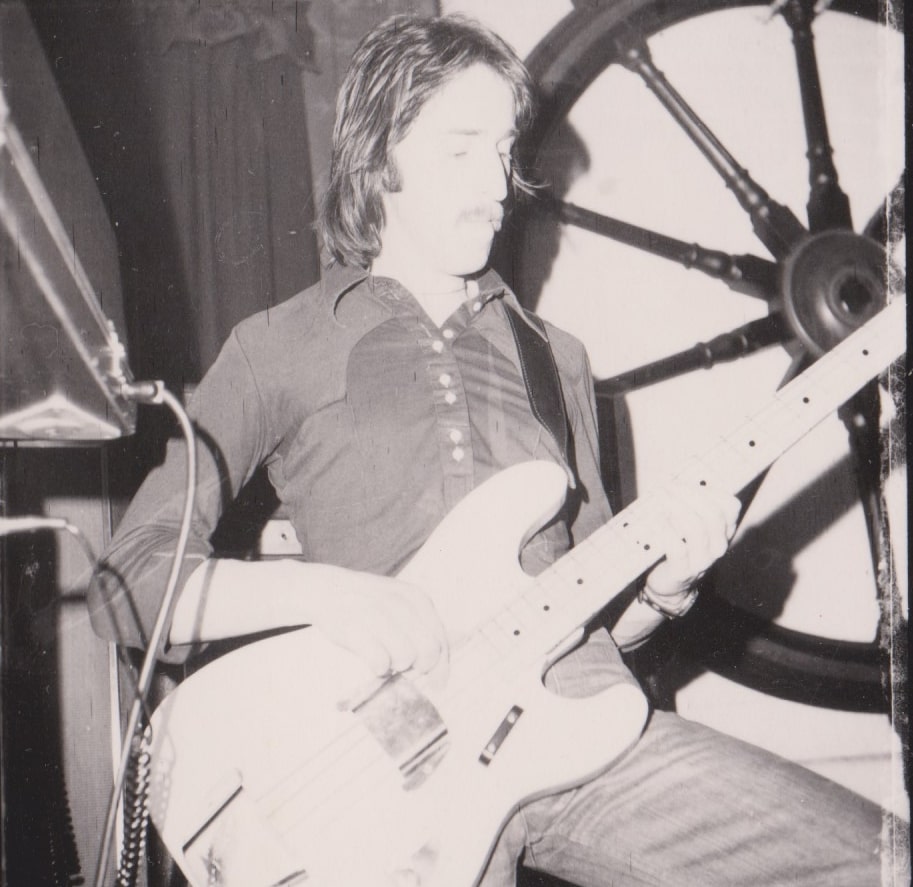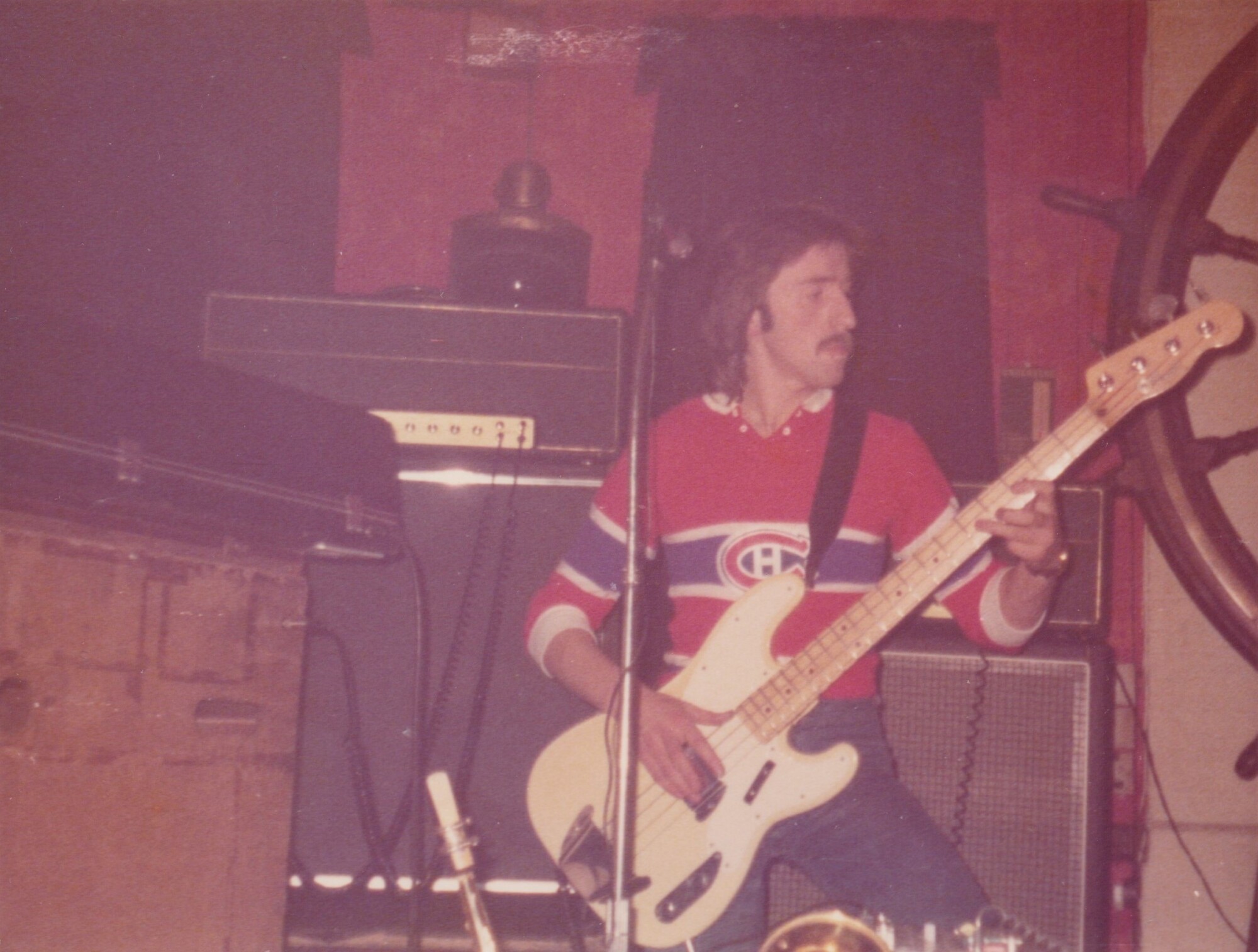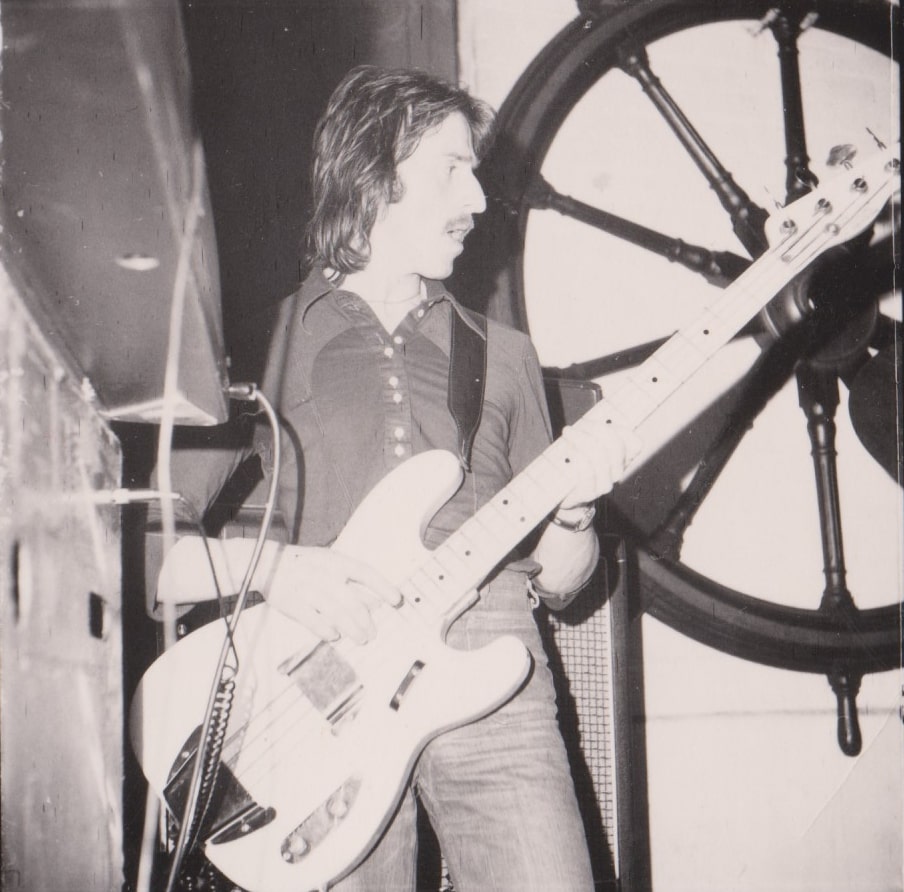 What kind of equipment did you use and who was the producer? How many hours did you spend in the studio?
Tony Coxon: No knowledge of Dublin equipment. Our sessions used to start around midnight and last until dawn – as we probably weren't supposed to be there.
Steve Betts: I used a Thomas organ; cheap, not very good but sauced with a wah wah and fuzz pedal to approximate Mike Ratledge (?). I had a Wurlitzer 200A Electric Piano from 1973 onwards. Broke a lot of tines/strings on that as well. Vocals went through the Laney PA system we had won, don't remember the mics. There were no producers, just us on home demos. Otherwise it was engineers, either disinterested – BBC, Decca, or frazzled and doing us a favour – Thanks Darby Carroll. We had no experience in studios and recordings were just that; a record of our performances. It was Glyn Johns trying to capture The Who on 'Baba O' Riley' rather than Trevor Horn trying to reinvent Yes on 'Owner of a Lonely Heart'.
Paul Moon: Well I had a Ludwig super classic kit of course from day one. Haha, did I bollocks! but, I did have an ok Premier kit, and a Gretsch snare. Put good heads on them and spend a bit of time tuning, heyho it sounds like a drum kit Baboom! Could never get too hung up on the "kit" and gear aspect of it all. But I always wanted my kit to sound good. It's a drum kit, play it! Ok man.
Producers? Are you kidding, must have been us! Probably count the hours in studios on a few hands, chance would have been a fine thing. We travelled all the way to Dublin and back from Cornwall to get to record in the Eamonn Andrews' studio (8 track) through the middle of the night for about a week I recall, with an "engineer" it was an adventure and it was exhausting, it seemed like a good idea at the time. Regarding production, I don't think we did a final mix down on those tapes, we ran out of time and we had to get out as it was the morning so we just made an unmixed master, no mix down/production, this is evident on the Dublin recordings. In a way recording means something different here, we played music and the event was recorded, it was like playing a gig without an audience, but there is a record of it. Which will soon be available on Seelie Court, tralala… Why did we travel all that way to Dublin? I hear you say? When there was a studio nearby… Well, we couldn't afford the Sawmills, the Dublin sessions were offered for free, from my memory. We just had to get there, bunk down in various forms and record through the nights when the studio was available. What else would anyone want to do? At the time creating demos was essential if we were to progress.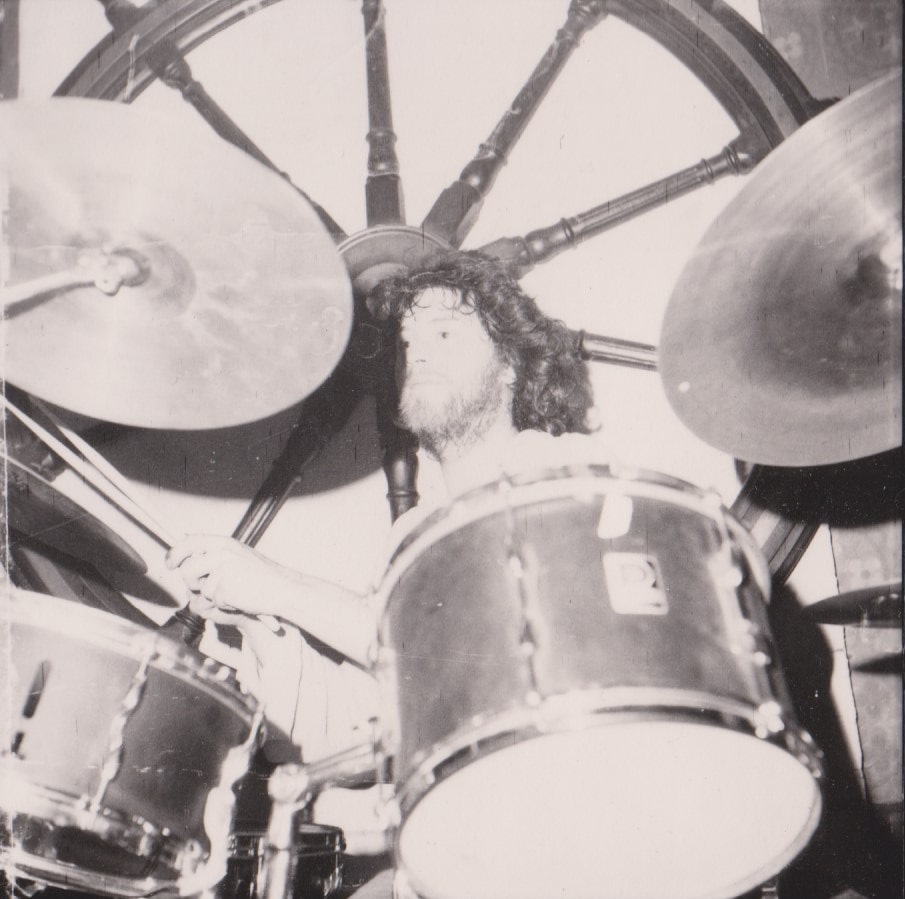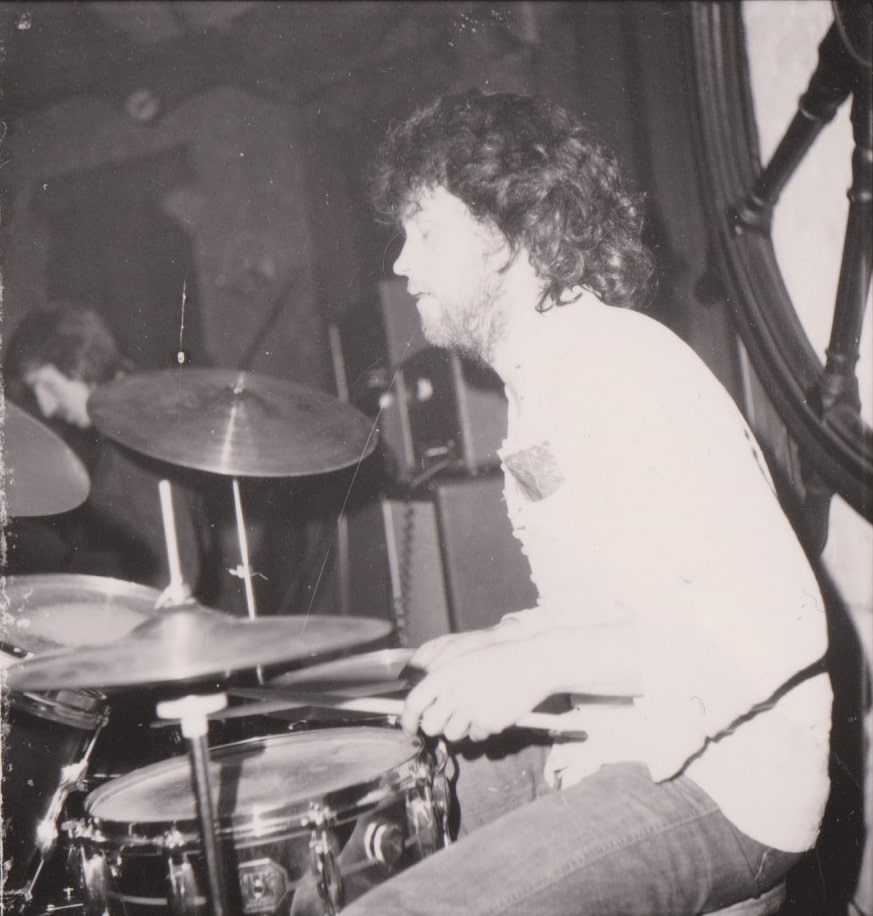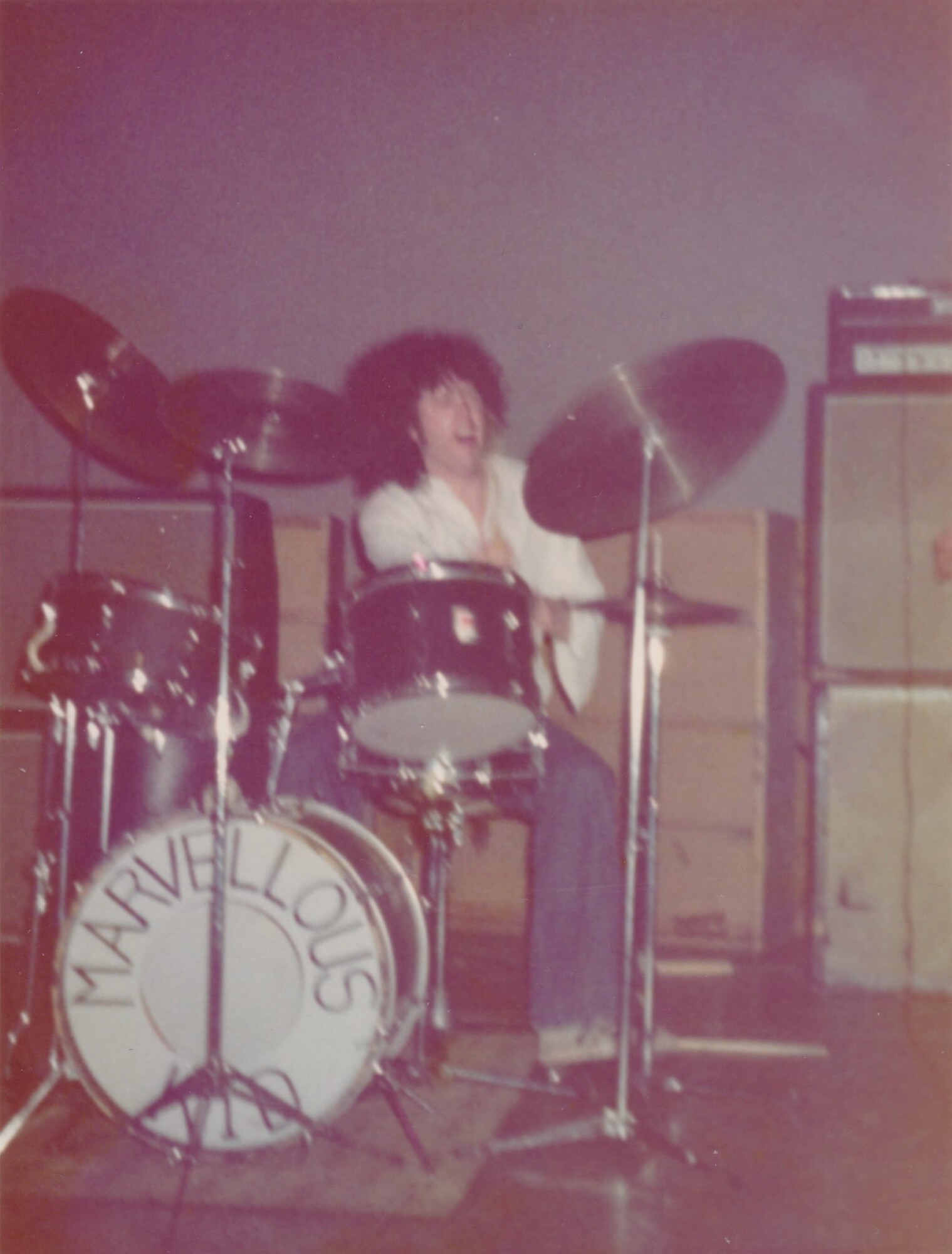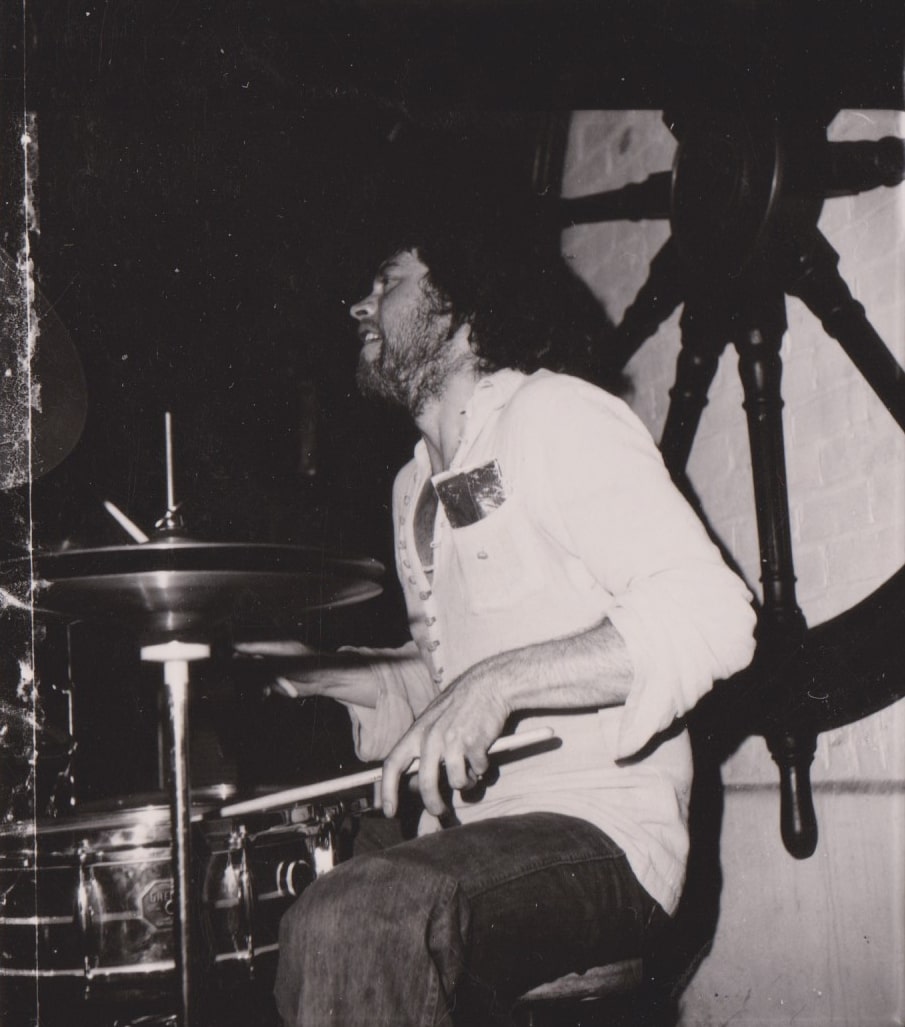 Would you share your insight on the albums' tracks?
Tony Coxon: Well, I will cover some analysis later about 'After the Race,' 'One For Sebastian,' 'Instructions for Travellers'. For me, these and Steve's tracks hang together – this CD is the sound of Marvelous Kid at that period and speaks for itself.
Steve Betts: The first CD on Seelie Court has two of my songs 'The John and Valerie Music' and 'Katherine'. 'The John and Valerie Music' starts with a left hand piano riff with floating chords on top until the guitar kicks in with a kind of Yes/'Astral Traveller' riff. The song was a statement of intent from me at the time and was the first one I wrote after being in Grannie. In the 80s, I was working with Peter Murphy and I played him the left hand riffin D and told him it would work anywhere on the white keys. It turned up later, in C, as the main riff of 'My Last Two Weeks' on his album 'Love Hysteria'…! 'Katherine' marks the beginning of the satirical trajectory I've pursued ever since. It's about a masochist looking for love. Not 'Venus in Furs' though, more "Dave in Accounts". The piano melody in the middle is probably influenced by the second section of 'Layla' which was everywhere at the time. Nice chunk of 5/4 grooving and soloing from the band as well. The first vinyl album scheduled for release by Seelie Court has mostly Tony's songs, but we co-wrote 'Instructions for Travellers'. At the time I was investigating the guitar a bit and I started finding out all the positions an E chord sounded good up and down the fretboard. (There was also Joni Mitchell sliding around with unknown tunings – like on 'Peoples Parties,' although that's later). Tony wrote the words, I love them – ("I was just the pilot, no one was the jailer") that's some symbolist sh*t right there. The second song, 'Home,' I wrote in London while I was with Grannie. It was great with them, but it was also 1971 in London's East End, and I did miss the blue sky and sea. Also written on a guitar and influenced by one of Phil Newton's songs 'Wait in Line,' which he was writing while I was there, but not enough for a lawsuit. The third song, 'Sailing To Meet You' was influenced by Colosseum; the middle section flute harmony was inspired by 'Elegy' from the 'Valentyne Suite' album. I loved the rhythm on that track. Ivor and I played the flute harmonies and then he showed how it should be done in the solo. The last section starts with an E major shape sliding down and up like the bass at the start of 'Starship Trooper'. The rest of it is not unlike a song I wrote when Spike was in the band, '5 Piece Suite for 4'. A simple repeated sax melody with a nice chord twist for the turnaround. This is typical of how I write, short little phrases that I fall in love with and then play to death.
Paul Moon: We're hoping there are going to be quite a few tracks, maybe three or so albums worth. As all the existing tapes have to be restored and remastered, once done we will then be able to review, curate and assess and expand on this subject.
Frank Artés: Although I didn't write the songs we recorded for the albums, the bass parts I played were totally my own. I loved the music Tony and Steve were writing because within the structure of each song I literally felt an emotional freedom to create and hopefully complement the pieces. Sometimes they might suggest a particular type of rhythm or mood and that lightbulb would go off and I'd be…yay. As a consequence, this would come out in my playing, and what bass riffs I would feel and build on. With the types of music we were creating there were definitely no three-minute radio-play dictates.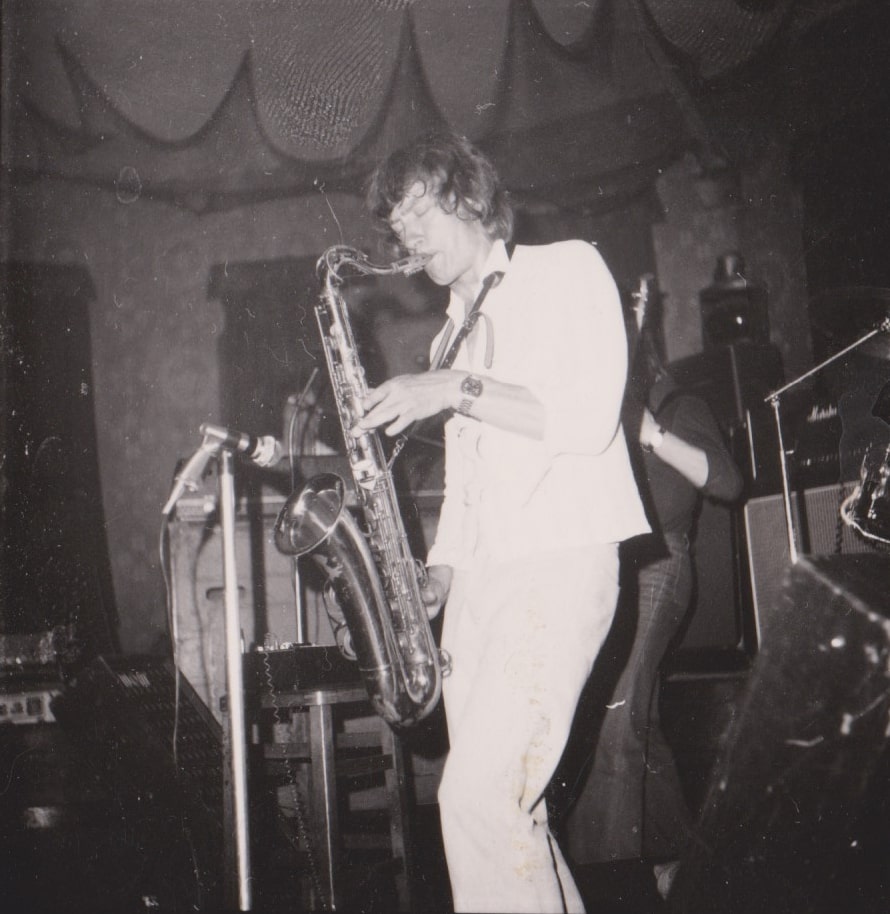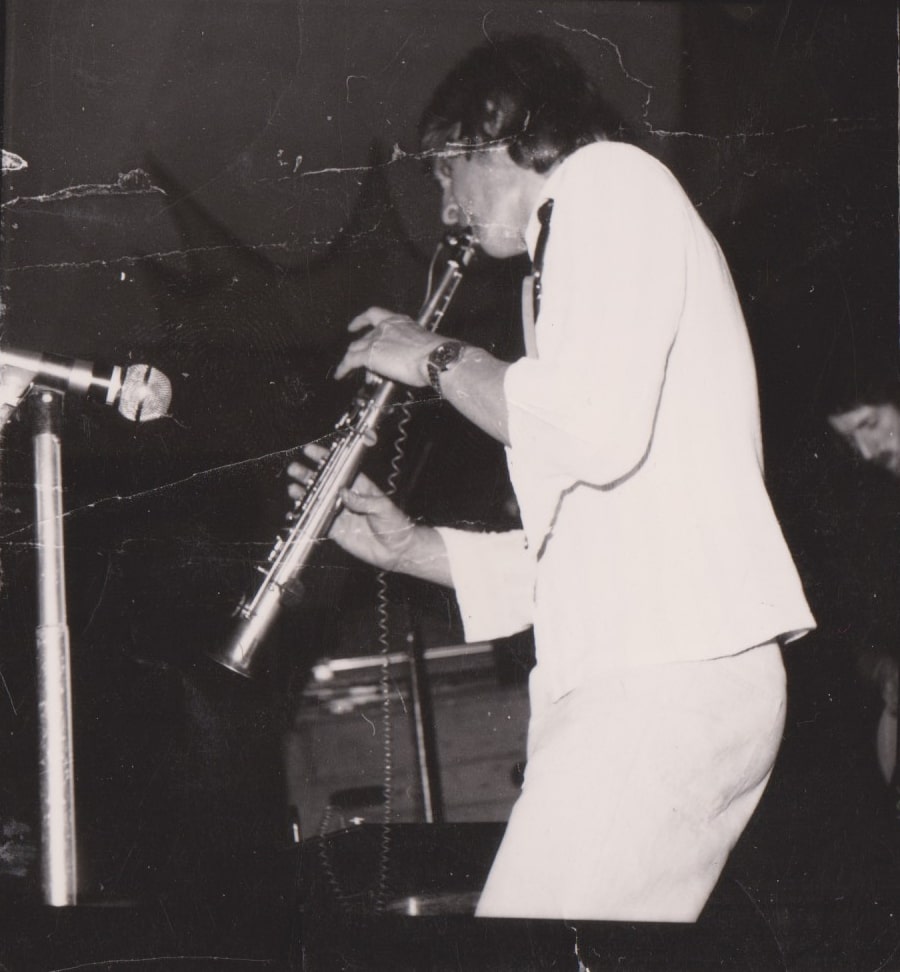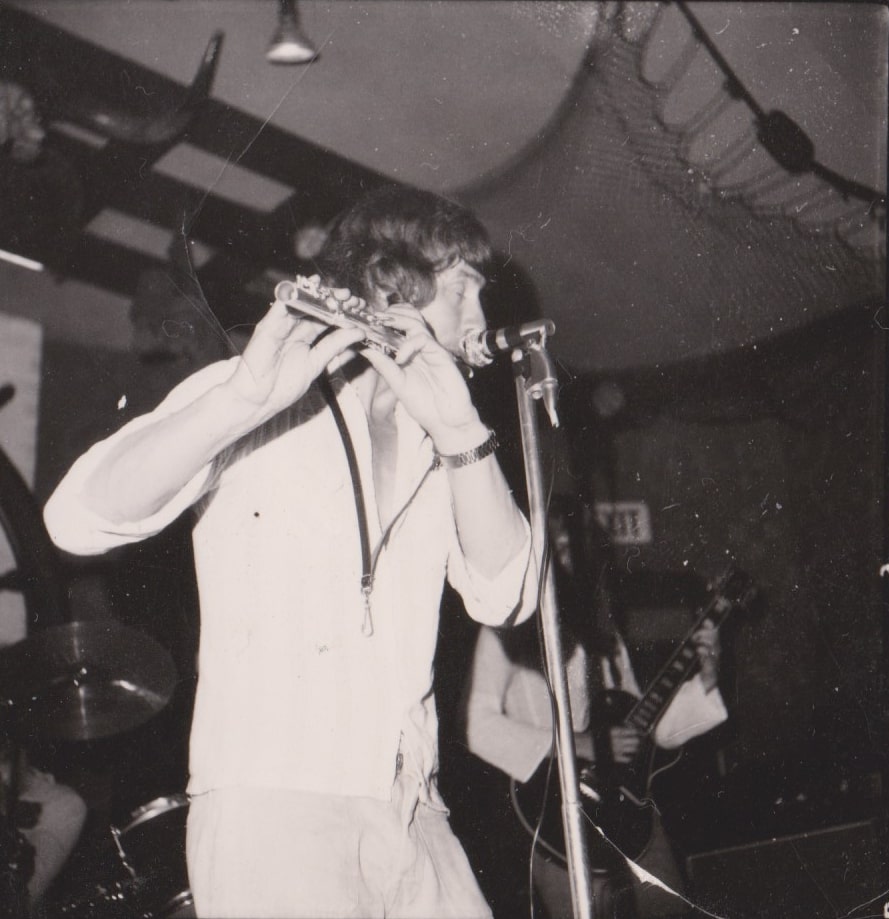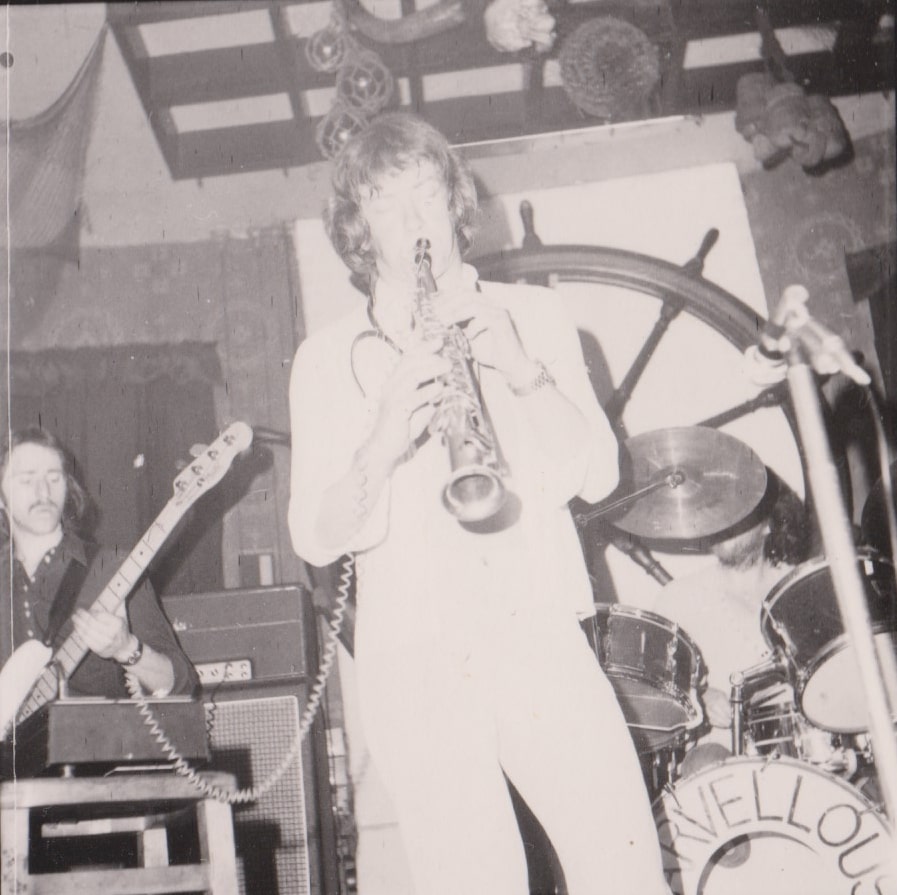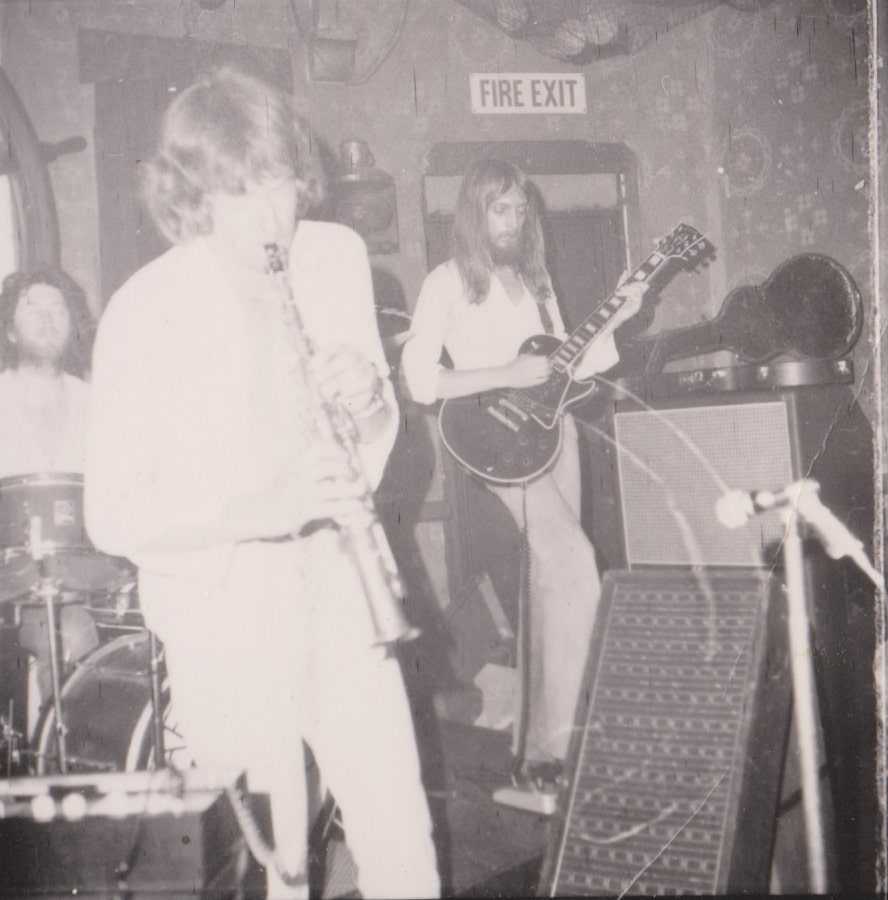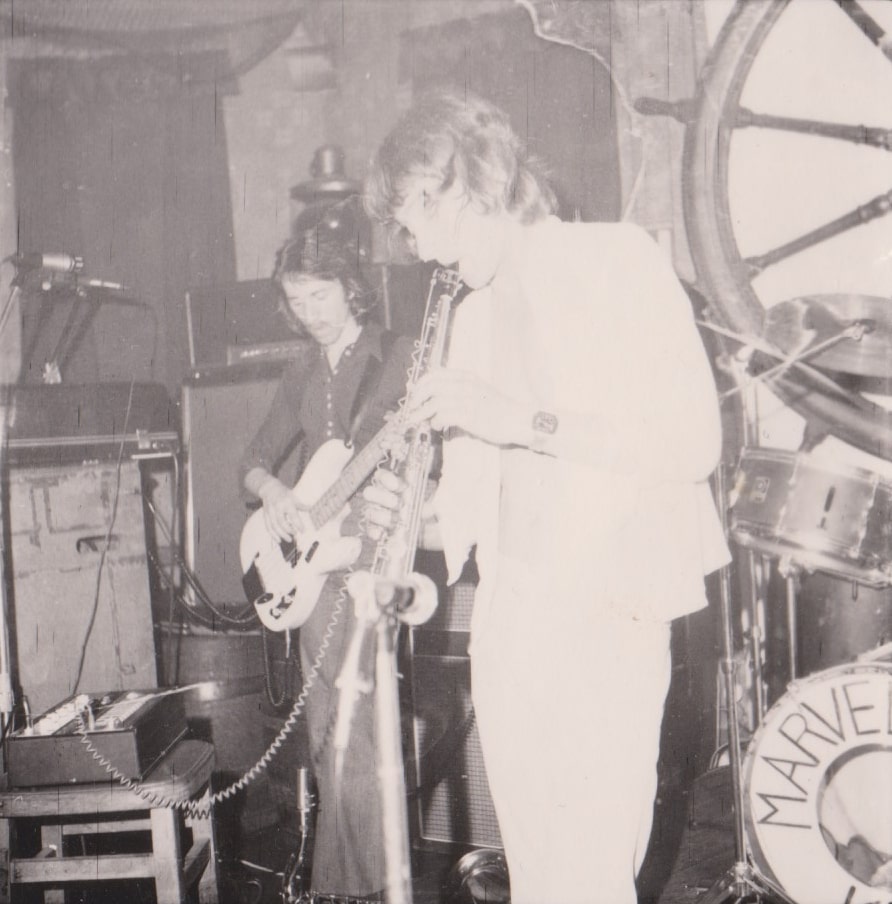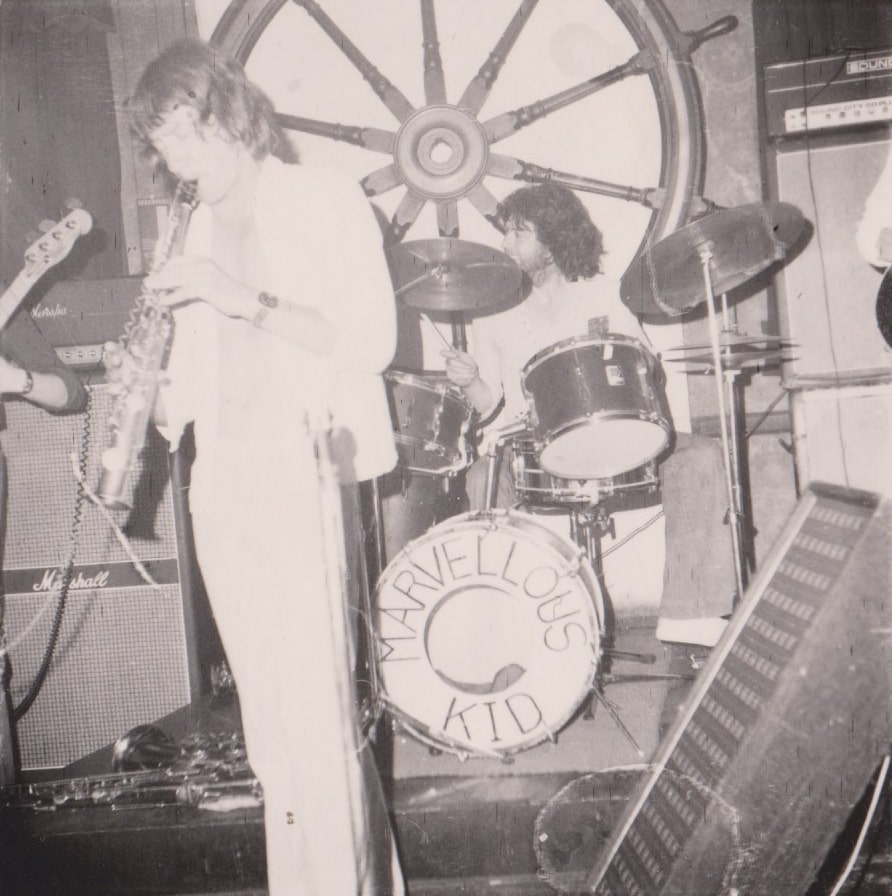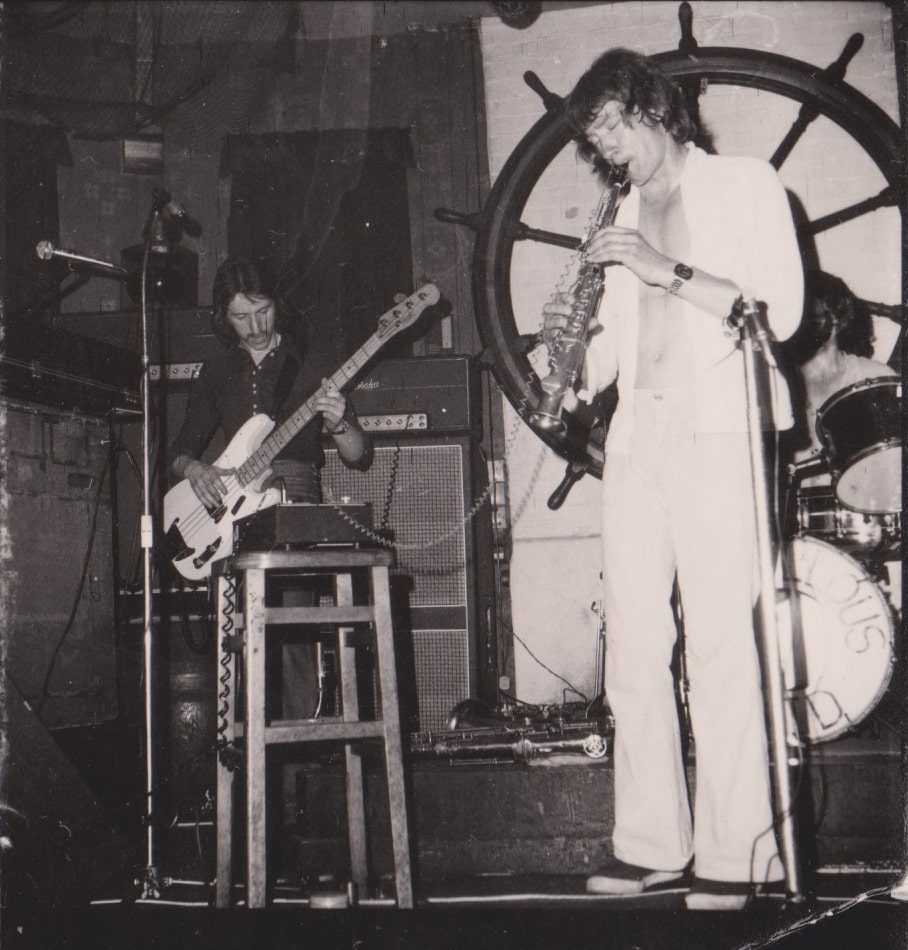 Were you inspired by psychoactive substances like LSD at the time of writing the album?
Paul Moon: Not at all, we weren't anti or anything but we didn't really go for it. We were all pretty high on the music most of the time. Maybe a joint on the wind down but never when rehearsing or playing. Steve and Tony, being the writers, will expand on this.
Tony Coxon: Not guilty, your honour.
Steve Betts: Nope.
Frank Artés: No. I didn't even smoke fags (cigarettes).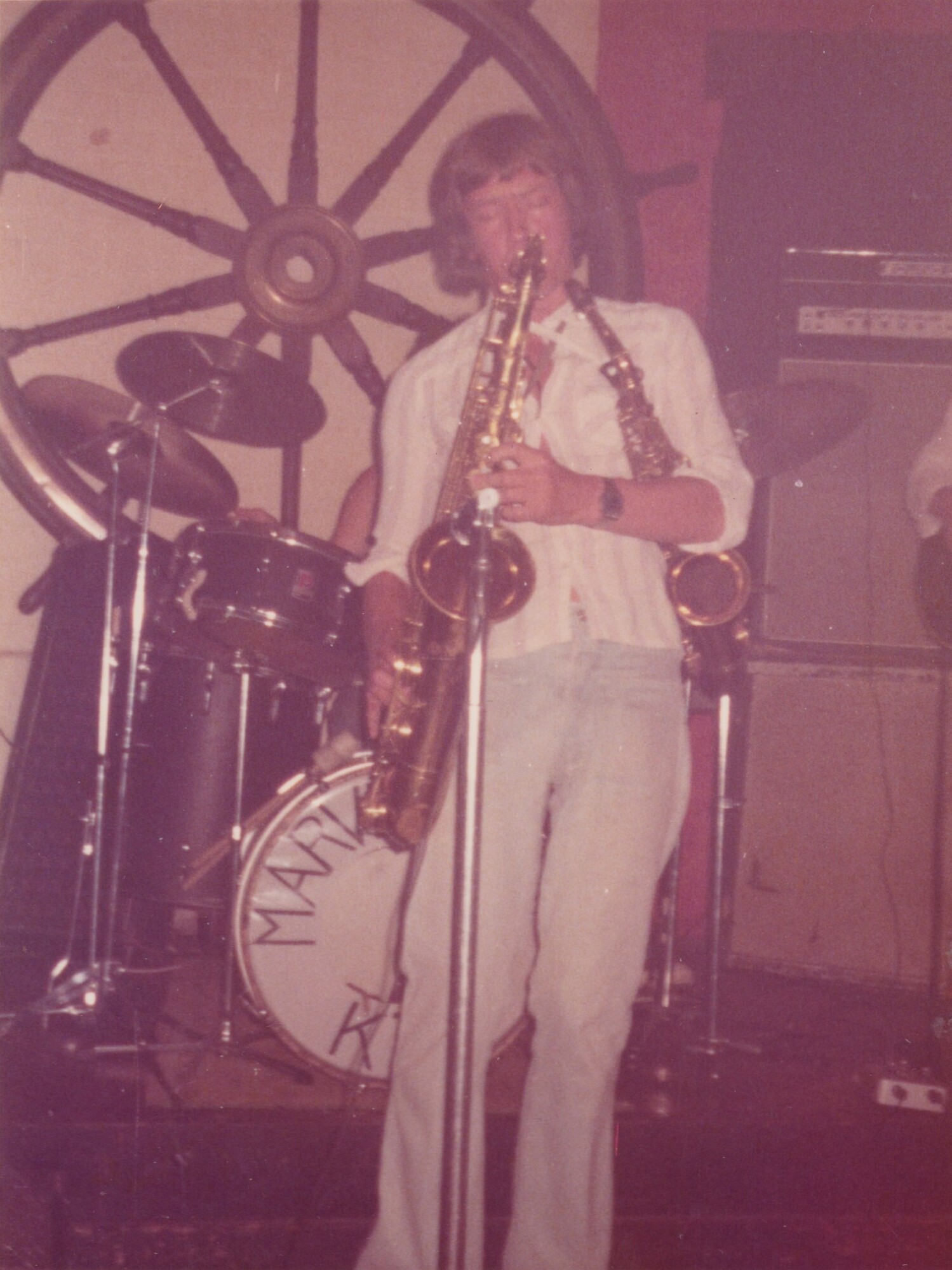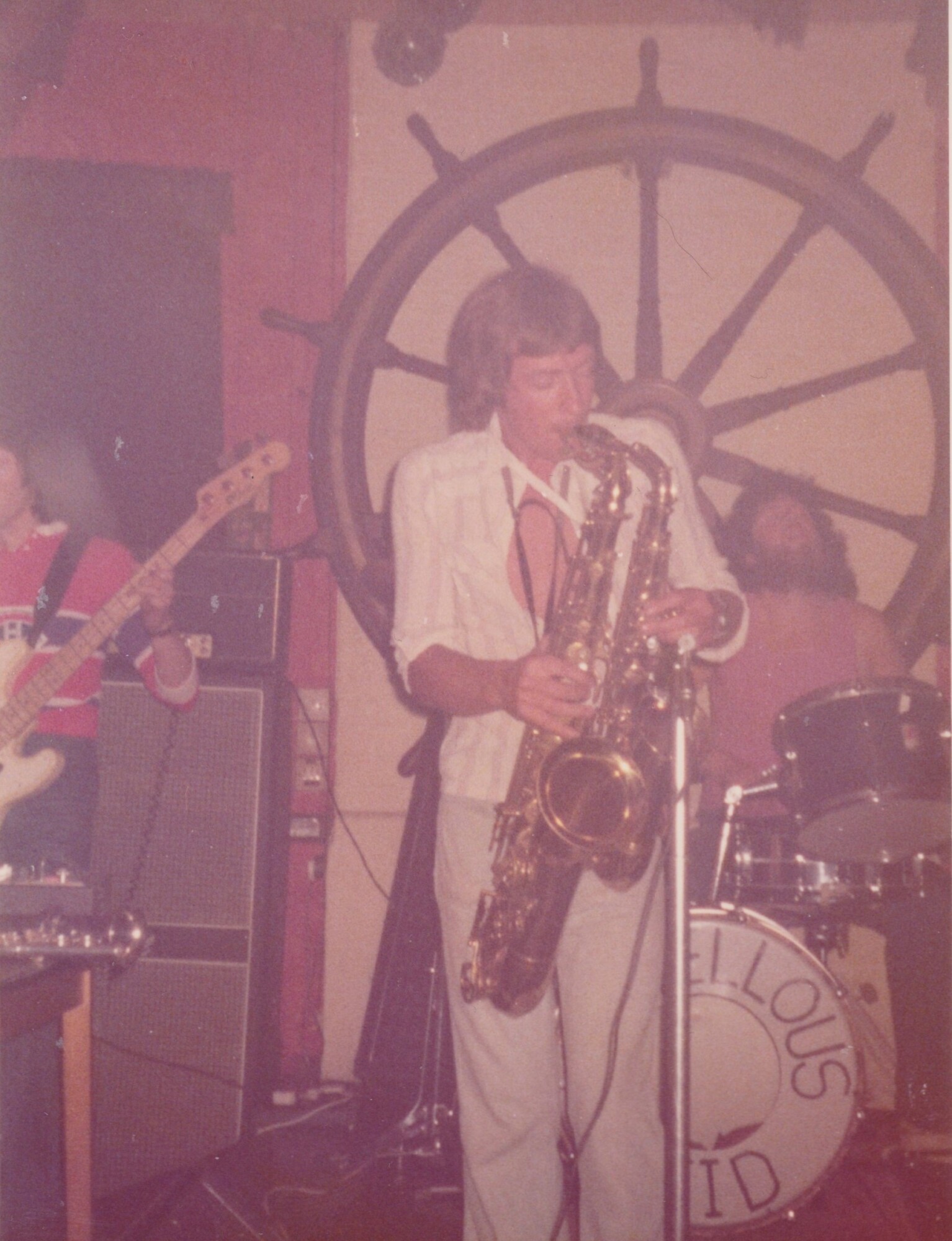 You played with a lot of bands, would you like to share what are some bands that you shared stages with?
Tony Coxon: Sure. Before Marvelous Kid – I played with The Zombies at least three times, Procol Harum, The Troggs, Billy J. Kramer and The Dakotas, The Who, Geno Washington, Manfred Mann and others. Later in 1969 with Bent Cement I did a support gig at the Dagenham Roundhouse with legendary Chicago bluesman Howlin' Wolf. With Marvelous Kid – most gigs were just us, but we played with Stackridge, Onyx, The Groundhogs both in Penzance and in London at the South Bank Poly, Juicy Lucy, a support for Argent at Guildford Civic Hall (their roadies wouldn't allow us on the stage to set up or even tune up until the audience were already seated…. About the only time I felt nervous because of that). Also Barclay James Harvest, Global Village Trucking Co., The Edgar Broughton Band, The Equals.
Steve Betts: Stackridge was aloof. Barclay James Harvest was boring. Groundhogs were loud. Heads Hands and Feet had Albert Lee and Chas Hodges plus a drummer who looked like our manager and did a blinding solo. I'm not even sure we were supporting them, but that was a band.
Paul Moon: We played many times as support act to quite a few bands, I recall, The Groundhogs, Argent, Ange, Stackridge and more than once Barclay James Harvest. No offence to any Barclay James Harvest fans but at the time we found them pretty boring and didn't really get their appeal. It was never a great slot playing support, it's probably still not but it's part of the process unless you were on the hype scene. At the time it would seem that a lot of folk just thought "what are they on about?"
Frank Artés: The bands I can remember that we opened for when we moved to London were Fusion Orchestra, Argent, The Groundhogs, and Barclay James Harvest, who asked if we were on tour with them as we were regularly their opening act. I remember one gig at the South Bank Poly where we opened for The Groundhogs who were headlining. The Global Village Trucking Co was coming on after us. We were part way through our set when the drum tech from the Global Village guys got up on the stage next to ours and started to tune the drum kit, banging the tom toms while we were playing. He wouldn't stop and it was such a distraction that we walked off stage because we couldn't properly hear what we were playing. That guy was a complete asshole.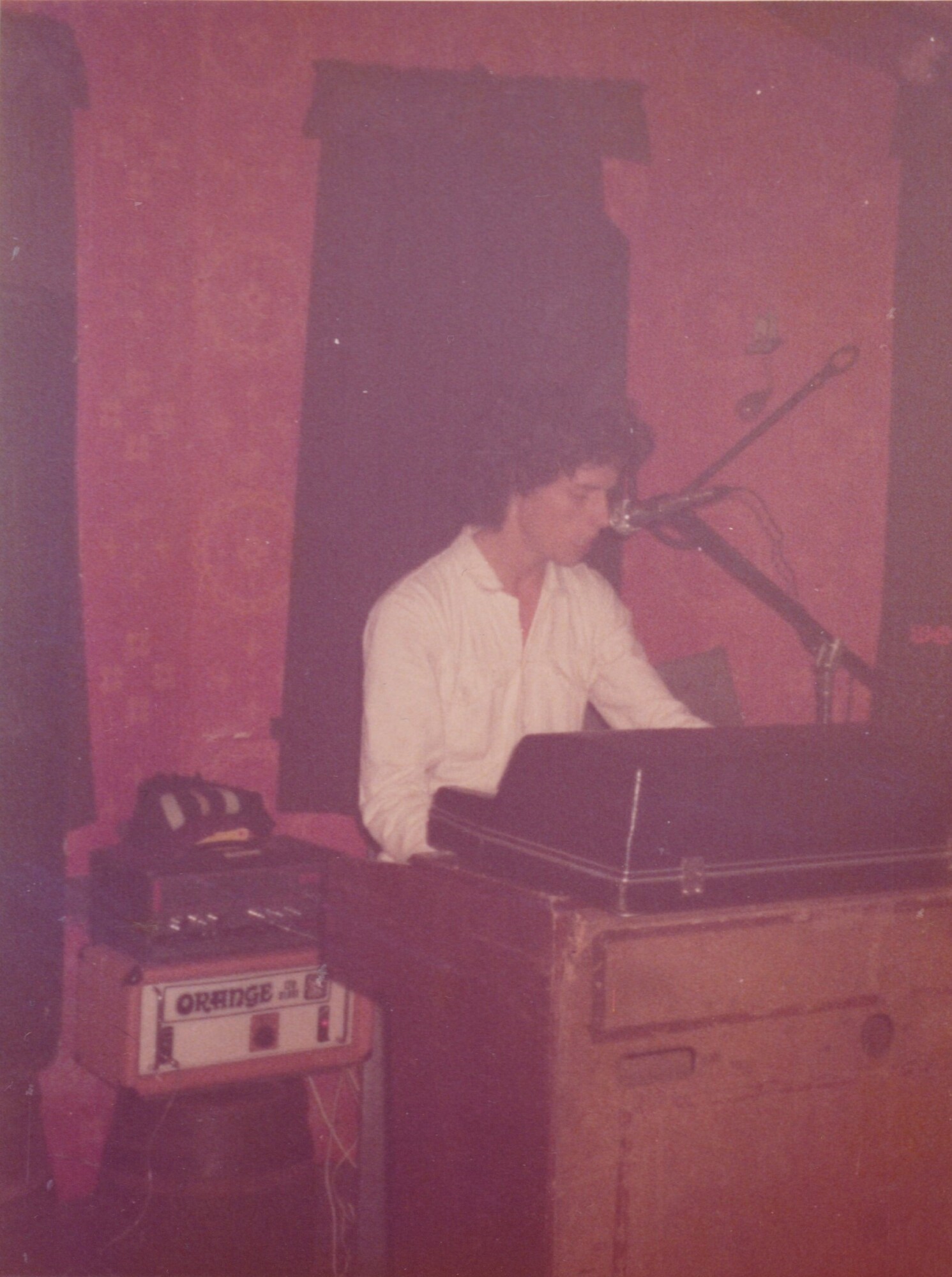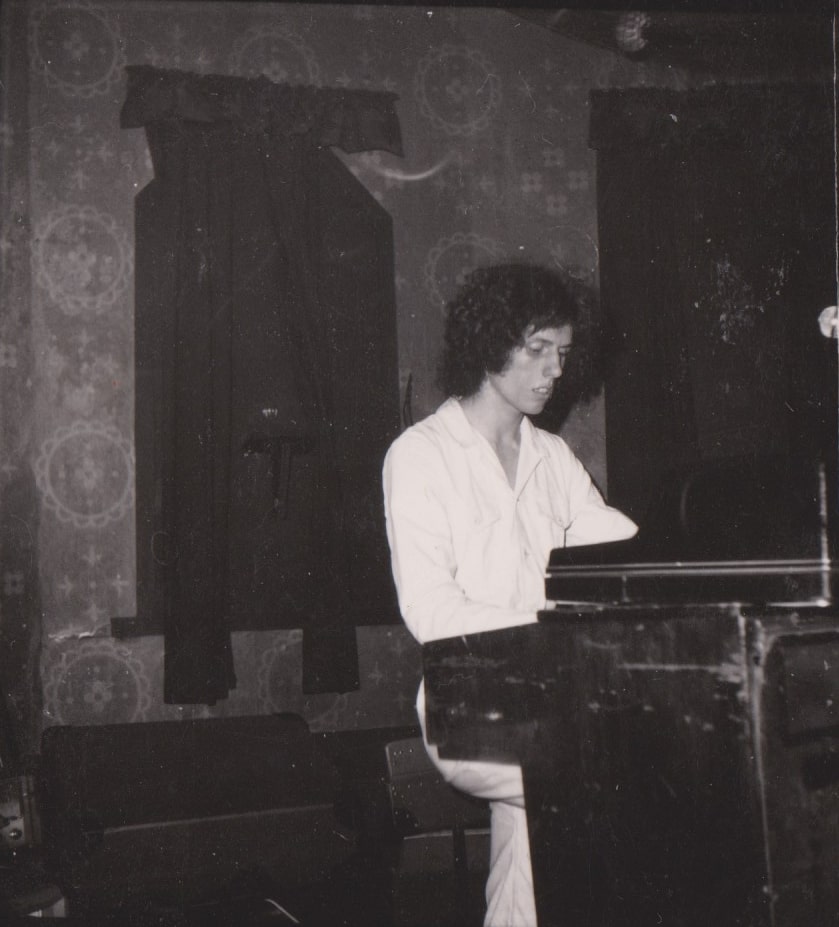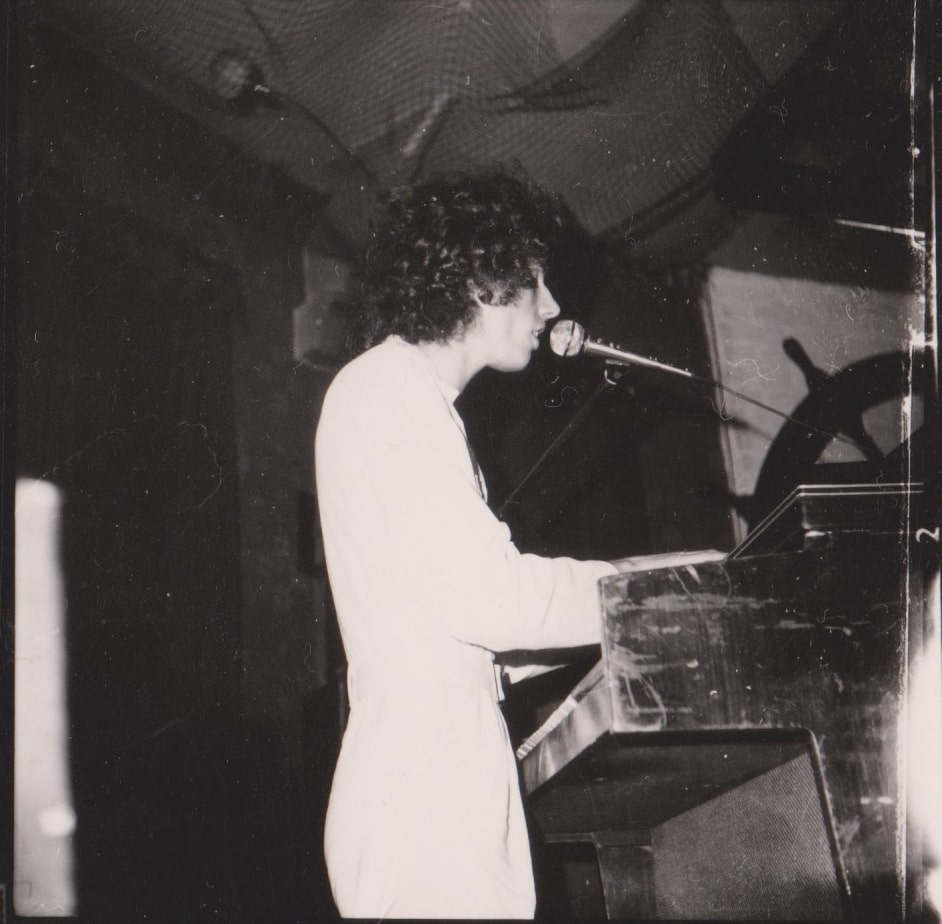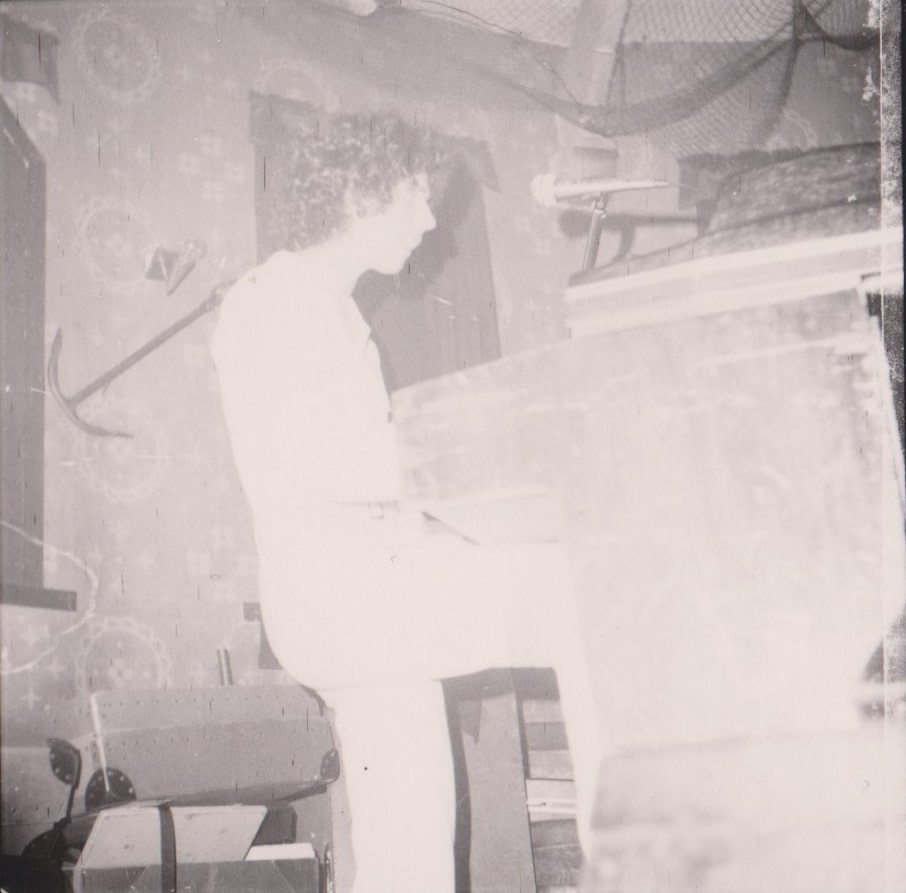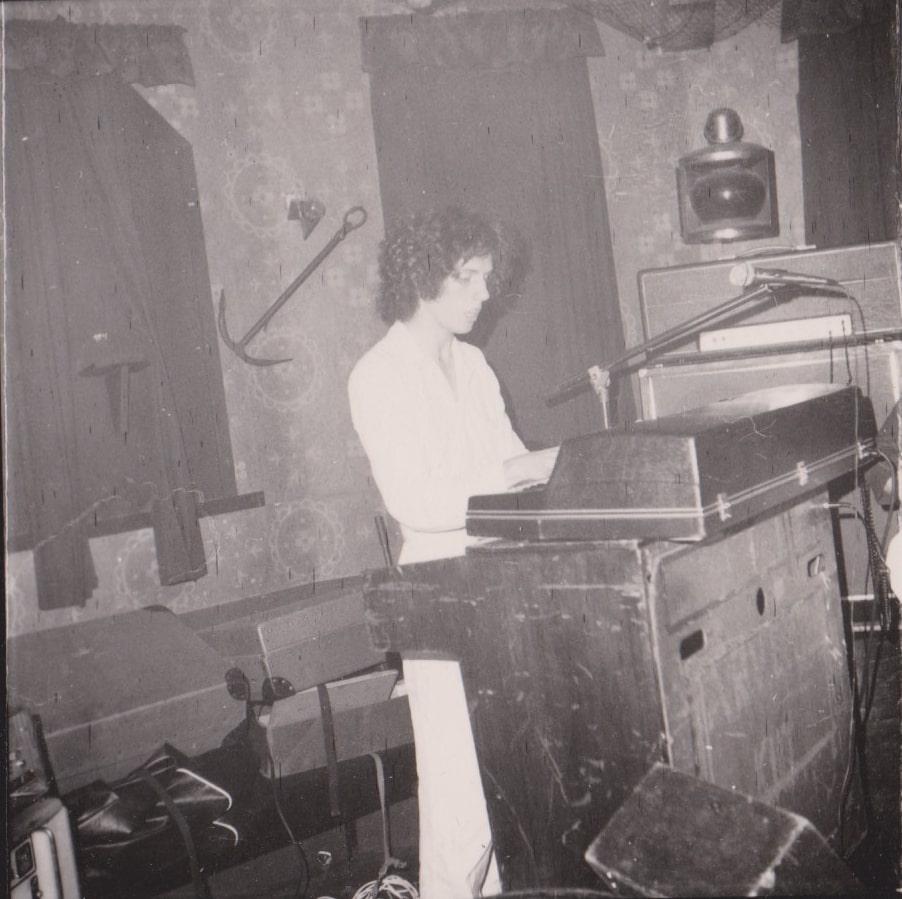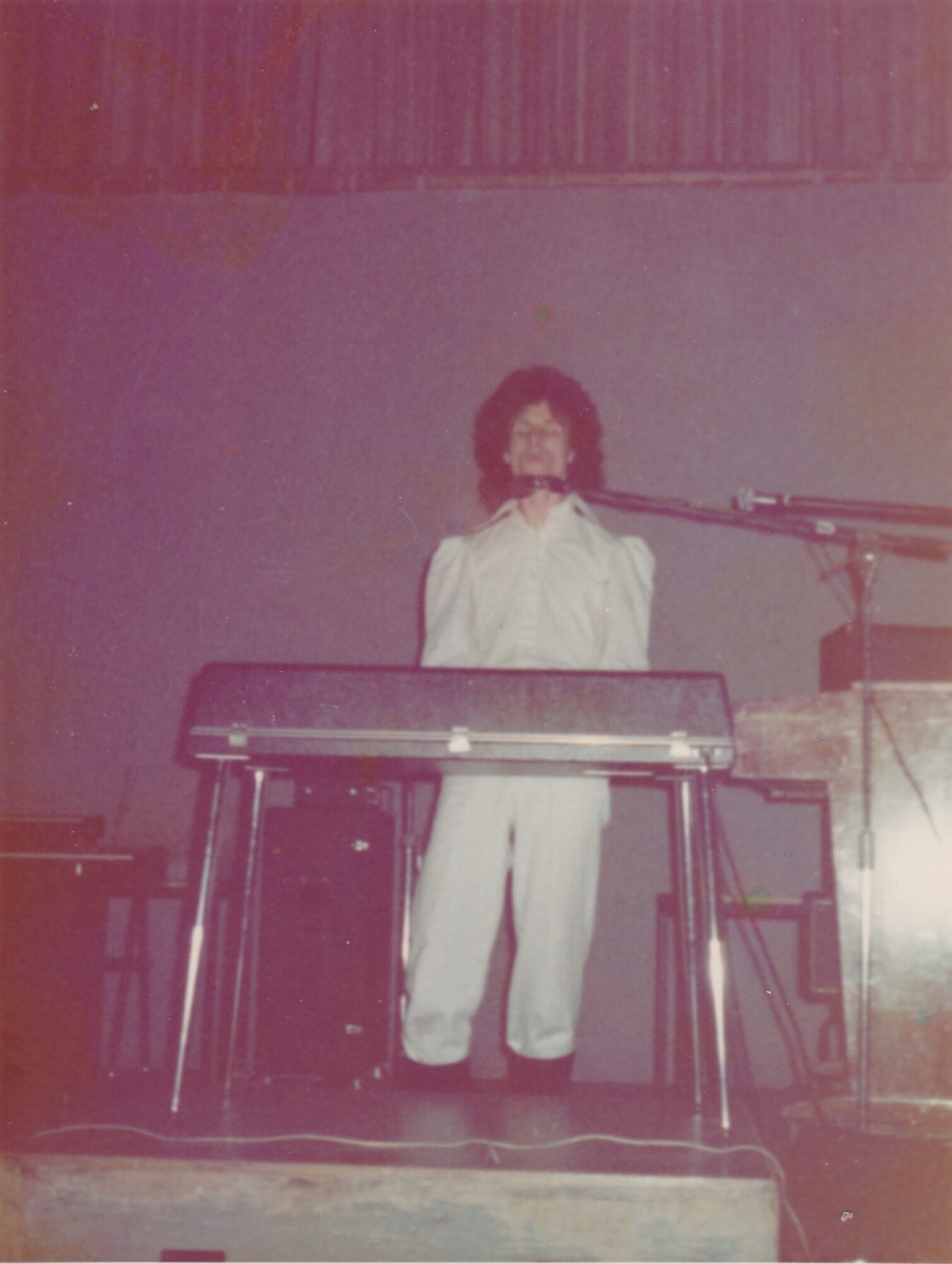 Was there a certain concept behind the recordings?
Tony Coxon: Not that I'm aware… we started writing our own music, we were excited at doing so. To record it was a bonus, but we never imagined that these particular recordings would find vinyl release. I always thought or hoped we would end up with a deal and have time in a studio to record it all at leisure and with whatever facilities were available and unleash the full potential to an eager audience – ha.
Steve Betts: We only ever recorded what we played in the sense of making a record of it in much the same way as you would make a record of a ship being launched by filming it. There was a concept in the composition but not in the production or sound.
Frank Artés: I don't think we discussed any specific concept except that recordings were absolutely necessary if we wanted to move the band forward. Is there a relationship concept between the tracks? If there is, Tony and Steve would be able to answer that but I see each as a standalone piece of art.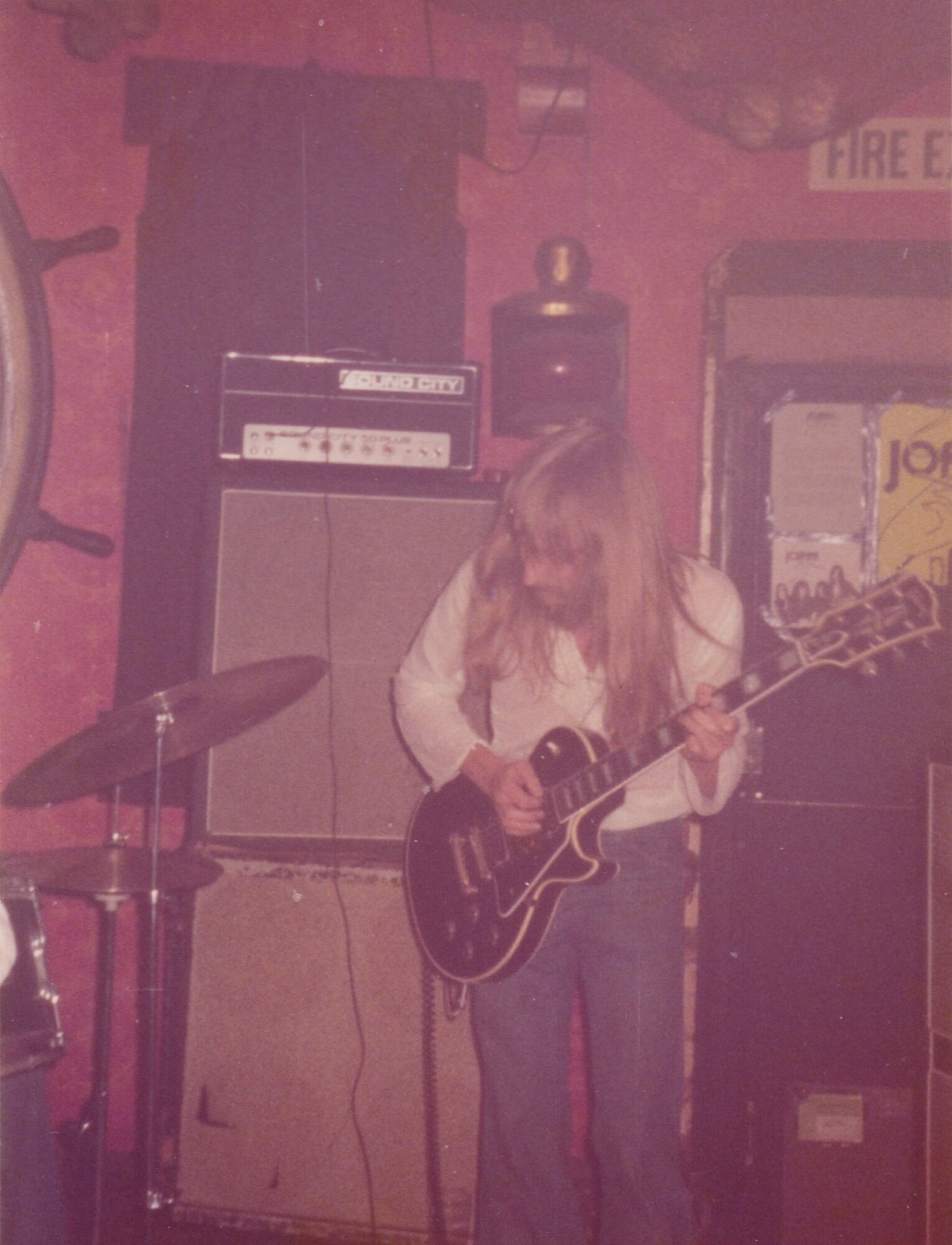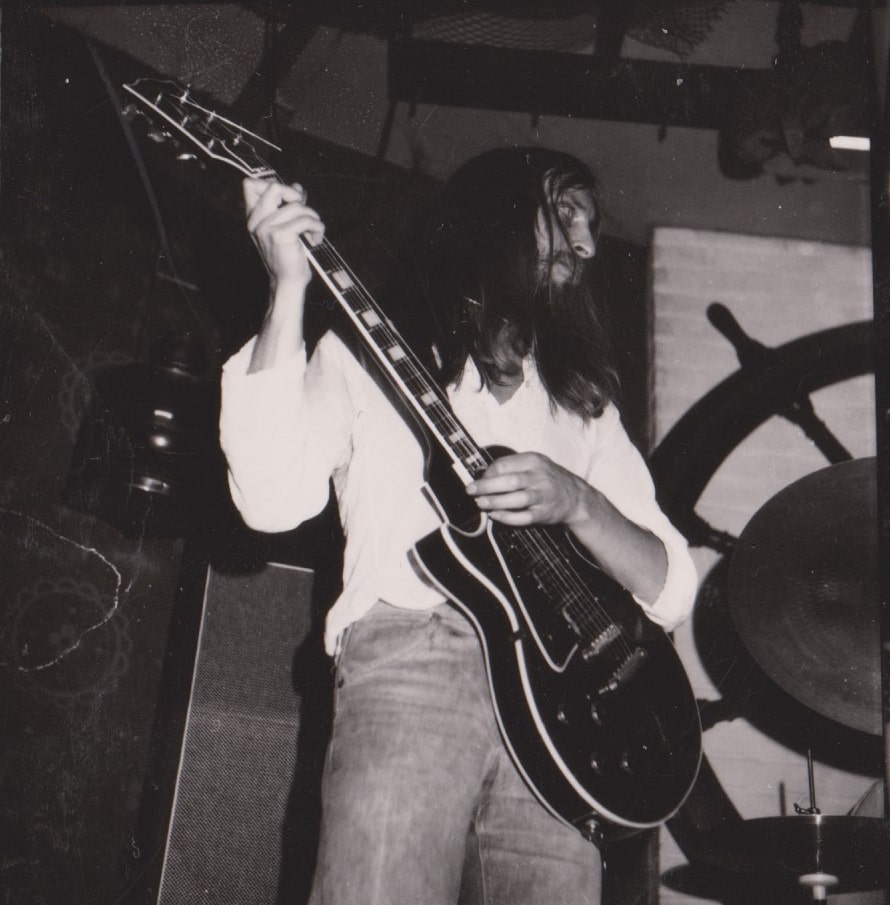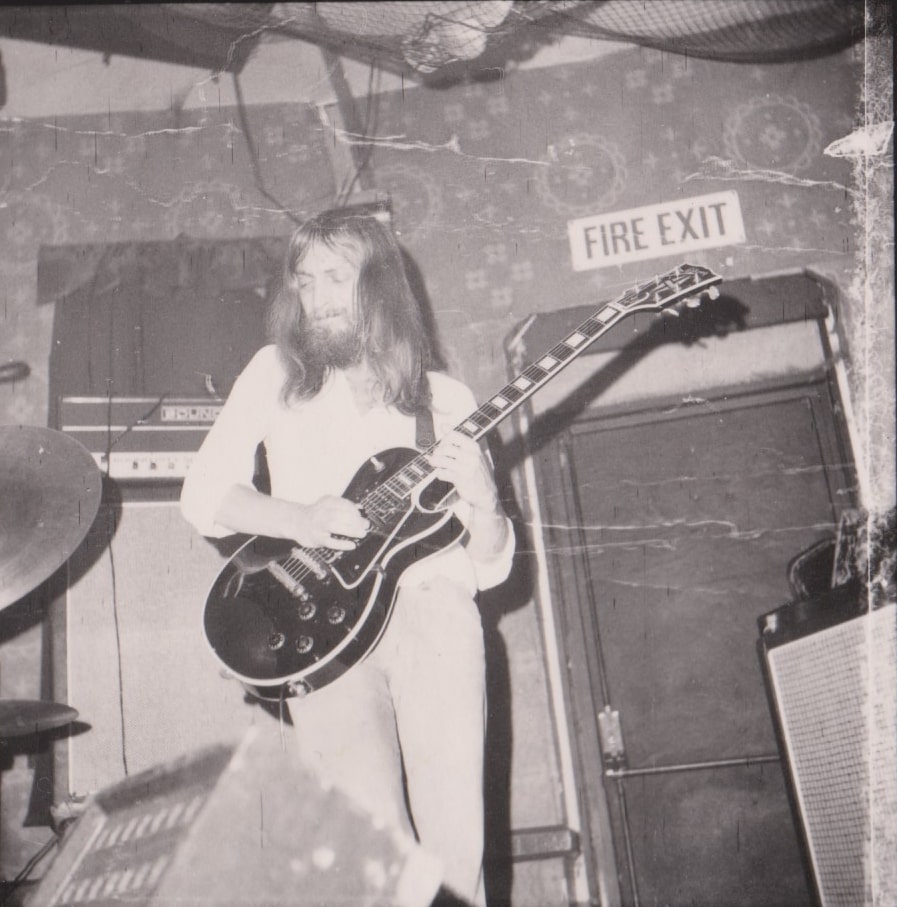 What would be the craziest story that happened to the band?
Tony Coxon: Frank has a story which happened at the Howff in Chalk Farm, London. Incidentally, I found out more recently that both Sandy Denny and Paul Simon had played the Howff about the same time as us.
Paul Moon: Naked women photo shoot at The Howff…
Frank Artés: We were playing a week-long gig at a dinner club/pub called The Howff in Regent's Park Road in London. We arrived early one evening to find the doors locked because a Playboy-type photo shoot was happening inside. Pete, our manager, was already inside the club and eventually convinced the photo director to let us in. We had our equipment already set up on stage because we were there for the whole week. However, sitting at Paul's drum kit was a naked woman, another was pretending to play Steve's keyboard, and two or maybe three were standing at the mics acting as if they were singing while the photographer moved about taking photos. What a remarkable sight, I thought. We ended up playing a couple of songs while the girls stood at the mics miming the tunes. I remember they all grabbed long fur coats which they put on after they got off stage. I bought the magazine a few months later to see the photo spread, and sure enough, the girls and our gear were there…but sadly not us.
Steve Betts: We entered a talent contest in Marvelous Kid version 2 with Spike and won the final in Plymouth. We were given a Laney PA system and an afternoon in Decca recording studios. The guy who presented us with the prize was Pete York, the drummer with Spencer Davis Group on 'Keep on Running' and the rest. At that time he was playing with Eddie Hardin – Hardin and York. I mean this was Plymouth on a Saturday night in 1970. He'd come all the way down from Town for 50 quid or something, watched some hick bands, stayed in a hotel and gone back the next day, but he talked with us and gave me a taste of the kind of conversations you have when you're actually making a living in the industry. Totally level, very cool, complimentary without being patronising. He made me feel like we were chatting at the bar in The Marquee. All through the 70s there was a guy I later found out was called William "Jesus" Jellett who you would see at every festival dancing in the crowd. We'd seen him dancing at the Isle of Wight festival in 1970 and when we played in front of the stage at Glastonbury in 1971 there he was, dancing while we played. He's in one of the photos we have of us in front of the main stage, sitting down on the right. There's an article about him here. When we got to Glastonbury there was a long wheelbase transit in front of us waiting to get on to the site. We got out and asked the driver what was happening. "Don't know," he said. "Are you playing?" we asked. "Not sure" he said. "What do you play?" we asked. "I'm a roadie," he said. "Which band?" "Genesis". He left an hour later.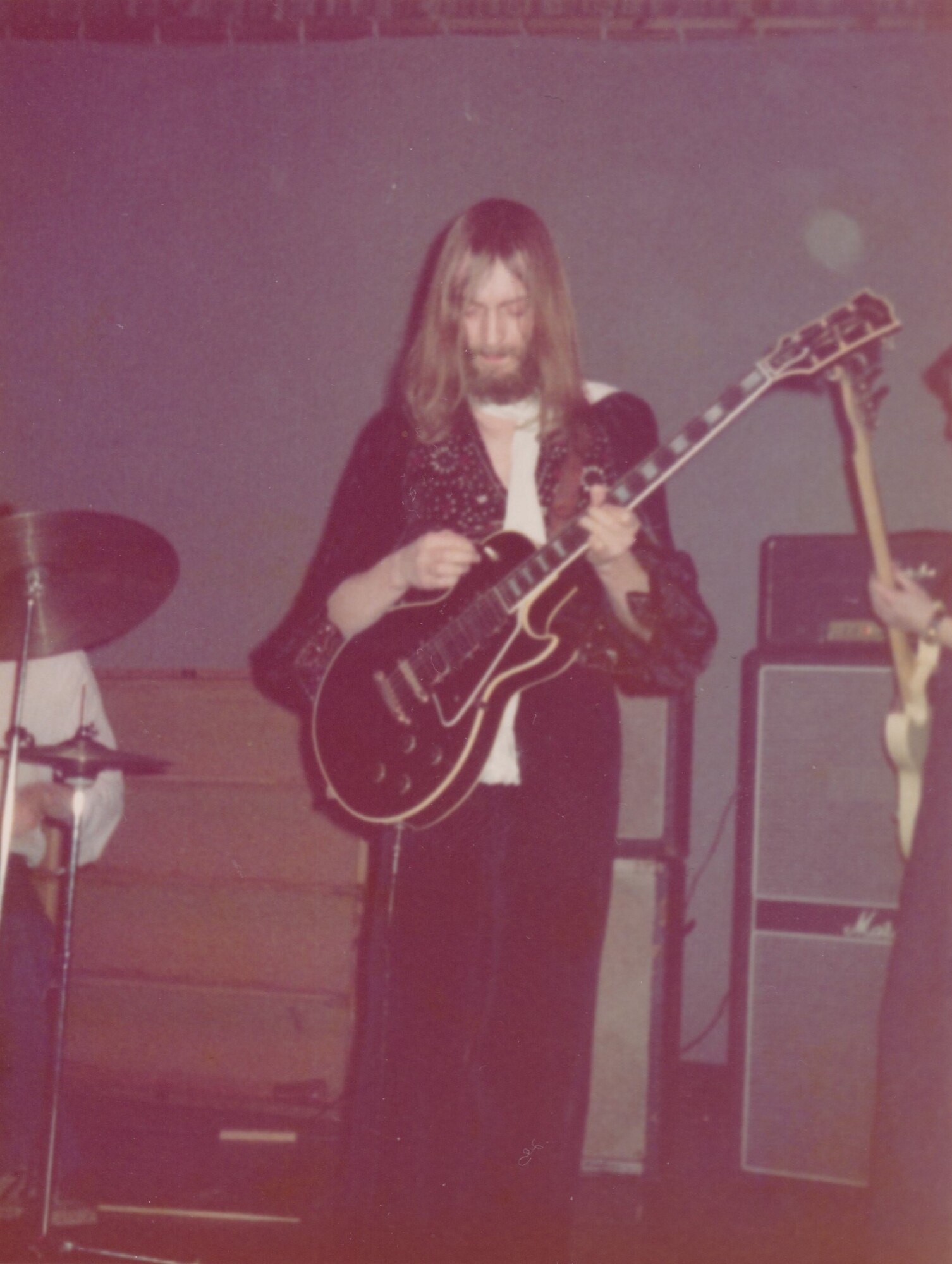 How did you usually approach songwriting?
Tony Coxon: Interesting question. I should point out that memories after 50 years may be a little unreliable. I say this because Steve and I remember one song quite differently, though I hope we won't end up suing each other. The first song that we came up with was 'Exploration'. I had come up with a guitar riff in Ami in 6/8 time and we turned it into a whole piece. Sadly it wasn't recorded though Paul remembers it really swung. It was exciting to be playing something of our own and having an audience accept it. Mostly my songs started with lyrics. I was playing with words a lot and writing them down in a book that has stayed with me ever since! My next two songs were 'Concerning Clowns' and 'One for Sebastian'. Fortunately 'Concerning Clowns' have been found on an old reel. I had talked with Spike about jazz chords and he recommended a Mickey Baker Jazz Guitar method book. I used some chord patterns using "jazz" chords from this to create part of 'Concerning Clowns' adding words. 'One for Sebastian' started by messing around on my Telecaster, finding that E mi octave riff and expanding it. I think I just kept creating a section, then imagining where it went next and trying to put that together with chords. I adapted words I'd already written to fit the song. The Sebastian of the title refers to Sebastian Dangerfield, the anti-hero of J. P. Donleavy's novel/play – The Ginger Man. 'Instructions for Travellers' was definitely a collaboration with Steve, but our memories differ on this one! It starts with a piece I'd written of that name in 1971 and was playing in Cornwall with Spike on sax. My notebook shows the chords over the lyrics. I think it developed into a Suite of pieces at the time we were putting the band together to move to London with Frank and Ivor. We added Steve's song 'Home' and then put together chords for the 3rd section, 'Destination,' for which Steve wrote the lyrics and then I added the Outro chord section – as I say some of that conflicts with Steve's memory – for PRS we both wrote the suite! It was definitely a collaboration. 'Nickelodeon Queen' was another example where I wrote words/lyrics and then used them over basic chord changes. At the time we were writing and working up the material in Paul's cottage in Milltown. I just thought of NQ as a filler. 'After the Race,' more elaborate, grew out of 3 sets of lyrics and was written at end of '72 and 'Immanuel's Manual' in the winter of '73 after reading Immanuel Velikovsky's book, Worlds in Collision with other references such as Leonard Cohen's novel Beautiful Losers – "the telephone dance." I seem to have lifted sections of 'Concerning Clowns' (no longer being played) and extended Immanuel that way! The music/songs I wrote happened because of Marvelous Kid. I was writing specifically for the band and the musicians within. When the band ended I had no interest whatsoever in composing more songs. I just wanted to develop my guitar playing.
Steve Betts: As a prog musician, I wanted to create art and be a rock composer. If you're up for it there's a great essay called Dark Side of the Men by Matthew Bannister in the book Speak to Me: The Legacy of Pink Floyd's The Dark Side of the Moon, which talks about how prog musicians aspired to be making something that was art. I don't say this with hindsight, I absolutely felt this way at the time and I make no apology for it. The songs were supposed to be above ordinary pop music and be more like classical music. You couldn't dance to them you had to sit and listen. (My family listened to me playing the piano much?!) I modelled my songs on Yes, Zappa and the rest and they were often 15 minutes long. They were full of tempo changes and half time sections, straying out of 4/4 into 5/4 and 7/8. I learned a lot about transitioning from one section to another by listening to 'Eli and the Thirteenth Confession' by Laura Nyro, 'The Yes Album,' Zappa and Soft Machine 'Third'. I usually wrote at the keyboard but tried to write sax, guitar and keyboard harmony on manuscript. That wasn't always very successful and it was often easier to just sing the parts to everyone. I knew what notes and intervals were being used though, I had good relative pitch and did some music theory at school and I wanted to use it in what I was doing. This wasn't an "Oh I just do what sounds good" situation. There was really no improvisation in my songs outside of the actual solos. My thinking was entirely influenced by bands like The Nice playing The Brandenburg Concerto and The Who playing 'Tommy' – a Rock Opera – all of them modelling the idea of serious/"classical" rock. I stole ideas, 'Oedipus Wrecks' has bits of Sparks's 'This Town Ain't Big Enough for Both of Us' and the main chord rhythm from 'Bell Boy' in 'Quadrophenia'. 'Clench' was effectively a mangled version of the third movement of Mozart's Prague symphony, which I adored, and 'The John and Valerie Music' starts with a blurred copy of Terry Riley's 'Rainbow in Curved Air'. Following Pete Townshend's example I wrote lyrics about imagined situations that were based in real life, with a few exceptions here and there. It's a funny thing with Marvelous Kid because I never thought about the vocals at the time. We were all listening to the instruments. Even in the famous bands, when there was a singer, Jon Anderson in Yes, Greg Lake in King Crimson, Robert Wyatt in Soft Machine, the lyrics were always so high minded or obscure and the voices always Martian (Anderson) super worthy (Lake) or situationist (Wyatt) that vocals didn't really sound like anything other than just another instrument. After Marvelous Kid, my voice became much more central to my writing.
Paul Moon: With a pitchfork or gardening shears [laughs].
What happened after the band stopped? Were you still in touch with other members? Is any member still involved with the music?
Tony Coxon: The band ended September 1975 not long after Steve and I returned from hitching from Paris to Corsica. Another story. We did record the last gig at the Railway Inn in Surrey. I ended up moving into a flat in Clapham Common belonging to Cornish friends. It all seemed a bit traumatic at the time. A bit like getting divorced. The following year I had a call from Frank about sharing a flat in Earl's Court Square, 23C next to the Poetry Society. We formed a new band called Berlin with Steve on vocals, me on guitar, Frank on bass, Rob Bacon on drums and Jeanette "Nettie" Hills on vocals. Later that year, after the legendary hot summer, 1976, Berlin ended, we all left the flat and went separate ways. I remember Steve's next band, The Books and for a time Paul came to live in my flat in Wandsworth Common, but we had little contact after that. Frank and I kept in contact via email and met up once in Toronto. Paul and I eventually met up in Greece last October and had much to catch up on. I had Zoom calls with Steve in France since this contact with Seelie Court has been our first contact since the 80's.
Steve Betts: I broke up with myself and met somebody else. I was in touch with Tony and Frank for a while – we had a band called Berlin. I wrote the title track, but I can't find the tape, though. Paul forever and now Tony and Frank again. Fab. After Marvelous Kid I threw all my pre 1976 records away and embraced the New Wave. I went to West London Institute of HE, now Brunel University, and studied music, which in my case means getting access to their equipment and writing a load of songs. After that I formed a band called The Books with an American called Bob Kelly and convinced Paul to come and play drums. (He was about to go on an extended trip to France on a BMW Motorbike he'd just bought with a mutual friend.) We signed to Logo/RCA, released three singles and an album – 'Expertise' – and toured the UK with The Skids. I stood at the front in the middle and sang. After that I joined The Associates, worked with Pete Murphy from Bauhaus, played the Old Grey Whistle Test with Eurythmics, The Bataclan with Fatima Mansions, The Borderline with Ron Sexsmith plus about a thousand other gigs, sessions and production projects. I toured Europe, the States and Japan, recorded in Air, Abbey Road, Basing Street. Plus Trente and Cherokee. I also formed another band of my own, Howard Hughes and the Western Approaches, which Paul also joined briefly at the beginning. I signed to Intersong for publishing and we released four singles on Abstract and EG. We played all over the place, usually first on the bill – second when we played the Pyramid stage at Glastonbury in 1986 -me standing at the front, fifty feet up in the air from where I was sitting at the side in 1971. Other bands followed, plus University teaching (Popular Music FFS) playing with contemporaries around London and writing. Continuously. In 2022 Barbara Marsh (from the Dear Janes) and I formed The Franklyns and released the album 'Eternity Pool' on Rotary Head Records.
Paul Moon: In 1975 when we split, my relationship with Lynn also ended. I moved into a flat in Earl's Court with Tony, Frank and our friend Netti. For me this didn't last long and I eventually upped and headed back to Cornwall, being somewhat burnt out from it all. I was in contact with our old friend Mike Shepherd and I became involved in the theatre project he was working on, later to become the acclaimed Kneehigh Theatre. I also started playing in various local bands, covers / working gigs by that time paying reasonably well but by comparison not that exciting. But to be playing was important to me, so I'm grateful to those bands. Frank eventually headed to Toronto, with his partner Corolyn. Tony and Steve stayed in London, we did lose contact for quite a while. I did stay in contact with Steve and he did get in touch to ask if I'd like to give his new band The Books in London a crack 1978/9? I responded and joined him, another story for another time, another era. The 80's. Since we all recently reconnected we have discovered we are all still, playing, writing and producing in some capacity.
Frank Artés: After Marvelous Kid disbanded I went to Canada for a few months to visit my Canadian girlfriend whom I had met in London. When I came back in March 1976 Tony called me and asked if I would be interested in joining a new band he and Steve were putting together called Berlin. I said "yes." We did a good number of gigs with a female vocalist-friend fronting the band before we finally split up about a year later. I married my Canadian girlfriend and moved to Canada, permanently. I kept in touch with Tony over the years but lost track of Paul and Steve until just recently. The new-found interest in the Marvelous Kid recordings has thrust us back together, albeit via video link, which is pretty fantastic. As for Pete Davey, who replaced Ivor on sax, he's been completely off the radar since we disbanded. When I first arrived in Canada I played in a band for several months, but they were no Marvelous Kid, and depressingly rubbish. I lost interest there and then and subsequently quit playing music for the next 25 years. However, in 2003 I rediscovered my Fender bass, which I had brought to Canada with me. It had been sitting in a closet since 1978.
Were any members part of any other bands? Any unreleased recordings left?
Tony Coxon: I became very involved with Brazilian music throughout the 80s. For a short while I knew Dominic Miller (Sting's guitarist) who taught me 2 or 3 pieces, then studied and became friends with John Zaradin. I was in a Brazilian choro band called Os Paulistas in London for about a year (no recordings). Much later I was in a local covers band called Life Without Roger. For the last 10 years or more I have been focused on playing solo guitar using a Takamine THH90 electric/acoustic guitar playing locally as well as usually twice a year in Greece and last year a jazz fest in Norway.
Steve Betts: Between the four piece and five piece versions of Marvelous Kid, when I was 19, I auditioned for and became lead singer of Grannie. I'm not on their album but I played the Speakeasy with them and most of the other venues around at the time. The guitarist/songwriter in Grannie, the late Phil Newton, exerted a considerable influence on my writing, mainly because his songs were very fluid compared to the songs I had written up to that point. Mine were written on keyboards, a bit clogged by theory and with vocals as an afterthought. Phil's songs were written on guitar and he sang over the top as he wrote them. He just used the chords that went with the tune, he didn't arm wrestle with harmonic variations. When he finished the song with just guitar and voice it was good to go so then you could think about adding the harmony/theory. I took away the instinctive flow that he had and brought it back to Marvelous Kid and from then on wrote songs I actually quite liked. I never adopted the guitar vocal way of writing – my next big influence was when I got in a studio and could record fragments and then play over the top to generate ideas – but Phil's example of instinctive flow never left me. Also Dave Holland -'H' was a brilliant bass player; economical, in the pocket, great sound. Before that I hadn't really understood the role of bass guitar but he really opened my eyes. Seeing what he could do convinced me that we would have a lot more flexibility if I didn't have to use bass pedals in Marvelous Kid, as I had with the band up until then, and when Frank showed up, well, you just have to listen to the sound he makes. Awesome. In Grannie I also realised that standing up as a front man singer in the middle of the stage was the place to be. I came back to Marvellous Kid and started putting the Thomas organ on beer creates so I didn't have to sit down. After Marvelous Kid I pretty much only ever sang or sang and played guitar performing my own stuff. Always in the middle of the stage, always standing up. I wrote a solo album at home in late 75 but I can't find that recording either. B@ll*cks
Paul Moon: After Marvelous Kid, Berlin, Life without Roger, The Books, Vachement Bath, Howard Hughes and the Western Approaches, The Franklyns.
Frank Artés: Since 2003 I've been involved with a number of different bands, TimeLine (five-piece playing 70s rock), Pearl (trio playing smooth rock), BluZone (duo playing blues /jazz – released a CD in 2016). I'm currently part of a funky jazz/blues trio (SO_CO). We released a CD of original compositions in 2022.
Would you like to comment on your technique? Give us some insights on developing your technique.
Tony Coxon: Never been asked that before. Listening to lots of different music and players certainly would influence my approach. I loved the clean sound of the Telecaster and equally the fat sustain of my 1958 Les Paul Custom. With Marvelous Kid I tried to contribute something different with each new song and not rely on pentatonic blues type soloing. I also like to find melodic phrases to complement the vocals and add colour. Always think it's a bit like trying to paint a picture.
Steve Betts: My keyboard playing was not great in Marvelous Kid. Speeding up, making mistakes, I was the least technically capable person in the band. I had grandiose musical ambitions, my technique couldn't match and a lot of attitude. Right after we split up I found a piano teacher who showed me Hanon: Exercises For the Virtuoso Pianist, taught me all the scales and the 'Pathetique' Sonata .Later I started recording in studios and in that atmosphere of high level focus I learned to play in time, use only the notes that were needed and also to shut up once in a while. My singing is pretty good in Marvelous Kid. It speeds up and sometimes it's gabbled but the pitch and power are solid. Singing with Grannie – I didn't play keyboards with them – really sorted my voice. Phil Newton wrote great melodies and we did covers like 'Walk Away' by the James Gang and 'Ohio' by Crosby, Stills, Nash & Young, which helped me expand my range.
Paul Moon: I'd love to. I was and still am an ear player and learned from listening to records. I didn't work on too many rudiments but when I came upon a certain fill or groove that I needed, I worked on honing that. I admired many drummers of the time, Bill Bruford of Yes, Jim Capaldi of Traffic and of course all the Zappa drummers. Keith Moon. Robert Wyatt, I could go on. The thing is whenever I got the chance to see these drummers live, I'd be dazzled and come away thinking…. A little way to go yet. I developed my technique from playing with initially Steve and Tony, later, Frank, Ivor and Pete. We encouraged each other, and we drove each other along. So technique really developed as a band I guess. Sometimes when we had played a piece really well, we'd be chuffed and one comment I can remember us making was "get out of that!" Confident, audacious, maybe even arrogant. That might have come from Zappa.
Frank Artés: From the minute I picked up a bass guitar (I was 17), I loved it. I loved the feel of those four strings under my fingers. I didn't consciously emulate any particular bass player's style or sound although I certainly listened to a lot of them in my early years. I've always thought of rhythm as harmony, playing bass riffs that would complement melody lines and chord progressions without losing that connectivity with the drummer. It was something I developed as an emotional response rather than a technical response to what I was hearing. For the time I was with Marvelous Kid I played a Fender Telecaster bass with a sound that had a real bite. You can hear it on the opening riffs to 'Nickelodeon Queen'. I still have that bass today and play it occasionally.
Looking back, what was the highlight of your time in the band? Which songs are you most proud of? Where and when was your most memorable gig?
Tony Coxon: I don't think there was any specific highlight – it was all great. I'm proud of being able to write any songs at all and I don't have favourites! There were so many gigs it's impossible to answer, and it's been such a long time. Obviously playing the "first" Glastonbury festival in 1971 has to be a highlight but even playing in a Cornish field, which Steve mentions, sticks fondly in my memory. I loved it all. Such a great band.
Steve Betts: All of it. Don't make me choose. They're like my children. Gorran Festival for me. Sunny day, people hanging out, some good bands and I was in one of them, playing onstage with a couple of super cool musicians. I saw my life opening up in front of me.
Paul Moon: It's difficult to pinpoint one highlight, as it was an evolving, organic experience. I'm proud of all the songs, it was mostly joyous to be playing in the band, each gig another journey. I guess the Glastonbury Fayre event was quite memorable, as we decided to just turn up and were insistent that we should play. This was featured in the South West press and we enjoyed a slightly elevated status for a while, and from that we certainly got more gigs. During the period where we all shared a house in Beech Close, Walton was a very creative and intense time. At this stage Pete Davey, (saxes) had joined us. His level of playing really impacted on our sound and we played some great gigs. What little we did get paid we would usually blow on an Indian meal somewhere after the gig, Pete was really into the real hot stuff.
Frank Artés: I feel the same way as Steve…all of it.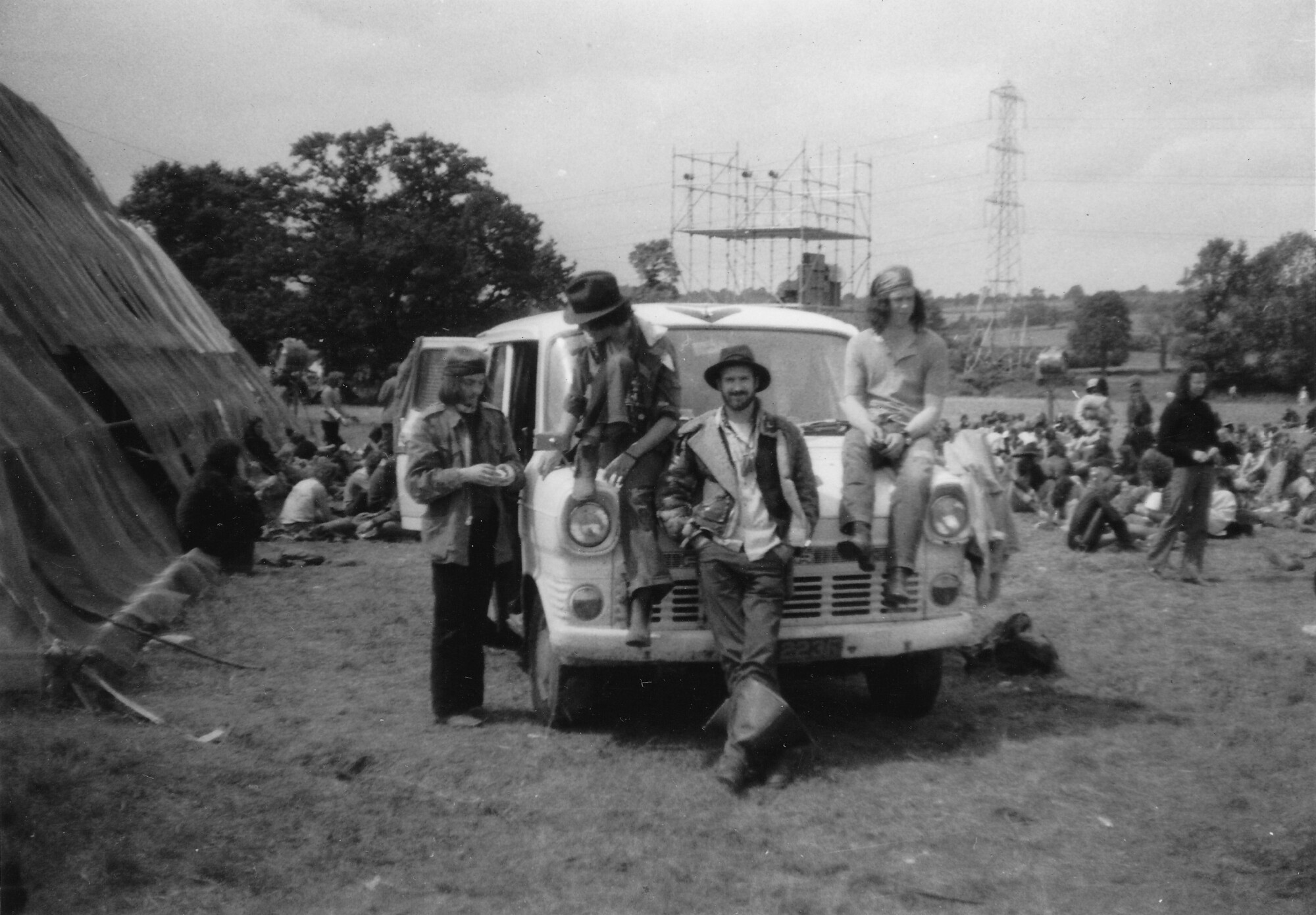 Thank you for taking your time. Last word is yours.
Tony Coxon: After so many years it's very gratifying and a little surreal to know our music is once again being listened to, to be released on vinyl and CD. Thanks for taking interest in Marvelous Kid.
Steve Betts: When Marvelous Kid was together we played all the time, religiously almost, and we hung out. It was formative but I had very little equipment and no idea about how sound could influence compositional practice. As a band we had no access to studios nor any idea how to break into the monolithic record industry. Now, the way I make music has completely changed. I have good instruments, a computer with more software plug-ins than any studio Marvelous Kid ever saw, fresh influences, new abilities and I can release it all myself on the worldwide web. At its heart though, what I write; the choice of notes, structural design and the starting point of lyrics, comes from the same place as it did in Marvelous Kid. The ideas I formed at that time about how I wanted to write remain and I'm still working at putting those ideas into practice. I understand that the recordings of Marvelous Kid speak to that time in the past when they were made and through that lens they have historical and phenomenological value, but for me there is no past. The songs are part of a continuous musical present.
Paul Moon: Despite different line ups, there was only ever one Marvelous Kid!
Frank Artés: My time with Marvelous Kid was the best. When I moved to Canada I had cassette tape copies of the recordings we had made but I could not bring myself to listen to them. For me there was too much of an emotional attachment to those songs and too many memories of a life I was no longer a part of. Now however, ….
Klemen Breznikar
---
Headline photo: Marvelous Kid at the Grand Finals at the Continental Hotel, Plymouth when they re-played one of the songs after being announced as winners.