Grannie | Interview
Grannie was a British progressive rock band formed at the end of the sixties. In 1971 they went to the studio and did the album in one single session. Their 1971 debut is basically a demo (then issued on vinyl in a total pressing of 99 copies) – they weren't signed to the label. A melodic masterpiece of early progressive rock. Highly collectable.
---
Grannie were: Phil Newton (guitar), Dave 'H' Holland (bass), John Clark (drums), John Stevenson (keyboards), Fred Lilley (vocals), Jan Chandler (mellotron).
"We did the album in one single session."
Where and when did you grow up? Was music a big part of your family life? Did the local music scene influence you or inspire you to play music?
Dave 'H' Holland: I grew up in Leytonstone, east London originally until I was about 8 years old, then relocated down the road to Forest Gate.
Music has always been in my family, my father could play the accordion and piano really well, had a great ear for music. Never played professionally but would take to the piano at the pub or family gatherings.
When I got in to music around 1960 there wasn't much of a local music scene around yet and it was mainly my parents' generation singing their songs in pubs. The rock'n'roll and pop music didn't come on the local scene until a couple of years later.
When did you begin playing music? What was your first instrument? Who were your major influences?
My cousin's husband's sister had an old acoustic 6-string guitar, and when I was 13 she gave it to me as a gift. I hadn't thought about playing guitar before that!
Eventually me and some friends got together and played some rock 'n'roll songs and it wasn't until I got in to The Shadows that I picked up the sound of bass and went from there!
I liked The Tornados, John Barry Seven, The Beatles, Beach Boys. Then later on in the 1960s The Kinks, The Marmalade bands like that.
"We [The Survivors] even supported Pink Floyd in 1968 at Eel Pie Island!"
What bands were you a member of prior to the formation of Grannie?
When I was 14 I was in a band (can't remember the name!) and we would play parties. After that I was in a band called The Oddments and we would rehearse at a place with other bands called Gascoigne Road School in Barking. An older guy called Cliff Early who was a very good guitarist would come around and give people advice and tips.
Sometimes during a break we'd have a walk around and listen to other bands playing and one of them was called The Survivors. One day I have a knock at my door and three of The Survivors are standing there and asked me if I wanted to play bass for them. Cliff Early pointed them in my direction, they were a good band and so I joined them. Stayed with them for about 3 years, we even supported Pink Floyd in 1968 at Eel Pie Island! The Survivors broke up not long after as our touring van broke down and we didn't have the money to fix it.
After that I was in a band called Indiana and we played country and folk covers.
You often jammed together with guitarist Phil Newton with local rock outfit Powerpack at the Bridge House pub in Canning Town. What do you recall from that time?
I knew of Powerpack and the Bridge House before I met Phil and a lot of local musicians would go down on a Friday and Saturday to see them.
I was with a workmate Bob Mays watching Powerpack and he said "I've got a friend who's just as good as this guitarist" nodding at Powerpack's guitar player. Bob said "drink up and we'll go and see him."
He takes me around there, and Bob was a lovely bloke but could be pushy and I could tell by Phil's face Bob was the last person he wanted showing up to his house at 10pm and he was in the door before Phil invited him in!
Bob told him I played bass and asked Phil if he still has his old one lying around which he did. Phil also brought out his new Les Paul, black with gold plated hardware.
Phil was in to blues and as I said earlier I'd been mainly in to Beach Boys, The Shadows etc. But we ended up having a jam, I played Phil's old bass and I found I had a natural feel for playing blues.
After thinking when we turned up he couldn't wait for us to go, he ended up enjoying it and at the end of the night asked me if I'd be interested in forming a band with him.
Me and Phil used to get up and play for 15 minutes in between Powerpack and gave us some experience of playing together in front of an audience.
What was the first song you ever composed?
Phil would come up with an idea, ask me what I think and then I'd work my bass parts around it.
The first song that we worked out together was 'Leaving'.
Can you elaborate the formation of Grannie?
Well it was just me and Phil at the start, and then we had Bob Mays on drums but as good as he was his style of playing wasn't suited to what Phil and I were playing.
We had a few try out but none were suitable, so I suggested my mate from The Survivors Ray Curtis and he had a good Ludwig drumkit.
Jan used to be in a band with Phil so he brought her along and suggested she get a Mellotron, which was a hell of a lot of money then!
We needed a vocalist and I suggested the vocalist from the band Indiana I was in and that was Fred Lilley.
When and where did Grannie play their first gig? Do you remember the first song the band played? How was the band accepted by the audience?
We did covers at first, songs by Cat Stevens, Cream, Crosby Stills & Nash and a few blues songs. We started to get in to prog rock by then but hadn't quite worked it in to our live sets.
I can't remember the name of the pub but it was in Ilford, but the first Grannie song we played live was about the only one we had ready and that was 'Leaving'.
We went down well and audience seemed happy with us, although I remember that night Cream were live in concert on TV and Phil wanted to get home to watch it!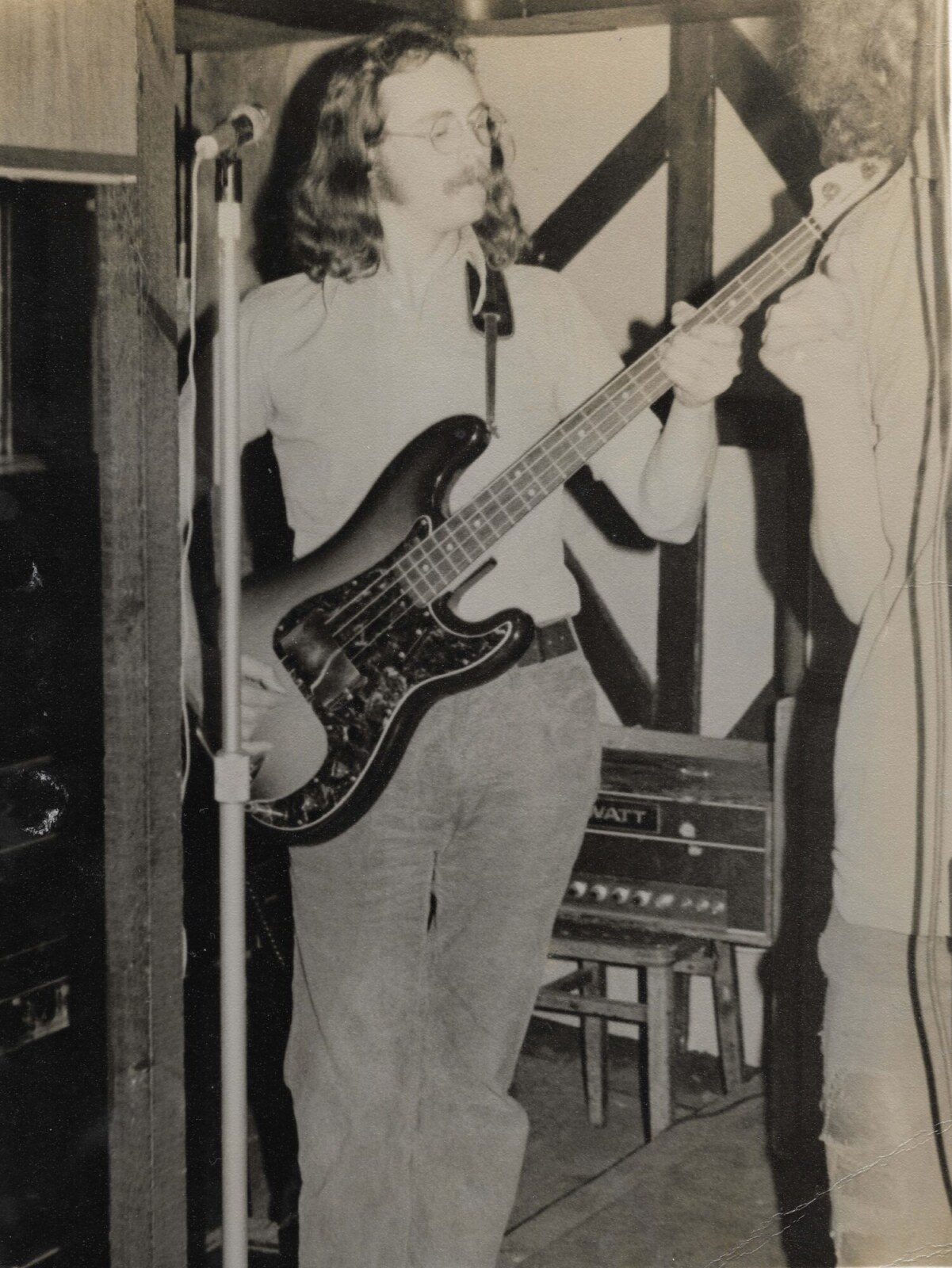 What sort of venues did Grannie play early on? Where were they located?
We mainly played pubs and clubs in London. We supported other bands like The Groundhogs, Gnidrolog, Arrival and Uriah Heep at bigger venues like The Roundhouse in Dagenham and the famous Marquee Club.
How did you decide to use the name "Grannie"?
We were called something else before Grannie. Phil's ex wife asked me recently and I've been struggling for weeks to remember it!
As far as I remember Phil asked what I thought of the name Grannie and we went with it!
What influenced the band's sound?
Bands like Free, King Crimson, Cream, Crosby, Stills Nash & Young.
How did you get signed to David Richardson's S.R.T.? There was this special deal that offered some free studio time and 99 finished LPs.
Phil would get the bones of a song, I'd take my bass on the bus to his house and we'd arrange it and then after we'd get the rest of the band together. We'd get a good way in to rehearsing, stop for the night and then two days later we'd forgotten parts that we played!
So Phil saw this advert from SRT in the paper and really it was a way to get our ideas down and recorded. I suppose it was a demo really, we weren't signed to the label.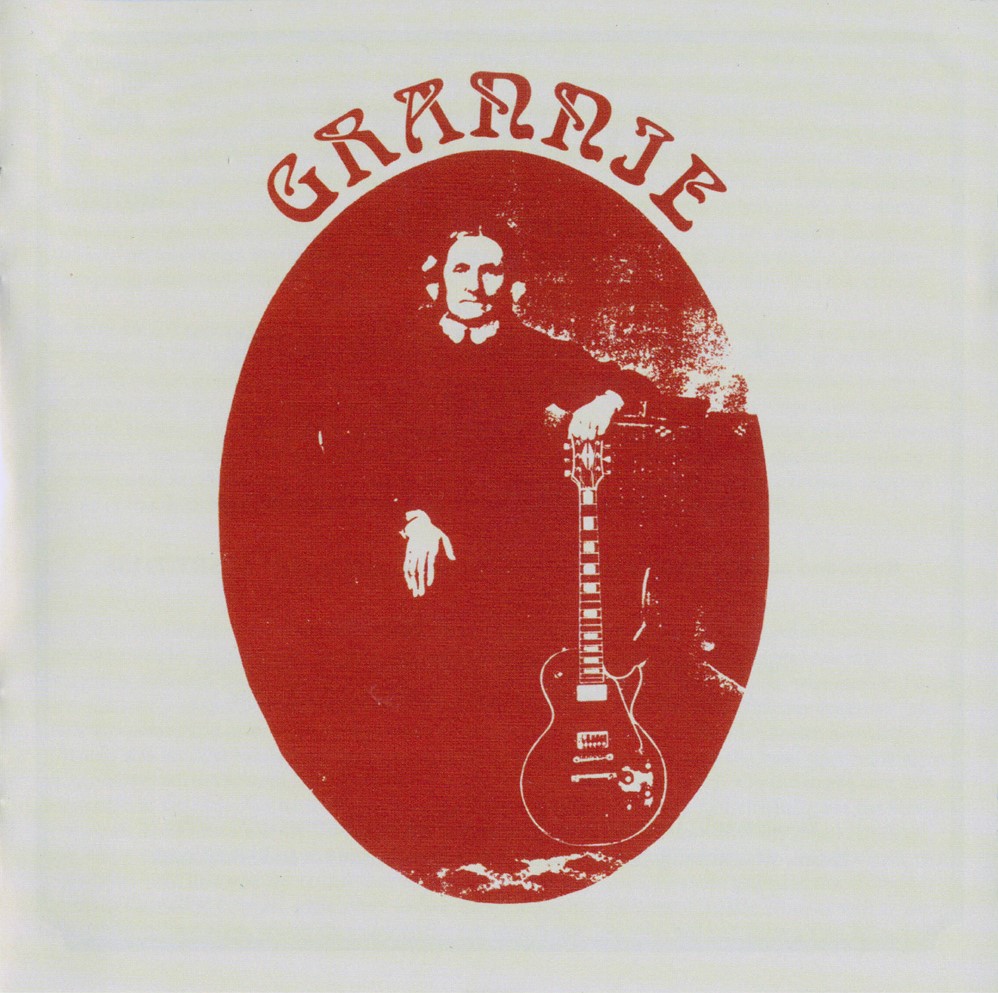 What's the story behind your debut self-titled album? Where did you record it? What kind of equipment did you use and who was the producer? How many hours did you spend in the studio?
We recorded it at SRT Studios in Hitchin in Hertfordshire. Phil used a small Marshall amp and I plugged my bass straight in to the mixing desk. Ray had left by this point and Johnny Clarke took over.
Dave Richardson wasn't actually there and we had what I think was an apprentice as our producer and we were all new to a studio including him. A couple of times he started to fade a song down only for Phil to start again! We didn't have time to double track or go back and re-record so we had to record it live basically.
Please share your recollections of the sessions. 
The SRT deal we paid for was only for 8 hours, so we did the album in one single session.
Influences musically were what I mentioned earlier, as for lyrics those bands probably helped. Phil was a very good artist too so he could paint but also had a good imagination to "paint" pictures with words too.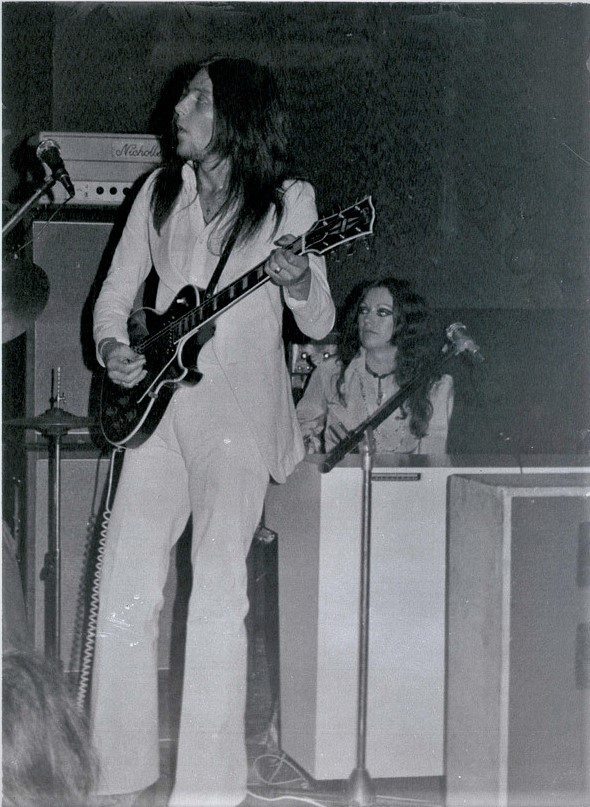 Were you inspired by psychoactive substances like LSD at the time of writing the album?
Haha no nothing like that! We weren't tee-total but didn't even really drink much booze. We smoked cigarettes rather than joints.
The cover artwork is quite something.
A guy called Geoff took photos of the band and knew how to print. The old lady in the photo is a relation of Phil's and it was Geoff's idea to superimpose Phil's Les Paul guitar under her hand for the cover.
Was there a certain concept behind the album?
No it was a collection of songs really. There wasn't a running theme or concept through the album.
Would you share your insight on the albums' tracks?
I liked all of the songs we came up with but my personal favourite song is 'Coloured Armageddon'. I like the fact it's got a lot of different parts to it and there's lots of light and shade. Just when you think that's the end of the song there's an extra bit that catches you unaware.
The other one is 'Dawn', which was me and Phil on acoustic guitar and me and Fred on vocals.
"We sounded exactly the same as we did on the stage live."
How pleased was the band with the sound of the album? What, if anything, would you like to have been different from the finished product? How would you describe your sound at the time and how much did it differ from your live performances?
The thing I didn't like about the album was the roughness of it and the quality wasn't what I liked. I've read online comments since that people like the roughness of it, which is great!
We sounded exactly the same as we did on the stage live.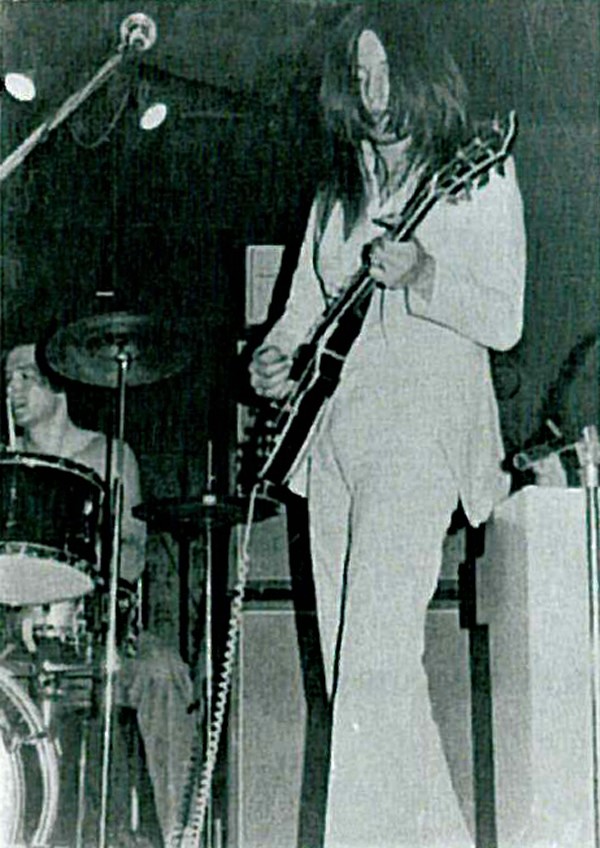 Did the band play any gigs to support the LP release?
Not really with the intention to support the release, as I mentioned we mainly recorded the album as a way to record what we had done and send it off to labels like Decca and sell some at gigs.
Any crazy stories that happened on gigs? 
No crazy rock 'n' roll stories with Grannie unfortunately!
What happened after the band stopped? Were you still in touch with other members? Is any member still involved with the music?
The band split for a while when our van with all our equipment in it was stolen from outside our manager's place and we couldn't afford new equipment. By that point we'd been playing live with new personnel – Steve Betts on vocals and Graham Guthrie on drums.
I went out with Bob Mays as a duo with me on acoustic guitar doing covers songs which did us well for a while and gradually made up the money to get a new amp and bass.
I was still in touch with Phil so one day he calls me up and asks if I wanted to start Grannie again. I said yes and we were the only original members.
We ended up doing a four-night residency at The Ruskin Arms, which is where Iron Maiden got their start!
In 1977 I got a new day job in a town outside of London and moved away and Phil helped with the move.
I'm still in touch regularly with Fred Lilley and Ray Curtis to this day and we would meet up fairly regularly before Covid-19!
No members of Grannie but me and my son recorded a couple of tracks over e-mail while he lived in the USA. We did Fleetwood Mac – 'Need Your Love So Bad' and David Bowie – 'Rock 'n' Roll Suicide'. Now he's back we have a jam now and again, run through a few Black Sabbath songs.
"I remember playing the Speakeasy and David Bowie and Elton John were sat at the back together in the audience!"
Looking back, what was the highlight of your time in the band? Which songs are you most proud of? Where and when was your most memorable gig?
Highlight in the band for me was actually making the Grannie record. I'm proud of 'Coloured Armageddon' which was over 9 minutes non-stop.
I'm also proud of the bass lines I came up with for an unreleased track called 'Lover'. We were rehearsing at the Speakeasy one night and Phil played something and I said "hang on Phil, play that again" and it went from there.
There's not one gig alone that's memorable for any single reason, but we played a lot of great venues supporting some big bands. I remember playing the Speakeasy (or "The Speak" as we called it) and David Bowie and Elton John were sat at the back together in the audience!
Is there any unreleased material by Grannie?
'Lover' and I have a cassette tape of songs me and Phil did after SRT-era Grannie from the mid-70s.
I heard about the upcoming Grannie reissue. Can you share some further details about it?
I know very little about it at the moment because I don't have direct involvement. Other than sending some photos to Phil's ex-wife and the lyrics, all I know is it's looking to be released January/February 2021!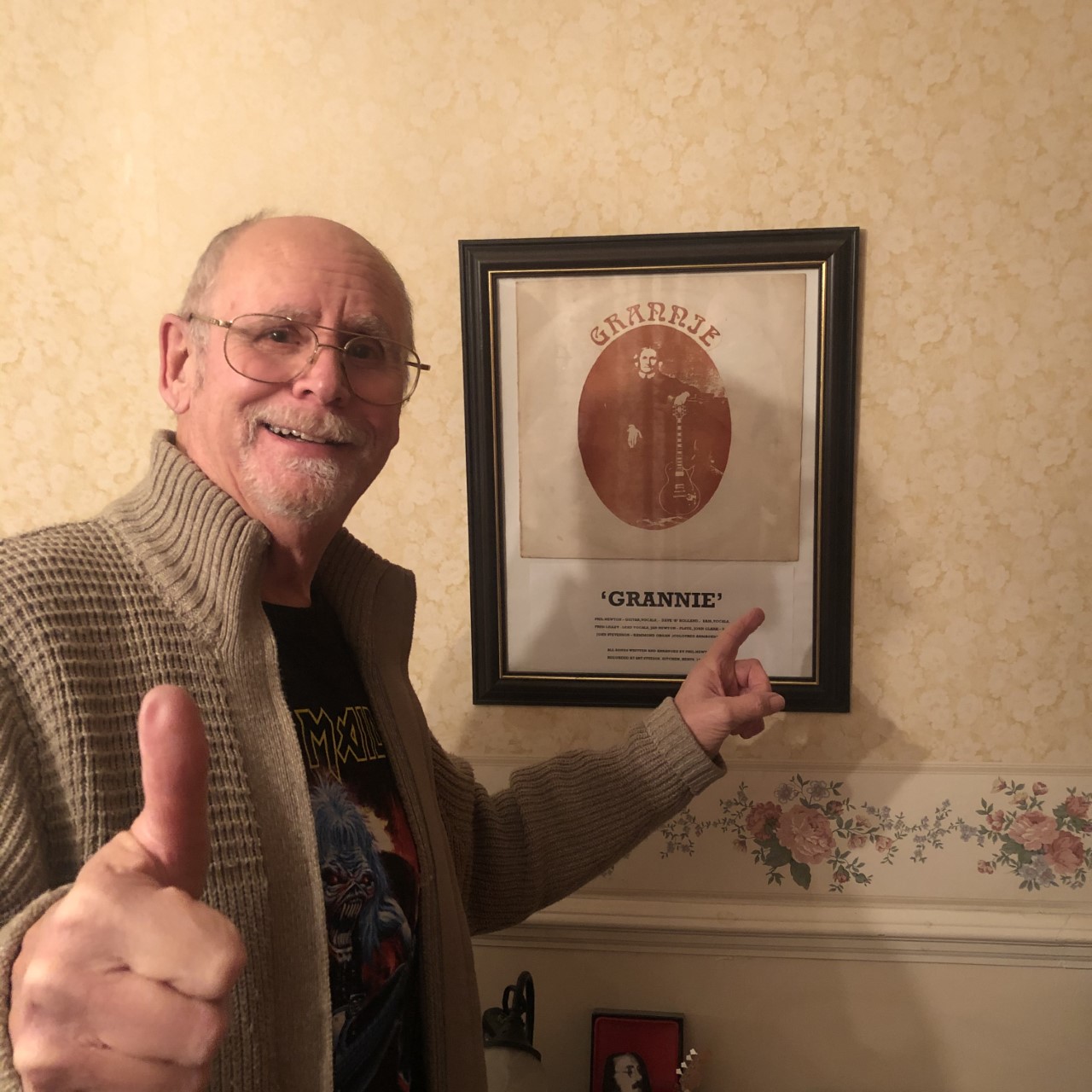 Thank you for taking your time. Last word is yours.
In a way I regret Grannie didn't carry on a bit longer and was cut short for a while.
Seeing how many people now have got so many nice things to say about the album, I regret none of the record labels we gave the record to had picked up on it. Because I can imagine what that album would've sounded like if we'd have had 8 weeks instead of 8 hours to record it in a professional studio.
My other regret is that I after I moved from London I eventually lost touch with Phil.
We went to see Eric Clapton in Guildford in 1978 and that was the last time I saw him.
In those days you'd say "here Phil here's my number" write it on a scrap of paper and if that paper was lost that was it. Phil no longer lived at the same address or had the same number so I didn't have any way of contacting him.
I remember trying to look him up when we first got the internet around 2000. I didn't find anything back then and that – as I found out in 2012 – was when he died.
But I'm surprised and very pleased that the record now after all these years has some sort of recognition and that people are enjoying it!
I'm pleased that it's still going and thanks for all the support 50 years later! Dave 'H' Holland
Klemen Breznikar