Thomas Hinds | Interview | New Album, 'Where Do We Go From Here'
As a species, we love a comeback story. The underdog team that unexpectedly comes back to win it all. Friends that step out of dark corners into better versions of themselves. Dreamers that get back to dreaming after many years of living. Thirty years in the making, Thomas Hinds' newest record 'Where Do We Go From Here' is a love letter to the high-lonesome sound of American folk music and a chance for us all to remember that we can always chase down our dreams.
---
Hinds began playing shows in the mid-90s, but stepped back to raise a family. Relocating from New Mexico to North Georgia, Hinds' travels took him to Fame Recording studios in Florence, Alabama and connected him with six musicians who would help to flesh out these new songs. Bringing together the lilting melodies of Americana with the swampy Muscle Shoals sound, Hinds has created a fresh soundscape rooted in deep tradition.
Opener 'Burning Free' showcases Hinds' gritty yet beautiful voice. As mournful piano dances around a light snare-and-shaker groove, this songsmith sets a scene for a record full of moving numbers. Hinds' narrator is a character looking out the window while the world continues without him; Hinds sings, "Handing out broken dreams / While you're out burning free." On 'The Odds,' Hinds creates a world that sounds like a cross between the ethereal crooning of Jeff Buckley and the down-to-earth angst of early Wilco. The singer says, "Now I'm standing / Looking out over the edge forever." Throughout this record, there's a feeling that the character in these songs feels out-of-place but determined to make it back home. Hinds' home is the stage. He reminisces about playing the Ryman pre-remodel, saying, "Standing where all of the greats originally stood, that pushes me to keep doing what I do." Hinds' weaves in theatrical elements to these songs. The record's final number, 'Where Do We Go,' begins as a soft, acoustic lament and builds into a powerful crescendo of soulful guitar solos and riveting piano. Hinds was clearly thinking about bringing these songs to audiences across the country, making this record feel more like an experience than just a collection of songs.
Hinds intends to carry on the tradition of legends before him – it's clear from listening to his music. In an age of digital white noise, 'Where Do We Go From Here' sounds like a group of people playing good songs together in a good-sounding room. What more can we ask for? Music is about connection, and Hinds clearly wants these songs to connect him back to this world's earthy, musky sonic landscape.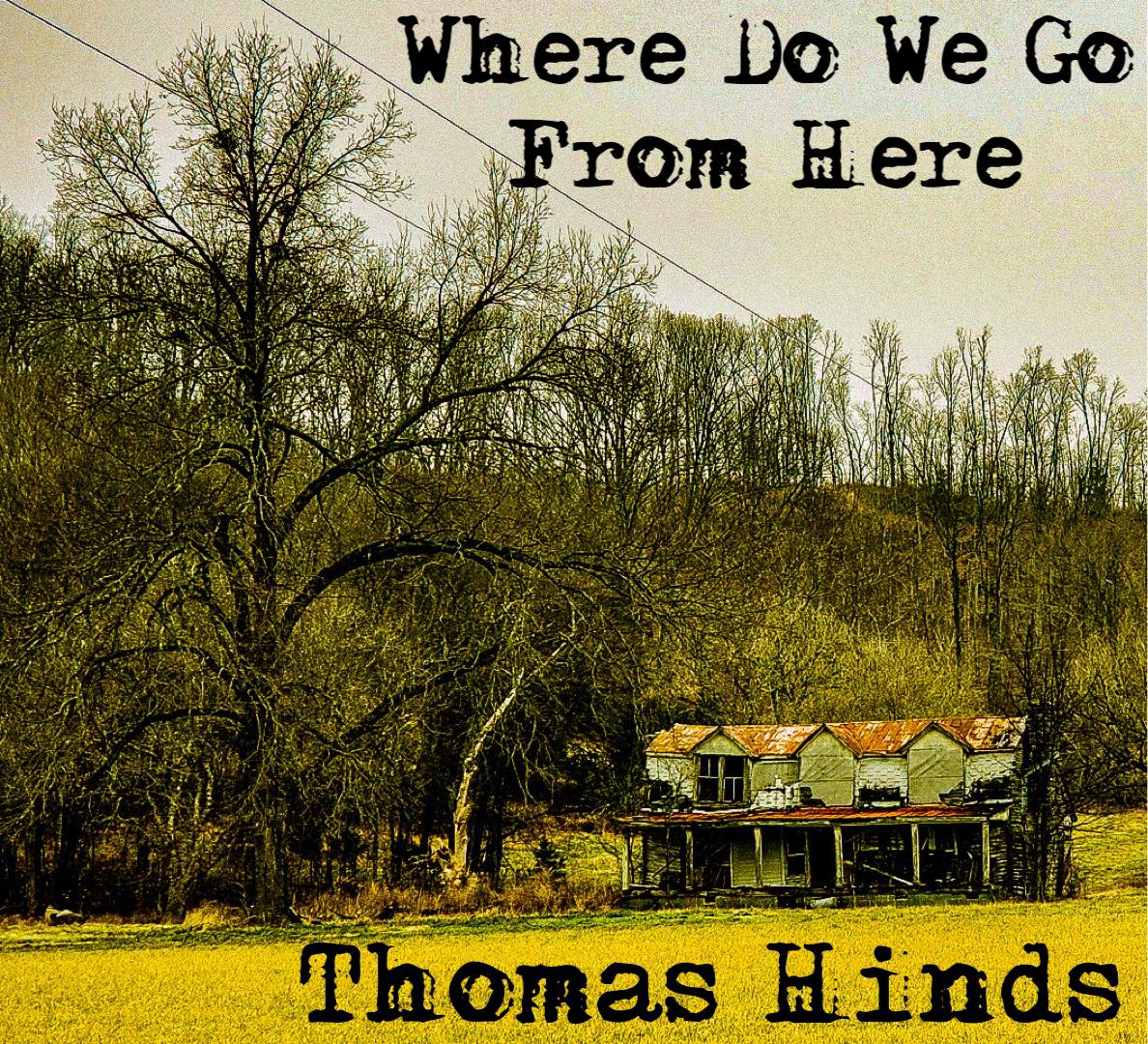 "These songs had deep roots in the last 20 years of my life"
What was the most challenging part of returning to recording and performing after all those years?
Thomas Hinds: I believe the most challenging part of returning to performing was re-establishing my voice. Filtering my influences into an individually independent sound. The years spent in silence found a way to pour out onto paper and into melodies. As for returning to recording, it took quite a while before I accepted that voice. May sound odd but I struggled at embracing who I was becoming the second time around.
I imagine that some of these songs might have been kicking around in your brain for years. What was the first song you wrote for this album, and how did it chart a path for the rest of the record to follow?
Oh yeah, a lot of these songs had deep roots in the last 20 years of my life. The roots really showed as we began to hone the tracks in the demo stage of things. The first song I wrote that ended up on this album was 'The Odds (3000 Miles)'. It was originally a lament about a relationship that never blossomed but as I stated, the deeper vein for me was about taking chances and seeing how your wings will open when you're willing to leap from the ledge. The rest of these tracks have traces of a life lived, love lost, and finding a solid foundation to stand up and ask, "where do we go from here?"
What was the recording process like at Fame Recording studios?
Originally I was a bit intimidated by the history that had been created in Studio A, but my concerns were put to rest as soon as I met the guys who played on these sessions. My brother in arms Brian Emmons with B Radical Productions and I had been working on solid demos over the previous couple years as the world was waking back up. I sent the demos to Spencer Coats and he in turn sent them to the band leader and brilliant musician, Will McFarlane. Will was the only one who had heard the songs until it was time to roll tape. All six of us along with Spencer would huddle up in the control booth with the charts and we listened to the demoed track, the drummer noted the tempo as everyone else made their own notes of suggestions. Then we went out on the floor and the magic happened. The sounds I had heard in my head for years, came pouring into my ears through the headphones. There were more than a few times we hit the last notes and I teared up or had the hair on my neck stand up. Most of this album is first or second takes. We cut eight full band tracks on the floor the first day. Fame Recording Studios in Muscle Shoals has an energy all its own and it has been creating the soundtracks of our lives for generations.
"Music has always and will always be a shelter in the storms of life for me"
There's this plaintive attitude throughout all of these songs – but, there's also a resilient joy throughout the songs. Did music still sustain you even though you stepped back from it for a while?
Music has always and will always be a shelter in the storms of life for me. I write out the melancholy so I can purge it. Best therapy ever, haha. One of my favorite lines ever is one I painted on my guitar case by Tom Wait, "I love beautiful melodies, telling me terrible things." I couldn't possibly agree more. Resilience and perseverance is something I always want to feel in any song I write. Life is a series of gut punches but it's what we choose to do in the aftermath that should be the real focus story.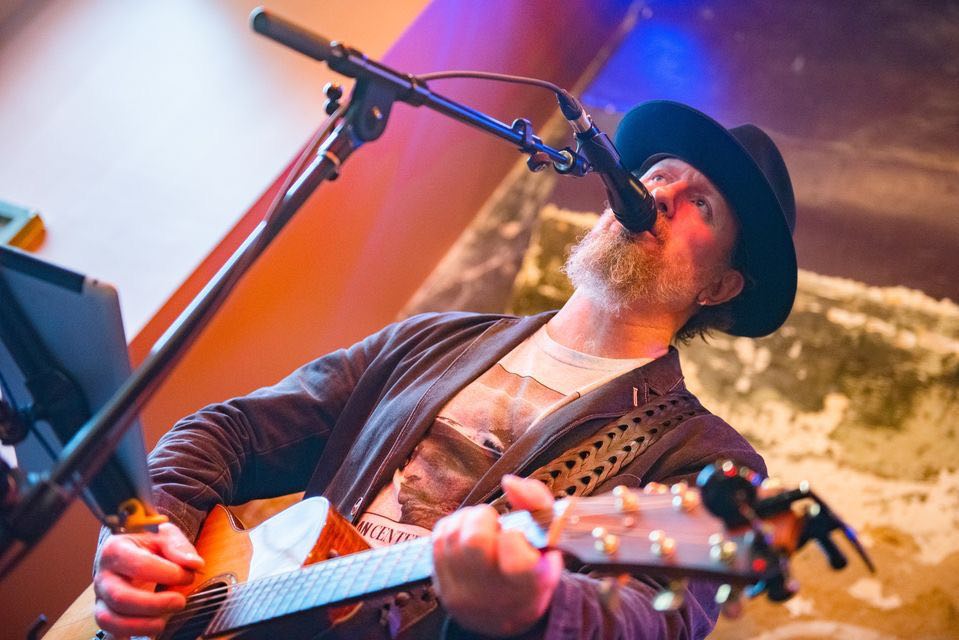 What artists making music now are inspiring to you? What do you feel is the shape of folk music in the US right now?
Dylan is just continually capturing my imagination. I'm a big fan of Anna Tivel and Jeffrey Martin. Love Jon Charles Dwyer. I really enjoy Ian Noe, Bella White, Field Report, Aoife O'Donovan. As for the shape of folk music in the US right now? I'd say there are some really great writers coming up that have been fed such a wide range of influences that I can hardly wait to hear the future…it's wide open.
---
Thomas Hinds Official Website / Facebook / Instagram / YouTube