Mad Timothy | Interview | The story of mysterious heavy psych band
Completely unknown acetate rescued from a US thrift shop, thanks to Steve Krakow (of Plastic Crimewave / Galactic Zoo). Mad Timothy was a heavy rock band active in central New Jersey from mid 1968 to mid 1970. In the summer of 1969 they recorded nine songs for a demo album.
---
"A friend of mine found this no-jacket LP at a thrift shop, and there is ZERO information on them–no one knows anything and I've spoken to many collectors. Very cool sludgy Blue Cheer/Majic Ship/Mount Rushmore kind of vibe–with a few folkier tracks—it's all pretty charmingly primitive– I think people would want to hear this!" Steve Krakow
Out-Sider / Guerssen in collaboration with Steve's Galactic Archive imprint issued a vinyl edition of the Mad Timothy demo album, hoping that any of the band members will see it and they actually did. The band consisted of Andy Beers on bass, Ken Collins on keyboards, Steve Heinlein on guitar, Nick Prout on drums and Don Topar on vocals and harmonica.
The official Mad Timothy site is now live. You can now buy downloads of the album and Mad Timothy merch. Downloads are available in high resolution (24 bit / 96K) and CD quality (16 bit/44.1K). There's an unreleased track that will soon be uploaded to the website.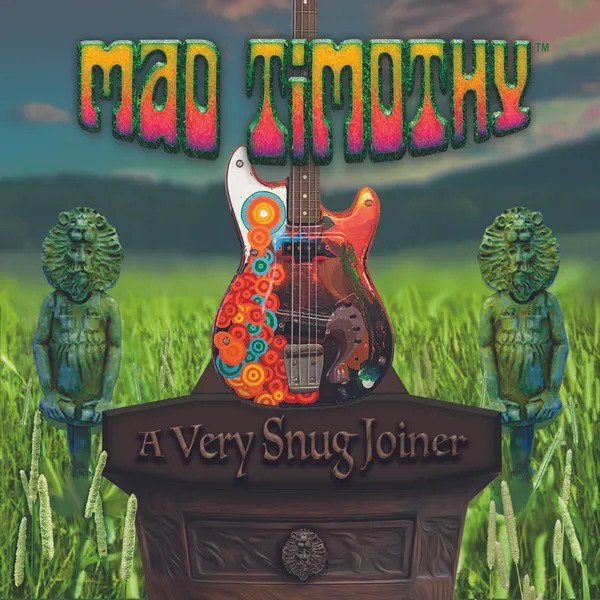 "The music of the time was very much inspired by psychedelics"
Would you like to talk a bit about your background? Where and when did you grow up? Was music a big part of your family life?
Andy Beers: I grew up in Wisconsin, then moved to Florida and then New Jersey. Music has always been an important part of my life. The rest of the band grew up in New Jersey and played various instruments from an early age.
When did you begin playing music?
Andy Beers: I looked at accordion lessons when I was seven but it didn't stick. I started drum lessons in fourth grade and began playing guitar at 14.
When did you decide that you wanted to start writing and performing your own music? What brought that about for you?
Nick Prout: The purpose of Mad Timothy was to make our own way in the creative musical environment of the late 1960s. When we decided to make a recording we needed material. Necessity is the mother of invention.
Were you part of any other bands before forming Mad Timothy? What kind of material did you play? Any recordings or releases by them?
Andy Beers: We all played in other bands previous to Mad Timothy. Cover bands playing the hits of the day. No recordings.
Can you elaborate the formation of Mad Timothy?
Andy Beers: Nick Prout and I had played in other bands and were interested in playing together in a more creative context. I knew Steve Heinlein but didn't know he played the guitar. When I heard him play I was stunned at how good he was. We invited him to jam and Mad Timothy was born. We recruited Don Topar as he was the best singer we knew, and Ken Collins asked to join.
How did you decide to use the names "Mad Timothy" and "A Very Snug Joiner'? Was it a reference to Timothy Leary or am I completely wrong?
Nick Prout: Yes, totally a drug reference. Timothy is a variety of grass. Back then it would have been bad form to call the band Marijuana, so we used this home grown euphemism.
'A Very Snug Joiner,' people have asked if the title of the record is some kind of obscure drug reference. The answer is no, Snug the Joiner is a minor character in A Midsummer's Night Dream, a play written by William Shakespeare in the late 1500s. The action takes place in Athens the night before the wedding of Theseus, Duke of Athens and Hippolyta, Queen of the Amazons. Over the course of the night many plots unfold involving both Athenians and inhabitants of the spirit world. A group of workers, referred to as "hempen homespuns, rude mechanicals", decide to put on a play before the wedding, "The most lamentable comedy and most cruel death of Pyramus and Thisbe". The leader of the group, Peter Quince assigns Snug (back then a joiner was a cabinet maker), the role of the Lion. This leads Snug to ask, "Have you the lion's part written? Pray you, if it be, give it me, for I am slow of study". "You may do it extempore", says Quince, "for it is nothing but roaring". Snug is concerned that the ladies in the audience will think he is a real lion and be afraid of him, so the night of the performance he gives a speech explaining that he's not a lion at all but just Snug and please don't be afraid. What does this have to do with Mad Timothy? No idea. It was a name that sounded like it meant something and that was good enough for us.
Were you inspired by psychoactive substances like LSD at the time of writing the album?
Andy Beers: The music of the time was very much inspired by psychedelics.
When and where did the band play their first gig? What sort of venues did you play early on?
Andy Beers: At a high school dance. We played at dances, fraternity parties, Parks Department events, and other random gigs.
Nick Prout: At most of the shows Mad Timothy played the opening song was 'Kick Out the Jams' by the MC5, and the closer was 'When the Music's Over' by The Doors. Other staples of the set were The Blues Project's arrangement of 'Louisiana Blues' by Muddy Waters, and a funk version of 'Satisfaction' by The Rolling Stones.
Would you recall some of those concerts and bands you played with?
Andy Beers: It was always just us.
How was the band accepted by the audience?
Nick Prout: We always got a positive response. At one performance a friend of ours said, "You don't play soul music, but you've got soul!". Highest praise.
What influenced the band's sound?
Andy Beers: We were listening to Jimi Hendrix Experience, Cream, Traffic, Blue Cheer, The Doors and The Paul Butterfield Blues Band to name a few. Also progressive rock bands like The Soft Machine and Pink Floyd as well as jazz from John Coltrane and Larry Coryell. We were able to hear most of our influences play live.
What was the local scene? Any other bands worth mentioning?
Andy Beers: Not really.
What's the story behind your unreleased album from 1969? What kind of equipment did you use?
Nick Prout: In the summer of 1969, none of us had any idea how to make a record, but we didn't let that detail get in the way. Our friend and technical adviser, Bruce Kuehl had figured out a way to record the band and overdub vocals using two consumer-grade Sony tape decks, two modified Sony mixers, and a pile of adapters.
Bruce Kuehl: We used a Sony 355 tape deck. I wired two Sony MX-6s mic mixers together so we had more inputs. We had two mics. We borrowed an extra tape deck, additional mics and headphones. The two mixers went into the 355 deck through the mic inputs and the extra tape deck went into the mixers along with the mic. We recorded the music on the borrowed deck using several mics and then played the tape back to Don wearing headphones. He laid down the vocals while listening to the music tracks, all being recorded on the Sony 355. I think some of Steve Heinlein's leads were also done this way. We used lots of adapters, some I made and some we bought.
Nick Prout: Another friend, Steve Brounell, offered us the use of the basement of his parent's house to use as our studio, and we were off. Our approach was to get a band take with as few mistakes as possible and then have Don record the vocals and harmonica parts. The band was recorded with one dynamic microphone per instrument. Bruce got a workable blend and we went for it. Every track, vocal and instrumental, was a complete take. There was no editing between takes and since this was live to two tracks, no punching in to fix mistakes or change parts. The piano was recorded back stage in the auditorium of the high school we attended. Bruce brought his rig, and despite the fact that the piano needed to be tuned, Ken Collins did a couple of takes and we were out of there.
The only time we encountered an audio professional who could have steered us in the right direction was at the mastering session. The final master was recorded in consumer format on both sides of a 1/4″ 1/4 track tape, and the mastering engineer let us know that this was a big mistake on our part. 
This was the moment when the project could have either been elevated by a good mastering job or crashed and burned. Unfortunately, the engineer chose the second option. He told us that the only solution was for him to transfer our tape to the correct format, which at his studio meant playing our stereo tape on a two-track tape deck and recording it onto a second machine which happened to be single track monaural. Due to the DIY nature of the recording process, this created some serious problems audio-wise. Not knowing any better, we agreed and the resulting LP was a disappointment to everyone involved.
Fortunately, the master tape still exists. The album was remastered in 2021, and we present it here for the first time in stereo and high-resolution audio.
In the entertainment world, a demo or demonstration tape is used to get the attention of those further up the food chain, be it a record label, management, or a producer who thinks they can turn a profit with the act. That and creating a souvenir for our fan base was our intent. We never dreamed that the record would be released internationally.
Tell us about the gear you had.
Andy Beers: My bass guitar was a Hagstrom Kent four string. It originally had a red vinyl "finish" on the body. The vinyl was removed and Nick Prout painted the artwork which was a huge improvement. It still plays! I have done some mods including rewinding the pickups and changes to the tone circuit. My amp was a 1968 silverface Fender Bassman with two 2×12 cabinets. At some point I traded my tube amp head for a Fender Bassman solid state amp. This doubled the power (and volume) of my rig. None of us are quite sure what kind of keyboard Ken Collins played. But it might have been a Hohner.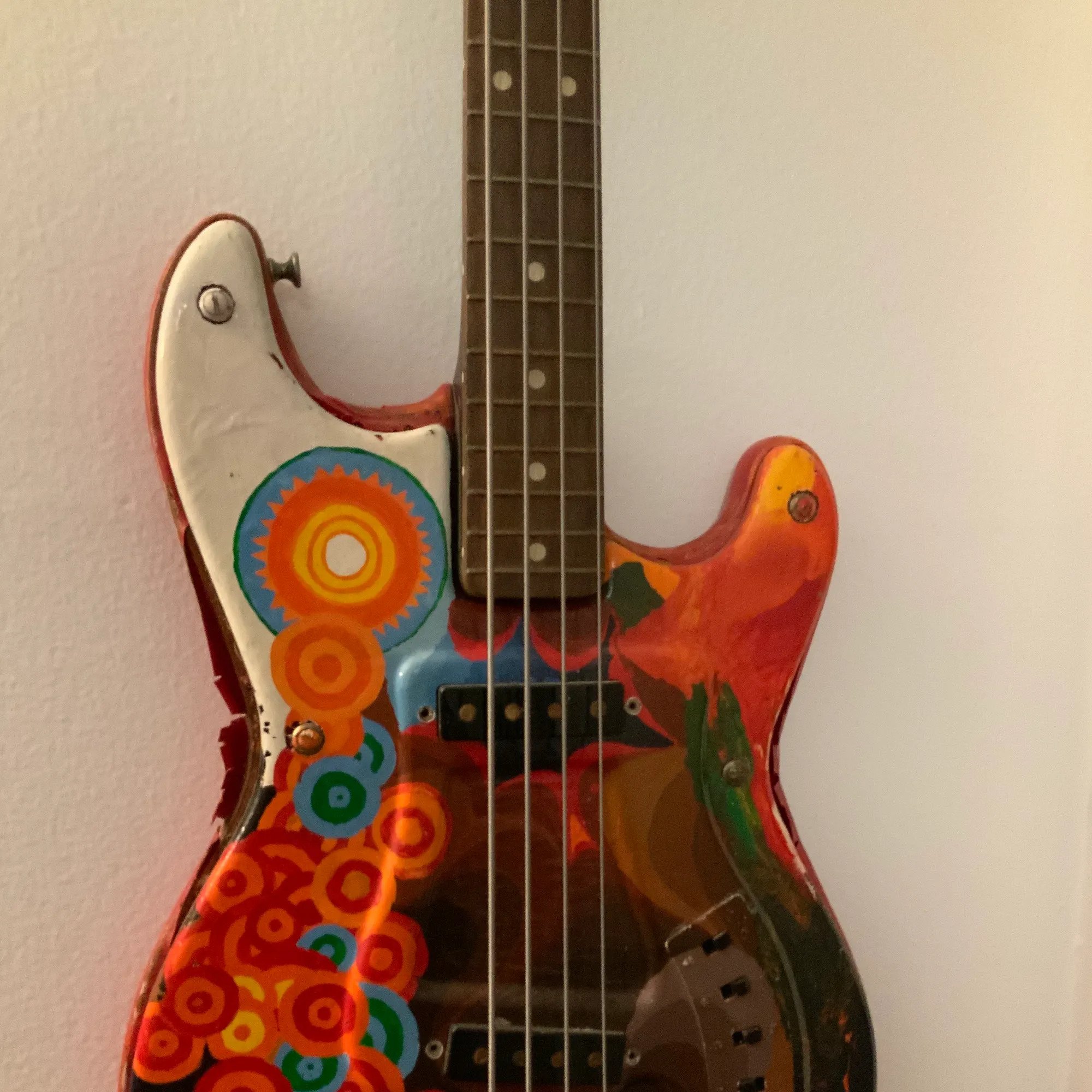 Steve Heinlein's axe was a 1967 Fender Jazzmaster. This guitar was prized by the alt rock and grunge bands of the 90's. Steve was ahead of his time. His amp was a 1967 blackface Fender Bandmaster. A vintage Fender tube amp is much in demand today. Nick Prout's drum set was a Rogers Holiday kit in silver sparkle. The drums included a 5×14 snare, two 9×13 toms, 14×14 and 16×16 floor toms and two 20×16 bass drums. His cymbals were all A Zildjian including a 20″ ride, 18 inch crash, and two 14″ hi-hats. Don Topar's harmonicas of choice were Hohner Blues Harp and Marine Band harmonicas.
You're currently working on a remaster? Can you share a bit of the technical aspect behind the process.
Andy Beers: The remaster is complete and available on the website for the first time in stereo.
Would you share your insight on the albums' tracks?
Andy Beers: We were writing about the turbulent times in the late 60's and growing up.
What is interesting listening 50+ years on is how we didn't limit ourselves to one kind of music. There is rock, blues, jazz and folk music all coexisting on the same record, sometimes in the same song. This might reflect the more open playlists of the radio stations of the time.
Back then you pressed only acetate? Where are the original master tapes?
Nick Prout: The tapes still exist.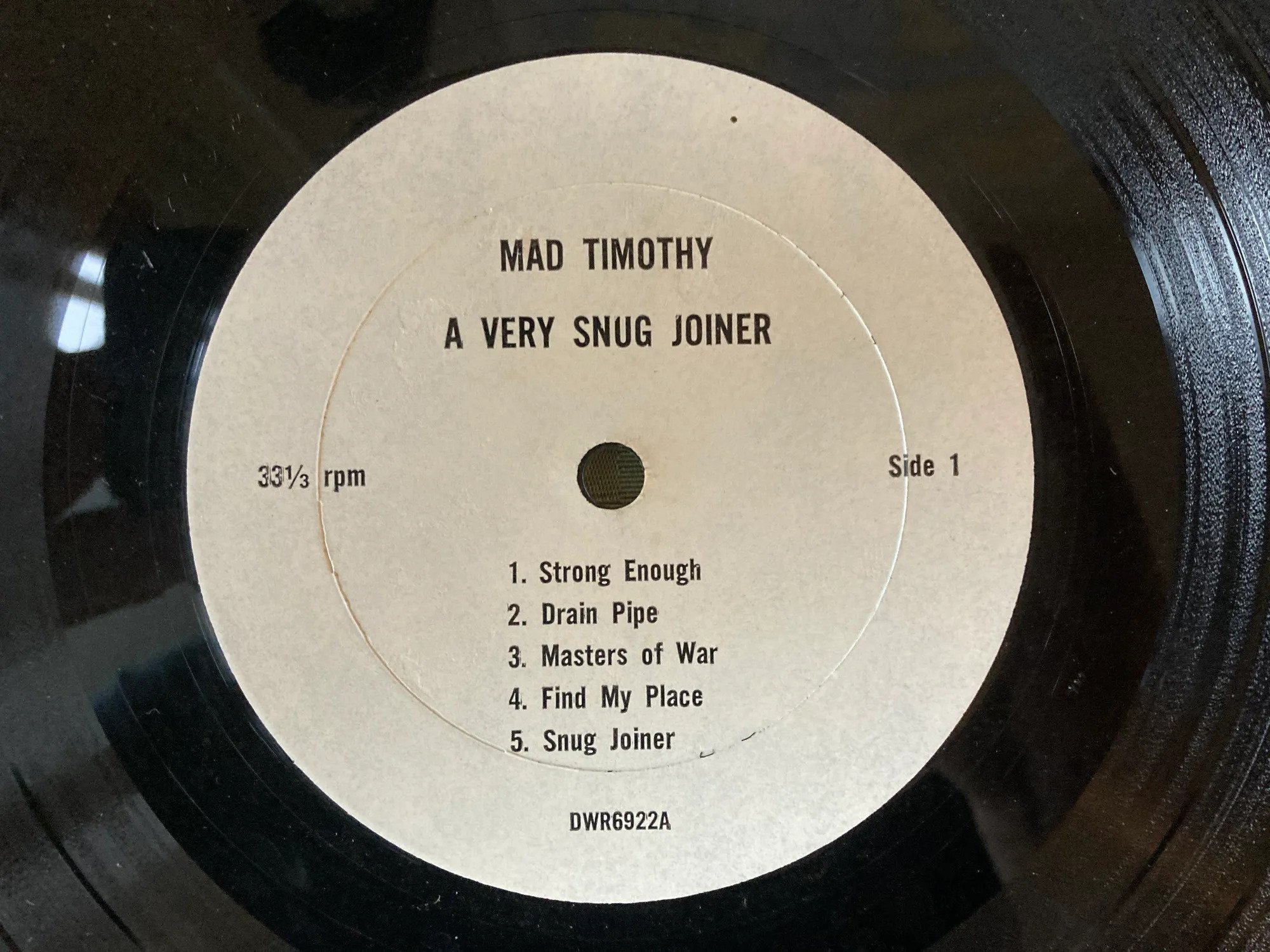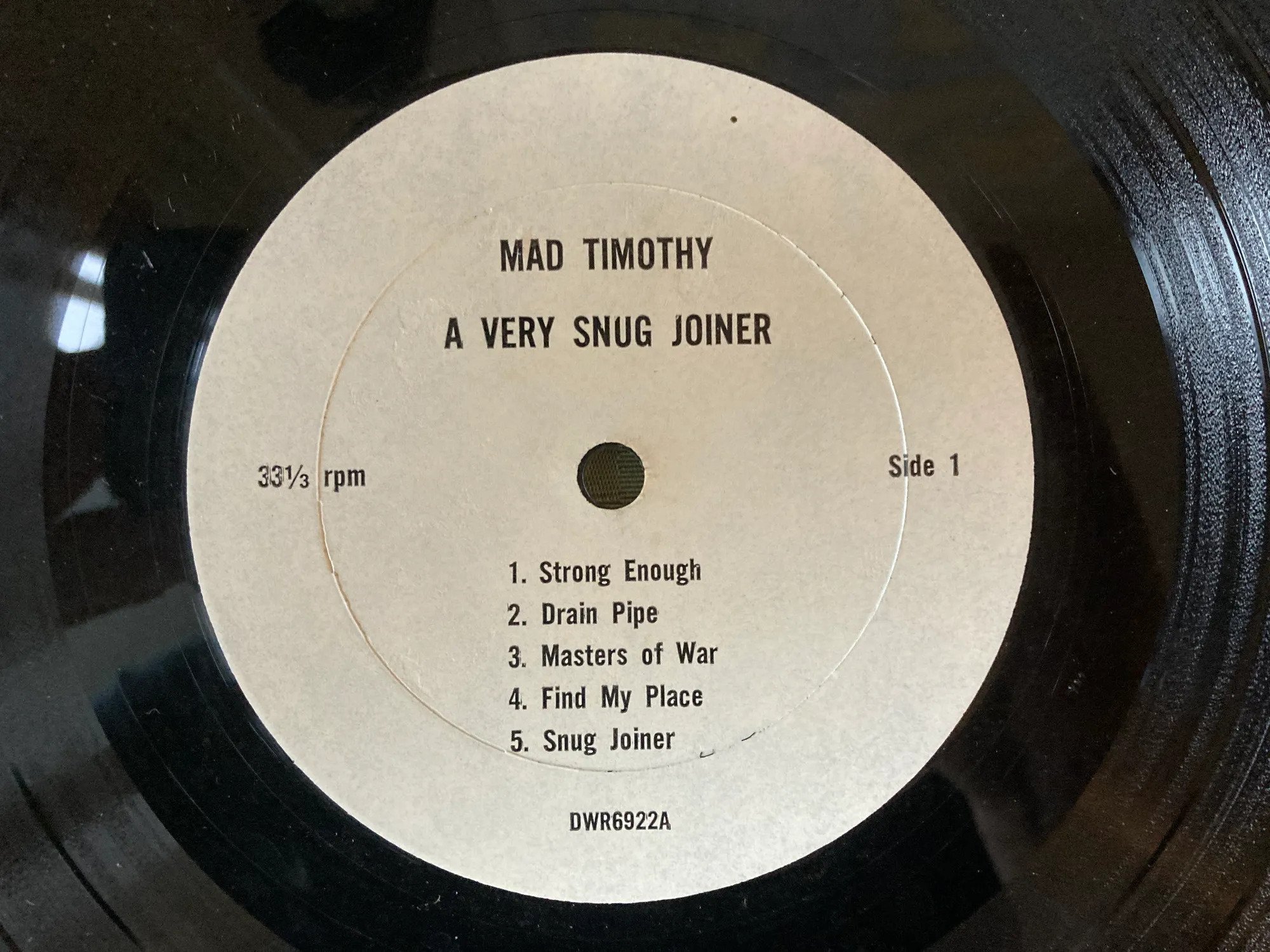 Was the album meant to be self-released and you were out of money or did you intend to send it to different labels or what was the reason for pressing acetate?
Andy Beers: Besides being a souvenir for us and our friends, the album was intended to be a demonstration disc. 
What happened after the band stopped? Were you still in touch with other members? Is any member still involved with the music?
Andy Beers: Everyone in the band continued to play. Ken Collins passed away in the 70s and we lost Steve Heinlein in 2016. The rest of us still play but not on a professional level, and none of us is currently in a band.
How did the record come back after so many years?
Nick Prout: Artist Bob Buchholz is the person who found the LP. He tells the tale.
Bob Buchholz: Here is what I remember about the Mad Timothy LP to the best of my recollection (as I have forgotten more info than most people will ever know…) It was probably in the late 1990's or about 25 years ago, as I was making my rounds to the usual Chicago thrift stores.
It was at the Village Discount on Milwaukee Ave. that while pawing through stacks of the usual landfill records that much to my surprise, I came across a naked LP (no cover). Hmmm-this looks good and has some potential: Mad Timothy – 'A Very Snug Joiner'. Very homemade looking with a plain white label, black print and no credits anywhere! Much to no avail, a cover was nowhere to be found, so I stuffed it in a plain white cardboard sleeve, paid my 2 bucks and headed home for a listen. After a good cleaning, it hit the turntable and I was astonished by what came blasting out of my speakers! After quizzing many record whores of the universe, I came up empty on any info or other known copies. So it is time that Mad Timothy's story can finally be told…"
Bob's friend Steve Krakow aka Plastic Crimewave got the mysterious LP to Guressen Records, a record label specializing in vinyl releases of obscure bands from the late sixties. They took one listen and agreed that 'A Very Snug Joiner' was ready for the world. The label made an effort to find any information about the band, but coming up empty, decided to go ahead and release the record anyway. Contact was finally made when Randy Ludacer did a copyright search on the songs. All of the songs had been copyrighted in October 1969, so eventually Randy came across the names of the writers, and Guerssen got in touch through social media.
Nick Prout: I got a message on Facebook Messenger from Alex at Guerssen asking if I had been in a band called Mad Timothy. I replied that yes that was the last high school band I was in. I described making the record and thanked him for asking. He then replied breaking it to me that the record had been out for two years. Needless to say, I was surprised.
Andy Beers: So how did the LP end up in a bin at Village Discount Outlet? Bruce Kuehl, who recorded the record, has a theory. Bruce lives just outside of Chicago.
Bruce Kuehl: In the mid 80's we were remodeling/gutting our house and I had just replaced all of our LPs with CDs. We needed space and I was tired of tripping over all these records so I took them over to The Unique Thrift Store which closed many years ago. They must have sold their stuff to the store in the city, who knows.
Looking back, what was the highlight of your time in the band? Which songs are you most proud of? Where and when was your most memorable gig?
Andy Beers: The highlight was being in a group of friends and like-minded musicians taking part in a very creative time in popular music.
My favorites are 'Drainpipe,' 'Strong Enough' and 'Running'.
Is there still any unreleased material?
Andy Beers: A few outtakes and incomplete tracks, but we don't plan on releasing any of it.
Are you excited by the recent Guerssen reissue?
Nick Prout: We were very surprised when we found out the album had been released, but were dismayed at the poor audio quality.
As far as we know, Guerssen doesn't plan to do a vinyl release of the remastered album. We are releasing it for the first time in stereo as high resolution digital files on madtimothy.com.
Thank you for taking your time. Last word is yours.
I think our story is interesting because of how random the discovery was. There were thousands of bands at the time, but we decided to document ourselves, which is the only reason the band is any more than a distant memory now. While far from perfect, the remastered version is closer to what we were trying to achieve.
Klemen Breznikar
---
Mad Timothy Official Website
'Drain Pipe' by Mad Timothy premiere
Mad Timothy – 'A Very Snug Joiner' (2018)
Mad Timothy – 'A Very Snug Joiner' (2019)