Royal Oakie 10th Anniversary Festival
Oakland, CA based record label Royal Oakie has been home to some of the best indie rock, cosmic country, experimental ambient, and power pop for, yes, a full decade now, so, it was high time for a festival to honor its longevity.
---
San Francisco's retro movie palace, the Balboa Theater, was the place to be to take in the sights and sounds with a handful of popcorn and trippy analogue visuals by Sean Olmstead.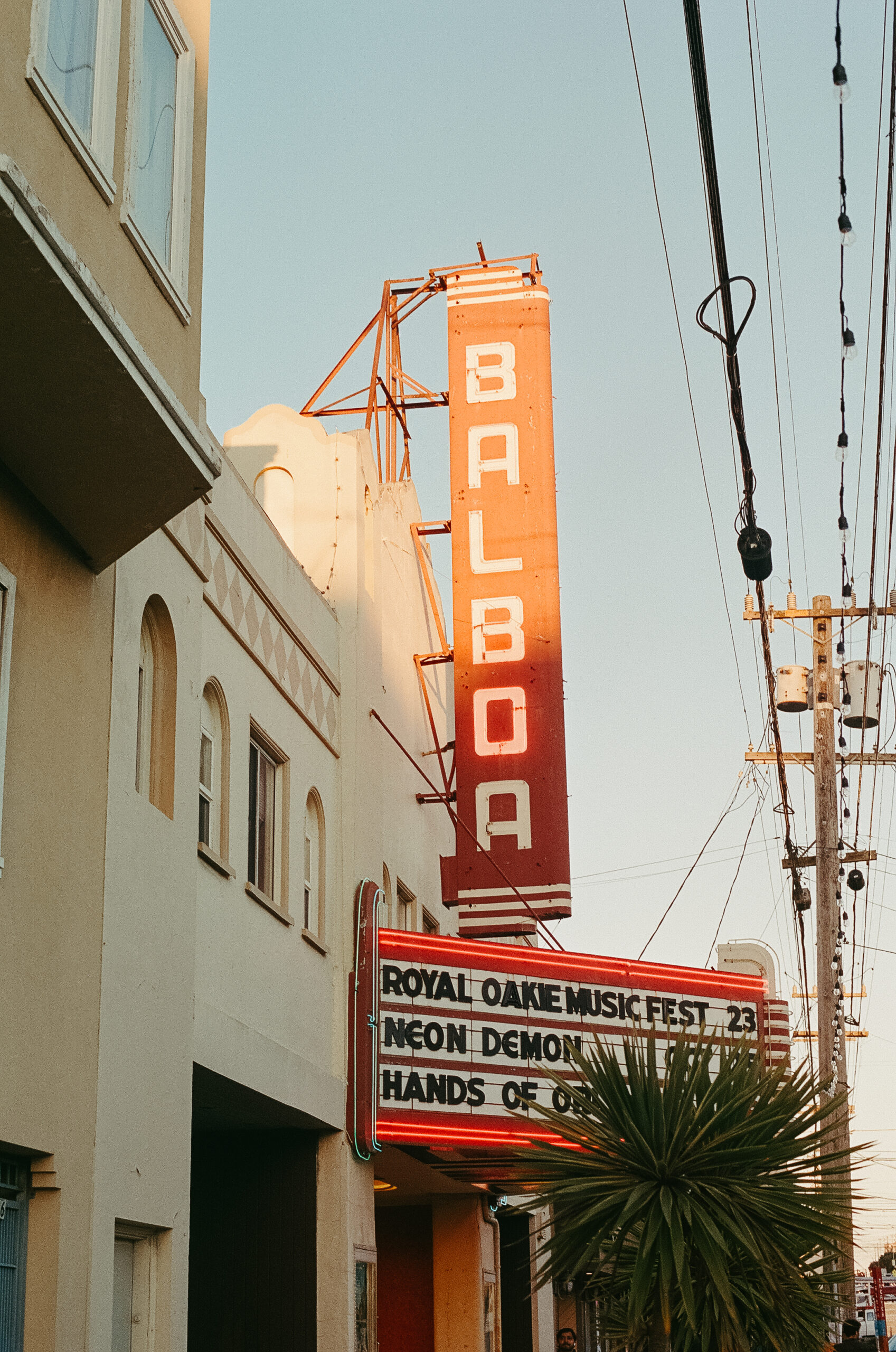 I'd been excited to see Tan Cologne for a while, especially after hearing Lauren Helene Green's amazing solo guitar album 'Outer Highway Realms'. After opening up the day with a solo ambient set, Lauren took the stage for a second time with Tan Cologne, and their hypnotic, ambient songwriting and interlocking guitars had us all in a dream state. Not sure when this New Mexico duo will be back, but in the meantime you might catch a few newly minted devotees walking around the Bay in their Tan Cologne t-shirts.
Credit Electric, fresh off a packed record release show at Eli's Mile High Club, pared back to a trio of guitar, pedal steel, and bass with help from a drum machine. It was a winning combo highlighting Ryan LoPilato's subtle winding melodies and the band's careful arrangements. Their latest album out of love in the face of a shadow showcases all of their many gifts and interests without losing cohesion. What a treat to hear some of those songs thriving outside of the studio.
'Natural Bridges' were another highlight. I'd been rocking their tapes for a few years and was stoked to finally catch them live. Despite some last minute lineup changes the band was dialed in. Their songs are memorable pop nuggets sure to get stuck in your head. Lucky for us, the band plans to play out more post-pandemic.
Michael James Tapscott is a real favorite of mine, but full disclosure, I'm his drummer. We were lucky to be joined by Alicia Vanden Heuvel and David Cuetter. We did our best to rework some China classics like 'Honey Trap' and 'Marnie' with some newer crowd pleasers (check out 'Baba Ram Dass'). Stay tuned for new music from MJT soon.
[Editor's note: Michael has a new EP, 'Michael, the Worst' releasing Friday December 2nd on Royal Oakie.]
Whiskerman closed the night out, putting an exclamation mark on the whole event. Epic dueling violin/electric sitar solos took center stage while genial stage banter lightened the mood. If nothing about this band impresses you, check your pulse. Royal Oakie just announced a deluxe edition of their double album, Champions, definitely worth your time.
I wish I could've seen every band, but everyone I talked to came away hoping we can do this again. Keep your ears out in 2023. Royal Oakie doesn't appear to be slowing down any time soon.
Raphi Gottesman
---
Headline photo: Sarah Phenix
Royal Oakie Records Official Website / Facebook / Instagram / Twitter