'The Tower' by The Harlequins | New Album, 'TIME'
Exclusive video premiere of 'The Tower' by The Harlequins, taken from the upcoming album, 'TIME', out September 2nd via Dizzybird Records.
---
"'The Tower' is bleak, sludgy psych rock, with a vibe as evil as the politicians it eviscerates. The song begins with the chiling lyric, "Wash the blood of the children / From your filthy hand".
In the wake of the horrific elementary-school shooting in Uvalde, Texas, it's enough to stop any listener in their tracks. Harlequins singer-guitarist Michael Oliva actually wrote the song back in 2018, furious about political inaction in the wake of the Parkland high-school shooting, and all the moneyed interests standing in the way of reform while these preventable tragedies repeat themselves. Unfortunately, the song is as relevant today—four years later—as when Oliva wrote it.
After 15 years in the rock & roll trenches, The Harlequins have emerged as bonafide scene veterans—enduring anti-heroes of the American garage-psych underground. Founded in 2007, the intrepid Cincinnati power trio—Michael Oliva on guitar & vocals, Alex Stenard on bass and Robert Stamler on drums—made its bones alongside contemporaries such as the Black Lips, Gringo Star, La Luz and Thee Oh Sees. They've since shared bills with Ty Segall, Cherry Glazerr, Kurt Vile, Deerhoof, Ride and Kikagaku Moyo.
The Harlequins' aptly named new record, 'TIME'—their eighth full-length (and first since 2016's acclaimed 'One With You')—is a diligently honed yet effortlessly flowing sonic journey recorded across the span of five years. "There are so many time puns I'm trying to hold back", wisecracks Oliva, reflecting on the meandering odyssey of a recording process. "Normally you hit the studio, track it, mix it and wrap it up as fast as possible. But spending so long on this record, and having it be an ongoing project—things were wide open, so our approach evolved over time. How we mixed it initially isn't how we ended up mixing it, which is different than how I'd mix it now. Things are always in flux—really, you're trying to capture lightning in a bottle.
And that's exactly what The Harlequins have done with 'TIME'. Listening, you can envision the record sprouting from a single seed, green shoots bolting skyward in time lapse, a vibrant bouquet of flowers blossoming brilliantly, then wilting and drying up, their crumbling petals scattered on the breeze. The process repeats in reverse, and then forward again in an infinite loop, time slipping back and forth against the blackness of space to a soundtrack of shimmering tremolo guitars, spring-loaded bass and frenetic drums, all shot through with quivering acid-drenched harmonies. Though for once, The Harlequins' psychedelia has ventured outside the echo chamber, the typically sopping-wet reverb wrung out enough that the sound reflects the clarity of the comedown more than the chaos of the trip's peak.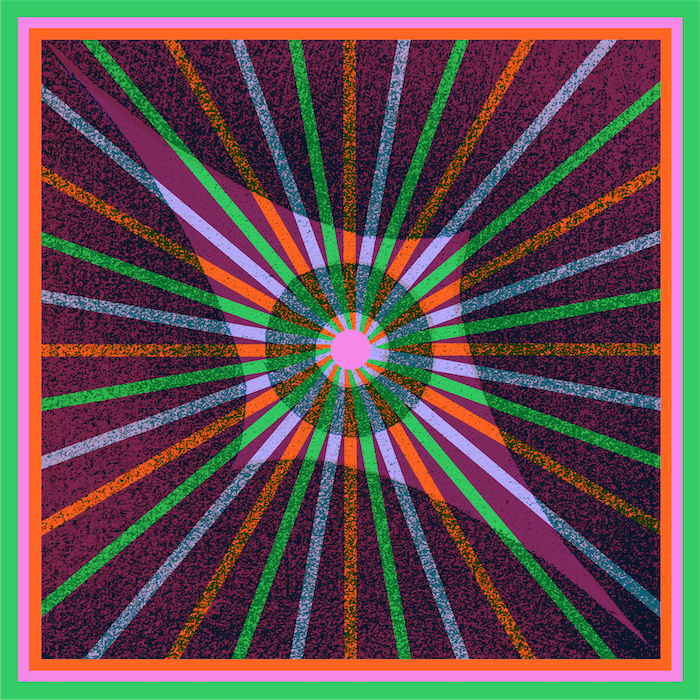 "It's one of the more eclectic albums we've done in a while", Oliva says. "And it's a little drier, cleaner and more experimental on the audiophile side. While it still has a live feel the way our older stuff does, there are a few songs that are a bit more ambitious, production-wise. We had fun pulling some studio tricks, and definitely went a little extra in that realm".
When the band started recording 'TIME' in earnest back in 2017—alternating between tracking at their high-ceilinged warehouse rehearsal space and overdubs at Oliva's Cincinnati apartment—there was no real agenda. But in the end, more by default than intention, it became The Harlequins' most political work to date, their introspective psychedelia peppered with scathing musical diatribes like 'The Cheater', 'The Tower' and 'Sound of the Creeps'. "It's been a crazy, intense five years", Oliva says. "It was bound to inspire us to write some songs. How could it not? And a lot of those songs are very tangibly of the times".
'The Cheater' was written during the 2016 U.S. election that ultimately led to Donald Trump's presidency. This also came in the wake of the first round of the Russo-Ukrainian war (back in 2014-2015); Oliva's wife being from Ukraine, the state of global affairs was front-and-center on his mind. "'The Cheater' isn't about one particular person", he explains, "but the rise of all these bad dudes getting away with terrible shit—all these dictators coming to power. 'Sound of the Creeps' is like that, too. You can feel the rise of autocracy and fascism thick in the air".
While 'TIME' is unafraid to hold a mirror up to the darkness, it radiates plenty of light as well. 'Without You' is a blistering, 180-bpm meditation on valiantly sticking it out through a long-distance relationship, and 'Hold Your Tongue' a carpe-diem garage anthem extolling the virtues of honesty, authenticity and speaking your mind instead of holding back. With its churning locomotive rhythm, 'Return Home' is a head-bobbing traveling song written on the heels of a European tour, while 'TIME's' breezy, introspective title track has the feel of Syd Barrett on holiday at some tropical beach.
As The Harlequins celebrate their 15th anniversary—the last five of those years spent working through countless obstacles and uncertainties to finally, satisfyingly arrive at the release of this new record—they seem refreshingly clear-headed and devoid of nostalgia. "If there's anything we take from this experience", Oliva says, "it's perseverance. You know—just doing the damn thing. Sticking with something if you love it. And it's the same with the band—we plan to never stop, to keep going, keep moving forward and finding new ways to reinvent ourselves".
---
Headline photo: Michael Wilson
The Harlequins Facebook / Instagram / Bandcamp
Dizzybird Records Official Website / Facebook / Instagram / Twitter / Bandcamp / YouTube