The Heads Announce 20th Anniversary Reissue Of Their 'Under Sided' Album | Sharing 'Dissonaut' and 'Neu 75'
The Heads are announcing a deluxe, remastered, 20 year anniversary edition of their third album, the under-rated gem in their canon, 'Under Sided'.
---
Originally released in 2002 on the Sweet Nothing label (SNLP/CD 11), Under Sided was recorded in 2001 at White House Studios in Weston Super Mare, with Martin Nichols engineering. The band had previously recorded tracks for Mans Ruin 10" at these studios (also famous for Ripcord, Heresy, Slowdive, Hardskin, Decadence Within, Icehouse.. amongst many others!).
Reissue of 'Under Sided' is available here!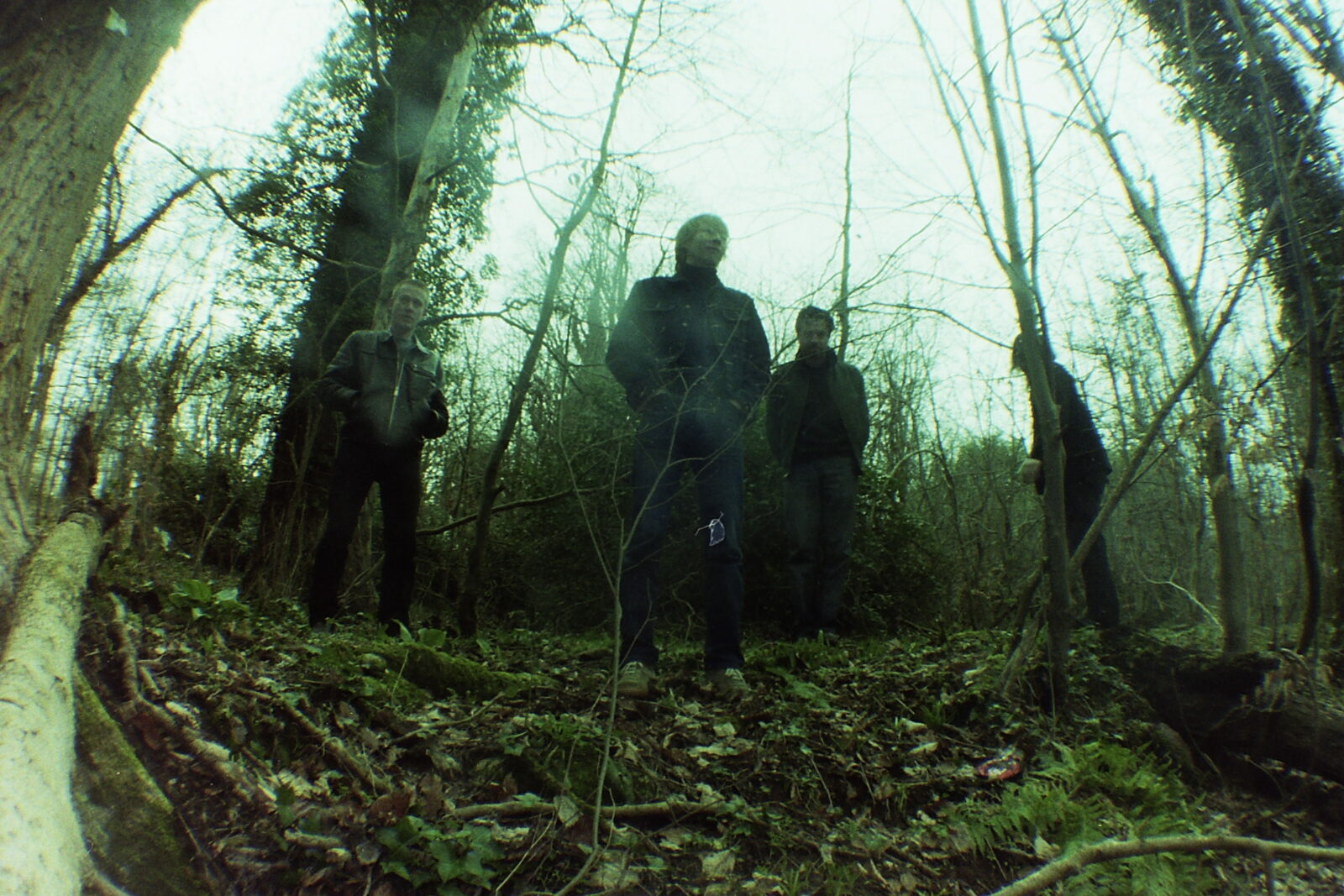 For the reissue, the original recordings were remastered for vinyl and CD by long-time Heads Masterer (!) Shawn Joseph. The resultant 8 tracks, spread over 4 sides of vinyl are some of the best music the Heads have recorded.
After a bit of a hiatus following their 2000 US tour / Peel session (included in the boxset / on the 2CD version here), the band regrouped and worked out the tracks for the album, relentlessly rehearsing for the recording.
Very few shows happened in that 2001-2002 timeframe, band members were busy, earning a living, getting on with life and its day to day grind down., but they still had some riffs/songs there.
The remastered album is being reissued as a 4LP + 2CD boxset. The extra 2LP features their Peel session from 2000, as well as a couple of compilation tracks ('For Mad Men Only' / 'Born To Go'), and some unreleased demo versions, as well as 2 exclusive to this set CDS that feature nearly 150 minutes of Live recordings (mastered, but RAW!) from their gigs on the Thekla in Bristol and rehearsal room tapes in 2001 and 2002.
The boxset will also have a special slip-mat, stickers, and a 24 page booklet of photos/writings, including recollections by each band member, and others including Stewart Lee.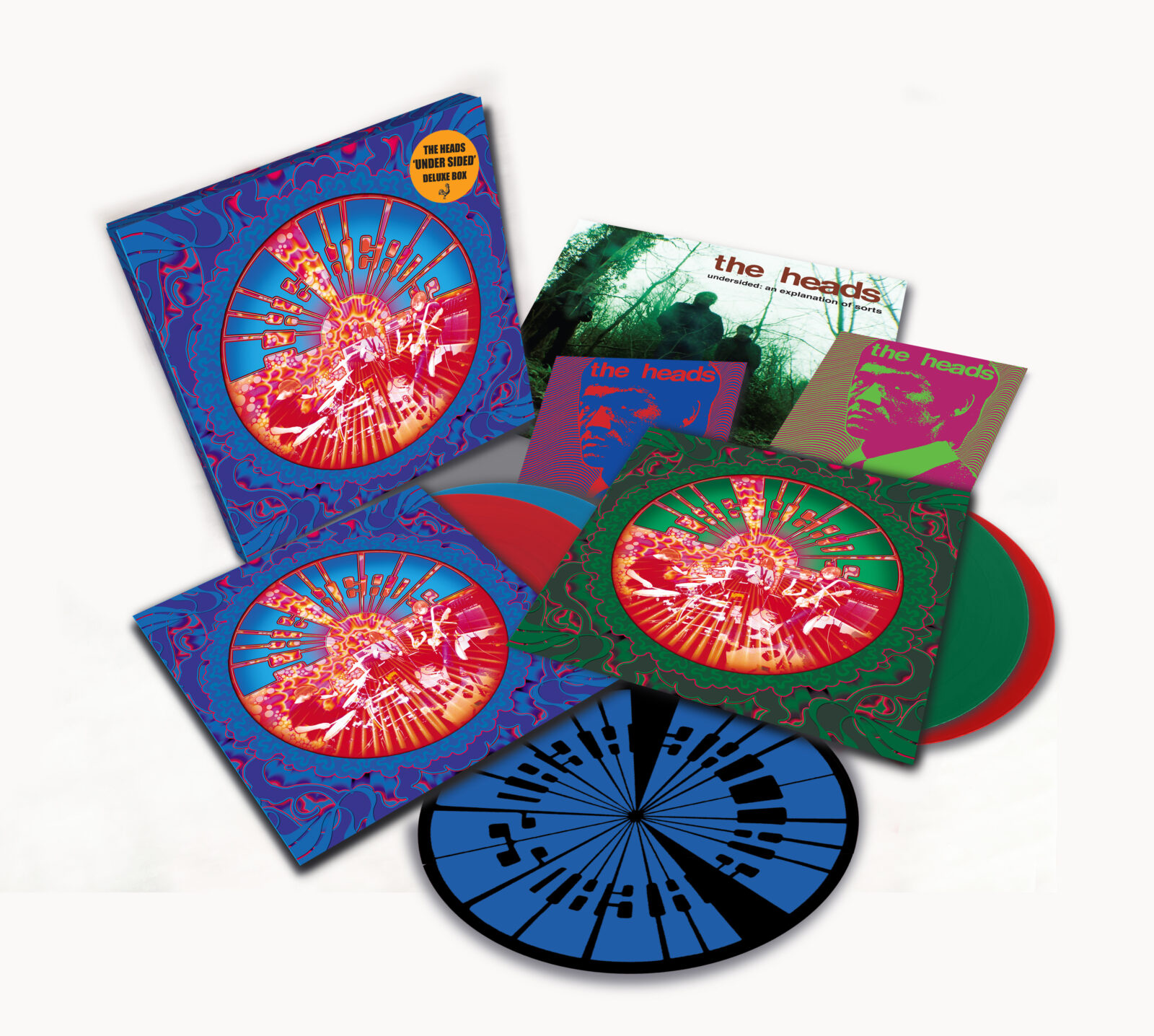 'Under Sided' is a pounding sike-nightmare that shows the Heads at the peak of their powers, there's a flow throughout the album of melding psychedelic noise rock to battering rhythms and creating a bad trip for all listening… even the gentle sooth of 'Energy' is enveloped by a white noise fury.. the intensity of some of the tracks: the terror inducing 'Bedminster' or 'False Heavy' (a tour worn riffmonger from 2000) or the Magnet-esque 'Heavy Sea', showed the band as ferocious as any of the insurgent "stoner" genre of that time.
They were never going to make their living out of touring, record sales… as Hugo mentions in his notes for the booklet, "… we had less boundaries and felt we could experiment more and not worry about commerciality…", but they were able to make this album.
The Heads play as special guests to their friends and peers Mudhoney at the Electric Ballroom on September 10th.
The Heads are:
Paul Allen: guitars, vocals, electronics
Wayne Maskell: drums, shouts
Hugo Morgan: bass
Simon Price: vocals, guitars, pedals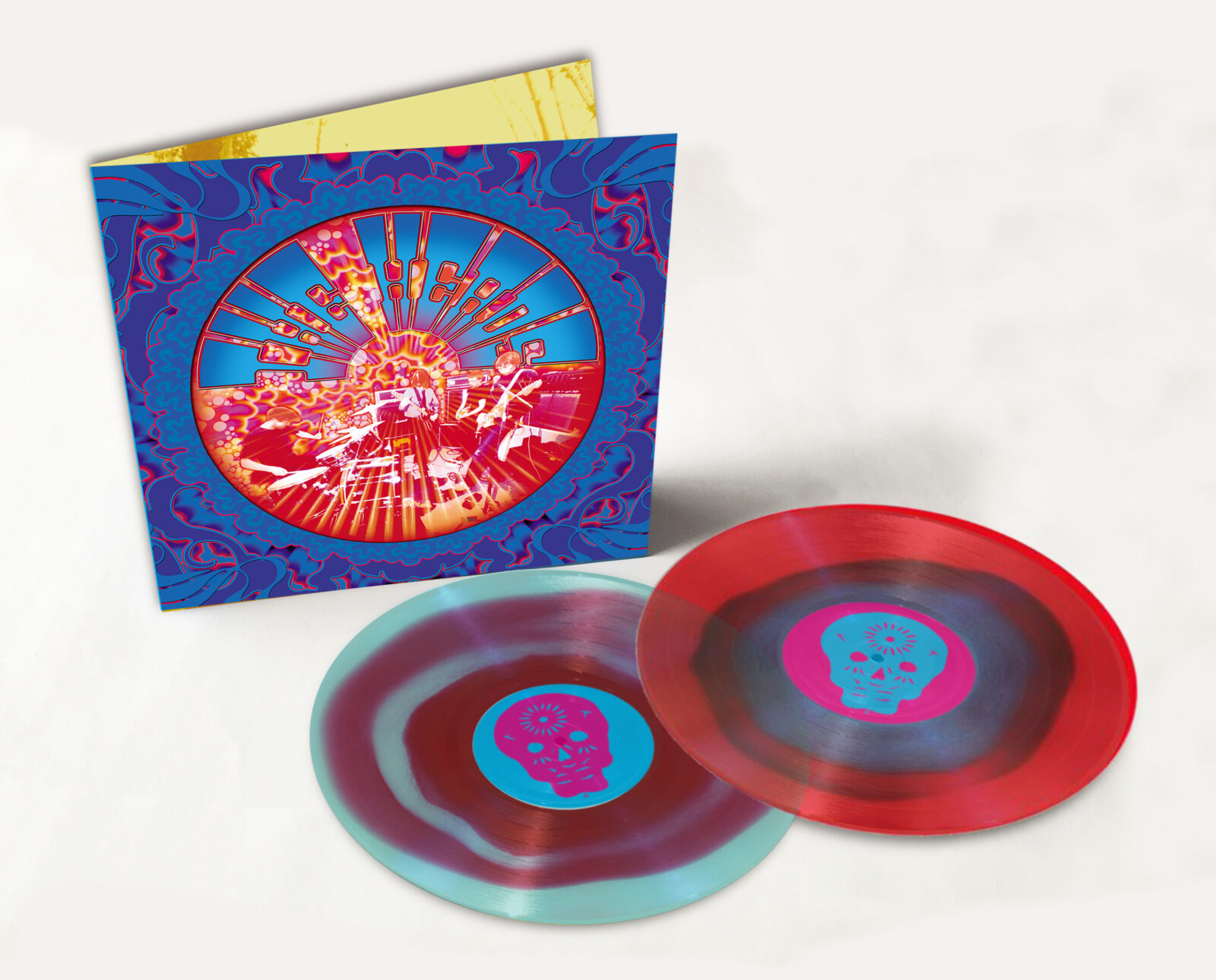 Box Set includes:
4LP + 2CD: of unreleased live on the Thekla in a rigid box set
2LP 1 the album, remastered and recut
2LP 2 he extras, singles, demos, and the peel session from the time. LOUD!
CD1/CD2 collection of live recordings and demos from the era 2000-2002…raw, loud, unfettered whiteknuckle rides into the heart of Sike's darkness…
Big 24 page booklet with writings from the band, and others.
2LPX (original album remastered/recut)
2CD the full album, as well as the extra album from the boxset.
Tracklistings:
2LPX Tracklisting: (Sides A,B,C,D)
01. Dissonaut
02. Il Ratto, La Ram, Ill Gallo Ed Il Serpente
03. Trilogy Part 3
04. Bedminster #1
05. False Heavy
06. Vibrating Digit
07. Energy
08. Heavy Sea
2CD Tracklisting:
CD1
01. Dissonaut
02. Il Ratto, La Ram, Il Gallo ed Il Serpente
03. Trilogy Part 3
04. Bedminster #1
05. False Heavy
06. Vibrating Digit
07. Energy
08. Heavy Sea
CD2
01. For Madmen Only
02. Born To Go
03. False Heavy (Peel Session)
04. You Took Me By Surprise (Peel Session)
05. Neu 75 (Peel Session)
06. Fuego (Peel Session)
07. Key Jam Short (Whitehouse out-take)
08. Backwards (Whitehouse out-take)
09. False Heavy (Band Demo)
10. Vibrating Digit (Band Demo)
11. Energy (Band Demo)
12. Heavy Sea (Band Demo)
Boxset Tracklisting:
2LP 1 (Sides A,B,C,D)
Dissonaut
Il Ratto, La Ram, Il Gallo ed Il Serpente
Trilogy Part 3
Bedminster #1
False Heavy
Vibrating Digit
Energy
Heavy Sea
2LP 2 (Sides E,F,G,H)
For Madmen Only
Born To Go
False Heavy (Peel)
You Took Me By Surprise (Peel)
Neu 75 (Peel)
Fuego (Peel)
Key Jam Short (Whitehouse out-take)
Backwards (Whitehouse out-take)
False Heavy (Band Demo)
Vibrating Digit (Band Demo)
Energy (Band Demo)
Heavy Sea (Band Demo)
CD1
01. Thekla 1
02. 33 min
CD2
01. Thekla 2
02. Headsjam 2
03. Ital Prog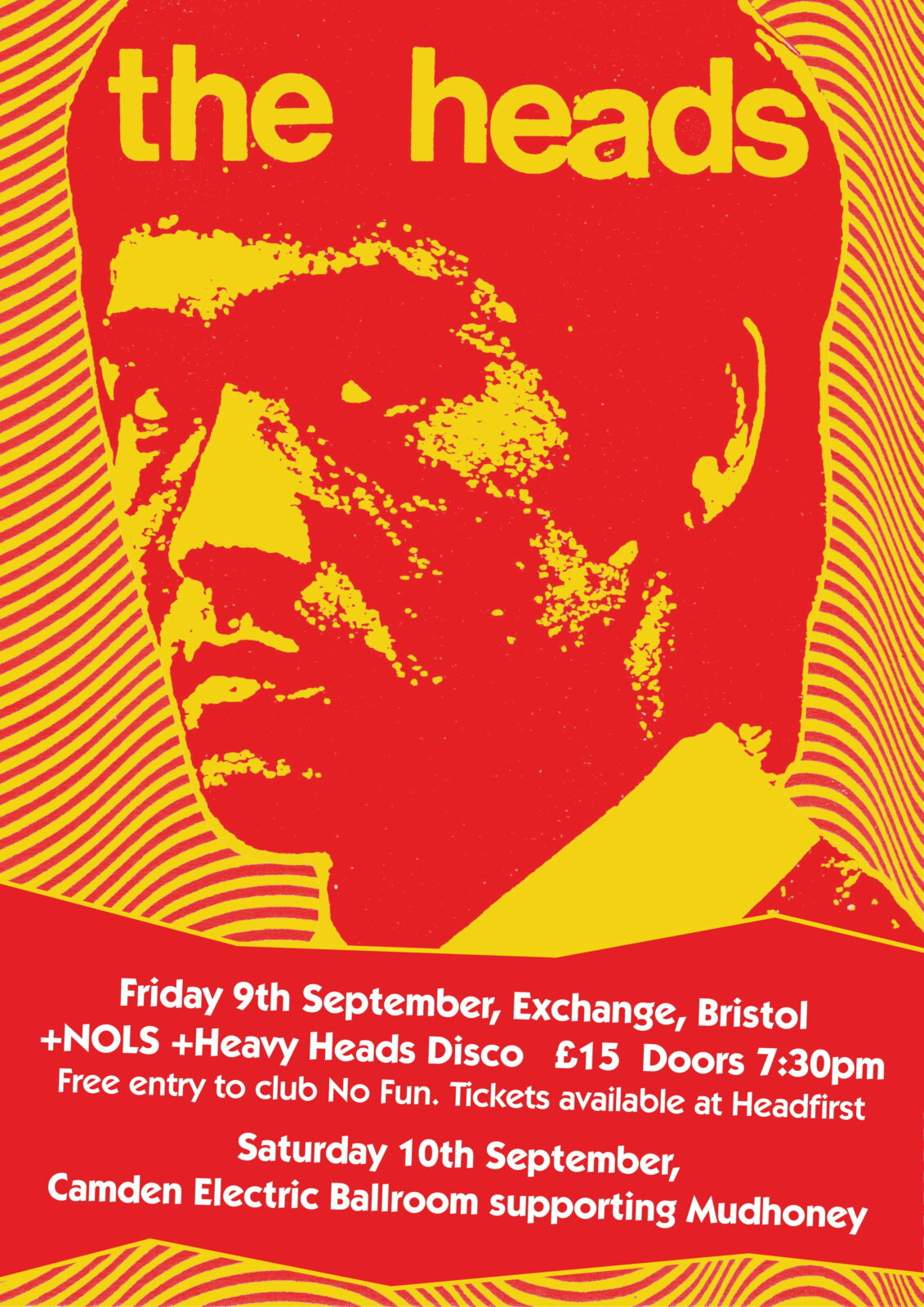 Also playing one off London show, supporting peers/friends Mudhoney September 10th 2022
---
The Heads Facebook