Niels Orens
'Make Null & Void' is the debut EP of Belgian electronic composer and cello player Niels Orens.
---
It contains four cinematic yet danceable tracks with more experimental parts.
How old are you? 22? 23?
Niels Orens: I'm 23 years old.
Where are you from? Limburg? Where exactly?
Born in Hasselt, but currently studying in Utrecht, so that's where I'm spending most of my time at this moment.
What do you study? Cello?
I'm in my third year and I study Composition and Sound Design at HKU Utrecht.
How did you get from cello into electronics?
Actually it's the other way around, I've started out with electronic music and got into the cello afterwards. I love modern classical music, think about Ólafur Arnalds, Deaf Center, Joep Beving
and so on. At a certain point I wanted to learn a new instrument, which eventually became the cello.
Is your goal to become a professional cello player?
I'm not aiming to become a professional cello player at all. It's not my ambition to play concertos or anything, I was just very curious how a cello would fit in an electronic environment. Most people I know who use a cello together with synthesizers are trained cellists and got into electronic music later, which is why the focus mostly lies on the cello. I try to use the cello more as an alternative sound source. Like an oscillator that generates sound that later on gets processed by filters, function generators et cetera. I use my cello for the same purpose. This gives me an extra form of human interaction with my gear.
'Make Null & Void' is your debut EP. What are your musical references and influences? I read: Massive Attack, Floating Points. Also: Burial and Blade Runner.
I have a wide range of influences. I guess that's also part of the story behind the EP. I don't want to narrow myself down to one specific genre although it's mostly electronic music.
I went to London for three months to work with Max Cooper on his latest album 'Unspoken Words'. He definitely is a huge source of inspiration to me. The way he conceptualizes his music together with the visual experience. What he brings is something that really blows my mind. Also Rob Clouth, Massive Attack and Floating Points are musicians I really look up to, and indeed sometimes people match the vibe of my music with Blade Runner.
I have done some composition work for movies, which is also something I really enjoy. I guess that the filmic atmosphere is something that unconsciously slips into my productions now and then.
Your music is cinematic indeed. It has something dark and atmospheric, but at the same time it's accessible, it has hooks. But now I'm already answering my question for you. What kind of music do you make, or what kind of music do you want to make?
The music I make is mostly based on the way I feel and with that feeling I try to experiment.
Since my focus lies heavily on the sound design part, more than on writing melodies or harmonies, it's already easier to label it as experimental, but I also want it to have hooks and be danceable. By doing this I'm trying to reach a bigger audience and make them appreciate the more experimental parts of my music.
You made this music last year, so is this a "corona record", made in isolation?
The EP is made almost fully during isolation.
Is isolation a good thing or a bad thing for an artist?
If it's a good or a bad thing for artists is something that differs for all of us I guess. I was very busy right before the first lockdown, maybe too busy so when suddenly the lockdown came, a lot of my work fell away. This gave me peace which made it possible to fully focus on my music again.
You made a video for every track. Why?
When I'm listening to music it's important that I can immerse myself in it, especially during live shows. I guess that's also the reason that every track will have a video. It strengthens the feeling of the song.
The video's also give an extra medium to translate my feelings into art. Instrumental music is very abstract, my visuals are too, but I still think that the story behind the tracks becomes more clear when they are accompanied with a video.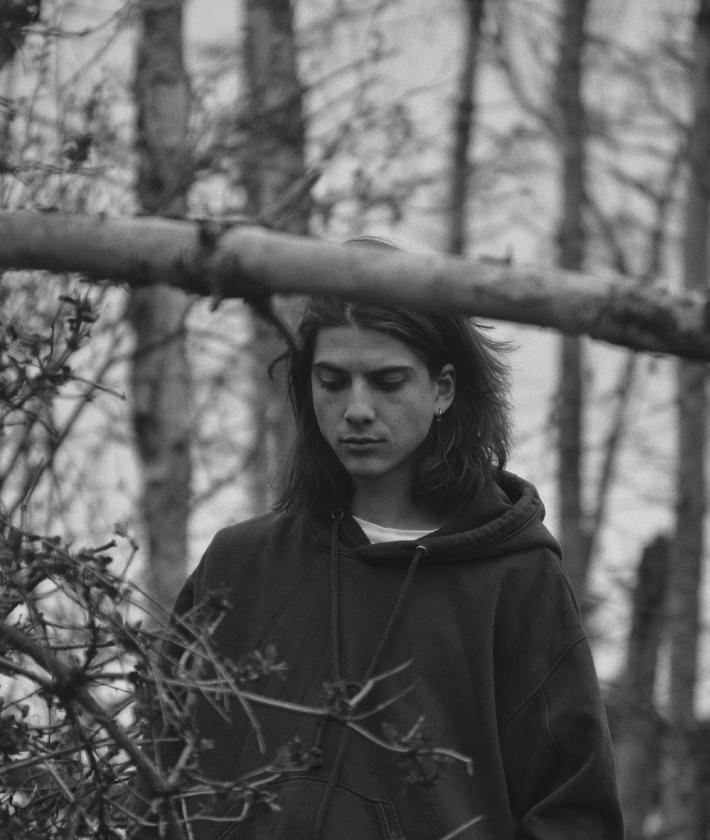 The first video is strange. It contains manipulated images of animals. Can you tell me how you made this video?
The video for 'Too Tired To Sprint' is based on the idea of a dream where weird creatures were constantly chasing me. While I was trying to run away from them another one was already around the corner. To visualize this feeling I worked with an A.I. algorithm of digital artist & AI researcher Xander Steenbrugge that made it possible to manipulate all kinds of animals into surrealistic creatures.
Joeri Bruyninckx
---
Headline photo: Annika Elizabeth Wallis
Niels Orens Facebook / Instagram / Bandcamp / YouTube