Kurt Vile – '(watch my moves)' (2022)
The big news here is that Kurt Vile has floated on over to the Verve record label, a very nice place to be sitting for sure. Some have suggested that the album title "Watch My Moves", which is really '(watch my moves)', noting that change to the big-time, yet in reality, the album gets its name from an aside in the blissed-out 'Mount Airy Hill (Way Gone)', which has a floating-cloud slide guitar with Vile bending his voice into its lower and upper registers nearly simultaneously as he sings of novelty dances from his vantage point high above an urban sanctuary's summit.
---
Without a doubt 'Walking On A Pretty Daze' was his most wasted intoxicating release, though he's also known for his work with War On Drugs, Courtney Barnett and of course Steve Gunn. What all of these artists have in common is a well structured lo-fi romp through the wasted eyes of someone wondering what happened last night. '(watch my moves)' is no exception, where if you've seen the video for 'Like Exploding Stones', you'll know exactly what Philadelphia's wandering minstrel was all about last night.
As expected, the record's lo-fi (as only Kurt Vile can do), lightly atmospheric and surprisingly hangs together as a cohesive experience, where Vile's stream of consciousness thoughts play out in a romantic fashion of folk meets rock meets a mild dose of psychedelics, all suitable for a nearly cartoon character like Kurt Vile to roam around sounding as if he's in the minute, making it all up on the fly. All and all, it's a fifteen track assemblage featuring a host of players who support his need for fried stoner pop sensibilities that bring an "Oh Wow" delightful grin to your lips, to which Kurt says, "My albums always progress from one to the next just by me getting older physically and spiritually. I think my last record was pretty epic, and on this one I've had even more time to make it. I've got the energy of a new label, and I don't feel as much in a rush. I recorded more than enough songs and then just put all the best ones on this album, so it's perfect."
What I found most interesting regarding his move to Verve, was that the label didn't set him up in a formal studio, leaving the album to be recorded for the most part at OKV Central, Kurt's newly completed home studio in the Mount Airy neighborhood of Philadelphia … though the man seems to feel very comfortable there, surrounded by those he knows and loves. Of the fifteen tracks, all are solely his, save for a cover of the Springsteen song 'Wages of Sin'. If I were to suggest a singular word that describes this adventure it would be meditative, though not in the spiritual way, or as in the act of meditating, but in the idea of slipping into a space where truth, honesty and presence resound, the act of seeing things and oneself for what they truly are and having fun with that. Just listen to the line, "… thinking of the time when I was cool, calm and collected, when all of my friends and peers stopped by just to hear me play," and you're instantly struck with the immediacy of his mind.
In its fashion, the album is generous and gorgeous, an intimate dazed lo-fi countrified bit of wonder that will ride in your back pocket like a weathered fifty dollar bill you'd forgotten about.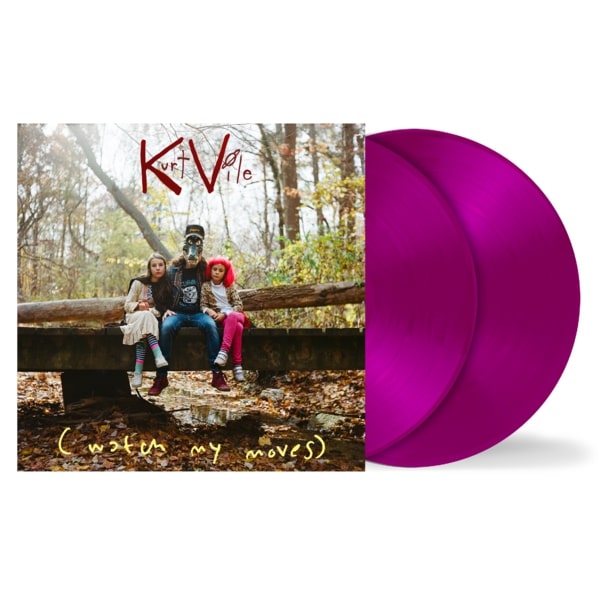 *** The Fun Facts: From Kurt Vile's homepage you can get the gatefold double album presented on beautiful purple neon vinyl (2000 copies), or from a number of other sites on translucent emerald green, yellow, and of course for the audiophile, there's blackest black.
Jenell Kesler
---
Kurt Vile – '(watch my moves)' (Verve Records | Release date: April 15, 2022)