Blue Rumble | Interview | Album Premiere
Today we are premiering the debut self-titled album by this great new heavy rock quartet that will take you back to 1971.
---
Blue Rumble is Andrea Gelardini (guitars), Ronaldo Rodrigues (keyboards), Harry Silvers (drums, percussion), Sébastien Métens (bass). The album was produced by Andrea Gelardini and Anders Alexander. He also took care of the mix and master.
What can you tell us about the formation of Blue Rumble?
Andrea: The project started two years ago when myself and Ronaldo found each other through Instagram. Sharing the same passion for 60/70s music we started talking about music, and soon we decided to make a song together. That's when we looked for a drummer, and Harry was the right one. I then brought on board my friend and bass player Seb.
Harry: Andrea had seen my drumming on Instagram and reached out to me in need of a drummer for his single with Ronaldo. After recording the single, everyone was so pleased we decided to write a full length album together. During the recording process, Andrea brought Seb, an old friend and bandmate on board who ended up being a perfect fit to the group. From then the Blue Rumble band was formed.
Ronaldo: I met Andrea on the Internet. I was very impressed with his records collection and I was also very surprised when I saw some videos of him playing guitar very well. I was looking to expand my musical partnership at that moment, particularly with musicians of other countries despite Brazil (where I frequently contribute to prog/rock acts). The match was perfect because I could talk with him naturally about obscure bands like Jamul, Demian, Perigeo, Road, West Coast Pop Art Experimental Band, et cetera. I had some incomplete ideas and I showed them to him, and then we started to cooperate. I discovered that he was a prolific composer, with several good ideas. After some time discussing, we tried some drummers to complete the recording of two songs, but it was hard to find the right guy. That guy should conciliate some important features – be a very good drummer with a powerful sound, love 60's-70's rock, and have the means to record himself. We found all these features in Harry Silvers. We released our first single in September 2020 and after some months, when we were preparing the songs for the full-length album, Andrea proposed to us his friend Seb to join the band as the bass player (I was recording the bass in the songs) – a very wise decision.
Seb: Andrea got in touch with me in September of 2020 asking me if I would like to be a guest bass player on an old Occhio e Croce track that Blue Rumble were rerecording called 'Alone in the Dark'. Occhio e Croce was an early musical collaboration between Andrea and I in which I played drums and bass, and Andrea guitar; we also had a keyboard player. The songs we recorded then were very rough around the edges—especially tempo-wise—with next to no production. I agreed to having a go rerecording 'Alone in the Dark', which was eventually retitled 'Occhio e Croce' for Blue Rumble's album. With that song finished, the others asked me if I wanted to stay on for the remaining tracks—and I did!
You must be all collectors of vinyl. What in particular do you like to collect the most and what would you say are some of the most important records that influenced you as a musician?
Seb: Yes, we are—although I think Andrea's collection is the most impressive by far! My favourite genre of music to collect is progressive rock from the early 1970s, especially those albums with a jazz influence too.
To answer the second part of your question, one of the albums that made me want to pick up the drums—which is the instrument I practised the most until relatively recently—was Black Sabbath's debut album; I'd never heard anything so heavy but with bluesy guitar licks and (at times) jazzy drumming. Other important records for me include May Blitz's debut and Tony Newman's drumming; Jon Hiseman and the albums he did with Colosseum; Grannie; the Julian's Treatment and Julian Jay Savarin albums; Mellow Candle; Cressida's two albums; Mogul Thrash; Tonton Macoute; Walrus; Still Life (Vertigo band); Arc's '… At This'; Diabolus; Goliath (UK prog band); and Hannibal. I could list many more artists and albums that have been a big influence, but the above-listed names should give you an idea of where my (musical) head is at, so to speak!
Andrea: I like to collect original pressings from the 60's and 70's, lots of jazz, psychedelia, library music, prog-rock and folk. Personally Led Zeppelin's records are the ones that shaped me the most as a guitarist. I always loved the playing, songwriting and production on those LPs. Flawless works of art.
On the more underground side of things, I really enjoy songwriters like Julian Jay Savarin, Chris Thompson and Robbie Basho.
Being Italian and coming from a family of actors, I was drawn to the soundtrack of Italian movies from the 70s, so those make for a big part of my collection as well.
Harry: Yes, I am. I really dig the depth of sound vinyl can produce and the physical concept of taking care of vinyl. Specifically, I have a passion for finding Led Zeppelin bootleg albums. I just love that each of their live performances are individual gems and I am a die hard Led Zeppelin fan. The most influential albums for me as a drummer are 'Drums Unlimited' by Max Roach, 'Live At Fillmore West, 1969' by Led Zeppelin, and 'Electric Ladyland' by Jimi Hendrix.
Ronaldo: Different from the others, I have few LPs and more CDs, but still a small collection compared with my bandmates. The records that influenced me most are the ones of Led Zeppelin, Jimi Hendrix, and ELP, but also Deep Purple, the first Yes albums, Cream…Not only albums/bands with keyboards bring me great motivation to play and to compose, but I can mention Captain Beyond, Steve Hillage/Khan, Hatfield and the North, Caravan, Brian Auger, Mainhorse, Mountain, Ten Years After, Cactus, Grand Funk Railroad, Sir Lord Baltimore, Toad, Buffalo, Santana, Johnny Winter, Aphrodite's Child, Argent, Bo Hansson, Kraan, Masters Apprentices, Genesis, Return to Forever, Mahavishnu Orchestra, Som Nosso de Cada Dia, et cetera.
Today we are premiering your debut album. Can you share some further words about it?
Andrea: This record came naturally with the writing process going strong among us. At the beginning we recorded two songs for a single, but since the material kept on coming we decided to go along with it and put it on record.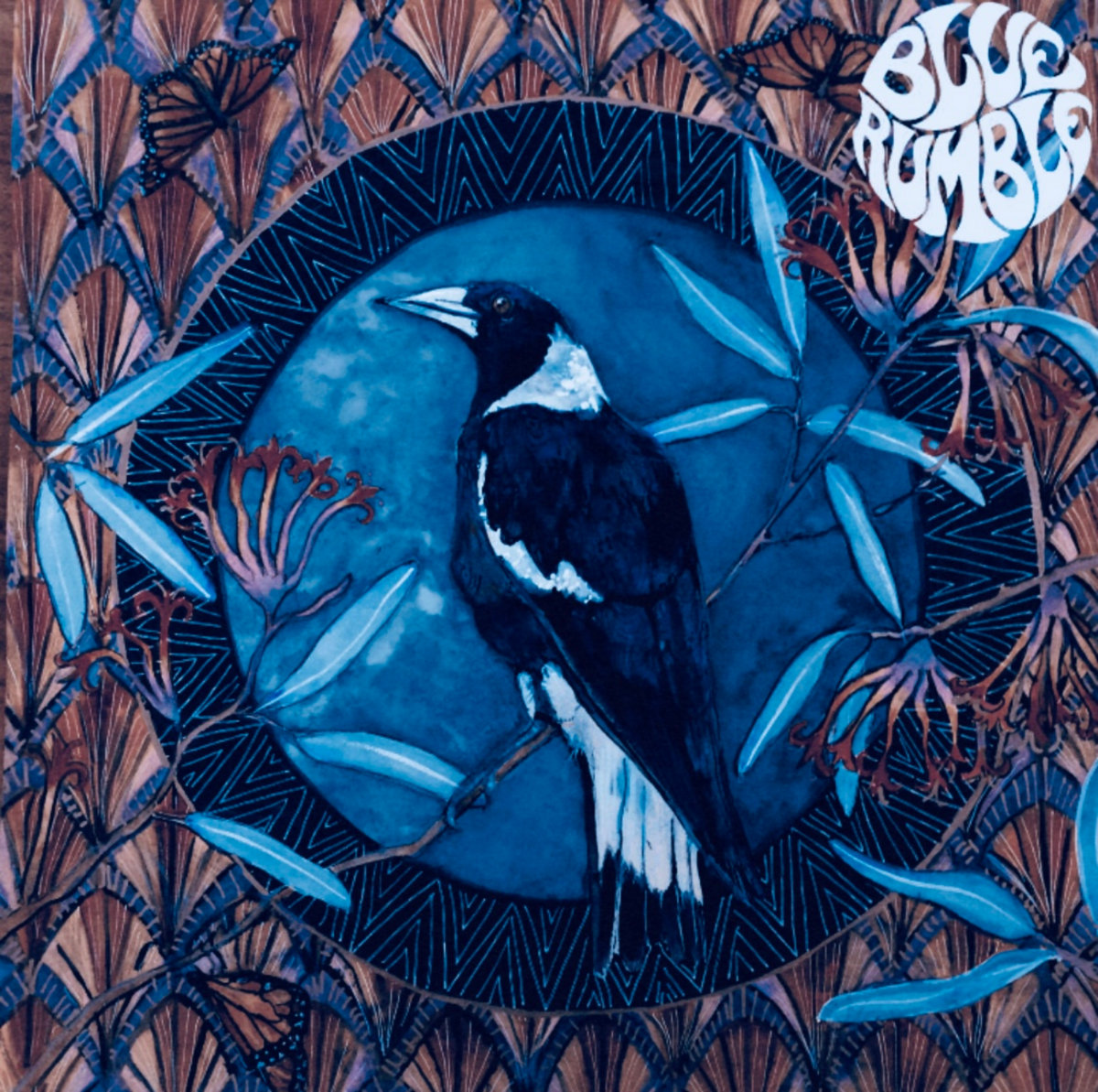 "Blue Rumble created a resurgence of 60's/70's rock, prog, and blues"
What can you say about the recorded material?
Harry: Blue Rumble created a resurgence of 60's/70's rock, prog, and blues. Each song leans towards one of the three genres. With a wide variety of background knowledge in music (and being from different parts of the world), the album invites a unique atmosphere to the listener.
Ronaldo: Sometimes it seems hard to carry out a remote composition and recording process, but when we are dealing with good musicians, things become easy.
Andrea: I'd say the material is pretty eclectic, there are some heavy hitters, mid tempo grooves, some psychedelic parts, progressive songs and some slow numbers.
Seb: I would just add that, as I joined the band mid-recording, Ronaldo plays bass on four out of the nine songs on the album. They are 'Cosmopolitan Landscape', 'Sunset Fire Opal', 'Hangman, and Snake'.
Where did you record material? Was it difficult to get together since we are all struggling due to the pandemic?
Ronaldo: Fortunately, technology helps in this sense – we can record ourselves with good quality. I have some years of experience recording as a band member and session musician and the other guys make a great job in this part. The pandemic was, in some ways, a booster to produce music remotely, considering that we have more time eventually dedicated to this project and it is some kind of tendency currently. We intend to make things as usual (rehearsing and recording all in the same room) soon.
Andrea: The fact that we all live in different countries (Switzerland, Brazil, USA and Luxembourg) was the main obstacle. You know, explaining a music idea or defining a sound can be very challenging when you are not in the same room playing. This way of writing and recording required a lot of time, but we were not in a rush, the goal was to bring the best out of these songs and the best out of us.
Seb: As Andrea has implied, the album was recorded remotely as we live in different countries, with each band member recording his tracks at home. Harry did book some time in a friend's home recording studio before he had set up his own space—and the flute player on Linda also went to a studio for his part—but apart from that it was a home affair.
We tended to start with a rough track—guitar, bass (Ronaldo), or keyboards—over which each member then recorded their parts in succession. I usually recorded my bass track after at least the drums and guitar had been laid down.
Harry: At the time of recording the album, I had no recording gear. A friend of mine in Washington helped me record three tracks using their equipment. From there I realized I needed to start building my own recording set up. Then I was able to start recording on my own from home and a rented rehearsal space here in Oregon. Well we are an international band, so the pandemic did not affect us too much. Since we are already located hundreds of miles away from each we continued with our recordings separately. After we have all recorded our pieces, we send the recordings through WhatsApp to each other for feedback. Once satisfied with our individual pieces, Anders (our producer) takes all of our separate recordings to put it all together to create the initial mix.
Would you please speak to your guitars and the effects pedals you employ?
Andrea: I'm using a Gibson SG standard on the record. It's my go-to axe for electric material. The sound is pretty stripped down, other than some tone boosters I only employed a few other effects sparsely: A tone bender fuzz box, cry baby wah wah pedal, catalinbread analog delay, stereo panning and electro harmonix reverb.
Seb: The bass guitar I used on these recordings is a black Ibanez Soundgear SR800, which was bought second-hand. I didn't use any effects pedals, just a 1960s bass sim in my DAW software. During the production stage of each song some distortion-like effect was sometimes added to the bass track.
How do you approach songwriting? Is it more of a jam session or are you carefully preparing material at home?
Ronaldo: In general, I sit down in front of the keyboards improvising for some time and some good ideas come. I recorded them and so, after some time (weeks or months), I try to follow up the song from these fragments, in a more rational process of composing.
Seb: I'm not much of a songwriter! I just laid down bass when the songs were already fully formed.
Harry: Considering our unconventional way of songwriting and recording, we created a formula to streamline our process. Listening to the scratch track, mostly from Andrea or Ronaldo, is the initial step within the formula. Then I have to complete the drum tracks, I first start playing them and experiment with different ideas. From my own experiments in my recording I choose the best take and submit it to the band. After the rest of the members have added their instruments I will add the percussion and overdubs for the final piece. In some instances, I have a part to add after the song has been mixed. For example, in 'Think For Yourself' I added tambourine and additional maraca after we got a second mix from Anders (our producer).
Andrea: I'd say my writing process doesn't have a standard procedure that is the same all the time, it really depends on the people I meet, the experiences I live with and how they inspire me. Being a music lover I'm listening to songs all the time and a wide spectrum of different genres. When I take some time off listening, I think I'm elaborating all the music and it comes out when I play. Sometimes I get an idea, I leave it there for a while and continue another day; other times the idea is already complete, ready to be turned into a song, it's complicated to pinpoint how it works exactly for me.
Do you find yourself to be a perfectionist, in control, or do your ideas lead you, taking on a life of their own?
Ronaldo: After composing I frequently define the full arrangement in my mind. Only the initial part of the composing process is freer; the rest are more mind-thing than a subjective approach. However, I'm always open to hearing what the other guys come up with about the song and the result frequently surprises me. I think it is a good way to solve things – if they don't bring ideas, I have the ideas to finish, but in most cases, they bring very interesting ideas and the magic happens. When recording, I frequently record many different takes intended to find the best result.
Andrea: I like to get driven by ideas and then deliver them in the most organic way possible. Perfectionism is not my thing, although certain standards are required in modern music I like to keep things real and natural. I find a lot of music nowadays feels a bit too perfect, almost robotic.
Seb: I hope I've understood the gist of your question! With regards to the bass parts on these songs, it's a bit of both. I listen to a song-in-progress a few times and then try to add a bass track in my head, usually as I'm doing other things. Then, when I sit down to record, I try and replicate that—or something like it. Sometimes I'll play along to a song and come up with a phrase or melody I particularly like; I'll then make a point of playing that in the final take.
Thank you. Last word is yours.
Andrea: Thanks for having us here at It's Psychedelic Baby! Magazine and for the opportunity to share our album, it's been a pleasure!
Seb: Thanks Klemen! I hope people enjoy listening to the songs on the album. Having once been a writer on your blog as an interviewer, it feels a bit surreal to now be an interviewee!
Klemen Breznikar
---
Blue Rumble Instagram / Bandcamp