Blossom Toes – 'We Are Ever So Clean' (2022)
UK psychedelic rockers Blossom Toes released two albums and a handful of singles between 1967 and 1969 on manager Giorgio Gomelsky's Marmalade Records. Their 1967 debut LP 'We Are Ever So Clean' is given fittingly regal treatment in a new three disc set on Cherry Red Records' Esoteric Recordings imprint, with the original long player's fifteen cuts supplemented by no less than twenty seven bonus tracks.
---
Disc one centers around 'We Are Ever So Clean' as it appeared on its 24 October 1967 release. The album contains all original compositions, with Godding writing or co-writing nine, Cregan five and Westlake four, and Gomelsky, who produced the LP, receiving credit on two. A wonderful example of British psychedelia, the album opens with 'Look At Me, I'm You', its phased guitars, feedback and trippy lyrics supplemented by horns. Likewise 'I'll Be Late For Tea' has horns added to its pounding drums and thundering bass, yielding a 'Sgt. Pepper' feel. Westlake's lighthearted 'The Remarkable Saga Of The Frozen Dog' has a driving beat with threatening, yet restrained, guitars 'Telegram Tuesday' features a crisp guitar intro and melodic vocals with vibes and other percussion adding texture. The delicate vocals of 'Love Is' are augmented by piano, flute and horns. 'What's It For' has a heavy groove with strings, piano and horns adding to its melodic vocals. 'People Of The Royal Parks' is a humorous bit of sunshine pop penned by Westlake. Godding's 'What On Earth' supplies the album's title with the line "we are ever so clean, cleaner than the top of a washing machine', its gentle guitar intro, delicate vocals, horns and flute joined by drum bursts and bounding bass, courtesy of Westlake and Belshaw. 'Mrs. Murphy's Budgerigar' is a bouncy, mid-tempo pop psych number with horns, piano and strings complementing the gorgeous vocal harmonies. 'I Will Bring You This And That' is an up-tempo tune with the band settling into a comfortable riff, Godding and Cregan's guitars hinting at their capabilities. 'Mister Watchmaker' mixes acoustic guitars, piano and beautiful vocals with strings sweetening the delicate sound. 'When The Alarm Clock Rings' features a heavy riff over trippy vocals, with ringing guitars and crashing drums closing the track. 'The Intrepid Balloonists' Handbook Volume One' is an amusing bit of pop psych with jangling guitars, organ and horns. 'You' combines cowbell, chiming guitars, bouncing bass, driving drums and horns with melodic vocals in a pop psych gem. The album closer 'Track For Speedy Freaks (Or Instant LP Digest)' is a snappy, ephemeral instrumental bit of psych with horns, guitar, bass and drums accompanied by atonal piano. Four bonus tracks finish out the disc. 'Everybody's Talking' is an outtake from the album sessions. The tune's relaxed groove stands in contrast to its stinging lead guitar line and tasty drum rolls. 'I'll Be Your Baby Tonight' , a Dylan cover, was released as a single, backed with the album track 'Love Is'. The song's country vibe varies greatly from the rest of the group's catalog, showing their versatility. It did not, however, make an impression on the charts in the UK, Germany or France, the three nations where it saw release. An instrumental take of 'Look At Me, I'm You' rocks compared to the released version with hot rocking guitars from Godding and Cregan and a heavy groove from Belshaw and Westlake. The version of 'I'll Be Late For Tea' which closes the disc is indicated as being instrumental but has vocal harmonies and a hot melody showcasing Blossom Toes guitarists and their tight rhythm section, the last two tracks serving as harbingers of things to come, showcasing the songwriting abilities and instrumental prowess of the group, further evidenced in their live performances and their 1969 LP 'If Only For A Moment' the centerpiece of an upcoming three disc collection from Esoteric..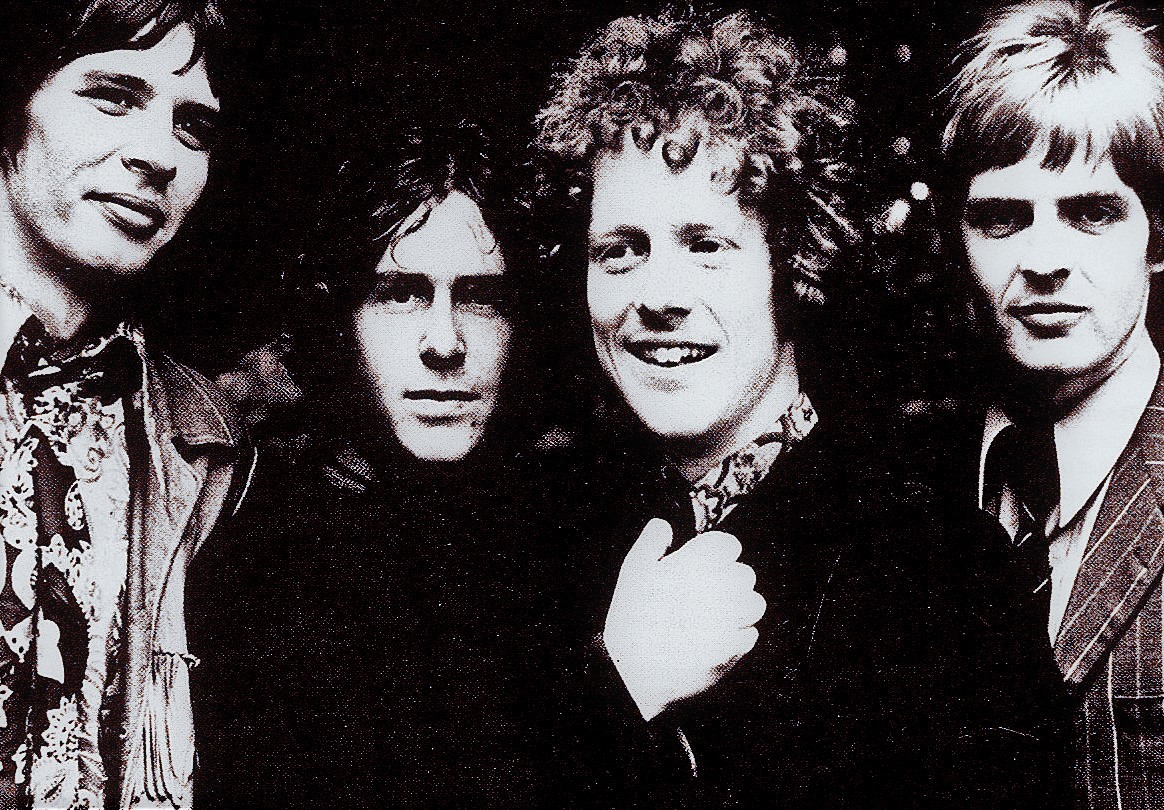 Disc two contains eight tracks recorded live on 26 August 1967 at Philipe's Club in Stockholm, Sweden. Because 'We Are Ever So Clean' contained work by session players on horns, strings and other instruments the band was unable to duplicate many of its tracks live. As a result, the group's live repertoire was quite different, made up of rockier original tunes as well as tastefully crafted covers of blues standards and lesser known American artists of the day, such as Shawn Phillips and Captain Beefheart. The disc opens with a six minute take on Cregan's 'Listen To The Silence' dominated by the heavy groove of Belshaw and Westlake and the hot lead lines and solos of Cregan and Godding. 'Electricity' is a nearly seven minute Captain Beefheart cover, quirky like the original, but with snarling guitars to the fore, and soaring solos dominant. 'Captain Trips', credited to the quartet, is a three minute acid rocker filled with roaring guitars and wah wah laden solos. The intro to 'Love Us Like We Love You' is reminiscent of Bo Diddley, the beat quickening as the song progresses, with guitar lead lines and solos the main focus. A ten minute take on Westlake's 'The Remarkable Saga Of The Frozen Dog' has a trippy intro, the tempo building as the guitars rev up, filled with feedback, and the band settles into a comfortable riff, jamming effortlessly, displaying Godding and Cregan's guitars and Westlake's lysergic lyrics. A nine minute melodic cover of Shawn Phillips' 'Woman Mind' features Godding and Cregan's guitars, wah wah aided, with Belshaw's throbbing bass and Westlake's pounding drums keeping pace, the tune building to a feedback filled close. A ten minute cover of Howlin' Wolf's 'Smokestack Lightning' allows the band to let it all hang out. Many well known bands of the day, the Gomelsky managed Yardbirds for one, included this number in their live acts, and Blossom Toes' effort stands up to any, a tribute to the talent of the members individually and collectively. The disc closes with a four and a half minute take on Cregan's 'First Love Song' as the band belts out an Allman Brothers sounding rocker, two years before that group formed. Blossom Toes rock hard, effortlessly ending the show, reflecting their proclivity toward a heavier sound and the material included on the second and final LP which would find release just short of two years after this concert.
Disc three opens with the band's first demo versions of three songs, which although revisited never progressed beyond the demo stage. The tracks were recorded by Godding, Cregan and Belshaw with Poli Palmer, replacing Kevin Westlake, contributing drums, vibes and flute. 'Collects Little Girls' hints at the heavy sound attained by Blossom Toes live and in their later recordings, with piano and organ joining the lead line and solos of Godding and Cregan. 'Hometime' is an interesting mix of delicate piano, vibes, acoustic guitar and vocals with thundering bass, driving drums and wah wah aided electric guitar. 'Looking Up I'm Looking Back' combines delicate vocals and a heavy riff, with piano added for texture. A BBC Radio One 'Top Gear' session from 23 October 1967, the day before the release of 'We Are Ever So Clean' includes credible performances of 'Mister Watchmaker', 'What On Earth' and 'The Remarkable Saga Of The Frozen Dog'. A 'Top Gear' session from 23 March 1968 opens with a Jim Cregan interview which segues into a live take of the non-LP Dylan penned single 'I'll Be Your Baby Tonight' and a fine performance of 'Love Is'. The disc, and set, closes with demos of seven tunes which were not further developed. Three of these tunes make their only appearance on this collection here. 'Backstreet' is a mid-tempo, piano driven tune with gentle vocals. 'Ever Since A Memory' is a breezy, jazzy number with flute and vibes intro and a delicate melody. 'Penny And The Pennies' is a gentle Simon & Garfunkel style song, with gorgeous vocal and acoustic guitar accompaniment, a beautiful note on which to close the disc and this expanded version of 'We Are Ever So Clean'.
This expanded version of 'We Are Ever So Clean' comes in a quad fold digipak. The set includes a 24 page full color booklet with complete track listing, an extensive essay by Malcolm Dome, interviews with Brian Godding and Jim Cregan as well as photos of the band, record artwork, press clippings and other memorabilia . The album has never sounded so good thanks to the 24 bit mastering by Ben Wiseman. This expanded edition will appeal to fans of 1960's psychedelic rock, classic rock and rock music in general and comes highly recommended.
Kevin Rathert
---
Blossom Toes – 'We Are Ever So Clean' (Esoteric Recordings, 2022)
All photo materials are copyrighted by their respective copyright owners, and are subject to use for INFORMATIONAL PURPOSES ONLY!