Frankie And The Witch Fingers | Interview
The Los Angeles based rockers, Frankie and the Witch Fingers, bring an original blend of classic & neo-psychedelia with prog, krautrock, and funk influences.
---
While their discography can sound rather diverse, there is also a strong continuity and display of growth throughout. Frankie and the Witch Fingers make for a memorable live performance experience that you don't want to miss. The band recently finished a 5 week stint of touring across the US including two shows in Austin, Texas as part of the Levitation Festival.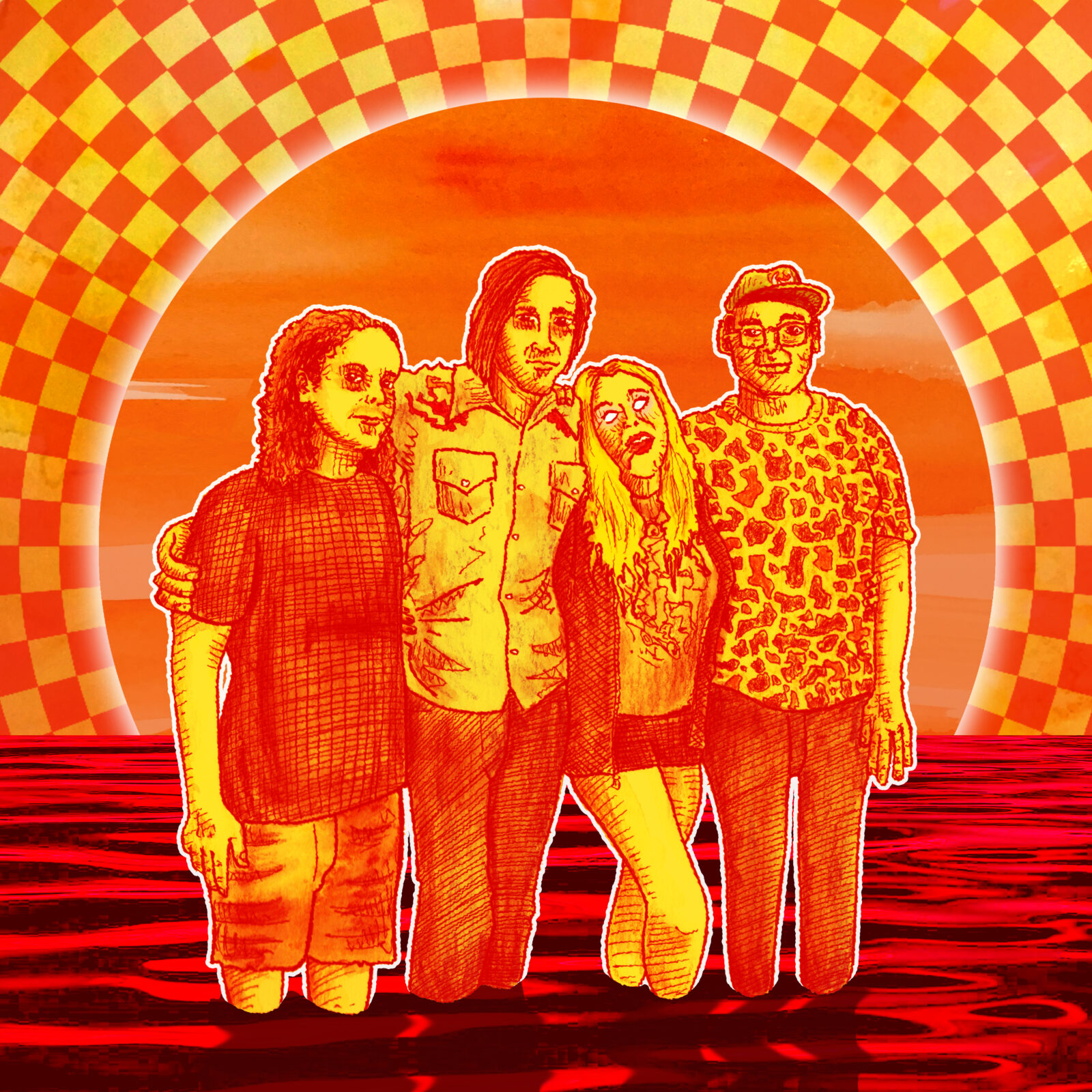 Thanks for meeting up with me! Let's do some introductions here.
Dylan Sizemore: I'm Dylan and I play guitar and sing.
Nikki Pickle: I'mP ickle and I play bass.
Josh Menashe: I'm Josh and I play guitar.
Jon Modaff: And Jon and I play drums.
When did you all arrive in Austin? Last night?
Dylan Sizemore: Two nights ago – Thursday night.
Nikki Pickle: Pretty late. We didn't really go and see anything on Thursday night. We just got in and settled and went out and saw stuff yesterday.
Okay, cool. Who did you see last night?
Nikki Pickle: We saw the Black Angels, Kikagaku Moyo, and Black Midi.
Jon Modaff: We saw Levitation Room.
Awesome. Yeah, I was at Stubbs last night for the Black Angels but I missed Black Midi. I had a ticket but didn't make it over…
Nikki Pickle: It was so cool. They are so good.
I've heard they are pretty good live and their recorded stuff is really good. Sorry I missed it. Too many things going on at once. You all are currently on tour with Acid Dad. How has that been going so far?
Dylan Sizemore: It's been amazing! They are like the sweetest dudes and they're also really amazing musicians. It's been really cool to play with a band that you want to see play every night. It's really exciting.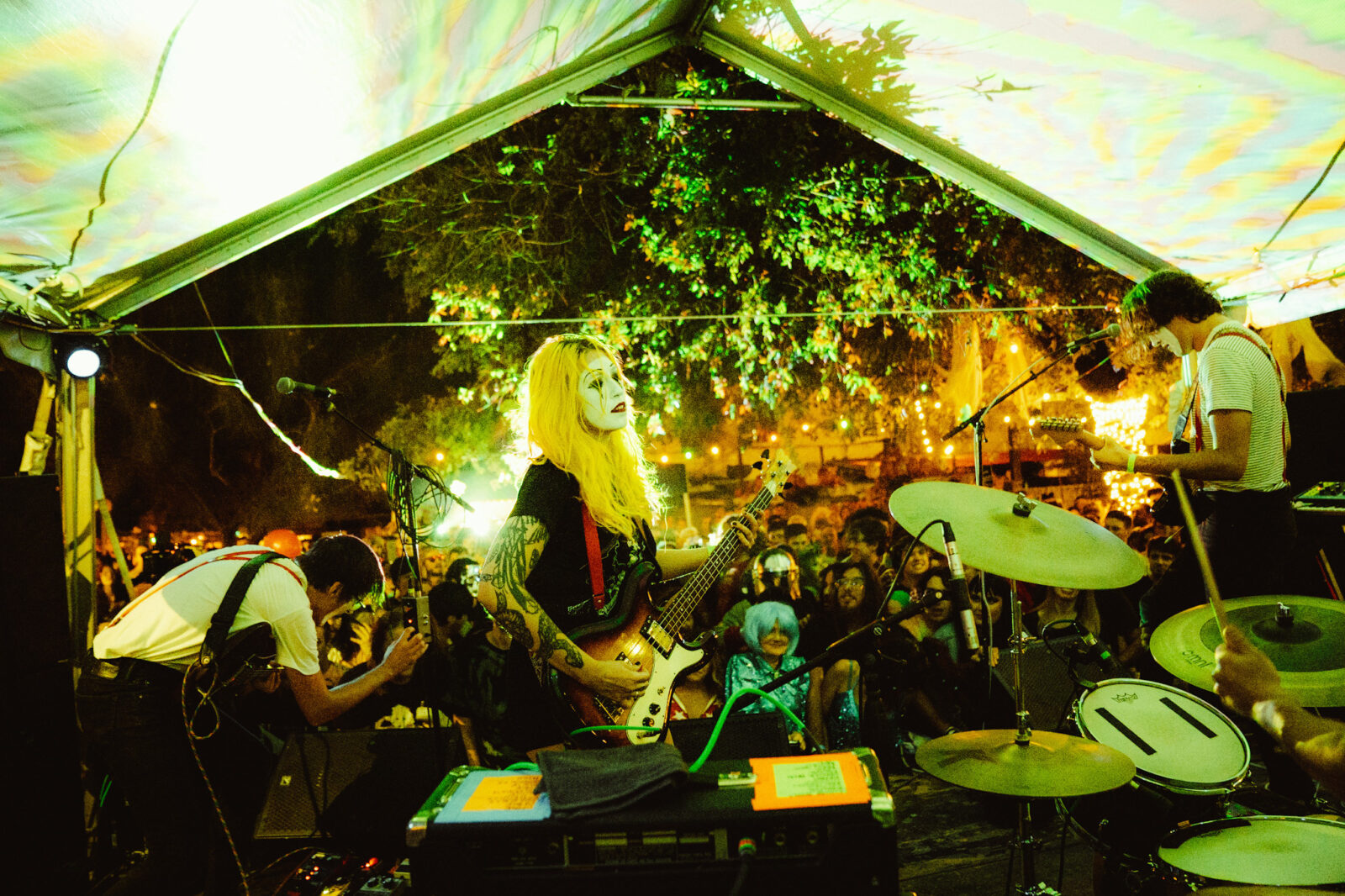 I'm going to interview them tomorrow, actually. Any interesting or weird shit happen while on tour?
Nikki Pickle: We had a cool vacation with Acid Dad. We got to go play mini-golf, or putt-putt or whatever the proper terminology is.
Dylan Sizemore: I think it was "goofy golf"?
Nikki Pickle: "Goofy Golf" in Panama City, Florida. Oh, and the weird thing there was that there was a red tide, which is like an overgrowth of algae in the water. So, the water becomes kind of toxic so all these fish were dying and there's dead fish all along the shore. I think it was pretty crazy. Like not a normal thing to happen.
That is strange. Was it pretty stinky?
Nikki Pickle: It was a little stinky. Just when you got close to the water though, not everywhere. But when we walked on the beach, the algae puts out like a toxic gas and it makes you cough a bunch.
Josh Manashe: I got this coughing attack just staring at this dead eel on the beach. It was strange.
It's almost like the Earth is trying to kill us or something! It does not like us…
Josh Menashe: I know!
Nikki Pickle: But we did get to go in the ocean on the Atlantic side of Florida. We were over in Orlando and that was awesome. That was my first time in the Atlantic and we got to spend the whole day just swimming and hanging out.
This is near the end of your tour, isn't it? You guys have a few more dates ahead of you?
Dylan Sizemore: Yeah, these two shows and then two more so like four shows left. It's been going on like five weeks now so it's been a pretty long run.
So, ready for a break after this one?
Dylan Sizemore: Only because it's happening. I feel like if we had more shows I'd be really stoked and wouldn't be tired but like your brain gets ready for the end of it.
Nikki Pickle: It's the come down. The whole tour come down.
Dylan Sizemore: Then we'll get home and just be itching to play more shows.
Any future tour plans yet or is it just too soon to even think about?
Dylan Sizemore: Yeah, always. I mean, that's kind of how it works. We have shows for next year. I don't know how many we can mention because some of them are festivals and they're working on stuff but we're playing shows next year. I think we're gonna go to Europe in like May, but again, everything's tentative. But, definitely playing some shows. Can't stop, won't stop.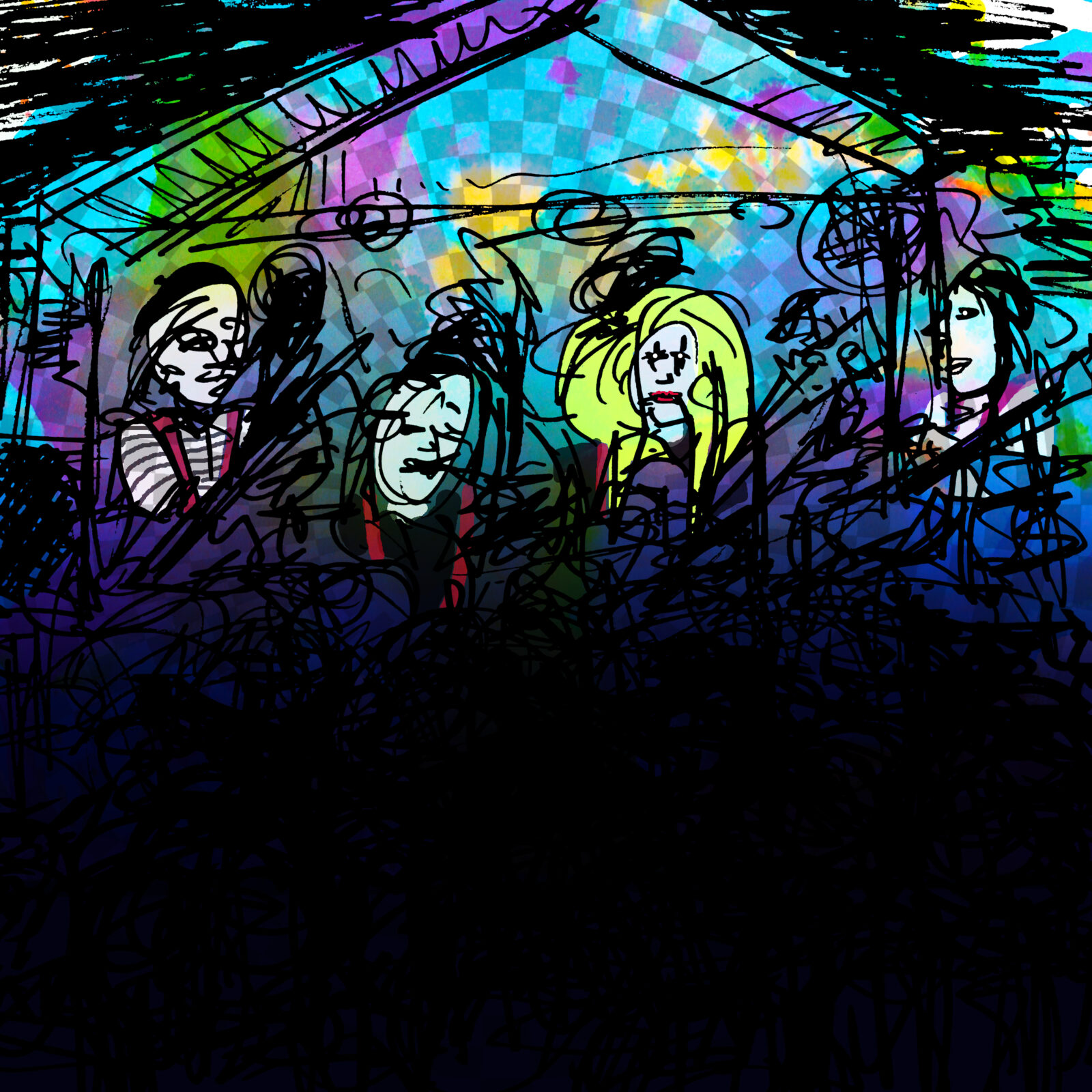 What do you guys do to keep yourself occupied while you're on the road for those hours and hours?
Josh Menashe: Rubik's Cube.
Nikki Pickle: Josh, over the pandemic, taught himself to beat the Rubik's Cube and now he's teaching everyone else how to solve a Rubik's Cube. Now there's little formulas written down and placed around the van of how to do it.
Josh Menashe: It's a useful skill. Like survival guide.
Nikki Pickle: He's like a coach. He's constantly coaching everyone about like, "you're gonna want to put blue on the top right and you turn it up right and left, right, left, right, up, down.
Josh Menashe: L-U-R-U-L-U-R-U. We should make a song called "Luru-Luru".
I could never do those.
Josh Menashe: Not yet. I got you.
Dylan Sizemore: It's addicting too. It seems really mentally taxing but once you unlock each step, you're hooked.
You guys have any "go to tunes" you listen to in the van?
Josh Menashe: We listen to 'You're Still the One' by Shania Twain every morning as part of our routine.
Of course.
Dylan Sizemore: Yeah, it perfectly encapsulates tour. Like, "looks like we made it. Look how far we've come." We're doing it. Thanks Shania. Honestly, we like to listen to music that people think we sound like.
Nikki Pickle: We listen to generally just fun nostalgic stuff.
Dylan Sizemore: Maybe listen to Alanis Morissette. We love her. Kind of.
Can't tell if serious or not…
Dylan Sizemore: No, no, we are!
Josh Menashe: We listen to other shit too.
Dylan Sizemore: But not in the van. It's just not – I don't know. For me, it's just more fun to listen to shit you know or that you used to listen to as a kid or whatever. Fun shit rather than serious.
Nikki Pickle: When you're DJing the van, you're putting on group favorites that everyone's gonna want to listen to. So, it's like 90s nostalgia. Let's do this. And everyone's like, "Oh, yeah, that's my song, that's my jam." But you're not like seriously sampling tunes. You know?
Dylan Sizemore: Although, what's that band? Horse Lords. They're pretty dope.
I'm not familiar with them.
Dylan Sizemore: It's crazy. It's like polyrhythms and it's mathy but it's not, but it still grooves. I don't know. It's rad.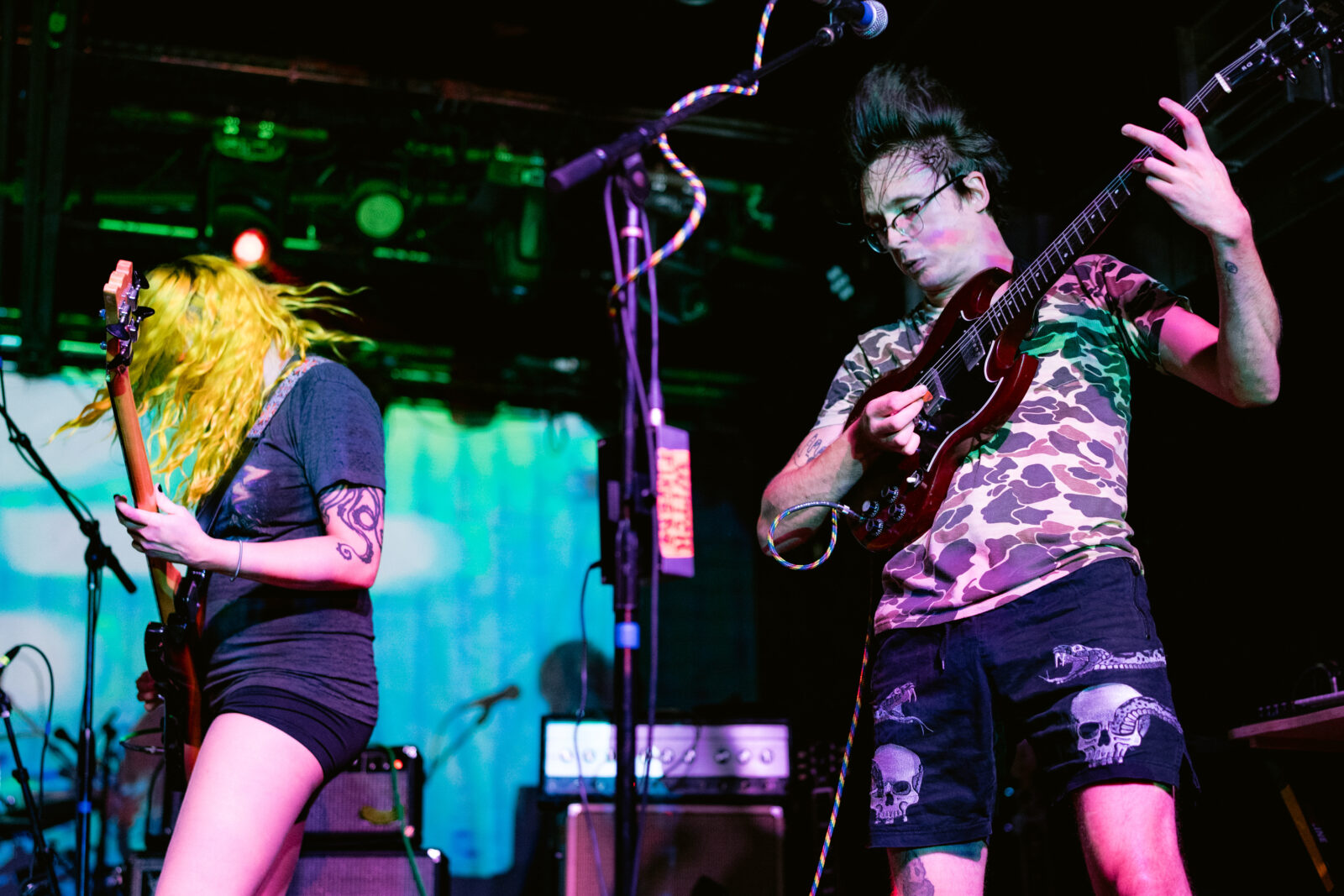 Your latest release was a single called "Cookin'". What label was that released on?
Dylan Sizemore: Yeah, 'Cookin" and 'Tracksuit' on the B side. Through Greenway Records and the Reverberation Appreciation Society. They are kind of partners, which is really rad because we get to do shit like this.
Several albums, including 'Brain Telephone', credit Dylan and Pickle with the artwork design. Are you all generally pretty heavily involved in the aesthetics as well as the music?
Dylan Sizemore: Yeah, the visual aesthetic of the band is definitely a group decision, but Nikki and I usually team up on creating or art directing whatever project we're working on. It's something we're both passionate about. Nikki went to college for Art and Design and so she's always putting finishing touches on any of the stuff we put out.
What's next for you guys? Do you have any new music on the horizon?
Josh Menashe: We are still kind of in the writing process. We spent a lot of last year building a studio and we can record every jam we do now which is really fun. So, we have a lot of stuff to sift through and try to turn into real songs and write another record.
Dylan Sizemore: The single was kind of like a test run to see how well we do with the homemade studio. It turned out pretty good.
Any last words for readers of It's Psychedelic Baby Magazine?
Dylan Sizemore: Call your loved ones and tell them you miss 'em.
Thank you much!
Written and Illustrated by
Justin Jackley
December 2021
www.justinjackley.com
---
Headline photo: Roger Ho
Frankie And The Witch Fingers Official Website / Facebook / Instagram / Twitter / Bandcamp
The Reverberation Appreciation Society Official Website / Facebook / Instagram / Twitter / Bandcamp / YouTube
Greenway Records Official Website / Facebook / Instagram / Twitter / YouTube / SoundCloud / Bandcamp
Frankie And The Witch Fingers interview with Dylan Sizemore, Alex Bulli and Glenn Brigman
Frankie And The Witch Fingers – 'Frankie And The Witch Fingers' (2014)