Tomorrow's Gift | Release Music Orchestra | Interview with Manfred Rürup
Manfred Rürup is a German musician who was active in bands such as Tomorrow's Gift, Release Music Orchestra, and also composed radioplay music for the Europa label. Rürup co-founded Steinberg, but don't work there anymore. Today he's active at DM Digitalmusician gmbH.
---
Tomorrow's Gift released two albums. Their debut self-titled album from 1970 is a heavy progressive rock sounding album, but by 1972 they released a work full of experimentation and with forceful keyboard and bass-interplay, sounding like a Zappa-inspired Canterbury band. It featured original members Manfred Rürup and Bernd Kiefer, plus the newly recruited drummer Zabba Lindner, known from Sphinx Tush and various records for the Ken exploitation label [Live Experience Band]. The album was produced by the famous Conny Plank.
"The seventies were crazy with a lot of drugs and freaky stuff"
How did you first get interested in music?
Manfred Rürup: I started to take piano lessons when I was 9 or 10. Classical piano. My 2 years older brother Claus introduced me to the Beatles and the Rolling Stones and I started to become interested in music from the UK. I bought myself a guitar and we started a band. My brother on drums. I was 14 or 15.
Where and when did you grow up? Was music a big part of your family life?
I grew up in Hamburg, Germany. My father owned a pub, and my grandma had a grand piano in her living room. Music was not such a big part of my family.
What was your first instrument?
Because my favourite bands only played with guitars and no piano, I went into a music store and bought myself a guitar and we started a band
What bands were you a member of prior to the formation of Tomorrow's Gift?
The name of my first band was "Angry Five". Then a friend of ours, who was a bit older convinced us to change our name to "Tomorrow's Gift". He's got the name from a science fiction book written by Edmund Copper, which includes a number of short stories.
What kind of music did you play very early on?
With the "Angry Five" we started with Top 40 songs. We went into the next ice cream parlour and did put some money into a jukebox. We listened to the songs 3 or 4 times and went back to practise them in our rehearsal room at the youth club. 'Wild Thing' by the Troggs, 'Keep On Running' by the Spencer Davis Group , 'You Really Got Me' by the Kinks and so on. Keep in mind, at that time there was no Spotify, YouTube or anything like that, not even a cassette recorder we owned, even records were hard to get and we didn't had the money for it.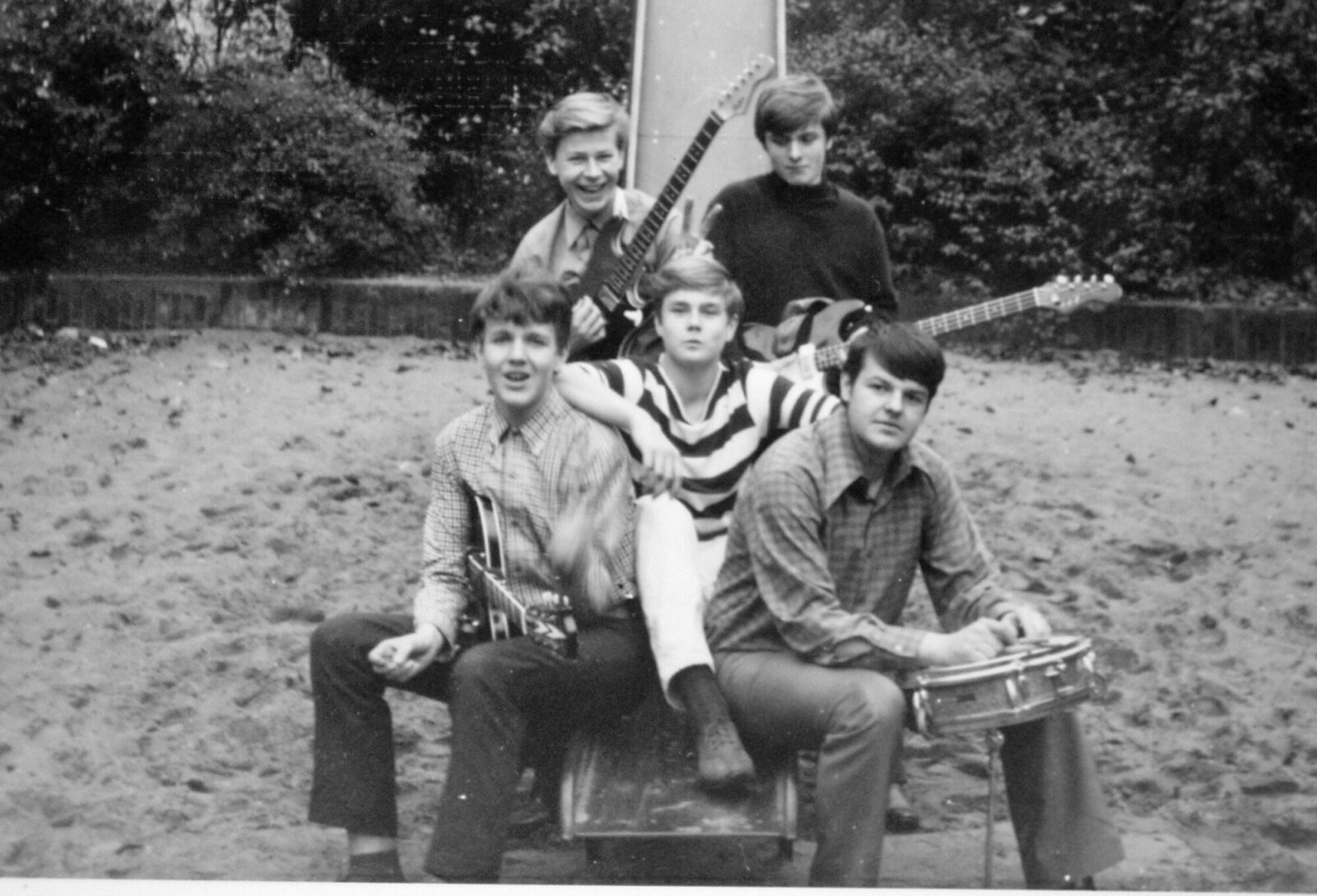 At that time we had drums, two guitars, a bass player and a lead singer. One of the guitar player left the band so the bass player switched to guitar and we found a new bass player, Bernd Kiefer.
Can you elaborate on the formation of Tomorrow's Gift? What was the main concept behind Tomorrow's Gift?
Bernd was two years older than us. So he introduced us to blues and soul. He's got the records by John Mayall and the Bluesbreakers ['Blues Breakers with Eric Clapton'], Otis Redding, Wilson Pickett, Sam & Dave. So we got a new lead singer, Wolfgang Krug and sometimes we had a saxophone player and a trombone player with us on stage.
What sort of venues did Tomorrow's Gift play early on? Where were they located?
We mostly played in youth-clubs all over the city of Hamburg on Friday and Saturday. People usually danced in front of the stage. The music was new to them, they never heard it on the radio or tv.
What influenced the band's sound?
When we started to play more soul titles, I decided to switch back from the guitar to the organ. We changed our rehearsal room from a youth-club to a Club on St. Pauli (Cotton Club), within the red light district. This club was around the corner of Hamburg's famous club, the Star-Club. We did the rehearsal after school in the late afternoon and after we've finished we went to the Star-Club every night. Two bands played there on weekday's and three bands on the weekend. So we watched the Remo Four, Spooky Tooth, Vanilla Fudge, Black Sabbath (Earth, at that time), Rory Gallagher and so on. As I was 16 or 17 years old, I had to leave at 10pm or bribe the waiter with 50 pence. These Star-Club bands did influenced us a lot.
My brother left and had to go to the army, and we got a new drummer, Gerhard Petzke.
We met Wolfgang Trescher who played flute. As Jethro Tull was popular, the flute was a strong instrument.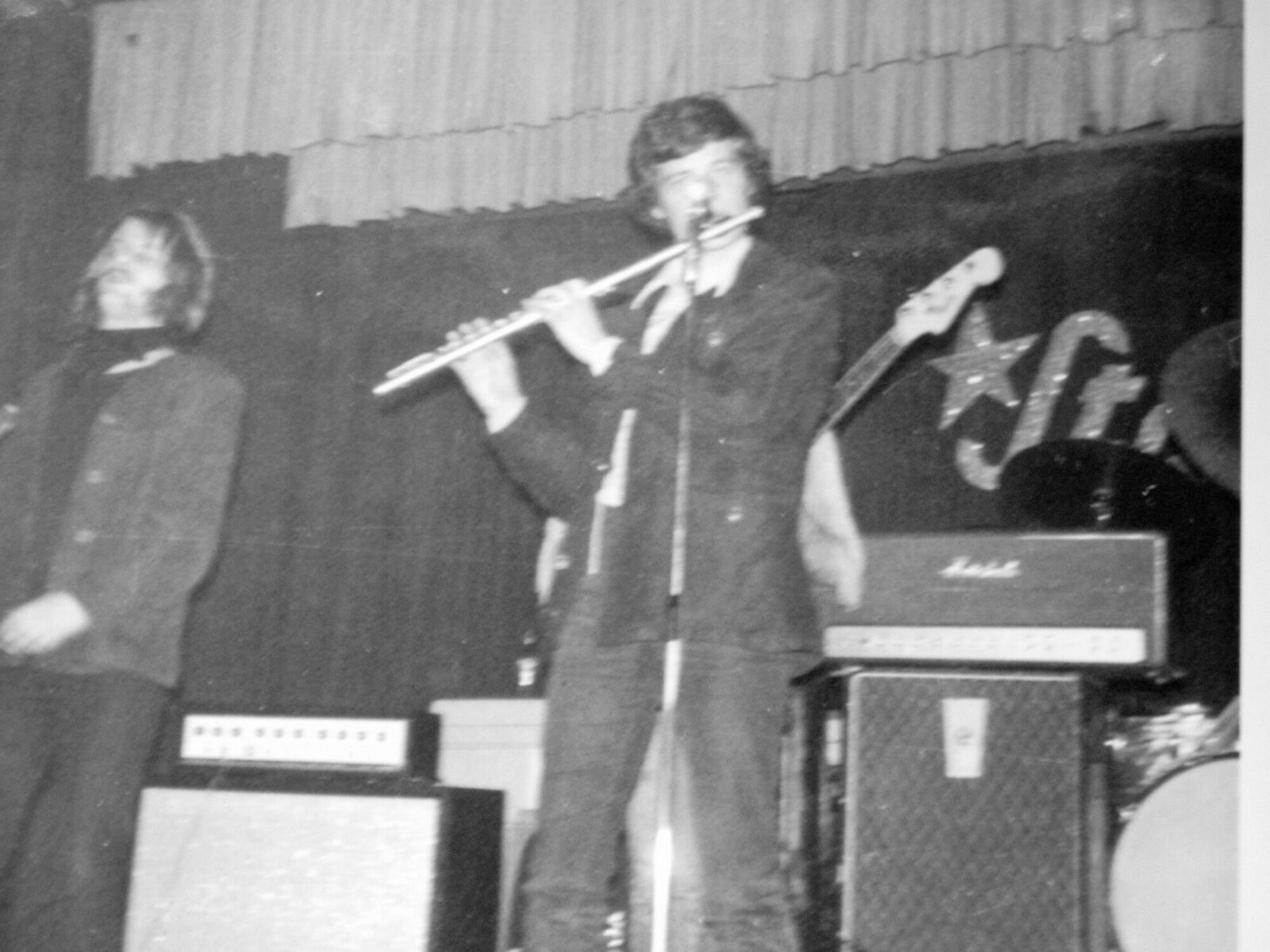 A new guitarist came on board, Carlo Karges. Carlo and myself started to write our own songs.
Soon after that Ellen Meier came on board, as lead singer and we finally played in the Star- Club ourselves. We were booked all over Germany and played mostly in clubs with an average of 100 visitors.
What's the story behind your debut album? Where did you record it? What kind of equipment did you use? How many hours did you spend in the studio?
We had a gig somewhere in Hamburg. After the gig, we got introduced to a person from Miller International. He had an English name, like Douglas or so. He offered us a contract with Miller International, for one record and paid us 5000,– DM as advanced payment, if I remember it correct. A lot of money for us.
They did choose the producer, Jochen Petersen. He had the trust of Miller International and has worked for them before.
We drove to Dieter Dierks Studio nearby Cologne in a little village called Stommeln. His mother had a grocery store and you had to walk through that store to the backyard to find the studio. In the following years he became very successful with the Scorpions.
Dieter [Dierks] was a person full of energy when he was sitting on his large mixing desk and recorded us on a 24 track tape machine.
He pushed us to do overdubs over and over again and he was really funny. A very nice guy.
After we've finished the recordings and overdubs for 12 to 13 songs in about a week, Ellen Meier, Bernd Kiefer left the studio and went home to Hamburg. Carlo, the guitarist and myself we started to do more overdubs before we wanted to leave as well. Then Jochen Petersen, the producer reminded us, that it should become a double album and we had not enough material. On top of that, he insisted that the record company, Miller International, had payed 30.000,– DM advanced payment. Well, we only received 5000 of that. We tried to reach Mr. Douglas on the phone, but he was gone. The company could not get him on the phone neither and we never saw him again.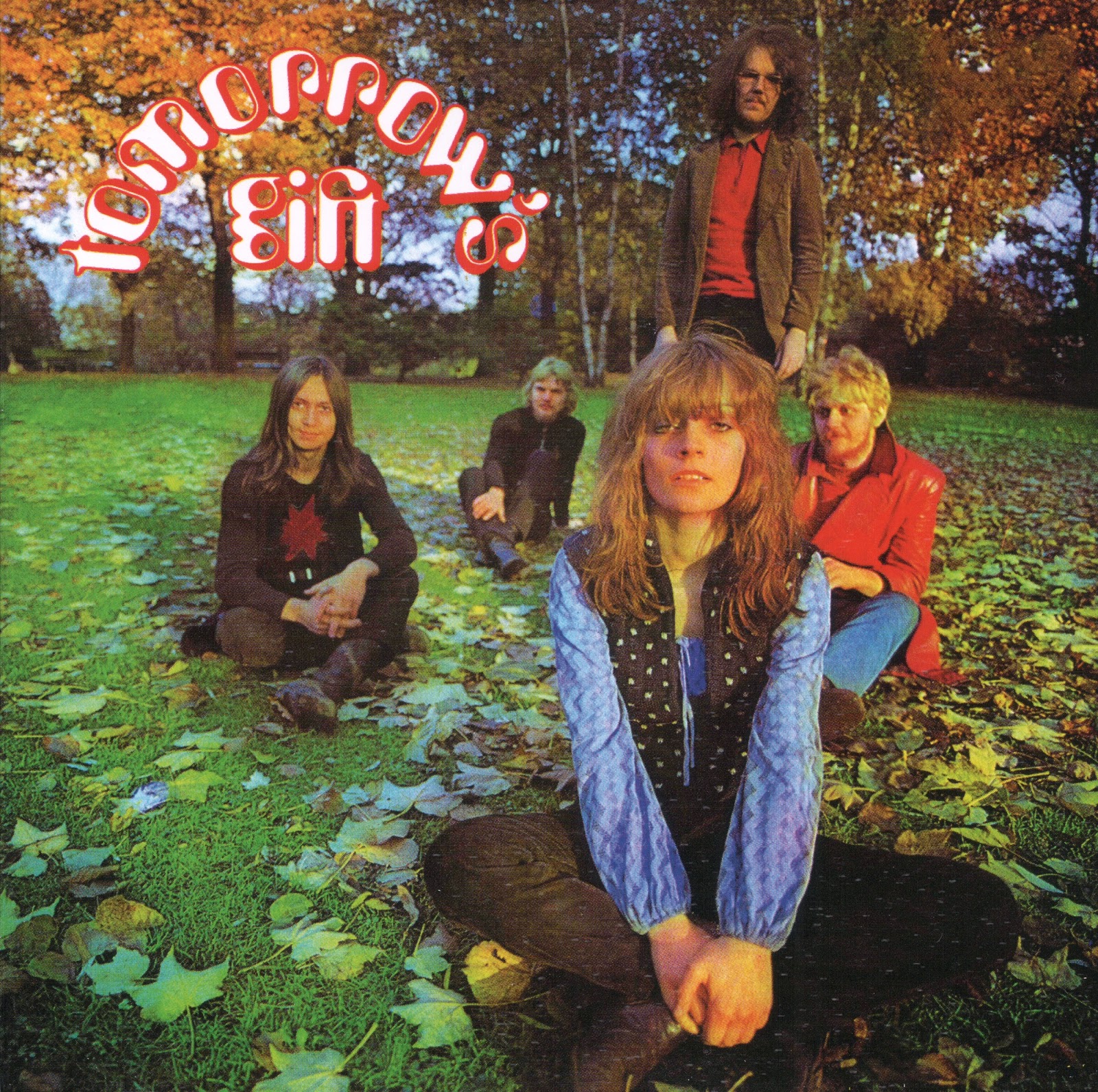 So here we are, we needed to do another song. Dieter Dierks' grandpa had an old saxophone upstairs which Dieter picked up. We started to do a jam session and Jochen Petersen played the saxophone on this. The song is called 'Sandy Concert' and it is 8.08 minutes long, enough for the double album.
The album was released on "+plus+". Who was behind this label? How many copies were originally pressed?
+plus+ was a sublabel of Miller International, which was founded by David L. Miller in 1961. +plus+ only released 3 records, one of them was 'Tomorrow's Gift'. They pressed as far as I remember 3000 pieces of the double album.
What were the influences and inspirations for the songs recorded?
Most of them we already played live during our concerts. As I've mentioned before, we've been influenced by Jethro Tull, Richie Havens, Vanilla Fudge, Spooky Tooth and so on. Carlo Karges, who wrote most of the songs, was a huge Beatles fan and we both just started to write our own songs. These have been the first songs that we ever had written.
A song like 'The First Seasons After The Destruction' is probably a good song to play live as it even has a long drum solo in it. On 'Prayin to Satan', the intro with the organ was taken a bit from 'Also sprach Zarathustra' from Richard Strauss'…the opening music of Stanley Kubrick's '2001: A Space Odyssey'.
Your second album 'Goodbye Future' is more experimental. Your debut is more hippie oriented with Ellen Meyer on vocals and heavy guitar playing. 'Goodbye Future' is more in-depth and serious. Keyboard plays a much more important role. Were you influenced by Canterbury bands at the time? Did the lineup change?
We found a new producer: Uwe Nettelbeck. He also produced Faust. He found an empty school on the countryside, 5 km distance from Faust. This was in 1971/72. His original idea was that Faust was experimental music and Tomorrow's Gift should become more pop and commercial. But we started to become experimental too and he lost his interest in us. Well the line up had changed a lot. Carlo Karges, Gerd Petzke and Wolfgang Trescher didn't want to move to the countryside and left the band. Wolfgang continued at the University and made his PhD, Gerd started "a real job" and Carlo played in bands like Novalis, Extrabreit and finally with highly successful Nena. We continued as a trio, drums, keyboard and bass. We had a new drummer, Wolfgang Lindner who called himself "Zappa" Lindner.
"Soft Machine became our favourite band"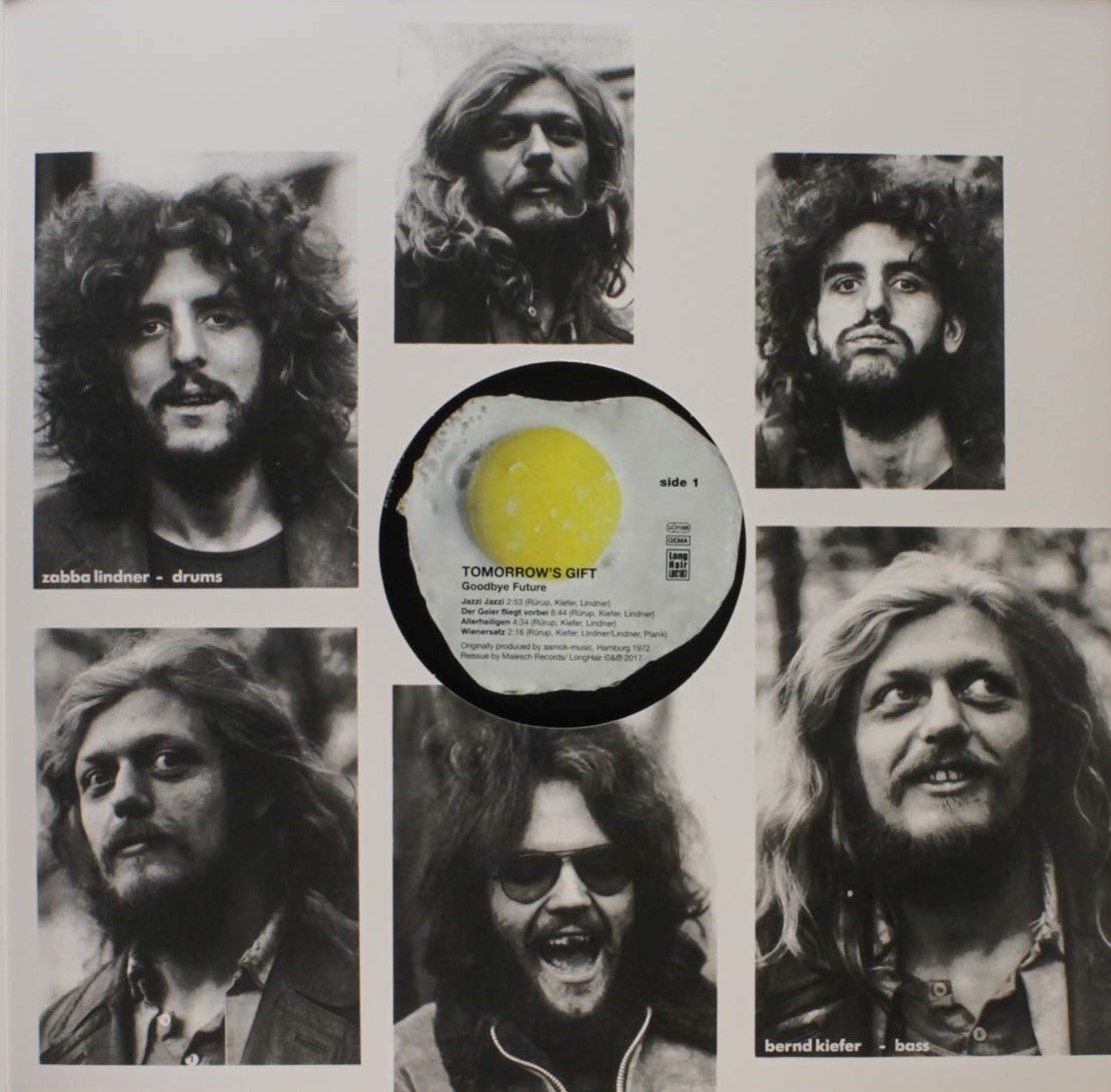 Soft Machine became our favourite band. I owned a Hammond M100 organ at that time and of course I started to use a fuzz-box, like Mike Ratledge did. When we recorded 'Goodbye Future' in Hamburg, the recording engineer was Conny Plank, an icon in the industry. He did, Kraftwerk, Neu, Cluster and a lot of so-called "krautrock bands". He was a giant and really great to work with. Most names of the titles came from him, like 'Wienersatz', 'Jazzi Jazzi', 'Didden for Dunden'. On 'Allerheiligen' you can hear me using a typical Ratledge sound.
Was there a certain concept behind the album?
No not really. The seventies were crazy with a lot of drugs and freaky stuff. All the musicians tried all kind of new things, new influences, new styles. We listened to 12-tone music as well as to jazz and world music. We were also influenced by Frank Zappa which you can hear on 'Jazzi Jazzi'.
What do you recall from the 'Goodbye Future' studio session? Would you share your insight on the albums' tracks?
Sorry, but I don't remember much of it. I played a lot on my Hohner D6 clavinet and my Hammond organ. A friend of mine had built me a small blackbox with 2 oscillators which you couldn't play, only turn them up and down, but I was fascinated from that sound. Later that year the first synthesizer, a Minimoog appeared. It was monophonic, but other than my box, it came with a keyboard and you could play it.
How did you get signed to Spiegelei? How many copies of your second album were released?
Conny Plank had a manager named Willem F. Dinklage. He became our manager for a while too and he managed to get a deal with Intercord and their sub-label Spiegelei. I think they pressed about 1000 copies.
How did you choose the album artwork?
I think the label did the artwork but I am not sure, it's pretty ugly!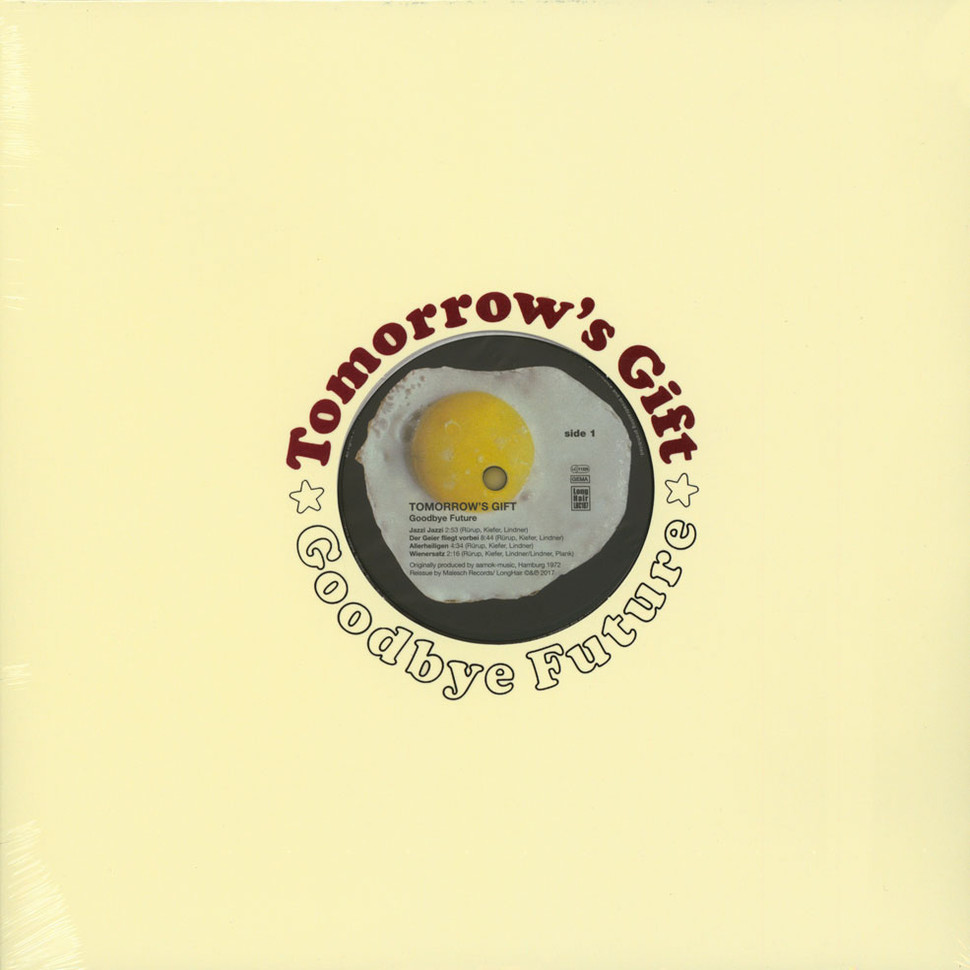 What happened next? Tomorrow's Gift metamorphosed into the Release Music Orchestra. The latter recorded a series of highly interesting albums. Would you like to talk about 'Life' and 'Garuda'?
Release Music Orchestra, the association to combat the risk of drugs, was a completely different story. The idea was to help drug addicts to stay clean and do something useful. Similar organisations had been in New York, London and Berlin. Release Hamburg did run 4 locations, one in the city, and 3 on the countryside. One for agriculture, one for literature, video and theater and one for music. Subculture was the generic term. Of course we moved to the music place, a farmhouse about 100 km north from Hamburg and started to integrate former junkies, who had to be clean, into the band, the Release Music Orchestra.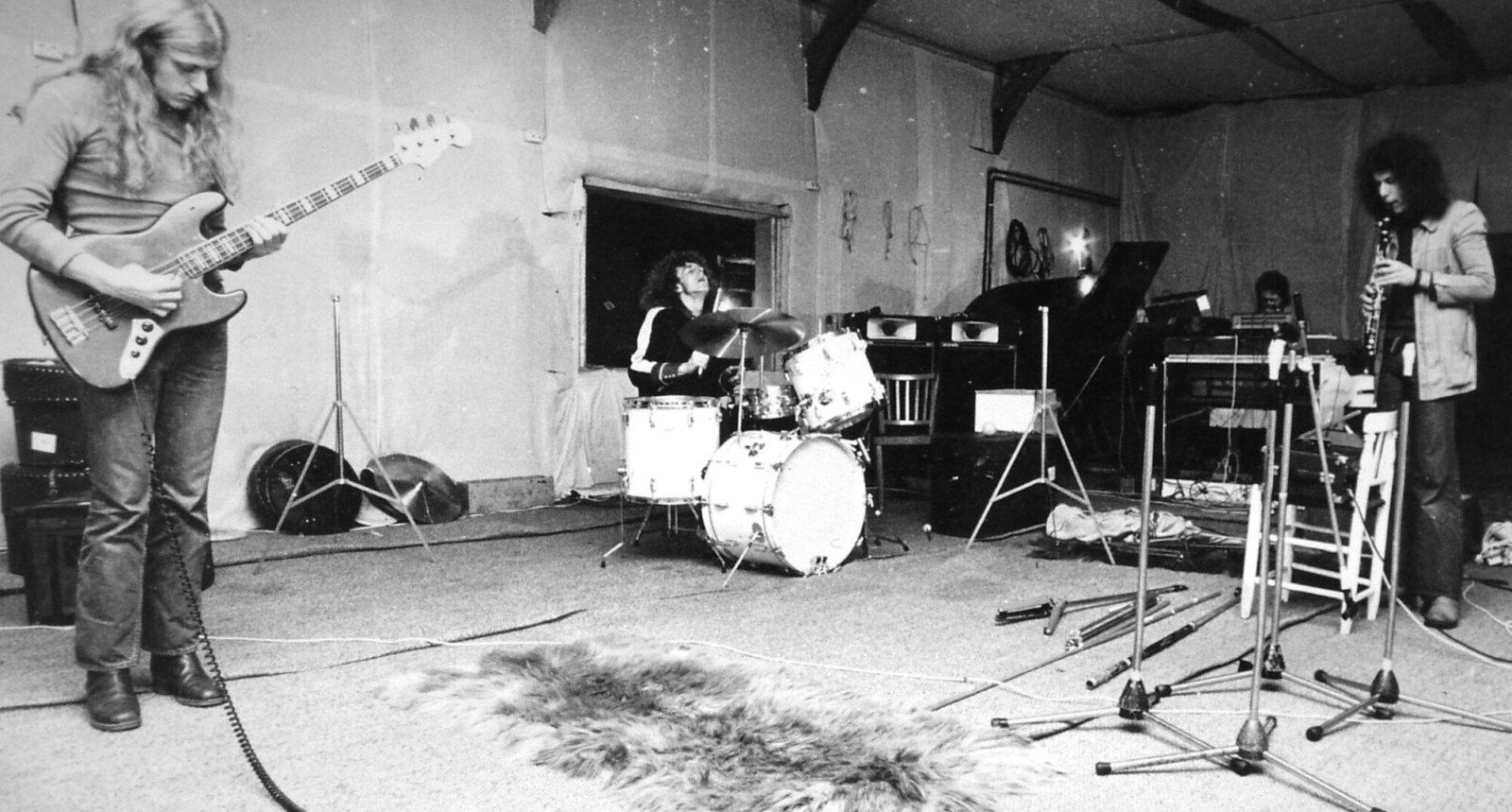 'Life' was recorded in Hamburg-Audimax and in Amsterdam in a place called "Melkweg". The engineer was Conny Plank. He had a mobile recording studio in a small truck. When we played live, some members of Release just danced and some of them did the lightshow. It was exiting. 'Garuda' was our first studio album, which was recorded in Otterndorf in our farm house where we all lived. Again Conny Plank came with his mobile studio and we mixed it later in his studio. We had some guests playing on it, Alto Pappert from another German band named Kraan and our former producer Jochen Petersen from a band called Randy Pie played on it as well.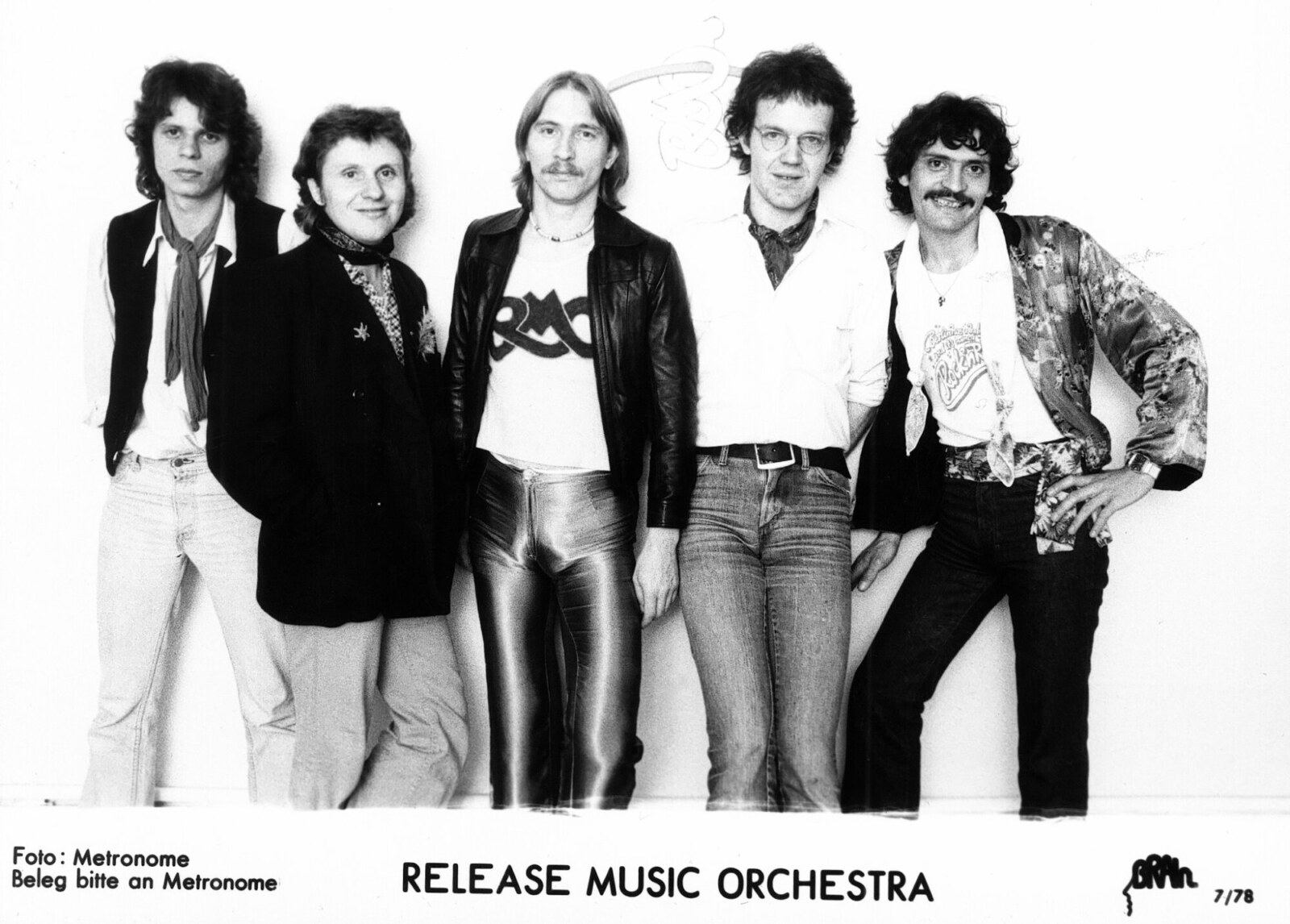 'Get the Ball' and the rest of the following albums are a bit more funk oriented.
'Get the Ball' was recorded again in Dieter Dierks Studio near Cologne. We had a new bass player. Frank Fischer and Magita Haberland on vocals, percussion and violin, plus some guests. Dieter did not do the recording, someone else did it.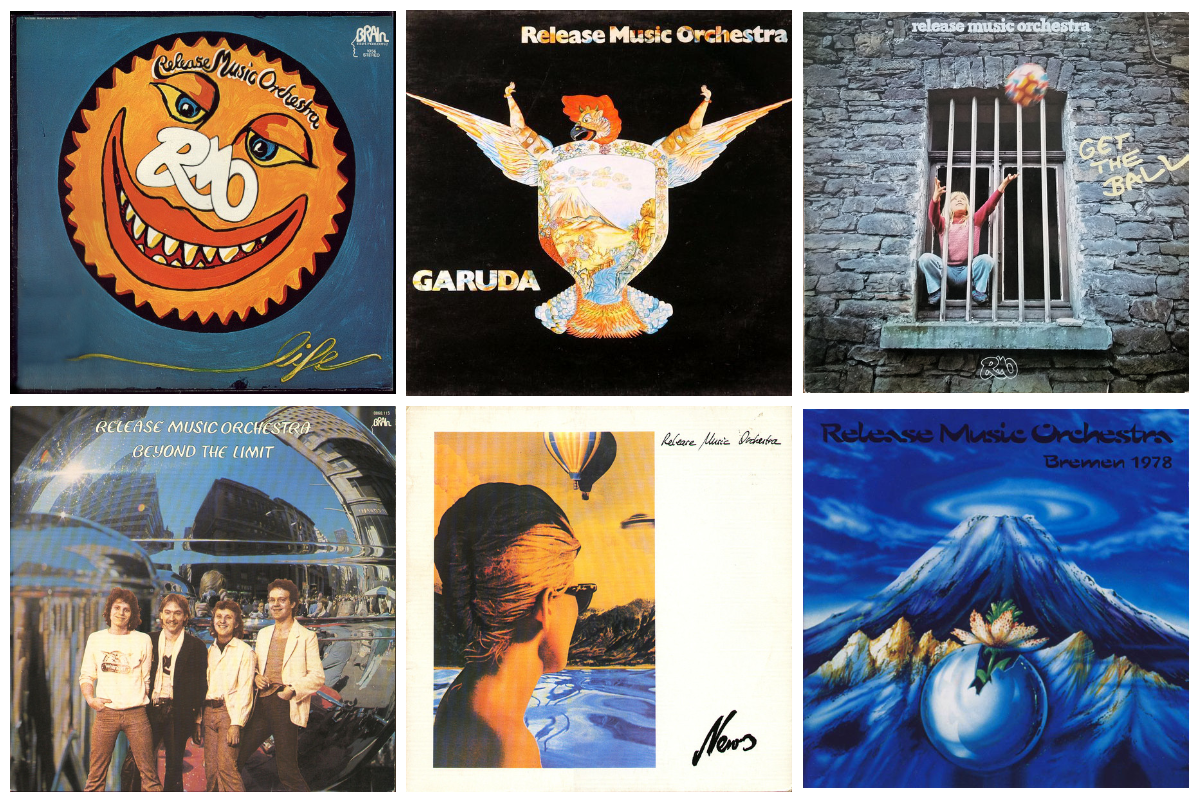 You also collaborated with A.R. & Machines?
Well I wouldn't call it so. I knew Achim Reichel, the man behind A.R. & Machines from the Star-Club days and he asked me to play something on his album. It was more of a long session or something like that.
Around the mid-seventies you were also part of another project called Dennis. The band were a supergroup, featuring members from Frumpy, Kravetz, A.R. & Machines, Xhol Caravan, Kickbit Information, Thirsty Moon, Tomorrow's Gift and Release Music Orchestra. What's the story behind 'Hyperthalamus' on Nova Records?
I was only a guest. Carsten Bohn stopped playing with Frumpy and started something new. Dennis. I remember we only played one gig in the Fabrik in Hamburg which was recorded as well. It was nice and spacy.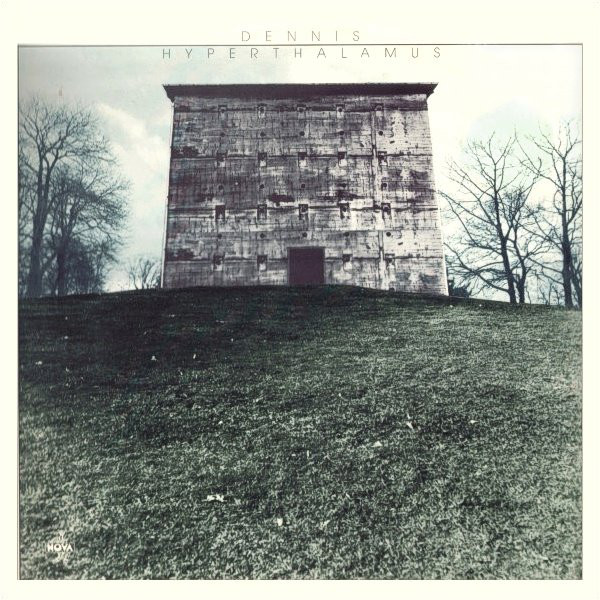 How about your collaboration with Carsten Bohn's Bandstand?
This was serious. We started to work together in 1976. I was still playing with Release Music Orchestra and with Bandstand. This was Carsten's Baby. Then we recorded 'Humour Rumour' in 1976 in Hiltpoltstein. After that we did 'Mother Goose Shoes' in 1979, same studio. My favourite album. I played a long solo on 'Mary Truebadur' which I still like to listen to, which is not the case with all my solos on many songs. Carsten wrote all titles and did drums and vocals. After that album, we moved to New York. He went a few weeks before the band members came to New York. He picked us up at John F. Kennedy International Airport with a station wagon and we went to downtown New York!!! Amazing!! I will never forget that.
We started to audition for a guitar player and a second keyboarder and a bass player with a little ad in the Village Voice magazine. Many great musicians came to the auditions and we picked a guitar player, the bass player and a second keyboarder, great musicians.
We went back to Germany and started touring. In 1980 we went back to Studio Hiltpoltstein and did the last Bandstand album 'C.B. Rædyo'.
In the 80s you formed a new wave project called Direktion and released 'Jeder Tag Wunderbar' in 1982.
Yeah, times had changed. I did some demos on a 4-track recorder at home. Then I went to a studio on the countryside, called Delta-Studio. The studio was willing to take the risk of producing my songs. So I went into the recording room to meet the engineer and there he was: Karl Steinberg. It was one of these moments where two souls meet for the first time. At that time, 1980, I was part time working in a keyboard shop, at Amptown in Hamburg which gave me access to the latest in keyboards and samplers and to the MIDI protocol which was released in 1982 I think.
The Direktion first album 'Jeder Tag wunderbar' was released by CBS records, we released 2 singles both flopped.
Charly Steinberg and myself lived in the studio. We worked together on some old instrumentals and started to record the second Direktion album which never was released because CBS did cancel the contract. It was fun but commercially a flop.

Label house Europa also occupied your life. You composed a lot of radioplay music.
Yeah, Carsten and myself we did '3 Fragezeichen', 'Fünf Freunde' and 'TKKG' and so on. The flat we lived in was owned by Heikedine Körting and she was producing these radio plays for Europa. It was hard for us to pay the monthly rent so she offered us to compose and record the music, so we get paid and that would pay our rent. It was fun and there still is a community of fans on the internet who loves that music we did. Carsten continued with that work for a few more years until he found out, how many tapes had been sold. So he litigated them for nearly 20 years. Anyway.
Would you like to discuss what currently occupies your life? You run a successful digital media companies digitalmusician.net and Steinberg. What's the concept behind it?
Well I founded Steinberg together with Charlie Steinberg from my apartment together with my wife Nicole. Then for the next 19 years we built this company up to one of the most popular music-production software companies (Cubase). Charlie invented the Virtual-Studio-Technology, VST, which became the global standard for plug-ins in DAW's and is still been used by hundreds of companies. In 2002 we've sold the company to the US-company Pinnacle and they sold it about a year later to Yamaha. So today it is owned by Yamaha.
We both got out of the business and started something new: the digitalmusician.net. The technology for online collaboration of musicians all over the world via the internet. We underestimated the social aspect of "why would a great drummer play on my lousy demo for no money" and so we closed the service a few years later but continued to work with our old company Steinberg on something called "VST Connect", which is a peer to peer connection between musicians. Like a studio with an engineer and someone to record in the other room. But the room can be in a different location anywhere in the world.
As a longtime musician, how are you coping with the current pandemic? How do you think it will affect the music industry?
The pandemic is terrible for all musicians. Of course one way to go is via the internet, like we, we use Zoom, or Skype…you can use VST Connect in order to record a singer, guitarist or whatever. But live music or jamming over the internet is not possible, only streaming of concerts.
Looking back, what was the highlight of your time in the band? Which songs are you most proud of? Where and when was your most memorable gig?
Well I had many highlights. In 1980 to 82 I've played with RMO in a very good set-up, with Frank Fischer bass, Wolfgang Thierfeldt on drums, Günther Reger saxophone and Tommy Goldschmidt percussion. I think this was the best time for me as a live musician. We had one song 'Kymerian Ship' on the last album of RMO named 'News' which I really liked and we played it usually live in a much longer version. On good days it was really great, bad days we don't talk about it.
Is there any unreleased material by Tomorrow's Gift?
Not to my knowledge. In the seventies we had to sign a publishing contract and give away all our publishing rights just to record a demo-song in the publishers 8 track studio. We had no access to recording tools. Today a laptop would do the job perfectly.
Are you still in touch with other members? Is any member still involved with the music?
I am still in touch with Carsten Bohn, he still makes music. Günther Reger, Tommy Goldschmidt are on the net. I met Wolfgang Trescher 2 years ago. He became a doctor on the countryside. Margitta Haberland lives now in Berlin. I met Bernd Kiefer on Zappa Lindner's funeral two years ago.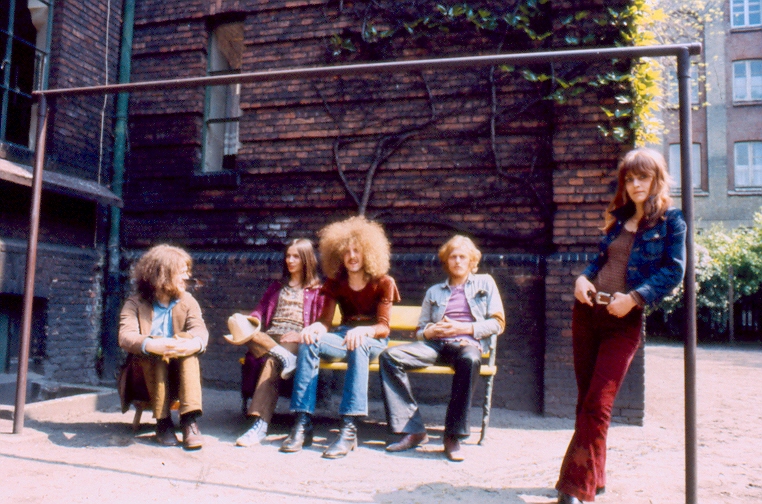 Thank you for taking your time. Last word is yours.
I've always enjoyed making music, playing with chords, melodies, and rhythm. Music has guided me through my life, and I am very thankful for that.
Klemen Breznikar
---
Steinberg Official Website
Longhair Music Official Website