Spirale | Italian Jazz Rock Masterpiece | Interview
Spirale was jazz influenced rock band from Italy. King Universal issued their only album in 1975. The band was influenced by a variety of genres and touches territories of ethno music.
---
"Representation of the infinite"
Would you like to talk a bit about your background?
Giancarlo Maurino: I was born in Kuwait on July 7th, 1956 to an Italian father and an Armenian mother. They both lived and grew up in Egypt where they met and got married. My mother though, put a condition that she would get married only if my father would find a different job from the one he had in the navy because she was not willing to wait months to see my father each time. Eventually he found a job in Kuwait and that's the reason I was born there. After one year, my family moved to Doha in the Emirates for a new job and that's where we lived until I was eight. I had a brother, Giampiero who was just one year younger, but unfortunately he died when he was only 3 or 4 years old. Then we moved to Italy to Turin where my father's family lived. After finding a new job, my father would be transferred once or twice a year from town to town for the next seven years, until we finally established in Rome. Music came from my mother and and her family. My beloved mother would play piano (classical music) and sing Puccini while working in the house. She had a beautiful touch on the keyboard and all the members of her family could play one or more instruments. Family gatherings always had some time dedicated to music. Particularly my mother and her two sisters loved to sing together taking turns in playing piano. Armenians are wonderful musicians and only when my mother died in 2000, I have discovered what I had been looking for all my life, my musical roots. My father passed-on to me his technical skills and mind frame. He was totally out of tune, but loved music and was a good dancer. Music and engineering coupled when I started working on my sax mouthpieces line, but this is another story.
Were you in any bands before Spirale?
Spirale was born in a neighborhood called Casal Palocco, a residential area near Rome, Italy. It is situated not far from the sea, about 10 km, with an American or English style with large villas and smaller ones, single or in a row, a lot of green and trees. It was built with an idea of a certain amount of green for each inhabitant, something unbelievable nowadays in Rome! This particular environment sure had a positive effect in terms of socialization among the young generation living there. We lived close to Rome, just about 20 km from the city center, but then we had an environment where we could gather on the meadows, sit under the trees or meet and play in the garage of a friend's house. This is the setting where some friends between age 16 up to 19 got interested in jazz and rock jazz scene and started playing together, listen to concerts in jazz clubs in Rome, particularly the Folkstudio or at the first summer jazz festivals at Pescara and Umbria Jazz. I had a band with friends of 16 years old called "Salambo" which was simply the name of a shoe shop owned by the family of a member of the band. We thought it sounded good!
Can you elaborate on the formation of Spirale?
Naturally Peppe Caporello and the others were considered the "bad" musicians in Palocco and when one day Peppe and Giampaolo Ascolese literally grabbed me and said "come on let's go to the Centocelle jazz festival and play in a trio". I was young, shy and totally unprepared, intimidated by the audience I played the whole show standing with my back to the crowd. The summer of 1971 we held the first music festival in Casal Palocco which was significant because we started a new friendship with a musician from Rome, Gaetano Delfini and with him started listening, studying and playing with strong influences from the latest Miles Davis' music, Frank Zappa ('Hot Rats', 'Waka/Jawaka') and early English rock jazz bands such as Ian Carr's Nucleus, Soft Machine and John McLaughlin. In 1972 we all went to Pescara International jazz festival listening, among others to, Miles Davis, Keith Jarrett, Yusef Lateef and Umbria Jazz with the Weather Report and Charles Mingus. Those days, Umbria Jazz were an incredible gathering of tens of thousands of young people from allover Italy and a great opportunity of meeting musicians and making new friends. In October the musicians that later formed Spirale (Gaetano Delfini, Peppe Caporello, Michele Ascolese, Giampaolo Ascolese, and myself ) played in a festival this time mainly inspired by the music of John McLaughlin.
In 1973 the future musicians of Spirale started playing each with different bands mainly in the Roman scene. At the end of the summer some friends and music fans from Pescara invited us to play in a festival in Penne, close to the main town, and this was the time in which the band was officially formed.
How did you decide to use the name "Spirale"?
The name Spirale was decided while travelling to reach Penne for the gig.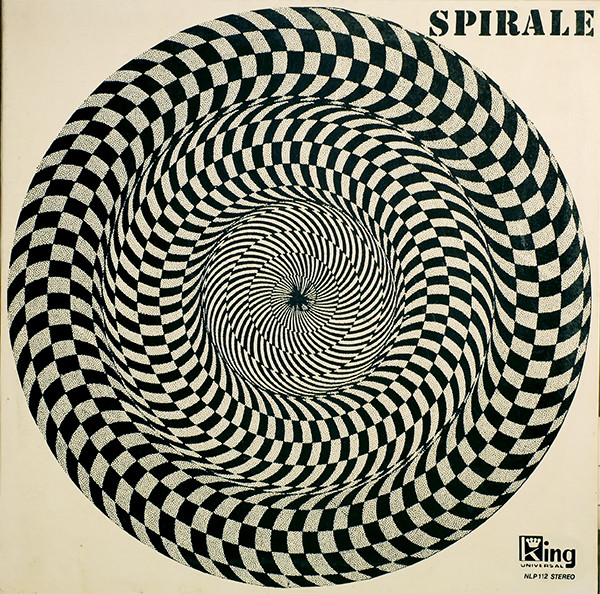 How did you design your artwork?
The design of a spiral was chosen as a reference to the primordial symbol that already primitive men would use as a representation of the infinite: something that starts from a point and expands in all directions with no limits.
What's the story behind your debut album?
In 1974, Spirale was one of the most important emerging bands, playing very often and always with the same band members. While playing at the Folkstudio jazz festival, Mario Schiano, an elderly well known sax player who was about to record a new album with the producer Tony Cosenza, upon listening to our exhibition, suggested him to produce a record with Spirale.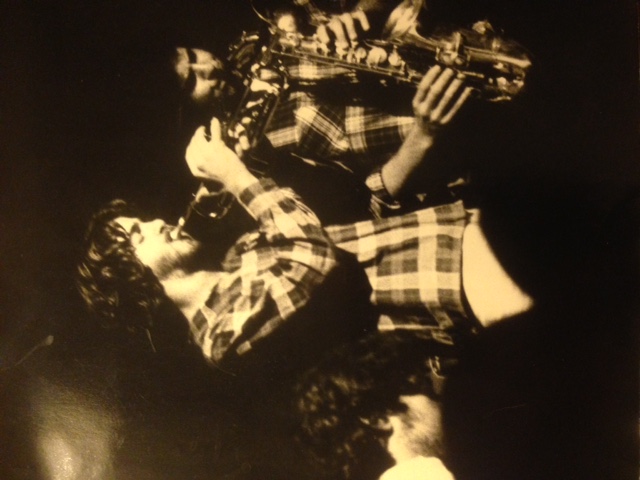 At this point, Michele Ascolese, the guitar player, had to leave the band for compulsory military service. He was replaced by Corrado Nofri as a pianist. At the end of 1974 we started writing the first original compositions and listening and experimenting around African music. At the beginning of 1975 we recorded the album adding some percussion players and a violin player: Dino Londi.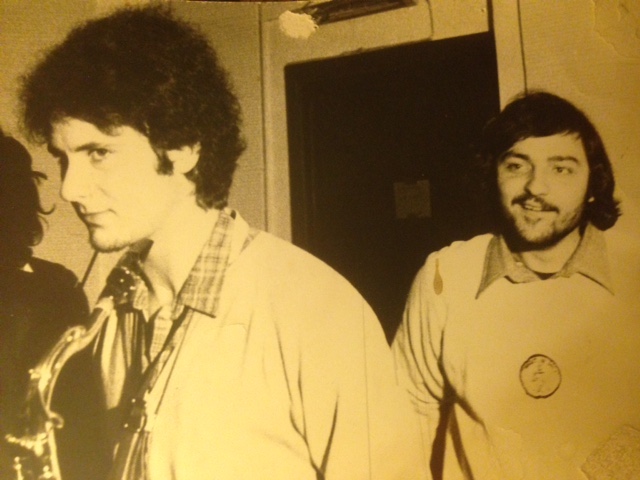 The music was influenced by jazz, Italian folk and African music. In this respect, the songs attributable to a more jazz oriented mood were: 'Rising', 'Peperoncino' (Chilli Pepper in English) and 'Una ballata per Yanez', while 'Cabral' had some African flavour to it. 'Cose vecchie e cose nuove', in English "Old Things and new Things", is a "suite" which has a folk flavour that includes sounds recalling typical Napolitan atmospheres from and a Central region called Abruzzo. All this joins at the end in a Mingus oriented blues with the last sound of a "marranzano"(typical Sicilian instrument) ending the track.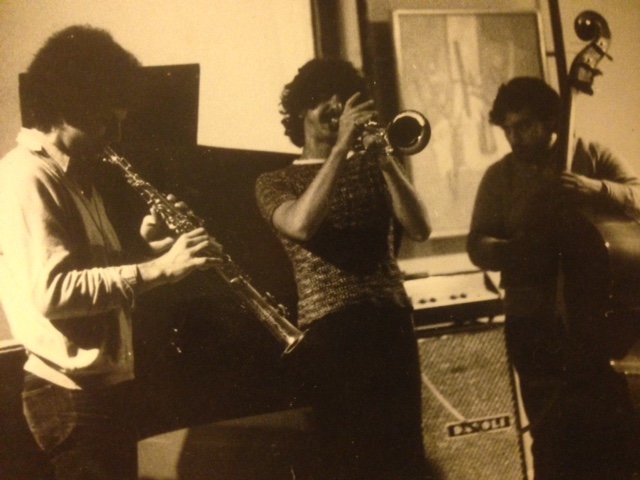 Where did you record it?
The album was recorded live in one day with some overdubs at "Junior" studios for King-Jazzline and produced by Tony Cosenza, sound engineers were Mr. Rocci and Mr. Santini.
You played quite a few international festivals.
Spirale continued playing often mainly in Rome and surroundings until Mario Schiano proposed us to become his band.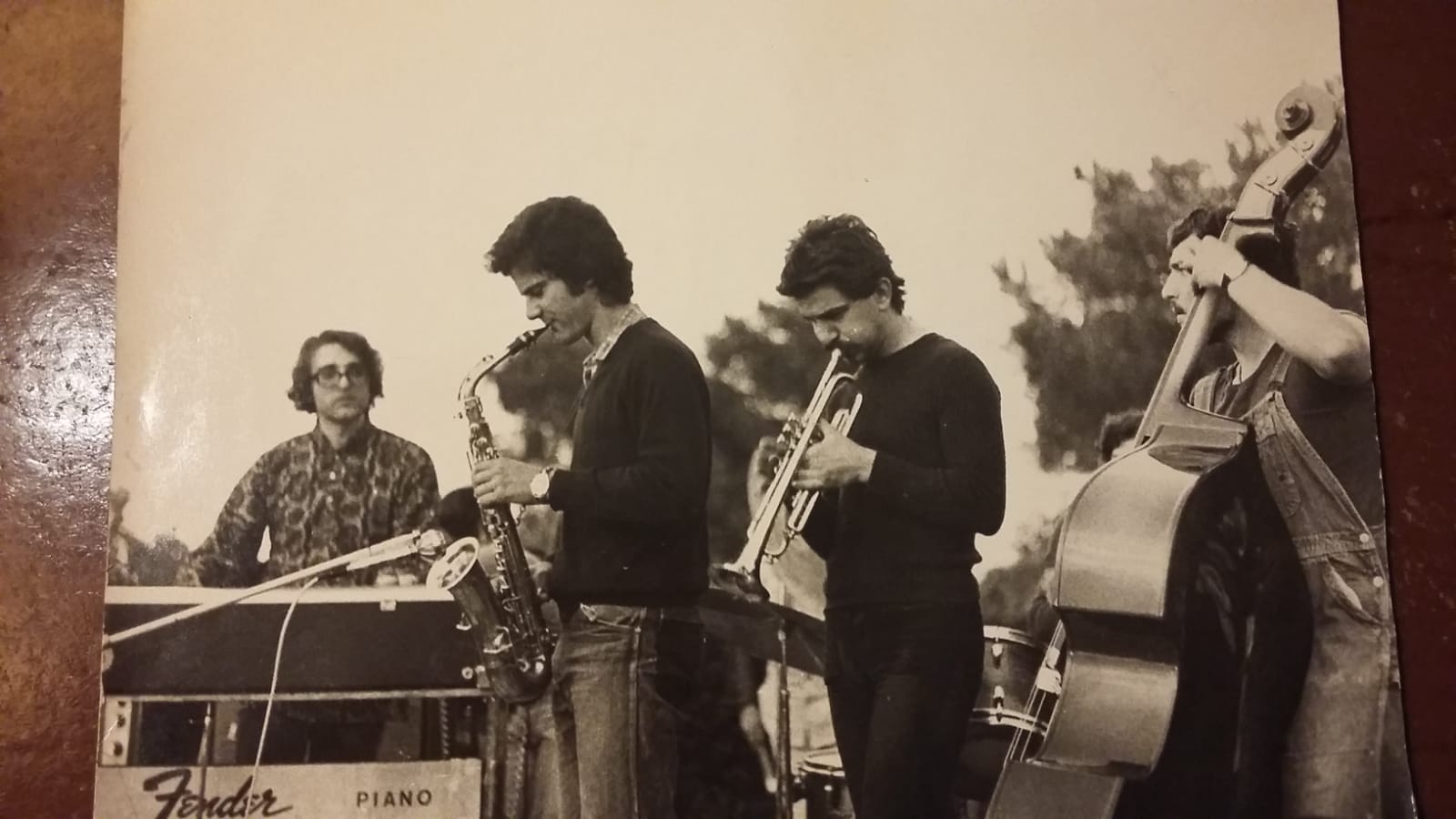 This offered us the opportunity to play all over Italy in many international jazz festivals. With Mario we recorded a live concert at the Trianon Theatre in Rome. All this was happening in 1975 and that summer we played at Umbria Jazz sharing the stage with McCoy Tyner's and Cecil Taylor's bands. After the gig, even Peppe Caporello had to leave the band to enter military service. He was replaced by Roberto Bellatalla and then by Ricky Romei to play the remaining gigs.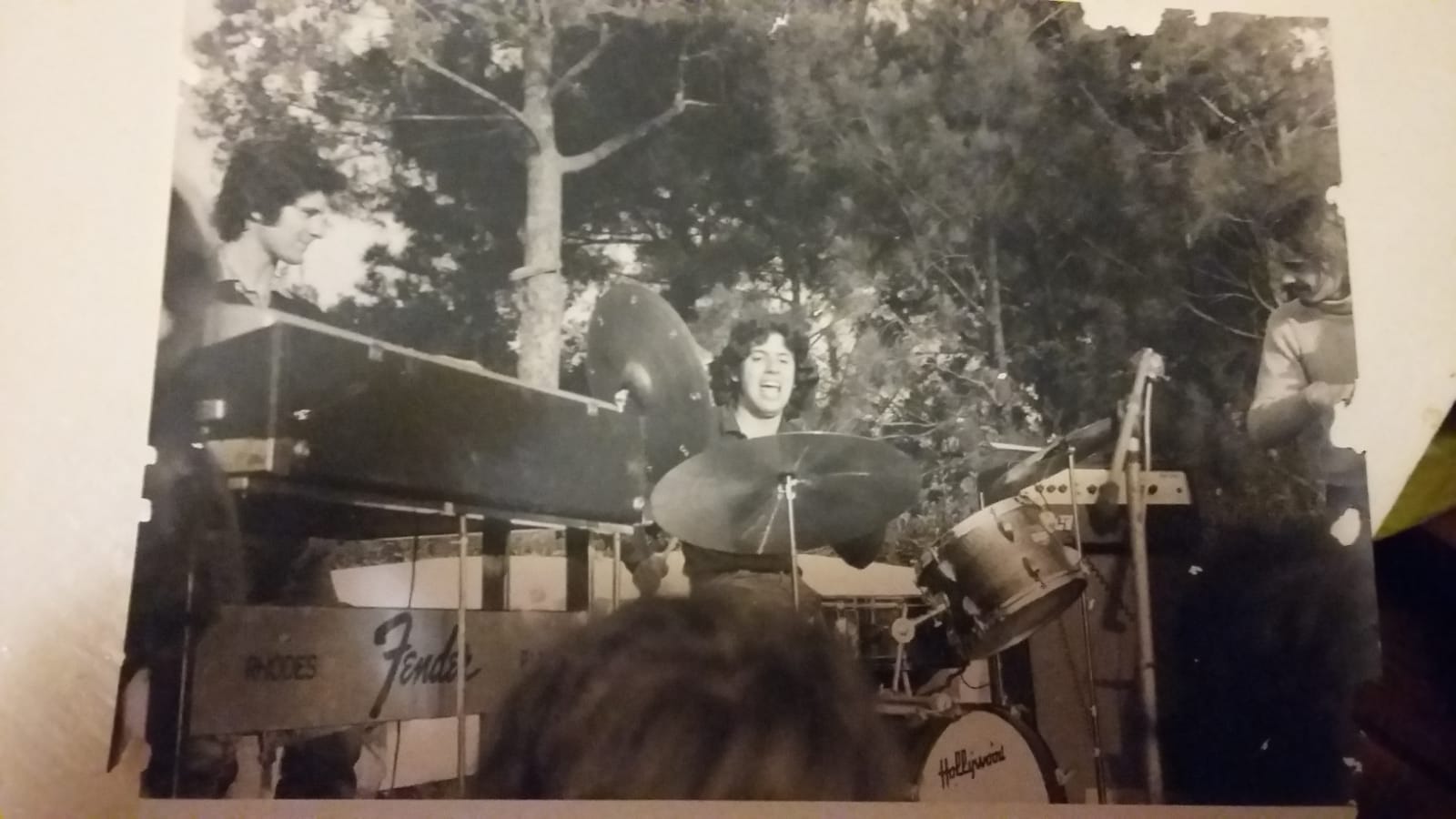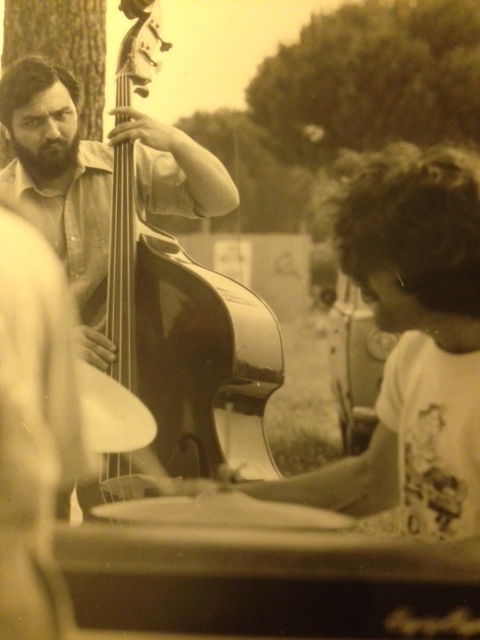 What happened next? What's the story behind Folk Magic Band?
At the end of summer 1975 Spirale ends his due course and out of that project the remaining musicians formed a new group, the Folk Magic Band, thanks to Corrado Nofri and Ricky Romei.
The band included Gaetano Delfini, Giampaolo Ascolese and myself and that was the first Spirale evolution. Folk Magic Band lived just a year and a few months. We recorded an album in 1976. But it had a short life, just after a participation in the Pescara Jazz Festival it faded out. This band was really unusual mix of human beings. We used to rehears in a circus tent down in Rome Testaccio area. For argument sake, meeting time was at 4:00 pm? At 6:00pm we were still searching for all the guys scattered around the corner with friends smoking whatever they could!
After the military service, Michele Ascolese concentrated on Brazilian music for about 10 years in which he became one of the most requested guitarist in this genre and then started working in pop music as a session musician. Long term collaboration with major Italian artists such as Eros Ramazzotti, Gino Paoli, Ornella Vanoni and above all Fabrizio De Andrè and many others. In 2011 he also started his own career as a soloist with his Iguazù project, which is still active.
Peppe Caporello, once finished his military service started a long collaboration with Francesco De Gregori, he played three years for RAI orchestra (Radio Televisione Italiana) and then devoted himself to classical and contemporary music and cooperate with medieval and Mediterranean music bands.
Corrado Nofri moved to Brazil where he lived for many years playing with small combos or in piano solo and only occasionally he was coming back to Italy. In 1993 Corrado reunited the Folk Magic Band with some of the original musicians and some new entries. This only lasted for a about ten concerts. On YouTube there are 3 videos (poor quality) of this band playing in the Rome Jazz Festival. Unfortunately Corrado died prematurely in 2007.
After Spirale and Folk Magic Band, Gaetano Delfini had a stop of about ten years. Then in 1985 he joined the "Testaccio Art of Jazz Orchrestra" a permanent band made up by professionals and students of the local music school. Testaccio by the way is a neighborhood confining with the more famous Trastevere, the heart of the ancient popular area of Rome. From then on he worked on an ongoing basis in this school as a teacher. He is also part of a particular band called "Ludi Scaenici" which tours around Europe playing what should be Ancient Roman music based on historical musical researches and of course all in stage clothes for the purpose.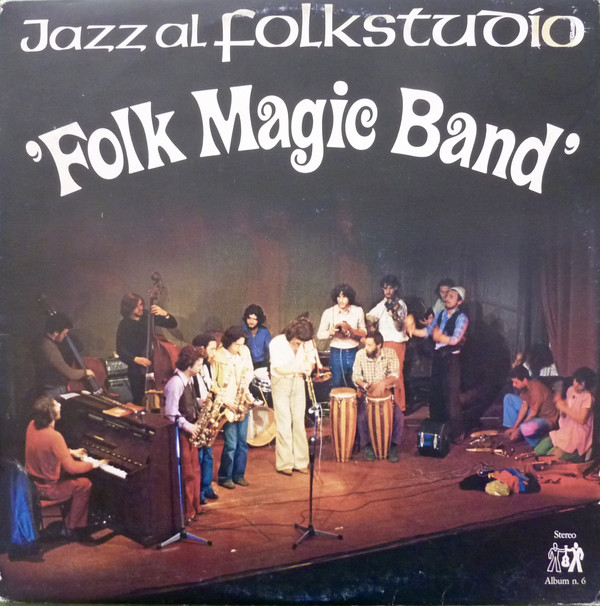 Giampaolo Ascolese played quite a lot in the jazz scene as a sideman with innumerable Italian and international acts and recorded among others with Chet Baker two CD's and about ten with Mike Melillo. Meanwhile he graduated in percussions at the Conservatorio Alfredo Casella in jazz composition and arrangement at the Conservatorio Licino Refice in Frosinone, Italy. He also graduated in Jazz Music at the Latina Conservatory and is currently teaching drums at the Frosinone Conservatory. Very active as a session man, he acquired a great deal of experience working for TV, soundtracks (with Ennio Morricone, Nicola Piovani) and with a number of pop artists such as Francesco De Gregori, Renzo Arbore, Gino Paoli, Nicola Arigliano and others.
Speaking of myself, while playing with Spirale I was very active on the jazz scene as a young rising horn player and this offered me the opportunity of playing with all the best musicians in Italy. My highlight was recording in 1976 with Charles Mingus for the soundtrack of the film "Todo modo". It was an incredible experience for a twenty years old young, living in Rome who had just listened Charles Mingus quintet live at Umbria Jazz. It was three days recording with his quintet and some added on Italian musicians, a trumpet, a trombone, bass clarinet, oboe and Quarto Maltoni and myself on alto sax. I would like to share this experience because it was quite significant for me.
It was April of 1976 around noon and I was at home with a good friend of mine Furio Di Castri, a bass player who is now director of the Turin jazz conservatory and has played among others with Michel Petrucciani and Joe Henderson. I received a phone call from somebody who asked if I was available around 2:00 pm in a studio to record with Charles Mingus! I thought some friend was making a joke on the phone, after some moments of hesitation thinking "Is this guy taking the mickey out of me", everything was getting so serious to the point I have accepted it!
When I met Mingus and he gave me the score I really was in deep trouble. Being a self-taught musician I had great difficulty reading the music and while rehearsing, the guy who had assembled the Italian musicians would constantly go up to Mingus and tell him he could provide another professional alto player (fearing remarks), but Mingus would just chew his cigar and not answer.
At the end of the rehearsal , Mingus told me "so you are one of those guys who can't read but can play huh!?". That was very encouraging, so I got a copy of the music and tried my best to learn the part but it was too much for my ability and so the second day, the guy still insisted with Mingus to change me and at this point Mingus answered "ok, but he (me, Giancarlo Maurino) is going to take the solo". How about that?! So I was making my way out of recording area to Quarto Maltoni when in crossing Mingus asked me "Where are you going?" "Well I don't have to play in this section…" I replied, and he said "go play!" In other words he wanted me to double the section I guess for two reasons: to make me learn, and maybe he wanted my sound because it was more fresh and young than Quarto's who had more of a Johnny Hodges vibe. The last day, once finished all the recording, I was packing my instrument while Mingus was collecting the scores and told me: "Yeah, you sounded good, keep on listening". My name does not appear on the credits, I could do nothing about it, but the precious experience remains in my heart.
From 1981 I started working as a session musician in many TV shows, recording for soundtracks and for a number of pop artists. Actually I can say that for about 10 years I was one of the most requested horn players in Italy.
In 1993 I just wanted a change and so together with Roberto Taufic we went to Brazil, invited by Elza Soares and toured around with her in a trio. Simply a great experience. Unfortunately Brazil was in the middle of an economic crisis and after 4 months Roberto and I decided to come back to Italy.
From then on I played at first in a duo with Roberto with which I recorded a CD entitled 'Um abraço', and then I continued playing with my projects and recording two CD's both with a quartet. The first 'Untold' with Rita Marcotulli on piano, other than original compositions, has also a Wayne Shorter song ('Limbo') and most important an Armenian traditional song that I rearranged and called 'Armenian Dance Song'. The second album 'Um abraço no Jobim' is with Roberto Taufic on guitar and is a homage to Antonio Carlos Jobim and his compositions.
"Listening something beyond the notes"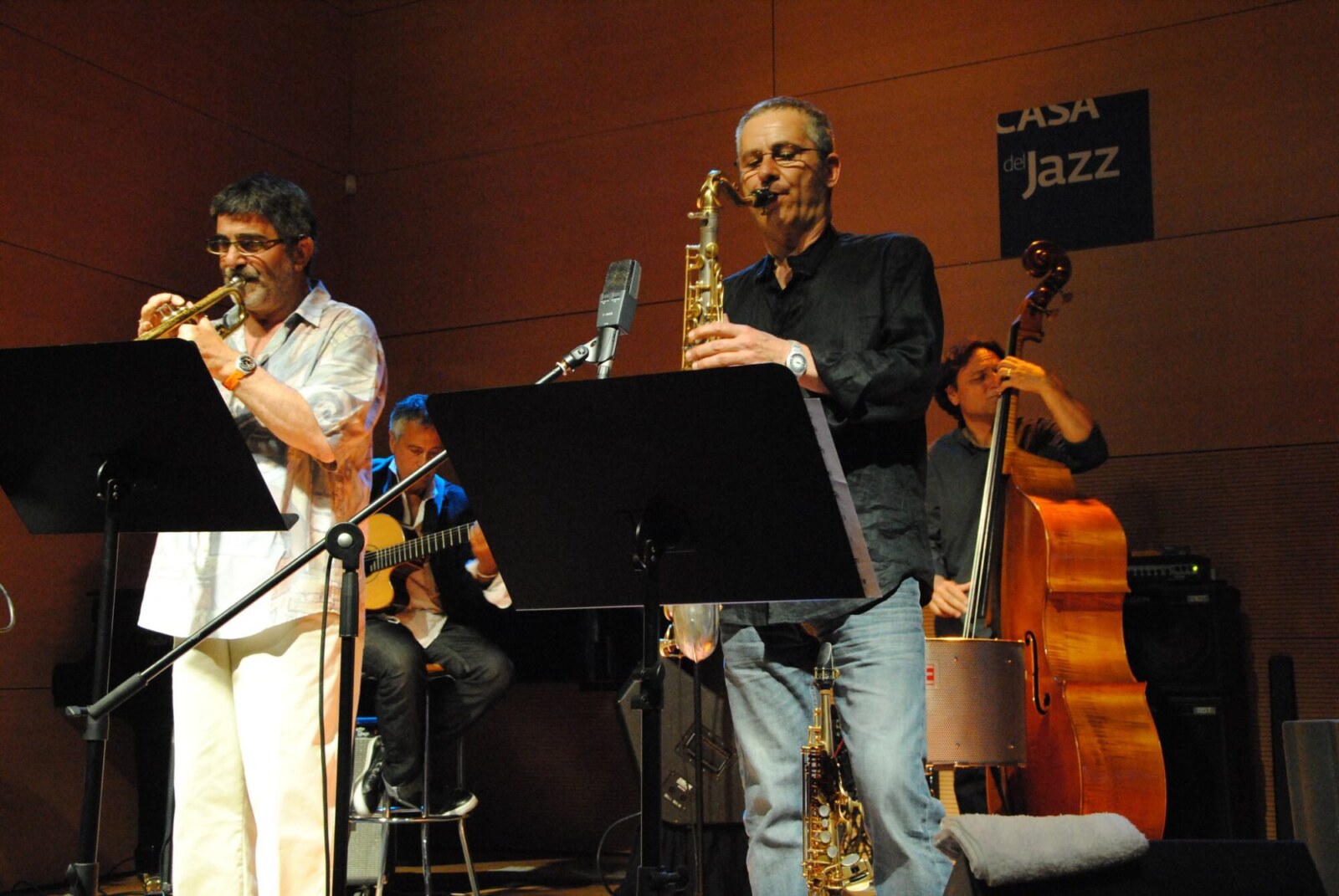 Would you like to comment on your playing technique? Give us some insights on developing your technique.
In terms of my playing technique, being a self-taught musician I struggled quite a lot in days in which there weren't any jazz schools like today. The only institution I knew about was the Berklee College of Music, far to expensive for my family. Basically I concentrated on tone production spending also a lot of time in front of a mirror to check my posture and release any tension I would notice. Other than this, my main focus was on listening just as Mingus had suggested "keep on listening". More than memorizing or transcribing solos, my interest was that of listening something beyond the notes, or else, what the notes were conveying and expressing in terms of life condition. With this burning passion I would play along with all my heroes trying to squeeze out from those particular details that would strike me some new lymph to keep the flame burning.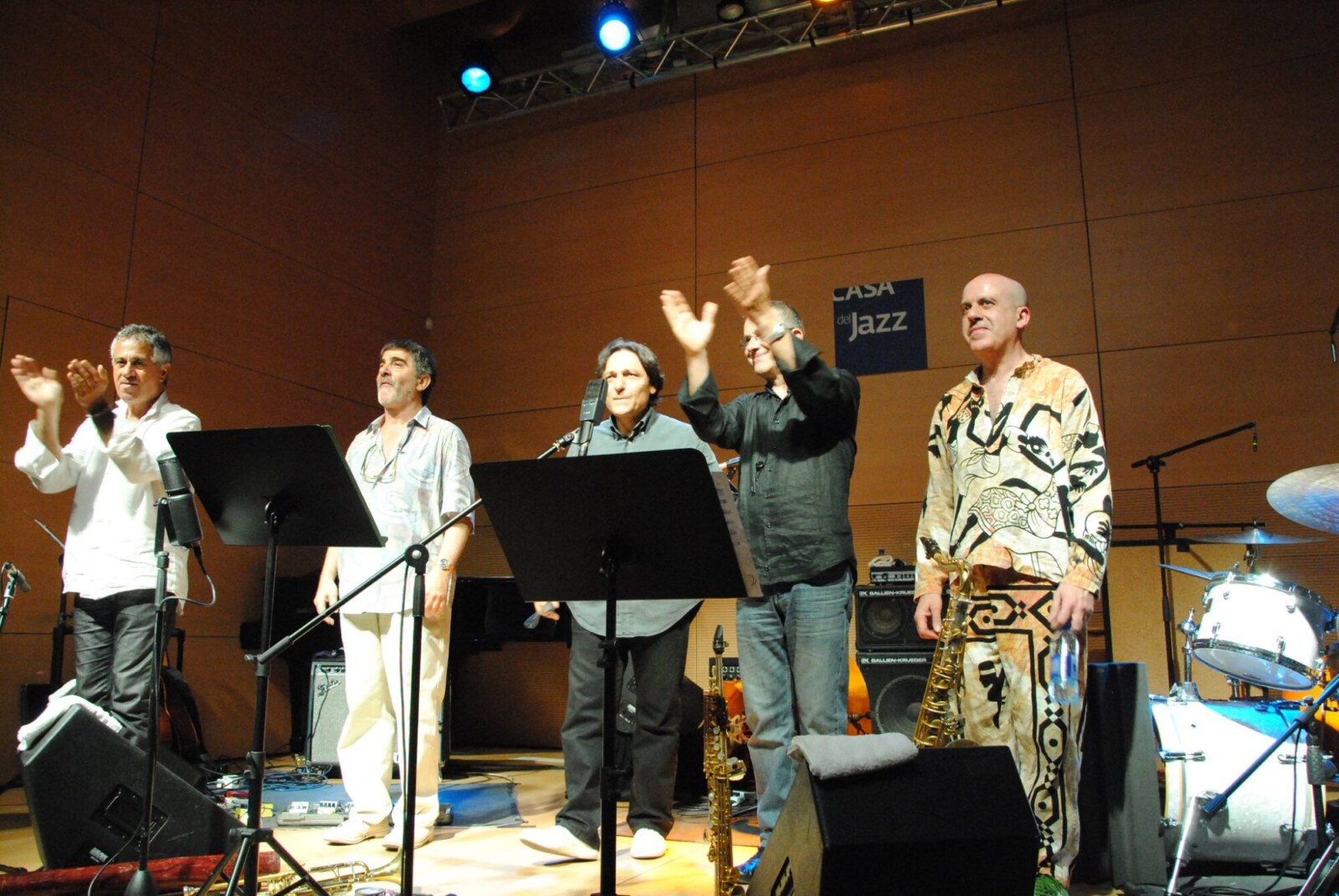 Looking back, what was the highlight of your time in the band? 
Frankly speaking, being a teen ager everything was "the highlight" from a rehearsal to a trip in a train with all the band or driving in a car through the beautiful landscapes of Italy to reach a small town or a city for a gig. Every concert was in itself a great event independently from the location and I can't point out a particular gig for this very reason. Thinking of those moments now makes me see everything filled with a bright light, probably the light of passion and hope for the future. Surely the song that was kind of a kick off for the band was 'Cabral' written by Peppe Caporello, it had the power of connecting us together with it's strong groove in 7/4 tempo and by contrast the trumpet and sax singing a very wide and open melody with no tempo but simply trying to breath together in a unison. It nearly had the power of a ritual that would charge and boost the following solos.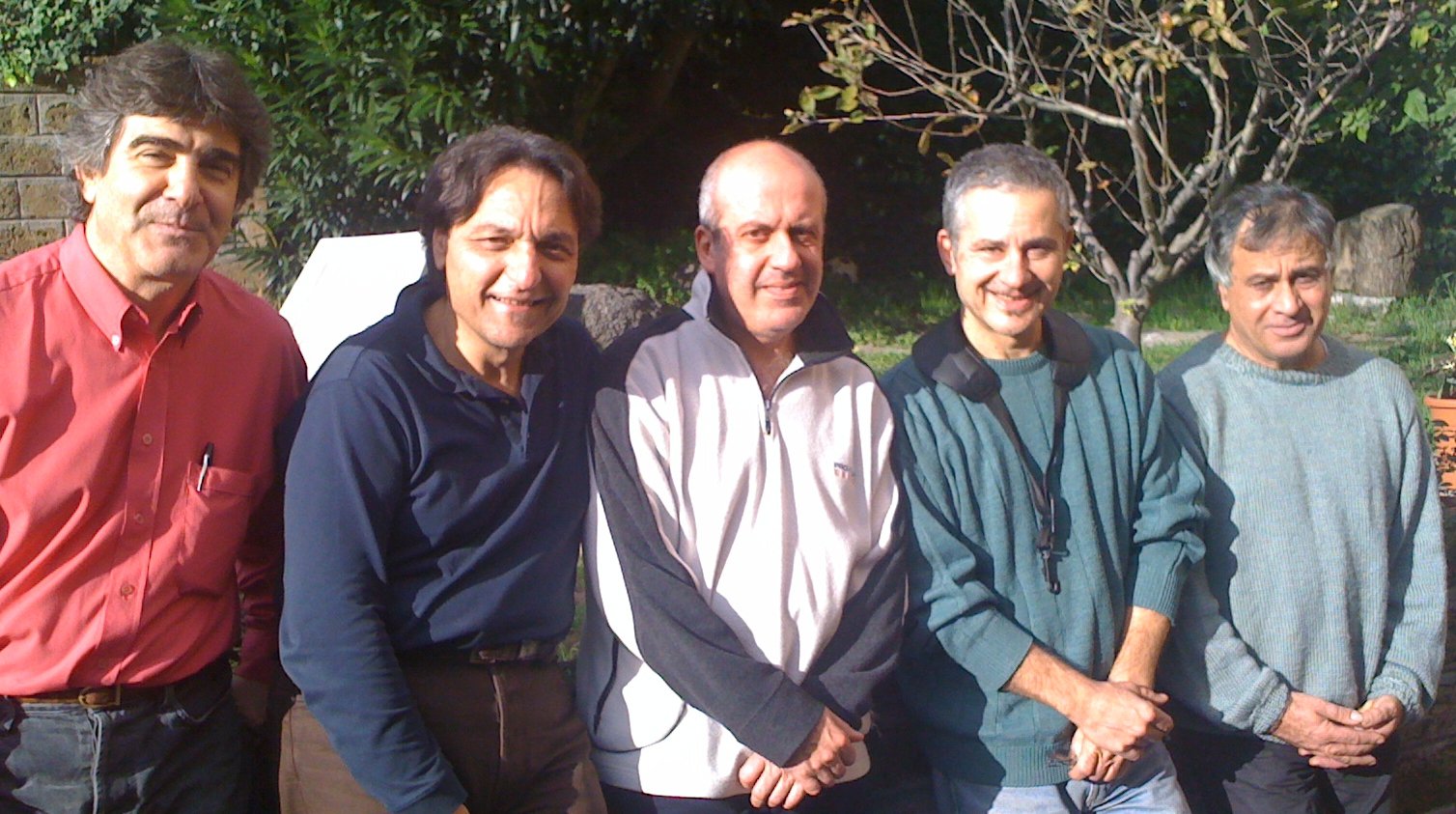 Italy had a lot of incredible progressive rock bands. 
Unfortunately I don't have a good knowledge of progressive rock band's in Italy, for sure they didn't have an influence on the music of Spirale. I remember a band called "Area" with an outstanding singer called Demetrio Stratos of Greek origins who would use harmonics in his voice and very good musicians, the sound was very powerful.
I would like just to add some thoughts and reflections looking inside the band with a premise concerning the very particular atmosphere of those years in which music had such a strong influence particularly among the young generation. Those were days when you would sit down and listen religiously to the new album you just bought down town or with friends, the same ritual of sharing great emotions through music and then discussing endlessly of what we thought. I believe those listening sessions at times all together or separately in groups of two or three were extremely important in strengthening our bonds of friendship while building our ears and perceiving the strength and at times revolutionary spirit of the great music around the world.
At this point I want to thank first of all Peppe Caporello who's help was invaluable in remembering the dates of the major events concerning Spirale. Thanks also to you Klemen because this interview offered me the opportunity to retrace a crucial period of my life which I never had the chance to run through in detail.
Is there any unreleased material by Spirale?
No, unfortunately not. In 2011 we reunited for some months and also recorded a CD 'Live Inside' with two songs from the first album, 'Cabral' and 'Rising' and two compositions by Michele and one by Giampaolo Ascolese. We played some gigs and it was clear there was a good number of people happy to listen to Spirale again and others surprised by the vitality and originality of the band.
Unfortunately from 2011 I moved for a few years to Turin and that coincided with the fade out for the time being.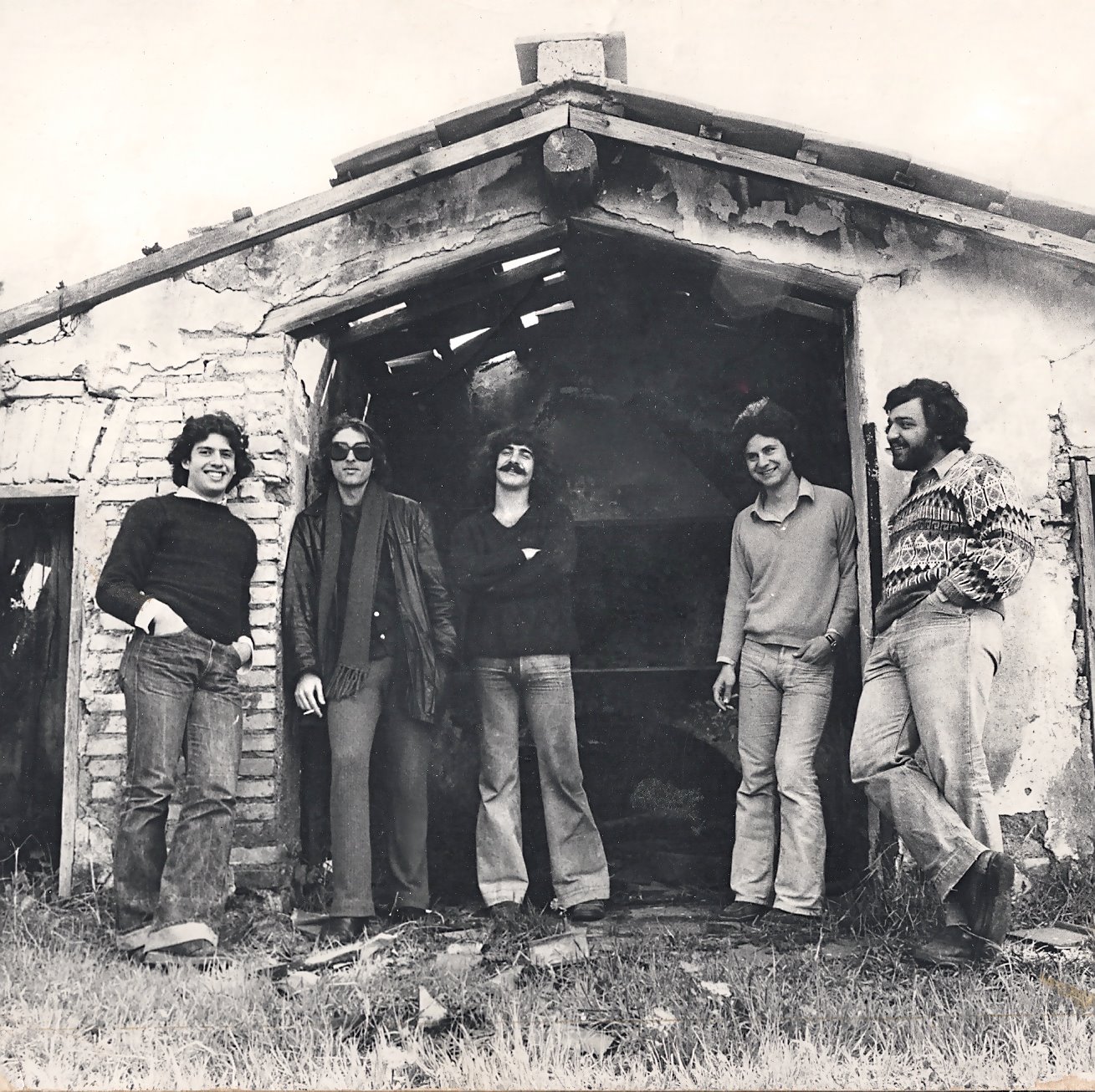 What currently occupies your life?
'Armenian dance song' opened a path in my musical research that I am currently exploring with new compositions. I don't try to be "oriental" in my writing, I just discover that it is already there. It's more of a flavour than real Armenian or Arabic music. I started with a new quartet Kap (legacy in Armenian) on the 28th of February 2020 playing a gig at the "Alexander Platz" club in Rome and few weeks later we were in a lockdown for the pandemic. See you later! Luckily in this period of great restrictions, a good friend and film director, Marco Kuveiller, asked me to write the sound track for a series of documentaries made of 26 episodes and this will not only keep me busy but is actually a great desire I always had, writing music for images and stories.
Klemen Breznikar