Black Feather Klan | Interview
Black Feather Klan is based in Belo Horizonte, Minas Gerais (Brazil). Being formed in 2011 they've picked up a trail towards proper stoner sound and their debut 'Vol. I' (2015) is embodiment of hot and rocking stoner metal.
---
Four years later Black Feather Klan changes direction and thus 'Vol. II: Cracking The Shell' is more doom metal influenced. What's the band's status now during the pandemic? Rubens Trindade (bass) is here to tell a few things about this and that.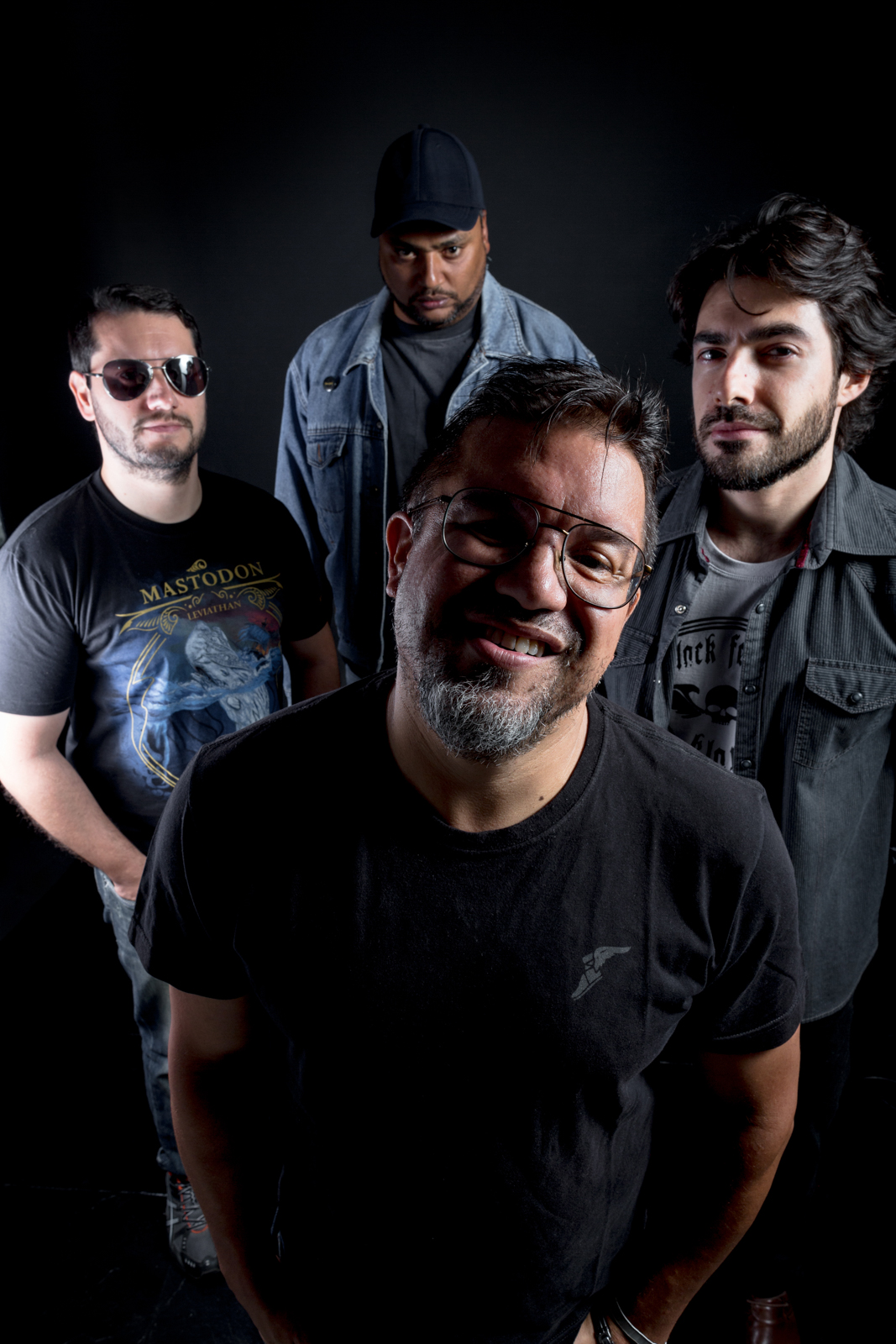 How are you?
Rubens Trindade: This quarantine scenario is bad for everyone. I think that for us, here in Minas Gerais (we like music, gigs, bars and meeting friends), is a little worse, because here is the national capital of pubs and bars, as we don't have access to the sea, we jump into drinking places! Unfortunately, quarantine has prevented us from doing things we like most: playing live and drinking with the crowd!
None can prohibit you to drink at home while watching movies for example.
We totally agree with you! We have the right to drink at home, but here in Minas Gerais we mostly avoid visiting friends to drink or celebrate. So, we hope that soon we will be able to visit, cheer an drink with our friends safely.
How does Covid-situation inflict Black Feather Klan's activity?
We are used to compose our songs in rehearsals, so, as we are avoiding any kind of rehearsal, it prevents us from creating new material. New songs were being written, and when pandemic stroke, everything stopped. We will have to rewrite compositions almost from scratch. As for the gigs, 2020 promised to be a very busy year for us. In the first semester, we had three gigs scheduled, one of which would be promoted by ourselves, alongside two other bands from São Paulo. We believe that the worst part was shutting down of some venues that were opening doors for underground bands, and that affected the local scene. We really don't know when it will be like it was in the past. There are no gigs since March and we hope to be back in stage soon, with old and new bands, and be able to enjoy that madness with the crowd again.
What do you aim to express through new songs? 
We are very open minded when it comes to listening to new music, so this certainly influences our new compositions, which pushes us further in the composing process. Therefore, we believe that the new songs will naturally be innovative, not to overcome the old album, but in a natural way, showing our evolution as musicians and as humans. This new songs should express a little bit of the moment the world is living in, our intention is to highlight the importance of things that we didn't notice, like being able to meet old friends, and the importance of human relations.
The band was formed in 2011. What did drive you to gather and play this sort of music?
Friendship came first! We already knew each other from somewhere, whether it was playing together or hanging out. Our vocalist and guitarist played together in a band that aimed at a harsher sound. They started talking about bands like Kyuss, Fu Manchu, et cetera. So BFK started out as a duo and then other guys joined the band with a desire to make that sound with low pitch and maximum fuzz. Everything was very natural, we suddenly started playing at some parties and small gigs and today it got serious! Everyone in the band has different influences, which are not just Stoner or Doom, which is very good because it influences the compositions, which makes the songs sound very original, without leaving that fuzzy and slow paced dirt that we all want.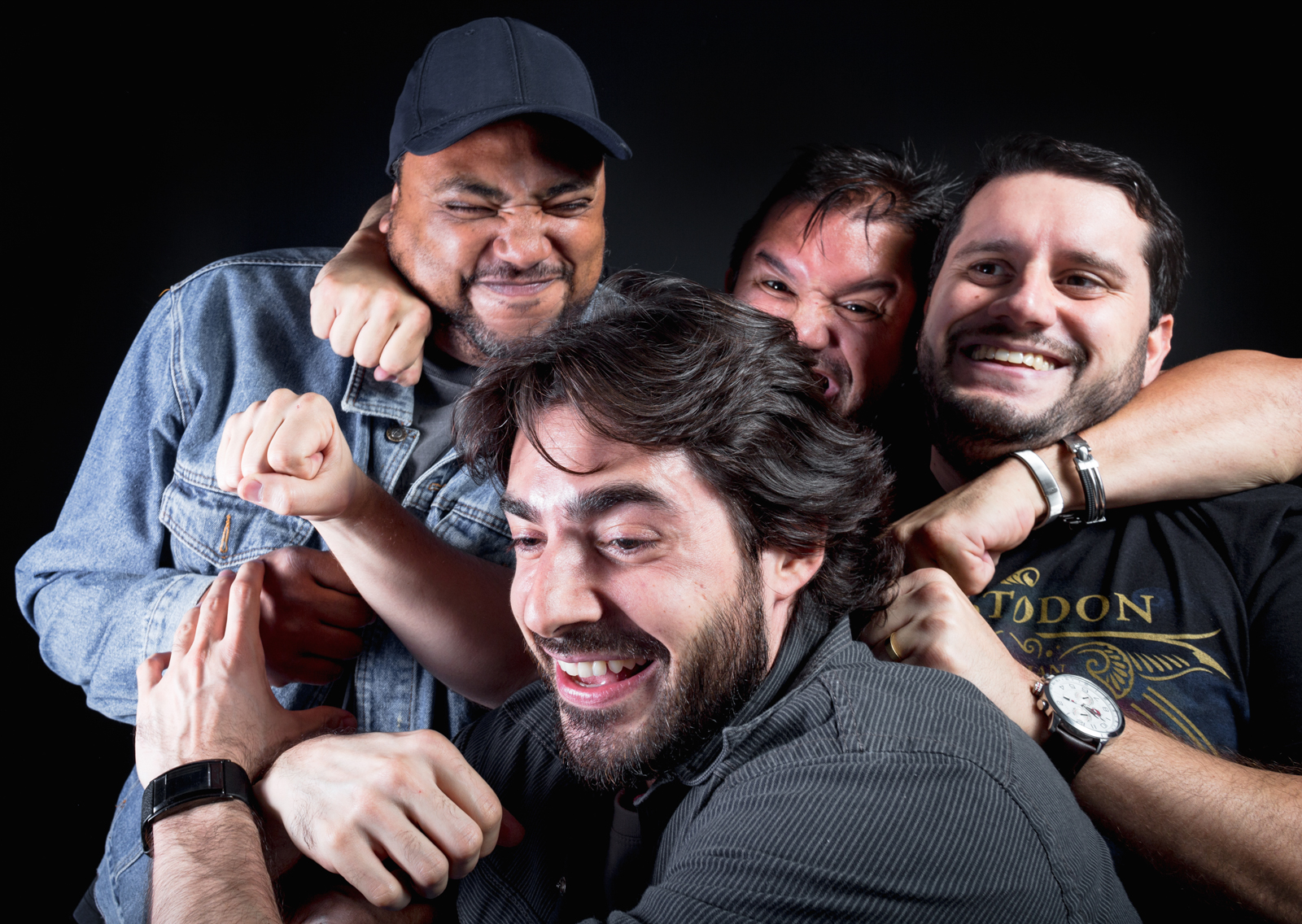 What's local scene in Minas Gerias?
Minas Gerais is the birthplace of important bands known worldwide, such as Sepultura and Sarcófago, but here it is also a fertile place for all types of heavy music. We believe that, regardless of style, be it metal, hardcore or grindcore, we are all together to promote and strengthen the underground scene in Minas Gerais. We have already shared the stage with hardcore/punk bands, Death Metal, Black Metal, Grindcore, stoner, heavy metal, Power Metal and even hard rock. We believe that together we are stronger and Minas Gerais has more and more bands that think like that. As for the number of Stoner/Doom bands, we have always discovered a new band and it is surprising how many people are into it. We believe that not only Minas, where we have from Pesta, the Evil, Miners, Isso, Green Morton, Black Motor Chimps, but also Brazil has a lot of good Stoner/Doom bands, we didn't mention, so we invite you to listen to a playlist on Spotify only with Brazilian bands-. We are also featured in this one.
How did you work on 'Vol. I'? Who's main writer in the band?
In 'Vol. 1', we were still getting along and each member had different influences. The first album was supposed to be like a rehearsal live album, as a result of all our influences, but we felt that the songs were very good and that the quality of the recording was suitable for a release. So we did it. Most of the songs were written by Tiago or Nayan (guitar) and the lyrics by Nibal. Nowadays we try to write all the songs and lyrics.
"Our culture is in every note of the songs"
Do you feel you have some Brazilian features in your music or lyrics?
Sure! We are a Brazilian Stoner / Doom band, played by Brazilians for the world. Our culture is in every note of the songs we make and we are very proud of it! The dirt and aggression comes from influences from old bands like Sepultura and Sarcófago, The Mist, Chakal, Overdose, Ratos de Porão, as well as from new bands like Pesta, Erasy, Son of a Witch, Dirty Grave, Fallen Idol, Riffcoven, Weedevil and several others that represent the Brazilian Stoner / Doom scene.
I always had an impression what Brazilian metal scene is mostly about fast and extreme bands like above mentioned Sepultura and Sarcófago. Does the stoner scene has its own attitude?
For sure! As it happens with extreme metal, there is also a Brazilian stoner / doom scene with its own characteristics throughout our country. And unlike what happened with extreme metal in Brazil, that is more restrained in south-central regions, Stoner / Doom is developing throughout Brazil as a whole, the best known of which are in the northeast and midwest. In the northeast, the bands Son of a Witch and Slowner are our favorite Stoner / Doom bands.
Do you promote Black Feather Klan abroad?
Yes! After the release of 'Vol. II', in October 2019, we started promoting the band abroad. We have received good feedback from Europe, especially France, but we have also talked to people from Mexico, Indonesia, USA, Argentina and other countries. We salute the work of people like you, who supports and helps promoting bands to an increasing number of people. It is certainly our greatest interest to show our sound to people all over the world.
I know a bunch of stoner bands from Chile and two or three from Argentine. Did you play in neighbor countries?
We really want to play abroad! For me the Argentinian band Inferous released the best Stoner / Doom album of 2020. In the past year our focus was on promoting 'Vol. II' in our country and abroad, so we hope that this pandemic will end as quickly as possible, so that we can hit the road again, even maybe sharing the stage with our "hermanos" from South America.
What's the main difference between 'Vol. I' and 'Vol. II: Cracking The Shell'?
With the departure of a guitarist, the band became a quartet and the sound became more straight. We believe that time and acquaintanceship made our music sound more the way we wanted them to sound. We believe that 'Vol. I' lacked this maturity, as the music is a bit more heterogeneous. In 'Vol. II', we had a clear aim, and the sound became heavier, slower and more aggressive, which brings the band closer to Doom Metal than to Stoner, unlike 'Vol. I', which is clearly more Stoner Rock oriented.
I see you worked at a studio with André Cabelo.
The experience of all band members in simultaneous recording really impressed me. In the other bands I had, we recorded everything separately, instrument by instrument. The simultaneous recording sessions brought an different energy, like that when we are on stage. Recording sessions, despite a bit of normal nervousness, was a lot of fun.
We were very comfortable, because André Cabelo already has extensive experience in recording heavy bands here in Minas Gerais, he had already done an excellent job recording Pesta and The Evil, so that made us feel very comfortable. I've known André Cabelo for over 25 years, we've already shared the stage together and he's my neighbor! So, we were at home.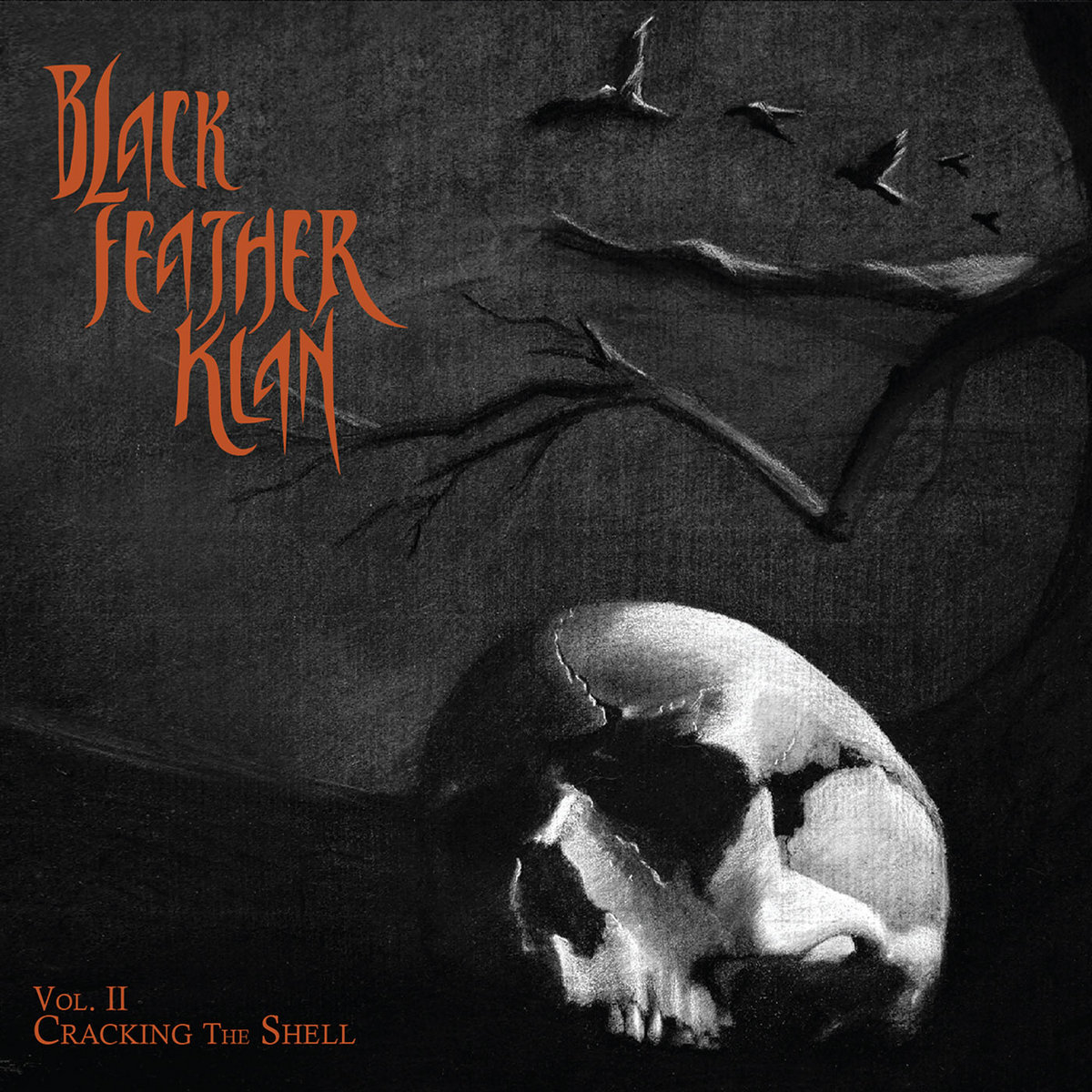 Black Feather Klan will celebrate its 10th anniversary next year. Will there be a new album?
If there was no pandemic, we would have a 10 year festival with invited bands. We still hope that until the end of next year, everyone is vaccinated, so we would be free to do anything. Regardless, two single songs are planned for the first half of 2021, and a videoclip in the middle of the year. Making gigs and the recording an EP or another full album will depend a lot on how this current problem will be solved, since we like to compose in the rehearsal, as previously said.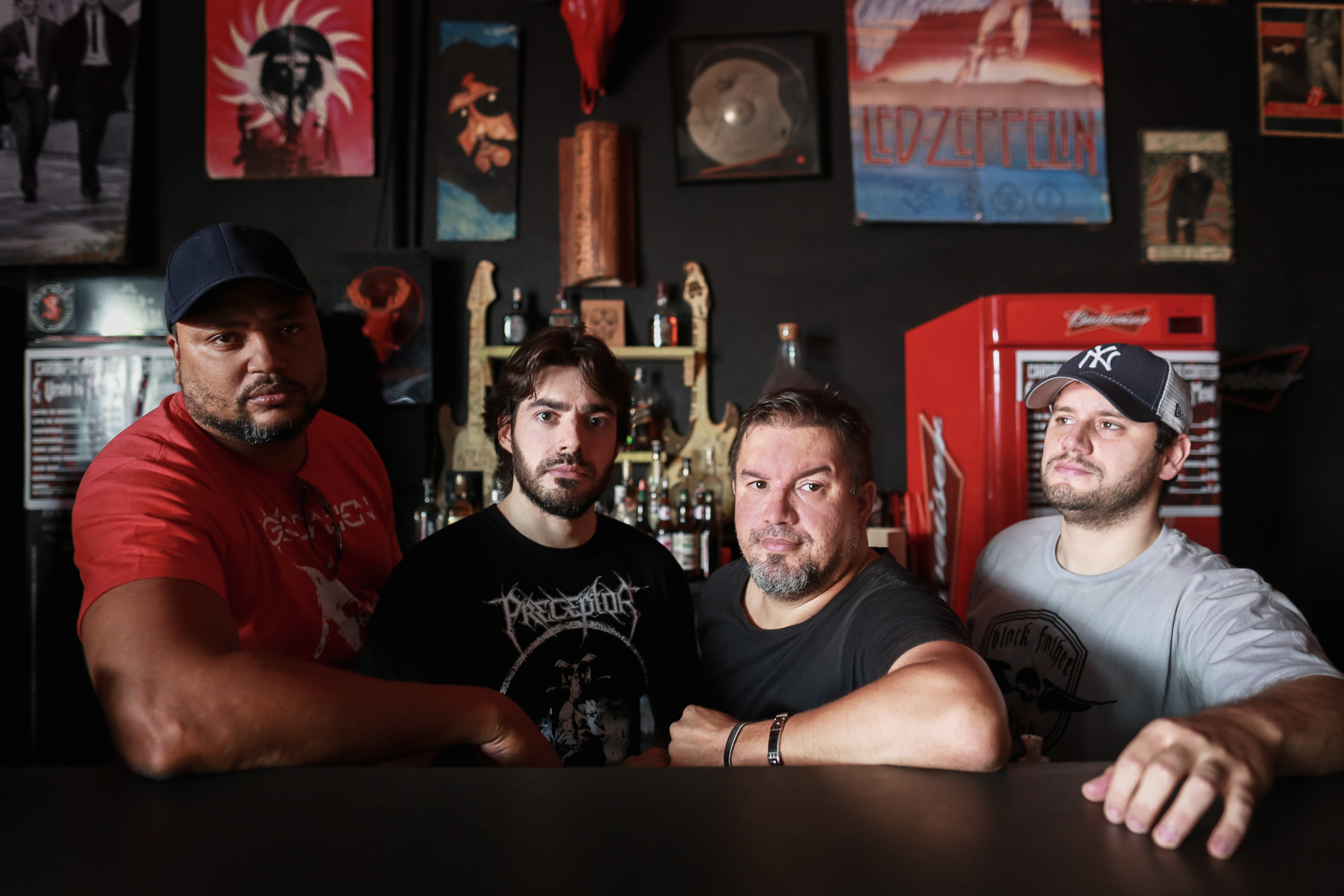 I wish you all the best in forthcoming year!
We thank you thank you the opportunity and support! May 2021 be a much better year for heavy music and the underground world! We appreciated very much the interview! Cheers!
Aleksey Evdokimov
---
Black Feather Klan Official Website / Facebook / Instagram / YouTube / Bandcamp