Asphodel Wine | Interview
Sarah and Zachary's universes collided in Autumn 2015, when their respective bands SubRosa and Minsk were both invited to support Cult of Luna on a West Coast U.S. tour. Upon returning home, separated by 1402 miles every day brought more unequivocal evidence that this meeting of paths was to create something bearing far more intensely personal sensual beauty and meaning than either had ever known.
---
The love, lust, trauma, rage and human behavior speculations felt by two individuals embodied into one candlelit soundscape. 'Slowdance Macabre' was recorded in August 2018. Possessing an intention to pierce the clamour with silky rays of musical moonlight, the lyrics to each individual song are their own personal universe. But the album 'Slowdance Macabre' as a sequential whole has a certain planned madness in the way of musical narrative- the ascension up the perceived mountain of one's own spirit, that instead reveals itself as an active volcano- to its inevitable eruption and the subsequent plummet through the endless catacombs of the human experience.
"Asphodel Wine is the sexy, supernatural, well-dressed beast that lives in our subconscious – a folie à deux."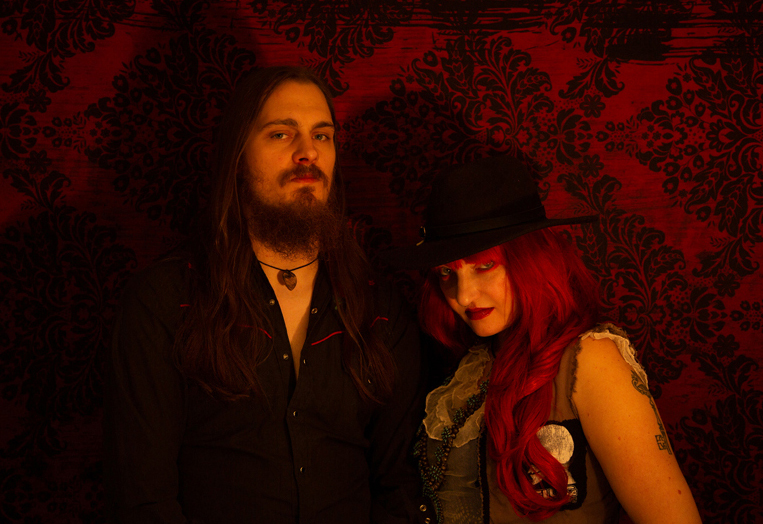 Would you like to talk a bit about your background?
Sarah Pendleton: We are both creative nerds. Obsession with music is certainly a large part of our nerd-dom. Zac is a luthier and master craftsman, and I love to sew, make jewelry, and lightboxes. We both love to draw. Our combined passions and our separate passions make a nice balance for us.
How did Asphodel Wine come to life?
Zachary Livingston: SubRosa and Minsk had the pleasure of supporting Cult of Luna on a U.S. tour leg in 2015. After a year of realizing this was my best friend in the world, it seemed glaringly obvious that we had a potentially beautiful aspect to our friendship that few are lucky enough to have- creative chemistry. And fucking castles full of it. Chemistry grew into romance, romance unwaveringly became muse. And that has only kept growing and intensifying.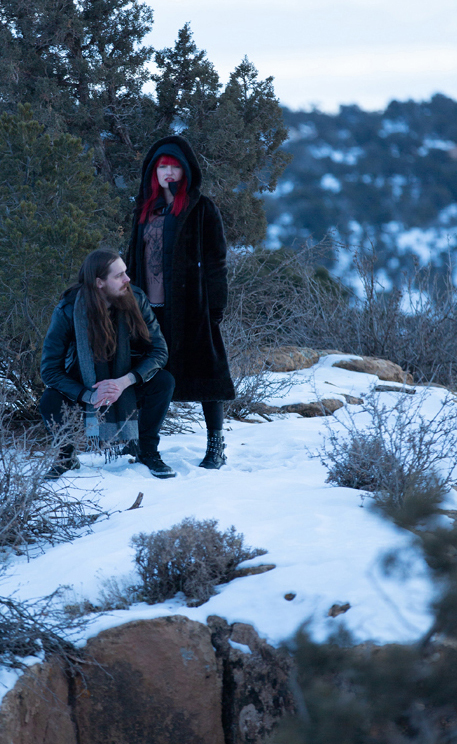 You met at the Cult of Luna show. Both of your bands were supporting it. Would it be possible to share a few words about SubRosa and Minsk and how exactly did you decide that you want something new together?
Sarah: SubRosa was keeping me so busy then that I had never considered the possibility of being in a second band. That changed when Zac and I became close friends and he began to show me the songs he writes. It opened up a completely new avenue of musical creativity for me.
SubRosa broke up, which was very painful at the time, but Kim, Levi, Andy and I have begun The Otolith, and Zac continues to create amazing music with Minsk. The three bands provide us with everything we crave from music. Asphodel Wine is the sexy, supernatural, well-dressed beast that lives in our subconscious – a folie à deux.
Zachary: A folie à duex indeed. Minsk is in the very thick end of creating a new record that is promising to be our proudest offering yet-as quickly as current reality allows us.
"The concept and drive of Asphodel Wine is the musical and lyrical actualization of the personal dynamic"
Is there a certain idea behind Asphodel Wine?
Zachary: In simple truth- the concept and drive of Asphodel Wine is the musical and lyrical actualization of the personal dynamic that the two of us possess together when the rest of the world goes away. It is the Victorian candlelit ballroom only we have the keys to.
Your album 'Slowdance Macabre' was released on the 30th of October 2020 on Halloween. Can you share some further details how your latest album was recorded
Zachary: The songs for our first record began life in demo form in my home practice den, beginning in the winter of 2016. I would record the guitars, drums and bass- as well as roughly half the vocal ideas- then send the bones to Sarah. Given the geographical distance between the two of us, it simply made the most sense to try it this way and see where it would take us. Then when it came time for commitment, we recorded it at The Boar's Nest with Andy Patterson.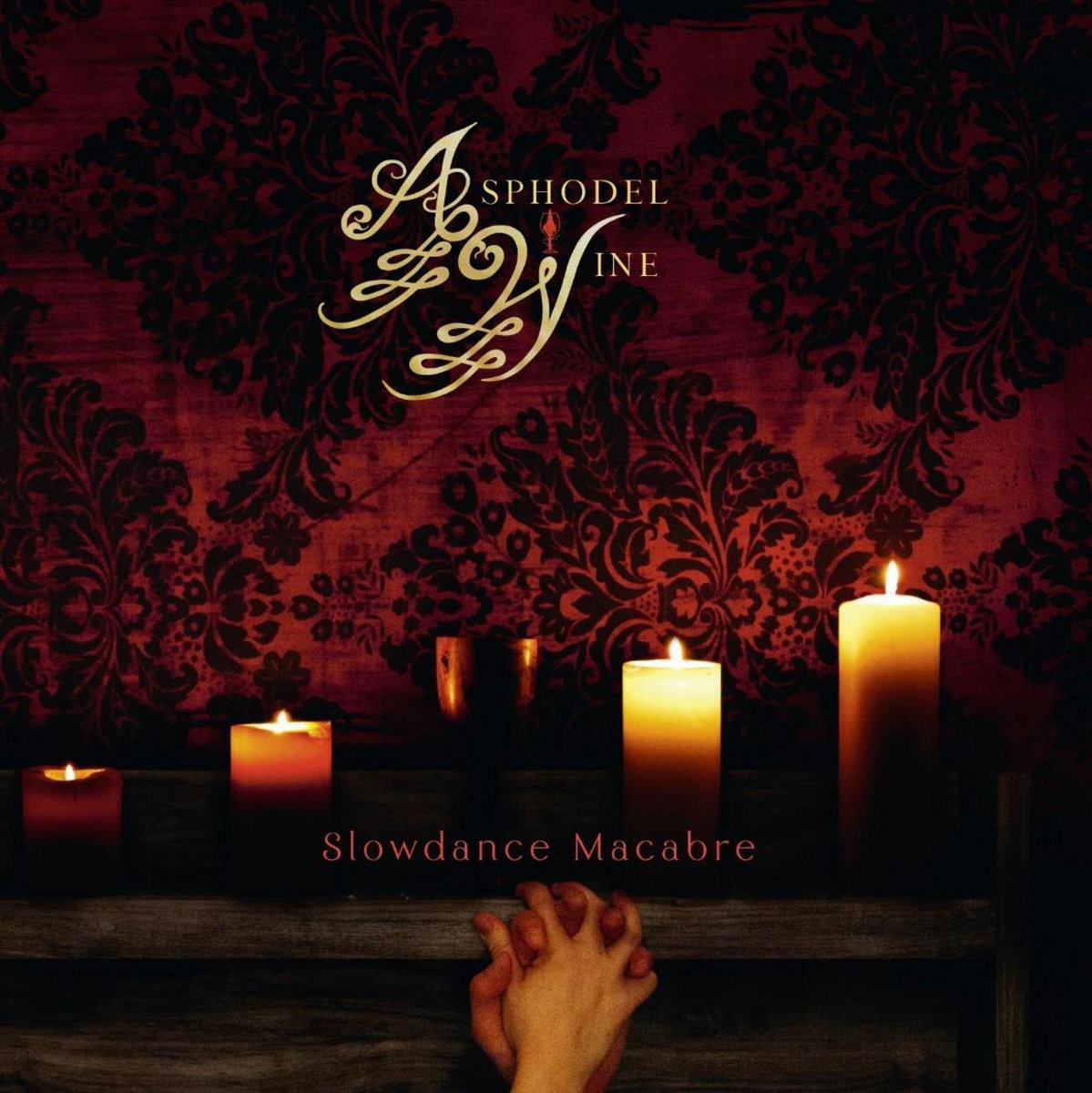 Sarah: I had never been part of a long-distance songwriting process, so I was nervous and skeptical. It turned out to be easy and efficient. Each time one of us would send the other a song, it was an intimate, exciting gift. Recording with Andy in his studio was amazing, as always.
How pleased were you with the sound of the album?
Zachary: It is precisely what I myself was hoping it would be, and then some. Andy Patterson is an absolute tone master and vibe wizard. Cj Johnson recorded my acoustic guitar tracks for the album and was my personal recorder/co-producer/hand-holder throughout the demoing process.
What are some artists that have a big influence on you?
Zachary: That is an endless and every growing list, but for my part these particular songs could safely be attributed, at least in part, to the likes of Nick Cave & the Bad Seeds, Ulver, Townes Van Zandt, Bee Gees, Editors, Katatonia, Peter Gabriel, Rome, Tom Waits, The Cure, Def Leppard, Deep Purple and the Addams Family.
Sarah: I second all of the above wholeheartedly. I could go on and on, but I'll just throw PJ Harvey, Switchblade Symphony, Kronos Quartet, Popol Vuh, Pink Floyd, and Angelo Badalamenti into the pile.
"Writing music has been a large part of my survival"
How are you coping with the pandemic as a musician?
Sarah: This year has marked some low points in mental health for me, as it has for so many others. Writing music has been a large part of my survival, and being able to create with my best friend is a privilege and an honor that is rare.
I send my love and support to everyone struggling with mental health issues, and encourage people to check in with each other.
Zachary: Within the horrible void created by the lack of live musical experience, the only true solace I can personally find is remaining as focused as I can on creating more and more music out of Sarah and I's chemistry and conscious experiences. The past year and a half we have been writing/obsessing/demoing our second album, which will be recorded this winter. I am also currently in the beginning stages of the songs for Asphodel Wine's third record.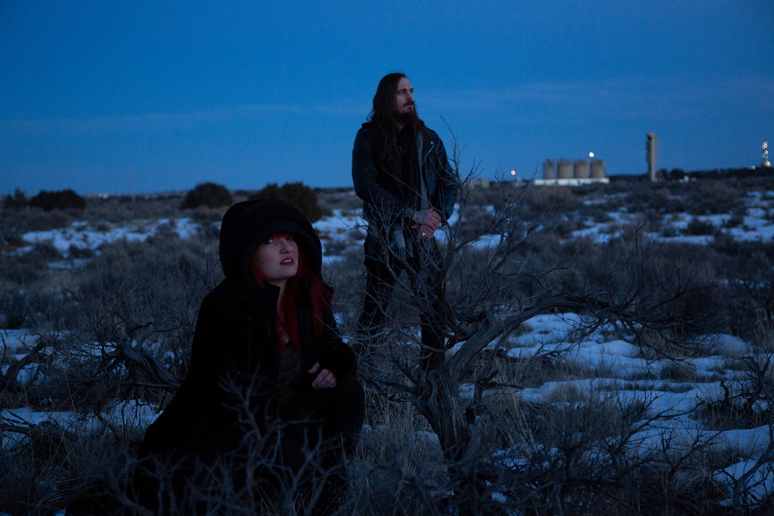 Let's end this interview with some of your favourite albums. Have you found something new lately you would like to recommend to our readers?
Zachary: Another ever-expanding list! So many wonderful souls braving the storm of this preposterous year with new beautiful offerings- Katatonia, Crippled Black Phoenix, Steve Von Till, Enslaved, Zeal & Ardor, Paradise Lost, Dool, Caspian, Alain Johannas, Myrkur, Editors, Ulver, Rome, Carpenter Brut, Regarde Les Hommes Tomber, Run The Jewels, Igorrr, Fluisteraars, Hillary Woods, Jaye Jayle, Carcass, Ulcerate, Afsky, Elds Mark, My Dying Bride, Wake, Shiner, A.A. Williams, Deep Purple, Blue Öyster Cult, Bleakheart, Blaqk Audio, Mortiis … Zachary Livingston
Klemen Breznikar
---
Asphodel Wine Facebook / Instagram
Consouling Sounds Official Website / Facebook / Instagram / Twitter