Trapeze – 'Trapeze' (1970)
Formed in 1969, Trapeze originally consisted of John Jones (trumpet, vocals), Terry Rowley (keyboards), Glenn Hughes (bass, piano, vocals), Mel Galley (guitar, vocals), and Dave Holland (drums). The quintet released a sole LP, produced by John Lodge of The Moody Blues and released on The Moody's Threshold Records label in May, 1970, as well as one single. Cherry Red Records has reissued this album in deluxe double disc edition, with the original LP''s twelve tracks joined by thirteen bonus cuts, consisting of single versions, demos, and performances from BBC radio sessions and the BBC2's "Colour Me Pop" show, making the set without question the definitive "Trapeze".
---
Much more progressive in nature than anything else in the Trapeze catalog their debut album opens with the short, melodic vocal intro "It's Only A Dream" penned by Galley and sung by Hughes. "The Giants Dead Hoorah!" is a Hughes composed rocker, Yes-like, featuring tasteful tempo changes, melodic vocals by Hughes, impressive drum fills by Holland and a hot solo by Galley. The Jones/Galley tune "Over" features a vocal intro although Holland's drums dominate the tune which includes a nicely restrained solo by Galley leading to a keyboard led outro. The Jones/Galley medley "Fairytale/Verily Verily/Fairytale" is the album's longest track at nearly eight minutes. A keyboard driven intro with Holland keeping time and Galley supplying fuzzed guitar, this delicate number has a gorgeous piano and trumpet interlude with Hughes' gorgeous vocals taking center stage before segueing into a rocker with Galley soloing over Rowley's organ as Holland pounds out the beat and Galley's guitar soars as the tune comes to a close. "It's My Life" is a mid-tempo rocker penned by Jones and Galley. A piano intro and wonderful drum rolls by Holland are joined by Galley gently soloing over the top, giving way to Hughes and Holland again dominant on piano and drums before Galley returns soloing atop beautiful harmony vocals. Hughes' "Am I" showcases the writer's delicate piano and beautiful vocals, with Galley's flamenco influenced guitar, including a solo in which he moves up and down the neck playing the song to it's conclusion. Jones and Galley's "Suicide" finds the former's organ giving way to Galley's chugging guitar, with Hughes and Holland driving the beat and female harmony vocals added for texture. An organ interlude leads to a tempo change, the sound building to a crescendo, Hughes' bass thundering in lockstep with Holland's drums as Galley's guitar roars above the din. "Wings" a Hughes/Rowley composition opens with Galley's Beatlesque guitar, supplemented by tambourine and cowbell, the band settling into a comfortable groove retaining the tune's Beatlesque vibe. "Another Day" written by Hughes, Jones and Galley spotlights Yes-influenced organ and vocals joined by Holland pounding out the beat. Vocal harmonies come to dominate with Galley's guitar and Jones' organ remaining restrained as the song plays out. The song was also issued as a b-side of the album's accompanying single. Rowley's "Send Me No More Letters" is a melodic mid-tempo rocker with gorgeous lead vocals, beautiful female backing vocals and strings along with delicate piano and guitar giving the song commercial appeal. The song, in edited form, was indeed released as a single which sadly failed to chart despite its pop sensitivities, quite out of character for what lay in the future for Trapeze. The album closes with a reprise of "It's Only A Dream" with its vocal harmonies and strings supplying a delicate finish to a most interesting long player.
Disc two contains the bonus material for this deluxe release of "Trapeze". First up are the US and UK single versions of "Send Me No More Letters" with the US release edited to 2:40 while its UK companion runs four and a half minutes, the same length as the LP version. Next up are four demos, beginning with a near six minute take on "Across The Water, Across The Sea" a tune which did not appear on any of the band's albums. A rocker, Galley's guitar introduces the song with Holland's drums driving the beat. The song has a real edge thanks to Galley and a fine vocal effort by Hughes accompanied by female backing vocals. Next up is a seven and a half minute take on "Seafull" a tune which would appear on Trapeze's second LP "Medusa". The tune opens with a gentle guitar intro and the tempo is a bit slower than that of the finished master take, with Galley supplying two stunning solos, the second accompanied by organ and flute playing the song out. The nine and a half minute "New Life Again" spotlights a sitar intro and delicate vocals. A gorgeous tune it would have made a wonderful addition to the album as released with its guitar and flute interlude a highlight. "40,000 Voices" is a four minute mid-tempo number that never saw an official release. A gorgeous tune, acoustic guitar and tambourine joining the gentle vocals and drums mid-tune making for a most pleasant listening experience. Three live BBC radio performances from 1969 follow, beginning with an impressive five minute version of "Send Me No More Letters" that features beautiful vocals and acoustic guitar with strings and female backing vocals added for flavor. A short, two and a half minute run through "Another Day" has a Fifth Dimension vibe with its delicate vocals, male and female, acoustic guitar and an inspired Jones organ contribution. A second take of "Send Me No More Letters" this time without band introduction is highlighted by its piano introduction and outro, with Galley contributing tasty guitar and strings and female backing vocals added for texture. The disc and set end with three 1969 performances from the BBC2 "Colour Me Pop" show featuring the band covering hits of the day. A three and a half minute run through Steppenwolf's "Magic Carpet Ride" is rather campy, with guitar, bass, drums and organ belying the band having fun while delivering a perhaps less than inspired performance. A gorgeously gentile two and a half minute cover of Fairport Convention's "Meet On The Ledge" showcases Galley's acoustic guitar, Hughes' pleasant vocals and Holland's restrained drums. The disc and set closer is a three minute take on Nazz's "Open My Eyes" with Galley's guitar and Hughes' melancholy vocals standing out, especially Galley's inspired lead line and solo, a most pleasing closer to this deluxe edition of "Trapeze" indeed.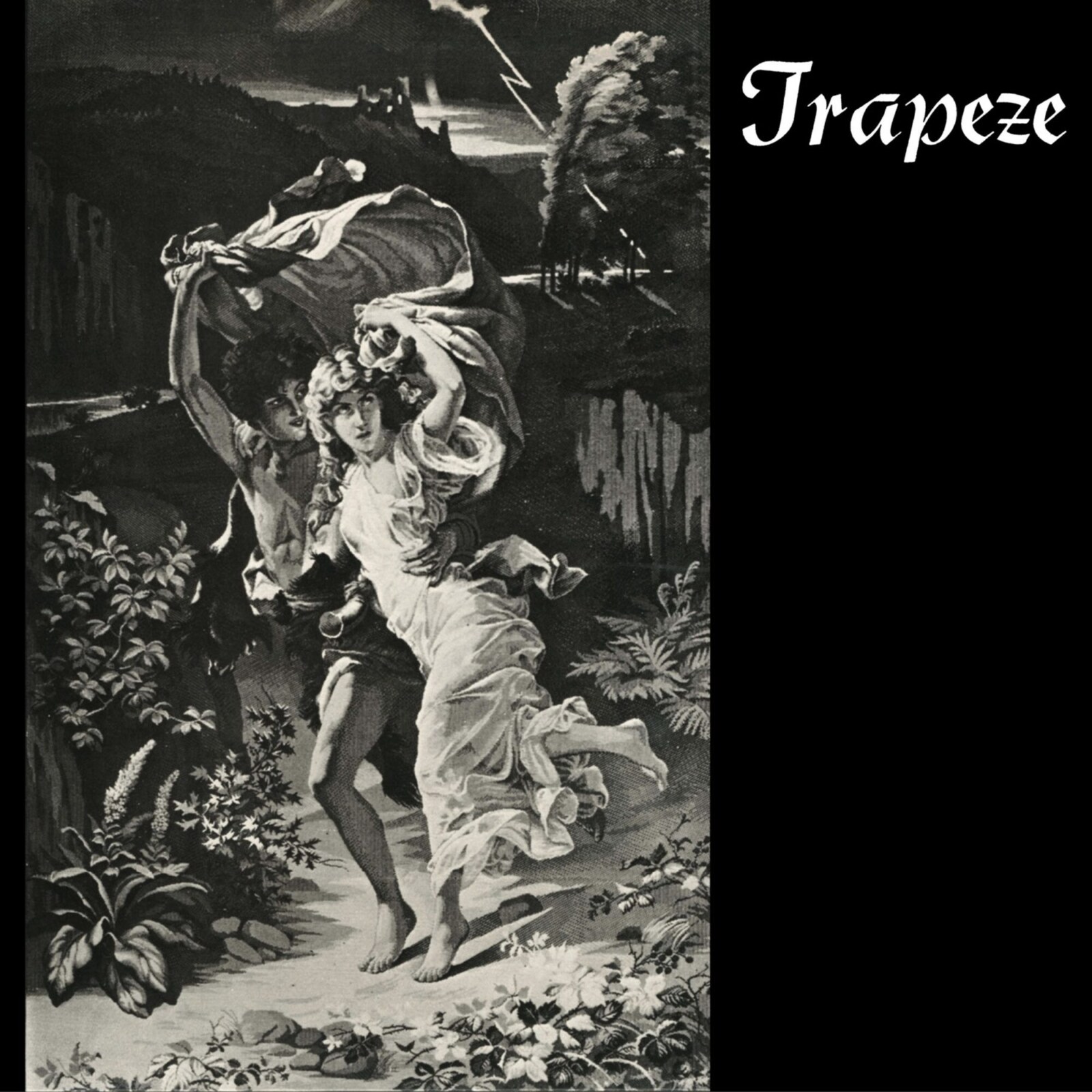 The double disc edition comes in a fold out digipak, complete with a twelve page full color booklet filled with complete track listing, a black and white band portrait, artwork from the "Send Me No More Letters"/"Another Day" single and an extensive essay by Malcolm Dome. "Trapeze" sounds better than ever thanks to the mastering job of Andy Pearce and Matt Wortham at Wired Masters. The set is unquestionably the definitive edition of "Trapeze" and will be of interest to fans of the band, 1970's progressive rock and classic rock in general and comes most highly recommended.
Kevin Rathert
---
Trapeze – 'Trapeze' (Esoteric Records, 1970/2020 reissue)