Trapeze – 'You Are The Music-We're Just The Band' (1972)
Released on 1 December 1972 "You Are The Music-We're Just The Band" was the second and final LP released by Trapeze in their definitive power trio lineup of lead guitarist/vocalist Mel Galley, bassist/lead vocalist/pianist Glenn Hughes and drummer/percussionist Dave Holland.
---
The long player, which Hughes says "I cannot emphasize strongly enough how much this album means to me" is reissued in deluxe three disc fashion by Cherry Red Records, UK, on their Purple Records imprint, with the original recording joined by two bonus discs, consisting of the mono single version of "Coast To Coast" which was released just prior to the LP, two tracks from a 1995 "Best Of" collection, a live cut from a 1972 Dallas, TX gig and a complete Houston show from that same year as well as a full BBC Radio One "In Concert" broadcast from 1973, making this without question the last word on the band's best known recording.
"You Are The Music" opens with "Keepin' Time" written by guitarist Galley and his brother Tom, and featuring a steel guitar performance by B.J. Cole. The tune moves from its fiery guitar intro into a heavy groove courtesy of bassist Hughes and drummer Holland. Galley's lead line is joined by two tasty solos by Cole which add just a hint of country to the hard rocking tune. The interplay between Galley and Cole is a highlight throughout the track. Hughes' "Coast To Coast" includes contributions from Cole on steel guitar as well as electric piano from Rod Argent. The song's gentle intro sets the tone for its gorgeous melody and soulful vocals by Hughes. The track has great commercial appeal as Argent's electric piano gives way to Galley's relaxed solo at 2:00 with Cole's steel guitar adding flavor, giving the track its Stevie Wonder vibe. Hughes' deep vocals lead to Galley's feedback tinged solo outro. Despite its commercial appeal the song failed to sell as a single as had the band's previous 45 efforts. Hughes' "What's A Woman's Role" has a gentle intro and smooth riff with contributions from Kirk Dungan on electric piano and percussion from John Ogden. Galley supplies the song's funky riff and a restrained solo with Dungan's electric piano adding texture, making for a most pleasant, mellow number. Hughes' "Back Way Back To The Bone" is a driving rocker with its deep groove. Following a nice tempo change at 1:00 Galley comes out firing, with Holland keeping perfect time and Hughes snarling heavily echoed vocals over the top. Galley lets go again at 2:30 with an incendiary solo employing wah wah and feedback. Galley's reverberated guitar and Hughes' echoed vocals rock the tune to an end. Hughes' "Feelin' So Much Better Now" has a heavy groove thanks to he and Holland, with Rod Argent's organ joining Galley's guitar bursts. Galley's solo is full of feedback, with Holland pounding his drum kit into submission. Hughes' "Would Our Love End" once again adds a Stevie Wonder vibe to the festivities, the tune's light, jazzy feel highlighted by Frank Ricotti's vibraphone and Jimmy Hastings' alto saxophone. Hughes' gorgeous vocals are joined by Galley's floating solo adding a George Benson touch to the track, which remains breezy despite a quickening tempo for the final minute. Galley builds the riff on "Loser" written by him and his brother Tom, with Holland riding his hi hats and Hughes' bass thundering. Galley solos at 2:00 as the bluesy groove gets heavier, his riff and lead line becoming increasingly funky, and Hughes' Steve Marriott like vocals giving the song its Humble Pie feel. The repeated chorus of "I'm a loser" leads to another Galley solo at 3:45 that plays the song out. The album closing title track is a classic rock anthem written by the Galleys. The song's riff is steady but understated with Hughes belting out the vocals. The tune is good time rock and roll with a twist of funk, Galley soloing over the steady groove, never overplaying as the song maintains its powerful yet relaxed feel. Holland's drums and percussion are persistent, Galley's riff absolutely infectious. As one YouTube listener commented, the song's only weakness is "that it ends". High praise indeed. Upon hearing the final mix Hughes commented to producer Neil Slaven "I never thought it'd end up the way I wanted it" words that Slaven has held close to his heart to this very day. The band had been listening to lots of American Southern rock and the influence of bands like Little Feat are obvious throughout. Hughes was so pleased with the finished product that he maintains "this is the number one band album that I have ever been involved with and it's the jewel to the crown." Further, he has said "I cannot emphasize strongly enough how much this album means to me. Mel's guitar playing was just so good. I have never felt he has received the credit he deserves as a brilliant musician. And Dave and I were able to strike up such a magnificent groove as a rhythm team. He was truly a great groove player. What we achieved was wonderful to behold". What can be added to Hughes' words? This was the album that should have been Trapeze's breakout and made them a household name. The band's contract with Threshold Records ran out and their manager signed them to Warner Brothers who were much more capable and willing to support the band. Who knows what fate awaited Trapeze? That question will never be answered sadly, as Glenn Hughes exited the band in 1973 to join Deep Purple, a decision he has forever regretted. Regardless, "You Are The Music-We're Just The Band" is a testament to three great musicians at their peak and a reminder of how fickle the record buying public can be as well as the story of another band whose incredible promise was never fully achieved. But the quality of the music and the performances of Trapeze can never be denied and will forever be documented by "We Are The Music-You're Just The Band" a title which Hughes said seemed "to almost suggest itself". In fact, he doesn't remember any alternatives being put forward, with never a thought of just "You Are The Music" as the group always felt "You Are The Music-We're Just The Band" was perfect.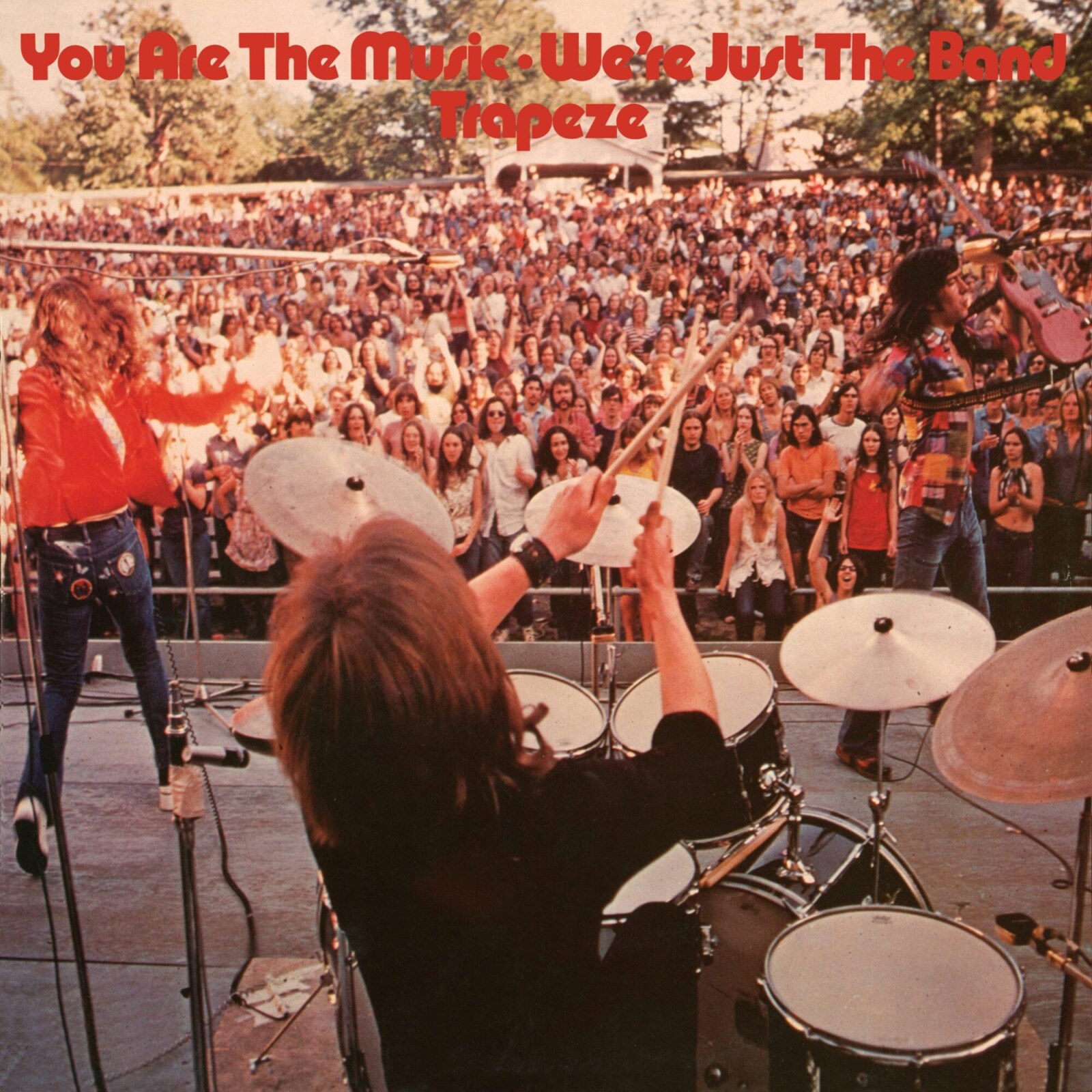 Disc two begins the bonus material with the mono single mix of "Coast To Coast" which offers both commercial appeal and brilliant musicianship and deserved a much better fate, as it failed to chart in either the US or UK, with a track from the band's previous album "Medusa", "Your Love Is Alright" serving as its b-side. Two album outtakes, unreleased until a 1995 "Best Of" release are next up. "Good Love" is a relaxed take featuring Argent's electric piano leading to Galley's solo that soars gently, and runs a full minute. Hughes' vocals sound relaxed as Argent's electric piano picks up the tempo as the track comes to a close. "Dat's It" opens with feedback from Galley, before Argent's electric piano and Holland's drums move to the fore. At 1:00 Galley cuts loose with a Tommy Bolin style funky solo. Galley's guitar and Argent's electric piano join Holland's drums in driving this heavy rocker. Next up are four tunes from an off air BBC recording of a Radio One "In Concert" show from 1973 that was aired in the US. The band delivers an inspired take of "You Are The Music" with Galley's familiar riff leading the way and the guitarist stretching his solo to the audience's delight. Percussionist John Ogden, who had played a couple of dates at The Marquee Club with the band is featured on "What Is A Woman's Role" with Galley contributing an inspired solo and the band sailing through the song like the finely tuned unit they had become. A third track from the album, "Way Way Back To The Bone" again displays Galley's guitar with congas supplied by Ogden, the guitarist's riff giving way to a full on sonic attack as he delivers a feedback filled solo, the tempo temporarily slowing before Galley turns up the heat with a second solo to finish the take. The concert closes with a track from "Medusa", the previously mentioned "Your Love Is Alright", with Galley's insistent riff pushing the beat. Hughes and Holland are locked in as the band delivers an effortless performance, Galley's solo being cheered on by Hughes' calling out for more. A nine minute performance of the band's debut single "Black Cloud" another track from "Medusa" taken from a 1972 concert in Dallas is next up. Hughes' gorgeous voice, sounding much like Paul Rogers, is the center of attention, with Galley contributing an extended solo, as the band takes on a sound reminiscent of Free's "Fire And Water" period. The song is a real crowd pleaser. The disc closes with two songs from a 1972 Houston, TX gig which is presented in its entirety. After the band warms up they give "Way Way Back To The Bone" an inspired eight and a half minute run through. Hughes works up the crowd as Holland pounds his drum kit and Galley offers up two roaring soos. The band clearly hits stride as they deliver a six minute take on "You Are The Music" with Holland's battering drums and Galley's fiery guitar setting the tone. The crowd is obviously pleased with the band's effortless performance of what had become their signature song and a rock anthem worthy of the audience's reaction.
Disc three contains the seven remaining tracks from the Houston concert. A thirteen and a half minute performance of "Jury" taken from "Medusa" has a deceptively gentle intro by Galley who bides his time until the five minute mark when he lets loose a scorching minute long solo. Hughes takes a bass solo seven minutes in with Holland keeping perfect time as always. The tempo slows until Galley turns up the heat at the 10:45 mark with a feedback filled solo as Holland rides his hi hats until the band slowly and steadily brings the song to a close. A nearly ten minute version of "Seafull" another "Medusa" track is up next with Hughes announcing the band had not played the song in two years. It certainly doesn't show as the melodic number flows with Galley's guitar and Hughes' vocals crystal clear, the guitarist offering up a probing solo that drives the tune to its conclusion. A fourteen minute "Your Love Is Alright" opens with blasts from Hughes' bass matched by those emanating from Galley's guitar. Galley contributes two solos and Hughes a tasteful bass solo highlighting the song. A nine minute version of "Medusa" opens gently with Galley's guitar and Hughes' bass front and center until the 1:30 mark when the band joins in. Galley supplies the song's riff with Hughes' vocals swirling and heavily echoed. Galley delivers another memorable solo before returning to the main riff and the band draws to a false stop before Galley eases the song to its conclusion. A nine and a half minute take on "Black Cloud" another track from "Medusa" opens with Hughes and Holland supplying the groove and Galley adding the song's main riff before offering another memorable solo, carefully selecting each and every note, his guitar sending out crashing waves of sound. Hughes' melodic vocals give way to screams as the trio jams the tune to a close. Galley's snaking guitar introduces a ten and a half minute run through "Touch My Life" , another song taken from "Medusa". Holland rides his hi hats as the band lets it all hang out. Galley's lead line gives way to a solo at 3:30, another of the seemingly endless amount he had at his disposal. Hughes' vocals slow the tempo as the trio finds a comfortable groove with Galley's guitar settling into a tone reminiscent of "Day Tripper" before feedback fills the air and the band drives the tune to a crescendo of sound and speed before reining it in and drawing the tune to a close. The disc closes with an eight minute performance of "Keepin' Time" with Holland's crashing drums and Hughes' thundering bass opening the track. Galley's guitar comes in blasts as Holland and Hughes lock into a groove before Galley supplies one last memorable, extended solo. One wonders how the trio was able to maintain this pace throughout the 90 minute performance as Galley's solo brings the song and gig to a close as well as bringing the triple disc set to its conclusion. It should be noted that the sound quality of the Houston gig is excellent, leading one to wonder why it had not been previously released in its entirety.
"You Are The Music-We're Just The Band" comes in a fold-out digipak and includes a full color 16 page booklet filled with photos, memorabilia and original album artwork. The package also includes an extensive essay by Malcolm Dome and complete musician credits. The album and bonus material sound exquisite thanks to the mastering job of Andy Pearce and Matt Wortham at Wired Masters. This classic album belongs in the collection of every fan of 1970's rock and with all the bonus material is an absolute must, being most highly recommended.
Kevin Rathert
---
Trapeze – 'You Are The Music-We're Just The Band' (Esoteric Records, 1972/2020 reissue)