Gracious interview
Gracious was a progressive rock band that released two highly acclaimed albums in 1970 and 1971.
---
Where and when did you grow up? Was music a big part of your family life? Did the local music scene influence you or inspire you to play music?
Tim Wheatley: I grew up in the 50s/60s in Claygate, Surrey about 20 miles south of London. My mother played piano and used to accompany the local choral society at their concerts and I used to listen to her film soundtracks from musicals on vinyl we had at home – 'Oklahoma', 'South Pacific' and the like. When I heard rock n roll I got very excited and aged 8 I had singles including 'Lovin Up a Storm' by Jerry Lee Lewis. The artist at this time I loved was Eddie Cochran and I was devastated when he died in 1960 only 21 years old. I started to develop a narrative which was that I would die before I was 21. I seem to still be around. The local music scene didn't really exist in Claygate. There were a couple of folk guitarists. My Dad had a friend who played records and accompanied them on drums. Amazingly he used to get bookings with this show.
Robert Lipson: I had older parents. My Father was 46 when I was born. They listened to Frank Sinatra, Peggy Lee, George Shearing, Tony Bennett etc. So there was music in the house, but it was Buddy Holly, Eddie Cochran, and Elvis, that got my motor running!
Sandy Davis: I grew up in Esher, Surrey. No, music was not a big part of our family life.
Alan Cowderoy: I grew up in Esher, Surrey and went to school in Weybridge at St George's College. Sandy Davis also lived in Esher and went to the same school. We decided to form a band with a third classmate, Peter Lawes. I played guitar, Sandy was the drummer and lead singer, Peter the other guitar player. I suggested the name, Satan's Disciples from a book I owned. We were asked to play at the end of term revue at St Georges. I think we were last to play, preceded by several other pupil musicians such as the best flautist, pianist etc all playing dull classical pieces. I was intrigued to see how we'd be introduced by the very strict Josephite monks at the college, but they cleverly circumvented the issue by introducing us as The Disciples so on we came and played some hits of the time: 'Stay': The Hollies, Dee Dee Sharp's 'Mashed Potato' and a couple of up tempo rockers. The audience of young boarding school pupils and teenagers, most of whom had probably never seen a live band, went absolutely mental screaming, shouting and stomping…and so encouraged we drifted onwards to small support slots, village fetes, friends party's etc. We might have been introduced sometimes as The College Boys if Satan's Disciples was deemed to risky for sensitive ears. My father loved music: Ray Conniff Orchestra, Peggy Lee, Nat King Cole, Dave Brubeck and fortunately for me and my sister he owned a photographic shop in the City of London which also sold records so he brought home singles and albums my sister and I asked for like Duane Eddy, Cliff Richard, Bill Haley, Johnny & The Hurricanes plus the hit singles of the day… Growing up in suburbia and looking for live music I found a weekly show called The Big Beat Night at The King Georges Hall in Esher featuring minor league rock and roll bands which I went to with my next door neighbour. The nearest big town was Kingston on Thames which was where I saw package tours at the Odeon cinema featuring many UK but mainly American acts: Little Richard, Gene Vincent, Sounds Incorporated, Johnny & The Hurricanes and many more as well as Screaming Lord Sutch with Jimmy Page on guitar in a small hall plus The Yardbirds with Eric Clapton at the Cellar Club. In my teens my friend Nick and I drove to Eel Pie Island every Sunday to see whoever was playing. Notable acts we saw were The Tridents with Jeff Beck, The Graham Bond Organisation, John Mayall with Eric Clapton and after Eric left John Mayall with Peter Green.
When did you begin playing music? What was your first instrument? Who were your major influences?
Tim Wheatley: I never studied music and used to mess around on a piano 'chopsticks' is about as far as I got. In the early 60's my Dad decided to buy a drumkit (he didn't play) and I started playing drums, playing along to albums like early Beatles who were a big influence. I already had my early rock n roll exposure. There was so much great music in the 60's that it's hard to say I had one predominant influence, but I remember the first time I heard John Mayall's Bluesbreakers with Eric Clapton and I was transfixed by this. This was about the time I started playing Bass – I wanted to put a band together at school and two of us played drums so I switched to bass.
Robert Lipson: I started playing music at 14. My parents foolishly bought me a drum kit and off I went. I would play along with Beatles and Stones records. I had an older girl cousin who loved music with soul, and that was a huge influence on me. I went to boarding school and at 13/14 (1962/63) Bob Dylan and the Beatles were my go to people. Then the blues. John Lee Hooker, Sonny Boy Williamson, Jimmy Reed. I had a good friend at school very into Jazz so Dave Brubeck and Basie sneaked in. As a drummer 'Wipe Out' was the pinnacle, but after listening to "Take 5", I knew I was only going to be an average rock drummer. In the school holidays I was at the Crawdaddy, the Marquee, lapping up everything the UK blues/soul bands had to offer – The Who played Tamla and James Brown tracks-eye opening. I started a school band, then a band with my cousins, including Nick Ingman.
Sandy Davis: At school. My chosen instrument was Drums and I was heavily influenced by the Beatles and the sixties scene.
Alan Cowderoy: As a young boy I loved the 2 alternative rock TV music programmes we had: Six-Five Special and Drumbeat. I loved the look of Hank B Marvin's guitar and liked a couple of the Shadows tunes but preferred the less poppy US acts like Duane Eddy, Johnny & The Hurricanes, early Elvis etc. I nagged my parents for a guitar but I was left handed so couldn't play any of the guitars in the only musical shop nearby: Bell Musical Instruments in Surbiton. There weren't many guitars manufactured as left handed models but Vox made a red Soundcaster for a leftie and that's what I got. It looked very much like a Stratocaster but didn't play like one or tune as accurately but I loved it and would have happily shared my bed with it. The smell of the crushed velvet velour inside the guitar case made my head spin. Duane Eddy's Peter Gunn was the first tune I learned and then a simple 12 bar riff and I was off. I saw Eric Clapton live with the Yardbirds and John Mayall and was so impressed with his tone, vibrato, fluid timing and excitement but once he switched from a Telecaster to a Les Paul coupled with a Marshall amp I was in heaven and so was his audience. I didn't think he could be replaced in the Bluesbreakers but Peter Green was absolutely outstanding. The other guitarists of the day included Jeff Beck and Jimi Hendrix. I count myself very fortunate to have been a young, impressionable teenager and to have these guitar heroes play to me!!
What bands were you a member of prior to the formation of Gracious? Was your very first band the Satan's Disciples, predecessor of Gracious?
Tim Wheatley: I formed my first band at school and we put on one performance at the school then I had a band briefly at home in Claygate playing pop and blues and then I met the drummer Chris Brayne later known as Wheelbarrow (who played briefly with Gracious after Robert left the band) while I was at college in Guildford, and formed a band with him called Market playing blues. We played some gigs including the renowned Gin Mill Club in Godalming where we supported Chicken Shack with Christine Perfect on piano. I wasn't involved with Satan's Disciples but they were local musicians I met and got involved when they changed the name to Gracious. The manager David Booth lived around the corner from me. He was a drummer and had been involved in some jam sessions that I arranged at my house.
Robert Lipson: The Unemployed (with Nick Ingman), Rush Release (with John Etheridge), then Gracious.
Sandy Davis: Yes. Satan's Disciples was my first Band. An ironic name considering it was a catholic school!
Alan Cowderoy: Yes, Satan's Disciples became Gracious once Robert and Martin joined the band and we had our first manager, David Booth.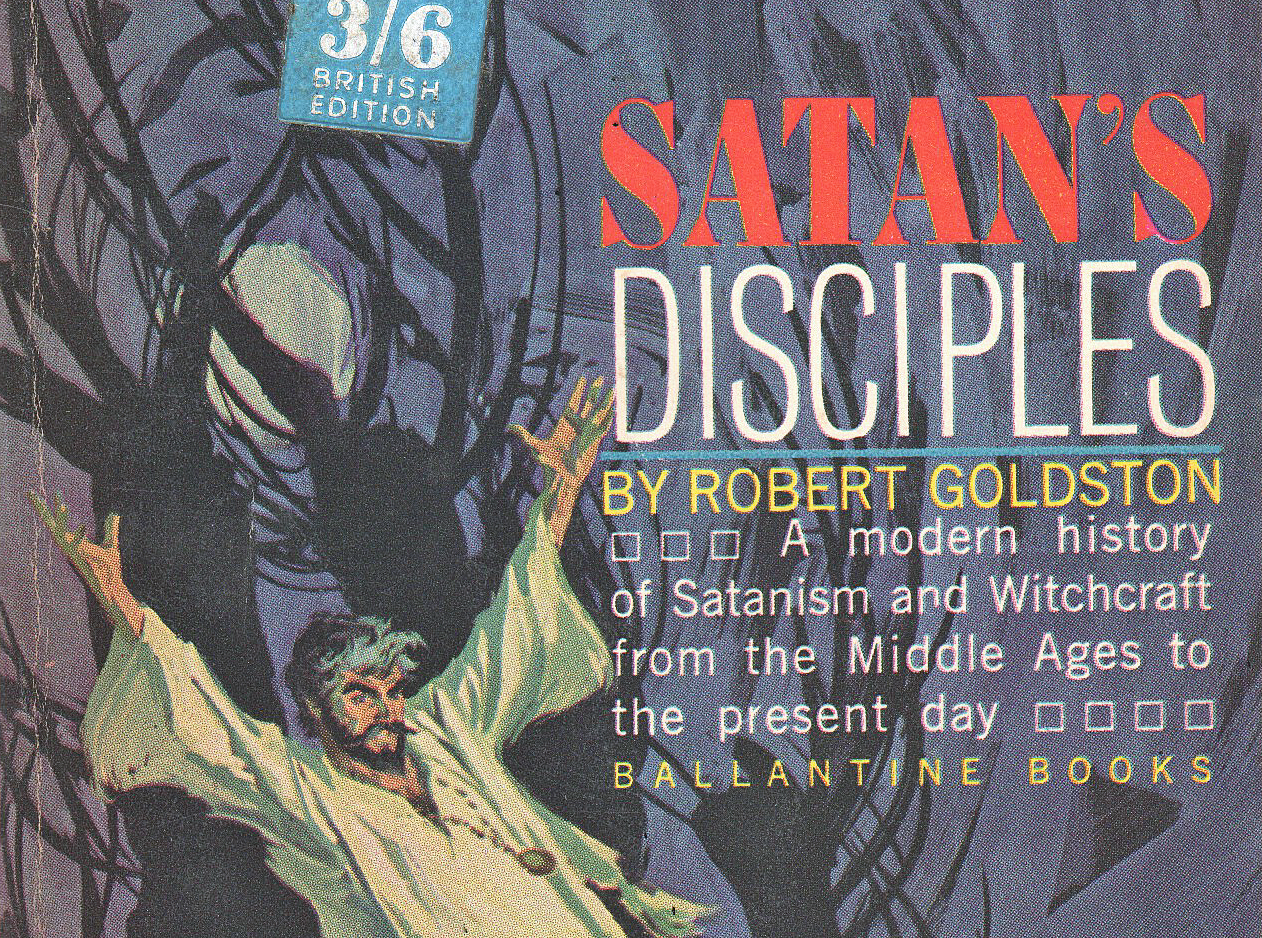 Did you record any singles with Satan's Disciples? Any releases?
Tim Wheatley: Not me.
Robert Lipson: No singles with Satan's Disciples. I joined when the Band was Gracious.
Sandy Davis: No, but we did some demo recordings and I think 'Good Time Man' was one of those titles.
Alan Cowderoy: We certainly demoed a number of self compositions and re-arranged cover versions of hits past and present including Motown tracks.
What was the first song you ever composed?
Tim Wheatley: I composed a song with Alan Cowderoy entitled 'Auntie Vi and Me'. It was quite strange with classical elements – we used a section from Stravinsky. We never performed that song.
Robert Lipson: Alan and I attempted to write something together in Cornwall (I think), but nothing ever came of it. However, Alan, Tim and I were instrumental in how the final songs were arranged. Martin and Sandy would turn up and play us the demo version, and we would make lots of amendments, add timing sequences, and generally turn them into Gracious tracks.
Sandy Davis: I think it may have been 'Dizzy Spells' but I can't be sure.
Alan Cowderoy: I'm still noodling on the guitar and riffing away for myself. I think it's fair to say that, along with Robert and Tim, we were part of the steadying rhythm and blues influence in the arrangements for Gracious.
"We had great bass and drums, good singing, complex arrangements with extended guitar parts plus strings and brass from the mellotron which combined to create a very unique sounding band."
Can you elaborate the formation of Gracious?
Tim Wheatley: When I joined the band they already had the name.
Robert Lipson: I joined when Mark Laird was on Bass and Tim was our road manager. Keith Ireland was the singer too. He left pretty fast and Tim replaced Mark. Until I left, that was the lineup-Alan, Martin, Sandy, Tim and I.
Sandy Davis: Alan and I formed the band at school together with Peter Lawes as the other guitarist…then we added Greg on bass for a while before Martin and Mark joined. After some local gigs, around 1968 Martin Kitcat and Mark Laird joined on Electric piano and Bass respectively. Since drumming and singing was proving difficult we decided that I would concentrate on singing and recruited Robert Lipson from another local band on drums.
Alan Cowderoy: Once Martin introduced the mellotron that completed the band, we had great bass and drums, good singing, complex arrangements with extended guitar parts plus strings and brass from the mellotron which combined to create a very unique sounding band.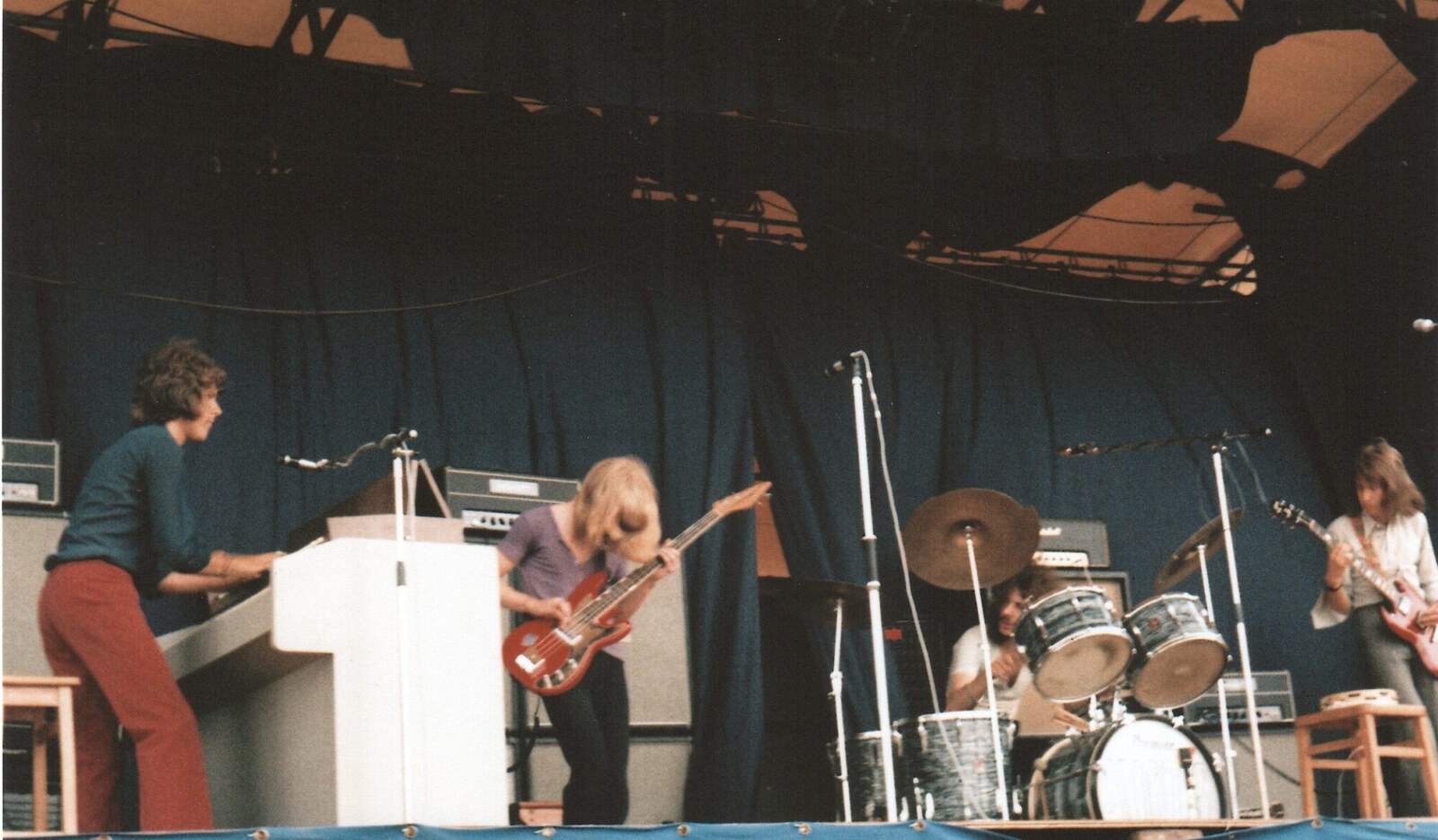 When and where did Gracious play their first gig? Do you remember the first song the band played? How was the band accepted by the audience?
Robert Lipson: Don't remember where, but I do remember some of the tunes. 'Goodtime Man', 'Life Is On A Movie', 'Born To Be Wild', 'Open My Eyes', 'Reflections' (The Supremes), 'I Put a Spell On You', 'Heaven Is in Your Mind' (Traffic), 'Someday Never Comes'. The band was received in a mediocre way – nothing special, even though we had all our people there!!
Sandy Davis: It was probably local. I remember we had a semi regular Friday night gig at Oxshott Village Hall. I think we played songs like 'I Put A Spell On You' and 'Heatwave' and the audience reaction was very enthusiastic.
Alan Cowderoy: Honestly I can't remember but before we were on the road professionally we supported The Who and also had a local residency at Oxshott Village Hall.
What sort of venues did Gracious play early on? Where were they located?
Tim Wheatley: The band was playing mostly melodic pop with some covers included. Early gigs included Air Force Bases in UK and a few small college gigs and parties. In December 1968 the band went to Germany on tour and I went with them as tour manager mostly looking after gear and a lot of driving! In 1969 I joined the band as bass player before the Vertigo record deal.
Robert Lipson: Village Halls, 21st parties, Eel Pie Island, a club in Kingston etc. We did get a residency at the Pheasantry Club in the Kings Road which is where we met our 3rd manager (Mike Lion, then David Booth), Jerry Phillips. Our first professional gig was supporting the Who. I remember being at the Speakeasy Club in Margaret Street in London, with Alan, and Kit Lambert, one of the Who's managers', took a liking to Alan. Then the German Tour. That got us playing like a real band. I remember playing week at the Star Club in Hamburg, and at the weekends we started at around 12.00 and played for an hour, then a break, then an hour, until the early hours.
Sandy Davis: Well in 1968 we got to support The Who on tour and played other various venues, universities etc. I do remember a double bill with King Crimson at one such gig which had a radical effect on the band. I think Martin Kitcat then bought a Mellotron which changed our musical sound and direction.
Alan Cowderoy: Anything from local village halls, fairs, weddings, parties.
How did you decide to use the name "Gracious"?
Robert Lipson: Can't remember – Alan will remember.
Sandy Davis: I'm not sure. I think it was David Booth, a former manager who thought of it.
Alan Cowderoy: I remember a meeting with the band and David Booth, our manager, in his office. I was late and it seemed everyone had already agreed to the name loving the double meaning in the word. It wouldn't have been my choice but I couldn't come up with anything snappier.
"I think it was King Crimson that changed our direction and musical thinking."
What influenced the band's sound?
Tim Wheatley: The other guys will talk about the King Crimson influence but for me I was listening and influenced by Chicago, Captain Beefheart, Frank Zappa and The Band and much more as well as earlier influences.
Robert Lipson: All of us had such different tastes. From the Beatles, to Zappa, Todd Rundgren, Spirit, Chicago. Lots of influences. We all brought something to the party.
Sandy Davis: I think it was King Crimson that changed our direction and musical thinking.
Alan Cowderoy: Martin was classically trained, Sandy loved harmonies and clever chord sequences especially The Beatles, I loved the blues, Robert and Tim were the rhythmical beating heart.
Did the size of audiences increase following the release of your debut?
Tim Wheatley: Yes I think so. We started to get better and bigger gigs and we shared billing with Pink Floyd, Elton John, Fleetwood Mac, Moody Blues and others.
Robert Lipson: They certainly did. Although the album didn't sell very well, Kid Jensen on Radio Luxembourg took a fancy to it and played it almost every night. As I recall we were interviewed by him and he turned most of the show into a Gracious night! You'd have thought that our managers and record company would have used that to promote us-no such luck. We have a lot to thank Dave "Kid" Jenson for.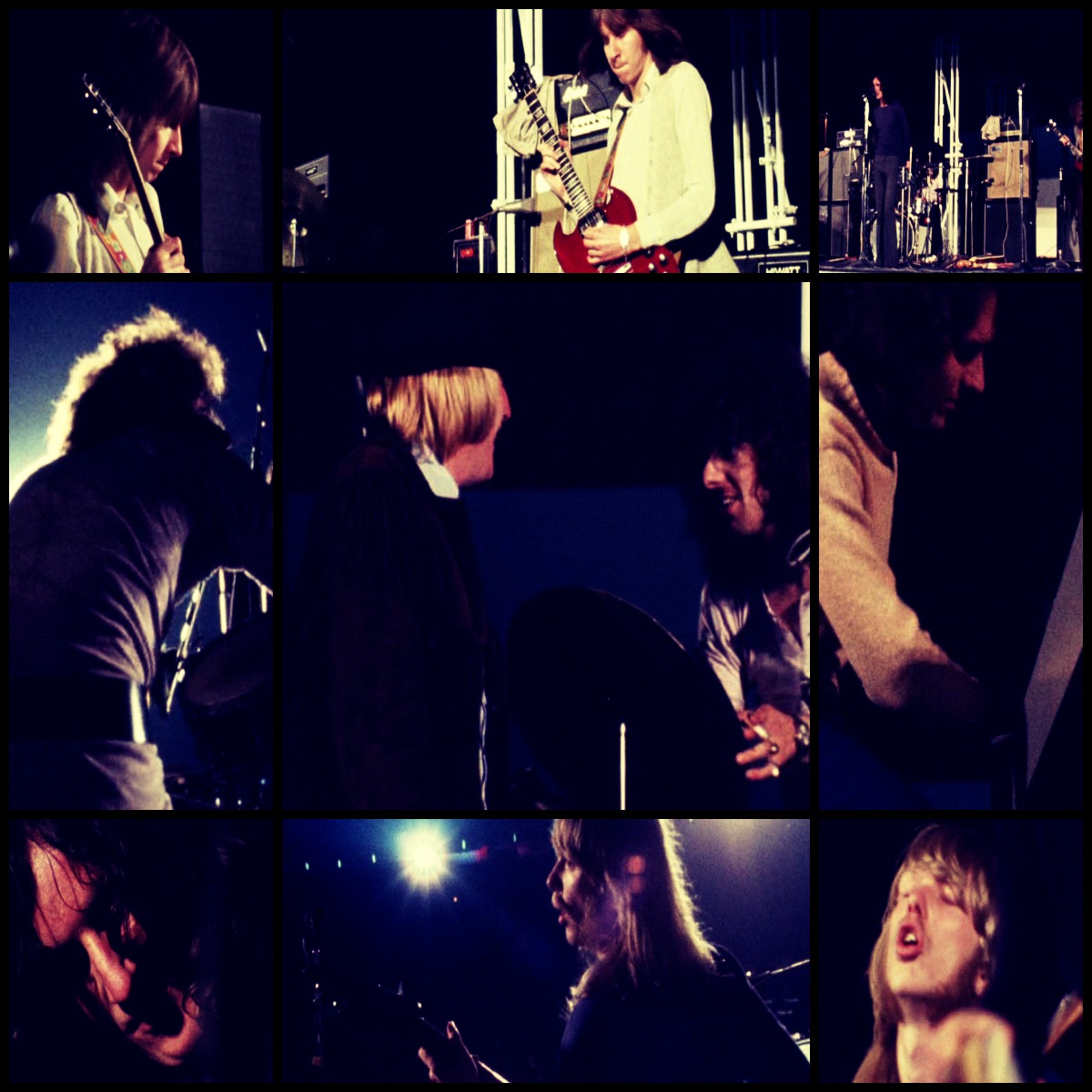 Sandy Davis: Hard to say exactly but I think the answer is yes.
Alan Cowderoy: Yes, I think they did. Our best moment was when Kid Jensen on Radio Luxembourg fell in love with our debut album and would play a 20+ minute track of ours during his 1 hour programme. He was a great fan and we reached No 2 on their chart. Unfortunately, this didn't especially translate to any other chart or radio station.
How did you get signed to Vertigo?
Tim Wheatley: We were on a circuit of clubs and colleges and the A&R people from Vertigo came to see us play at Klooks Kleek, a famous pub gig in London. They liked what they saw and offered us a contract. I remember sharing the bill that night at the gig were Keith Relf's Renaissance and I admired the playing of their bass player Louis Cennamo. Strangely enough one of the early electric blues albums I heard was John Mayall 'Live At Klooks Kleek!'.
Robert Lipson: Can't remember who knew Brian Shepherd, but he and his people came to watch us play at Klooks Kleek in West Hampstead. We were double billed with Keith Relf's Renaissance. Jane Relf on flute, John Hawkin on Piano, I remember we played a lot of 'Opus 31', a 4 piece symphony we had written and played to Norrie paramour (our original record producer). Nick Ingman and Tim Rice actually did the work, but when they all heard this new piece, they nicely told us they couldn't work with us anymore. I remember Norrie was very honourable about it. So after we had finished our set, we were offered a record deal with Vertigo on the spot!!
Sandy Davis: We were managed at the time by Peter Abbey and I think it was him who approached Phillips/Vertigo.
Alan Cowderoy: I believe the A&R team came to see us at Klooks Kleek. I would say Olav Wyper and Brian Shepherd were instrumental in signing us.
What's the story behind your debut album? Where did you record it? What kind of equipment did you use and who was the producer? How many hours did you spend in the studio?
Tim Wheatley: We had started to move on from the Pop/Tamla mix of covers and originals and started to write and perform the progressive material, there were still pop melodies and harmonies interspersed in much longer pieces and we did some odd stuff like 'Fugue in D minor' which was a chance for our keyboard player to show off some classical chops. We recorded the album at Philips 8 track studio in Stanhope Place near Marble Arch. I don't recall much planning for the recording, we went in to the studio and set up as we would for a gig and that was how the tracks went down. It was the first time I had been in a recording studio. Hugh Murphy produced the album and I don't think we spent an enormous amount of time in the studio.
Robert Lipson: We recorded the whole album at Phillips Studios, Marble Arch. Hugh Murphy produced us. He had been brought in and didn't know us or our music. He was a lovely man and did the best he could. I think we recorded it very fast. We had 3 hour sessions booked in, so the pressure was always on, to "get on with it!". I had been in small studios before recording with Norrie, as well as with my earlier band, The Unemployed, but this big studio fazed me a bit. We did ok as we had played the songs a lot on the road and in our daily rehearsals, but live doesn't always translate in the studio. I felt I was too busy but no one suggested calming it down. I used my normal stage kit. Premier drums with a Ludwig 500 snare and Paiste Cymbals.
Sandy Davis: Well we'd written the material and been out on the road with it so by the time we got into the studio it was quite well rehearsed. It was recorded at Phillips. For recording we used our stage equipment. It was Hugh Murphy who produced and I think it was recorded relatively quickly.
Alan Cowderoy: We used our stage equipment for the recording. I may have borrowed another guitar but probably stuck with mine. I think there were some keyboards in the studio, organs, grand pianos that Martin may have used.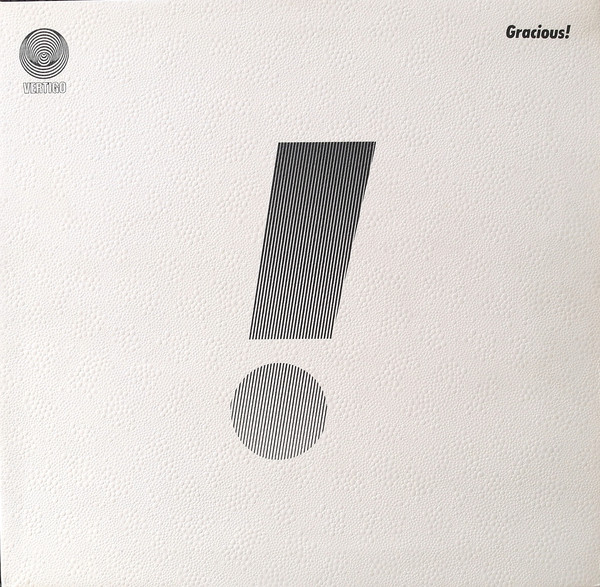 Please share your recollections of the sessions. What were the influences and inspirations for the songs recorded?
Tim Wheatley: I concentrated on my performance and some backing vocals. I don't think we had the Mellotron for the first album, Martin was playing a Hohner Pianet electric piano at the time. I think he played some harpsichord on the album as well. As far as influences on the music, Sandy and Martin are credited as writers although the whole band put everything together, we rehearsed a lot.
Robert Lipson: The sessions, as I've said, were full of pressure for us to get on with it. I recently discussed working for Vertigo with Lol Crème, and how astounded he was when I told him we had absolutely no interference from the suits!! I didn't enjoy the recording experience at all. In fact, the only time I really relaxed in the studio was at Tim's place, when he, Alan and me did the 'Echo' album.
Sandy Davis: We were influenced by classics and Jazz-Rock so quite varied really…from Bach to Blood, Sweat & Tears. The sessions were well organised by Hugh Murphy.
Alan Cowderoy: Looking back in my diaries it looks like the first album was recorded over a very few days in Feb & March of 1970 and mixed in 6 hours in April and then the album was released on July 17. A very quick turnaround by today's standards. We were anticipating longer sessions but Hugh Murphy our producer, who knew the actual budget, insisted we play everything live. Subsequently, other than a couple of guitar overdubs and vocals that's how it went down.
Would you share your insight on the albums' tracks?
Tim Wheatley: There are 5 tracks (it says here) and we were gigging a lot then playing the material we recorded so we were well rehearsed. I can't give an objective view but I have returned to the album after decades and can listen and enjoy the music to which I was very committed at the time. We were happy to be labelled as progressive and it was a very happy and fulfilling time for me.
Robert Lipson: I loved all the tracks except 'Fugue In D Minor'. It was a bit pretentious. However, I know Tim enjoyed playing it and when we did the album live, it gave me a break. Listening to it now, my favourite thing is the 'Hell' riff. Great feel
Sandy Davis: They were musical descriptions of themes that we found interesting.
Alan Cowderoy: On the first album I'd say 'Introduction' was a good opening track. 'Heaven & Hell' still sound interesting today. 'Fugue In D Minor 'is a knuckle cracking piece and 'The Dream' is, well, otherworldly.
Do you know how many copies were pressed?
Alan Cowderoy: Only a very few thousand I'd guess, we didn't sell well at the time but subsequently have become very collectable. Our first album was also released by Capitol Records in the USA but in a different sleeve. Subsequently, both our albums have been released as double cd compilations, sometimes with bonus tracks, by various labels: Repertoire in Germany, Renaissance in the USA and BGO Records in the UK. Japan had a love affair with us a couple of years ago and they pressed the first album as a cd and, perhaps, 10" vinyl and cleverly sourced the same sleeve texture as the original release.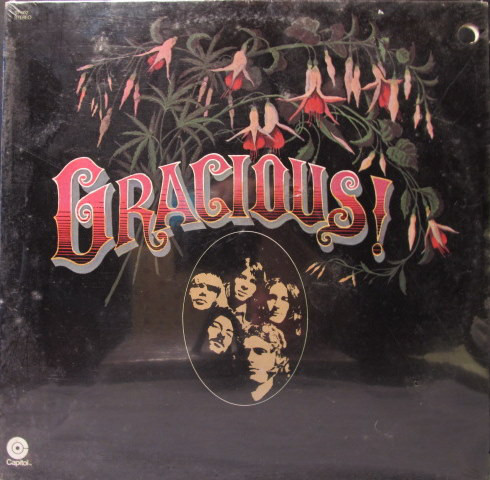 How about a single 'Beautiful / What a Lovely Rain'? It was released in 1969 via Polydor and 'Once on a Windy Day / Fugue in D Minor' single followed by Vertigo. 
Tim Wheatley: 'Beautiful' was released before the Vertigo deal and before I was in the band. 'Once on a Windy Day' was probably considered the most 'commercial' track we had and we had to have a single to promote the first album.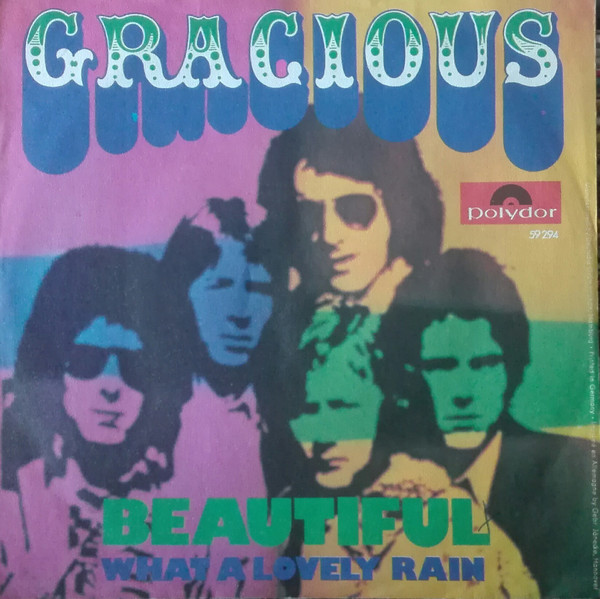 Robert Lipson: 'Beautiful' and 'What a Lovely Rain' were produced by Tim Rice and arranged by Nick Ingman. Not my favourite pieces of music, but a least we were on our way!! 'Once on a Windy Day' was a 11 minute piece that was cut by Hugh Murphy to make it more radio friendly. There is a live version (not a great performance) from the 1970 Isle of Wight Festival. It's in its entirety and has a blistering Alan Cowderoy solo. Here's the link.
Sandy Davis: The first single was released before we exchanged pop-orientated songs for more descriptive compositions. 'Once on a Windy Day' I think shows the change and 'Fugue in D Minor' shows Martins' classical background.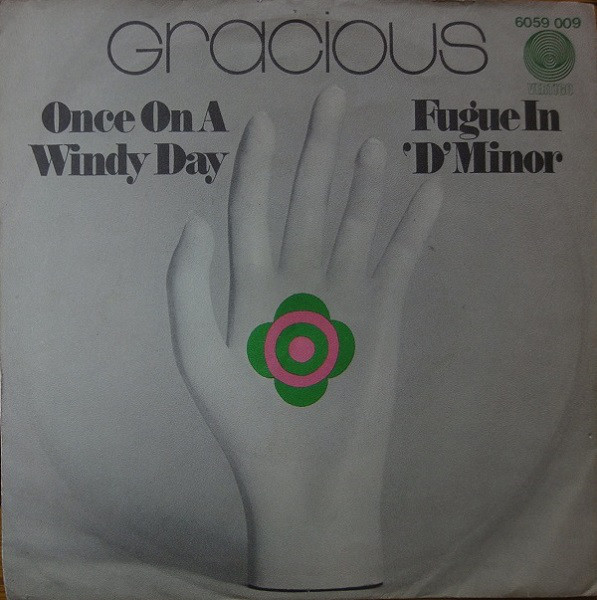 Alan Cowderoy: We were never really a singles orientated band preferring the live alternative with extended pieces building from quiet beginnings to epic crescendos.
Were you inspired by psychoactive substances like LSD at the time of writing the album?
Tim Wheatley: I don't think that was so, it was enough to have 'progressive' ideas as they were at the time, it was an experimental time in lots of ways.
Robert Lipson: I plead the 5th.
Sandy Davis: No I don't think so, perhaps the odd spliff, but we weren't into heavy drugs.
Alan Cowderoy: Not especially. We weren't even big drinkers but smoked incessantly much to Martin Kitcat's annoyance.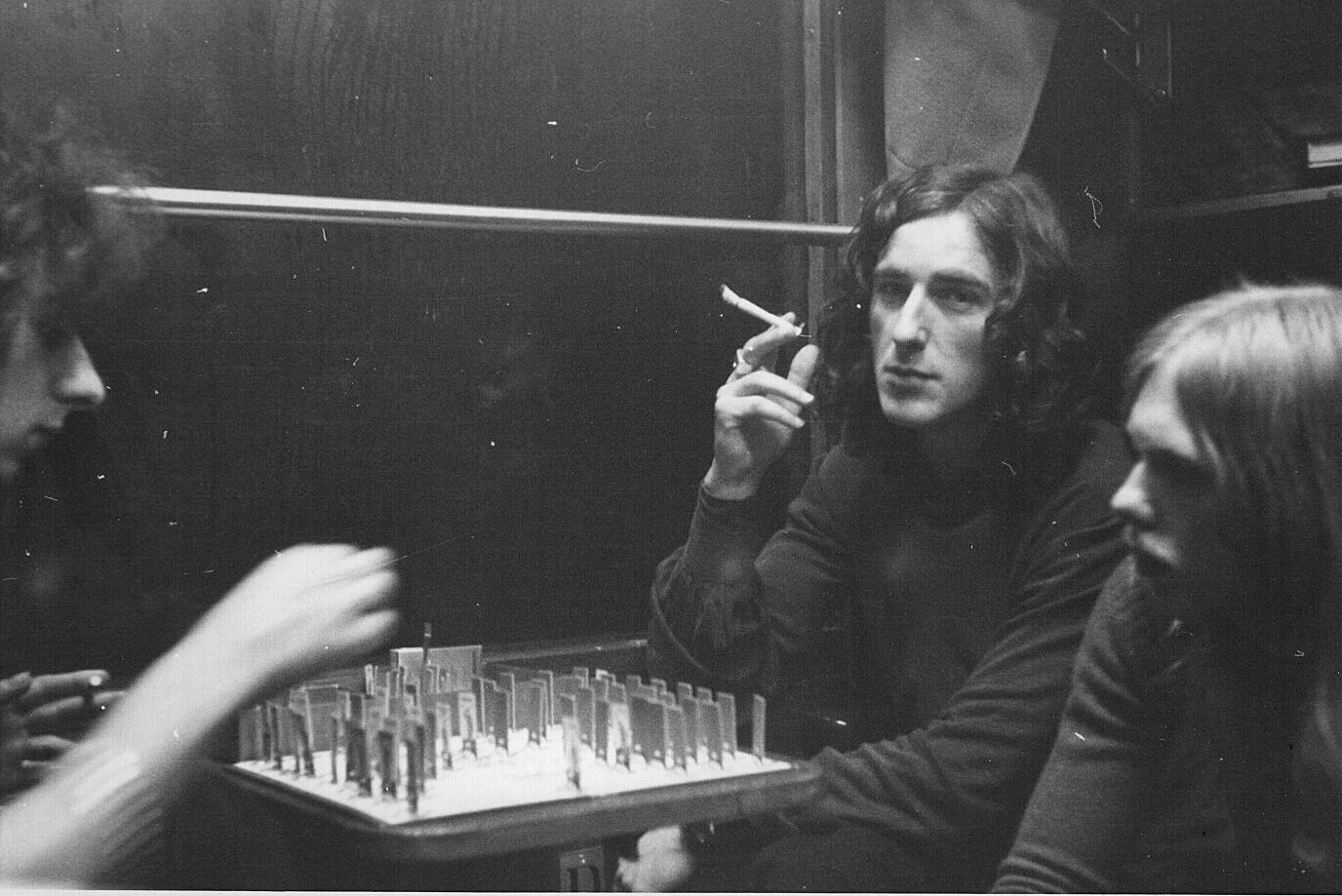 How pleased was the band with the sound of the album? What, if anything, would you like to have been different from the finished product?
Tim Wheatley: I don't believe any of us thought at the time the album really captured the best of the band. With more time and thought the album could have been different but I don't think the budget allowed it. A lot of bands were being signed and releasing albums at the time, most did not last long and so it was with Gracious. A lot of time has gone by and I am happy that the album still generates interest, some of the tracks work very well I think.
Robert Lipson: The first time we heard the finished mixed album, it was at Shel Talmy's flat. The system he had was gob smacking!! Anything played on it would have sounded fantastic. And it was us!! I was blown away. Later on, when it actually came out, I thought it was quite a thin sound, and a bit muffled.
Sandy Davis: No artist is ever 100% happy with the finished recording, even the Beatles weren't. But that said I think we all were happy with Hugh's finished master.
Alan Cowderoy: I was quite pleased then and happy it's still listenable today. But if you really wanted to hear us at our best then experiencing us live was the only option. I think that is a fair comment about every band of the day hearing anyone at a live show in the 60's and 70's was just so joyful, uplifting and thrilling.
Your second album 'This Is… Gracious!!' was released by Philips. How did you get signed with them?
Tim Wheatley: Vertigo was a Philips label. We had recorded the second album and then the band fell apart mostly through lack of income. Philips decided then to release the album on a budget label rather than Vertigo to fulfil their contractual obligations, Alan may have a different view (he later worked at Vertigo).
Robert Lipson: We signed with Vertigo, which was a subsidiary of Phillips, so as we had broken up, and they had an obligation to release 2 albums, they put our second album out on their budget label.
Sandy Davis: I don't recall any details although there will have been some contract renegotiation involved but by whom I don't remember.
Alan Cowderoy: I recently found a copy of our original recording agreement and, although the advance and royalty weren't particularly good our management did negotiate an initial 2 album firm deal, so with the second album already recorded it was passed onto Philips' budget label for release.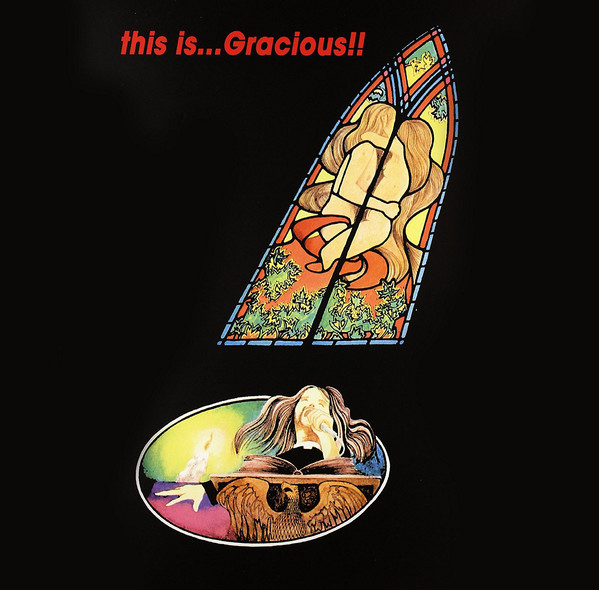 What's the story behind it? Where did you record it? What kind of equipment did you use and who was the producer? How many hours did you spend in the studio? 
Tim Wheatley: It was recorded at Olympic Studios in Barnes up the road from Hammersmith Bridge. The studio was a step up from the Philips studio, I think it was 16 track, the Rolling Stones among many others recorded there. We spent more time on this album and we had the mellotron which made quite a difference to our overall sound. The shorter tracks on the album probably reflect the increasing influence of the band overall as writers although the credits are to Sandy and Martin.
Robert Lipson: Some at Phillips Studio at Marble Arch, and the rest at Olympic in Barnes. I think, from memory, we recorded Super Nova at Phillips and side 2 at Olympic. My personal recording experience at Olympic was a million times better that at Phillips, and I think it shows in my playing. Very much in tune with Tim. Much more relaxed. My memory of these sessions are bitter sweet, as I had already told the band that I was leaving.
Sandy Davis: Well as I said we'd written the material and been out on the road with it so by the time we got into the studio it was quite well rehearsed. It was recorded at Phillips. We used a lot of our stage equipment including a Mellotron. It was Hugh Murphy who produced and I think it was recorded relatively quickly.
Alan Cowderoy: I remember it being mostly recorded at Olympic Studios in Barnes. It was the first time we recorded with the mellotron and it was hard to get the sound accurately from the instrument onto tape.

How would you compare it with your debut album?
Tim Wheatley: The sound is different due to the mellotron and the influences changed on some of the tracks, there is a bit more freedom in some ways.
Robert Lipson: We hadn't played 'Super Nova' much live and although 'C.B.S.' and 'Blue Skies And Alibis' were part of our live set, we weren't as comfortable with the material on this album as the first. Working at Olympic was a much better experience than the rushed Phillips sessions. It was also mixed and mastered better than the first one. For me, it's a more listenable album and sounds good.
Sandy Davis: Well 'This Is…Gracious!!', our 2nd LP was fun to record as I recall, though some tracks were harder than others in finding the right atmosphere. I think though the 1st album 'Gracious!' was on balance the stronger.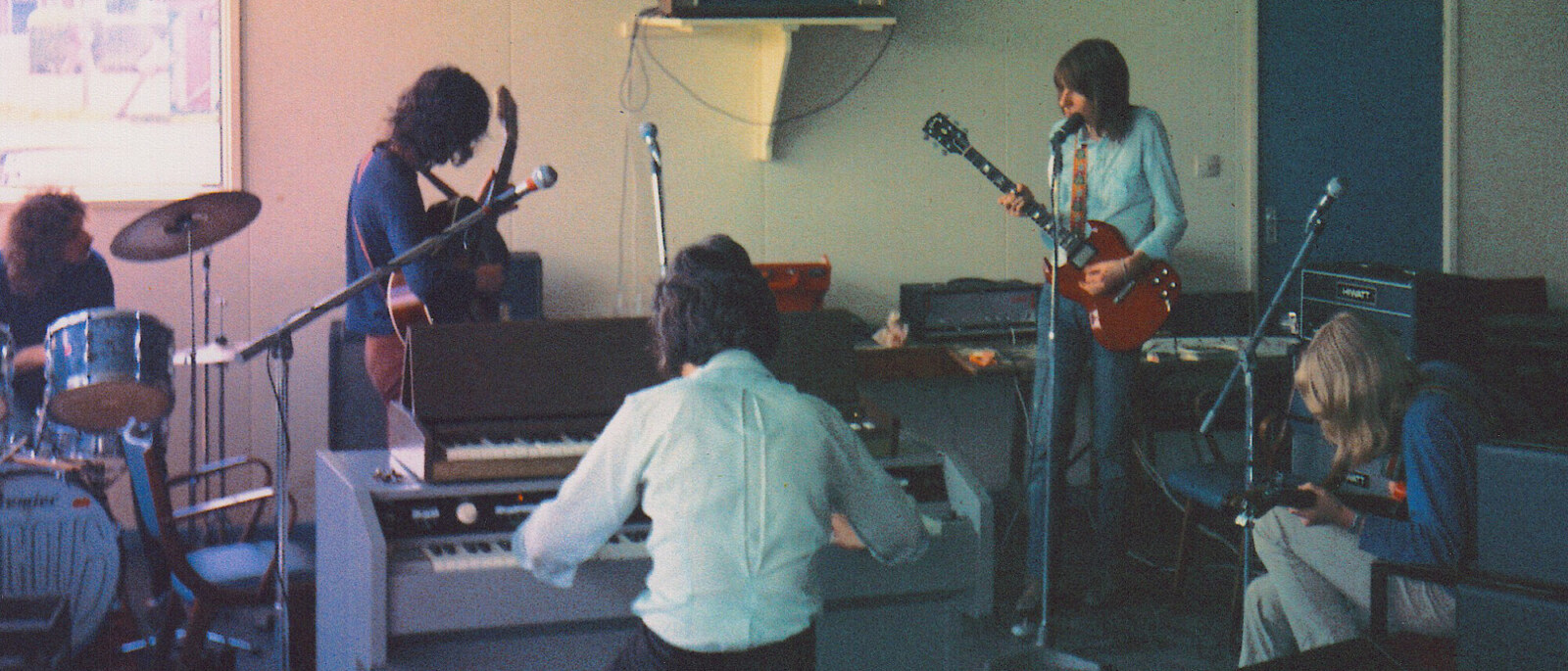 Alan Cowderoy: Our second album developed more with our live work so it had more of a groove than the first. It's a shame it wasn't released on Vertigo as that label is now so well regarded, however, since both albums are available as a double cd everyone can now hear how we developed over the 2 albums. Only our first album is on Spotify, I aim to get our second added soon and our page there cleared up.
Did the band tour to support the LP?
Tim Wheatley: The band had finished before the 2nd album was released. We played 'Super Nova' for the first time at the Isle of Wight festival in August 1970 which from our point of view was a bit of a disaster, the mellotron broke down and we lost our way for a while – the audience were not bothered at all though – they seemed to love it! I did think that if a dog had barked on the stage it would have got an encore, and it certainly was an amazing gig to have done.
Robert Lipson: Not with me – I'd gone.
Sandy Davis: Our venues were Universities and clubs like the Marquee in Wardour Str, London but the 2nd LP was released after the band had broken up.
Alan Cowderoy: Yes, we played some pre release shows in Belgium and did an instore promotion there and once the album was released we played several shows at The Marquee in London plus festivals at Plumpton and the Isle of Wight.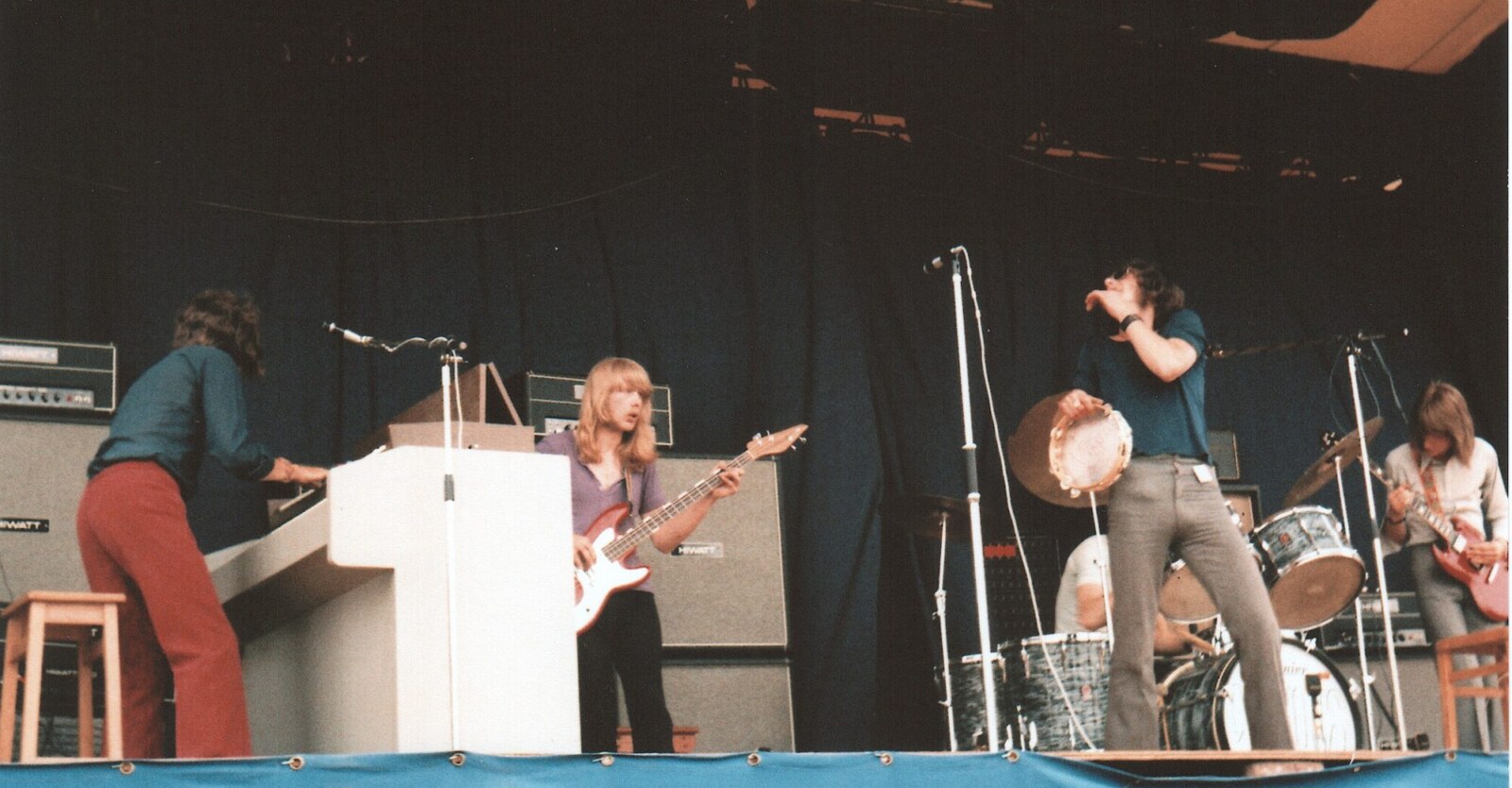 What can you tell me about the cover artwork for both albums?
Robert Lipson: Teenburger Designs aka Barney Bubbles did the first lp sleeve. Roger Dean did the second album. I wasn't that interested in that side of things. I just loved playing.
Sandy Davis: I think Roger Dean did the covers.
Alan Cowderoy: The first album sleeve was designed by Barney Bubbles who subsequently was in-house at Stiff Records designing album sleeves for Elvis Costello, The Damned, Ian Dury etc. I understood his original concept for our sleeve was to have the inside gatefold image pop up like a 3D book when you opened it but budgets didn't allow that. Roger Dean did the second lp cover.
Was there a certain concept behind the albums?
Tim Wheatley: We had concept tracks on both albums but not for the whole album. 'Heaven & Hell' and 'The Dream' on the first album and 'Super Nova' on the second had a narrative over long pieces.
Robert Lipson: Long pieces, and looking back, a certain religious overtone. But nothing we discussed.
Sandy Davis: Yes. As I said our compositions were basically descriptions of themes we found interesting.
Alan Cowderoy: 'Introduction', 'Heaven & Hell' were all conceptually linked, the 'Dream' a stand-alone piece, 'Super Nova' developed from the shortest ghost story: the last man alive was sitting alone when there was a knock at the door…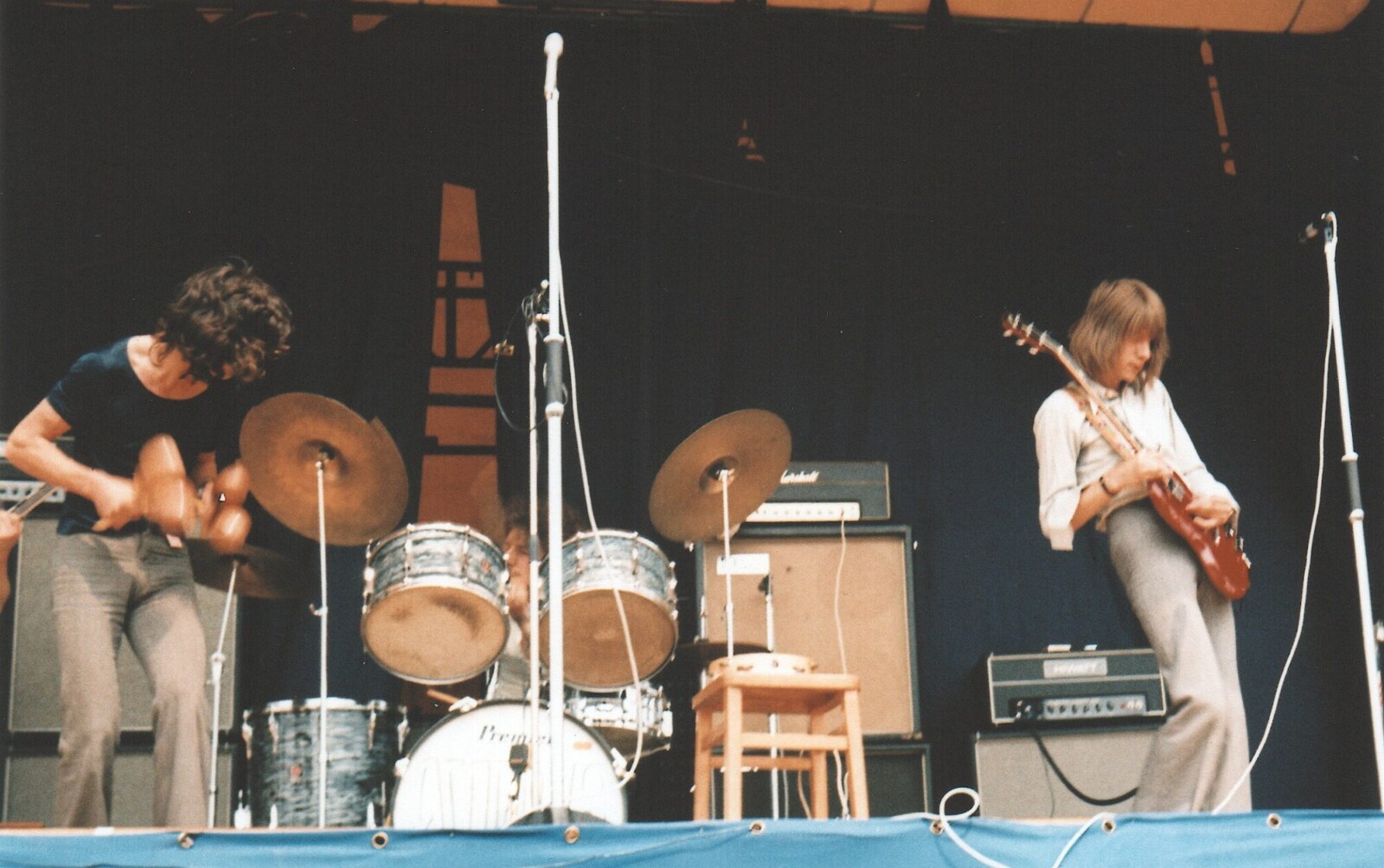 Any crazy stories from gigs?
Tim Wheatley: A lot of strange things happened but it was usually not crazy. That's boring sorry.
Robert Lipson: Lots, mostly mad humour, but one crazy night will be forever etched in my memory. Alan and I (I think) were sitting in the dressing room at a University gig – can't remember which one, except to say that Chris Briggs, who is a good friend of my brother (Steve Lipson), remembered this story – and he ran the Student Union. I know we were supporting Elton John (3 piece), along with Argent, and both Argent and us were discussing US hotels. Suddenly Bob Hendritt (Argent's drummer) started getting a blowjob, followed by full sex, WHILE he was having this discussion. Being middle class public schoolboys, we weren't exactly having tons of sex in front of a room full of people! We were so excited and shocked, we went to get the rest of the band!! I think I should leave the story there, but it became a bit of folklore!
Sandy Davis: Nothing that springs to mind but I'm sure there were some…
Alan Cowderoy: We had some quite wild times in Germany especially when one of our road crew and lighting guy spent our float on crazy stuff in Frankfurt.
What happened after the band stopped? Were you still in touch with other members? Is any member still involved with the music?
Tim Wheatley: That's a long story. I won't bore you. I have always played in bands since Gracious. I had a band briefly with Alan Cowderoy after Gracious then I was in a band called Taggett, we recorded an album and had some singles released on EMI.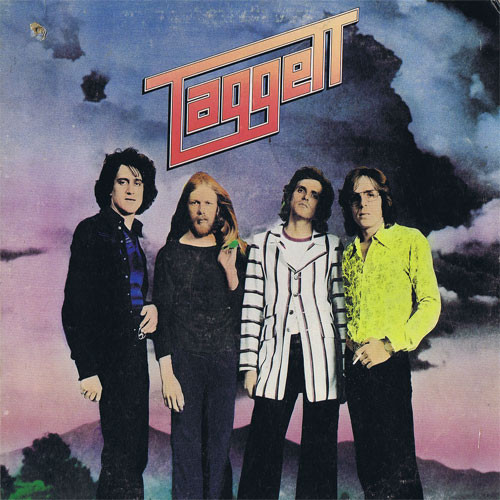 Later I ran my recording studio Chestnut Studios in Frensham and as I write I am unable to play due to a pandemic with my Godalming based band Cryin' Out Loud. I stay close to Alan and Robert and we are in touch with Sandy.
Robert Lipson: I left, but kept in touch with Alan and Tim, and to this day, we 3 are extremely close and make a point of talking once a week. Sandy eventually moved to Germany after being in various bands. Tim has never stopped gigging, which I get jealous about. He owned and ran a great Studio in the country which is where we recorded Echo. Alan was the music superstar. He worked for Vertigo, Decca, then was one of the big 3 at Stiff. He then managed Producers. I am in a way still involved with music as I'm on the Board of the Royal Albert Hall, which is a huge honour and I get involved with programming.
Sandy Davis: Yes. After the band split we all went our separate ways. Martin Kitcat passed away in early 2000s. Tim, our Bass player, has a band and has never stopped playing, Alan was involved on the business side and I retired from live work but still compose.
Alan Cowderoy: Robert, Tim & I are close. I hear from Sandy occasionally. Sadly, Martin Kitcat passed away some time ago.
Looking back, what was the highlight of your time in the band? Which songs are you most proud of? Where and when was your most memorable gig?
Tim Wheatley: I have done a lot of recording over the years but gigging is always the thing that excites me and so it was with Gracious and we played some big stages which I loved, a lot of fantastic moments and some great gigs. Honestly it was the whole deal for me playing with the band, I was lost for a while when it finished.
Robert Lipson: I think the release of our first album was pretty huge at the time! Playing wise I like my playing on the second album. I was much more controlled. I'm actually proud of all of our stuff – except 'Fugue in D Minor'! Memorable gigs for me. The 1970 Isle of Wight festival, for obvious reasons. By mistake we arrived late and they put us on last on Thursday Night!! I have no idea how many people were there – a shitload, well over 250,000! And they filmed our set. It took me 20 years to negotiate our section, and with a lot of help from lots of mates, we mixed it and synced it as best we could. The Mellotron was in and out of tune as was Alan's Guitar and we didn't play very well, but as a memorable gig, it's hard to beat. My favourite gig was our reunion gig a year after we'd split up, at the Marquee. Emotionally that took some beating. Just playing was enough for me: I loved it!
Sandy Davis: I think it was seeing King Crimson perform… They blew everyone away back then. I think 'Heaven & Hell' maybe the best of all of them, although I will say we all put our heart and soul into every track, each one has its own memories.
Alan Cowderoy: It's a long time ago but I think our Marquee reunion show was a belter. On a good night the live version of 'Once On A Windy Day' was sensational.
"The 60's were a wonderful time. We thought we could change the world, but sadly, we couldn't make that happen."
What are some of your favorite memories from Gracious and the sixties in general?
Tim Wheatley: It was an amazing decade to be growing up. A lot of things changed and the music was incredible. The festivals started and in 1970 with Gracious we did three festivals culminating in the Isle of Wight so those are pretty special memories.
Robert Lipson: Tim, Alan and me in my Mini driving to gigs. Great funny times. Just being in a band! When you look like me, it's hard to get girls. Being in the band helped no end. The 60's were a wonderful time. We thought we could change the world, but sadly, we couldn't make that happen.
Sandy Davis: The togetherness and fun we had on the road. The sixties was a great to be growing up.
Alan Cowderoy: I loved the 60's, everything came together fashion, music, film, theatre and the arts, it was a great time.
Would you like to share a few words about 1996 release of 'Echo'?
Tim Wheatley: Robert Lipson and myself started talking about another album and I had the studio so our recording was covered. Alan was a little uncertain about the project and Sandy was unavailable, and we put the album together with a keyboard player Sev Lewkowicz and we brought Stuart Turner in on guitar after Alan felt he could not commit to the album. Personally I was very pleased with some aspects of the album and I felt it reflected the spirit of Gracious. The album was released on a small specialist label Centaur and that's it. We don't talk about it much.
Robert Lipson: I used to drive down from London to Farnham, where Tim's Studio was, on a Friday night, and start to write the pieces. On Saturday and Sunday, we would rehearse them, record them and leave them for Tim to mix. We recorded the whole album like that. It was huge fun, and although I hadn't touched a drum kit from 1972 to 1995, with a couple of exceptions, playing with Alan and Tim again was truly wonderful. The album wasn't our best, but making it was the most fun I'd had in the studio, by miles.
Alan Cowderoy: I hadn't played the guitar for a long time but wanted to jam with Robert & Tim at Tim's studio and see what developed. My idea was get a riff play it, hone it to perfection then find a chorus and a bridge and capture it on tape. Unlike any of our previous recording sessions I hoped for a slow development. It kind of started like that but I couldn't share their enthusiasm to create an album…if it was up to me we'd still be working on that magical first track!!
Is there any unreleased material by Gracious?
Tim Wheatley: Maybe some demos and a missing cassette.
Robert Lipson: Only unreleased demos and a tape of the 4 Seasons piece we did, called 'Opus 31'! Pretentious or what!
Alan Cowderoy: I can't really remember, nothing special I'm sure.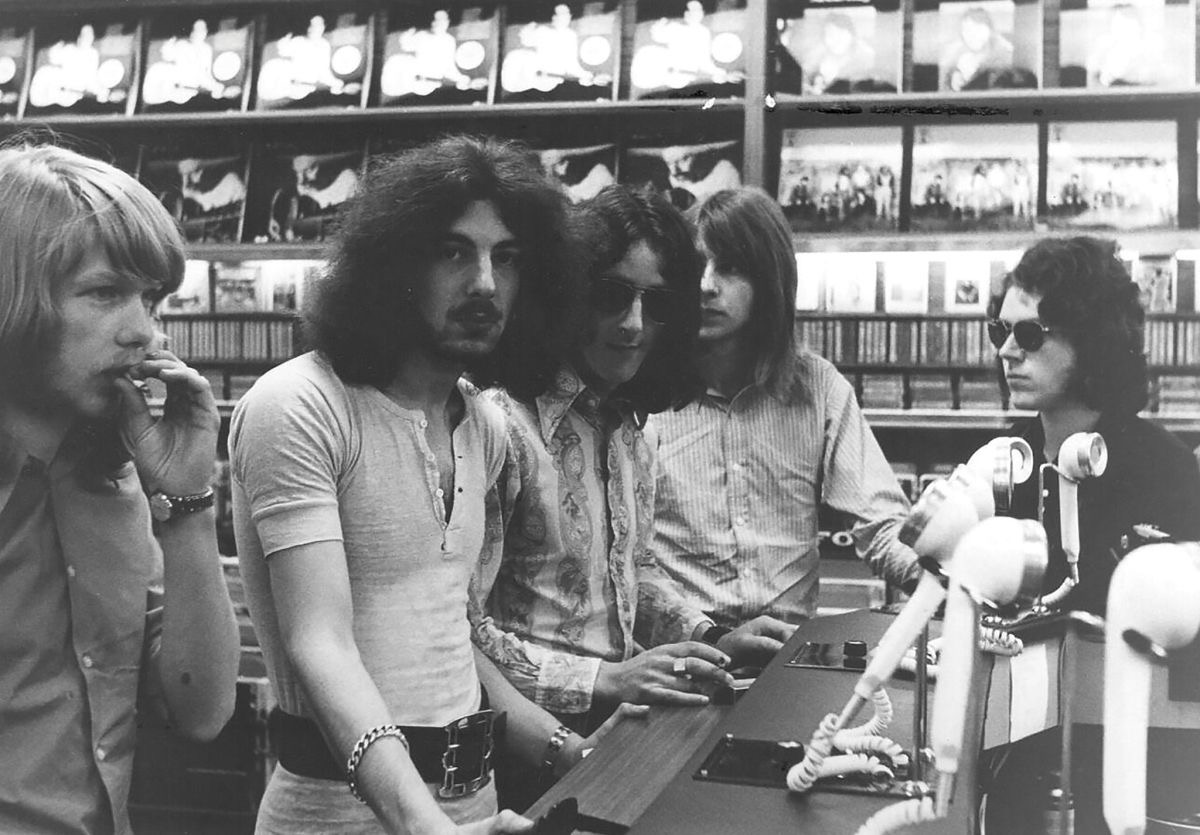 Thank you for taking your time. Last word is yours.
Tim Wheatley: I'm exhausted – it was 50 years ago.
Robert Lipson: Thanks for asking all these questions. It's been pretty emotional remembering all this stuff. A wonderful time in my life. I'm just so surprised that anyone has the slightest interest in us.
Sandy Davis: Thanks for your interest! Answering your questions was a pleasure. Thanks again and stay well.
Alan Cowderoy: Thank you for encouraging this, it's been quite cathartic…it feels a little like Alice going down a rabbit hole.
Klemen Breznikar
---
Gracious Spotify
Gracious Amazon