Surrender To The Rhythm: The London Pub Rock Scene Of The Seventies (2020)
Just released on Cherry Red's subsidiary Grapefruit is a triple CD wallet of an influential music scene that bridged at least two important periods of modern music: early 70s rock that steadfastly remained immune to progressive's introspection, and its antithesis in the clatter of rebel Punk.
---
It also encompassed more than two music styles: from 50s rock'n'roll, 60s pop rock, 70s hard rock, to Punk and all that spread from that! As Brinsley Schwarz, guitarist of the same-named band, put it: Pub Rock wasn't a musical genre. It was good time unpretentious music in same-style locations. There, ampage had to consider other non-music punters, before the invasion of blanket television of course.
It was a regular, sometimes everyday alternative to the more lucrative college hall circuit. There was in fact rock in pubs (as different from pub rock) even in the early/mid 60s, where big guns such as The Animals, The Who, Fleetwood Mac and Led Zeppelin started out. But in early 1971 it became more of a statement, when temporary-resident Americans called Eggs Over Easy alongside Brinsley Schwarz inveigled pub landlords to set one quiet night a week for music, which often became twice weekly or residencies. At first, before the idea was established, they were nervous: we had to mollify them with deals such as bands take only door earnings while landlords provide refreshment.
The scene was bedded and expanded—especially in London but not only—by Brinsley's manager Dave Robinson, promoted by Radio London DJ Charlie Gillett, co-manager of Ian Dury, and the Time Out magazine that everyone back then read avidly for their listings and reviews of night-life. The focus was also more on London because it was the time of petrol shortages, power cuts, and the three-day working week, when travel was expensive and unreliable (this writer recalls the three-hour stoppage at Camden's Greasy Truckers Concert which resulted in waiting out on the stairs and cancellation of Byzantium's appearance).
By early 1972, journalists from national newspapers and weekly music papers noticed the phenomenon, even if not always quite getting it. Soon, bands were heading south to be involved, seeing a road to possible fame. Label scouts saw it as a conducive way to make a living (Ace got a surprise hit out of it). By January 1975, Dr. Feelgood, Eddie & The Hotrods, Kokomo, Ace, Dave Edmunds, and Chilli Willi & The Red Hot Peppers, all here, saw recording deals of varying success though none as high as the Feelgooders with "the kind of look that makes it possible to believe they might easily have come together in jail or in a singularly unpleasant section of the army" (Mick Farren, NME), which certainly influenced what followed at the year's end. Kokomo, incongruous in this setting as a 10-piece, recorded on Dylan's Desire (1975) and had a minor hit in '82.
Some had recorded for Chiswick Records, in a studio above Islington's Hope & Anchor pub, and when that label split to start Stiff Records it was a route to fame for Elvis Costello, Ian Dury, Wreckless Eric and Nick Lowe. It also sported ex-Pink Fairies' Larry Wallis, still enjoying his long-haired biker reputation regardless. But as expert writer-editor Geoffrey Wall recently noted, where are the legendary examples of Stiff's rich archives that remain unreleased to this day?
The booklet fairly points out that because some bands didn't record, or licensing issues, the roster here isn't complete. But, really, Chris Rea, Chas & Dave, Thin Lizzy, Mott The Hoople? The latter pairs' spin-offs would be interesting. Status Quo scrape in from when they slummed it around the time of the classic Dog Of Two Head, but Medicine Head and Kevin Coyne are in Cherry Red's roster: other candidates might be Groundhogs, Frankie Miller (probably because on Chrysalis Records), Balham Alligators, Johnny Sox with pre-Stranglers' Hugh Cornwall, even the late Jonathan Kelly's Outside. The absence of harder rock might be plugged by Incredible Hog or Budgie, who did sometimes play such venues that continued beyond the seventies boom e.g. Half Moon Putney, Greyhound Fulham, Red Lion Walthamstow, Nag's Head Wycombe, which often led to the prestigious Marquee and 100 clubs.
Nevertheless, this is a cracking collection with even the obscure well-worth revisiting, like turning a corner to find that long lost local: seventy-one tracks, several unreleased, backed by a superb 48-page booklet of pen pictures based on the three discs' running order, with rare photos aplenty. On disc one, rock'n'rollers Legend (ex-Orioles featuring Mickey Jupp) and boozy (unreleased) Brewers Droop with younger Mark Knopfler and Pick Withers of Dire Straits, alongside a Sensational Alex Harvey Band single, show the range both of the Vertigo label and the scene. National Flag's self-release reminds of that label's Freedom too. Eggs Over Easy as pioneers contribute some fine white guitar-funk rather than their staple country rock, before returning home to sign with A&M Records. Retro greasers Wild Angels' great honkytonk cover single of The Band's Time To Kill, and Jona Lewie's Chess/Sun-like Piggy Back Sue show roots that were a popular element of the pub music world then. Boogie pianist Lewie was in regulars Brett Marvin & The Thunderbolts, sparing time for a #2 single as Terry Dactyl & The Dinosaurs (Seaside Shuffle 1972). Their boxset is also on Grapefruit.
Pop's string-laden end is provided by Steve Ellis (ex-Love Affair), with a galaxy of 60s musos in-tow, Smooth Loser's unissued You Said It Would Be featuring DJ Emperor Rosko's brother, and Decca's Deep Feeling who recorded a top 40 hit as well as anonymous cover albums for pubs. Of this more-produced ilk is the ubiquitous Bees Make Honey's second incarnation (fronted by singer/guitarist Willy Finlayson of Writing On The Wall) performing a Rodgers/Hart show-tune My Funny Valentine, later done by Elvis Costello.
The Scottish hippies Writing On The Wall, exiled just round the corner from the important Tally Ho pub in Kentish Town (Dr. Feelgood's debut London gig) have an unreleased, sax-inflected Tripsy Lady recorded at Rockfield here too, just before their van and equipment were nicked during a power cut ending their career. Brinsley Schwarz's live staple Surrender To The Rhythm is joined by Starry Eyed & Laughing's stylish country rock jangle from a CBS debut single, featuring Lindisfarne's Ray Jackson on mandolin, and a Dawn B-side from quirky Ian Dury's Kilburn & The High Roads with the first of his "shopping list" songs. Breadth is shown by Roogalator (highly praised in the music press), Ducks Deluxe (featuring ex-Help Yourself roadie Sean Tyla, Camden-based RCA artistes who contributed to Welsh rockers Man's LP Christmas At The Patti), and seven-piece G.T. Moore & The Reggae Guitars (pre-dating their Charisma LPs) from Reading.
Disc two kicks off with Dr. Feelgood's snappy-sleaze She Does It Right, high-lighting Johnson's lead/rhythm style, alongside Cornwall's Charlie & The Wideboys' croon-peppered snarl Love Me Real single on Anchor, also in '75. Fumble roll out fine harmonies which held them in good stead on Bowie's tour, a West End musical (Elvis) and television. Brett Marvin & The Thunderbolts sound a bit like studio-produced Jethro Tull with horns, and one LP's guest was Jo-Ann Kelly, a busy blues singer represented by an unissued live honkytonk. She was also on both Chilli Willi albums (as Memphis Lil!) and with the band Tramp.
The famous include Stray, Thin Lizzy (their manager owned Chiswick Records), Kursaal Flyers (albums on Jonathan King's UK and a CBS top 20 hit) and funky big band Stretch, who hit in '75 and were billed to take the name Fleetwood Mac after Bob Weston was sacked. But the proudly illiterate Chas & Dave, rock? Sean Tyla & His Gang (ex-Ducks Deluxe) were one of the first releases by renowned Stiff Records—here with a strutting Dutch single, where a lot of pub rockers regularly played—but the band never fulfilled its promise. Enjoying a renaissance today is Eddie & The Hotrods, with an adrenalin-high Island single from 1976; produced by Dr. Feelgood's Vic Maile, their Island showcase gig at the Marquee had their limelight stolen by the barely competent support group the Sex Pistols.
Do you recall the less famous such as Byzantium's Beatles-style rocker with harmonies, handclaps and great guitars from their unreleased third A&M LP, or Razorbacks who folded after this unreleased Island session, despite an invite to be on AC/DC's first international tour, because their front man died in '76 aged 21? Bass-hard Strapps with Mick Underwood on drums had several LPs on Harvest etc. and were 'adopted' by Ian Gillan and Roger Glover. Despite tours with Humble Pie, Alice Cooper, Kiss, and two Atlantic albums, Heavy Metal Kids still stalled, like jazz funk-rock Supercharge with an album and singles on Virgin.
In spite of a Marquee residency (once supported by The Jam which resulted in their first record deal) and a future Iron Maidener in their ranks, few heard of earnest boogiers Bearded Lady. Fox, with a female singer (ex-Wooden Horse) and studio help by Andy Roberts, allegedly had hits singles and albums, but darned if I recall them. Ubiquitous though were the Count Bishops, an American garage band named after a gang (as were the Kids) who were "younger, greasier cousins" of Dr. Feelgood becoming Chiswick's first release. Also often gigging were the Jess Roden Band (ex-Alan Bown Set joined to Southampton's Iguana), here with their cheeky Island single from an album, and The 101'ers (a melodic single on Chiswick) named after a squat near mine: their Joe Strummer left to form The Clash. As this second CD focuses on 1975-76, it appropriately ends with The Gorillas who appeared at the first Euro Punk Rock Festival in France in 1976.
The third disc features the punk and early post-punk eras of 1976-79 when ever-increasing studio tracks had to be filled. Big names such as The Jam (a raunchy Slow Down that the Beatles also covered) from their '77 debut promoted on the pub circuit, Squeeze, Sniff 'n' Tears sounding late 70s which means 80s without the naff production on their atmospheric UK/US hit, Elvis Costello (Radio Sweetheart, a debut B-side on Stiff), who as Declan MacManus was in Flip City (who are on Disc 2), Graham Parker & The Rumour with a rollicking live Back To Schooldays featuring Dave Edmunds who gets two songs on this boxset including a doo wop! His Rockpile band had Nick Lowe from defunct Brinsley Schwarz. The Merton Parkas, mods from that north Surrey area swallowed into London, later achieved fame on Beggars Banquet (this foot-tapping #40 hit) before splitting to The Style Council and Dexys Midnight Runners. Not sure why Christophers Spedding and Rea are here, but Spedding was Sex Pistols' first producer and Bedsit Girl atmospherically evokes the time.
Less known but gig-perennials were Gonzalez, on EMI and contributors to Marc Bolan's last album (a single here was produced by his girlfriend Gloria Jones), Cado Belle (two of them wrote the music for the popular film Gregory's Girl, the singer sang on Oldfield's Moonlight Shadow), nine-piece Darts on Magnet Records who were ex-John Dummer Blues Band and, surprisingly, had a string of top 20 albums and four top ten singles. Only on the scene two years were Moon, but their chunky soulful sound resulted in a couple of LPs on Epic (one produced by Barry Blue) before splitting into Sniff 'n' Tears.
Somewhat weird is a Vertigo track by Clover from San Francisco (complete with not a double but triple negative), contributors to albums by Costello and, er, Twiggy before morphing into Huey Lewis & The News who also played the circuit. Less-known are The Pleasers, a 60s pop throwback who'd several non-hits on Arista; ex-Winkie Philip Rambow's slack-stringed Young Lust that was one of four unreleased demos with Mick Ronson, whose sister Maggi was a singer in the band; ill-starred Matchbox sounding like Eddie Cochran; and The Fabulous Poodles whose first-of-three albums on Pye was produced by John Entwistle who also played on it. Three-album Meal Ticket, with a good fist of The Bands' The Shape I'm In featured several other pub rockers (and T.V. presenters), as did Streetband showcasing a young Paul Young that had a novelty hit in '78 thanks to DJ Kenny Everett before forming Q-Tips, and R&B-influenced The Inmates' single on Soho of The Standells' Dirty Water; their cover of The Walk hit the UK top forty in the closing weeks of 1979.
Finally, there are revisits to hard-workers such as Rockpile's Billy Bremner for an unreleased Creature From The Black Lagoon (he played lead guitar on The Pretenders' Back On The Chain Gang), Ex-Brinsleys Ian Gomm with a great take of Chuck Berry's Come On (his follow-up reached #18 in the US and a support slot on the Dire Straits' Sultans Of Swing tour), and Mick Green's trio The Pirates revisiting Shakin' All Over, who were a seminal influence on Dr. Feelgood (their song of that title gave the band the name). In previous years, music fans used to care about labels because knew what they liked and what to expect, whether Motown, Chess, Blue Note, Vertigo, Island etc. Pub Rock is a bit like that, in terms of loyalty and taste, and should have got its own label to help support it.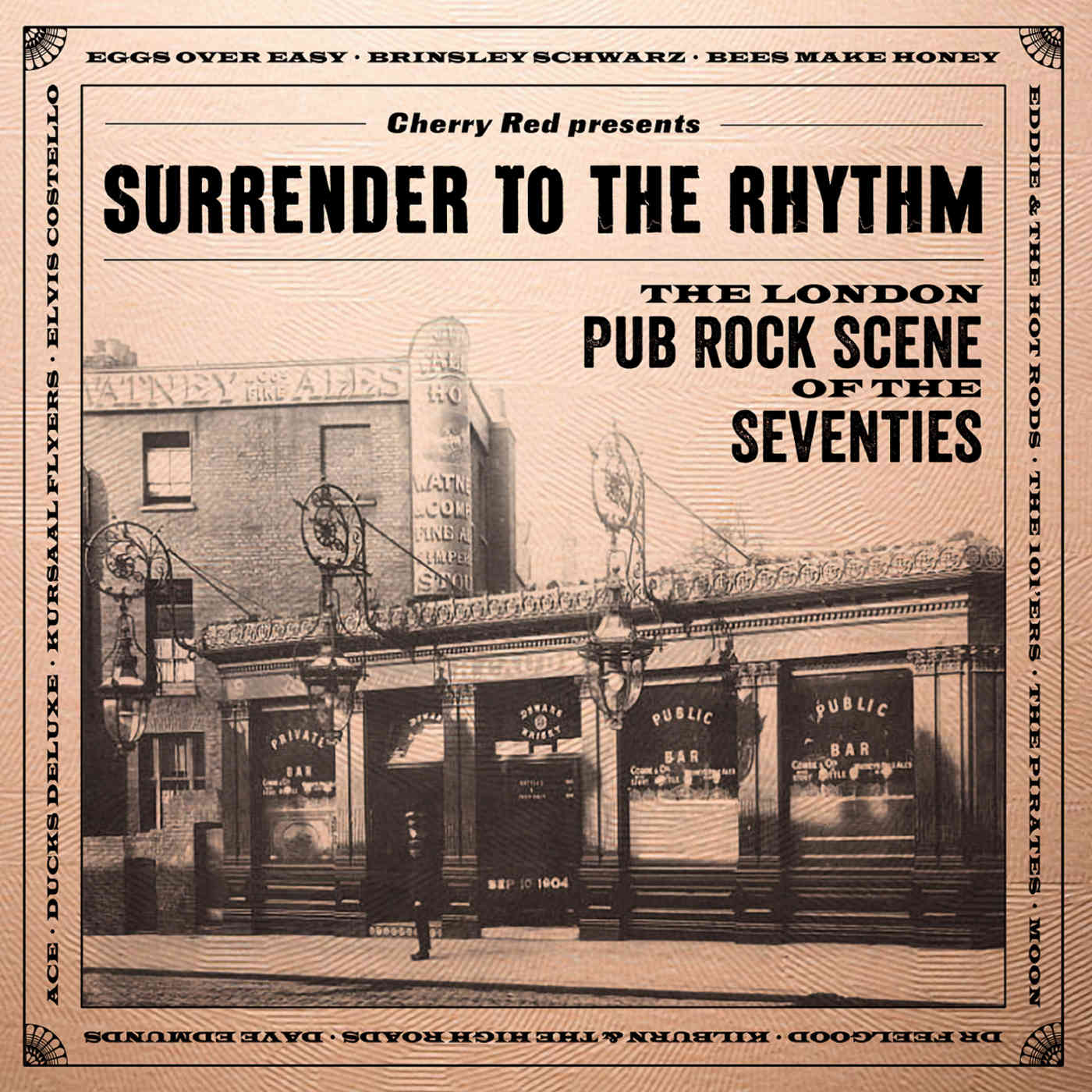 Here there is no need for meaningless sycophantic clichés such as music royalty or national treasure: sweat, graft, fun and hope were the ingrained MO. There was certainly hope, as almost none of the featured bands were as small as a trio: huge bands, tiny stages mirroring their wages (if lucky!). This is a superb, comprehensive overview—bar a couple of odd inclusions—of a grass roots scene, a breeding-ground for some later heavyweights honing their chops to either one man and his dog or standing room only with 300 locked outside.
It was also a welcome alternative to the new, grotesque-as-ivy disco development that killed a lot of venues as landlords preferred low-cost technology. In its way it was a revolution although there was a heritage with other genres such as jazz, folk and blues in pubs from earlier decades, perhaps back to non-theatre vaudeville with patrons making their own entertainment in preferred places. So, four hours of wide-ranging music before technology clogged our thinking, praise be. Close your eyes, surrender to the rhythm, you can whiff the Watney's Pale Ale among the rollies, flavoured rizlas and gift-presentation B&H; there was even the fun of dancing and new friends! A well-recommended time capsule for all curious to know what went on.
Brian R Banks
---
Surrender To The Rhythm: The London Pub Rock Scene Of The Seventies, Various Artists, 3CD Digipak (Grapefruit Records, 2020)