Rolling Stone: Life and Death Of Brian Jones
Rolling Stone: Life and Death Of Brian Jones (Dudeski/Chip Baker Films), distributed by MVD Visual, is directed by Danny Garcia. Garcia has made several music documentaries focusing on groundbreaking, tortured rock stars whose excesses are in some ways celebrated. Ultimately, however, his films serve as cautionary tales of rock's dark side, including portrayals of Johnny Thunders, Stiv Bators andthe Clash. While the film on the Clash features a subject that in many ways avoided the excesses and pitfalls of the hedonistic and destructive side of rock, they were, like all the others here, raucous groundbreakers that scaled the heights of true rock 'n' roll.
---
Despite the fact that the film does not include on-camera interviews with any of the Rolling Stones, their producers, or many key 60's musicians of the time, Garcia has rounded up a diverse cast of rogues whose advanced age and lined faces only make them more endearing with time and who likely have little reason to deviate from the truth. Of all those interviewed, the four who spent the most time as part of the group's inner circle were Sam Cutler, the only representation from the group's management; the bohemian and eccentrically regal close friend Prince Stanislaus Klossowski; PR legend and writer Keith Altham and famed photographer of iconic images of the Stones Gerard Mankowitz. Swinging London photographer Terry O'Neil makes an all-too-brief appearance and passed away sometime after the interview. There are brief audio-only interviews with Jones and original member of the Stones Ian Stewart.
There are also informed voices representing the film world including German director Volker Schlöndorff, whose second feature Degree of Murder included music by Jones and which starred Jones's girlfriend at the time Anita Pallenberg. Stephen Woolley, whose 2005 Stoned is a dramatized companion to this documentary, like Schlöndorff, offers compelling insights into Jones, but more importantly his sober and informed take on how Jones may have died.
While this is a documentary on Jones's life and obviously includes his time in the Stones as well as his pre-Stones blues apprenticeship, some glimpses at his childhood and his flirtations with the Master Musicians of Jajouka, it is most focused on the still controversial and unresolved circumstances of his death on July 3rd, 1969. Originally thought to be a drowning related to a combination of alcohol and prescription drugs and his lifelong affliction with asthma, over the years other plausible theories have taken root. The film seems to conclude that it was the builder Frank Thorogood who was working at the Sussex country house Jones owned, who, while he may not have murdered Jones intentionally, after a rough confrontation with Jones in his swimming pool, may have pushed the exhausted and weakened musician to his death.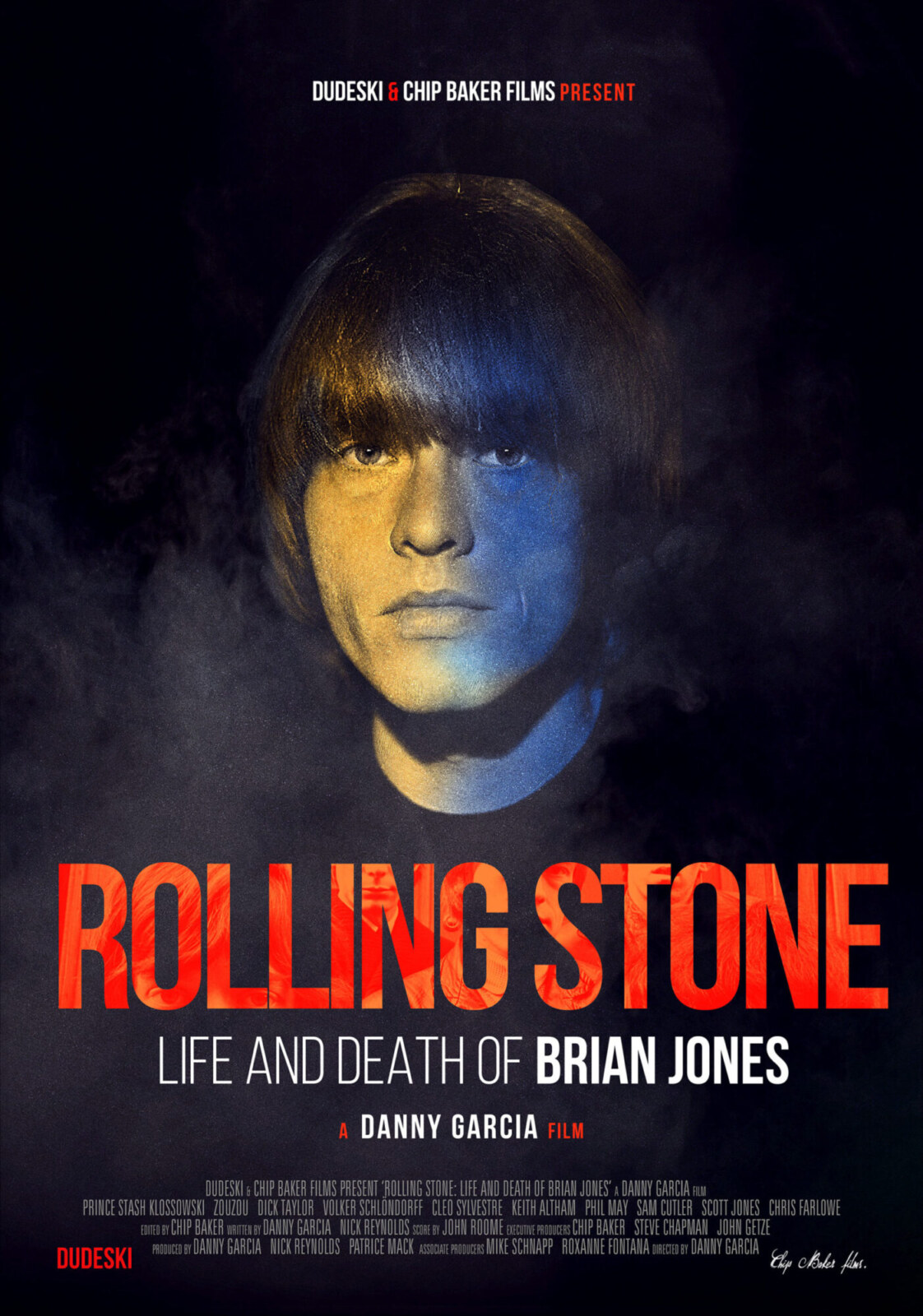 While the film offers effective and balanced testimony on Jones's death, presents a diverse and shrewdly assembled cast and is clearly a cut above what would be categorized as an unauthorized documentary, a more well-rounded approach would have been to dive deeper into Jones's blues roots, place a bit more emphasis on his extraordinary musical skills and the particular songs and albums he contributed most to with the Stones. Having said that, the way Garcia gets around not having permission to use any Stones music in the soundtrack is that he and co-writer Nick Reynolds have come up with a compelling stand-alone soundtrack from MVDAudio, available on vinyl. The music includes period-sounding music from the likes of Dick Taylor of the Pretty Things, who was briefly in the Stones in one of their earliest incarnations and songs that comment on Jones's life, along with gritty contemporary rock that shows the estimable influence of the early Stones sound. I can't think of many soundtracks to a rock documentary that didn't include cover versions or original tracks that were this authentic in conception, style and approach and so well-thought out and executed.
While it receives only a cursory mention, another element of the Jones documentary that is significant is the Rolling Stones' recruitment of Mick Taylor from John Mayall's Bluesbreakers to be Jones's replacement after he died.
This unique visual and aural presentation must be considered one of the most creative Stones-related projects to ever be released. More than just a documentary, this film offers a deep glimpse inside one of the most brilliant, yet troubled lives of any artist to emerge in the 60's.
Steve Matteo
---
Rolling Stone: Life and Death Of Brian Jones (Dudeski/Chip Baker Films), distributed by MVD Visual