United Bible Studies interview
United Bible Studies is an experimental and improvisational folk band. Initially inspired by the likes of The Incredible String Band and Fairport Convention, United Bible Studies soon developed into a sprawling entity featuring a revolving cast of members, with the same lineup rarely appearing twice.
---
Pastoral psychedelia and traditional song have remained the cornerstones of the band's style, alongside collective improvisation that can take the form of extended drone-works or explosive outbursts of ecstatic noise.
Would you like to talk a bit about your background?
Dom Cooper: I'm a self taught singer and musician, and I still consider myself a dabbler. I'm in awe of the alchemy involved in the creation of music, especially when lots of others are involved. Formerly I was in the folk revival collective known as The Owl Service. I met Alison and Dave through the community that sprang up around that band; playing live and music sharing. I started collaborating with Dave a few years back and became involved with UBS in the last three.
Alison O'Donnell: That would take sometime considering I have had a 50-year career in music. It all began with Mellow Candle (interview here) at the age of 10, which is well documented. We were called The Gatecrashers at the dawning of the band, and at the demise we became Grace Before Space for a mercifully brief period of time. I was an untutored student and Clodagh Simonds was the music scholar, a working combination I have carried throughout my life. Since then I have trained and taught singing, attempted numerous accessible instruments, developed my interest in stagecraft and learned the basics of home recording, but I still retain an unfettered, instinctive approach to creating music, both structured and improvised. I espouse a number of genres and sub-genres and for that standpoint I am frequently disliked by purists. I have been involved in theatrical productions and session work, and professional recording was learned during an intense one-year period perfecting back-up vocals with a pop band in the early 80s. I have improvised soundscapes on stage and on record, been involved in many bands, duos and trios over the years and can count jazz, all manners of folk, traditional, metal and rock amongst my performance styles and various interactions with which I have engaged. Writing songs was a sporadic exercise for several decades but with the advent of my own recording equipment three years ago, and a greater involvement in collaborations since 2008, my songwriting output has exceeded all my expectations. Aside from short-lived, little-known groups and units, I have been associated with Mellow Candle, Flibbertigibbet, Éishtlinn, The Owl Service, Head South By Weaving, Firefay and then a student of United Bible Studies since 2008. My solo work has gathered place in the past decade and I am fortunate now to be able to draw on a pool of excellent co-conspirators and collaborators.
David Colohan: When I was 18 I began recording as Agitated Radio Pilot, putting out many tapes of primitive home recordings. Riot Grrrl was happening at the time and was a great inspiration. Eventually, I was able to get closer to the sound in my head, combining a singer-songwriter approach with extended instrumentals and field recordings, before becoming a little frustrated with 'confessional' songwriting. Raising Holy Sparks took over, with an emphasis on more communal playing and collaboration. That too seems to have been put on hold and I've been recording and playing live under my own name.
Graeme Lockett: I grew up Winchester, a city which whilst having a reputation of being posh with its college and whatnot, has a murky past as the former capital of Wessex. Not that I was around then, of course. I very much went down the 'DIY punk' route with early musical adventures, trying to invent an equivalent of the Los Angeles hardcore scene in leafy Hampshire, whilst quietly absorbing all the folk music I could. I then spent many pre-internet years making albums on 4-track in my bedroom and finally started recording as Head South by Weaving in 2006. I met and started working with Alison in 2008, found kindred spirits in United Bible Studies and the Owl Service and finally landed in fully-fledged Student life in 2018.
"There is a lot of psych folk, folk rock, drone and traditional flavours, mixed in with snatches of other influences."
United Bible Studies have taken on many forms since forming in 2001. The current live incarnation – Alison O'Donnell, Dom Cooper, Graeme Lockett and David Colohan. Would you like to discuss lineup history?
Dom: As an open band, willing to let anyone get involved, there have been so many performers. UBS students so diverse, offering sounds up … to the universe.
Alison: Many fine people have come and gone, a great number of whom are out there producing outstanding work, but right now we are a core group of four whose abilities and aspirations have locked together in an stimulating formation. It changes with every album depending on the contributors. Sometimes more vocal, at other times more instrumental. Live performances are the result of the strengths and creative outpourings of the particular line-up at that moment in time. Presently, there is a longer-standing cohesive unit which lends itself nicely to a more deeply developed sound over time, and a less fleeting capture of collaborators' offerings, which has often been the case in the past. Generally speaking, there is a lot of psych folk, folk rock, drone and traditional flavours, mixed in with snatches of other influences. In the flesh we are a seething mass drawn to sacred hilltops and underground burrows. Our common interests spur us on to constant experimentation. A vast flock of geese flying overhead in a blur or a druidic incantation are a few of the sounds that might elicit a collective response.
"It's about bringing diverse people together."
What does the name "United Bible Studies" refer to in the context of the band name?
Dom: Last year on tour, we sang an improvised piece based on Pauline Oliveros' Music Meditations, using the word 'Unify'. We sang slowly and independently, then we got faster and merged into one. It's about bringing diverse people together.
How would you describe your sound?
Dom: A mass of bees on a creaking ship. A lone wolf call underwater. A kettle of Nightjars hovering against a bright sun, echoing each other.
How do you usually approach music making?
Dom: Ideas come from anywhere, and can be started by anyone within the group. Personally my inspiration is from outside of music; art, books, film and nature. Recent studies have been in rhizomatic thinking, 'The Poetics of Space' by Gaston Bachelard and the cinema of Takashi Ito. Field recordings and experiments are important. Songs grow out of a mood, and take on a life of their own. I often make parts on my London tube commute with a small synth and sing on it later. These are offered up to the group, and their involvement mutate it into something else. I'm currently experimenting using my voice through a modular system using filtering, granular synthesis and morphogene techniques.
Alison: The most prominent students are many miles from each other so ideas are worked up online. Files of music at different stages of development are passed around for shaping and enhancement. Themes for albums and arrangements. and stagecraft for live set lists are discussed in a round robin fashion and often in an organised, administrative way. We all practise, write and record utilising our own individual methods and then bring it together with a few rehearsals for gigs and concerts. Material, consisting of songs and instrumental pieces layered over time, goes into the collective vault where it is sorted and categorised for staggered release. Students constantly pitch new ideas, frequently genre-bending within a blend of different vocal styles and the myriad instruments we have at our disposal.
David: Working in the home studio, I like to find sections of improvisations on various instruments that move me & then expand/collage/desecrate them until something emerges. I prefer if the improvisations take me somewhere I don't normally go. Then you can listen back & wonder who is playing instead of you. I'm so steeped in old tv shows/films that they feed into the music also. When out walking or cycling, the countryside can take on hints of these unreal worlds & that in turn inspires how I make music or films. It is generally on these long walks that ideas for lyrics come more readily. When writing, I use the cut-up technique a lot, to take me out of my usual patterns. Dom mentioned that his inspiration comes from outside of music. I find myself in a similar place.
Can you share some further details how your latest album Cave Hill Ascension was recorded?
Dom My part grew from a cluster of improvised vocals, wordless cries into an echoed wilderness, that were softened and given shape by Dave.
Alison: There is always a bare, ruined choir at the edge of Dave's ears. Let out of our mouths, it can grow into meaningful songs and passages, hence Cave Hill Ascension.
David: I set groups of short melodic phrases loose & the pieces emerge from their interaction. There is a lot of cutting away at the resulting chaos to get to a simpler place. Other elements are gradually added, themes recurring throughout. For the albums in this series, synths & wordless voices are like the skeleton, with other instruments weaving their way around the bones.
What's the concept behind it? Does it change from album to album?
Dom: It's an evocation of landscape. Both external and interior.
Alison: Each album is different from the one before. Our stage appearances used to operate on that principle. No two performances begot the same line-up. In the past three years though, we have fallen upon a more cohesive unit, which is bearing a lot of ripe fruit.
David: Cave Hill Ascension is part of a series of albums using the idea of divining movements, an approach I've been working on as a way of accessing the numinous. A literal movement through landscapes and then exploring them in musical movements and divinations… As Dom says, an evocation both external and interior. For this album the longer pieces attempt to evoke a sense of quiet awe. The shorter songs, repeating phrases as a sort of mantra, attempt to either escape or be enveloped by their meaning. Future albums, both solo and in United Bible Studies, will continue to expand upon these ideas.
Would you like to go through your discography?
Alison: There is so much in our back catalogue and I have only participated in slightly fewer than a dozen of those recordings. Variety abounds due to the abundance of musical styles brought together usually by students from Ireland and Britain, but frequently extracting influences from contributors in other countries. Porto Sepolti (the 'Italian album') is immeasurably dissimilar to say The Ale's What Cures Ye; the former spacey and pensive, the latter more rooted in traditional song. Rosary Bleeds was once described as an outlier and The Kitchen Session, mostly recorded live over several days with a number of former students in Wicklow, harks back to traditional music. Spoicke is more symphonic and instrumental with exquisite artwork, and Downland, with the lutenist Jozef Van Wissem, follows a medieval path.
David: I've selected certain releases, all of which can be heard on our Bandcamp page.
Stations Of The Sun, Transits Of The Moon (2003) + The Lunar Observatory (2004)
Our earliest recordings emerged from many hours of improvisations, which we sifted through to find the sections that moved us the most. I can't recall if we overdubbed any of them, but these albums certainly started off a process which we would use regularly. Themes which we keep returning to are present at this early stage.
Huntly Town (2004)
Mixing traditionals and originals, this feels like a precursor to The Ale's What Cures Ye.
The Solar Observatory (2005)
Serious Coil worship at work here in the second of the Observatory series! I recall we recorded this in a candlelit room in trio form (myself, Gavin & Shane), as a ritual performance. We were letting more noise in around this time.
The Shore That Fears The Sea (2006)
The first 'official' album, to my mind. A mix of shorter folk songs with more extended, abstract explorations. The live recording of "Watching The Rain Reshape Galway" reminds me of how much I enjoyed playing that song. The cover, a photograph taken by a friend of Gavin's, is a beauty.
Black Colcannon (2007) + The Arboreal Observatory (2008)
Good snapshots of what we sounded like live at the time. Extended suites of songs and freakouts. Our sense of humour showing through more & more, at least on the first one…
The Jonah (2009)
The second 'official' album. A lot more diversity in the material. A lot more players involved. Alison's first appearance on record with us.
The Dreamlike States Of United Bible Studies (2011)
Can't speak about the collaboration with Josef Van Wissem as I didn't play on it. This one is put together from recordings made on a US tour, when we were changing the style and sound every other night. Was very happy to play with Paul Flaherty on this one, as well as many other American friends.
I Am Providence (2012)
Recorded around the graveside of H.P. Lovecraft and later that day at a house show. Another personal favourite, particularly the early forays into improvised unaccompanied choral drift.
Spoicke (2013)
Live recordings from a festival in Amsterdam, which got a lovely vinyl reissue. Very much in a chamber-folk style….
Doineann (2014) + So As To Preserve The Mystery (2015)+ The Star Of The Sea Moves Today To Its Rising (2017)
To my mind, these albums form a trilogy, though we never said as much. They follow a sort of pastoral prog path, which is the kind of path I'm never in any hurry to leave. The phrase 'So As To Preserve The Mystery' stands as a good statement of intent for the band.
The Ale's What Cures Ye: Traditional Songs From The British Isles Vol.1 (2015)
Our takes on some of our favourite folk songs, traditional or otherwise. I have fond memories of recording in a smugglers cave in Dorset, rushing to finish before the tide came back in. As for a volume 2, who knows?
Rosary Bleeds (2016)
An album that is unique in the discography, being mostly electronic pop songs, of a sort.
Porti Sepolti (2019)
'The Italian album'. Had a lot of fun putting this one together, thoughts of Claudio Rocchi and Franco Battiato never too far away. Aldo Becca being the only actual Italian playing on here
but Gayle Brogan (Pefkin) wrote and sang some beautiful lyrics in the language also.
Cave Hill Ascension (2019)
As discussed earlier, the first in a trilogy, delving into extended songforms and shorter minimalist ballads.
Three Barrows Round (2020)
A mini-album orbiting a vocal piece recorded at the foot of Roman barrows in Bartlow, England. Grey Malkin features prominently, in collaboration with Alison.
Do you often play live?
Dom: For the last three years we've gotten together to play in the UK. We usually plan everything around one main gig, two years ago it was headlining the Tusk festival, last year it was the Spill festival. Then we get a few more gigs and make it into a road trip. It's fun to catch up and take in megalithic sites, book shops, and pubs. To play shows and generally laugh our way through a few days. Each set becomes a composite of each of us bringing in ideas and arrangements, which we make into a unified whole. Songs are usually punctuated by improvisations. I like the fact it's very open, and the sound can be noisy, ethereal, spiritual in an agnostic way or just funny. There is a theme; a celebration of the voice, and the exploration of that instrument.
Alison: Challenging logistics can get in the way of us performing together live, i.e. not one of us lives in the same city as another. The current incarnation functions across two countries. We have a lot of material at our disposal, together with a long-established habit of striking up spontaneous onstage collaborations and improvisations that take off in one place and end up somewhere rather sublime if conditions are conducive. We can be playfully versatile and seriously spiritual to suit festivals and concert halls or pubs and house parties.
What are some future plans?
Dom: We have several batches of songs proving and rising. The plan is to mold them into a form fit for consumption.
Alison: A stack of recorded material is in the safe awaiting release in due course and we hope we can keep undertaking the mini-tours that nourish our souls. Personally, aside from United Bible Studies, I have another album with Head South By Weaving (Five Forests) ready to go and a second one halfway through with Firefay. Soon I plan to embark on a set of songs in a traditional vein, some already written and regularly performed, and also a completed album on the theme of all creatures ornithological, with Scottish musician Gayle Brogan entitled A Colloquy of Birds.
David: The sequels to Cave Hill Ascension are waiting in the wings. Divining Movements, a double album and West Kennet Ascension, a mini-album, complete this particular cycle. I'm currently going through a stockpile of new songs and we'll all figure out together what shape it will take. At Leigh Folk Festival last year, a group of kind singers performed a piece I'd written for the idea of The Bare Ruin'd Choir. This is becoming a mix of singing, chanting and sound poetry, with the first score (The Forest Mouth) encouraging spontaneity. The idea grew out of my initial tinkerings with Cave Hill Ascension and I'm looking forward to seeing where that can go. That live performance ended up being a lot wilder than I'd imagined. Although not a UBS project, it still feels part of the whole approach we've been taking together.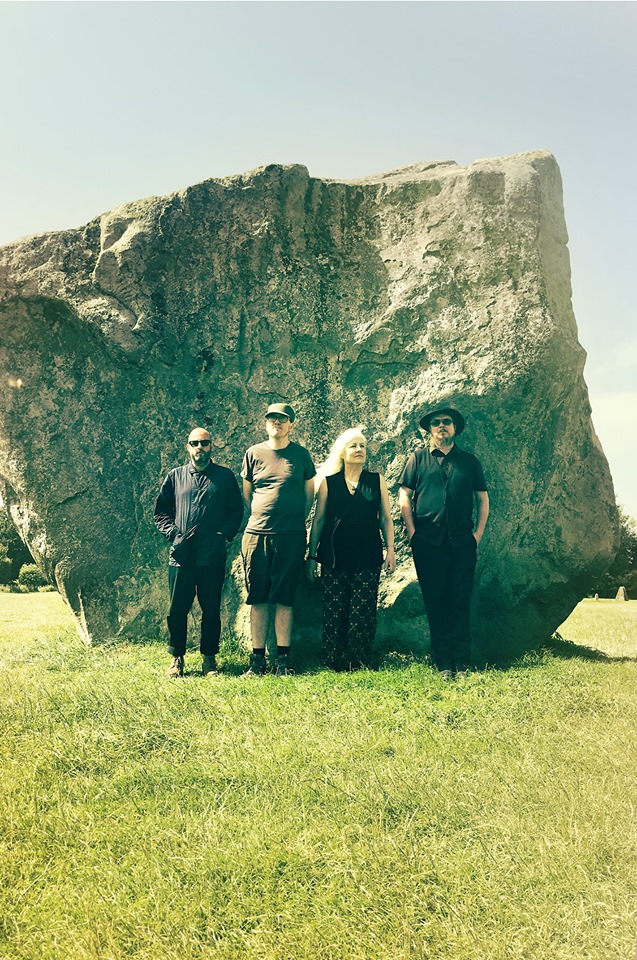 What other musical activities have you undertaken?
Dom: I have a number of projects, but currently the main ones are; I perform solo as Circle/Temple (electronic experimental/organic meditative), in a duo with Jason Steel as Bare Bones (ritualistic acoustic/soundtrack noir), and sing as part of the Cafe OTO experimental choir. November sees me sing with the choir performing former UBS student Áine O'Dwyer's piece 'Tracker Action Mimes', and December sees me play a set in San Diego at Modular on the spot.
Alison: Personally, I like to develop solo material and sing and play in a local weekly trad session that I have been doing for 18 years. I also frequent An Góilín Traditional Singer's Club and have done so since 2001. I occasionally appear with other groupings in anything from a pub session to a street walking tour and play live in Britain with Head South By Weaving and Firefay from time to time. Then there's the ever-increasing list of exciting new collaborations which keep me poised for thought-provoking projects.
Graeme: Head South by Weaving is still very much a going concern. As Alison mentioned, we have a new album ready to go. I have also been collaborating with Trappist Afterland (interview here) on an improvised score for Nicholas Roeg's "Walkabout", which was performed at Bangor University in the summer and is due for release sometime in 2020. Other than that, I'm plotting more long-form collaborations which are gestating as we speak…
David: Apart from the solo projects I mentioned earlier, I also get to play in two Belgian bands – Innercity and Fort Bedmar – whenever the stars are right. Murmansk was a free improvisation group I belonged to back in the early days of United Bible Studies, with the two feeding off each other for a time. In recent years I play with Natalia and Willie from Woven Skull and Divil A'Bit. Various other projects I have been involved in are on Bandcamp, with older ones mostly free on the Deserted Village label's page.
Thank you for taking your time. Last word is yours.
Alison: United Bible Studies is a unifying spawning ground for people to fly off in contrasting directions and then land and merge in an imaginative assemblage.
Dom and David: Unify!
– Klemen Breznikar
---
United Bible Studies Facebook
United Bible Studies Twitter
United Bible Studies Instagram
United Bible Studies Bandcamp
Mellow Candle interview with Clodagh Simonds and Alison O'Donnell