Mellow Candle interview with Clodagh Simonds and Alison O'Donnell
Mellow Candle were a band that started in 1963 in Dublin, Ireland. In their time they managed to press two singles and release Swaddling Songs, which is still highly regarded among fans and collectors of psychedelic folk. Album was released by Deram in 1972. Swaddling Songs is an extremely well crafted progressive folk rock album with beautiful female vocal duets.
---
How old were you when you began playing music and what was the first instrument you played?
Clodagh Simonds: I started playing piano with my maternal Grandmother when I was four. Both Grandmothers played the piano a lot, but she was more child-friendly – and played lowbrow, popular songs and Strauss. My paternal Grandmother was technically better – Chopin, Schubert, Debussy, etc., and far more precious about her piano, so she wasn't as encouraging. We always spent our holidays with one Granny or the other, so their influence was quite strong.
Alison O'Donnell: I was 10. I played tambourine and maracas with the schoolgirl line-up of The Gatecrashers, which then became Mellow Candle.
What inspired you to start playing music? Do you recall the first song you ever learned to play?
Clodagh: Music was all around me, so it would have been more remarkable and strange if I hadn't started playing. The first thing I could play was chopsticks. My Granny used to play every week for the OAPs, so as soon as I'd learned it, she brought me along, to show off her protege! I played the right hand, she played the left. I can remember it quite well, and not having any sense at all of fear or nerves – but being totally baffled by the wild applause from the sea of white heads. I just wanted to go home then, but we had to stay for what seemed liked hours, having tea and biscuits. In a way it wasn't the best introduction to the world of Performance – baffled by the applause, then bored by all the after-stuff.
Alison: Listening to pop and soul records inspired me to have a go at it myself. I conducted a choir in music class once and I realised I had seen an old black and white photograph of my grandfather conducting an orchestra. It struck me that music ran in my blood. I can't remember the first song I learned to play on guitar but it might well have been something original.
Were you a member of a band as a youth and what types of music did you play? Who were some of the artists you shared the stage with?
Clodagh: Other than Mellow Candle, no.
Alison: When I was 16 I joined a covers band called Blue Tint. I had to wear a 'uniform' including an obligatory miniskirt. We did pop, blues and soul songs. We played quite a few gigs, one of them with an English band called Trapeze when they came to Dublin.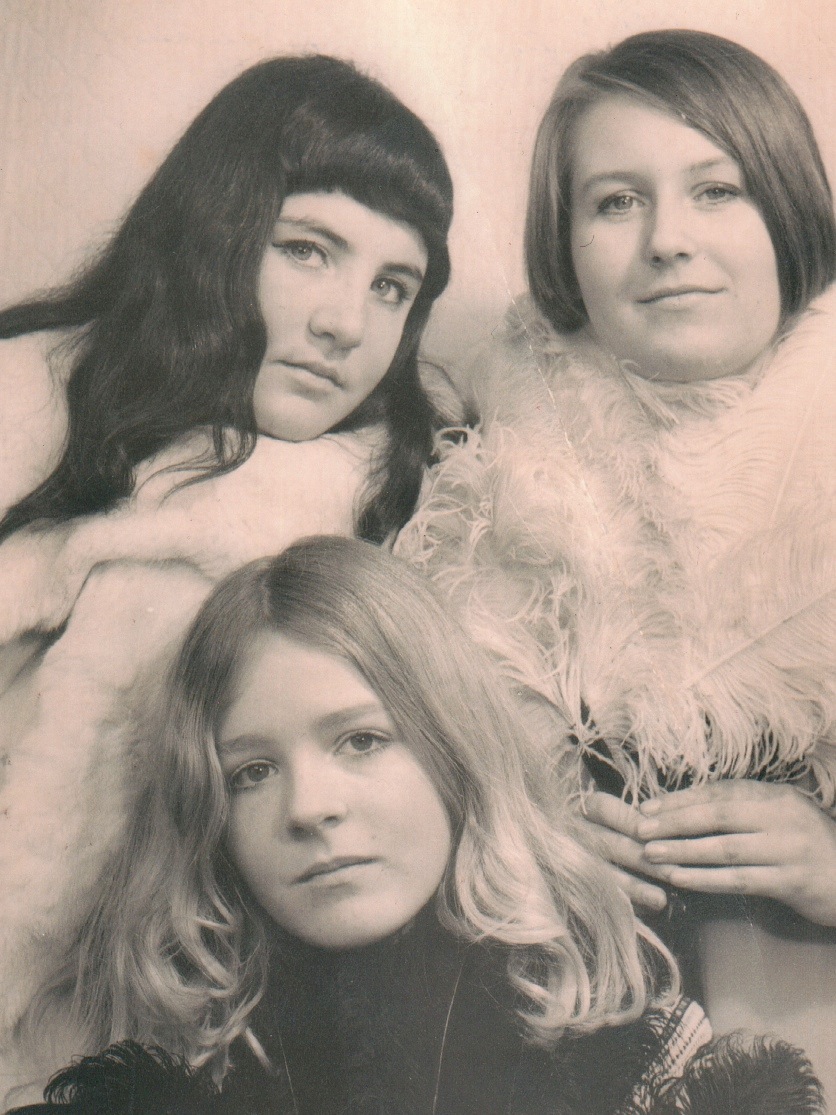 When did you begin writing music? What was the first song you wrote? What inspired it and did you ever perform the song live or record it?
Clodagh: I began writing music when I was about 9 or 10. An older girl – I can't remember who – had played me "Da Doo Ron Ron" on a jukebox. I'd never seen a jukebox before, and I had certainly never heard music like that before – I was completely transfixed. The minute I got home I started pounding away on the piano trying to sound like that. My first song was called "Look At Me", a classic of the C – A – F – G genre. It was about having a crush on someone who didn't notice you, begging them to see you on the other side of the street. I quickly decided it was rubbish, though I completely fell in love with the process of writing – so it was fairly swiftly abandoned in favor of "the new one", which I think was another C – A – F – G thing. Which I quickly decided was rubbish, etc…..
Alison: I was surrounded by songwriters in Mellow Candle so I didn't write much to begin with. The first song might have been "Messenger Birds". I remember reading a newspaper item about a woman and a child and a tragedy at sea. It has often been performed live. I even did it at Leigh-on-Sea Folk Festival with The Owl Service a few years ago.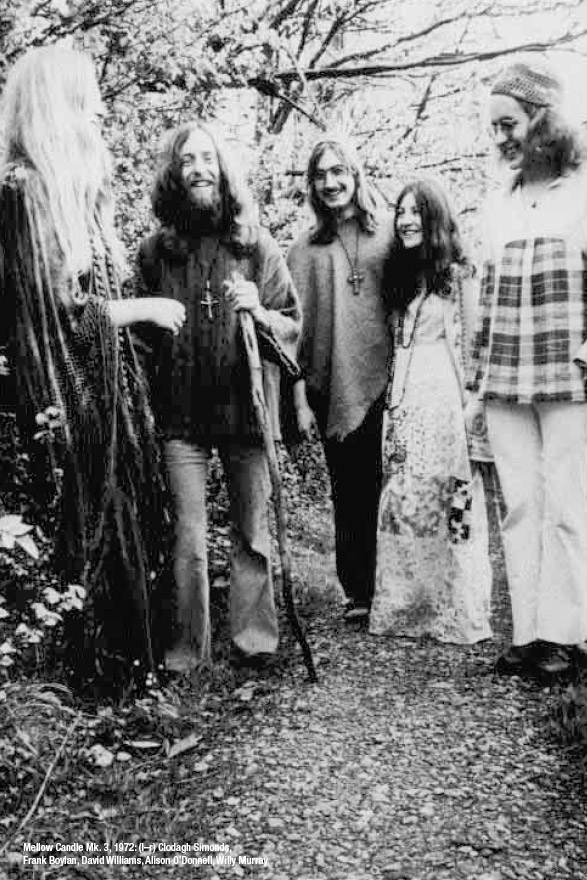 Mellow Candle began at Dublin's Holy Child Convent school in 1963 with three very young girls – Clodagh Simonds, Alison Bools (later O'Donnell) and Maria White. They were singing some cover songs and were influenced by another Irish schoolgirl trio called Maxi, Dick & Twink. Before adopting the name "Mellow Candle" they were called "The Gatecrashers." Who were some major influences?
Clodagh: Before meeting David – Omar Khayaam, Phil Spector, Dylan, the Beatles, T Rex, Paul Simon – that would have all been schooldays. Later, Dave brought a whole raft of other influences…..the most enduring of which – for me, anyway – were probably The Incredible String Band and Joni Mitchell.
Alison: Helen Shapiro, The Incredible String Band.
Did you play many gigs? What were some of the venues you played? Who were some of the artists you appeared with?
Clodagh: We didn't actually play out all that much. Our manager, Ted Carroll, tried in vain to get us to firm up our live experience and our fanbase in Ireland before heading off to London, but here weren't many venues in Ireland at the time which would have been available to us – Ireland then was still dominated by showbands and dance halls. Our very first gig was at Liberty Hall, Donal Lunny booked us to open for the Chieftains on St Patricks Day. They weren't big stars then – they were all still working at their dayjobs – and had a small but intense, mostly middle-aged or elderly, following. Who hated us – I remember clearly some old biddy literally trying to hit me with her handbag when we came off. We had a residency for a while at Slattery's on Capel Street, again thanks to Donal. We played the Wexford Festival, and got noticed there by John Peel – we played the first Ballyvaughan festival in Clare, and we played the National Stadium a couple of times, opening for the likes of Thin Lizzy and Steeleye Span. We opened for Donovan at the RDS once. But any other gigs were pretty small and local, civic parks, tennis clubs, and so on – and I think in retrospect Ted was right, we were fairly wet behind the ears when we arrived in Kilburn in 1971. We hardly played at all in England, just a handful of gigs – I think we played at some kind of festival where Genesis were headlining, and somewhere along the line we shared a billing with Lindisfarne – but were rather harshly criticized by agents Ted had invited along. And he had his hands very full with Thin Lizzy, the other band which he managed – so the whole Let's Move To London thing went a bit squiffy really.
Alison: We didn't play as many gigs as we would have liked due to the fact that it was difficult to place a band that was both folky and rocky. Some of the Dublin venues we played were Liberty Hall, The Mansion House, The National Stadium, The RDS, Slatterys and The Marquee in London. We appeared with Alan Price & Georgie Fame, Donovan, Arthur Brown, Genesis, Thin Lizzy, Steeleye Span, to name a few.
What was the writing and arranging process within the band? Did anyone else in the band write?
Clodagh: In the schoolgirl version of the band, I was doing all the writing and we'd work out the harmonies together. But when Mellow Candle Mk II started, Dave was a big influence, he was older than us, and very much more experienced – he was a big fan of Yes and Zappa, amongst others – and Pat the bass player was a huge Jethro Tull fan – so we'd work out quite complex arrangements together for the backing, and also for the vocals. Alison began writing then, and Willy did some lyrics, so there were four of us writing – we co-wrote Sheep Season, which I think in retrospect was one of our best songs.
Alison: Clodagh Simonds, Dave Williams and occasionally William Murray all wrote within the band so the songs were quite varied with four of us in the writing process.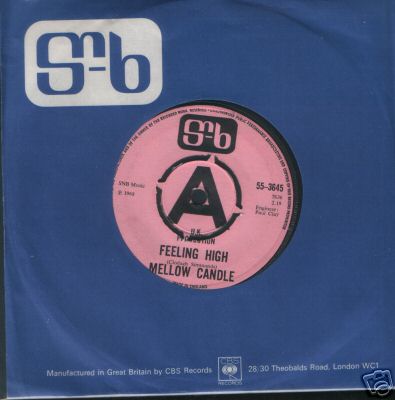 Swaddling Songs was released by Deram (Decca's imprint) with David Hitchcock taking care of production. The album was recorded in a very short space of time in December of 1971. Alison recalls: "The sessions were full on and lengthy but thoroughly consuming and enjoyable. I was delighted with the finished product. I felt it was extremely creative." What can you say about single "Feeling High" / "Tea with the Sun" (1968), released by SNB Records? Did it garner much airplay or chart in any markets?
Clodagh: Being completely clueless about the music industry, I had decided (at the ripe old age of 14) that the way to go was to send a demo tape to a Radio Luxembourg DJ. So I borrowed a reel to reel tape recorder and one afternoon, myself, Alison and Maria recorded about six or seven songs, and I sent it off to Colin Nicol. Several weeks later, he got back to me and said that he could get us a contract with SNB, which was a subsidiary of CBS. A certain amount of negotiation took place between him, and the parents – he came over to Ireland in order to convince them he wasn't a child molester or a conman – and off we went. It was an amazing experience recording it – seeing London, being taken to Carnaby Street! Walking into the studio and hearing a big grownup orchestra play my funny little songs was a pretty unforgettable experience too. But the highlight, for me, was bumping into Marc Bolan coming out of a lift at Trident Studios. I was utterly gobsmacked – I was a huge T Rex fan. The single got very little airplay, and only on Radio Luxembourg as far as I know – but that didn't stop the three of us staying up practically all night, for weeks, waiting to see if it would be played.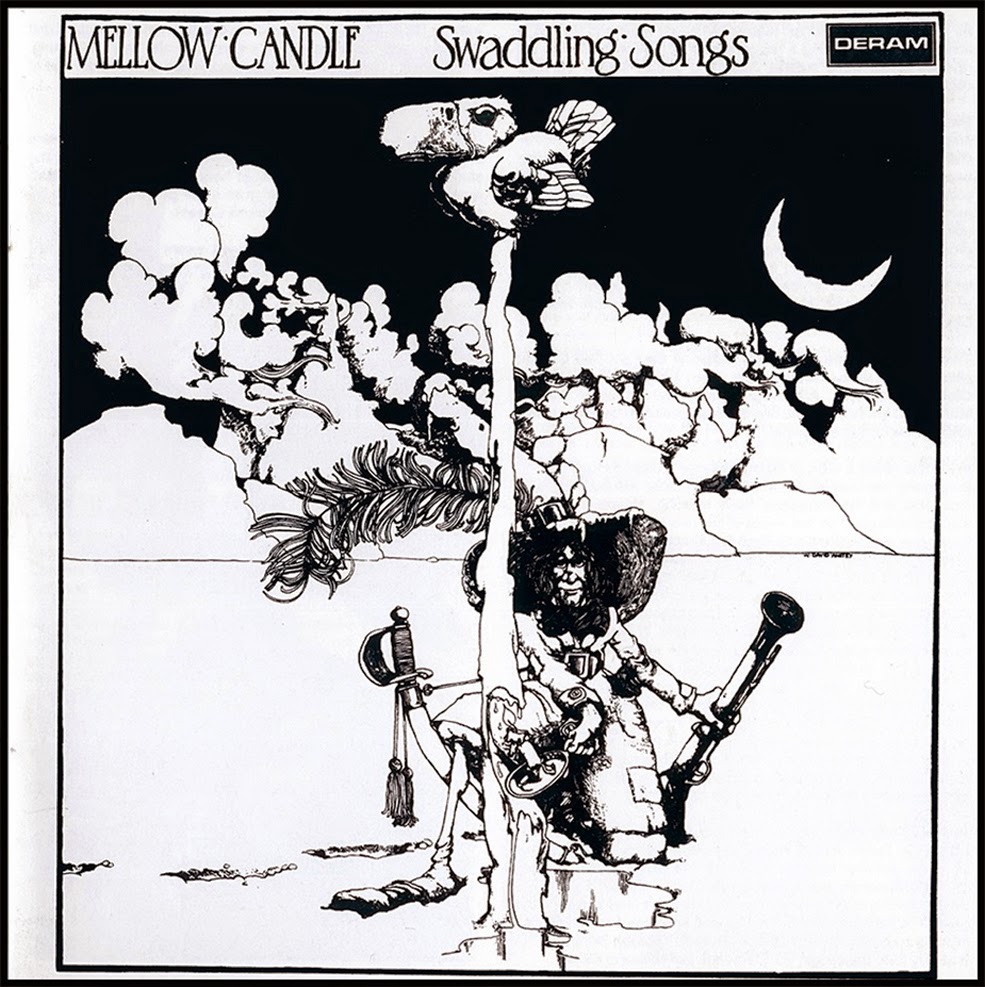 Alison: We were very young girls when we recorded Feeling High/Tea with the Sun for SNB. It was a surreal experience to go to London and record with an orchestra and Cliff Richard's backing singers, who were also on 'Alfie' by Cilla Black, arranged and recorded with Burt Bacharach. I watched a clip of that on YouTube a while back and was blown away by how good they all were. The single got a bit of airplay to begin with. I got very excited when it played in the early hours of the morning on Radio Luxembourg. I didn't get much sleep hoping it would come on the radio just after it was released. It was difficult to get me out of bed in the mornings and I always had to run up hills to get to the train for school. I often missed it and spent the time waiting for the next one calming down my aching lungs.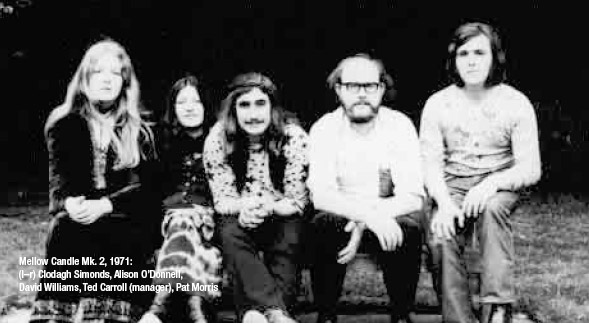 You two shared many magic musical moments. Would you describe your relationship? What was the dynamic between your songwriting and playing?
Clodagh: Alison and I were really close friends at school, with a shared passion for music. She joined Blue Tint when I was away in Italy, just after I left school – and initially said she'd be working with David from then on, so I had to psych myself up for a solo career. But when I got back, David suggested we join forces – and that was Mellow Candle Mk II. Due to various things none of us saw coming, it didn't last long – and when she and David moved to South Africa, we lost touch for a while. We're good pals again now, and seeing David a few years ago when he was on a trip to Ireland was really very nice indeed. The playing/writing dynamic, as I recall, Dave usually would help Alison work out chords and so on, when she began writing – I think they developed songs together quite a lot. Normally, he or she would complete a song, or pretty much, before bringing it in to the others, and I would usually bring a completed song. Whoever wrote the song would normally have a fairly good idea of a basic structure/arrangement, though we did input to each others songs quite a lot – we were all pretty open to each others ideas.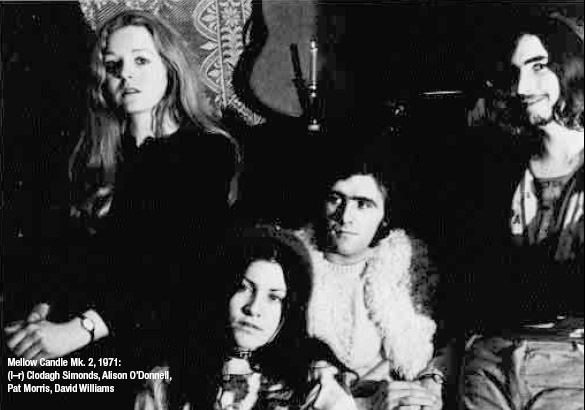 Alsion: I have a lifetime bond with Clodagh based on friendship and shared experiences.
What can you tell us about cover artwork?
Clodagh: It was a take-off of W Heath Robinson – I remember going to see it when it was still being completed, we all liked it a lot. I was never too sure about the goofy sleeve notes though, I think Willy wrote them.
Alison: Unusual black and white cover by David Anstey, who worked mainly for Decca Records.
Would you share your insight on the albums' tracks?
Alison: I think the songs should speak for themselves. "Boulders on My Grave" has some Irish style lilting in it although we didn't know what lilting was back then. There's a whole competition for it in the Fleadh Cheoil in Ireland. "Reverend Sisters" is widely recognised as a reference to our convent school upbringing and I mentioned something about "Messenger Birds" earlier. A lot of my work has religious references, i.e. Heaven Heath, something I am still doing in recent songwriting. It's difficult to get away from the Catholic influence.
To what do you attribute the album continuing to be held in such high esteem among music collectors?
Alison: Swaddling Songs is a niche cult classic and held in high regard amongst musicians and listeners as well as collectors. It has been an influence on a number of musicians working in the late 80s, 90s and onwards. It is completely original and has cross-genre appeal in a rather offside way.
How did you see the acid psych folk scene back in the late '60s, early '70s? What were some other bands, that you would like to mention? Any band, that perhaps didn't make a record, but were extremely good?
Clodagh: I was completely unaware of that scene before David came along. Nobody thought of it as "psych folk" back then – there were just some acts which were a bit more folksy, and some which were a bit more prog rock, and some that were neither quite one nor the other (like us!). I resonated more strongly with the folksy ones, like the String Band, Joni Mitchell, Nick Drake, Syd Barrett, Laura Nyro. It was a huge honour to be asked to play and sing with Thin Lizzy – that was my first ever session.Phil was a bit of a God in Ireland in those days. Willy was into some pretty cool alternative music – he'd been with the Canterbury set – Kevin Ayers, Mike Oldfield – for whom I did my next lot of sessions, but that wouldn't have been folk, really. And yes, there is one person who really stands out who seems to have been totally forgotten, and knocked me out – Michael Hurley, whose album Armchair Boogie, Ted Carroll introduced us to – to this day his song "The Werewolf" is the only song I can play on guitar. And it remains one of those "I Wish I'd Written That…" songs, for me. He was something else, he was his own man – completely outside of fashion. And brilliant.
Alison: Sometimes there were music jams that had they developed into a proper band, they might have made some great records. Back in the late 60s and early 70s, a lot of musicians hung out and improvised together, including the trad music players. It was an extremely fertile and creative time with far too many excellent groups to mention. We had the same manager, Ted Carroll, as Thin Lizzy whom we admired for many reasons, not least because Phil Lynott was exceptionally cool. There were quite a few superb Irish bands around at the time and we had a lot of respect for each other. Then when we got to England, we found there was a great music scene going on there. We never got to the U.S. which was a pity.
Would you discuss some of your most memorable moments in Mellow Candle and what made them so?
Clodagh: The whole MC journey was so vivid, and there were so many rites of passage. The exhilaration of going to London and making the first single – the sense that your dreams could actually come true. The rather forlorn period where I thought I was going to go solo – the realization that I just had to accept whatever landed on my plate, adjust, and keep moving. The exhilaration of returning to Ireland and David forming MC Mk II – the enormous excitement of working with electric instruments, roadies, PA systems and so on. The wobbly feeling when the first bass player, Pat, left, and the gnawing suspicion that "being in a band together" might not be all that simple after all. The sense of camaraderie when we first arrived in London, with a new bass player, Frank – and shared a house. The anxiety that followed the news that Ted Carroll wasn't going to be managing us any more. The disbelief and massive anxiety that came with the revelation that all our money (such as it was) had been handed over by our new manager to a con man who claimed to have been organizing a tour of Holland – this, at a time when things were already looking challenging for us, to say the least. The return of the wobbly feeling when Frank said he was leaving because we weren't doing enough drugs. The even more wobbly feeling when Steve, the new bass player, started saying he wasn't too happy, and then Willy joining in the chorus. And then the horrible sense of inevitability when the band broke up and we went our separate ways. Many moments of joy and exhilaration, and just as many of anxiety…. it wasn't an easy ride, to be honest, but it was full of important learning curves!
Alison: Because I was young, the entire period of the existence of Mellow Candle was memorable. Going to London for the first time, rehearsing whole days cut off from the rest of the world, living with the other members of the band (I remember that house and garden in Mill Hill so well – No. 1, Sunnyfield), travelling and hanging out with other musicians, the album and so much more. To this day I have a good relationship with our decent, music loving manager Ted Carroll.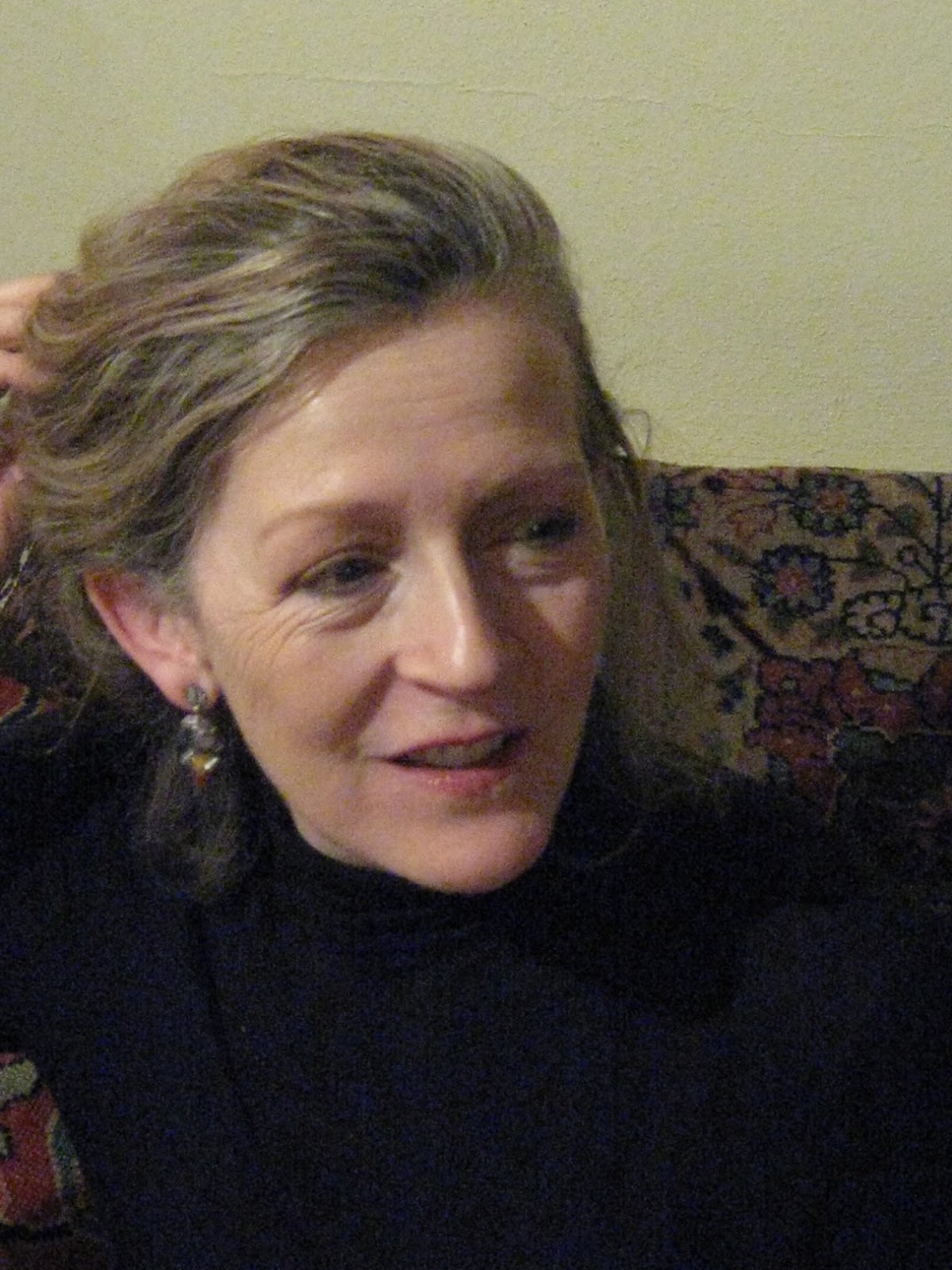 Would you mind answering question about psychoactive substances? Did in your opinion psychoactive or hallucinogenic drugs played a large role in the songwriting, recording or performance processes?
Clodagh: The reason Pat, the first bass player, left was because he felt we were smoking too much dope. The reason Frank left was because he felt we weren't dropping enough acid. So I suppose drugs played a part in that sense…. but we could see people around us getting really fucked up, and none of us really wanted to go there…. we were relatively tame, fun-loving hippies.
Alison: Mind altering substances and spiritual influences played an auxiliary part but hard work was our driving force and creative fulfilment our main focus.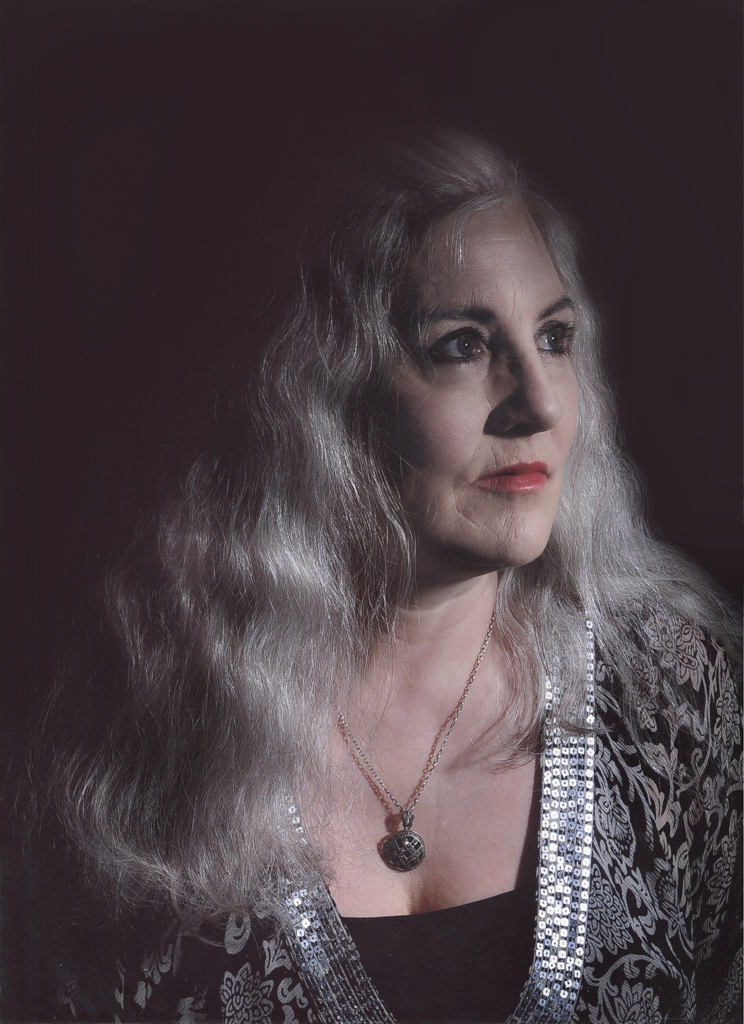 What currently occupies your life?
Clodagh: Musically, I mainly work on projects with Fovea Hex, which are released on my own little label Janet Records, jointly with Die Stadt in Germany. We don't perform that much, as we're more of a collective than a band – but we played our first gig at Donau Festival, when it was curated by David Tibet, and our second gig was at the invitation of David Lynch – at the Cartier Foundation in Paris, who were running a retrospective of his paintings. We've played on the continent a fair bit, and we've got quite a good following in Italy. I've studied Chant a bit – 3 years ago I enrolled on an MA course at University of Limerick, called "Ritual Chant" – but I left after a semester as the focus was almost exclusively on Gregorian chant – which I love, but that wasn't the way the course had been described. I'd been hoping to go into things like Pygmy chant, Kurdish chant, various forms of Islamic chant, Mongolian chant, etc – all of which I'd already explored but not at the depth I wanted to. I found the whole atmosphere of Academia very stifling and pedantic – very disillusioning. I continue to study things like that, but in my own time! I'm also learning orchestration and how to write for strings, and last year performed with a string quartet in Clonakilty – which I loved. Hopefully there will be more of that. I struggle perpetually to keep up with the technology of home recording, but there's a lot of weeping and gnashing of teeth. Thank God I have people like Colin Potter and Michael Begg around to pick up the pieces…. presently we're working on another trilogy of EPs, the first of which will be coming out on 10″ vinyl very soon.
Alison: I am always writing, recording and performing. Last year I played at several English festivals with Firefay, releasing an album with them, 'Anointed Queen' and United Bible Studies, a number of albums. This summer I'll be doing a few British gigs with UBS again. I've been a member of that psych experimental/improv collective since 2008. I also did two stints in Amsterdam last year with a bunch of trad musicians whom I've played with for about 14 years. We're off again there in May. I often work with Steven Collins of The Owl Service. Our 2008 EP 'The Fabric of Folk' is going to be reissued and we are writing a new EP. I've also written an album with an Irish musician and sound designer which will find its way out into the open eventually.
– Klemen Breznikar
---
Janet Records Official Website
Alison O'Donnell Official Website