Trappist Afterland interview with Adam Cole
Trappist Afterland is a psychedelic folk band from Melbourne, which consists of Adam Cole (vocals, acoustic guitar, bohdran, bells, dulcitar, lute, oud, tanpura), Phil Coyle (tablas, frame drums, vocals and percussion) and Nicholas Albanis (hammered dulcimer, Appalachian Dulcimer, bowed psaltery) with addition of many other guest musicians such as Andrew Whalley (guitar, loops, melodica, glockenspiel, dulcitar and harmonium), HakGwai Lau (Er-Hu, vocals, Chinese lute, Chinese flute), Brett Poliness (harmonium, vocals) and Adam Casey (guitar, hurdy gurdy, voices, percussion, loops).
---
As can be seen here we have various of musicians, that really are using a lot of traditional instruments brought from different cultures, that end up in a mesmerizing mixture of esoteric psychedelia. You won't find a lot of bands that use such a variety of instruments and sound not too messy. Trappist Afterland influences came from groups like "Comus" and "In Gowan Ring". The most attractive theme is their ritualistic, tribal approach of performing, which adds a special appeal and those interested in esoteric literature and music will truly find something to think about. We will talk to the band about their concept behind music and how did it all started out of Melbourne, where the band is currently held.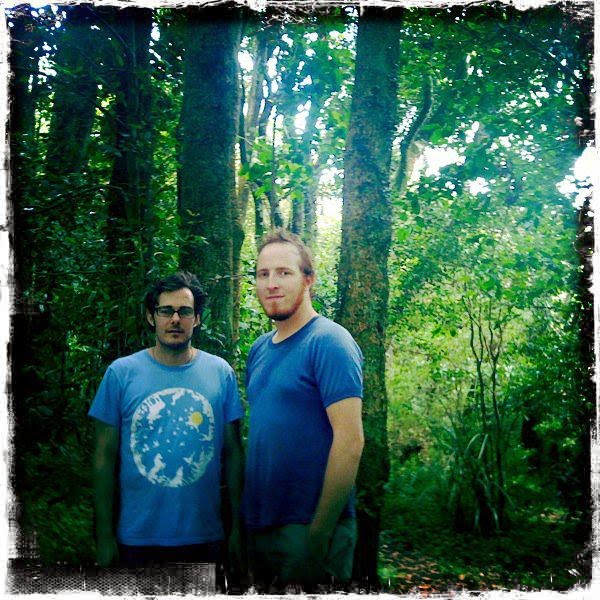 Trappist Afterland formed around 2010. What can you tell us about the first formation and how did you got an idea to start this kind of psychedelic folk band?
I started Trappist originally with Adam Casey who I had known for years through Adam's other musical project "The Boy Who Spoke Clouds".I was looking to find another guitarist in the style of Fahey , Basho and Sandy Bull and Adam fitted the bill perfectly.
I had always really loved the first wave of '70s acid folk and was especially interested in the "Trees" community album The Christ Tree and the "Can Am des Puig" album Book of Am. So with those albums in mind Adam and I went to his parents house on the coast in Portarlington and Recorded The Round Dance of the Cross.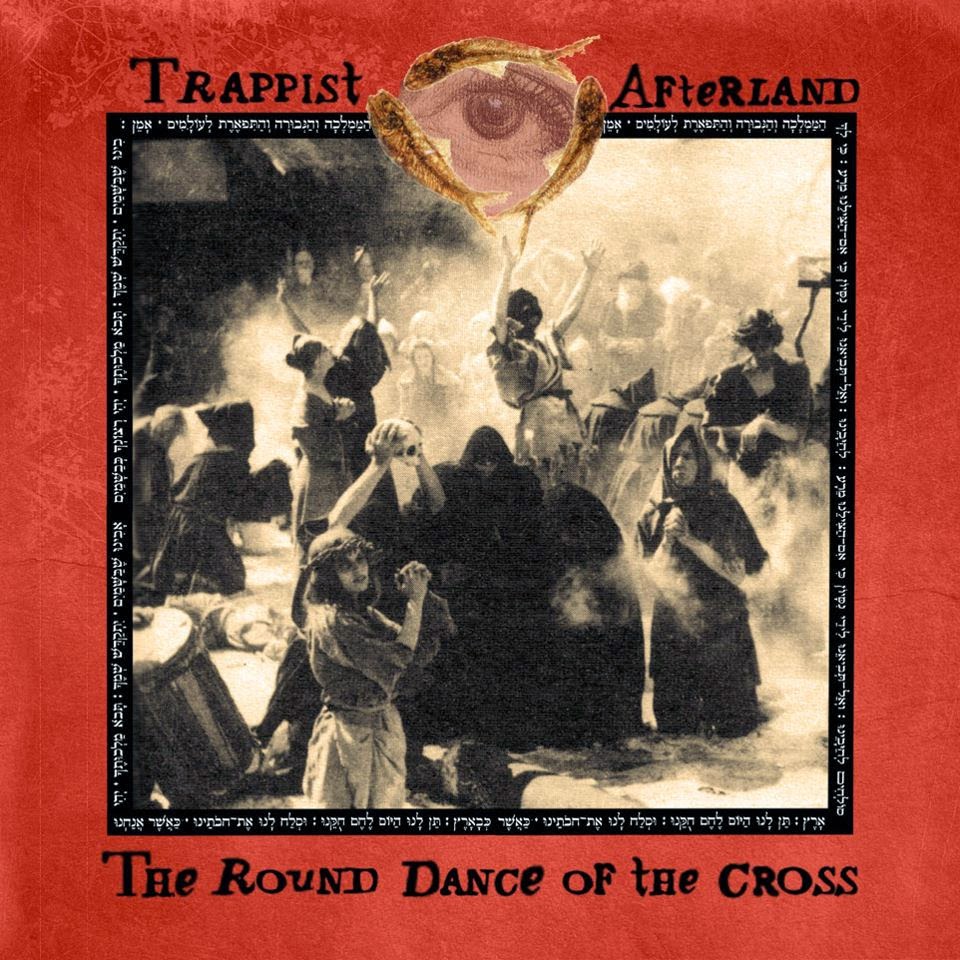 The sessions for that album were great! Adam and I were getting to know each other musically and personally and the music came out very easily. I wrote the songs and Adam recorded and produced them whilst drinking copious amounts of Trappist ale.
Were you part of any other musical project before forming Trappist Afterland?
Before forming TA I had played in quite a few bands starting with indie shoegaze folk band "Arrosa" from 96-98, "Kali" from 98-2000, "The Pollen Choir" 2000-2006 and "Happily ever Afterland Band" with my best mate Neil Sweeney who now lives in Baltimore NY.
Trappist was essentially an off shoot of "Happily ever Afterland Band". Neil and I started HEALB because of a mutual love for krautrock, Current 93 and and early acid folk. Unfortunately Neil moved back to the states and hence the forming of Trappist.
You don't play music that attracts big audience, but still how do you see the urban scene in your city?
The Melbourne scene has a great history of garage rock and post punk stemming from the early '80s with the "Boys Next Door", "Crime And The City Solution" etc. to the late '90s when the "Dirty Three" got massive.
There are many great places to play in Melbourne although unfortunately for us not a lot of bands play the kind of music we do, so putting together lineups can be difficult.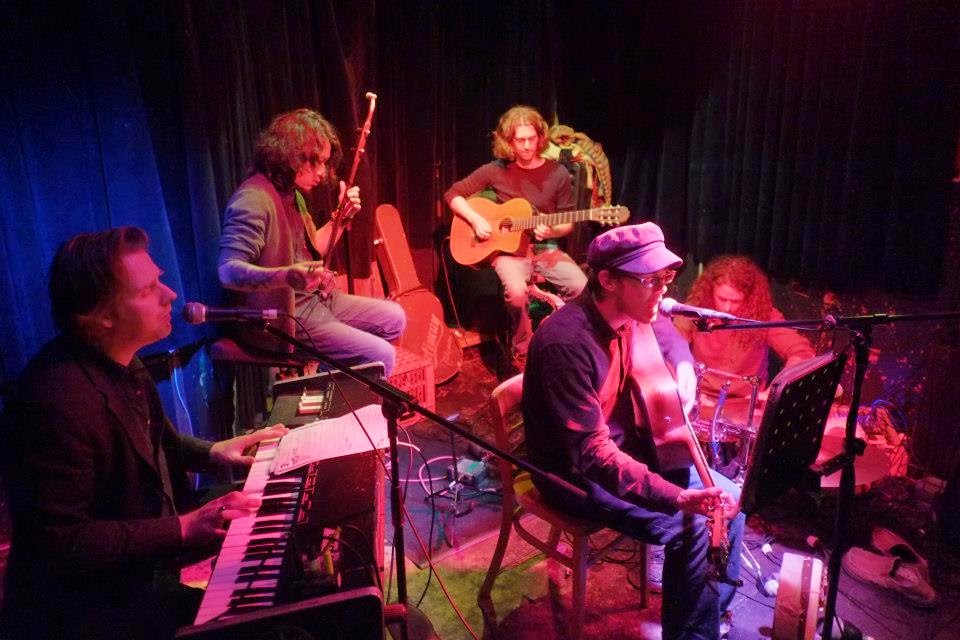 We are hoping to play more folk festivals this year, but we still play pubs and clubs when we can. There are a lot of new psych bands popping up around Melbourne, so it has been good playing with those bands.
You have currently four albums released digitally and some got limited CD release and now I would like to go through each of them and talk about the concept and the lyrical meaning behind your music (albums) and you can also comment the recording and producing process of each one. The first one you titled "The Round Dance Of The Cross" and it was released in 2011.
The Round Dance of The Cross was essentially a collaboration between Adam and I. The lyrics were largely influenced by the gnostic gospels and I think it was the first album I had recorded that put a lot of my beliefs more to the forefront. Adam and I often joked that the record and its process felt like an exorcism of sorts hidden behind excessive amounts of drinking.
Although the themes are of a very serious nature, the actual recording process was so much fun. Both Adam and I realised that we could pretty much try anything and experiment in such a way that we'd never been able to before in our other projects. I think we really enjoyed embracing the absurd on this and our second album Burrowing to Light. Both albums were incredibly fun and hilarious sessions to be a part of.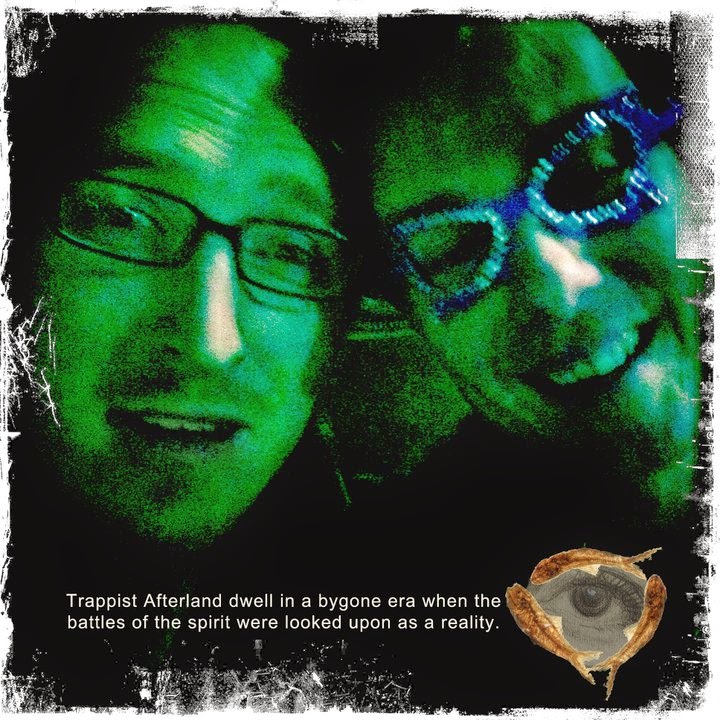 You dedicated your second album "Burrowing To Light In The Land Of Nod" to Steven Begovic?
Steven was a local Melbourne musician and a close friend of mine who developed a very rare case of multiple sclerosis. So in some ways Burrowing to Light was a bit of a concept record about Steve's battles with his condition. Steve passed away shortly before we finished the album so unfortunately I never got to play it for him. Soon some friends of mine and Steve's brother will be putting on an art exhibition of Steve's paintings with local bands from Steve's past playing. Steve was an extremely talented painter and musician and a fantastic guy.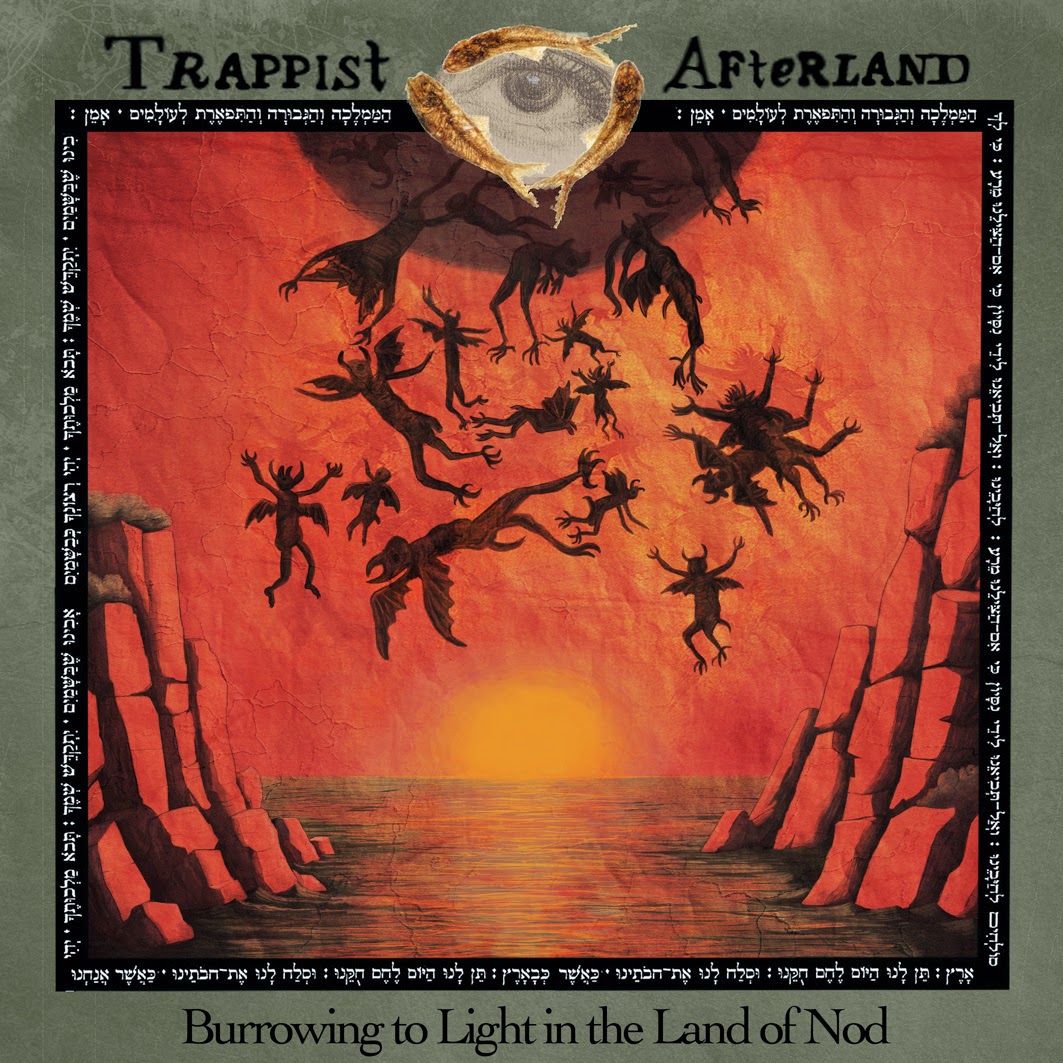 Summer of 2013 brought to us another album digitally released by The Active Listener. "Like a Beehive,The Hill was Alive" is in my opinion your most well crafted work. What was the concept behind it?
Like a Beehive was the first Trappist album I did on my own. Adam had left the band and so I got writing and recorded pretty quickly after Adam's departure.
I recorded the album at another friend of mines studio with the help of a couple of friends, some of which are currently in the band now.
Phil Coyle (tabla), Brett Poliness (organ) and a busker from Hong Kong Hakgwai Lau who I met busking with the traditional Chinese Er-Hu (which is essentially a 2 stringed violin) played on this album. We were all very happy with how the album turned out and it will be soon getting a vinyl release through a UK based label "Sunstone Records". Nathan from The Active Listener has done a great job with the digital release, so we owe a lot to him.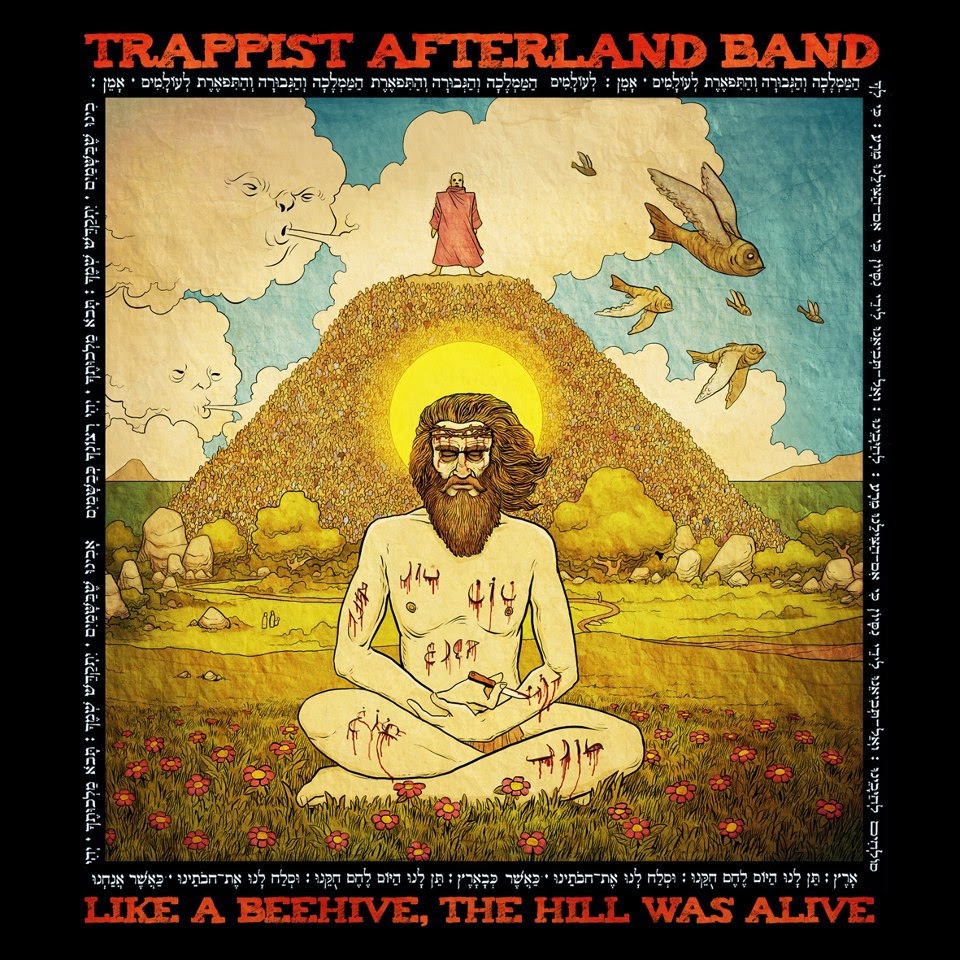 As for the concept of the album it is again very heavily influenced by the gnostic gospels and new testament. Although the songs themselves are pretty esoteric in nature.
Your latest "The Five Wounds Of Francis Minor" was released in late fall.
The Five Wounds of Francis Minor was the last album I recorded and it was completely done all on 4 track in my studio at home. Again the album is essentially a concept album looking at Francis of Assisi and occultist and Astrologer John Dee.
The idea was basically a comparison between two very devout christian's who chose two very different paths in their lives. John Dee dabbled very heavily in the occult and went to great lengths in order to satisfy his obsession with gaining esoteric knowledge in the spiritual realm. There is an amazing documentary about John Dee which goes right into his life and his writings are quite fascinating. I became quite obsessed with his story and works during the recording and in some ways to my own detriment. As compelling as his story is I would never recommend anybody to get too involved in it, especially enochian magic which he founded through his scrying with the supposed Archangels.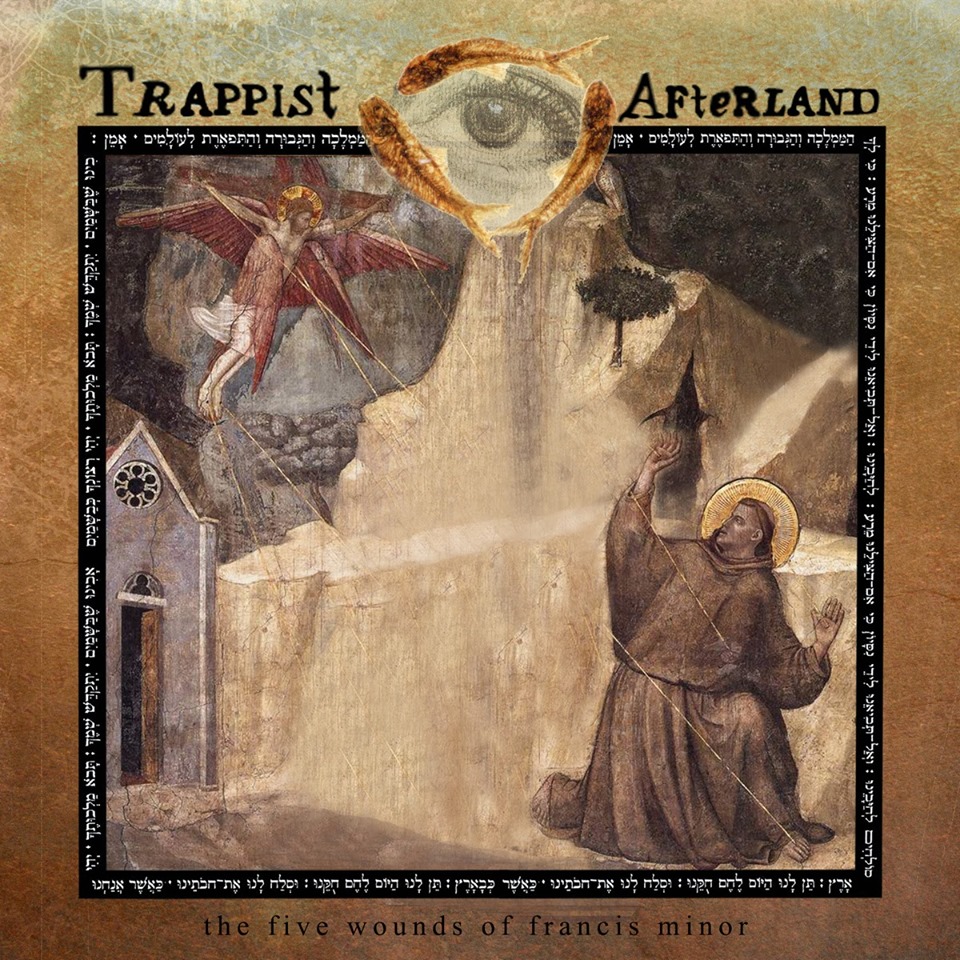 Francis's story on the other hand is just as compelling and a far more healthy and safe approach to connecting to such things, in my opinion anyway.
Your cover artworks are very well made and gave me an impression that it means a lot to you?
I have always loved the paintings of Peter Breughel and Bosch ever since seeing those ESP "Pearls Before Swine" albums. So I guess the art is kind of our take on that. Beehive and Burrowing were done by a local Melbourne artist who is doing quite well now. Unfortunately for me so well that I can't afford to hire him anymore for the new album haha.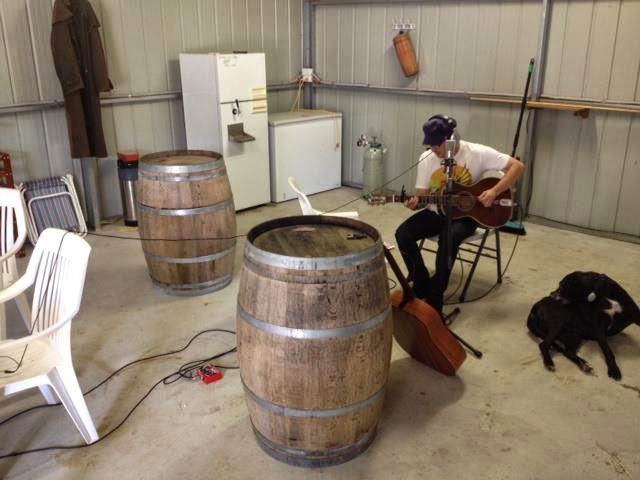 Most of the images that Tim painted were either dreams I'd had or just ideas that matched the themes on the albums. But he is a great artist and it's been amazing being able to see the ideas come to life so well on paper.
Can we talk about your influences? What are some less known bands, that had a great impact on your music besides the most obvious ones?
Our influences do vary greatly from band member to band member, but speaking for myself I would say that early '70s prog, psych and folk have been quite major, also a lot of free jazz such as Ayler and more recently classical music or ancient medieval music has been on the turntable, especially Thomas Binkley and his Studio der Fruhen Musick project. Earlier on I guess bands like Sebadoh, Wire, This Heat and Big Black had a big effect on me. As far as contemporary stuff goes I particularly like "Moongazing Hare" from Denmark, "Kathleen Yearwood" from Canada and a lot of the "Hand Eye Records releases. But the list could go on and on.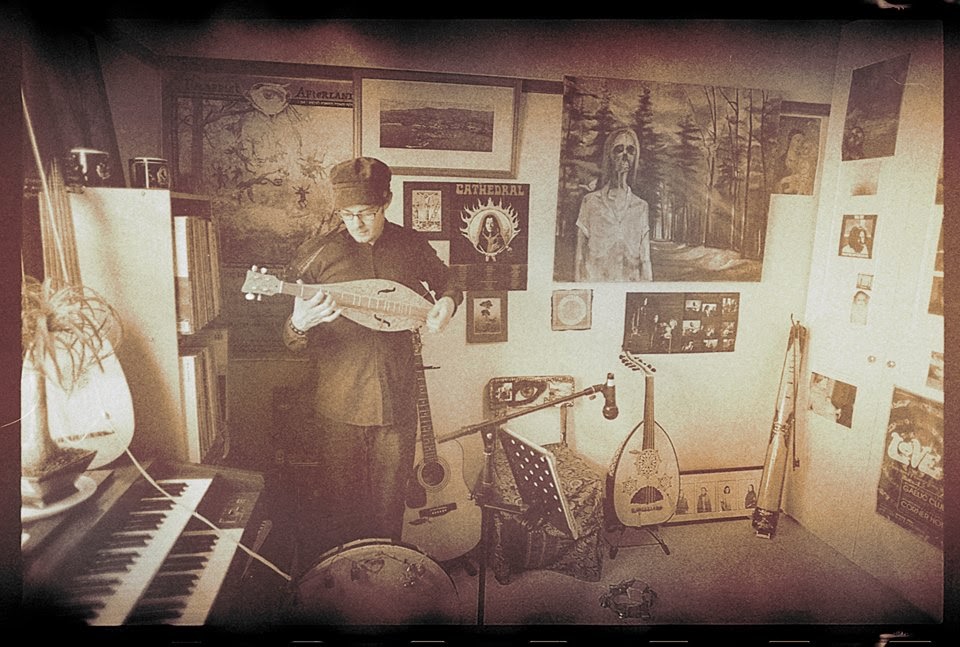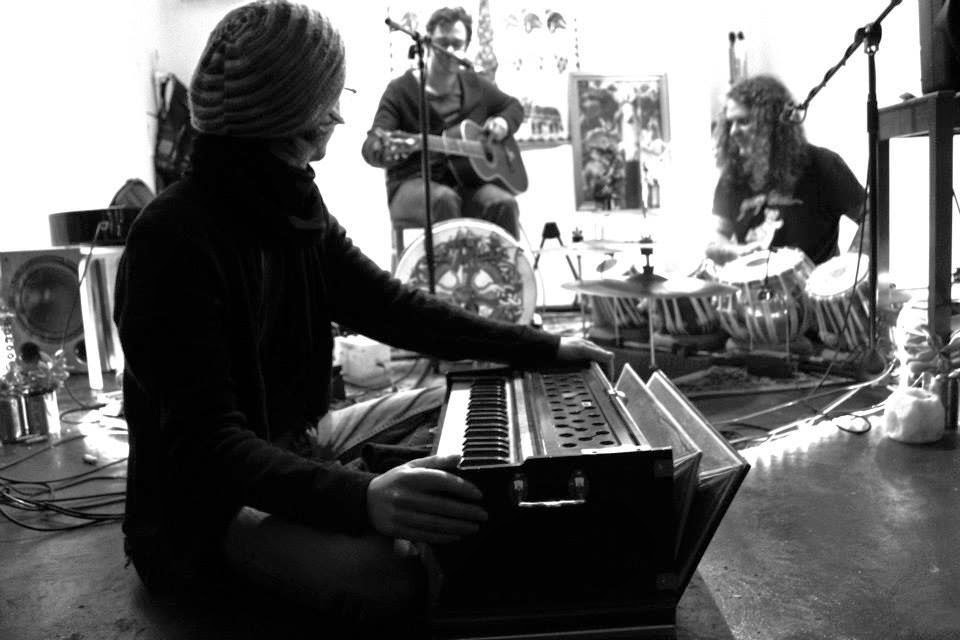 What are some future plans for you?
As for future plans we are planning on playing some shows in Europe and the UK in September 2015. We have also nearly finished a new album which I'm very excited about. The new record is much more of a band approach again. Phil Coyle plays frame drum on this release and he will also be doing a lot of singing and chanting with me this time around. Also we have a new member Nick from Oz band "Dandelion Wine" playing dulcimer, hammered dulcimer and bowed psaltery as well as Naomi also from "Dandelion Wine" playing flute. The whole album has been recorded on analog 2 inch tape and it is sounding great courtesy of our engineer and buddy Anthony Cornish. And as I said before Beehive will be getting a vinyl release in the UK September this year. So there are lots of things to look forward to.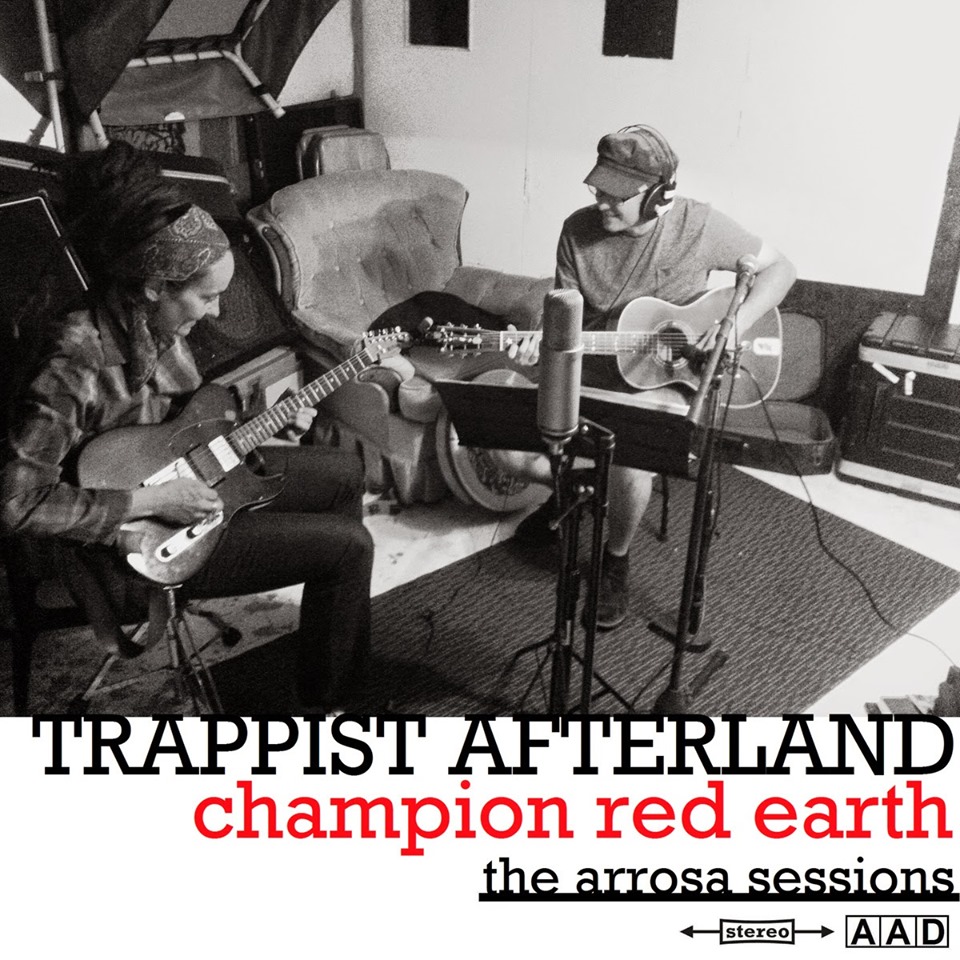 Do you have collection? What's your opinion on the return of vinyl?
As for wax I am a vinyl tragic and vinyl in my opinion is the only way to go especially when you're talking about returns and maintaining value for your collection. And lets face it… nothing sounds better than a nicely pressed record.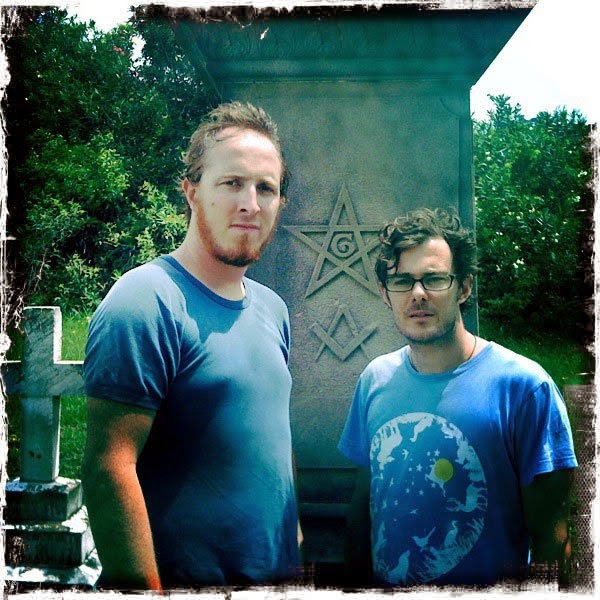 Thank you very much for taking your time. Before we say goodbye just one more question. What's the story behind your band's name?
As for the name it was a bit of a joke concerning a heavenly place drinking monk ale for eternity. And also a connection to my earlier band "Happily ever Afterland Band".
– Klemen Breznikar