Karol Schwarz All Stars interview
Karol Schwarz All Stars stands for clean, spontaneous energy. Music played live, without any preparations or rehearsals. Over almost 20 years of its activity, the band has changed line-ups and incarnations. There is just one constant: the wall of delays, which – six years after the release of their previous album Hi, Mom! – returns on Hi D(e)ad! with all its subtle power.
---
Would you like to talk a bit about your background?
Karol Schwarz: I was 14 when I bought my first guitar (classical) and started to play simple chords to Polish rock songs or repeating simple melodies from Lenny Kravitz's "Mama Said" or "Wish" by The Cure. Shortly after, I discovered Sonic Youth "Dirty", Slowdive "Souvlaki", Ride "Nowhere", Verve first singles, Spiritualized… I used to listen to radio programme by Adam Czajkowski (radio DJ) who often played this kind of music and once said: "jeśli jest was czworo, to powinniście grać" – "If there is four of you, you should play," so I started a band with my friend Artur Tobolski (bass player on Hi D(e)ad!). I am still not good at playing guitar, don't know many chords. I don't even have my own guitar amp! Shame.
Karol Schwarz All Stars have been active for more than 20 years now. Have you made any changes to the original line-up?
Oh yes. The line-up was changing all the time with only me being the constant member. However, I would like to apologize for the band's name. It is very egocentric; I was reading Miles Davis' biography and back then in the 50s all these fantastic bands had names like that. I wanted to be like them. Well… Now I am more modest and a little ashamed of it. That's why our latest two albums are labelled as KSAS.
I recorded the first albums with Artur Tobolski, Piotr Dowgiałło and Wojciech Dowgiałło, while the next 100 filmów, Rozewie, Odkąd ludzie were recorded with Borys Kossakowski, Szymon Albrzykowski, Jacek Tomczak.
The current line-up is also different and was created sort of by accident. I was organizing German – Swiss summer tour in 2011 and a month before the event I realized that nobody wanted to go, so I asked my friends "hey, who wants to go for a holiday and play some psychedelic stuff?" And it was a fantastic idea. We did a great tour and recorder two fine albums with the help of Artur Tobolski (bass) and Tomasz Żukowski (drums).
What can you tell me about some of the first albums that you recorded? What would you say were some of the most important influences for you back then?
While we were making First Album and Strzał I was under the influence of NIN, Einsturzende Neubauten, Skinny Puppy, etc. Having finished Strzał album, I figured out that it was a bad influence (see name of the first track on Strzał).
On Wiocha album there is El laser (NIN eraser cover) where the last line of the lyrics is "Don't you ever lie to me again, man". I discovered that all that stuff is selling me bullshit, fake feelings. It was untrue. Maybe it is wrong, these bands are making really good music, but this is how I felt back then.
You released over 10 albums. Would it be possible to go through discography and make some comments on each release?
Yeah, so I've already talked about the first two, First album (1998) (not available) and Strzał (2000) then… I experienced an epiphany.
Album B (2000) (B like Bieszczady Mountains where it all happened) reflects on what was going on in my head during this epiphany.
Wiocha (2002) and Bożena poszła (2005) are two similar dub, click, country albums which were recorded when I was under the influence of bands like Smog (Bill Callahan), Low, Songs Ohia, Pan American. You can find songs like "People" (reggae dub childish song) and "Czarnobrązowy jest Orzech Laskowy" (later in 2012 remixed and released on Nasiono Swap Singers, with Asia Kuźma and Szymon Albrzykowski on vocals) – which is our most popular song ever recorded.
Fun fact: "Czarnobrązowy…" is based on popular German folk songs – lyrics are taken in part from a song "Schwarzbraun ist die Haselnuss" and "Griechicher Wein" is our reggae/dub version of very popular german song. Heimat melodies were one of my inspirations in that time.
After that we had recorded 100 filmów (2007), Odkąd ludzie (2008), Rozewie (2009) – a space-noise-avant-fuckin-amazing-Polish-psychedelic-drug-trip . These albums were recorded while jamming with Borys Kossakowski, Szymon Albrzykowski, Jacek Tomczak. Rhythm was based on handmade analogue synthesizer/beat machine from a band Szelest Spadających Papierków.
100 filmów was the first session of that kind. We (Borys, Jacek and I) went to Łosienice – a small village where Szymon lives. We spent the weekend there playing and having fun. Jacek was reading poems by Rafał Wojaczek, Halina Poświatowska and Piotr Szwabe. I remember Borys was amazed that I actually made an album from this crazy fucked up session.
Fun fact: While driving to Łosienice, Jacek greeted Borys in the car, and suddenly I realized, that they'd met some time before and did not like each other too much. I forgot about this inviting them both to this session.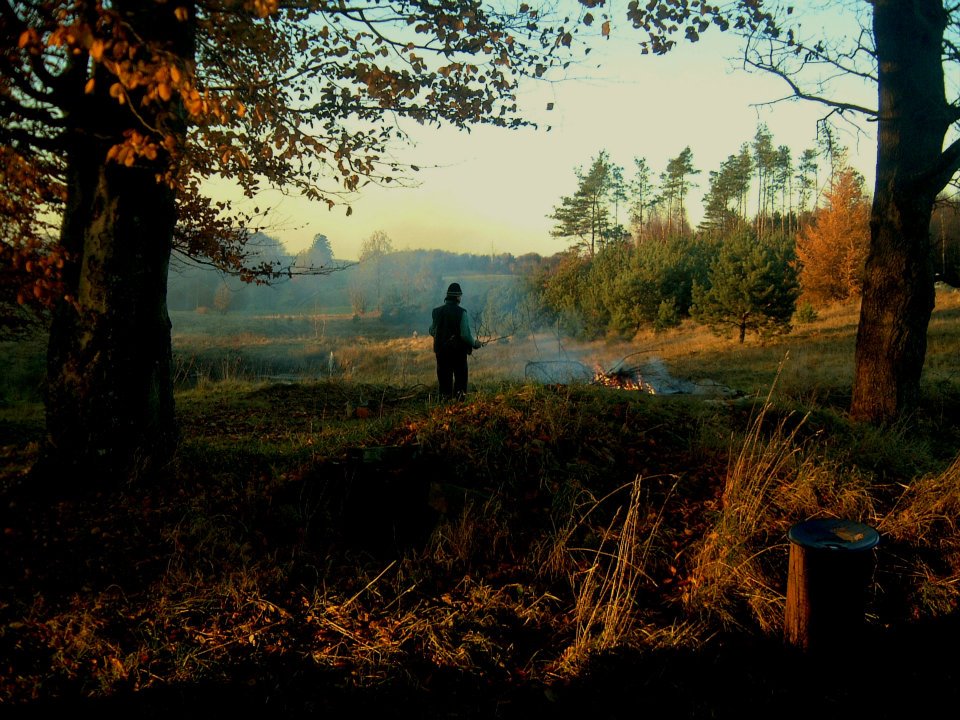 Odkąd ludzie was the same story.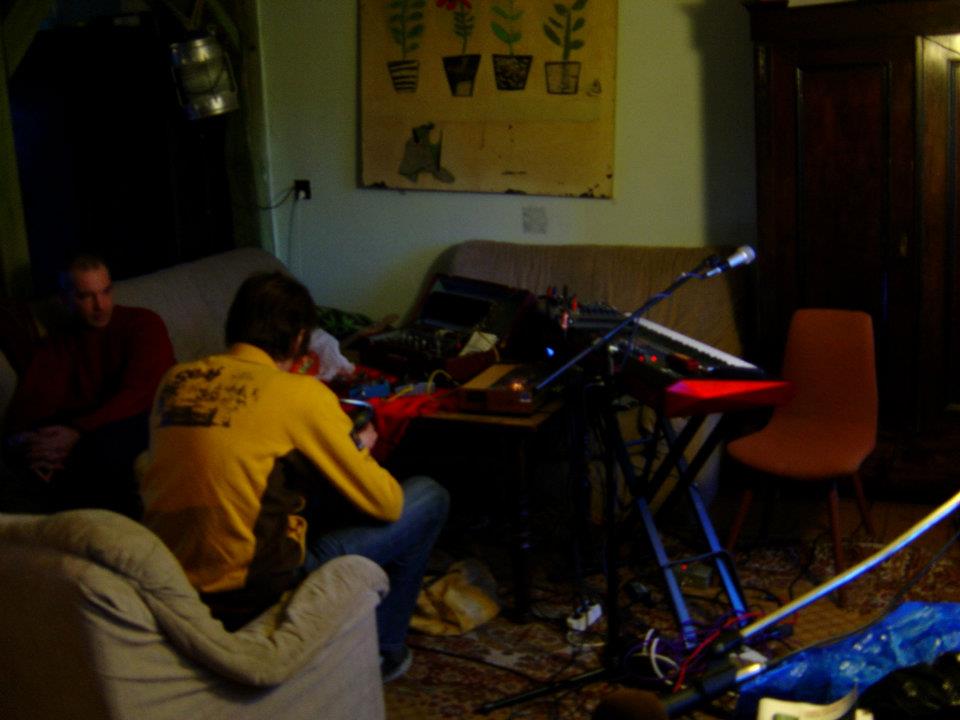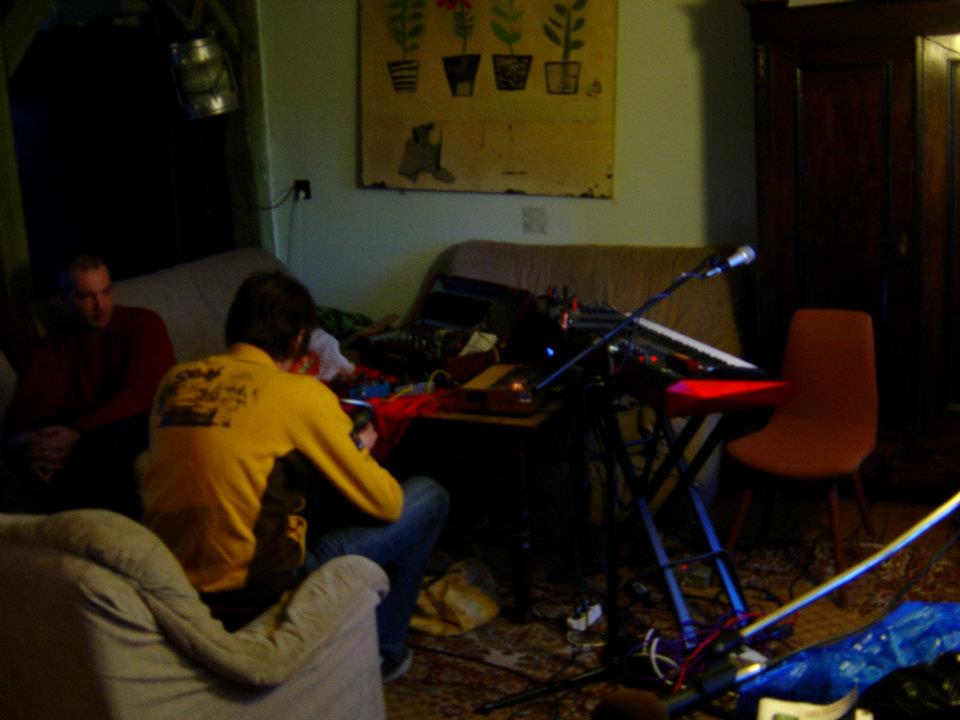 Rozewie, was recorded without Jacek. We went to a house by the sea in a little town called Rozewie. I was on synthesizers, beats mostly, Szymon was on vocals, telling his crazy stories. Our guests were Lee DVD and her boyfriend (now hiding under NNHMN project), she added some crazy vocals there.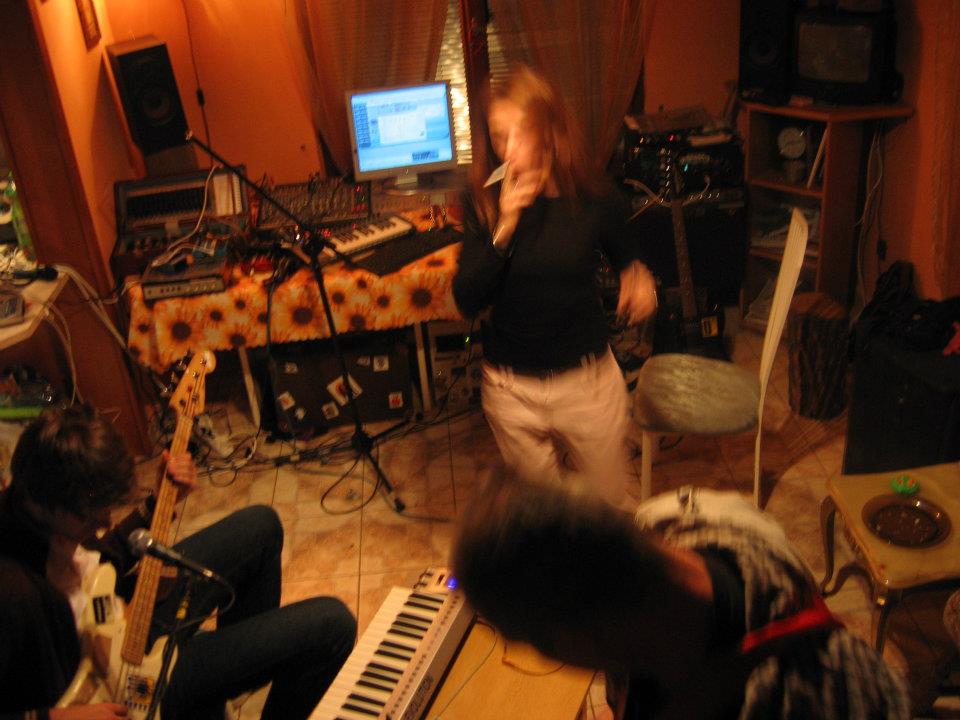 I Feel Love EP (2018). I Feel Love was available for only one day – Valentine's Day 2019. Maybe I will release it again, on Valentine's Day 2020. It was recorded in Łosienice with: Szymon, Borys, Tomasz Żukowski, and Roman Sebastyanski (from the band Pancerne Rowery).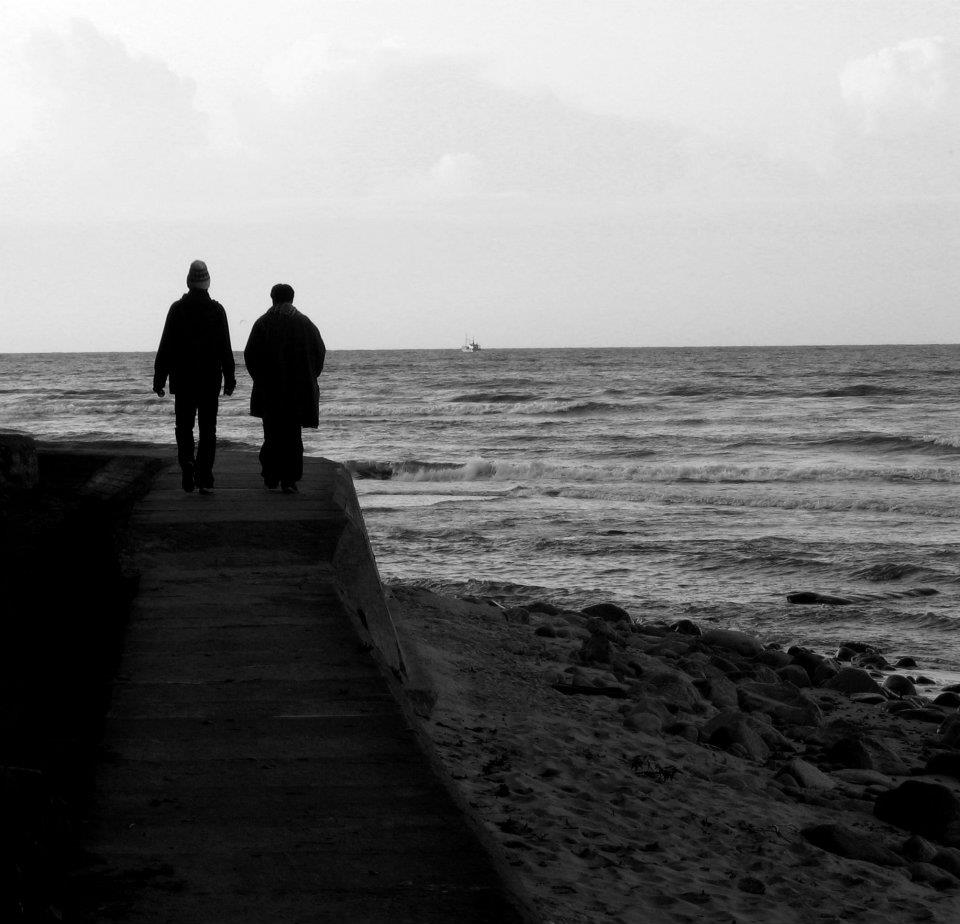 Hi Mom! (2013). Something taken from Nasiono Swap Singers / Shoegaze All Stars sessions, Chłapowo sessions, sound8, and live recordings from tour. Lots of guests: Maciej Cieślak, Ray Dickaty, Joanna Kuźma, Jarosław Marciszewski and more…
"Free improvisation, 3-day long recording sessions in nice places"
Hi D(e)ad! (2019). Jamming with Michał Miegoń, Artur Bieszke, Artur Tobolski, Tomasz Żukowski, Jakub Noga. Material for this album was recorded 7 years ago in Chłapowo, 4 km from Rozewie, also by the sea. We stayed in a guest house, in April, it was really cold, the house was empty all winter and the temperature inside was mainly single digits. This session was very unsuccessful. Two instrumental fragments ("Cudy 1", "Cudy 2") ended up on Hi Mom! and that was it… Every now and then I'd come back to these recordings and tried mixing parts of it at a time. In June 2019 I realized that the music is beautiful and sounds very good, so I have decided to finish and publish it. I haven't listened to any of my other albums as often as I listen to Hi D(e)ad!. I really enjoy its sound and dynamics (Dynamic Range). If you know similar albums, please let me know, I am looking for these type of sounds and can't find them. This is another reason why in the end I have decided to finish this album – I simply wanted to listen to this kind of music/recording/production myself.
What's the 'songwriting' or should I say 'jamming' process like?
The first albums were recorded at home, on my own. From 100 filmów until today the format has been the same: free improvisation, 3-day long recording sessions in nice places and then mixing it.
How would you describe your sound?
Nowadays it is warm and soft. A little bit of shoegaze (but Slowdive like, not The Jesus and Mary Chain), a little bit of soft-rock (I love The Eagles and Christopher Cross).
Your albums have been released on Nasiono Records. Is this your label?
Nasiono Records is not mine. It is our label – it belongs to a small community. I am just a guy who looks after it.
Do you act alone in the business or do you have any partners that you operate with? When did Nasiono Records start and what brought that about?
It is not a business. There's no money here. It is more like Blues Brothers: we are on a mission from God. The beginning was very straightforward. If nobody wants to release your music, do it yourself. So we did it – my friends and I.
What's the local music scene like where you're at?
I am not sure if I am good person to answer that. Jakub Knera, a journalist from Nowe Idzie od Morza can tell you more. Or Michał Miegoń (from KSAS) – he knows everything. There is a lot of interesting stuff going on, but the truth is that I stopped playing or going to concerts a while ago. Sometimes I go to brutal death metal concerts or hip hop / rap battles. That's all.
What, if anything, do you feel like you've learned since you started Nasiono Records?
I've learned that we can do beautiful music. It is not so hard. The hardest thing is to sell it. I haven't found a good manager yet.
What are some of the most interesting artists from the label. We interviewed Ampacity (see here) a few years ago.
Yes, Ampacity is (was?) the most popular band in our label. On the other side of popularity scale there is SAM-Sveerg. I might be the only person who likes it, but seriously, he makes great music. I strongly recommend it to you.
Asia i Koty and Folder – the most beautiful female voice I have ever heard.
Mordy and their album Nobody – the greatest psychedelic space-rock song.
Pure Phase Ensemble 1,4,5 – I often come back to these.
Kiev Office – garage rock, in my opinion best Polish lyrics ever and Vreen – alternative psych country music.
Each band in our label is unique (that's why they're in our label), representing different music styles and maybe the best way to get to know them is starting with our compilation albums – Nasiono Records Sampler.
How about Prawatt?
Great adventure. Yes, I also recommend this band. I started it with Jachi, who has constructed the beat machines for the band's experiments. With Prawatt I have also played one of the most exciting concerts, which took place at a public swimming pool during MooRide festival in Slovakia. Just imagine – a huge space filled with visuals that were reflecting in the water. Or don't imagine, check it out!
In Gdansk you are organising SpaceFest!, a festival of shoegaze, space-rock and psychedelia, which is organised by the Nasiono Association, Laznia Centre for Contemporary Art and with the support of the City of Gdansk. Would you like to tell us more about the concept?
I met Ania Szynwelska (The Queen of SpaceFest!) in 2010. We found out that we both love shoegaze and decided to make a festival. But it was not only about presenting the music genre. Our goal was to make an event with a good atmosphere, where you can high five with an artist who you like, where tickets are not so fucking expensive, where there are no headliners. And again – we did it. I left SpaceFest! in 2015, Ania (see more here) still runs it and it is growing. I am now focused more on small and private events, without security guards, grants, adverts or media – like Na Siano / Na SiAnno agrofest.
Pure Phase Ensemble is an international music collective, created especially for the SpaceFest!.
As for the name – I always wanted to play songs based on one tone/phase. I started to do it in my bands – Prawatt and KSAS, where I was using Pure Phase Tones for Djs by Spiritualized in the background. In 2010 I organized Nasiono Shoegaze All Stars recording session.
(This line up was core of Pure Phase Ensemble no 1). When the SpaceFest! idea was developing, Ania noticed that it would be a good idea to make workshops as a part of the Festival. We met Ray Dickaty (a British saxophonist improviser, in 1997-2002 a member of Spiritualized) and asked him to help run this project. And so now we have it: Pure Phase Ensemble, an international music collective created especially for the SpaceFest!.
Several musicians from Poland and abroad are invited to take part in this workshop each year, together we compose new music which is then presented live to the audience during the festival. Each Pure Phase Ensemble performance is also recorded live and then released. For every edition of PPE a musical director – a legendary, internationally recognised musician – is invited to co-curate the workshop. It was a really great experience to play in one band with my 'heroes' – Mark Gardener from RIDE or Laetitia Sadier from Stereolab. And Ray Dickaty who curated the first 4 years… the calmest person I've ever met. Sometimes it was a really hard and stressing job, but Ray was always chilled out. Anyway Pure Phase Ensemble created many beautiful tunes not always based on one phase.
Is anyone part of any other musical project?
Artur Bieszke plays in Lastryko, I think It's Psychedelic Baby Magazine readers will be interested in their psychedelic music. Their latest album has really good reviews.
Michał Miegoń – it would be easier to list projects where he does not play. He is a very creative musician and promoter. He is the leader of Kiev Office, a band which I am a huge fan of, but the craziest thing he'd ever done was his solo project Khad!Affi. Really crazy, psychedelic stuff.
Michał is my favourite Polish singer. He sings on "Książę Presji" on Hi D(e)ad! album by KSAS and some sweet backing vocals there too.
Also, our sax player Tomasz Gadecki – I'm sure you know him from the band Lonker See. They are very popular.
As for me, last 2 years I've been developing HH50+ (Tricity Scene of Hip Hop 50+) where I asked my older friends to rap their poems, and my younger friends to make beats to it.
You can find some psychedelic stuff there cos I make beats to this project sometimes. Great adventure.
Another interesting project – "Projekt Poezja Kulturystyczna" (Body-building Poetry Project) I did with Michał Miegoń, where we composed music to the poetry of body-builders.
What are some future plans?
Finish Shoegaze & Dub EP and make some action during KRZTA concert at SpaceFest!.
In your dreams, who are you on tour with?
Laibach – because they visit places nobody wants to / can visit (like North Korea).
Kiev Office – because they are going on tour through small towns in Poland in 2020. I want to go!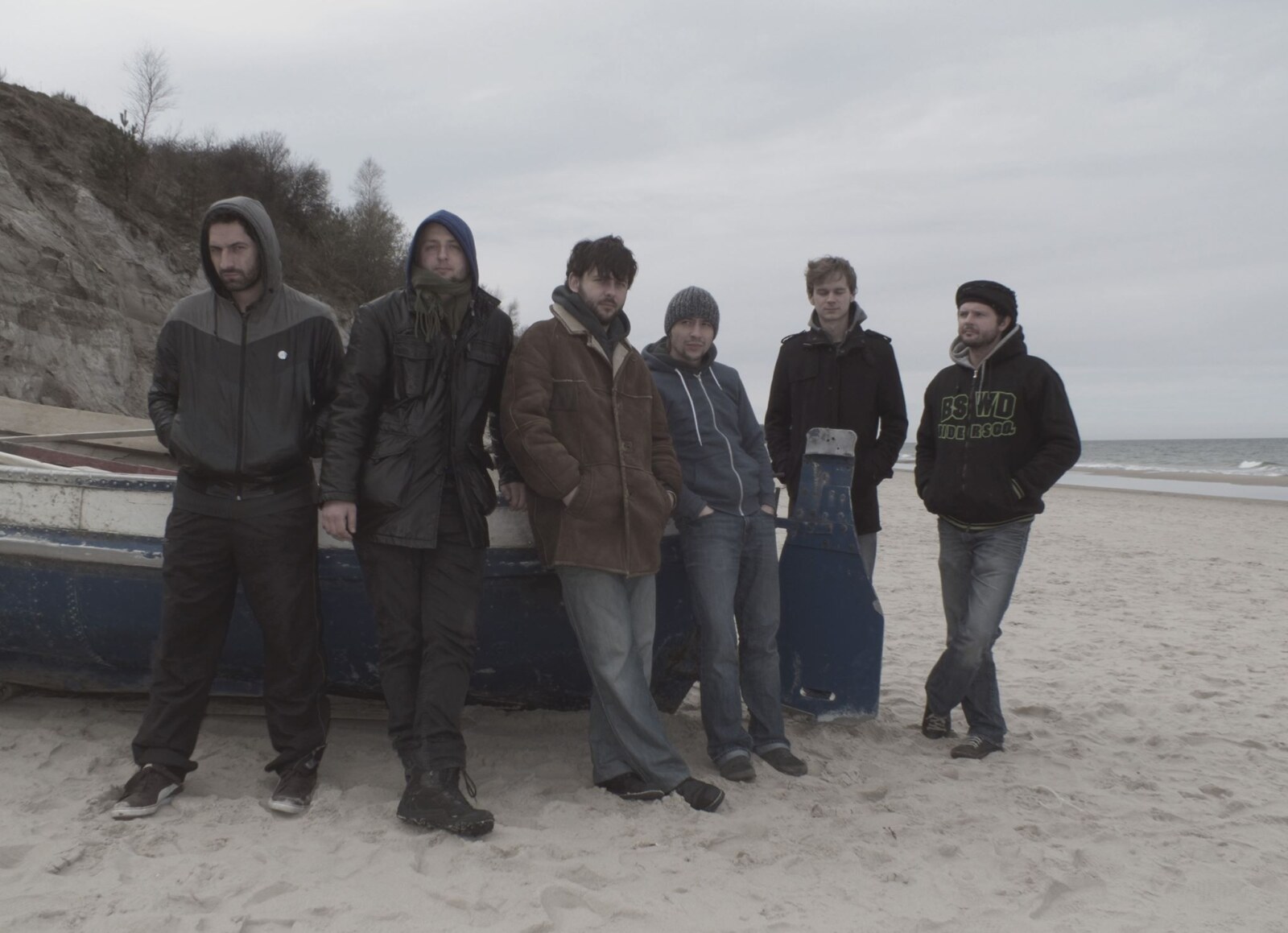 Let's end this interview with some of your favourite albums. Have you found something new lately you would like to recommend to our readers?
Billy Woods And Kenny Segal – Hiding Places – for me it is an album of the year (2019)
SAM-SVEERG – ogóreczka? – I listen to it at least once a month. I listen to it every time I am tired of music and do not know what to listen.
Vreen – szwartyszaroszarny – beautiful sound, beautiful melodies.
– Klemen Breznikar
Karol Schwarz All Stars Bandcamp
Karol Schwarz All Stars Facebook
Nasiono Records Official Website