SpaceFest! 2019
On 13-14 December 2019, the Gdańsk cosmodrome will launch the SpaceFest! rocket into space – already for the ninth time. Like each year, we'll try to reach the stars, enter a different orbit and levitate to the sounds emitted by artists from around the globe.
---
SpaceFest! is curated by Ania Szynwelska and her team. 
I'm over the moon and hoping to float in space again with other ladies and gentlemen!
On 13 and 14 December we're in for a great musical journey that is called SpaceFest! Festival. Goers may be sure that the rich and varied line-up will provide ample opportunity to discover new artists, taste some of the classics, immerse in the amazing, sizzling atmosphere, and spend two days in complete oblivion of the Polish winter and cold outside!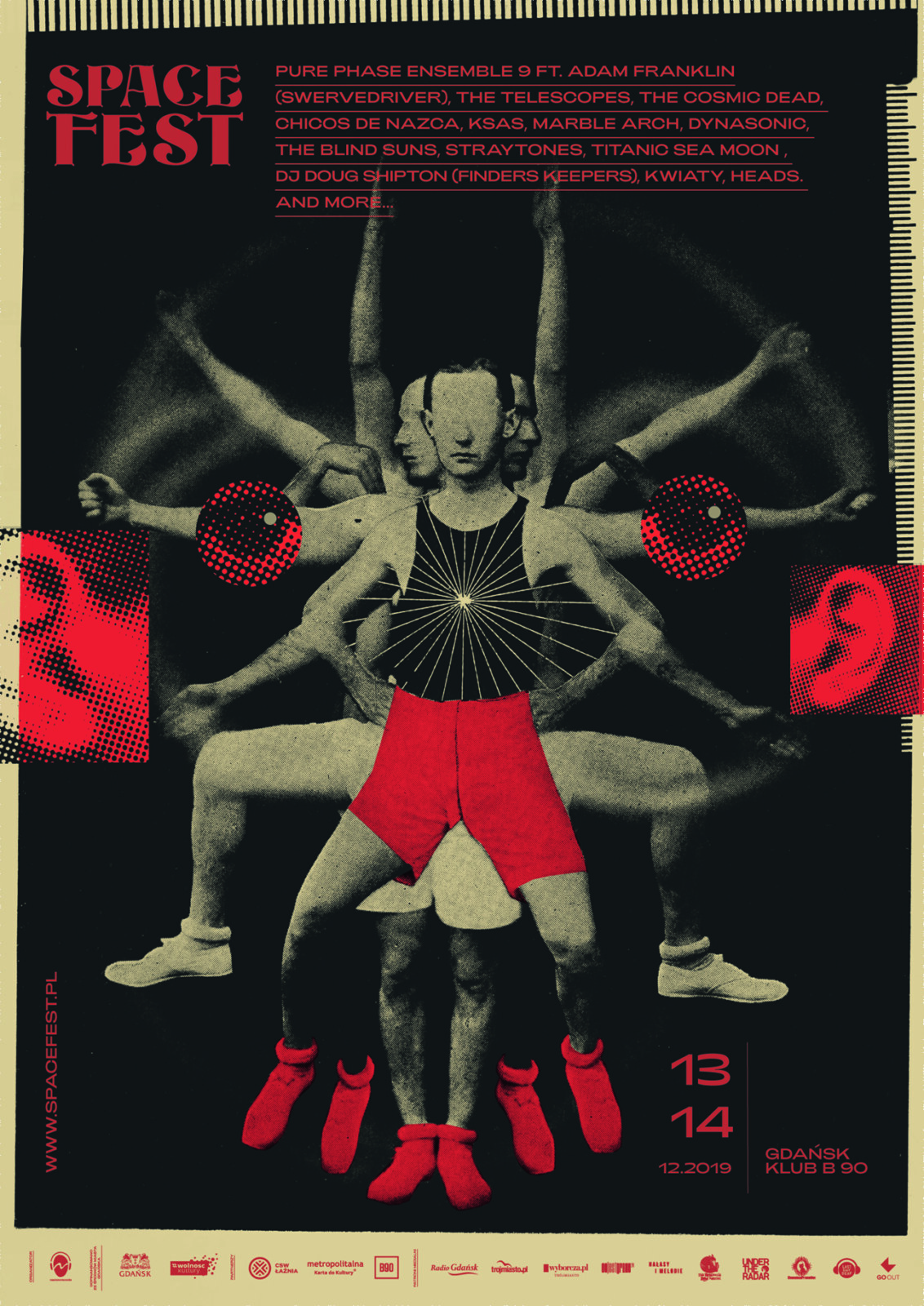 I'm over the moon and hoping to float in space again with other ladies and gentlemen!
Basically SpaceFest was brought to life about 10 years ago. Me (Ania Szynwelska) and Karol Schwarz (a musician and founder member of Nasiono Records) were talking about the music we listened to – bands like Ride, My Bloody Valentine, Spiritualized, Hawkwind etc. which hardly anyone knew in Poland because in here American grunge or garage were always more in fashion. So we decided to create a festival presenting the music we loved – shoegaze, but also krautrock, space-rock, noise and all kinds of psych sounds – and to create some kind of fashion for it. If people don't listen to it then we can make a change and make it popular! And with support from the City of Gdańsk and Laznia Centre for Contemporary Art we started this project back in 2011 when the first edition of SpaceFest! took place. And so far we've had 8 editions and the 9th one is about to happen on 13 and 14 Dec 2019.
4 years ago Karol stepped back and focused mainly on organizing Pure Phase Ensemble workshop and his solo projects while me and a couple of energetic girls took over the festival – and now we're running (probably the only one in the world?) festival of psychedelic music curated and produced by ladies. How extraordinary is that?
Some of the artists who played at SpaceFest! in recent years include: Dead Skeletons, Silver Apples, Anton Newcombe (The Brian Jonestown Massacre), The Telescopes, The KVB, Mark Gardener (Ride), The Oscillation, Death Hawks, Damo Suzuki, Laetitia Sadier (Stereolab), Rakta, Mugstar, 10000 Russos. It brings me a lot of happiness to see how the festival grows and attracts music lovers from all over the world. – Ania Szynwelska
CONCERT LINE-UP:
13 December 2019 | entry 18:30
Main stage:
19:00 | Krzta (PL)
20:30 | Chicos de Nazca (CL)
22:10 | The Cosmic Dead (UK)
00:00 | KSAS (PL)
SPACED-OUT GRIZZLY stage:
19:45 | Dynasonic (PL)
21:20 | Kwiaty (PL)
23:10 | Rogulus X Szwelas und Gos + Czerkas + Ika – STEERAGE Ika (PL)
00:10 | DJ Doug Shipton / Finders Keepers (UK)
14 December 2019 | entry 18:30
Main stage:
19:00 | Straytones (UA)
20:30 | Pure Phase Ensemble ft. Adam Franklin (Swervedriver) (UK/PL)
22:15 | The Telescopes (UK)
00:00 | HEADS. (AT/D)
SPACED-OUT GRIZZLY stage:
19:50 | dYSKUSJA
21:30 | The Blind Suns (FR/PL)
23:15 | Titanic Sea Moon (PL)
00:00 | DJ Doug Shipton / Finders Keepers (UK)