Automatic City – 'Triple Ripple' (2019)
In their followup to 2017's 'Bongoes and Tremeloes' Automatic City has released a new twelve track LP 'Triple Ripple' that like its predecessors is so unique and original that it simply defies categorization in any particular genre.
---
On this hybrid mixture of blues with tinges of jazz and space rock, the band employs an incredible number of exotic instruments resulting in tones and sounds particular only to Automatic City, with the group combining original material with covers of traditional American blues along with tunes penned by outside composers. I can only hope to describe the ethereal, other worldly vibe of the band's recordings and the quality of the material contained on 'Triple Ripple.'
Side one of the LP's opener is the short, fifty second 'Single Ripple' written by band member Emmanuel Mercier and consisting of electronic echo effects by Mercier and percussion by Zaza Desiderio. 'Shrinking Up Fast' is a three minute jazz tinged blues number dominated by the electric guitar and stylophone work of Mercier joined by the gorgeous vocals of Eric Duperray. Mercier's guitar solo is inspired, with his instrumental efforts carrying the melody. The side's longest track 'Money King Money' written by Duperray opens with gentle acoustic guitar by Mercier leading to echoed effects, electric guitar and coral (electric) sitar also supplied by Mericer, who contributes an incredible solo on the last of these instruments, with his electric guitar solo playing the song out. The group's cover of R.L. Burnside's 'See My People Hanging On The Line' has a Delta blues feel thanks to Mercier's electric guitar, electric slide and echo effects contributions and Duperray's vocals. The song is highlighted by Mercier's electric sitar solo, with the rhythm section of Raphael Vallade on double bass assisted by Desiderio on drums and bongos and Amaud Lapret on drums delivering such a tight performance it goes nearly unnoticed as usual, the sign of great rhythm sections in all genres of music. 'Double Ripple' is another short, minute and a half, blues tune dominated by the instrumental work of Mercie,r who plays guitars, sympathetic strings, theremin and stylophone, supplemented by double bassist Raphael Vallade and drummer/bongoist Zaza Desiderio aided by a Hohner Automatic Rhythm Player's drum machine. Side one of the album closes with 'Tiger Man' a nearly four minute tune that begins with sound effects of a tiger and bongos before being joined by Duperray's vocals and Mercier's electric guitar. Mercier's solo highlights the tune, whose beat is driven by Zaza's bongos and drums, Amaud Lapent's drums and Vallade's double bass.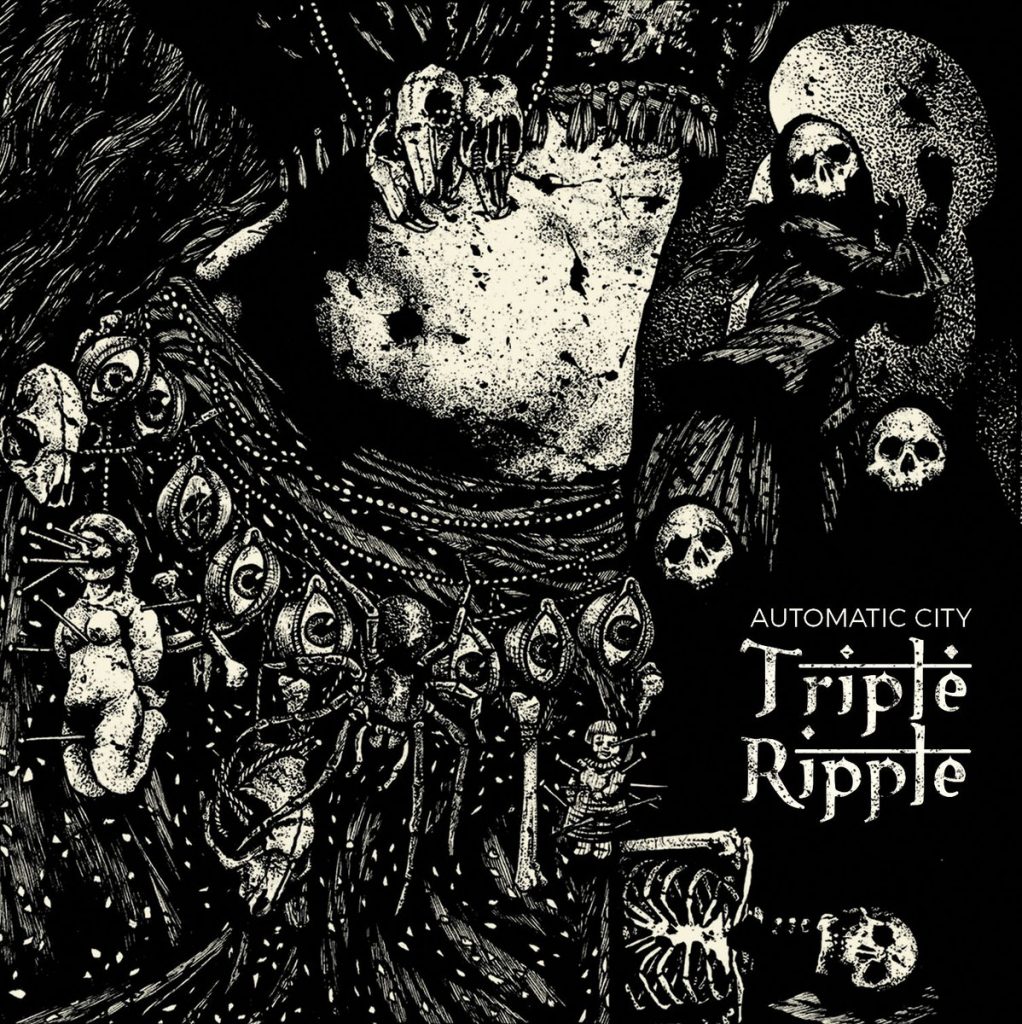 Side two of the album opens with 'Gas O Line' a band original penned by Duperray and Mercier. The group's unique instrumentation is once again apparent with Mercier contributing performances on melodica, stylophone, tremolo and ring modulator guitars, coral sitar and bellzouki. Duperray's gorgeous vocals add to the tune's exotic sound, as the unique sound of Automatic City once again shines through with its original take on traditional blues. The LP's longest track is the four and a half minute cover of Sonny Boy Williamson's 'Good Morning Little Schoolgirl.' The band's creative take on this classic tune is dominated by Duperray's vocals, with the instrumentation stripped down to Mercier on electric guitar and stylophone and the rhythm section of Vallade and Zaza supplemented by a Hohner Automatic Rhythm Player, and aided by backing vocals of Bruno Di Placido. The melody of this tune is incredibly gorgeous thanks to the work of Mercier, whose guitar and stylophone efforts are simply breathtaking. 'Animal Instinct' showcases the gorgeous vocals of Duperray with Mercier contributing tremolo guitar, stylophone and theremin. The result is another ethereal, other worldly melody, giving the band's blues based sound a space rock vibe, a most unique sound indeed. The album's title track is unique, even among the other idiosyncratic material contained on 'Triple Ripple.' Opening with sympathetic strings by Mercier, sound effects follow leading into slide and tremolo guitars which come to dominate the composition. A spoken word interlude referring to a "starman approaching Earth" is perfectly suited to the song's mood and sound, which is ethereal, trippy and bluesy all at once. The spoken word contributions are perfect as well. The slide guitar intro of 'Oh How' along with its raw, bluesy vocals by Duperray lead into tremolo guitar and sound effects contributions by Mercier, with Duperray's gentle flute work so subtle it goes nearly unnoticed. Mercier's guitar solo with sound effects reinforces the tune's gorgeous, sublime sound. The album closes with another R.L. Burnside cover 'Going Down South Reprise' featuring the band in its stripped down sound mode, with Mercier's echo and phasing treatments joined only by Duperray's Delta blues vocals and the rhythm section work of Vallade and Desiderio. The tune is a perfect album closer with the band sounding as ethereal and other worldly as ever, with the sound building to a crescendo, yet somehow remaining restrained. The twelve tracks contained on 'Triple Ripple' reinforce the band's unique, original sound which defies categorization in any traditional genre, and stand as documents as to the incredible creativity of Automatic City's members,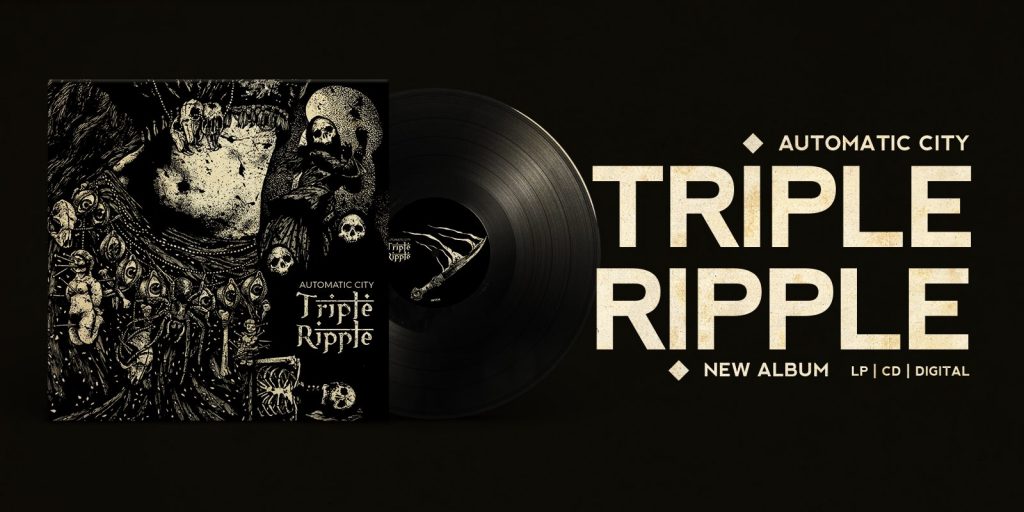 The album was mastered by Herve Bessenay at Electrophonic Recording Studios and produced by Mercier and Duperray for WITA Records. 'Triple Ripple' Automatic City's third long player will appeal to fans of blues music, traditional and electric alike, as well as anyone open to new and exciting as well as unique, original music and comes most highly recommended. The biggest question I have as of now is what will Automatic City do for an encore? I, for one, cannot wait to see the answer to that question.
Automatic City – 'Triple Ripple' (WITA Records, 2019)
Automatic City Official Website
Automatic City on Facebook
Automatic City on Instagram