'A Splash of Blood' by Toshio
East meets West in the neo-noire, smoky psychedelia of Toshio: a gifted retro-rock outfit hailing from Brooklyn, New York. Founded and helmed by multi-instrumentalist Timothy "Toshio" Lavigne, Toshio proudly present their debut EP A Splash of Blood: a trio of wistful, nocturnal jams that could easily soundtrack the anti-hero ordeals of emotionally-torn David Lynch, Jim Jarmusch, and Quentin Tarantino protagonists.
---
Lavigne's life-long obsession with music was sparked by his parents, who instilled in him their passion for the blues and Motown. Growing up as a talented young trombonist in New Jersey, he had been a member of symphonic and jazz ensembles by the age of ten. Later in his adolescence, drawn to Nirvana, Pink Floyd, and Tom Waits, Lavigne took up the bass; eventually, his versatile background laid the groundwork for the blues and jazz-adorned style of rock music he showcases on A Splash of Blood.
"Perfect purity is possible, if you can turn your life into a line of poetry written with A SPLASH OF BLOOD." – Yukio Mishima.
For his debut EP as Toshio, Lavigne is joined by current drummer for contemporary afro-beat standard-bearers Antibalas, Kevin Raczka. The two men's strong musical chemistry and rhythmic rapport were predicted by engineer Zachary Spiezer, who suggested getting Raczka on board for the project. Spiezer has produced Toshio's music since he and Lavigne met during an audio engineering job in New York, and again bestows his services on A Splash of Blood.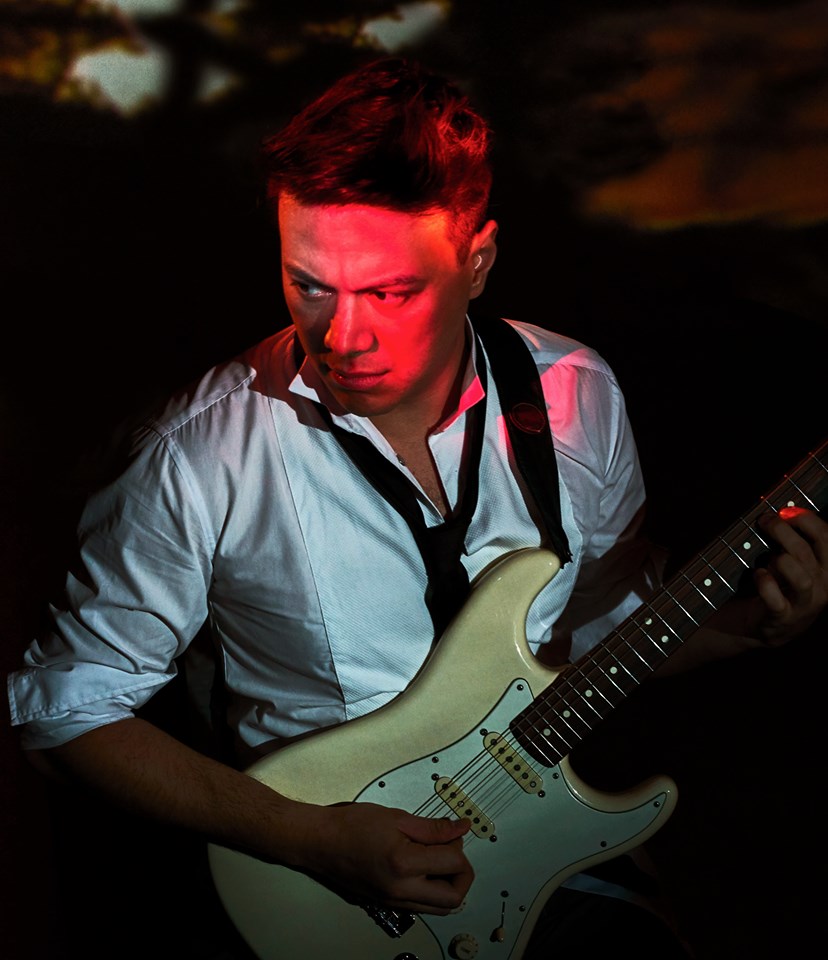 Though eclectic in arrangement and instrumentation, the three tracks of A Splash of Blood are united by an insistent mood of patient sorrow. "Dreams of Falling Leaves" sets the scene with brooding guitar chords that ring out like distant clatter of industrial machinery, bringing to mind the image of a tired soul slipping away after a long, exhausting day. The emotion becomes difficult to harness, and a cry for help escapes in the climax of the spirited chorus. "No end in sight…" sings Lavigne, resigned. The following "I Can't Take It Back" offers a sort of respite, however, with its pristine organ tones and longing saxophone textures granting solace, if only temporary.
A Splash of Blood's ambience and emotional center are best expressed by its closing track, "Sunny Day." The EP's memorable lead single sounds utterly classic, like a lost gem from the annals of psychedelic music pioneers of the 1950s. On "Sunny Day," Lavinge's mixed European and Japanese background, which, according to the musician himself, inspired his music, lyrics, and artwork, coalesce beautifully and come into the fore. What results is a driving, surfy rock'n'roll number that's equally nighttime Pacific bliss and bitter old-world poetry."
Toshio on Bandcamp
Toshio on Instagram
Spirit Charity official website
Spirit Charity on Facebook
Spirit Charity on Instagram