Diggin' In the Goldmine: Dutch Beat Nuggets 1964-1970
Do you like yourself a bit of "Dutch Beat", or as insiders refer to it, "Nederbeat"? Well, if so then there is no time like the present to get yourself totally wrapped up in a huge heavy dose of it, and if you're not really sure or perhaps you've only maybe dipped a toe in here and there, well now's the time for that full immersion experience to start.
---
This brand new eight CD box set issued by premier league Dutch reissue specialists Pseudonym, and helmed by the label's head honcho Hans Van Vuuren, is an exhausting, exhilarating labour-of-love style project … and then some! Diggin' In The Goldmine has been categorised, broadly speaking as "Dutch Beat" but what purchasers are subject to are around two hundred tracks of exciting, multi-genre, early-days rock music which spans from the immediate post-Beatles and 'Stones fallout of 1963-64 – not forgetting the wild, anarchic R&B proclamations of such British groups as the Pretty Things, Kinks, Animals and Them (these would prove to have significant bearing, and influence upon the whole "Nederbeat" group scene which began to formulate across the towns and villages throughout Holland over the next few years and more) – and on through to heavier, weirder and also not-so-weird progressive pop sounds tailing off here around the turn-of-the-decade.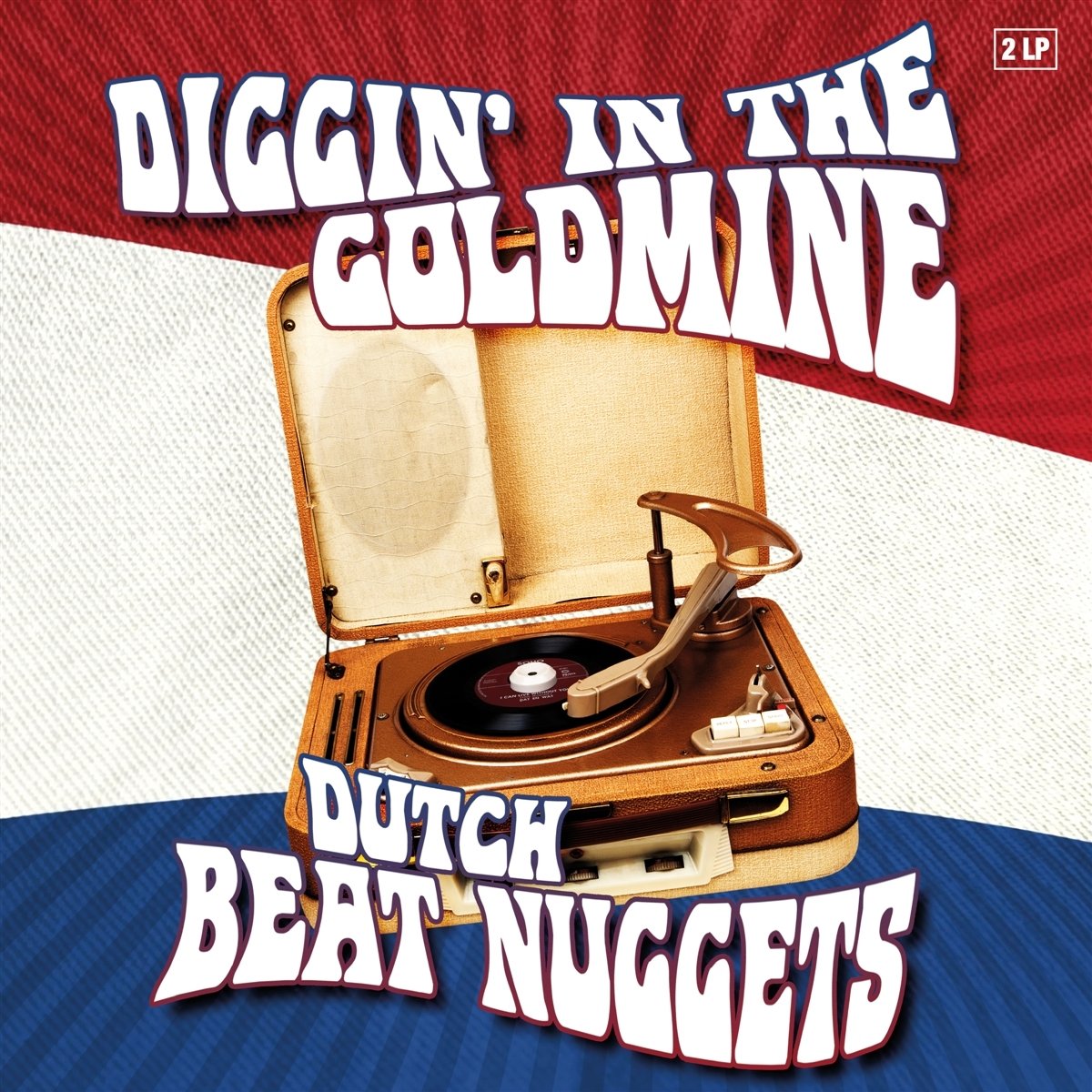 As a nation, and although small in size, the Netherlands nevertheless spawned thousands of rock-type music groups going back to the early days of rock'n'roll and the then efforts of the huge Indonesian population, which birthed the "Indo-rock" scene of the late 1950s and early 60s. But Nederbeat (sometimes "nederbiet") took things to a different level, this was a newer, looser categorisation for those groups that wanted to play the kind of modern stuff favoured by beat-loving youngsters– who in their free time danced to records that were played in church youth clubs and community halls, bars and cafes across the land, and were now being adopted by the mass of embryonic groups who were by now popping up everywhere. Usually this meant loud guitars, crashing drums, throbbing bass notes, maybe even some squealing organ, and either a melodic, or screaming wild vocalist who could match the intensity and keep pace with the strident rhythms being pumped out by fellow instrumentalists, or both. And of course this included all the patter, posturing and fashion-following that went hand in hand with the whole teenage and twenties shebang! Oh yeah, and, wherever and whenever possible, long hair (on boys and girls) and the sound of wailing blues harmonicas; this wasn't to everyone's taste, but boy oh boy when it was done with the right amount of passion, free spirit and an obsession for R&B, the Dutch groups had very few competitors who could match them for wildness and genuine intensity during that tumultuous decade!
"This whole compendium of delights stretches far beyond"
Almost all the groups now considered some kind of Dutch Beat heroes are here, from the barnstorming Outsiders, Q65, Cuby+Blizzards, the Softs, Sound of Imker, Jenny & the Rascals, Peter & the Blizzards, 4PK, Dragonfly and the Bintangs, to the more melodic strains of the Motions, the Torero's, Sandy Coast and the Golden Ear-rings, and not forgetting all the maverick sounds as demonstrated by the likes of Nicky & the Shouts, the Fashions, Gee Bros, Group $oall, the Counsellors, the Inn-Sect and the Sparklings. So yeah, although "Beat" is the overarching umbrella which draws all these sound strands together, this whole compendium of delights stretches far beyond and includes everything from R&B, garage punk, freakbeat, psychedelia, folk-rock and many other progressive type sounds, plus, here and there, odd strains of novelty shop flower pop, folk-styleintrospection, post-psychedelic hard rock, blues and well just plain pop really.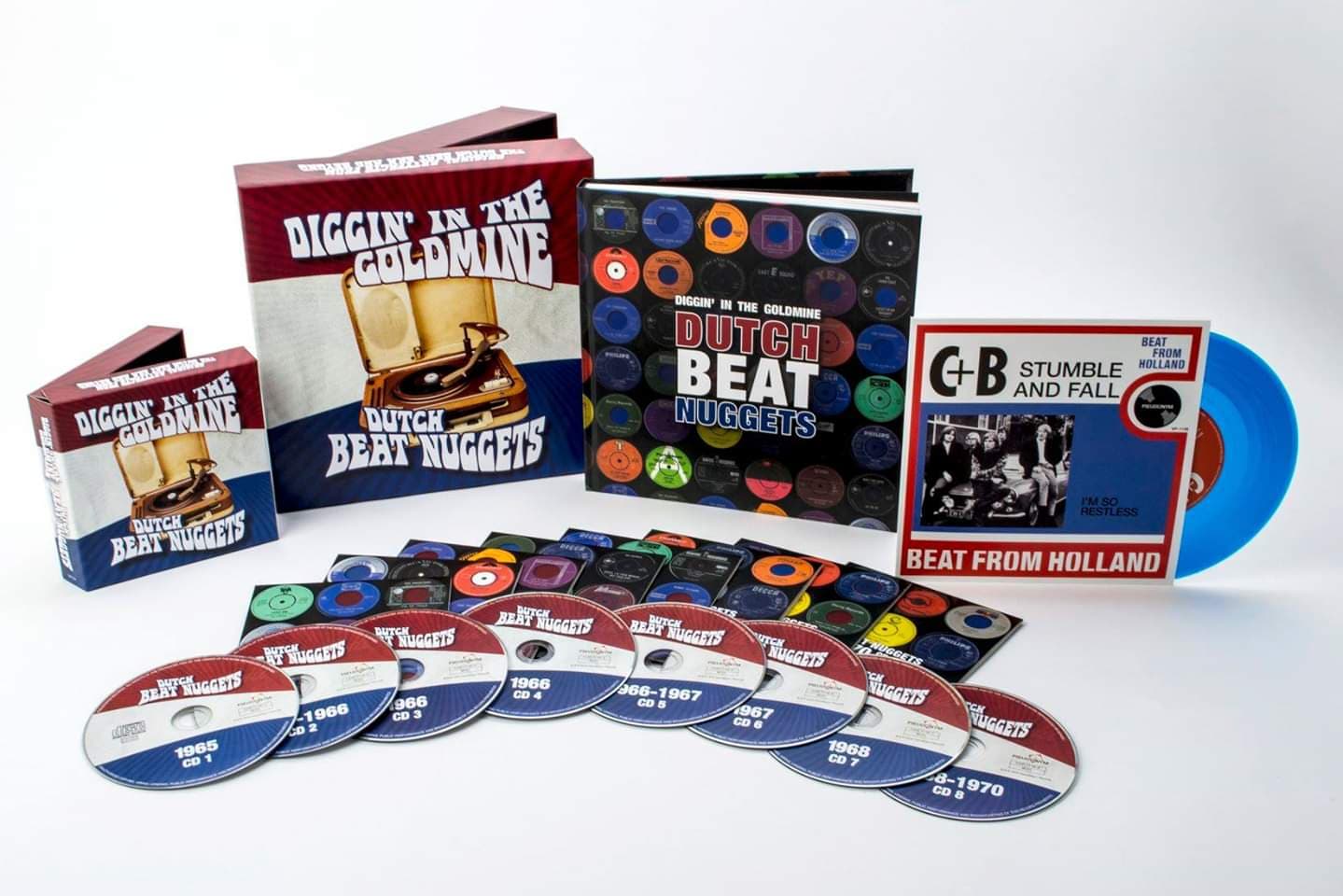 What is also rather incredible as regards a near-definitive box set such as this, is the fact that, although there are still one or two omissions that, for some of us, may behuge – the non-showing of two particularly killer sixties Nederbeat nuggets: 'Don't You Remember' by the Sound Magics and 'Please Come Home' by the Scarlets … – the overall impact of Diggin' In The Goldmine is truly outstanding, and with so many great tracks on offer this will remain so for many years, and decades even to come. This is a colossal statement of just how excellent, innovative and incredibly special the whole Dutch 1960s group scene was, and still is! Furthermore, Diggin' In The Goldmine also comes with an astonishing 200+ page hardback book containing a treasure trove of group photographs, and other assorted promotional images; flyers, record covers, music magazine adverts and a wealth of insightful reading too, covering the studios, and engineers that helped create many of the records selected for inclusion on the CDs, also the magazines which helped promote many of these young groups, plus there's also track-by-track annotations and a thrillingly informative introductory text by Ugly Things magazine editor Mike Stax, a leading authority on Dutch Beat matters, who also happens to be lead vocalist with San Diego-based psych-beat quintet the Loons. Happy listening all you already clued-up, and potential nederbiet freaks.
– Lenny Helsing
Diggin' In the Goldmine: Dutch Beat Nuggets 1964-1970
8 CD box set plus book – Pseudonym Records NL