Heropass interview
Retro-sounding power trio Heropass was formed in Chilean capital Santiago just two years ago. Cristián Cortínez (bass) seems to be the band's most experienced member as he played in doom band Bitterdusk and with less known acts like Morphia and Traukhoma. For Daniel R. Gómez (guitars, vocals) and Cristian Carcamo (drums) Heropass is their first band. Two singles, one EP, one split and live album 'Merciless' released a few months ago – their discography is decent for the band born in 2017. Let's take a deeper look inside.
---
Hello friends! What's going on in Heropass' lair?
Daniel R. Gómez: Hello! I recently arrived at Santiago after months on my natal land Punta Arenas, Patagonia austral.
Cristian Cárcamo: We are rehearsing new songs.
Well, the band's first appearance is in November 2018 when digital single 'Everyday We Die' was released. When did you actually start the band? What was on your mind?
D: Early 2017, first it was a concept of texts then music and arts. Cortinez and I are focusing creative efforts on music demos and promote only the necessary to the people who vibrate on the same frequency.
"We are passengers of this world that is doomed to cease to exist."
So you didn't aim for world dominance?
D: We are passengers of this world that is doomed to cease to exist.
You did support 'Everyday We Die' release with a video. Did it help you to spread the word? 
C: It was a DIY video, very funny. The video has been a good form to spread the Heropass's music.
How do you work on the band's promotion?
D: Oh yes, our promotion has been made by ourselves; some promoters and my own records label Halim Music Recs (Chile).
'Everyday We Die' is a catchy tune with melodic vocals and bunch of straight low riffs, and Heropass EP moves in the same direction but with wider range of ideas as you have these 'psychedelic' tunes for example 'Doomed Or Be Doomed' or more extreme vocals. How would you sum up your influences?
C: The songs were composed in different ways and influences, this explains the variety of sounds of the EP. The three members have different influences from jazz, ambient, avant garde, progressive rock, to doom – death metal.
D: For example the song called 'Heropass', was the first influenced by Tryptykon / Celtic Frost… Tom G. Warrior's atmosphere.
C: The songs emerge and these influences appear in natural way. Nothing is planned.
D: There are sounds of heavy doom for fans of Sabbath, Cathedral, Paradise Lost, Dejalosangrar, CF, but we also listen to a lot of progressive rock from 70's.
How do you see Heropass' future development? Will you hold to one musical direction or will you try to balance all your influences?
D: Heropass' music is multidimensional. Cathedral had a song called 'One Dimensional People' dedicated (in a sarcastic way) for whom only listen one music genre. At this moment we are reasoning with our slow and heavy songs.
How did you work in the studio? 
C: We are looking for an organic sound, without overdubs.
D: It was recorded in one day. First instrumental section: guitar, bass and drum live, and then vocals later. The keyboards were recorded in another session previously. We were experimenting with an old Yamaha analog synth with Victor "Vitoco" Díaz. Stuff that sounds  like tempest, seas, windstorm and so on.
EP was released on tape. Halim Music released a split with Diogenes (also on tape). Are you planning other formats?
D: It would be good to release CD and 10″ vinyl.
Single 'Merciless' was released in February 2019. What's the reason to use the same pic with angel for artwork? That simplistic approach doesn't fit your music. I believe that you should develop the band's individuality through the artwork too.
D: Well you are right! (laughs) We are in a quest for artwork. The graveyard angel was a summer analog picture from my own capture. It reflects the fast pace of times.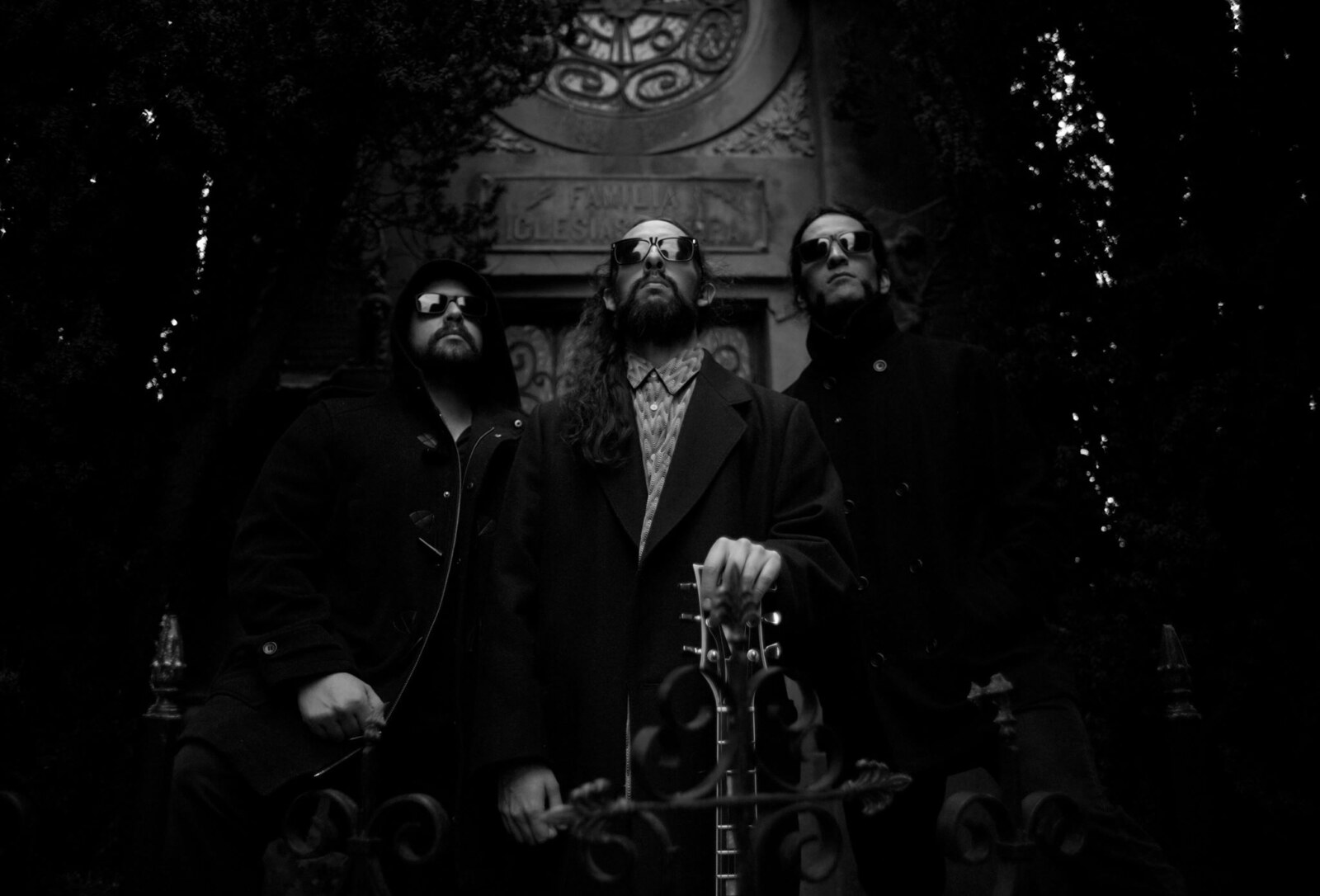 You also released 'Merciless' awhile ago. How often do you play live?
D: When planetary influences are in align form.
Is it easy to find a band of your kind to tour with in Chile? It seems that Peru has more of doom bands to play gigs with?
D: Chilean doom metal bands are very good. Bands such as King Heavy, Bitterdusk (our bass player Crisz Cortinez played on 'Spirit' and 'Santuaria' albums too) or Dejalosangrar, Condenados, Pantano (Punta Arenas), etc. We also played with Aguaturbia (70's band), Dorotea and Diogenes.
"We'll be playing heavy, loud and slow as possible."
The band exists less than a year but it seems that your discography lacks full-length album… 
C: We are working on it. Soon we will have the news.
D: We have a variety songs, but first we have to record a demo rehearsal.
C: In the moment we are looking for a record label.
D: I would like to find European record label that would like to release our music on vinyl.
What's Heropass message?
D: Nobody has guarantee for breathe. Time is a sacred thing, if you have to do something in this world, this is your moment. Meanwhile we'll be playing heavy, loud and slow as possible. Thanks for the interview!
– Aleksey Evdokimov
https://heropass.bandcamp.com/