Pink Eagles – 'Pink Eagles' (2019)
The Pink Eagles have floated in with a shimmering bit of romantic dream-pop laced around the edges with smooth psychedelic effects, creating a very human album that will hypnotically weave its way into the essential nature of your being.
"Think of it all as breeze, a motif to comfort the tranquillity of your slumbering."
The album is pure couch-bound psychedelia, emancipating in the gentlest of manners … floating, hovering, filtering in from the deep beyond, like some long lost radio signal from another time that's finally crossed paths with your receiver. The Pink Eagles create an atmosphere laden with haunting enticing vocals that are inviting and warm, existing as mysteriously as hazed blue smoke in front of a lace curtained window. These folks present themselves as an amalgamation of all that's musically delightful, filled with an emotional disconnect, driven on by controlled guitar playing, along with unexpected effects that are luscious enough to captivate your soul with exotic smoothness and embracing harmonies.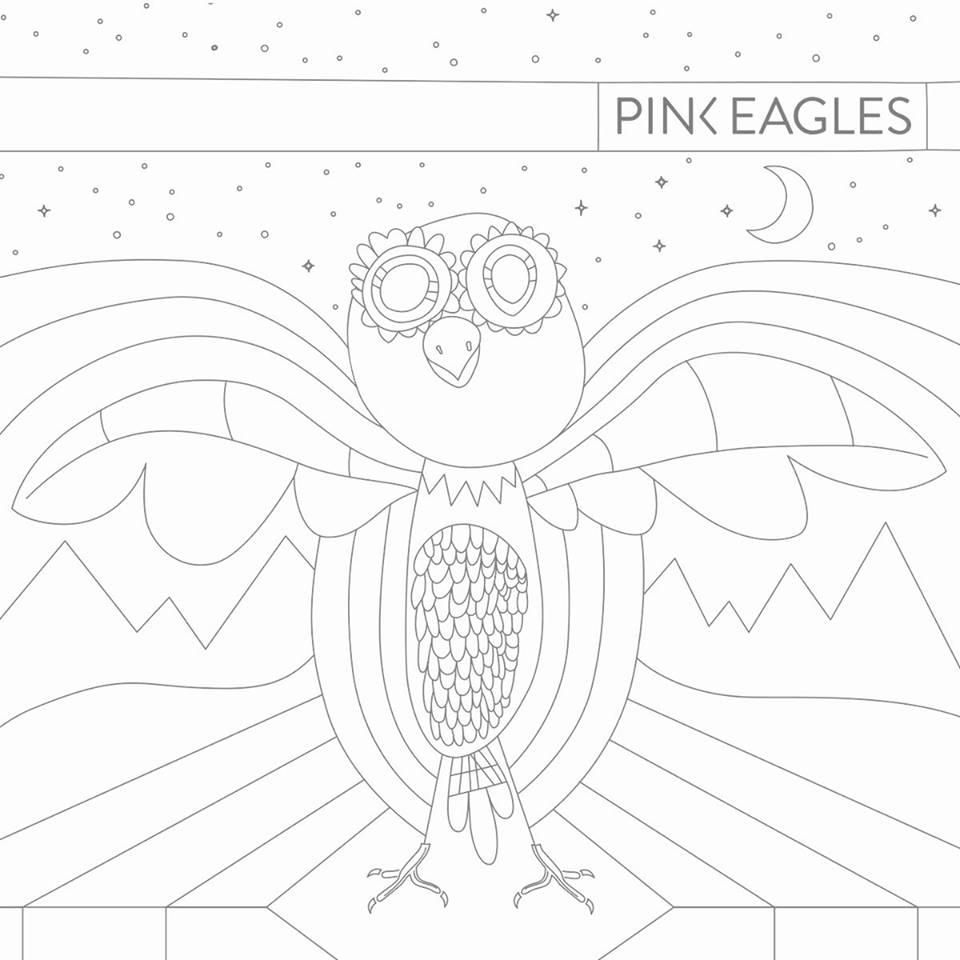 This album rides so easily that I'd like to call it unambitious, yet with a second listen, there's not a single thing that's accidental, coming across as a conversation I'm overhearing from a door left ajar, filled with flavors and nuances I'd not anticipated. With this in mind, it becomes self evident that there's no linear movement to these tracks, the songs meander along a well known and well traveled path, though in a haphazard direction, like street magic, like sleight of hand, evolving with misdirection, some delightful awkwardness, sounding aesthetically loose, yet meticulous and detail oriented, where counter melodies and guitar phrasings loop back onto themselves … think of it all as breeze, a motif to comfort the tranquillity of your slumbering.
*** Seldom is an album jacket an extension of the music found within, in this case it is, and more, with the band suggesting that the album jacket is designed to be coloured in as you listen. The red vinyl edition is limited to 100 gold hand numbered copies. The black vinyl copy is limited to 200 copies.
The runout groove quote that is split between Side A and Side B reads, "However vast the darkness, we must bring our own light," is taken from the passage, "The most terrifying fact about the universe is not that it is hostile but that it is indifferent, but if we can come to terms with this indifference, then our existence as a species can have genuine meaning. However vast the darkness, we must supply our own light," by Stanley Kubrick from A Clockwork Orange.
– Jenell Kesler