'All You Need Is Fuzz' (2018)
Garage bands, especially of the psychedelic variety, were a phenomenon that flourished in the 1960's and saw a resurgence in the 1980's. The lifespan of most was rather short, and the recorded legacies of the bands as well as their biographies have remained rather sketchy, most being superficial or rather pedestrian at best. Occasionally however, a band comes upon the scene and through sheer will, an incredible amount of work, and a true love of the music, soldiers on for a longer period of time. It is rare indeed for a band to last ten years, let alone the thirty year duration of The Marshmallow Overcoat.
---
Lead vocalist Timothy Gassen, the lone ever present piece of The Marshmallow Overcoat mosaic tells the band's story with incredible love, beginning with his personal introduction and supplemented by biographical sketches of members who have floated in and out of the band, a most informative narrative of the group's life cycles, vintage footage of the band practicing, recording and performing. The band's saga is told in great detail and with meticulous care, rendering incredible insight into the formation and ongoing battles faced by bands in their effort to survive. When in doubt, Gassen resorts to his "paisley bag" the group's diary which is filled with all sorts of memorabilia ranging from handwritten or typed lyrics to handbills and posters of the Marshmallow's worldwide adventures.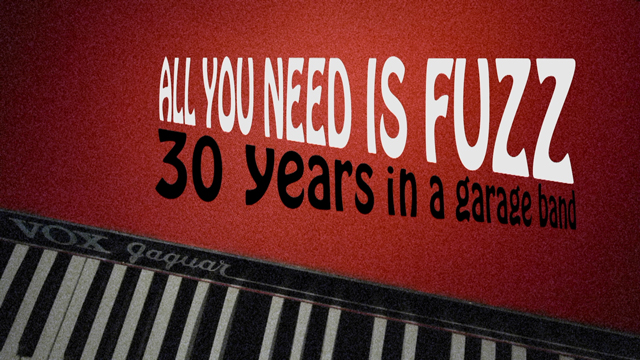 The band, formed in 1986, fronted by Gassen using his alter ego Randy Love on vocals, joined by lead guitarist Al Perry, Farifisa organist Jeff Puhl, bassist Linda Andes and drummer B. G. King. From a one-off 1986 single "Groovy Little Trip" c/w "Stop It Baby" the band managed to survive thirty years, sometimes through the sheer power of will, releasing some wonderful singles and albums along the way, all highlighted in this 90 minute video. By my count there are nearly three dozen tunes included, in larger and smaller parts, as well as discussion of the group's numerous albums, beginning with 1987's 'The Inner Groove" continuing through 2008's "The Light Show" and the 2014 double LP "The Very Best Of" fittingly released on the Garage Nation record label.
Of special note are tunes that had accompanying videos, beginning with 1988's "Suddenly Sunday" a true garage classic filled with jangling guitars and a great commercial hook as well as a tasteful, yet restrained guitar solo, the song's incredible beat being kept by Gassen's brother, Scot, who was the band's drummer for two stretches, 1988-1990 and 2002-2011, making the band a true family affair. The band had two more videos in rather rapid succession with 1990's "13 Ghosts" a Farfisa led number with a gorgeous black and white video filmed in a park which, like its predecessor and successor found a home with MTV audiences and gave the band a great deal of well deserved exposure. "The Mummy" from 1991's "Fuzz, Screams and Tambourines!" completed Marshmallow Overcoat's hat trick on the music video station with its lead guitar and a smoking solo pushing the tune.
The band's story hits all the highlights such as 1990's "Beverly Pepper" which featured "13 Ghosts" and its gorgeous title track among its eight tunes. By 1991 the band had shortened its name to The Overcoat and it was a busy year indeed with two LP's, the previously mentioned "Fuzz, Screams and Tambouriess!" featuring "The Marshmallow Medley" containing both "The Mummy" and "13 Screams" and "Three Chords….And A Cloud Of Dust!" with the take of "The Mummy" featured in the popular video. The group underwent extensive tours during this period which are discussed in detail and give delightful insight into the day to day grind of touring experienced by bands who are less than high budget acts, yet incredibly well received by enthusiastic audiences, especially the time spent in Europe by The Overcoat..
The band's saga continues through the 1990's with two more albums, released on different labels, although no hit singles or highly viewed videos resulted. But the spirit of the band never faltered as vocalist Gassen and the fluid composition of the band are documented through songs and interviews rendering an incredibly accurate image of the group's existence. Following the band's self-titled 1996 LP it would be twelve years before a follow up new recording hit the market. Issued under the group's original moniker The Marshmallow Overcoat, "Light Show" released on Tim Gassen's Purple Cactus Media Productions was a twelve song CD issued with a 25 song CD-Rom with Quick Time Music Video and a twenty five song mp3 live album. This would prove to be the band's final release excluding their 2014 double LP "Best Of" and sundry compilations released on LP and/or CD.
"All You Need Is Fuzz" leads up to the band's final 2016 concert for which members gathered from far and near, including original guitarist Al Perry, Bonus material on the DVD includes 21 minutes of concert footage, with the band performing five of their best known tunes "1000 Years Ago" "Beverly Pepper" "13 Ghosts" "The Light Show" and "Walking In The World." As an extra added bonus four videos are included in their entirety, 1998's "Suddenly Sunday," 1990's "13 Ghosts," 1991's "The Mummy" and the 2005 classic "Psilocybic Mind" The package is completed by outtakes of interviews that were not included in the finished DVD. "All You Need Is Fuzz" is an incredible documentation of a psychedelic garage band, one whose lifespan far exceeded that of virtually every other to ever exist and is a truly delightful look inside The Marshamallow Overcoat. The love and care taken in producing this documentary are apparent throughout and Purple Cactus Media Production owner and Marshmallow Overcoat front man Timothy Gassen is deserving of the highest of praise on a job incredibly well done. Available to stream online or download as well as in a very limited edition Blu-Ray disc edition "All You Need Is Fuzz" is an absolute must see. No matter how you view it, I guarantee you will not be disappointed.
– Kevin Rathert
The Knights Of Fuzz: The New Garage & Psychedelic Music Explosion